Last updated on April 8th, 2019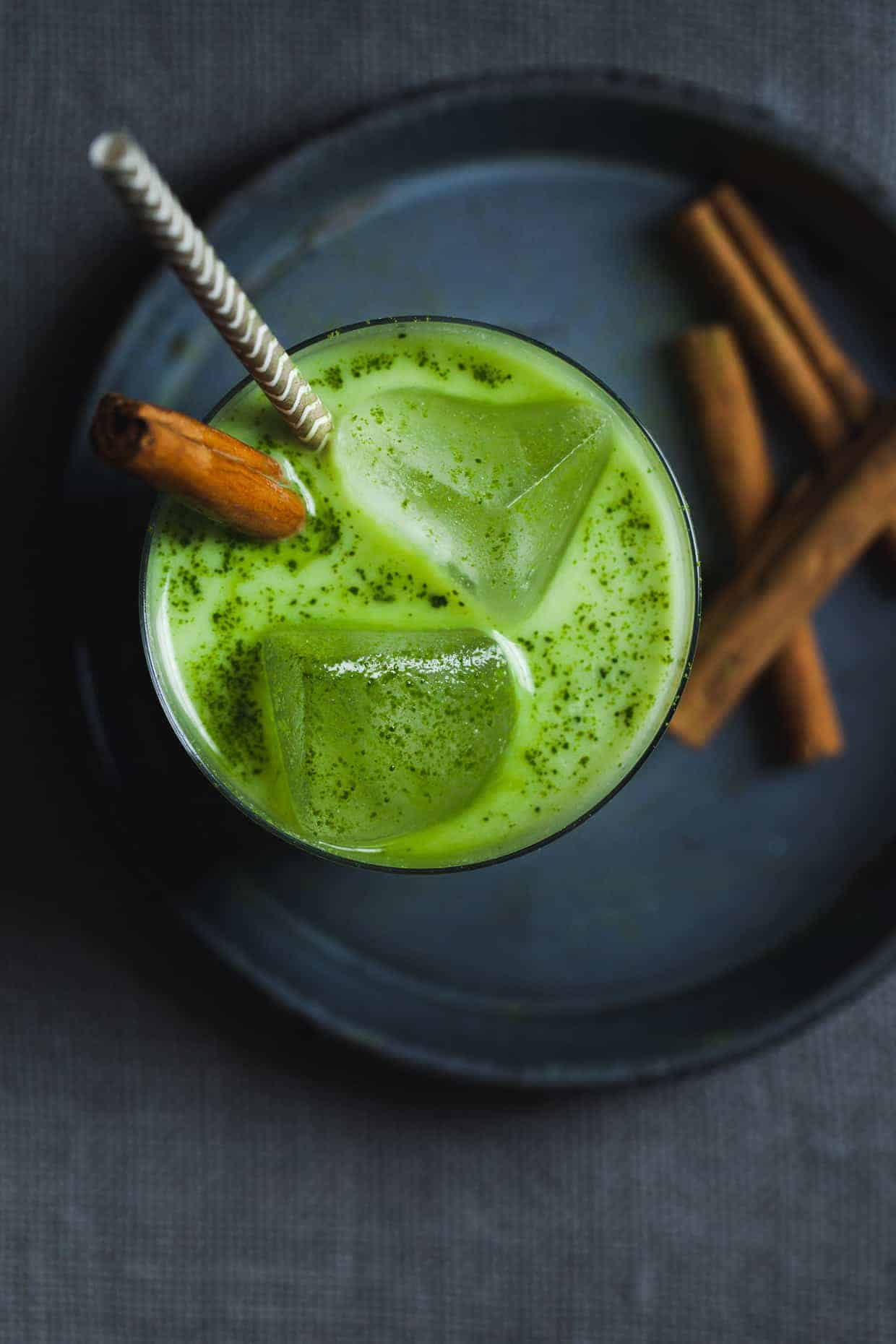 If you ever need a relaxing exercise to calm the nerves (like, say, after you finally get the baby down for a nap after 1.5 hours of blood curdling can-you-see-my-tonsils-yet screams), I recommend making a batch of matcha horchata. Or really: blanching almonds and sitting over a bowl popping them out of their skins one-by-one. There's something seriously satisfying about the pop of an almond leaping out of its skin into a bowl. pop. pop. POP. Once you've gone that far, though, you might as well finish the job and turn them into creamy horchata.
In other news: I think I'm going to need a new KitchenAid stand mixer soon. While popping blanched almonds soothes my soul, the crying babe finds her calm to the sound of the mixer spinning 'round and 'round. For hours. Now if only I had a second one for the bathroom so I could shower while the baby is lulled to sleep by thoughts of freshly baked cookies. She deems the blow dryer a pitiful second choice white noise machine.
(Sidenote: when is an appropriate time to tell you about the time Zoella shot poop across her daddy's face? Never? Moving on…)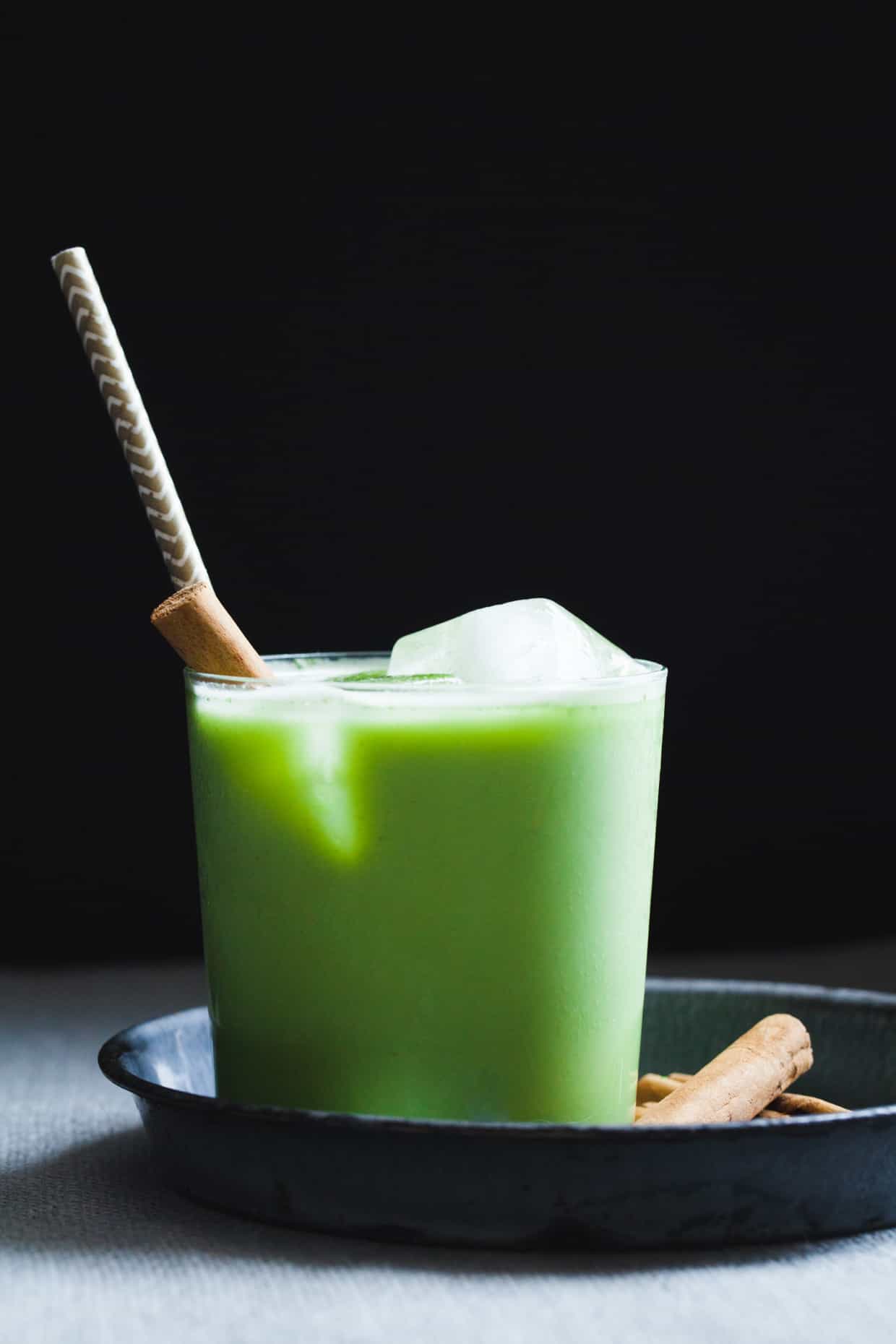 This coconut matcha horchata (matchata) was Zoella's first time (out of the womb) helping mama in the kitchen. I wore her in a moby wrap, tied an apron around us, and went to town squeezing nut and rice pulp through a cheese cloth (the apron was my mom's idea after I'd already splashed the baby – oops).
I started with Alanna & Nosh On.It's recipe for the method and tested two versions to find the perfect horchata to matcha to coconut balance. One version replaced all the water with coconut water – the result was a creamier and much sweeter sip that was delicious, but lacked in the horchata-esque department.
The all-water version here was the clear winner with just a splash of coconut cream thrown in. This coconut matcha horchata is lightly creamy with nutty notes and a slightly bitter matcha edge. Served over ice, you taste the toasty traditional horchata flavors blended up with rice, almonds, and cinnamon, and matcha's fresh earthiness is sweetened by simple syrup and coconut cream.
I'll opt for a glass of refreshing naturally green coconut matchata with ice over a pint of dyed-green beer as my St. Patty's Day libation.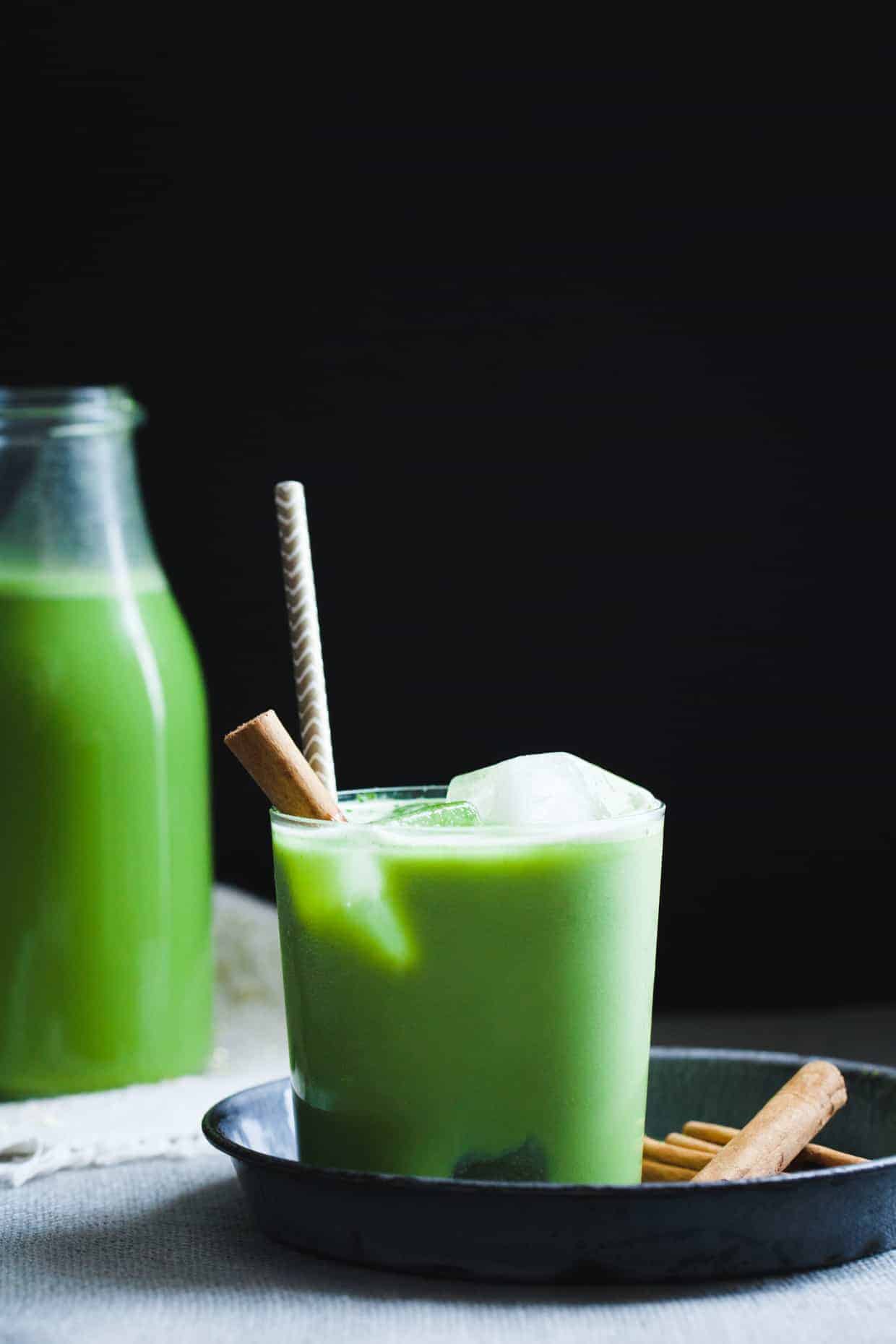 PS. Thanks to Todd for rescuing me with perfect ice cubes after I'd already been to the store twice for this recipe (do you see how simple these ingredients are? TWICE. #mamabrain).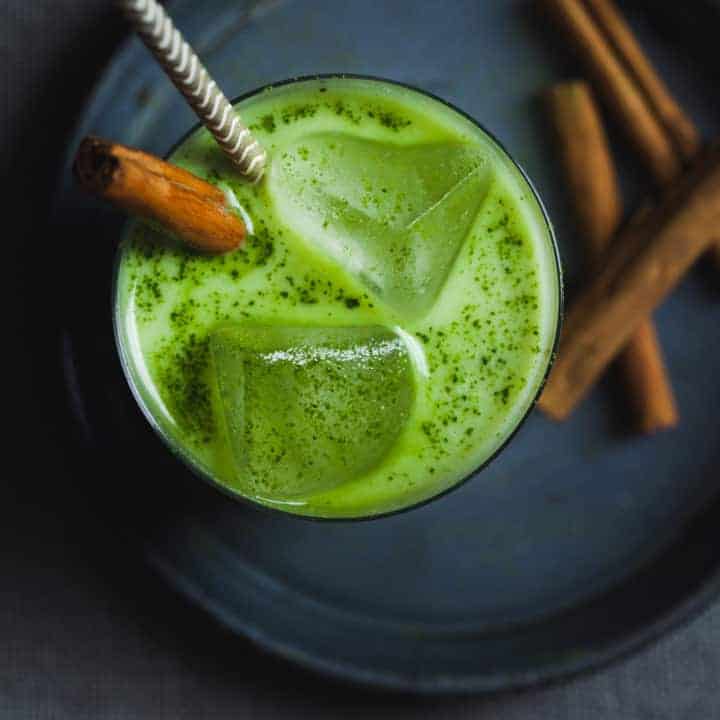 Coconut Matcha Horchata: Matchata
Ingredients
Day 1:
1¼ cup whole raw almonds (or blanched almonds)
6 tablespoons long-grain white rice (like jasmine rice)
3 cups boiling water
Day 2:
7 tablespoons sugar
2¼ cups cold water, divided
2 tablespoons canned coconut cream (or the cream from the top of an unshaken can of full-fat coconut milk)
Pinch of salt
Instructions
Day 1:
If starting with whole raw almonds, bring a large pot of water to boil over medium heat. Blanch the almonds in the boiling water for 1 minute, then drain and run under cold water. Pop the almonds out of their skins and discard the skins.
Using a high-powered blender or food processor, pulverize the rice with cinnamon until fine.
Add the blanched almonds and rice powder to a heat-proof bowl, and pour 3 cups of boiling water over the top.
Cover and let soak for 8 hours or overnight.
Day 2:
Prepare the simple syrup by heating the sugar with ¼ cup of the cold water in a small saucepan over medium heat just until the sugar completely dissolves. Remove from heat and set aside.
Pour the soaking mixture into a blender, add the simple syrup, remaining 2 cups of cold water, matcha, vanilla, coconut cream, and salt and purée until completely smooth.
Over a large bowl, strain the mixture through a cheese cloth or nut bag or through a fine mesh sieve, pressing the liquid out of all of the pulp. Discard the pulp.
Serve the horchata chilled over ice. The horchata will keep for a few days in the refrigerator (give it a quick stir before serving after it's been sitting for awhile).
Matcha March is in full swing. Here are a few other naturally green recipes to whip up for St. Patrick's Day (or any day):
Thanks for reading Snixy Kitchen! To stay up on what's coming out of my kitchen, follow me on Facebook, Instagram, Twitter, Bloglovin', Pinterest, or subscribe via e-mail to get new recipes right to your inbox.