Bittersweet chocolate enrobes soft pillowy matcha peppermint patties in these chocolate mint matcha cups. Perfectly wicked for your Halloween festivities or as a festive holiday edible gift!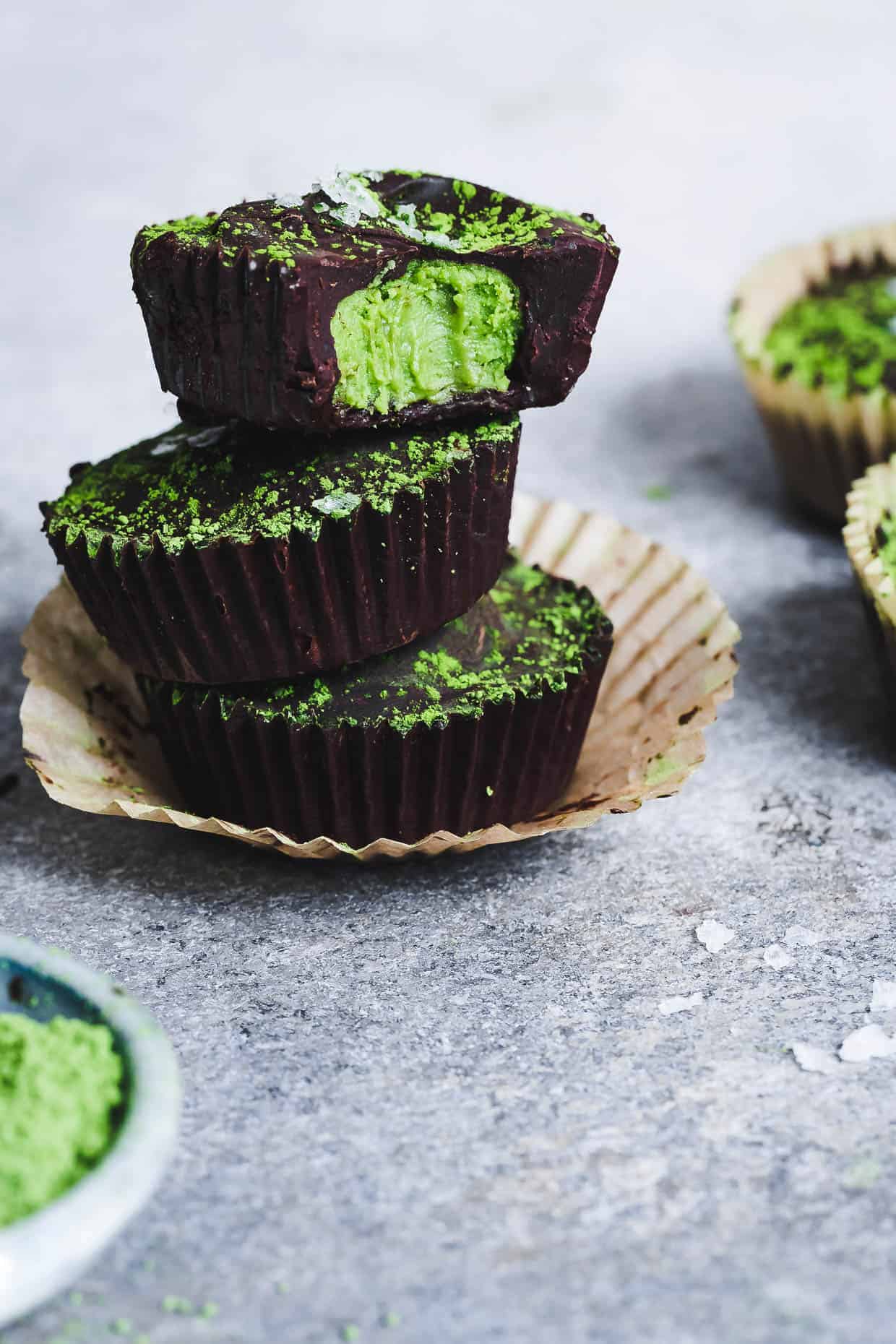 Do you have Halloween plans yet? Are you dressing up? Carving pumpkins? Passing out candy? Buying candy "for trick-or-treaters" but plan to turn your porch lights out, hide in your bedroom, and eat it all yourself? (No judgement). Whether you've got a costume or a date with a tv, I highly recommend upgrading your candy stash to include these homemade chocolate mint matcha cups.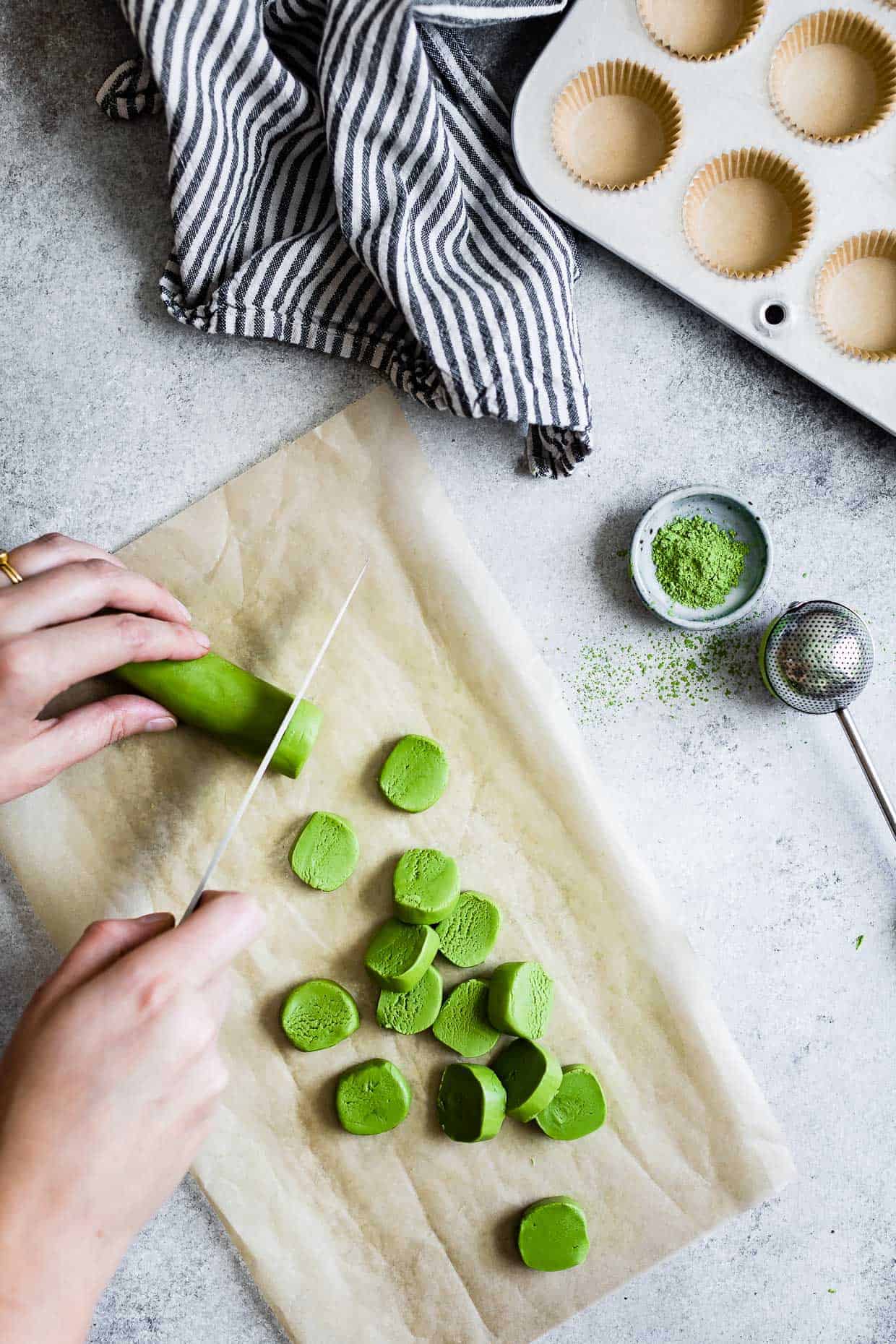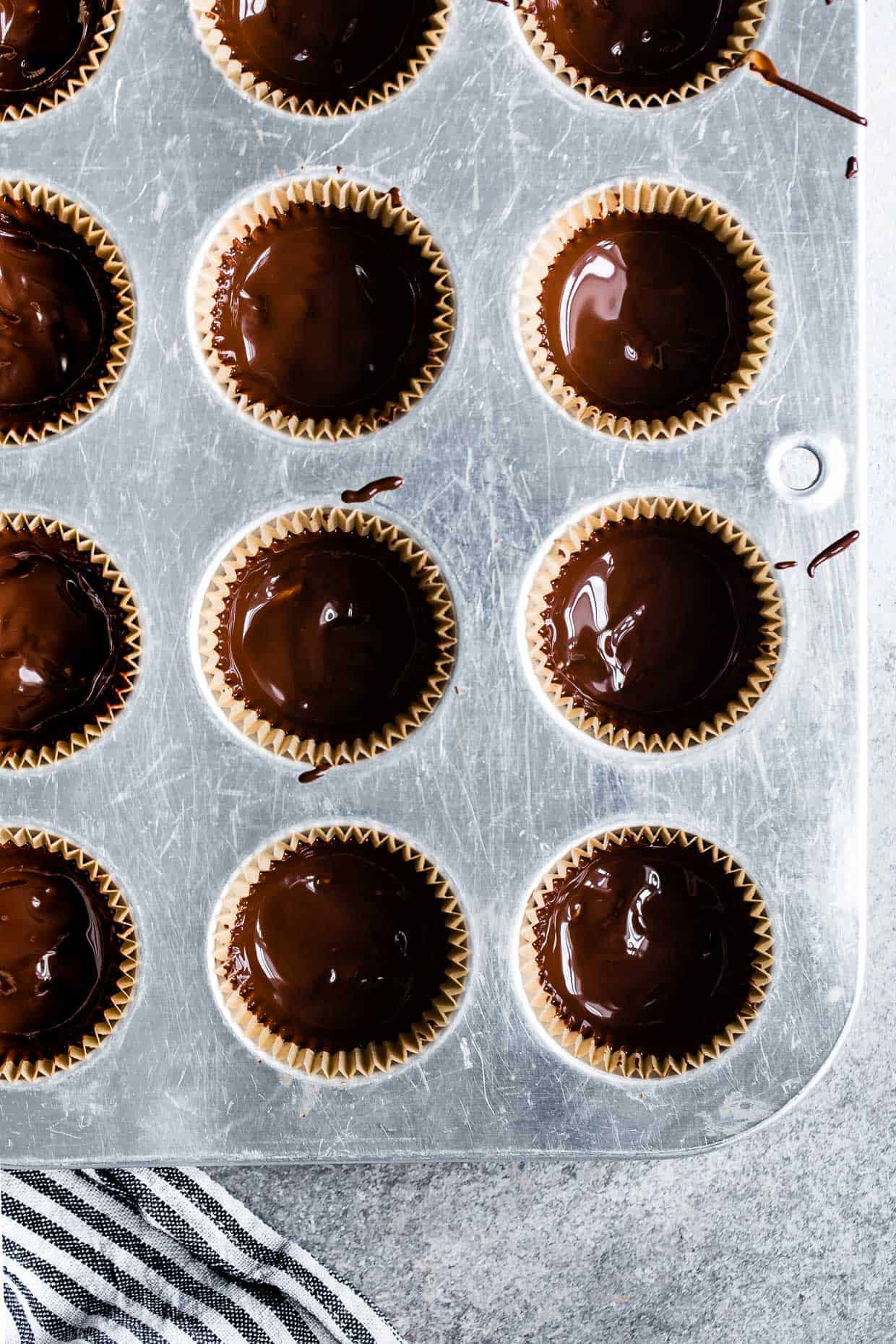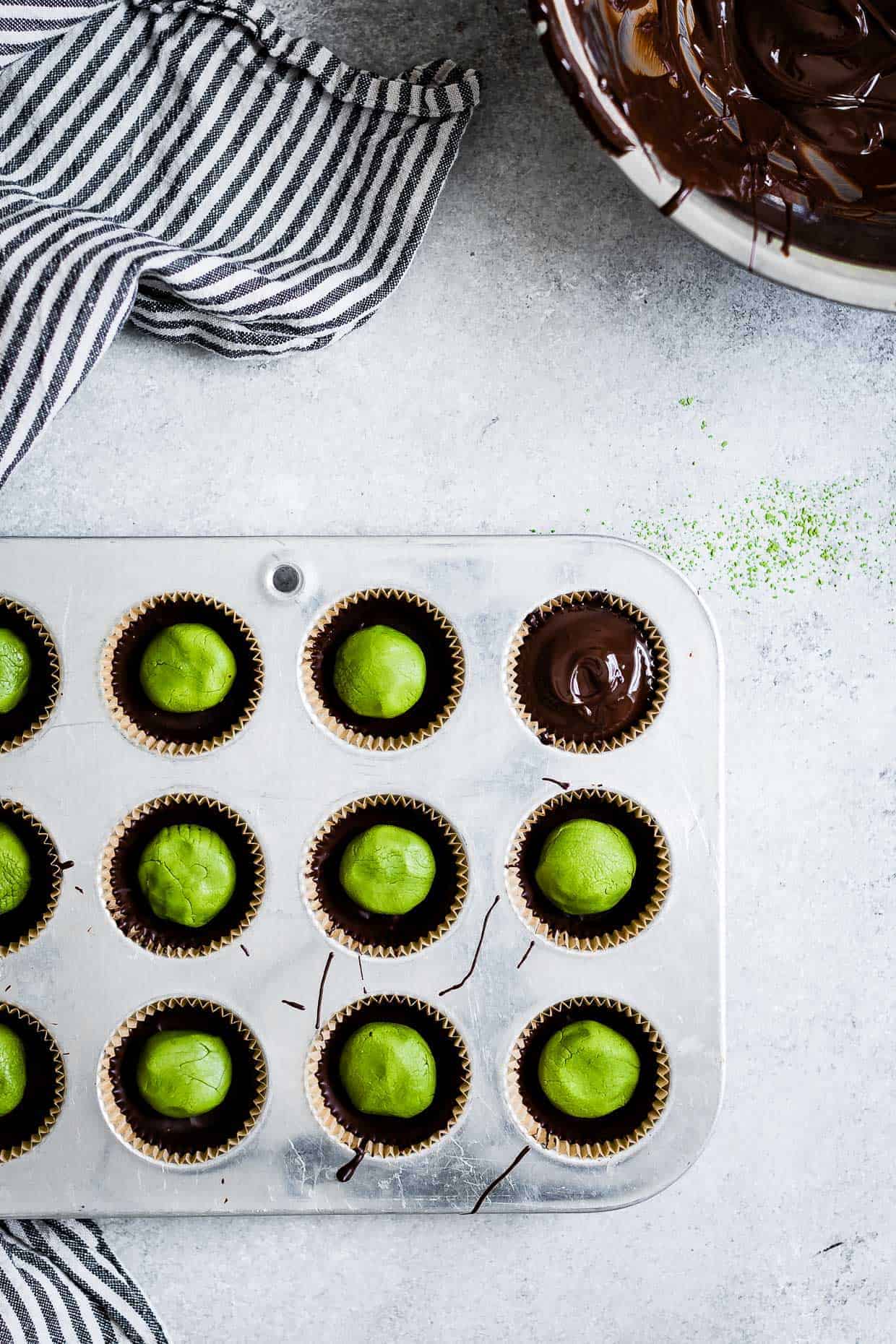 We've been prepping for Zoella's first walking/talking Halloween since October 1st. Last weekend, we draped a sheet over the living room floor and carved pumpkins. At Zo's request, I carved an owl while Lucas, a cat. When we were finished, we lit them with LEDS and I over-excitedly exclaimed, "Look! We carved The Owl and the Pussy-Cat!"
It's probable you have the same puzzled look on your face as my husband who definitely didn't catch the reference. I reciprocated with an equally baffled brow, "how on earth have you never heard of The Owl and The Pussy-Cat?!"
To prove that he was the one missing out on something, I polled my friends. Obviously, he was going to be the only one.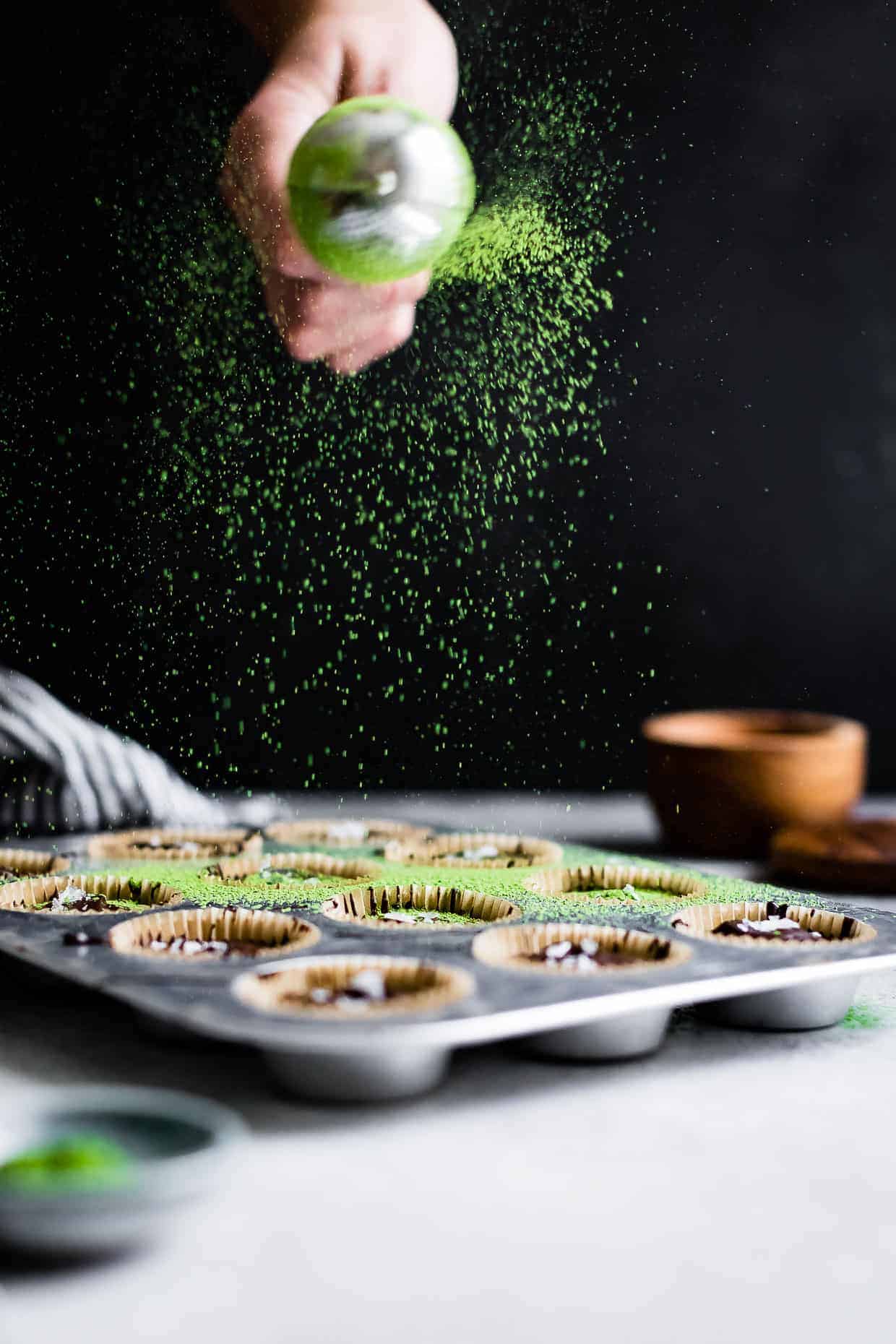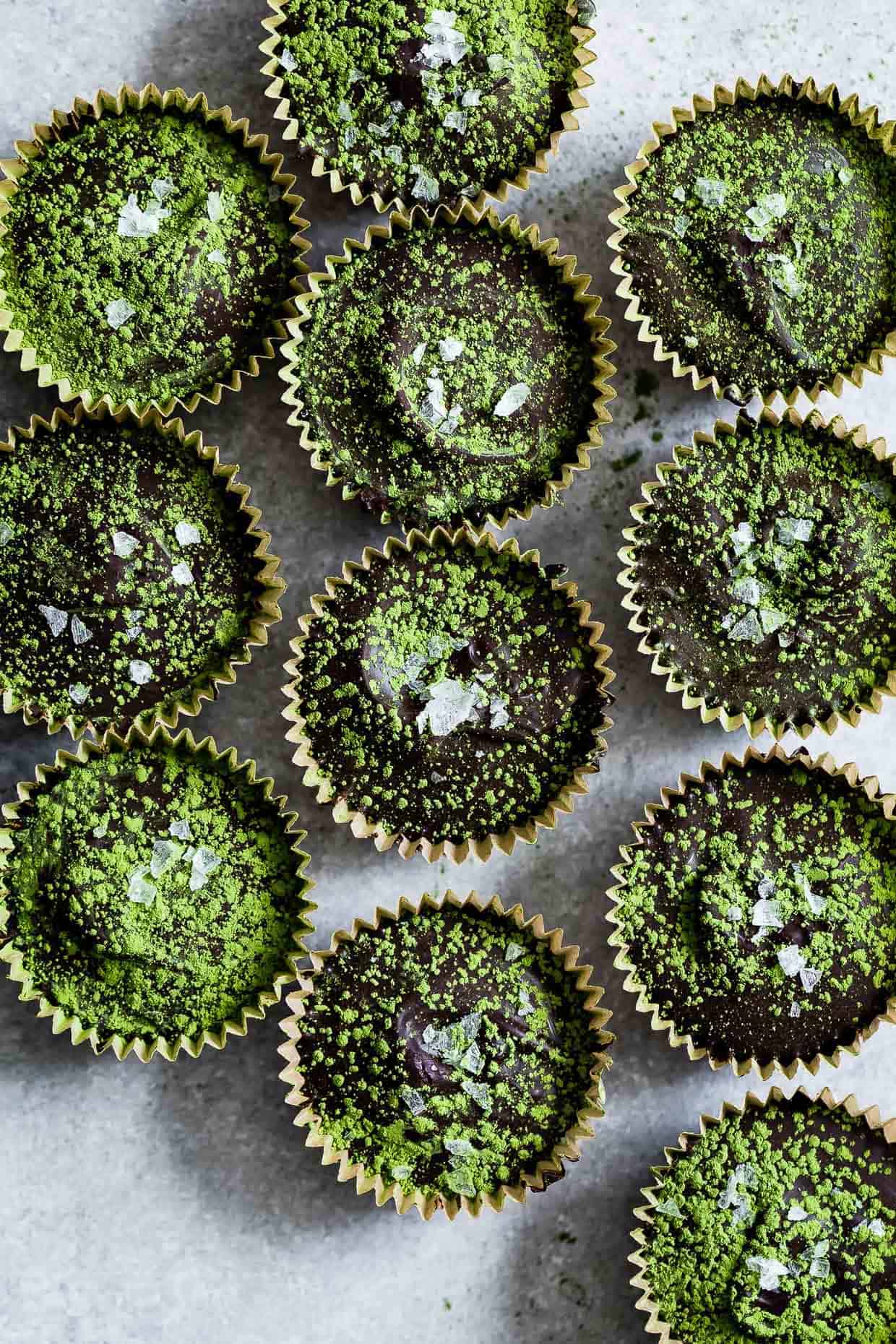 Aaaaaand that's when I learned that the children's bedtime tale I grew up thinking was a classic akin to Peter Rabbit and The Tortoise and The Hare, is definitively not a classic that other American children know. Karen's response, "if it's a sexual reference then no way!" was possibly my favorite.
It's not, but then again, when you re-read it as an adult you wonder if maybe it is? I'm not sure why a tale that includes the following lines isn't a children's hit classic though:
The Owl looked up to the stars above,
And sang to a small guitar,
"O lovely Pussy! O Pussy, my love,
What a beautiful Pussy you are,
You are,
You are!
What a beautiful Pussy you are!" - Edward Lear
Speaking of classics, Zoella is dressing up as Peter Rabbit for Halloween, though if you ask her, she'll just say "bunny." The same reply you'll get if you ask her what she wants you to draw with crayons. Again and again and again. I'll be Mrs. Josephine Rabbit with Lucas as Mr. McGregor (SERIOUS QUESTON: Should I bake him a pie to hold?).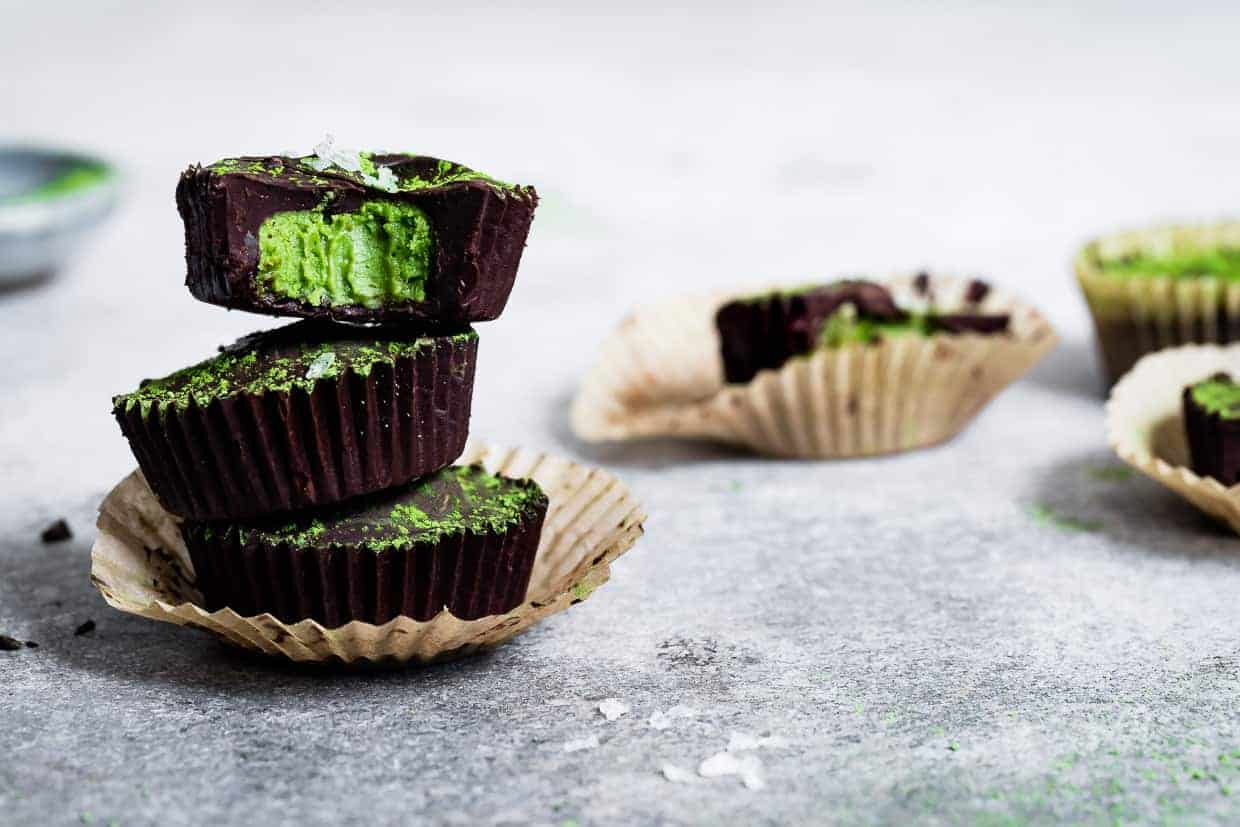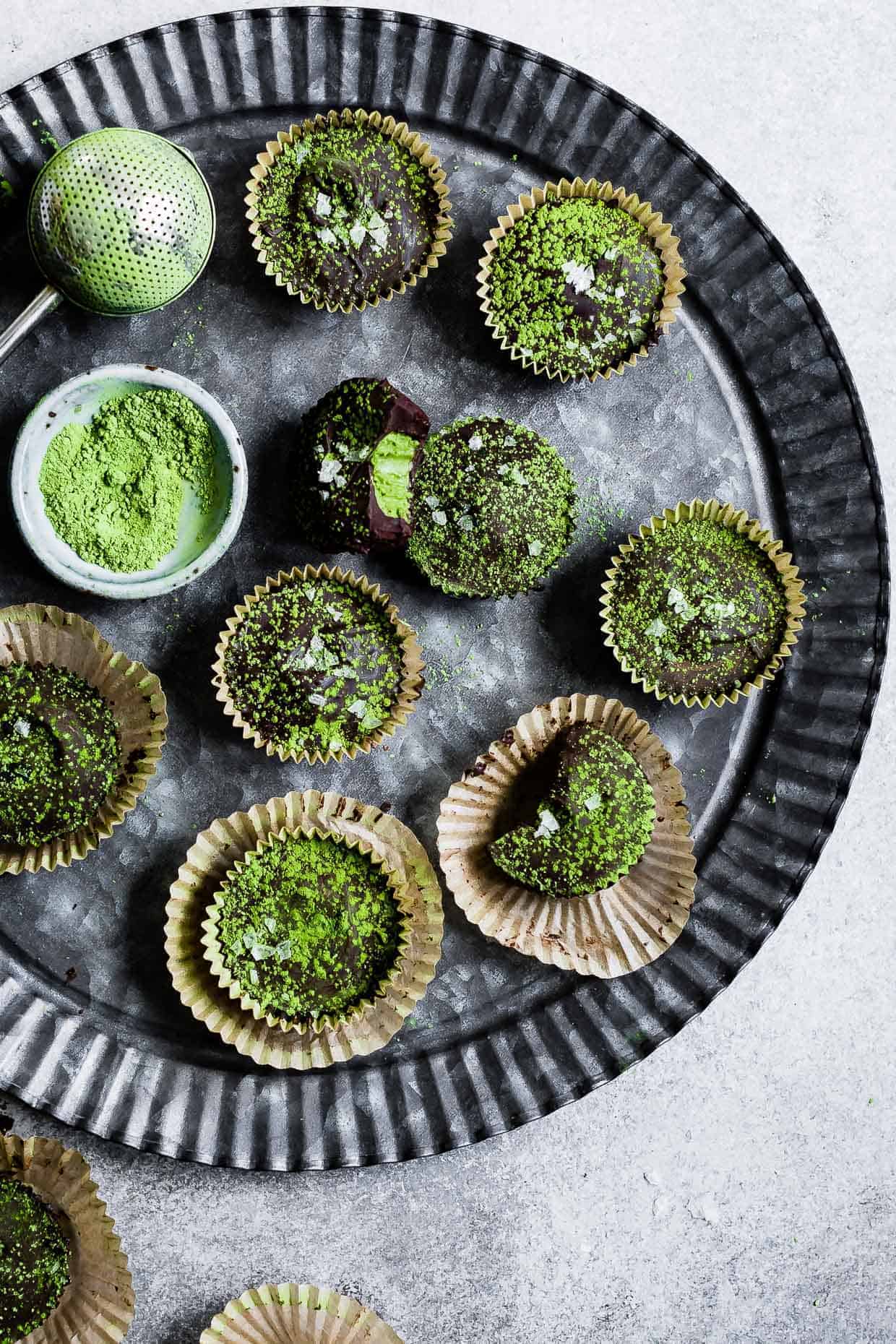 After trick-or-treating down the street, we'll sink into the couch eating these homemade chocolate mint matcha cups...and probably her candy too - shhhh. These little cups are perfect to bring to a halloween party (or party of one) or as edible holiday gifts. A thick shell of dark chocolate enrobes a soft pillowy patty.
Using high-quality matcha, these chocolate mint matcha cups are a naturally wicked vibrant green peppermint patty with slightly nutty earthy notes. I like Encha's organic latte grade matcha for these because of the color and smooth flavor - they're generously providing a matcha giveaway prize over on my Instagram tomorrow and a coupon code ENCHA15S for 15% off their matcha on Amazon through Halloween. So now you can make these cups and allll my other matcha recipes too! (Guys, can you tell I love matcha?)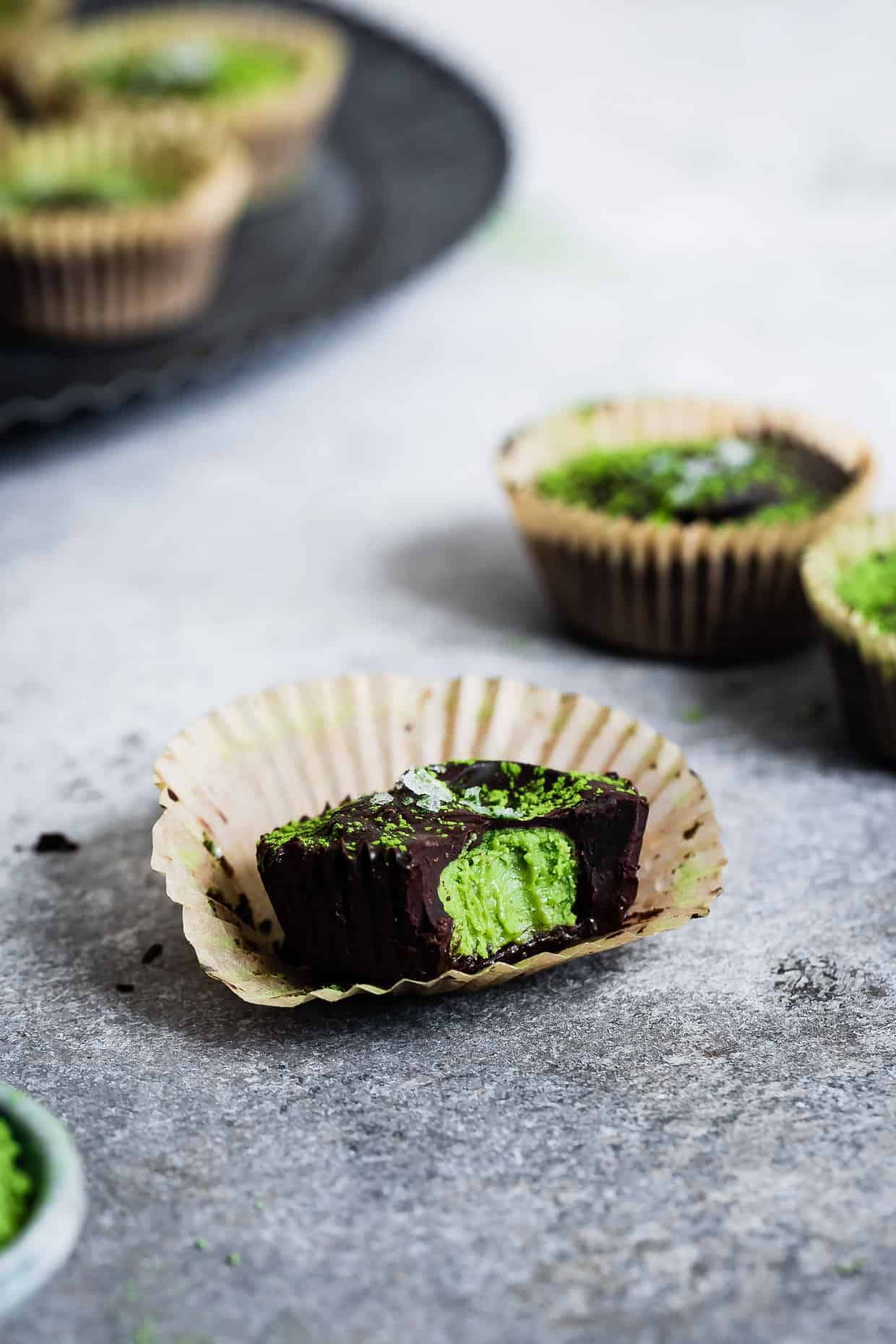 Disclosure: This post is not sponsored but Encha has generously provided the matcha used in this post and for a giveaway on Instagram. So special thanks to them and thanks to you for supporting the brands that keep Snixy Kitchen cooking!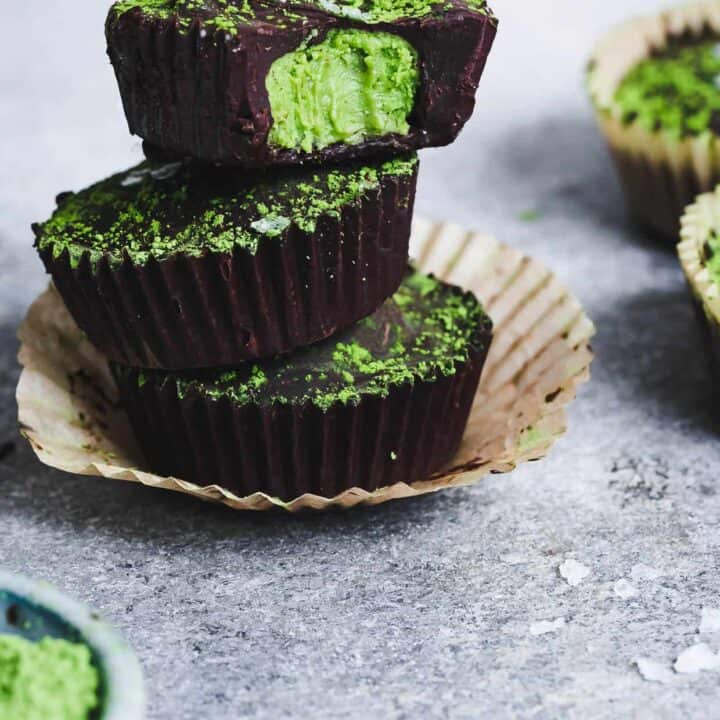 Chocolate Mint Matcha Cups
Ingredients
1 cup + 3 tablespoons (145g) powdered sugar
1½ tablespoons heavy cream (or whole milk)
1 tablespoon unsalted butter, softened
¼ teaspoon + ⅛ teaspoon peppermint extract
12 ounces bittersweet chocolate, chopped
Instructions
Prepare two mini muffin tins with liners and set aside.
In the bowl of a stand mixer fitted with the paddle attachment, combine the powdered sugar, cream, butter, matcha, and peppermint extract. Beat until it is no longer dry, but comes together as a creamy filling.
Roll the filling into a long cylinder, just slightly smaller than the diameter of the bottom of the muffin cups. Wrap it in plastic and chill it while you prepare the chocolate.
Melt the chocolate in a double broiler or in the microwave: fill a small saucepan with a few inches of water and set a heat-proof bowl over the top. Being careful not to get any water in your bowl, add the dark chocolate. Cook, undisturbed until a little more than half is melted, then stir until the rest melts. Cook for a few minutes longer until the chocolate stings a little when touched on your wrist or just below your lower lip.
Remove the bowl from the heat (again being careful not to get any water in it) and let sit, stirring occasionally, until the chocolate feels just a bit cooler than your body temperature when touched to your wrist or just below your lower lip.
Spoon 1 teaspoon chocolate into each cup and use a small spoon to evenly spread it up the sides of the cup leaving about ¼-inch of the cup uncovered. Make sure the bottom of the cup is completely covered. Chill for a few minutes to firm up.
Working quickly, remove the filling and cut the cylinder into 24 rounds. When the chocolate is firm, place one round into each muffin cup so it is not taller than the height of the chocolate shell.
Spoon another teaspoon or so of chocolate over the top of the filling. Spread the chocolate to make sure it goes down around the sides of the filling and smooth out the top. Repeat on all cups.
If desired, wait a few minutes then sprinkle the tops with a dusting of matcha powder and flakey salt while the chocolate is still soft. Let cool completely to harden the chocolate before serving (to speed up the process you can chill them for an hour). Store in an airtight container for up to a week.