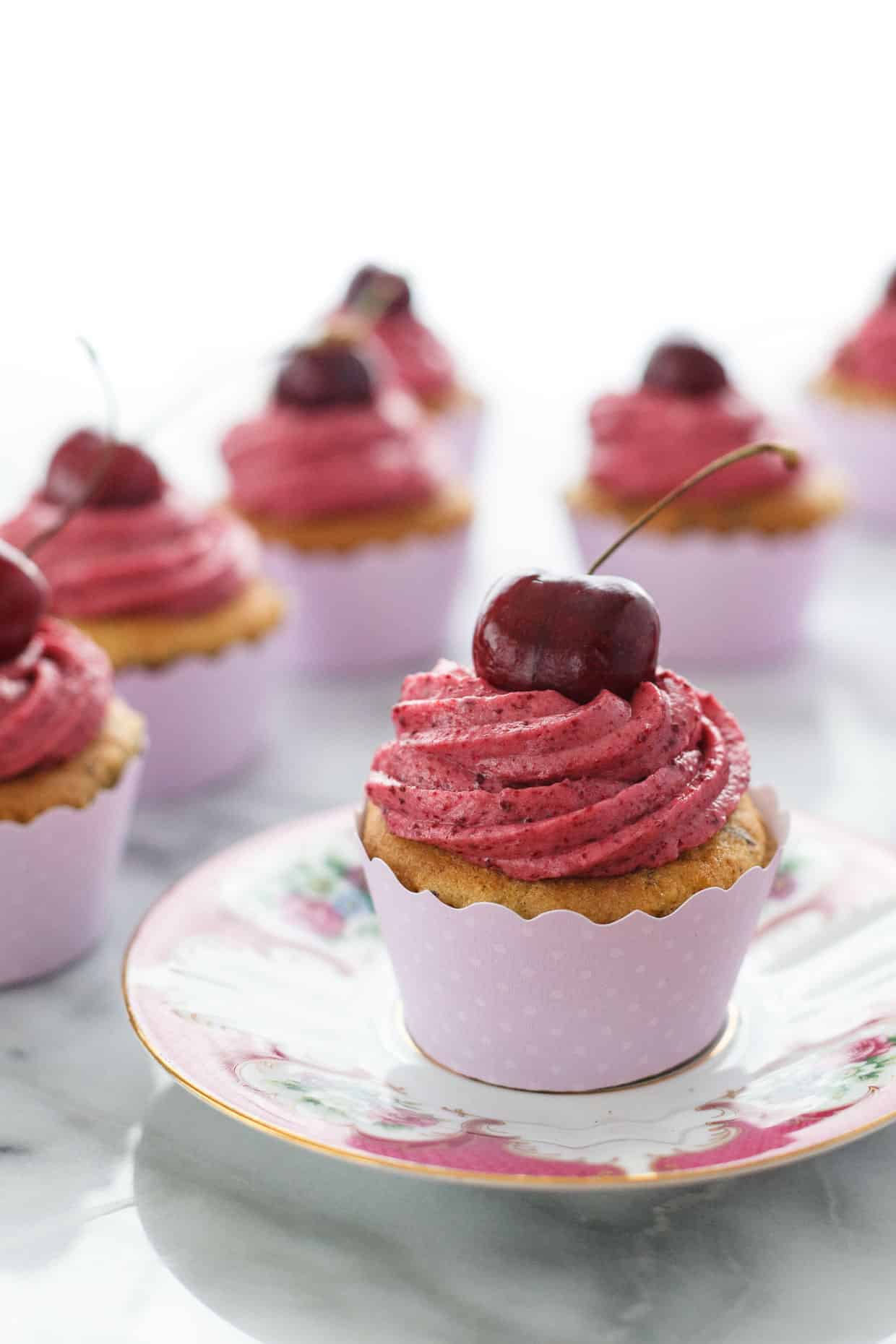 Before you start screaming that I'm a month late and it's not cherry season anymore, just hear me out. Rather than juicy summer berries, these cupcakes get their tart cherry flavor from freeze-dried cherries folded into the frosting - available all year round! I picked up this freeze-dried berry frosting trick from my friend Maryanne (The Little Epicurean) - it's her smart way of infusing intense berry flavor into frosting without ending up with drippy soft icing that won't hold its shape.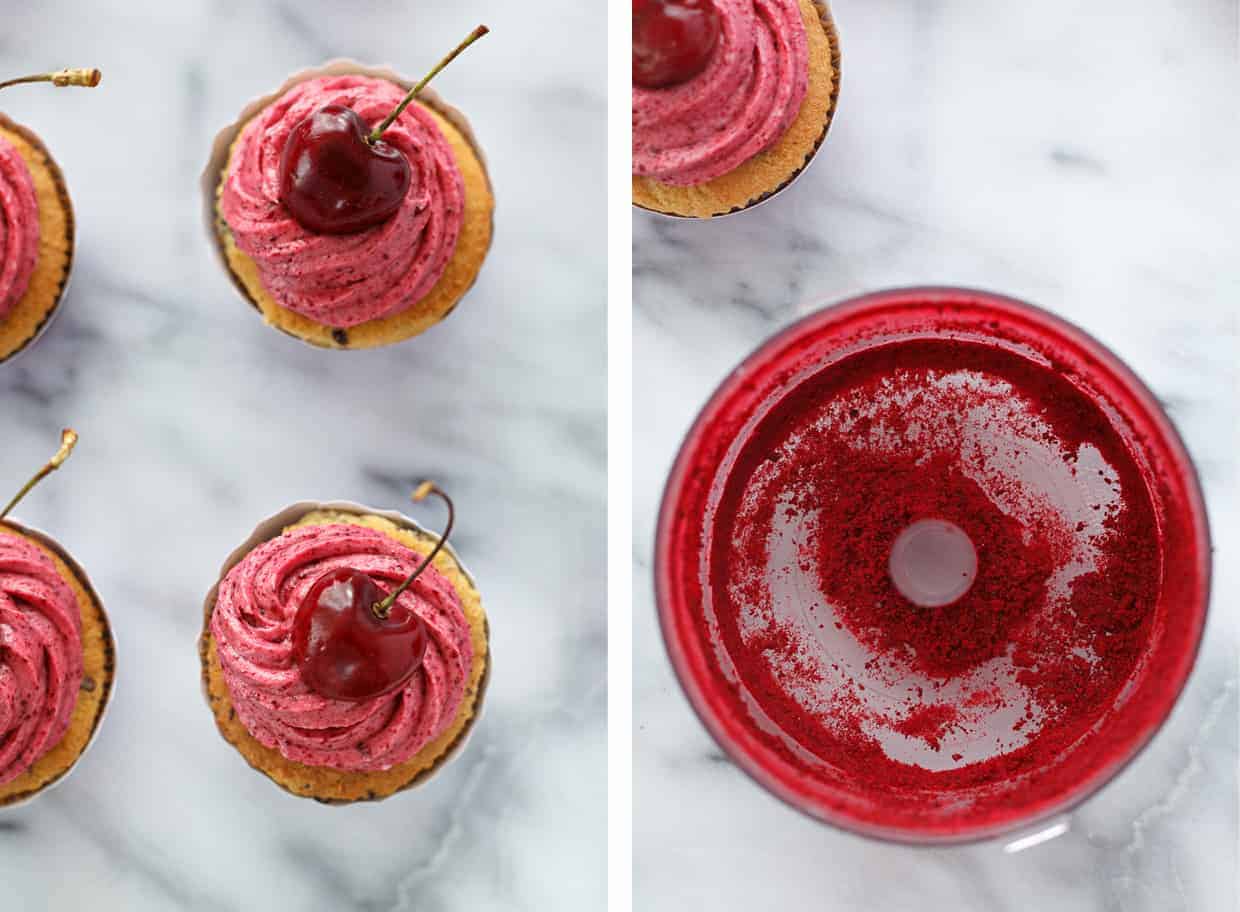 So there you go - now you can have these Cherry Garcia cupcakes in the middle of September. Which is a good thing because there's absolutely no way I could hold onto this recipe until next July. That'd just be cruel. If you rush out now, you might even find a few end-of-the-season black cherries to plop on top for decoration.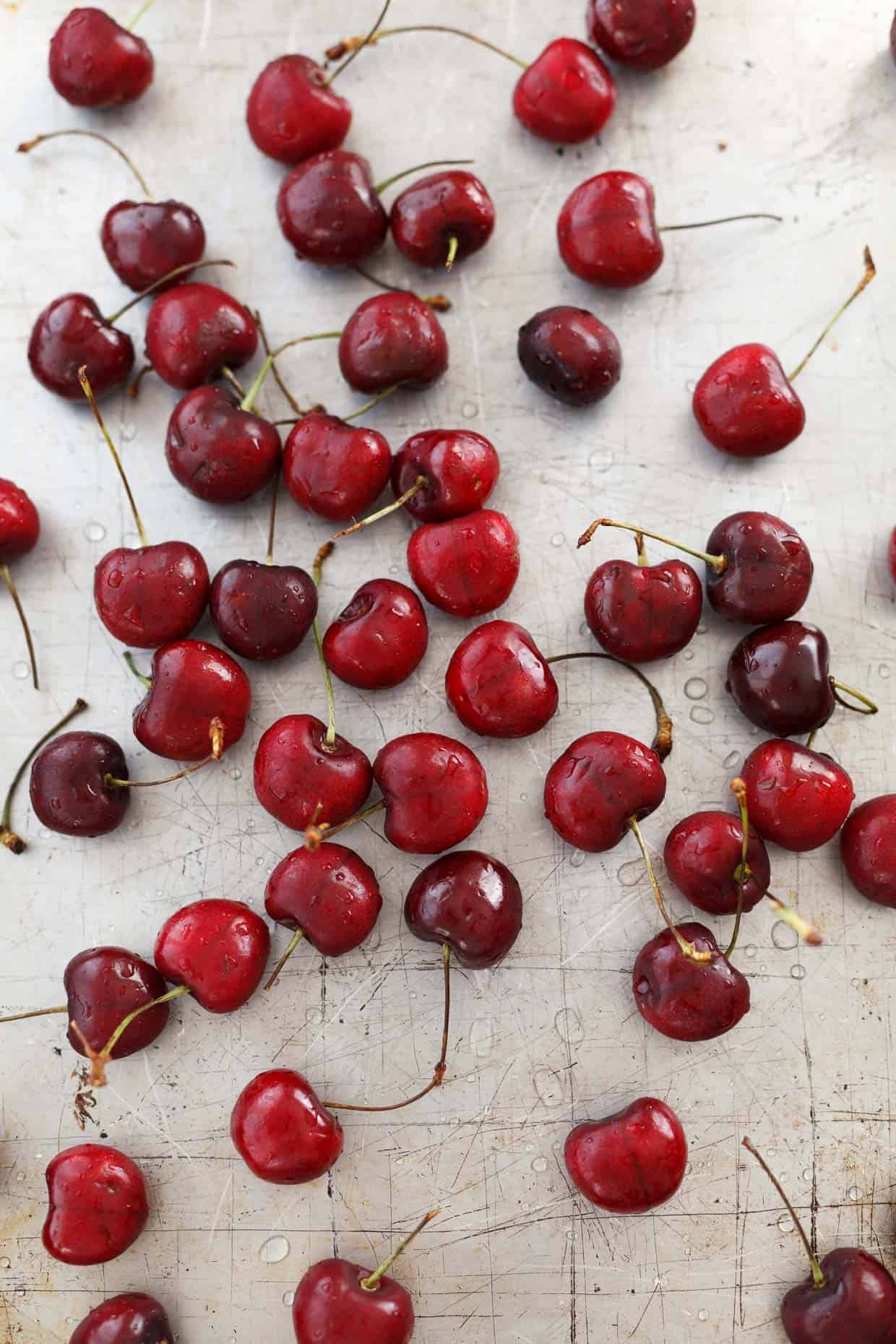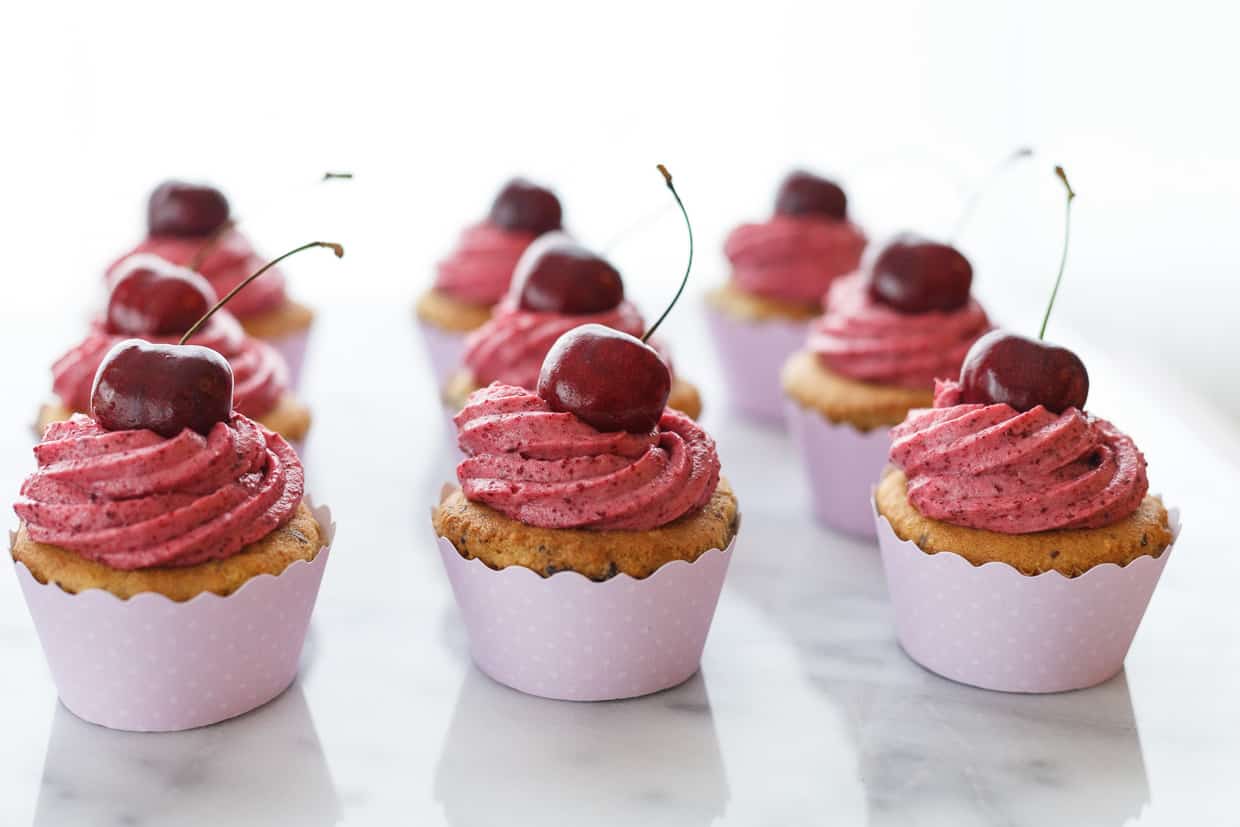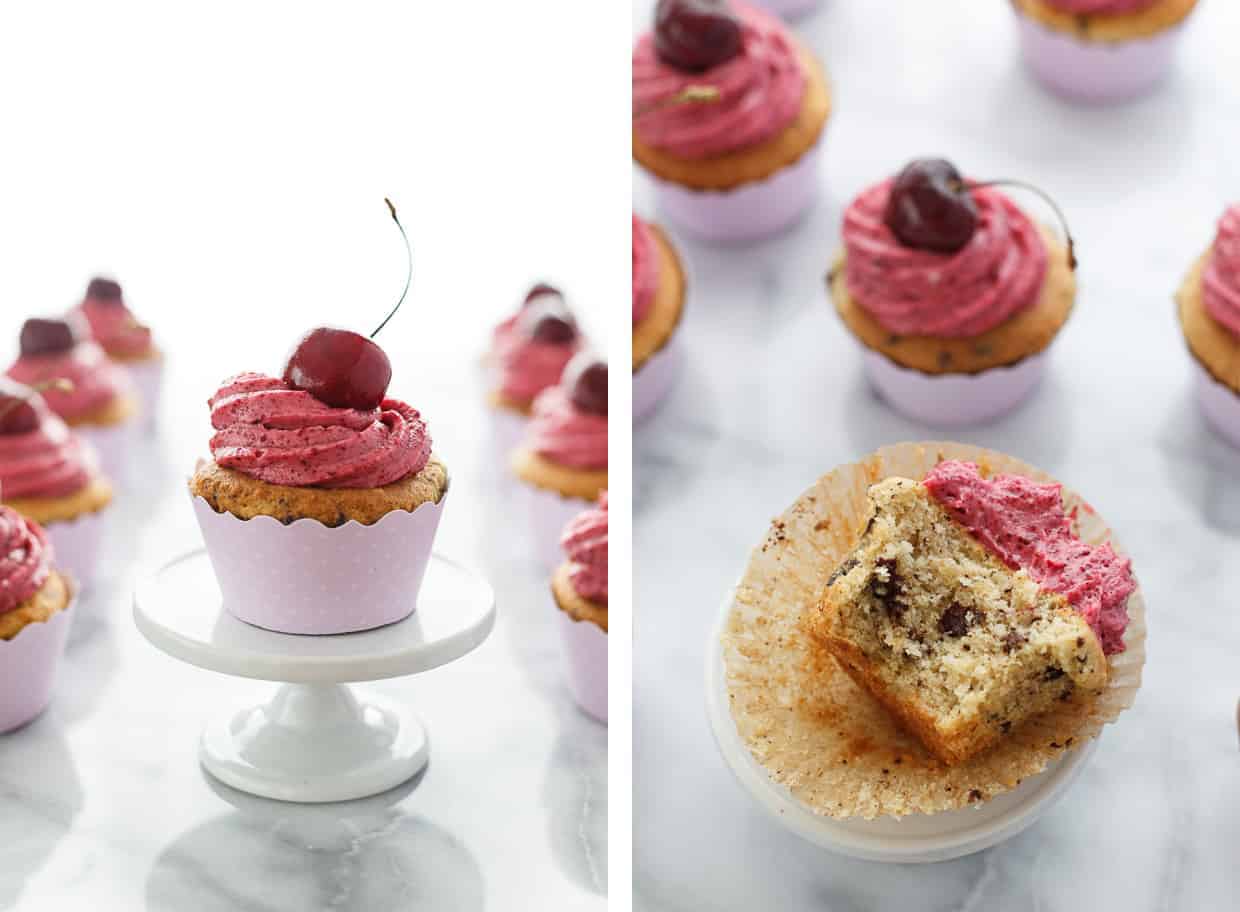 Okay, now that we've moved past that hurdle, let's talk about the cupcake I want to eat for the rest of my life. The cupcake I want served at my funeral (someone please take note - there better be chocolate chip cupcakes at my funeral). This chocolate chip cupcake is the real deal - the star of the show, with the cherry cream cheese frosting as its trusty sidekick.
Imagine a freshly baked chocolate chip cookie in the form of a moist fluffy cupcake. A vanilla cupcake with a light crumb filled with pockets of melty chocolate chunks - all topped with a dollop of cherry cream cheese frosting to give it a refined tart flair.
On this episode of kids say the darndest things:
As most neighbors of food bloggers will probably confirm, they get a constant stream of homemade desserts to sample. More like: I pawn off sweets on my next-door neighbors to keep myself from hiding one cupcake after another in my bottomless dessert belly. There's a house for sale on our corner - they really should list "free desserts" as a selling point.
When the three-year old answers the door, my plate of dessert is always met with wide eyes and bright smiles as she quietly asks what I've brought and why, pretending she's oh-so shy. Don't let that coy smile fool you though - she once uttered the words, "Mom, I'm shy" before fearlessly insisting I join her for a dance party in her room.
While Lucas and his coworkers went ga-ga for the chocolate chip & tart cherry union, this pint-sized "shy" budding food critic stopped by a week after I'd brought over a half-dozen of these Cherry Garcia cupcakes to very matter-of-factly announce "usually I like the frosting best, but I did NOT like this frosting." Noted.
This is a cupcake for grown-up taste buds - it will probably go over about as well as coconut-covered carrot cake at a child's birthday party.
GOOD NEWS: MORE CUPCAKES FOR ME!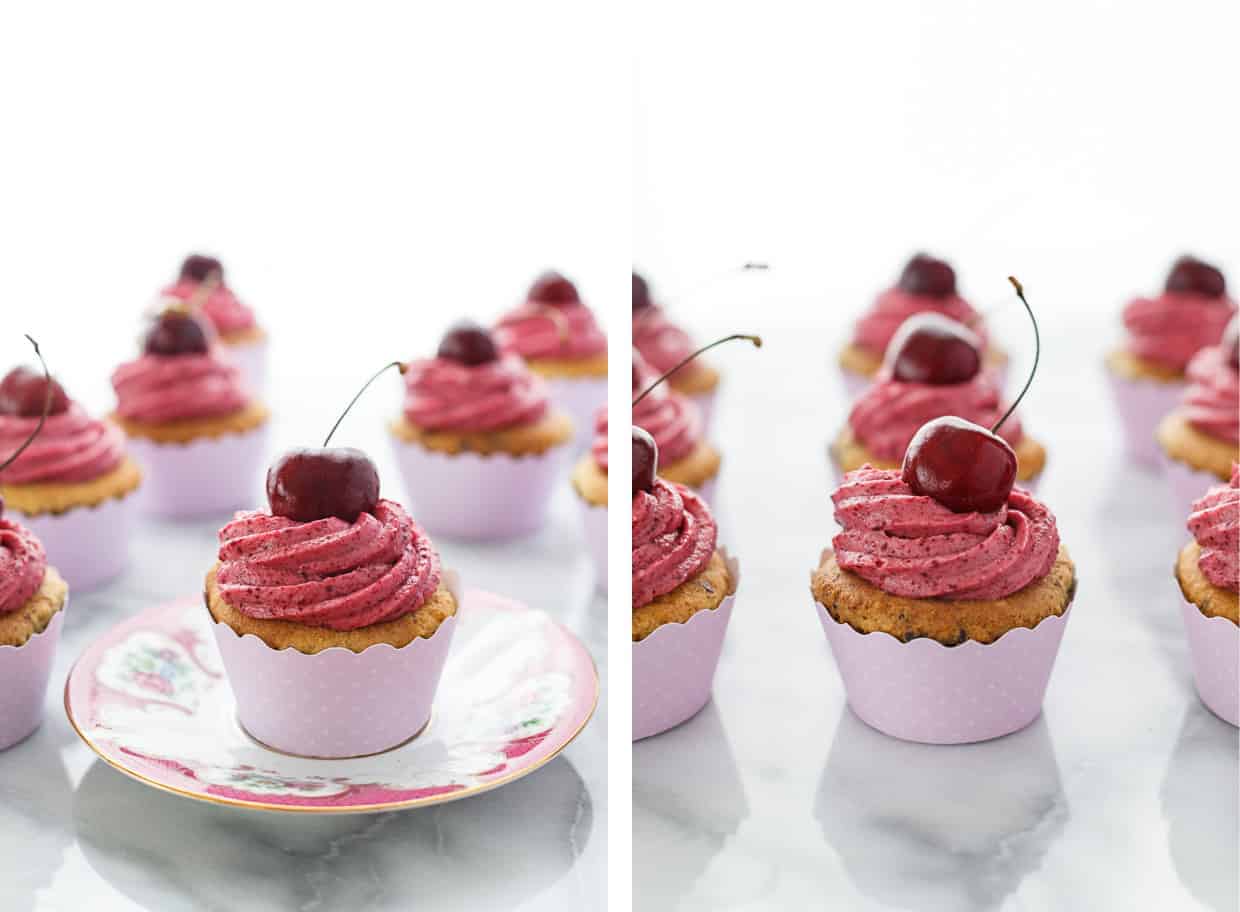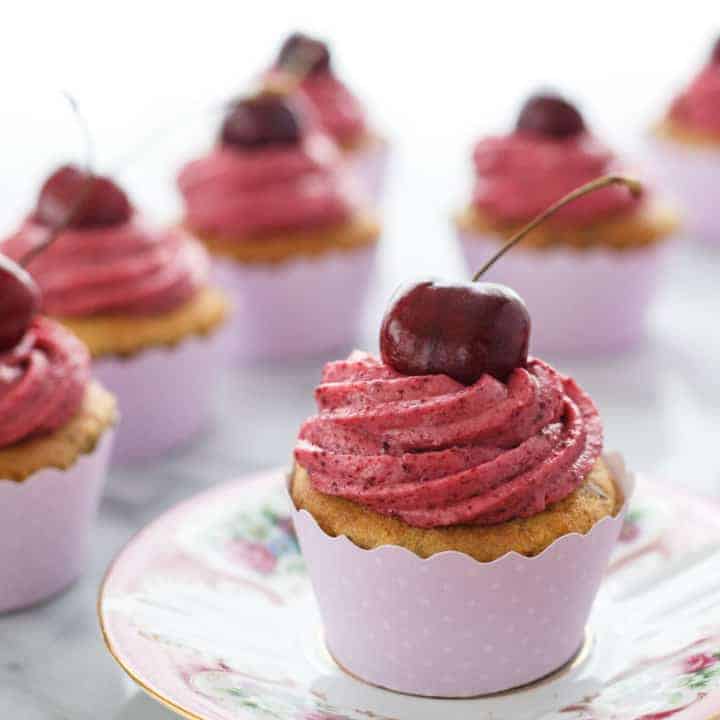 Gluten-Free Cherry Chocolate Chip Cupcakes
Gluten-free chocolate chip cupcakes with easy cherry frosting. A cupcake everyone will dream about!
Ingredients
Chocolate chip cupcakes
⅓ cup white rice flour
⅓ cup oat flour
⅓ cup millet flour
¼ cup sweet rice flour
¼ cup tapioca starch
½ teaspoon xanthan gum
½ teaspoon baking soda
1-½ teaspoons baking powder
½ teaspoon salt
¾ cup sugar
½ cup unsalted butter, softened to room temperature
2 teaspoons pure vanilla extract
2 large eggs, room temperature
½ cup whole milk
6 tablespoons dark chocolate chips, chopped
Cherry cream cheese frosting
4 ounces unsalted butter, room temperature
8 ounces cream cheese, room temperature
6 tablespoons ground freeze-dried cherries, sifted
1-½ cups powdered sugar, sifted
½ teaspoon vanilla extract
Instructions
Preheat the oven to 350°F.
In a medium bowl, sift together the rice flour, oat flour, millet flour, sweet rice flour, tapioca starch, xanthan gum, baking soda, baking powder and salt. Set aside.
In the bowl of a stand mixer, cream together the butter and sugar over medium speed.
With the mixer on low-speed, add the eggs one at a time, mixing after each one.
Add the vanilla extract, mixing until just combined.
Keeping the speed on low, slowly add the dry ingredients in two batches, adding the milk in between, mixing until just combined.
Fold in the chopped chocolate chips until evenly distributed throughout.
Divide the batter among 12 lined cupcake cups, until about ¾ full.
Bake for about 22 minutes, or until a toothpick inserted in the center comes out clean or with just a few moist crumbs.
While the cupcakes bake, prepare the frosting.
Transfer the cupcakes to a wire rack to cool.
Once the cupcakes are cool, pipe cherry frosting on top and serve.
Cherry cream cheese frosting
In the bowl of a stand mixer, cream the butter over medium speed.
Add the cream cheese and whip until combined.
Add the powdered sugar, in thirds, mixing on slow speed until combined.
Add the vanilla and ground freeze-dried cherries, and beat on medium speed until smooth.
Transfer to a pastry bag to pipe onto cupcakes, or spread directly on cupcakes with a knife.
Nutrition Information:
Yield:

12
Serving Size:

1
Amount Per Serving:
Calories:

477
Total Fat:

25g
Saturated Fat:

15g
Trans Fat:

0g
Unsaturated Fat:

8g
Cholesterol:

92mg
Sodium:

303mg
Carbohydrates:

58g
Fiber:

1g
Sugar:

38g
Protein:

5g