A Burmese style vegan coconut curry recipe with mushrooms, cauliflower, and spinach. Serve this coconut curry over sweet coconut rice for a bright and refreshing comfort dish great for any season!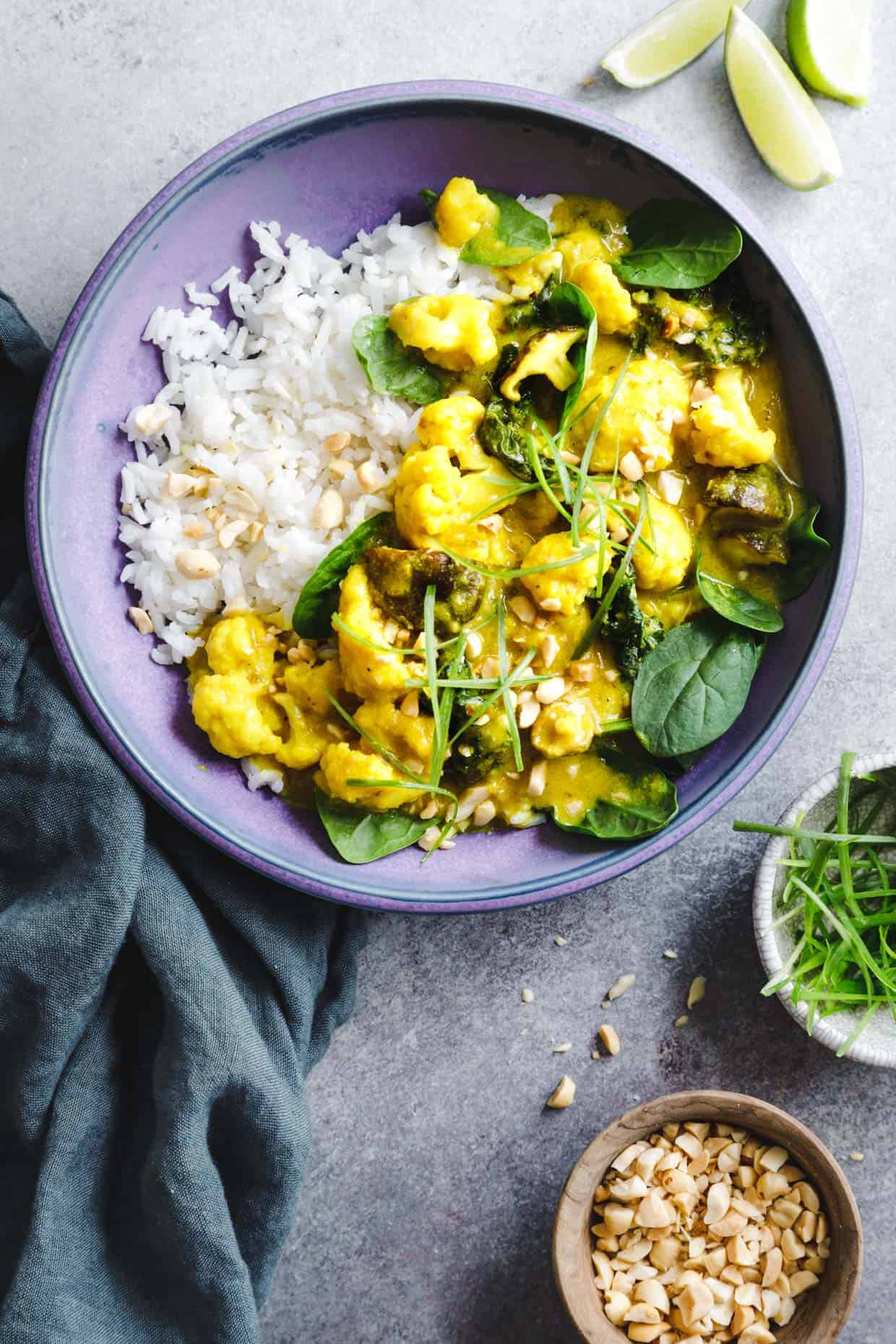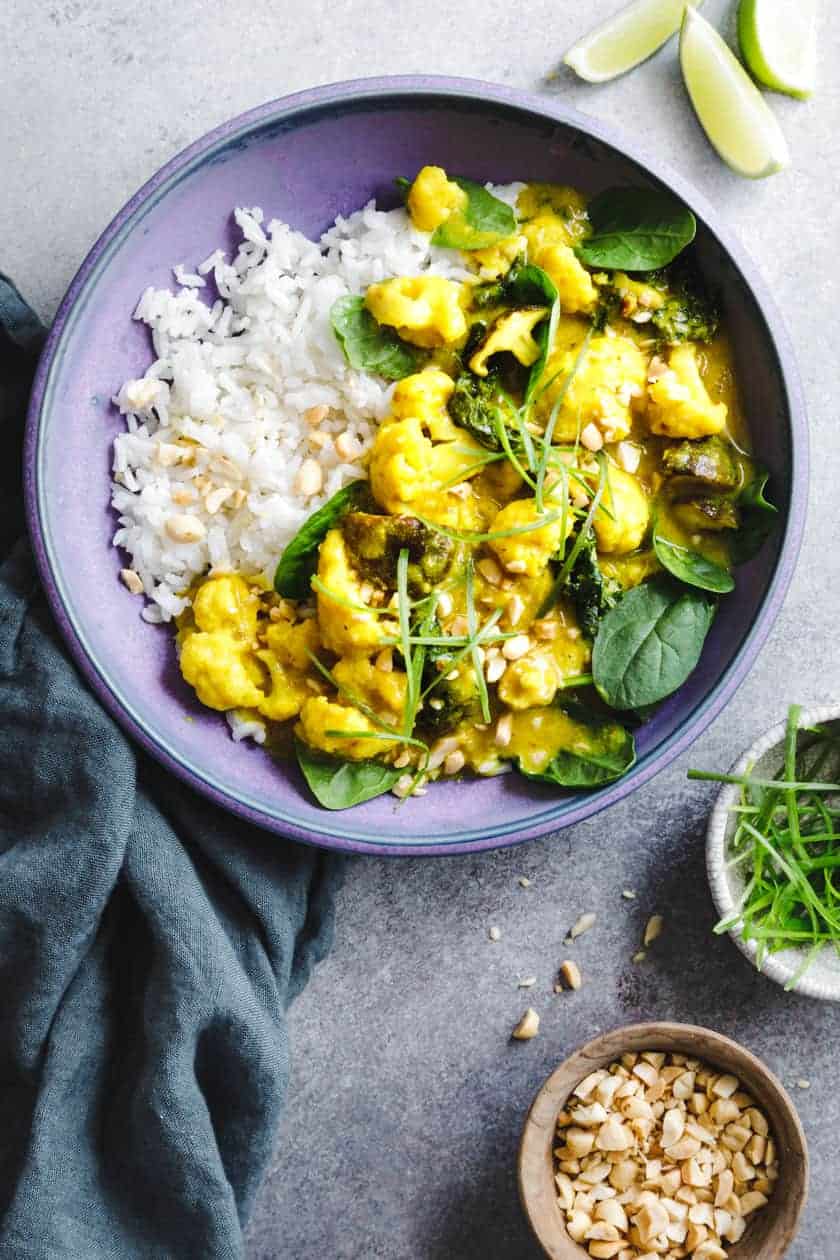 This vegan coconut curry recipe is inspired by my favorite dish at Teni East Kitchen - a Burmese restaurant we frequent in Oakland. The same dish I drove 25 minutes for on two different occasions try to induce labor a couple weeks ago. Spoiler alert: Our chunky baby boy finally came barreling into our lives two weeks ago - just 2 days past his due date. Making us a (very tired) family of four, Ira Quinn joined our family. Here's the story of the day I went into labor and the role this vegan coconut curry played.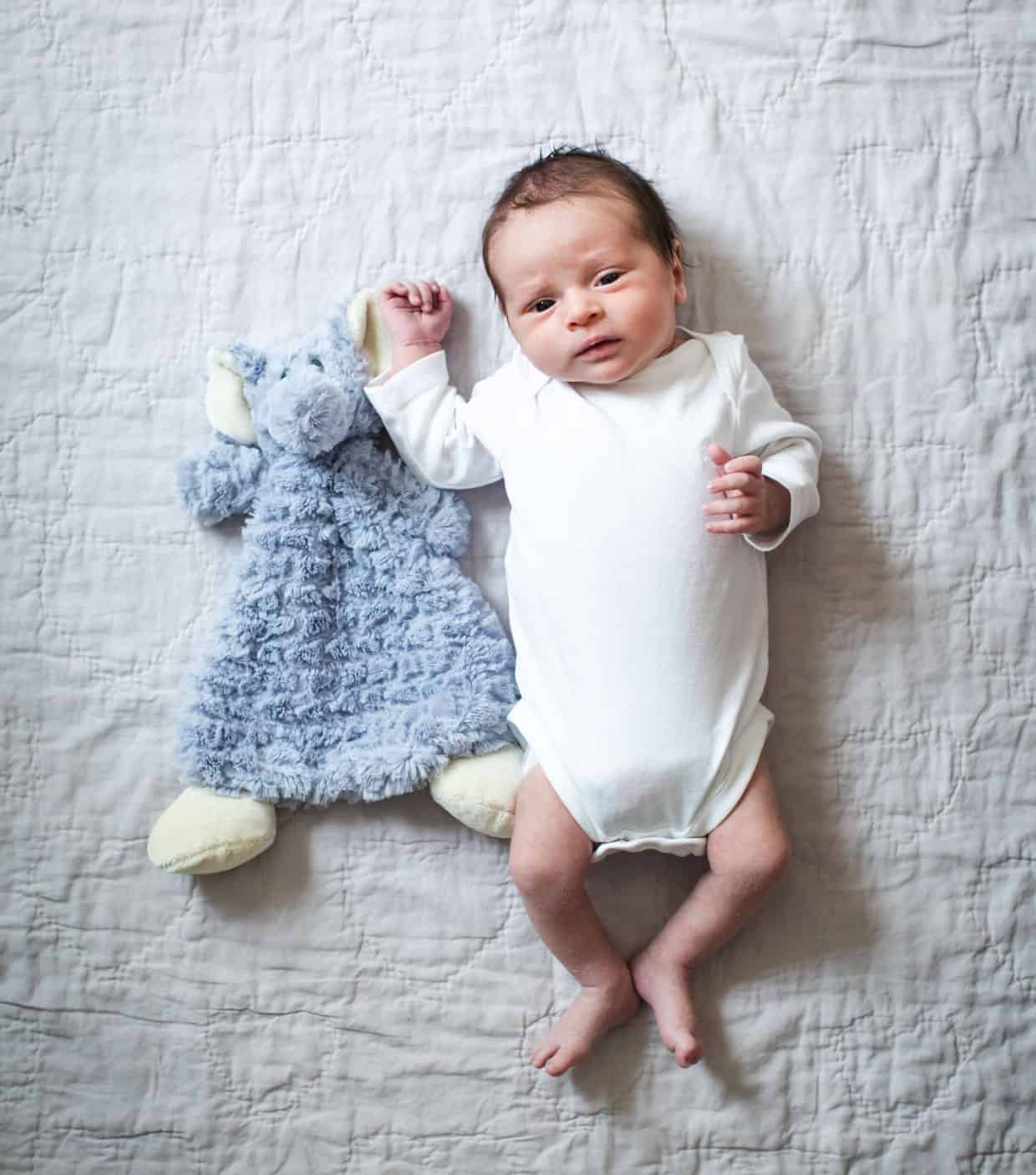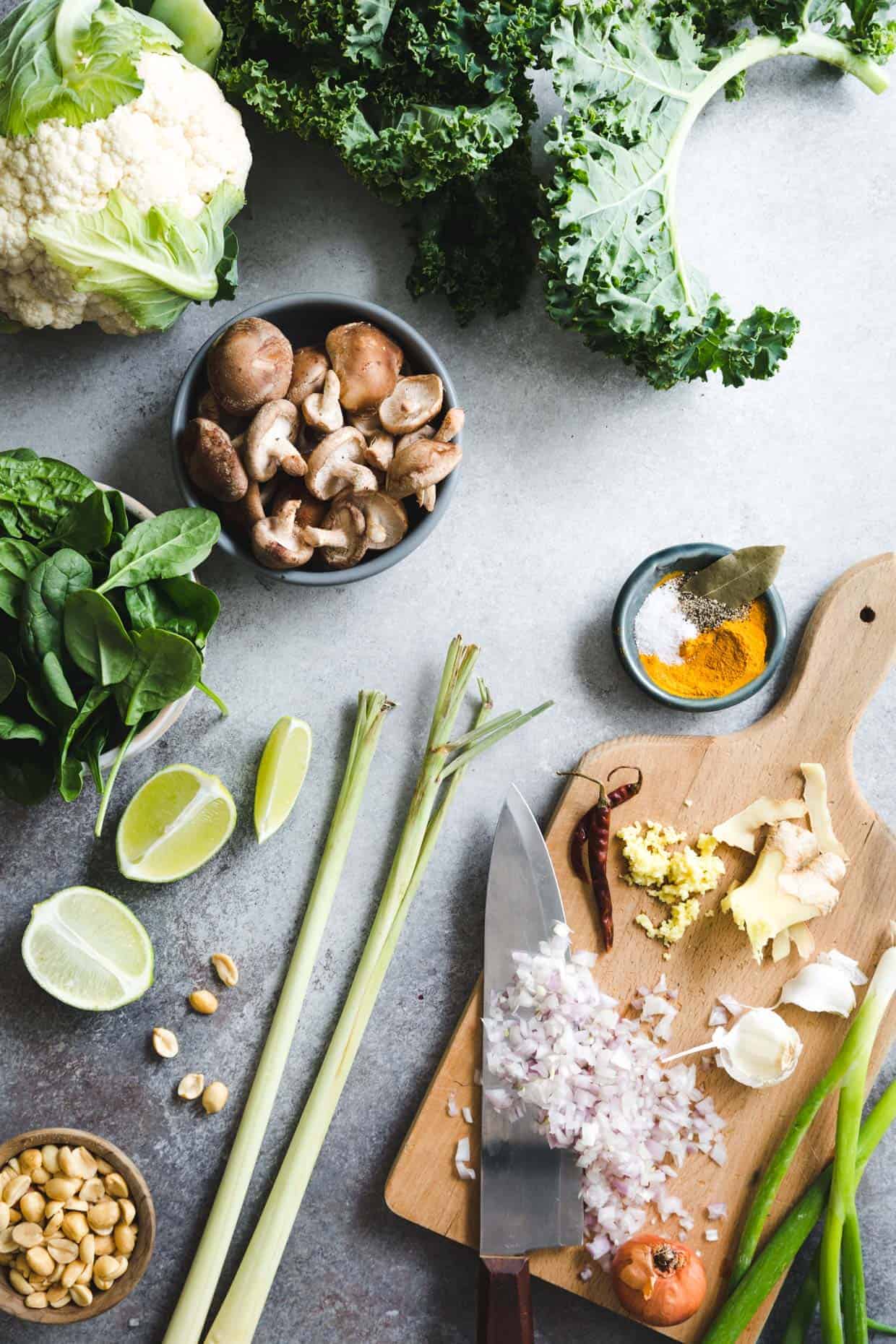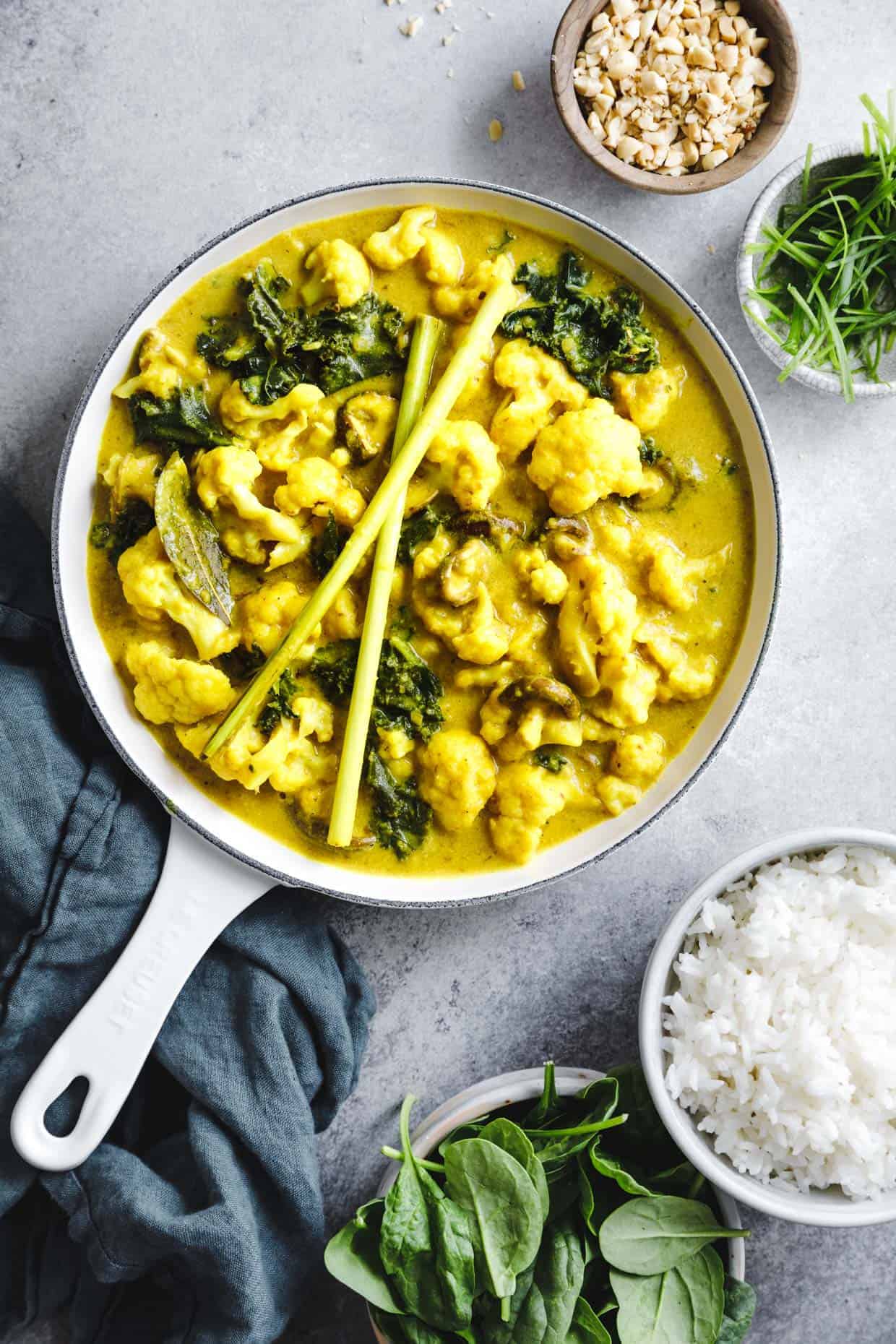 At 39 weeks pregnant, my OB gave me a list of scientifically-supported home induction methods that I supplemented with a whole bunch of very non-scientific lists I found on the internet (obviously). When my daughter was born, I predicted she'd be a week late. She wasn't. And that's why it took me almost two years to finish her baby quilt. This time around, I fully expected baby boy to be a week early and I tried my darndest to make it happen.
Spicy food, my OB instructed, has only been shown to help with induction if you don't normally eat spicy food. That's me! I beelined to Oakland for this Burmese style vegan coconut curry. When I quizzed the waiter for the spiciest things on the menu because I was trying to have this baby TONIGHT, he also recommended a plate of spicy chicken wings to seal the deal. He was also definitely uncomfortable at my line of questioning. I started contractions that night. Contractions that lasted four hours and then stopped, but not before I called my mom to start her 3 hour drive down. A trend that continued for almost a week.
So a few days later, I went back for more vegan coconut curry. Given how determined I was to have my baby the first time, even the waiter was shocked I was still pregnant several days later. Spicy food never worked, but honestly, trying to induce labor was just a convenient excuse to eat this coconut curry again and again. We went back again today, this time with the baby, finally.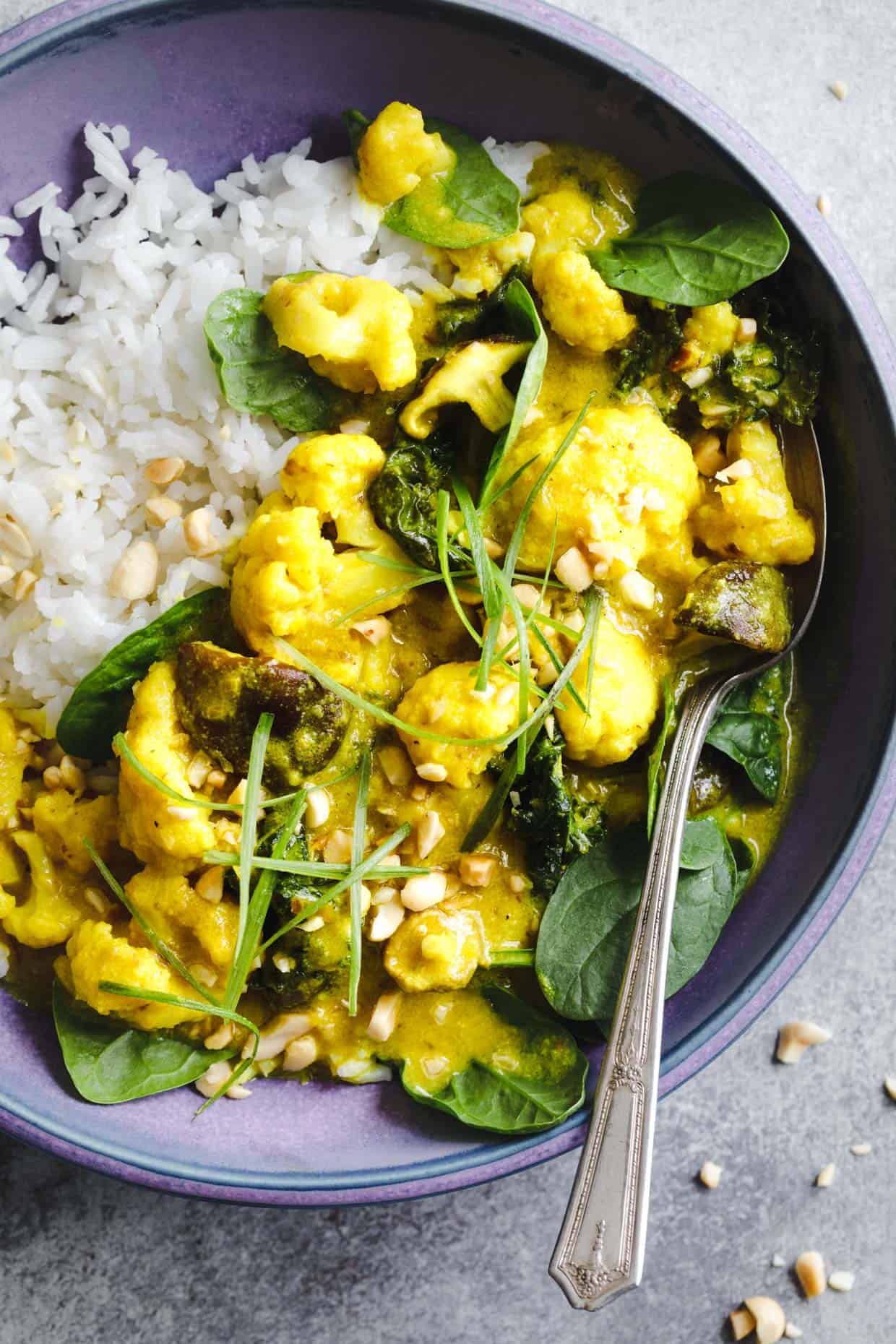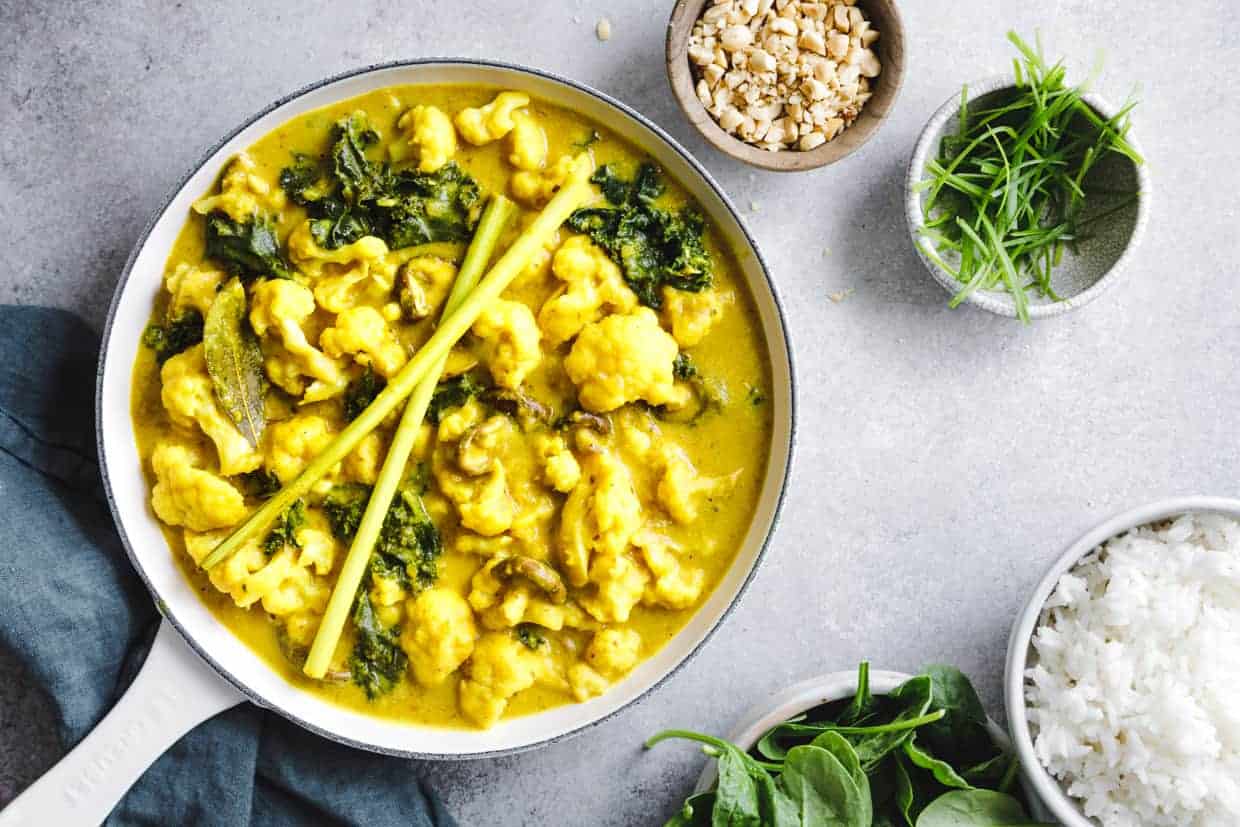 After our 40 week pregnant OB check-up, I decided to bake chocolate chip cookies for the nurses, just in case. On our way home, my mom double checked that I was planning to make enough cookies that she'd get to eat some too. Contractions ramped up again while I measured flour, but I kept mum because I didn't want to jinx it again. Around 10:30am, I casually texted Lucas at work, "FYI I'm having contractions. Not to alarm you but these are more intense. You might want to come home."
He asked if he could stay for company lunch first (!!). It was pho, he pleaded, and he was hungry. This feels like an appropriate time to point out that everything about labor and parenting with the second kid is much more lax.
I agreed and continued baking cookies, still not convinced this was the real deal. That is, until contractions came every 5 minutes, intense enough that I had to stop baking and breathe through them. When the on-call nurse told us it was go-time, I insisted on putting the last two sheets of cookies in the oven first. After all, I promised my mom she'd have cookies too!
Ira Quinn was born later that night. Turns out all he was waiting for was a batch of freshly baked cookies. He's a soft snuggly little guy, who's sweet as pie. He asks for milk with little coos and if he does cry, he melts into a calm puddle as soon as you pick him up. Possibly because I've already gone through the process of assuming the identity as a mother with my first born, Ira and I bonded much more instantly. He's fit into our little family from day 1.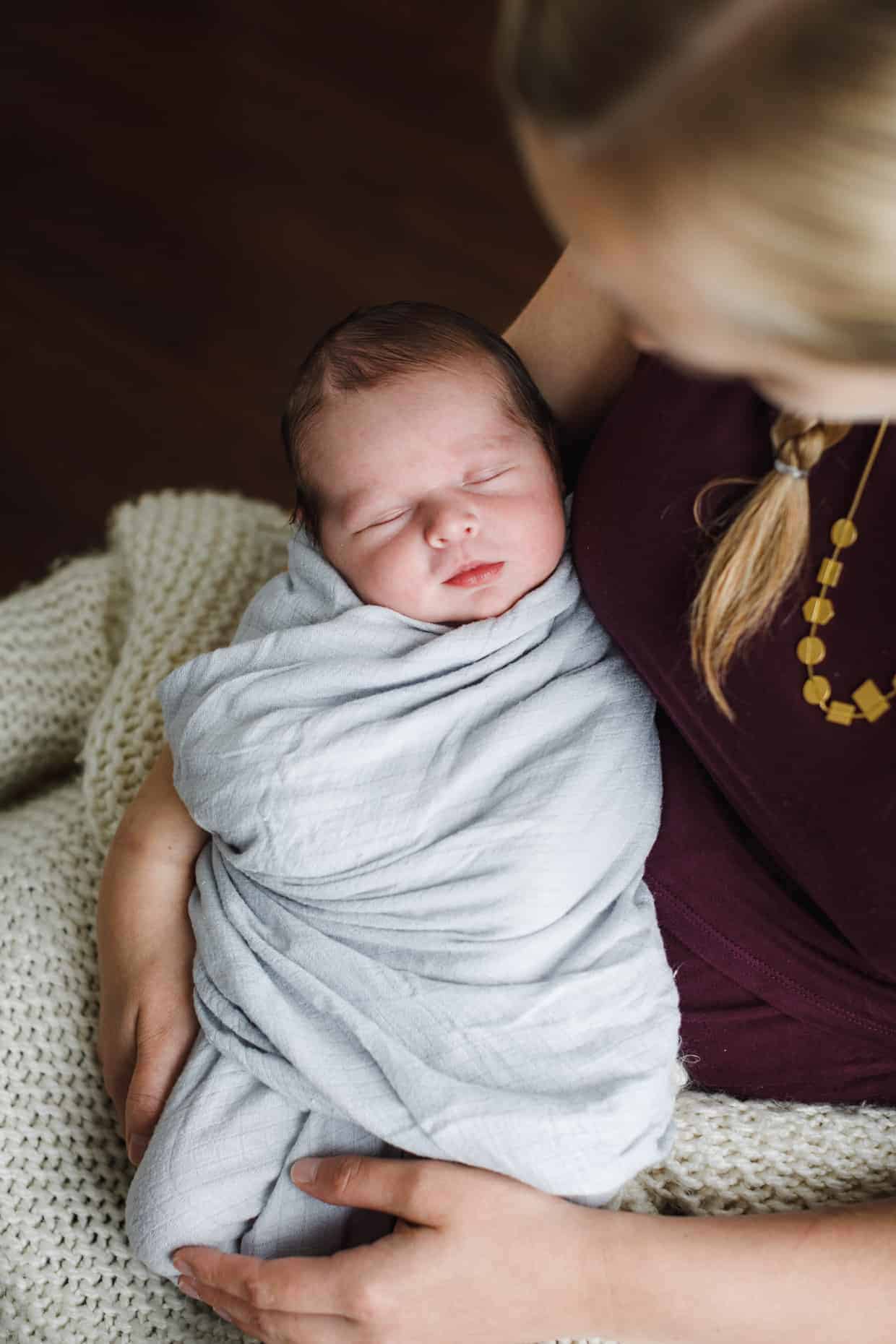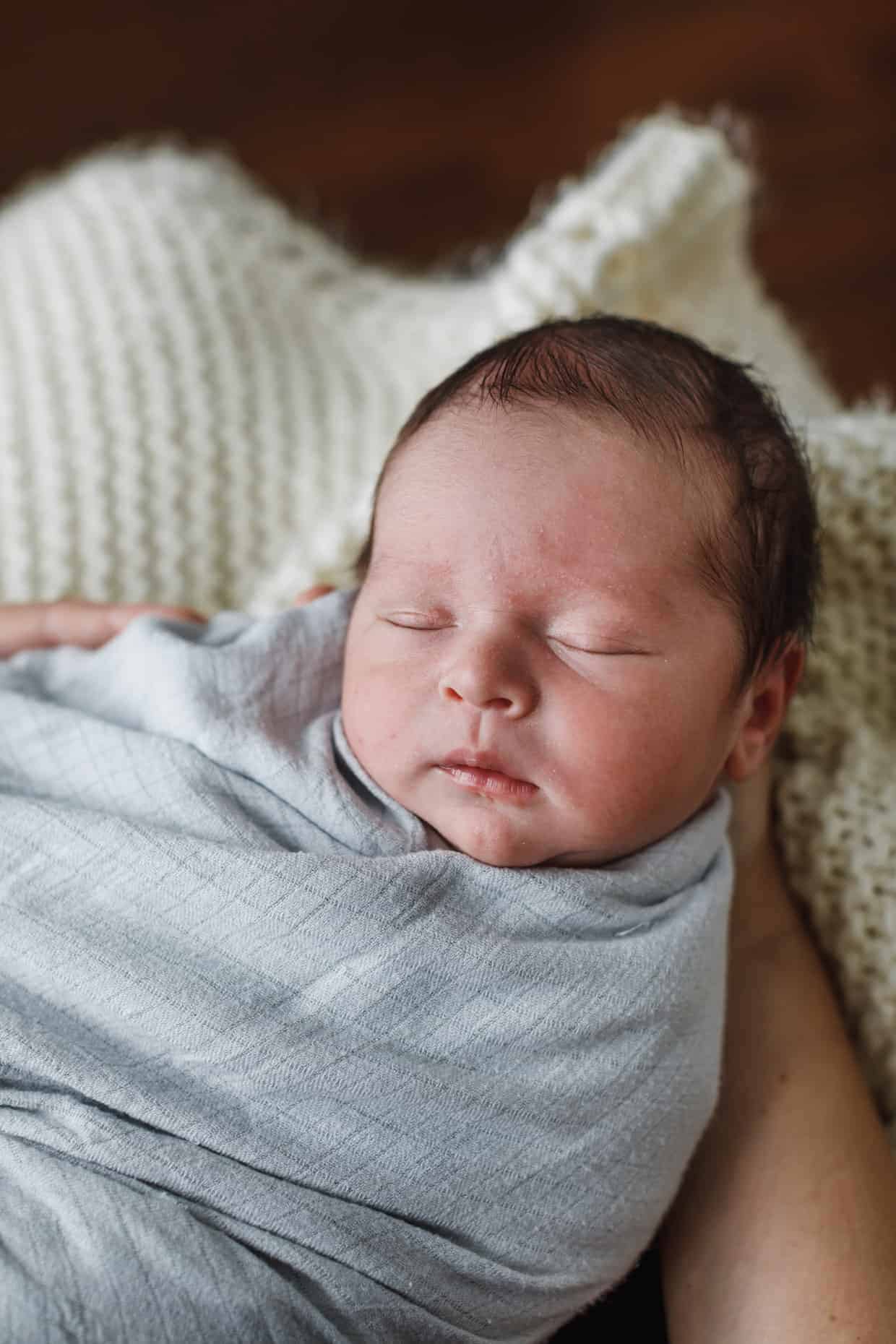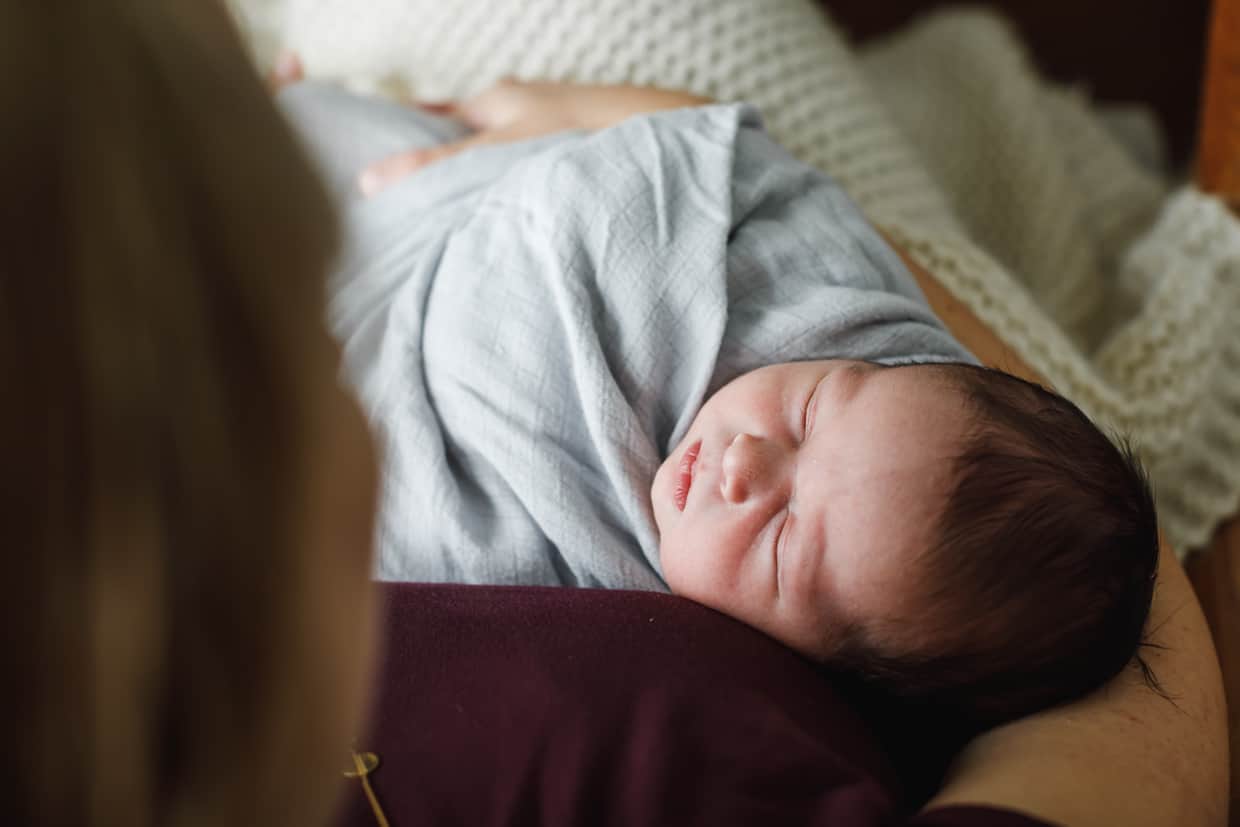 We're also shocked by how huge Zoella now seems after holding a tiny newborn. As if almost overnight, my 2.5 year old baby seemed to grow into a kid, becoming more mature as she assumes the role of big sister. For all of her jealously about needing mama, she hasn't directed one ounce of it at her baby brother. Instead, she requests he come everywhere and is already so thoughtful, loving, and gentle with him. Watching a new tiny human is pretty rad, but the most heart-melting part about it is the two of them together. Watching Zoella peel off one of her prized stickers to place on his onesie. Watching her belt hush little baby when he gets fussy. I'm not crying, you're crying.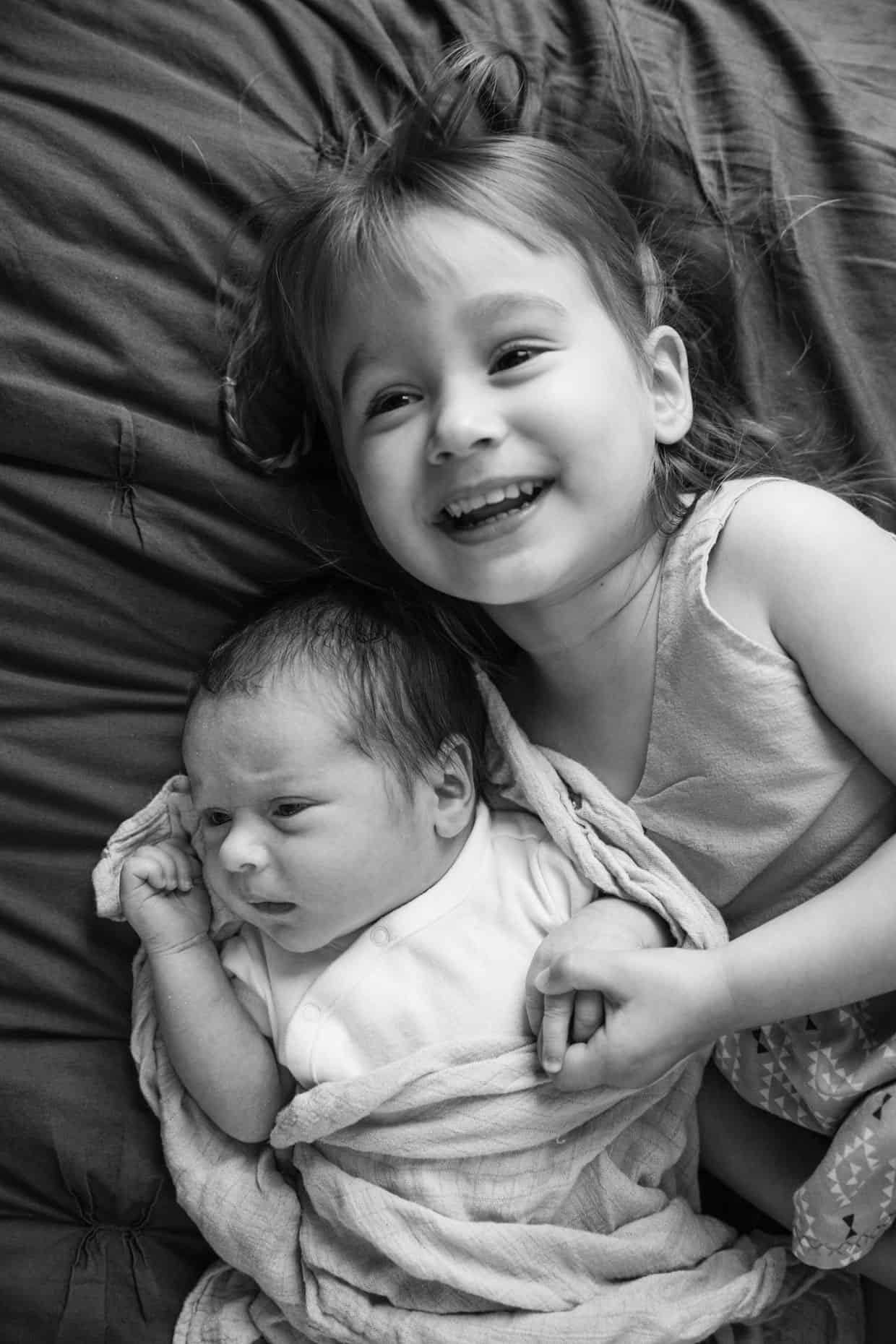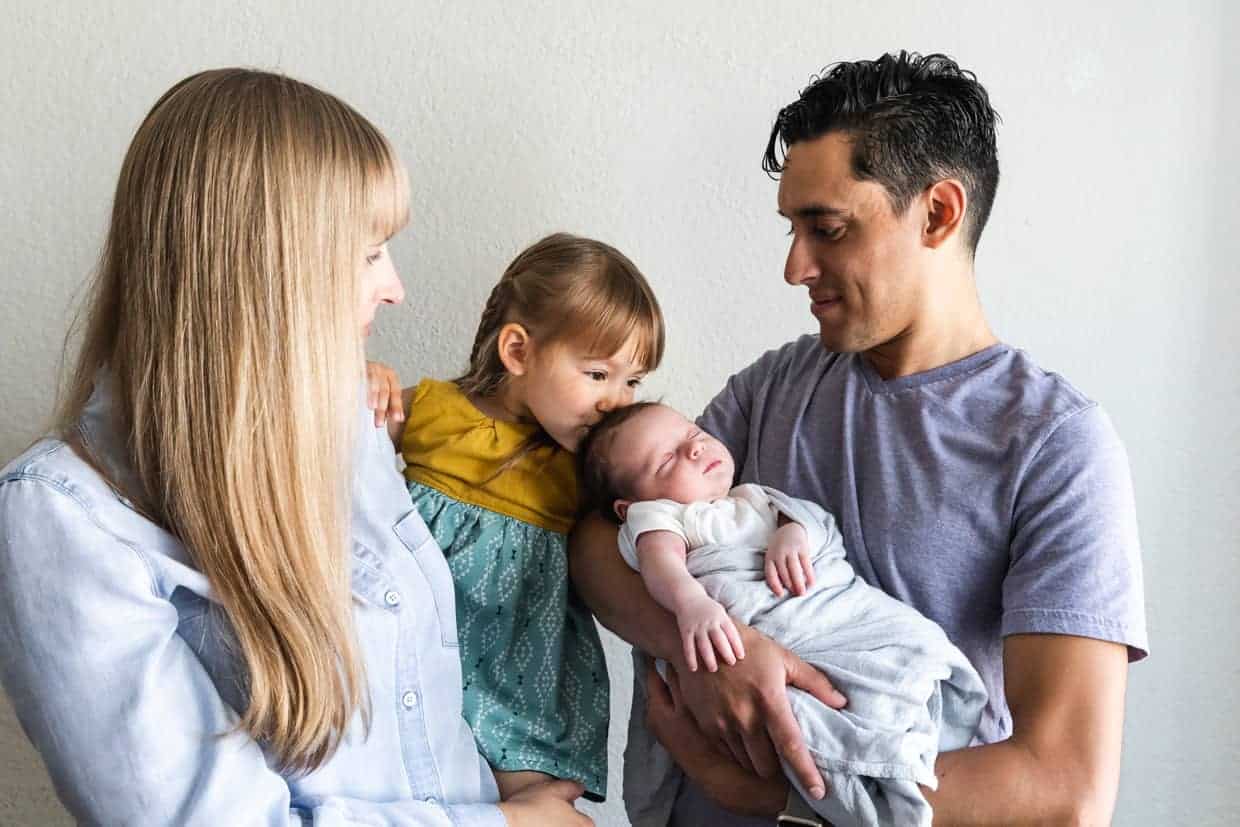 How to make Burmese style vegan coconut curry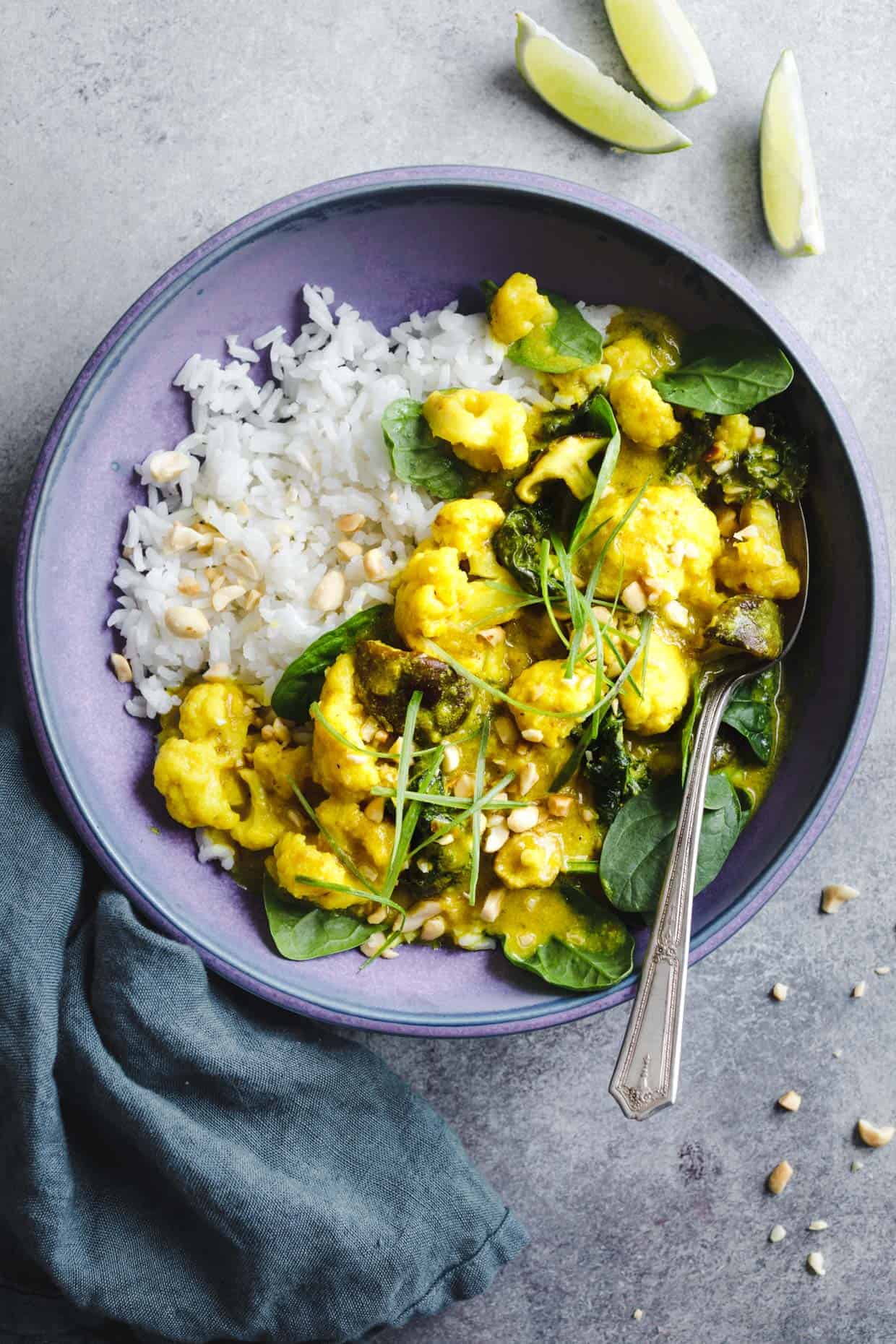 Back to this vegan coconut curry. Its unlike most curries I've had before - its flavor is distinctly different than both Indian curries and Thai curries. This is a Burmese curry - or Burmese-style I should say, speaking as someone who is definitely not an expert on Burmese cooking. Instead I did research on traditional flavor combos. Here's the result. It's heavily coconut-y, giving it a sweet base layered with subtle flavor from bay leaf and lemongrass. Chilis bring the heat, which can be controlled to your liking.
To keep the curry vegan without using fish sauce, I've used mushrooms to add umami. The key is to add the mushrooms toward the end or else they'll overpower the dish. You can sub in whatever vegetables you want, but just make sure you keep those mushrooms or your dish will feel like it's missing a flavor note.
Make this comforting version at home to serve over sweet coconut rice and make sure to visit Teni East Kitchen next time you're in the East Bay to try the beloved Burmese curry that I can't stop ordering.
And while you're on a curry kick, check out this vegan chickpea coconut curry recipe from With Food & Love!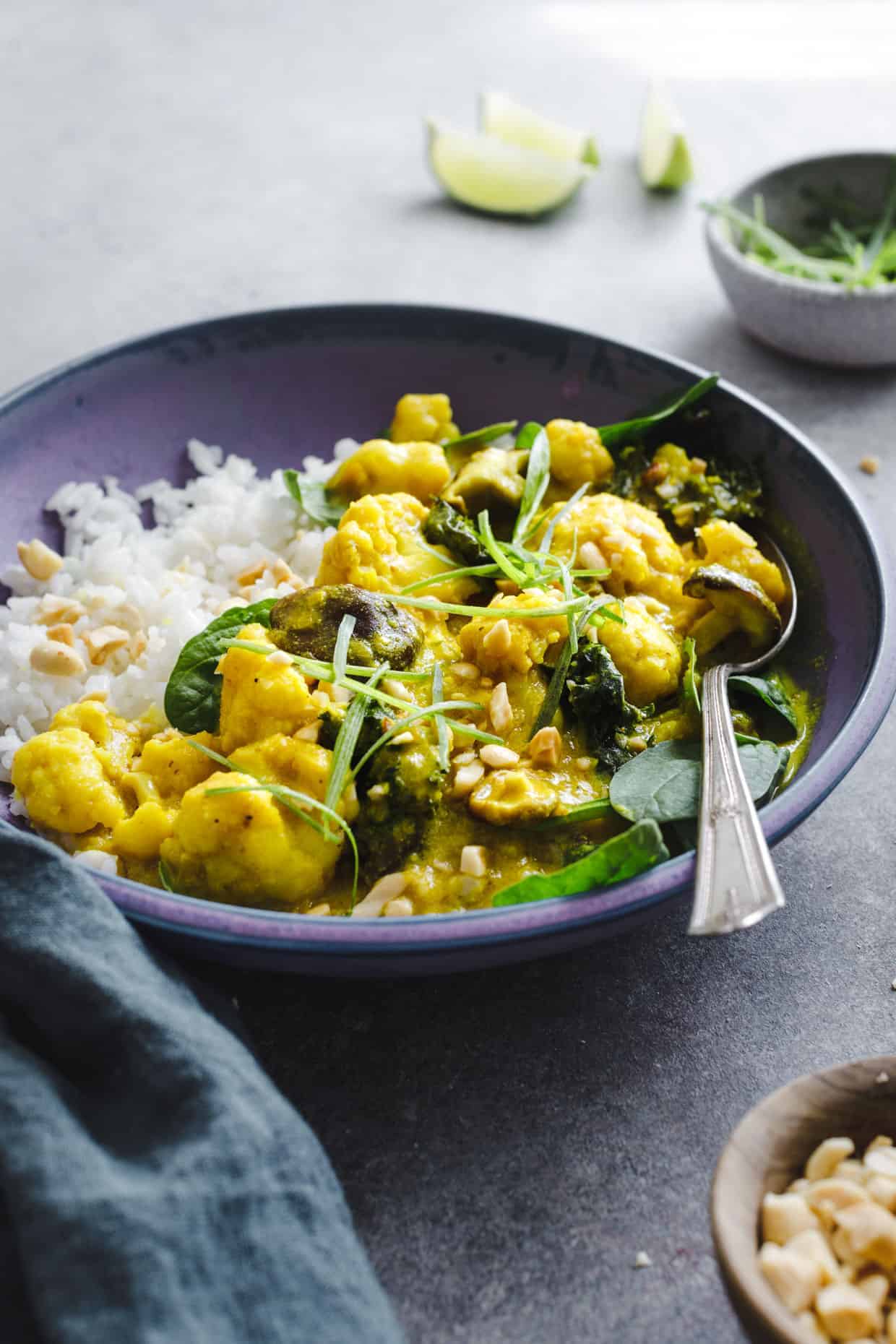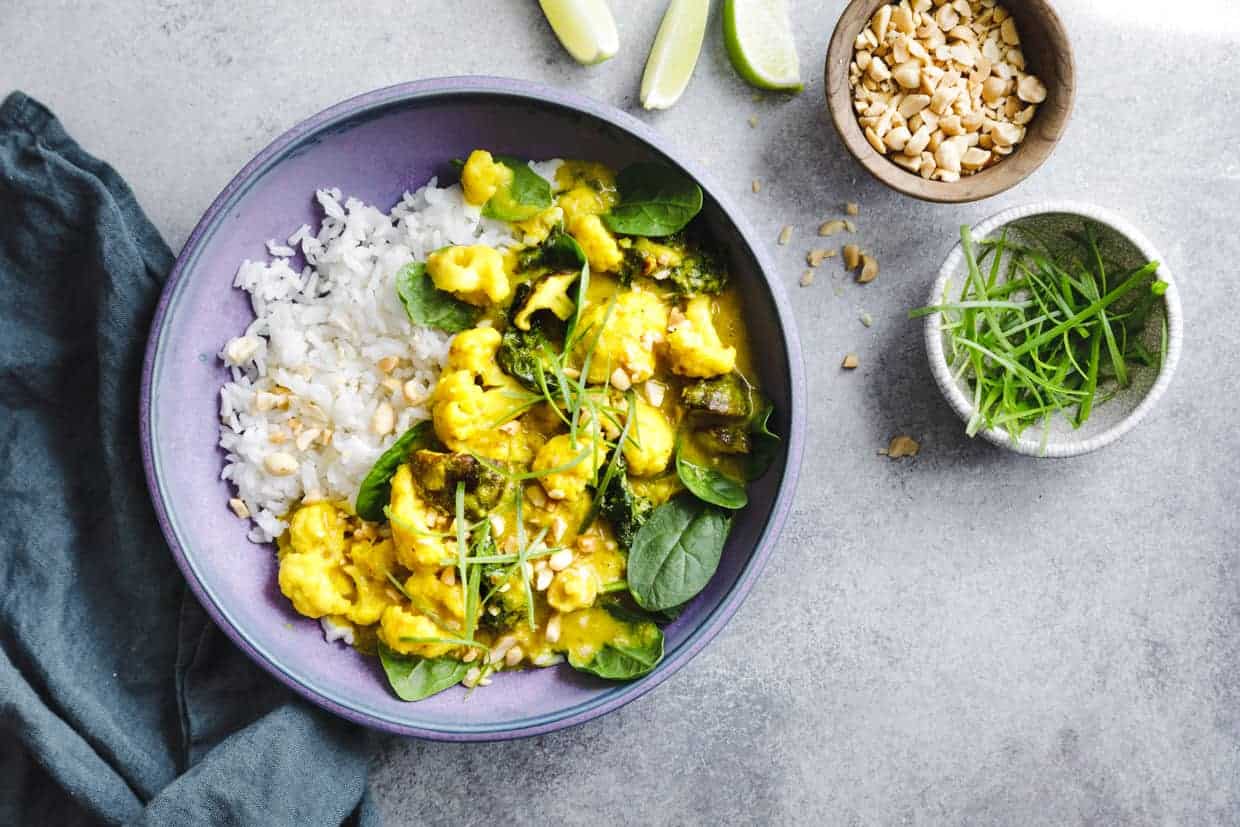 Unrelated - did you know Pantone's 2018's color of the year is ultra violet? It's no wonder I'm obsessed with Luvhaus's Ametrine purple glazed ceramics. They're the perfect backdrop for this bright yellow coconut curry.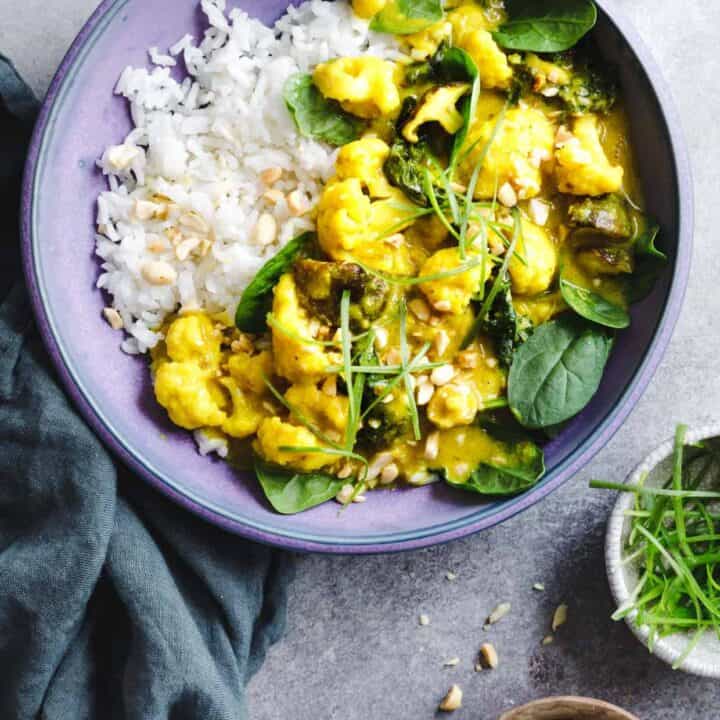 Burmese Style Vegan Coconut Curry
A Burmese style vegan coconut curry recipe with mushrooms, cauliflower, and spinach. Serve this coconut curry over sweet coconut rice for a bright and refreshing comfort dish great for any season!
Ingredients
Vegan Coconut Curry
¼ cup vegetable oil or coconut oil
3 small to medium shallots, minced, about ½ cup
2 teaspoons minced fresh ginger
2 cloves garlic, minced
2 stalks fresh lemongrass, peeled and minced
2 fresh or dried chiles de arbol, seeds removed, and minced (use more if you you like heat)
1 cup kale, ribs removed and leaves ripped into 2-inch pieces (I use curly kale)
1 small head cauliflower, cut into 1-inch florets
1 tablespoon turmeric
¼ teaspoon kosher salt, plus more to taste
¼ teaspoon freshly ground pepper, plus more to taste
¼ cup chickpea flour
2 cups vegetable broth
2 cups unsweetened full fat coconut milk (*See note)
2 tablespoons fresh lime juice
1 bay leaf
1 cup shiitake mushrooms, sliced if large
1 cup fresh spinach, for serving
¼ cup chopped salted roasted peanuts
2 scallions, thinly sliced
Coconut Rice
2 cups jasmine white rice, rinsed
3 cups low fat coconut milk
Instructions
Vegan Coconut Curry
Heat 2 tablespoons vegetable oil in a large skillet over medium-high heat. Add shallots, ginger, garlic, lemongrass, and chiles, and cook, stirring, until fragrant but not browned, 2-3 minutes.
Add remaining 2 tablespoons vegetable oil, kale, cauliflower, turmeric, salt, and pepper. Cook, stirring, until cauliflower begins to brown, 3-5 minutes.
In a small bowl, whisk together chickpea flour with 1 cup vegetable broth until smooth. Add this mixture to the pan with remaining 1 cup of vegetable broth, coconut milk, lime juice, and a bay leaf.
Bring to a simmer over medium heat, reduce to low until the cauliflower is beginning to become tender, but is not yet cooked through, 5-8 minutes.
Add mushrooms and cook just until the cauliflower is tender when pierced with a fork, 2-3 minutes, adding more broth or water if your sauce is too thick.
Just before serving, stir in spinach and 3 tablespoons peanuts, and serve over coconut rice. Garnish with remaining 1 tablespoon fresh peanuts and sliced scallions.
Coconut Rice
Bring rice and coconut milk to boil over medium heat in a medium saucepan.
Cover and reduce heat to a low simmer, and cook for 15 minutes.
Remove from heat and leave covered for 5-10 minutes. Fluff with a fork.
Notes
*For the coconut milk in the curry: If you're also making the coconut rice, use 1 can of full-fat coconut milk and remaining coconut milk from the second can of low-fat coconut milk you use for the coconut rice.
Nutrition Information:
Yield:

6
Serving Size:

1
Amount Per Serving:
Calories:

685
Total Fat:

57g
Saturated Fat:

39g
Trans Fat:

0g
Unsaturated Fat:

14g
Cholesterol:

6mg
Sodium:

354mg
Carbohydrates:

40g
Fiber:

4g
Sugar:

4g
Protein:

12g
This nutritional information has been automatically calculated, and as such, may be incomplete or inaccurate. Please reference the specific ingredients you use for the most accurate nutritional information.