This cinnamon spiced almond dutch baby is a light and puffy oven pancake topped with powdered sugar, sweet tart honeyed kumquats, and a dollop of vanilla bean crème fraîche. Plus some baking news!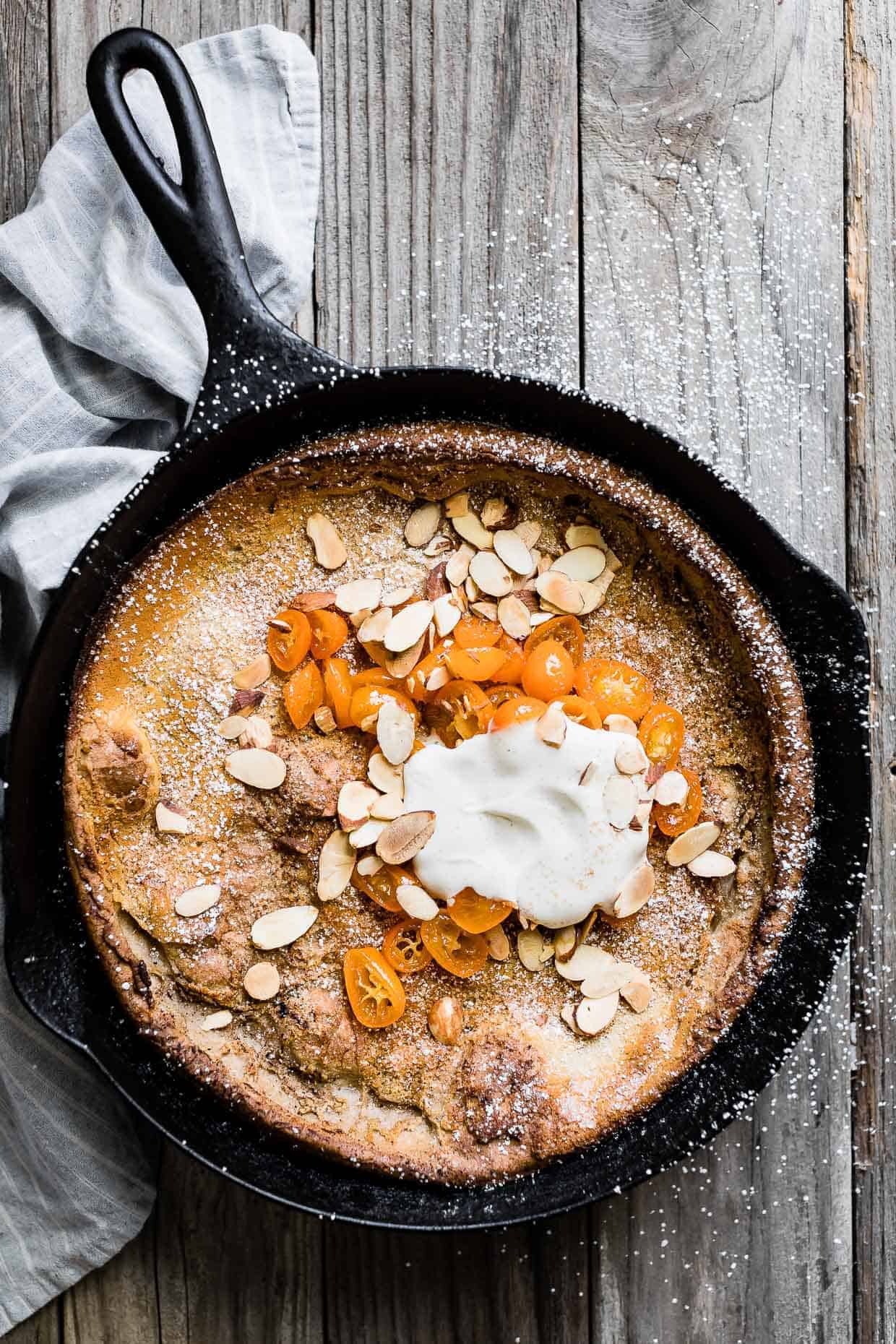 For the past five months, I've been working on a different version of this dutch baby recipe from a few years back, if you catch my drift. This time I'm swapping out the chestnut flour for almond flour and topping it with spring kumquats from my parents' tree. For now we've got a gluten-free almond dutch baby with honeyed kumquats (ahem, baby oranges) and vanilla crème fraîche, but come late July, we're expecting a second real real baby! New ingredients means this time around we've got a #cheesebabyboy baking, who seems to crave cheese and milk in utero equally as much as his older sister #cheesebabygirl did.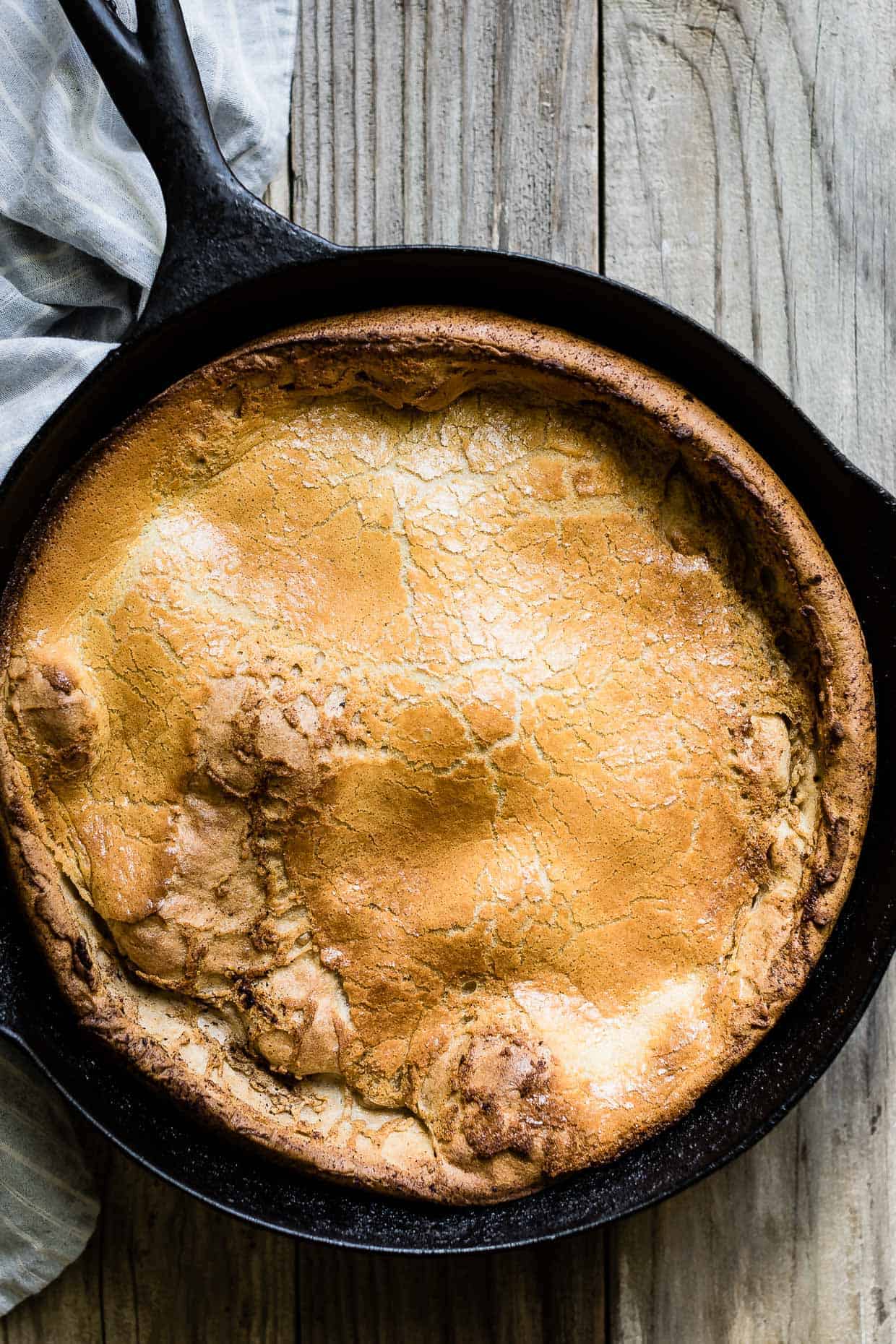 Zoella's been talking about the baby in mama's tummy non-stop. She hugs it, kisses it, says "I love you so much, baby," and then announces to everyone who will listen that there's a baby brother in mama's tummy. We had to tell my parents I was pregnant earlier than planned when we went to visit because we were worried she'd ruin the surprise. She even proudly announced it at daycare before we'd told them!
A few days after we told Zo she was going to have a baby brother or sister, she spontaneously asked at the dinner table, "when is baby coming?" When we told her it would be about 8 more months, she got upset and cried, "Noooo, I want baby come eat pizza now!" Don't worry, honey, he for sure enjoyed that pizza.
For all her excitement though, we're not sure how much she understands that the baby isn't going to stay in mama's tummy. She still maintains that baby brother is NOT allowed to sit in mama's lap. She's got a little ways to go.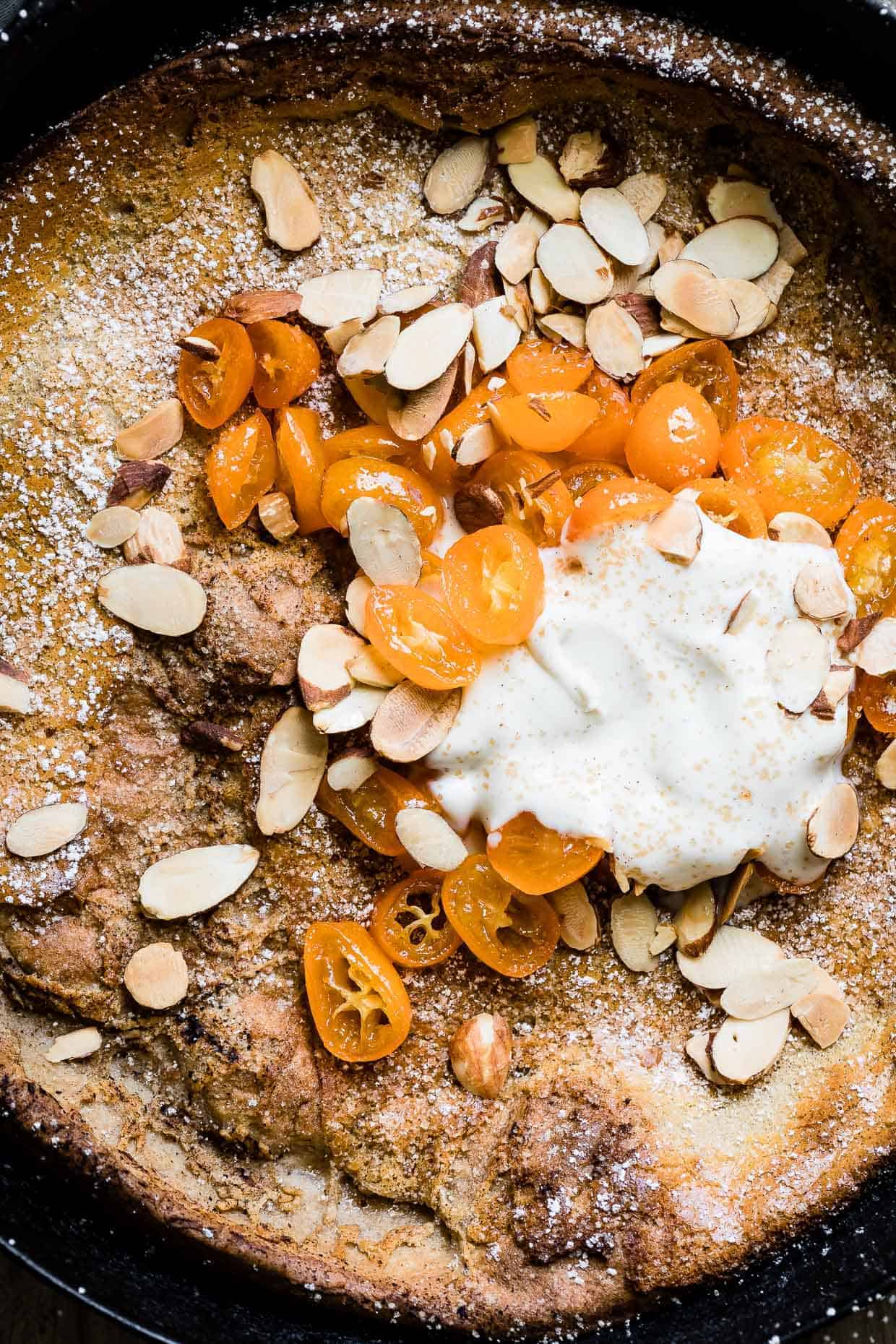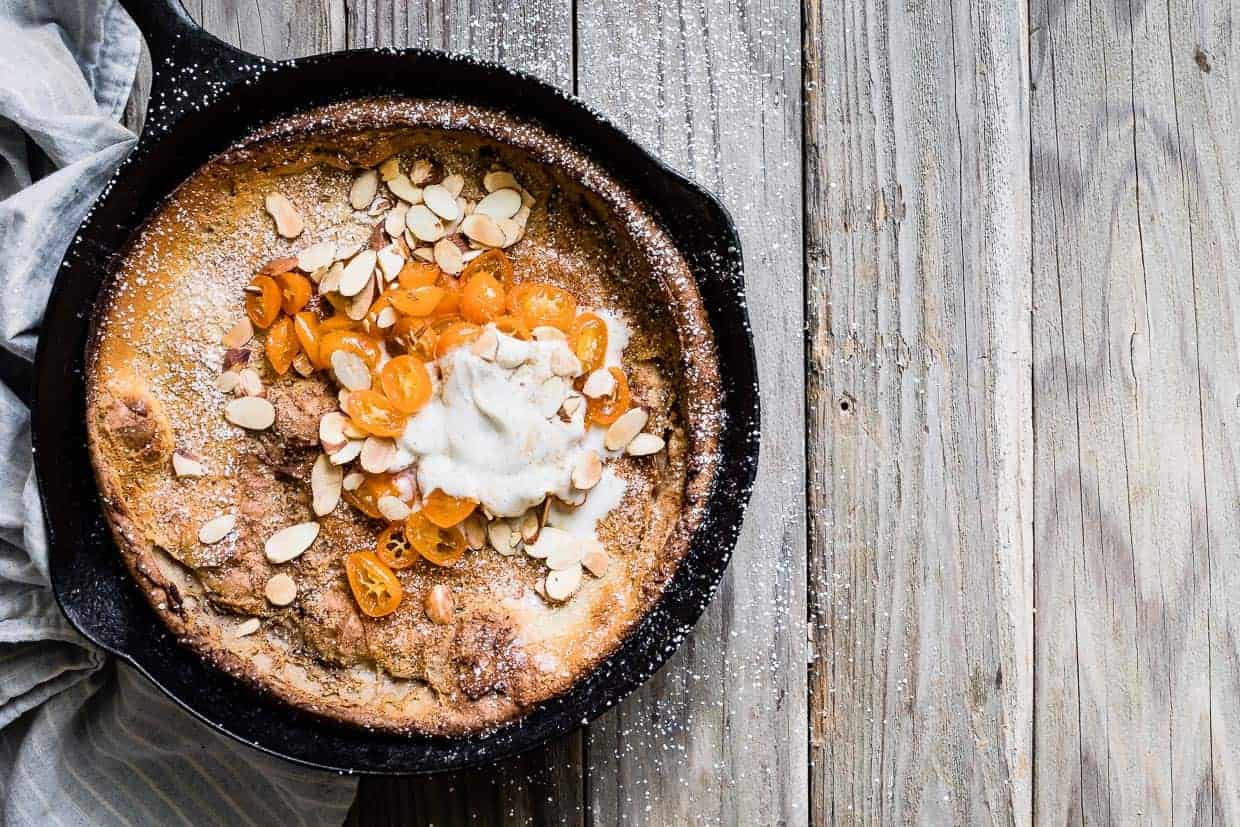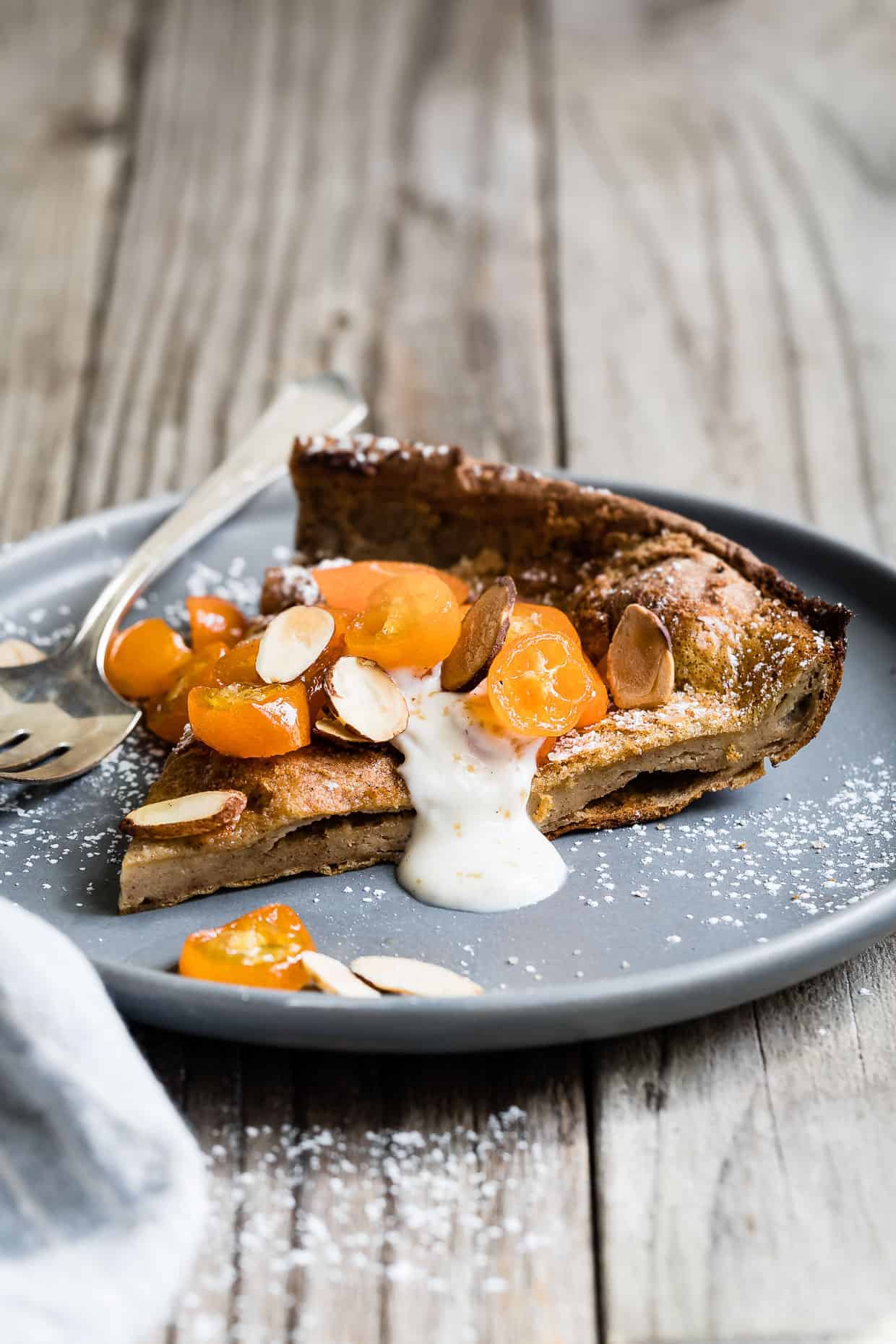 While I feel basically the same at all the monthly milestones as I did with my first, this second pregnancy is a lot different in many ways. The first time around, we were focused on the pregnancy so much - taking a crash course on babies and making sure we were stocked up on all the essentials. This second time around, it's a lot easier to forget that I'm pregnant (aside from being tired, nauseous, and sick all the time) because we're so focused on the toddler who is now suddenly afraid of monsters.
Though my belly seems to have popped out overnight making it just a little harder to forget. We're very excited to meet him! Sometimes I still wonder how could I love any tiny human as much as this first one? But then I think about these dutch babies. Though different, I love this almond dutch baby just as much as the chestnut dutch baby!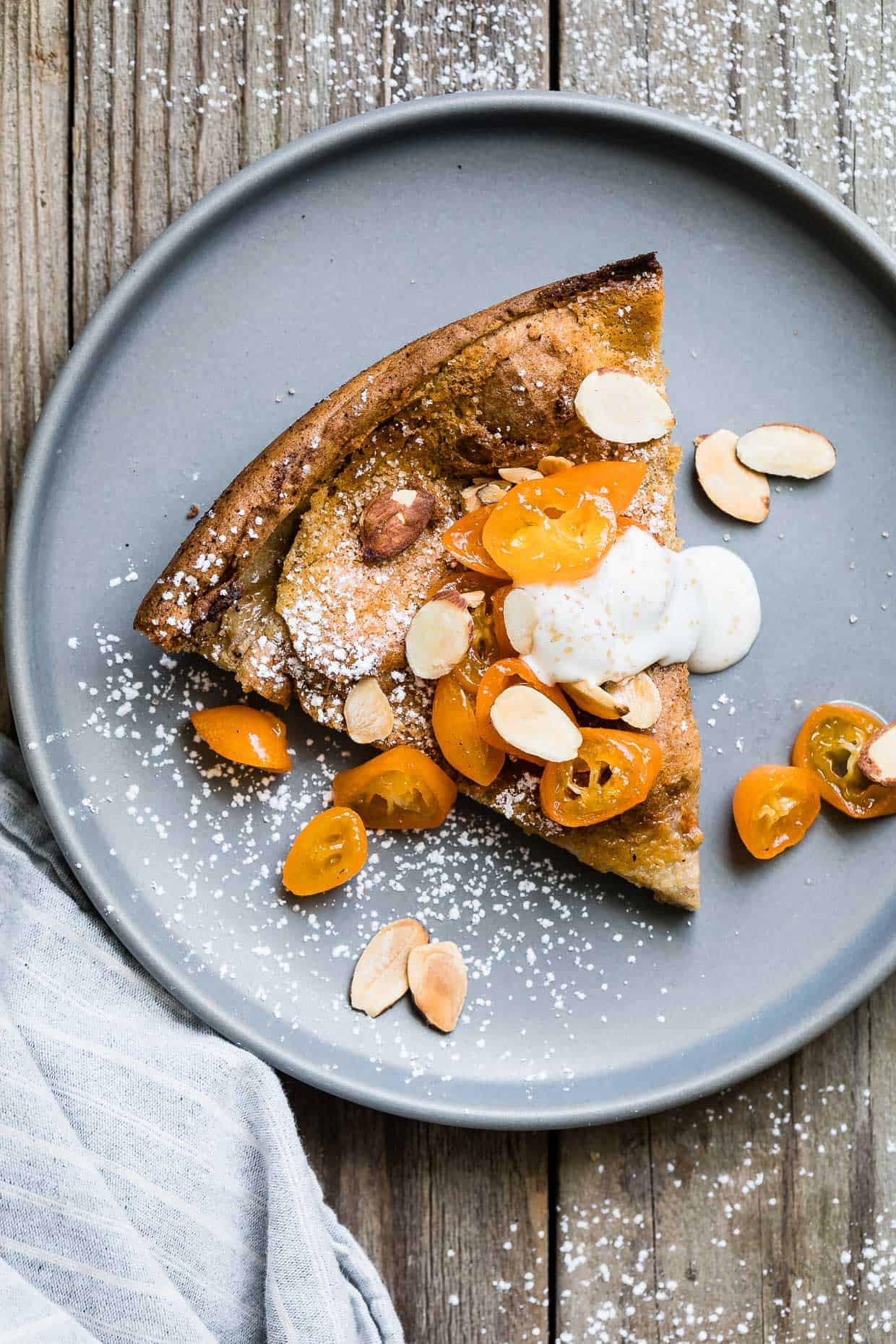 When I tested the recipe, I was nervous about the weight of the almond flour negatively influencing the puffiness of the dutch baby, but when I pulled the puffed up golden brown pancake from the oven in all its puffy glory, I knew I had a winner. The trick, I picked up from a cake recipe I recently made for NYT, is not to butter the sides of the pan so the batter can climb up the edges as it bakes. I tested this with the dutch baby - one with butter on the sides and one without - and the latter gave that classic tall edge.
The flavor combo here comes from a very very very old Snixy Kitchen recipe (ha!) with oranges and sliced almonds tossed in cinnamon and sugar. The pancake is light and puffy with a nutty spiced cinnamon flavor that pairs well with the tart honeyed kumquats. A dollop of vanilla bean crème fraîche picks up the tartness from the kumquats, but balances and softens the flavors. The best part is the whole thing whips up super quickly in the blender! Breakfast? Dessert? You decide.
Thanks for reading Snixy Kitchen! To stay up on what's coming out of my kitchen, follow me on Facebook, Instagram, Twitter, Bloglovin', Pinterest, or subscribe via e-mail to get new recipes right to your inbox!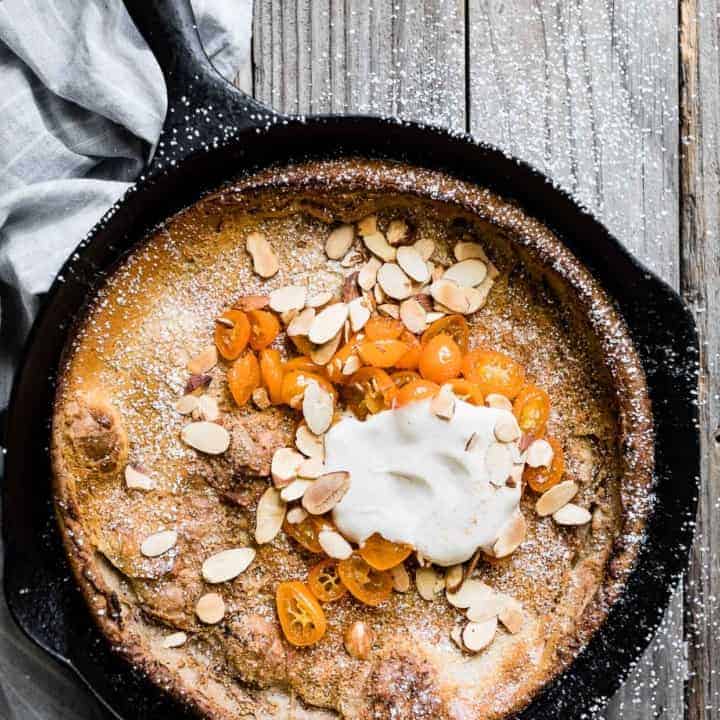 Almond Dutch Baby with Honeyed Kumquats and Vanilla Crème Fraîche
Yield:
1 10-inch dutch baby, or 4-6 servings
Ingredients
Gluten-Free Almond Dutch Baby
¾ cup milk, room temperature
3 large eggs, room temperature
¼ cup almond flour
¼ cup millet flour
2 tablespoons + 2 teaspoons sweet rice flour (different from "white rice flour" or "brown rice flour")
1 teaspoon pure vanilla extract (I use Rodelle Organics Vanilla)
1 teaspoon ground cinnamon
¼ teaspoon kosher salt
2 tablespoons unsalted butter
Honeyed Kumquats
¾ cup water
½ cup granulated sugar
3 tablespoons honey
6oz kumquats sliced ¼ inch thick, seeds removed
Toppings
⅓ cup crème fraîche
½ teaspoon vanilla paste or vanilla extract
¼ cup sliced almonds, toasted
1 tablespoon powdered sugar
Instructions
Preheat the oven to 450°F with a 10-inch cast-iron skillet on the middle rack.
In a blender, combine the milk, eggs, almond flour, millet flour, sweet rice flour, vanilla extract, cinnamon, and salt. Pulse until completely smooth.
Carefully remove the skillet from the oven. Add the butter, swirling the pan to melt and coat the bottom but not the sides of the pan (you want the batter to creep up the sides)
Carefully pour the batter into the center of the skillet and gently return the skillet to the oven.
Bake until the edges and center puff up and turn golden brown, about 20 minutes.
Meanwhile, prepare the kumquats. Combine the water, sugar, and honey in a small saucepan over medium heat. Cook, stirring, until the sugar melts, 2-3 minutes. Add kumquats and reduce heat to low. Cook, stirring occasionally, for 6-8 minutes, until the kumquats soften. Use a slotted spoon to transfer the kumquats from the syrup to a parchment-lined plate or baking sheet and set aside. Reserve the syrup for another use.
Combine the crème fraîche and vanilla paste in a small bow and chill until serving.
Serve the dutch baby warm straight from the oven* topped with powdered sugar, honeyed kumquats, vanilla crème fraîche, and toasted almond slices.
Notes
*The dutch baby will be most impressively puffed up straight from the oven. After a bit of time out of the oven, it will begin to deflate, but still taste delicious.