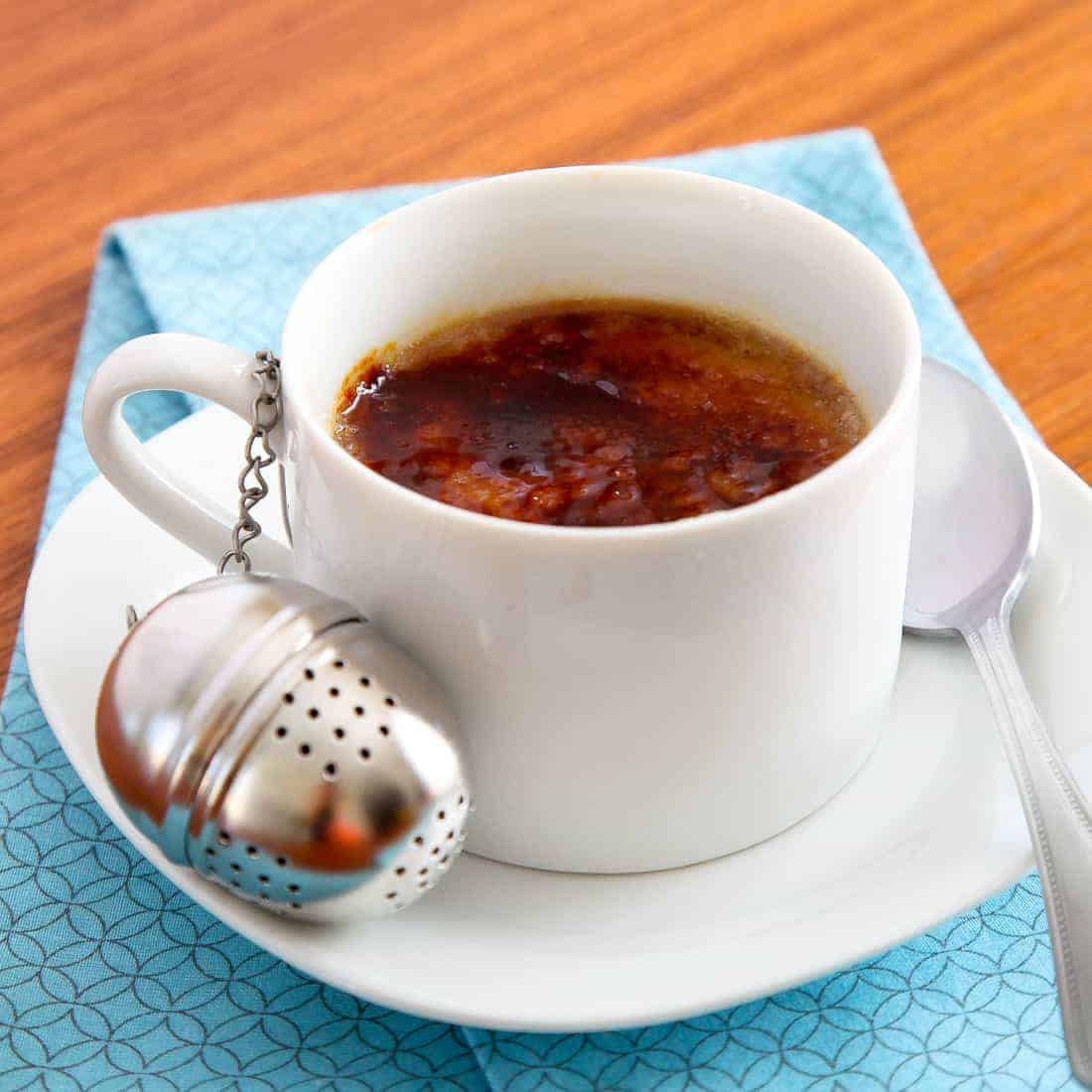 Before I gush about this sweet creamy dessert, I'd like to update you on why I've been in hiding for the past few weeks. I'm debating how many pictures of wedding projects I want to share and how many I want to keep secret to surprise the guests. The suspense is killing me! Many people I've talked to have complained about the dreaded wedding projects they took on when they got married, but I'm loving (almost) every single second of crafting.
As long as I'm not in charge of hanging all the lights in my parents' backyard, I'm delighted to DIY all day. Luckily, hanging cafe lights between the trees on every square-foot of my parents' acre backyard is right up Lucas's alley. Below is a quick snapshot of the entryway into the yard...Lucas's beautiful lighting project accents the impressive gardening my mom's been working hard on every single evening for months.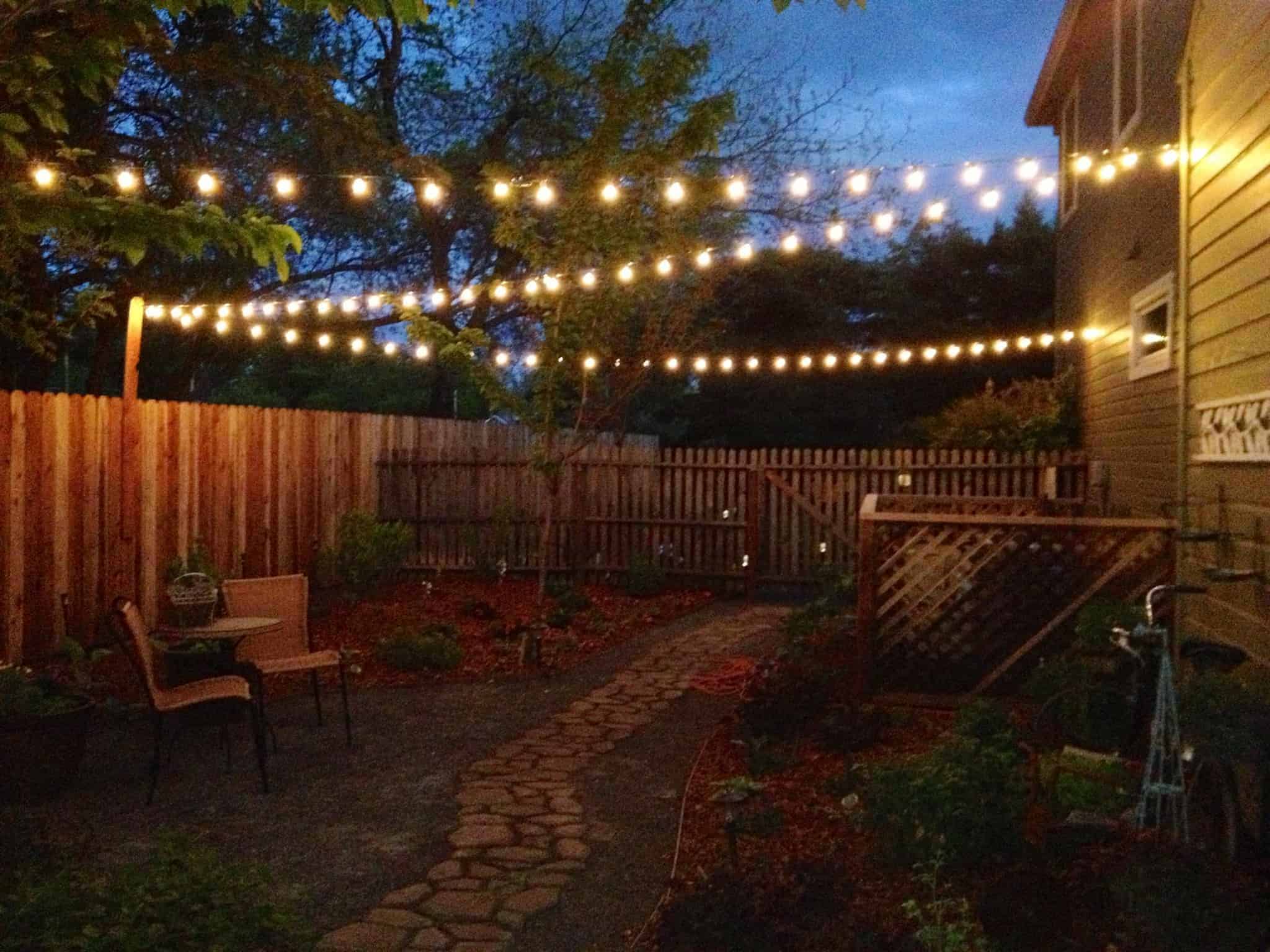 My silence is an indication of how busy I am crafting all. the. time. My small DIY projects seem completely manageable until you multiply them by 200 and realize that cutting 200 burlap squares and tying tiny bows around 200 jars will take the better part of an entire weekend. And your hands and wrists will be sore. And then you never want to tie another bow as long as you live.
But the final product of 200 BBQ spice rub favor jars with custom labels, burlap tops, baker's twine ties, and "thank you" tags is totally worth it and you only remember how much fun you and your bridesmaid had over the weekend. That's how I spent my weekend thanks to my really really awesome bridesmaid Cas who gave up her Sunday to divide 28lbs of spice rub among 200 tiny jars. Only one more 200-of craft project left...and 9 more weeks to go!
I spent the weekend before surrounded by the wonderful women in my life at my bridal shower hosted by my other really really awesome (and pregnant) bridesmaid Corey. She drew upon my wicked sweet tooth and set up a candy bar for all the guests, and had a two-tiered orange, green, and purple cake made with our CA + TX logo on the front. The whole day was perfect. And on top of it all, I was completely spoiled with so many new kitchen gadgets (and other thoughtful stuff) that I can't wait to use on future recipes.
Another quick update: WE BOOKED OUR HONEYMOON TICKETS LAST WEEK!!! We'll be spending 5 days in Taipei and 11 days in Tokyo/Kyoto during the first two weeks of November. I can't wait to gorge myself with delicious food for two weeks straight. We won't dive into planning the details until after the wedding, but I'd love to hear any recommendations (food or otherwise) from anyone who's been to either place!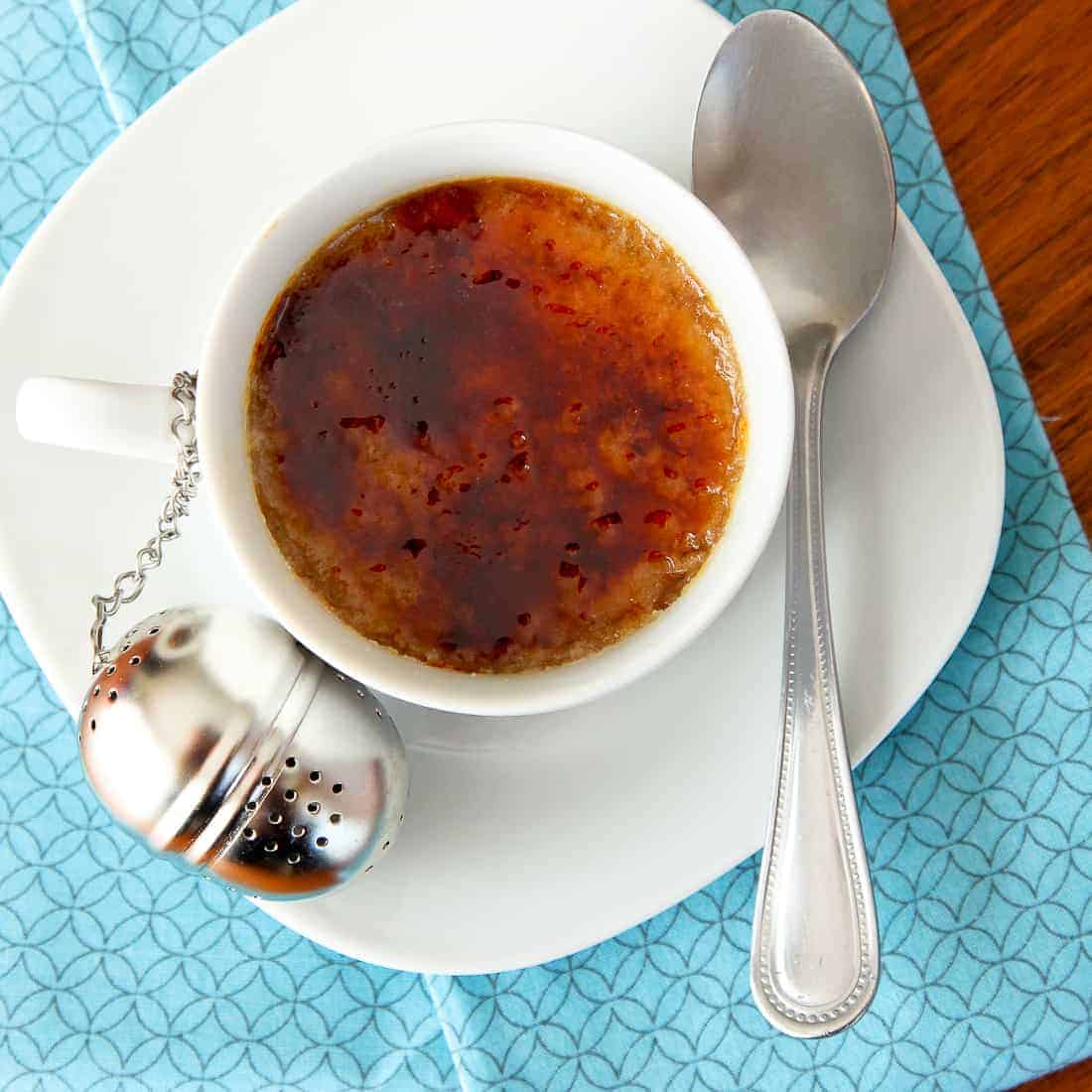 Finally, onto my friend Chuy's birthday vanilla earl grey crème brûlée. For the occasion last year, I made him pepperoni pizza quesadillas and strawberry chocolate chip brownies. This year I prepped by asking Chuy, "if Ici happened to have an invent-your-own-flavor contest and they'd then make the most creative flavor, what flavor would you dream up??" He snapped, "that's easy. Earl grey crème brûlée. Obviously."
Right. Duh. Obviously...Wait, what? How am I supposed to know that? And also, what makes you think those flavors would go together? Typically, when Chuy suggests something crazy like this, I question his judgement and do something else...but it was his birthday, so I surprised him with his creation (except not as ice cream).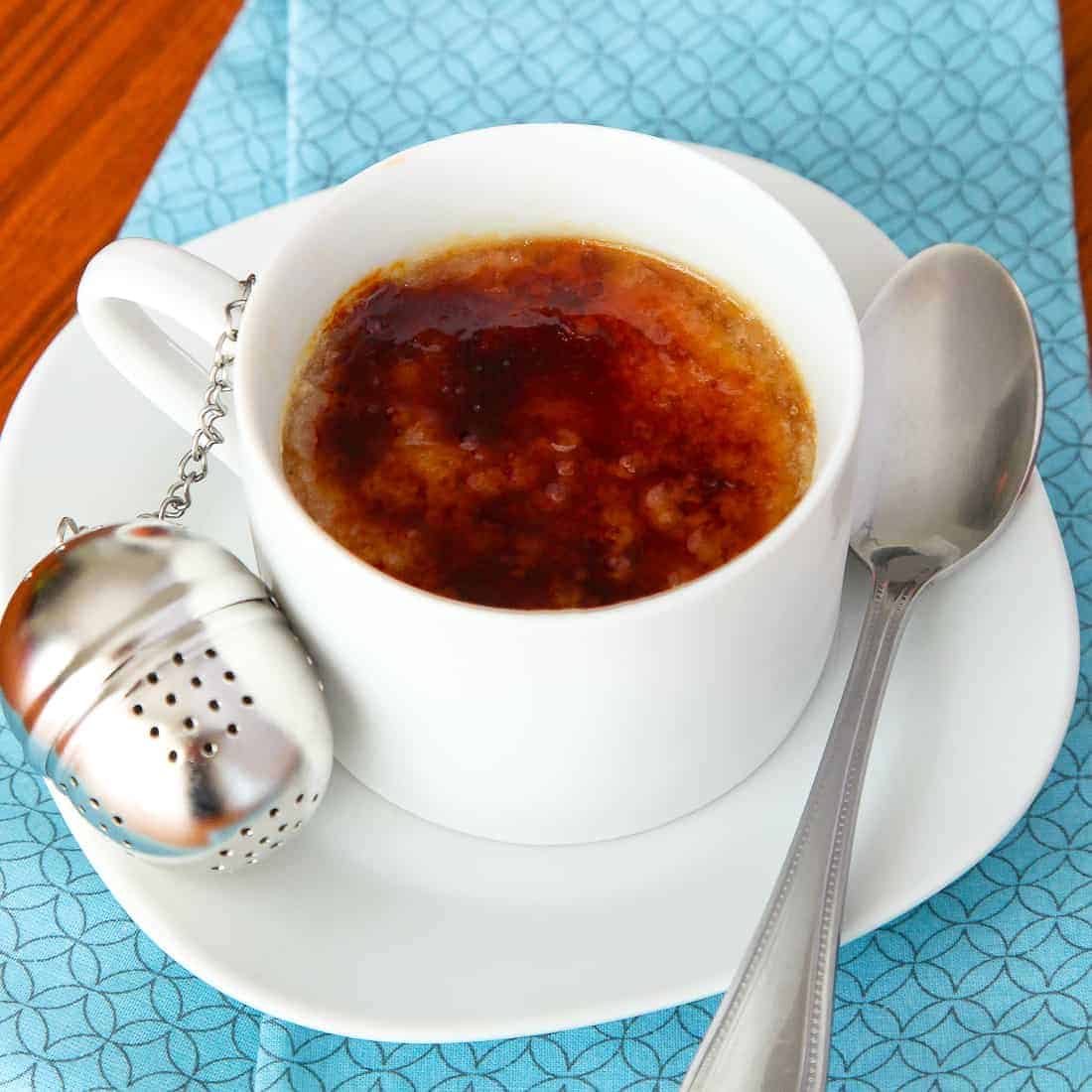 It gave me an excuse to whip out my new blow torch that Lucas got at Home Depot for my birthday last month. You heard me...he didn't opt for one of the made-for-kitchen butane torches, he went straight to the hardware store and picked up a MAPP blow torch complete with a holster. I look like I could fight crime in my kitchen while making sweet dessert. Supervision required. We're all very lucky that I didn't burn the kitchen down.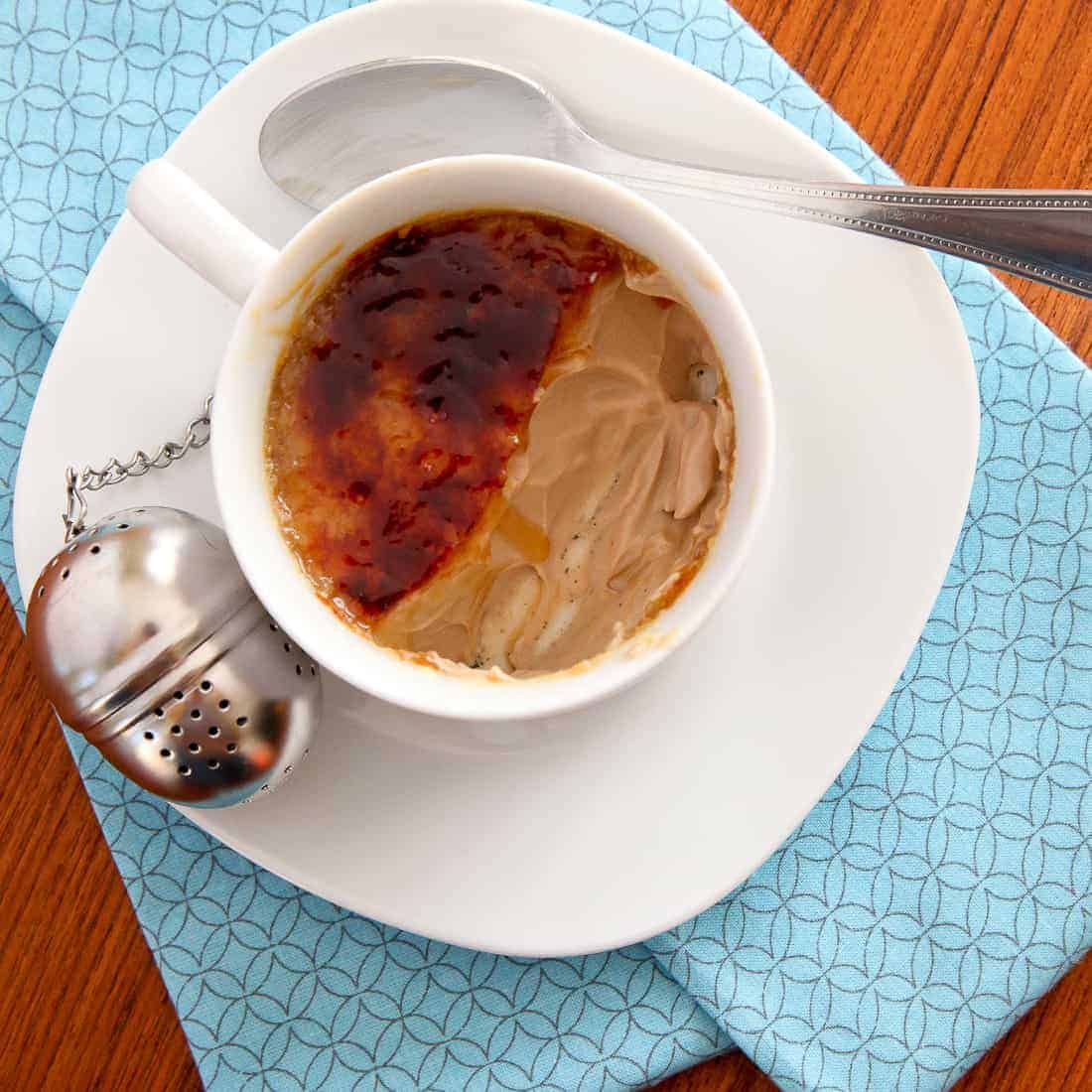 I tried to keep the birthday dessert secret, but Chuy instantly knew what was up the second he heard the sound of the flame from blow torch coming from the kitchen. It took a few tries to figure out how to melt the sugar just-so without blackening small spots, but the result was incredibly flavorful and addicting. Turns out his imagination led to a brilliant idea. They should make ice cream out of this stuff. Sweet creamy custard with a hint of tea infusion, topped with a hard sugary shell. Happy birthday, Chuy!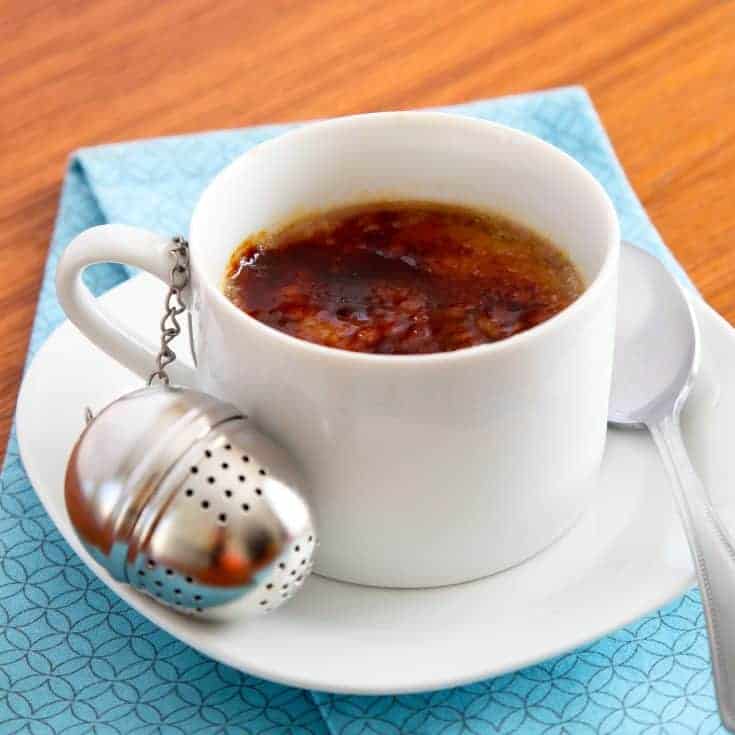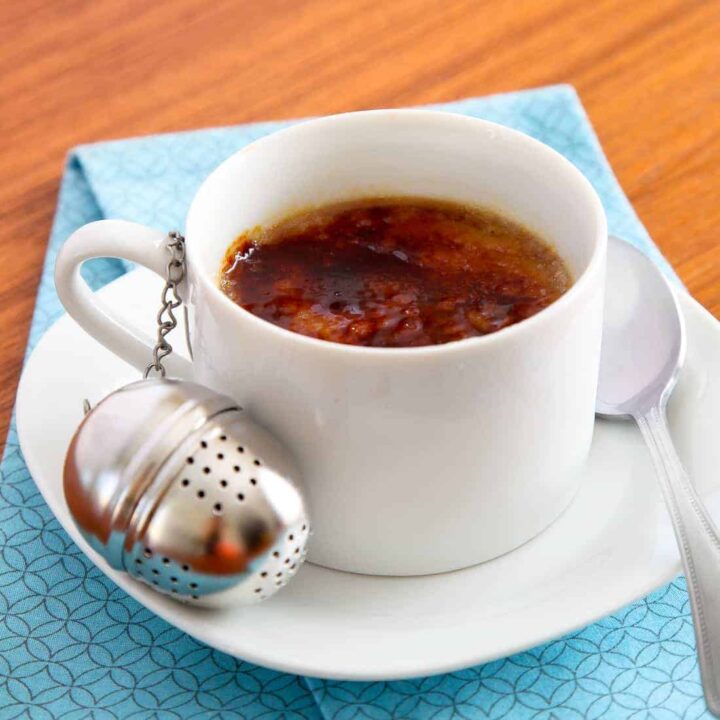 Vanilla earl grey creme brulee
Ingredients
1 quart heavy whipping cream
1 vanilla bean
2½ tablespoons loose leaf earl grey tea
1½ cup sugar, separated
6 large egg yolks
Instructions
Preheat the oven to 325 degrees F.
Whisk together the heavy cream and loose leaf tea in a medium saucepan. Slice the vanilla bean lengthwise, and scrape the pulp into the saucepan. Add the whole pod to the pan. Over medium-high heat, bring to a boil.
Remove from heat and cover. Let sit for about 15 minutes.
Remove the vanilla bean and strain the cream through a fine metal sieve to remove the tea.
Whisk together ½ cup of sugar and the egg yolks until well combined.
Slowly pour the cream about ½ cup at a time into the egg yolk mixture, stirring constantly.
Divide between 6 (8-ounce) ramekins.
Place the ramekins into a large pan and pour enough hot water into the pan to come about halfway up the sides of the ramekins.
Bake for about 40-50 minutes, just until the creme brulee is set, but trembling in the center.
Remove the ramekins from the pan and cool for a few minutes. Cover in plastic wrap and refrigerate for at least 2 hours and up to 3 days.
Half an hour before melting the sugar on top, remove the ramekins from the refrigerator.
Divide the remaining cup of sugar between the 6 ramekins, spreading evenly on top. Use a blow torch to melt the sugar and form a crispy top (there should be 1 or 2 dark spots).
Allow to sit for 5 minutes and serve.