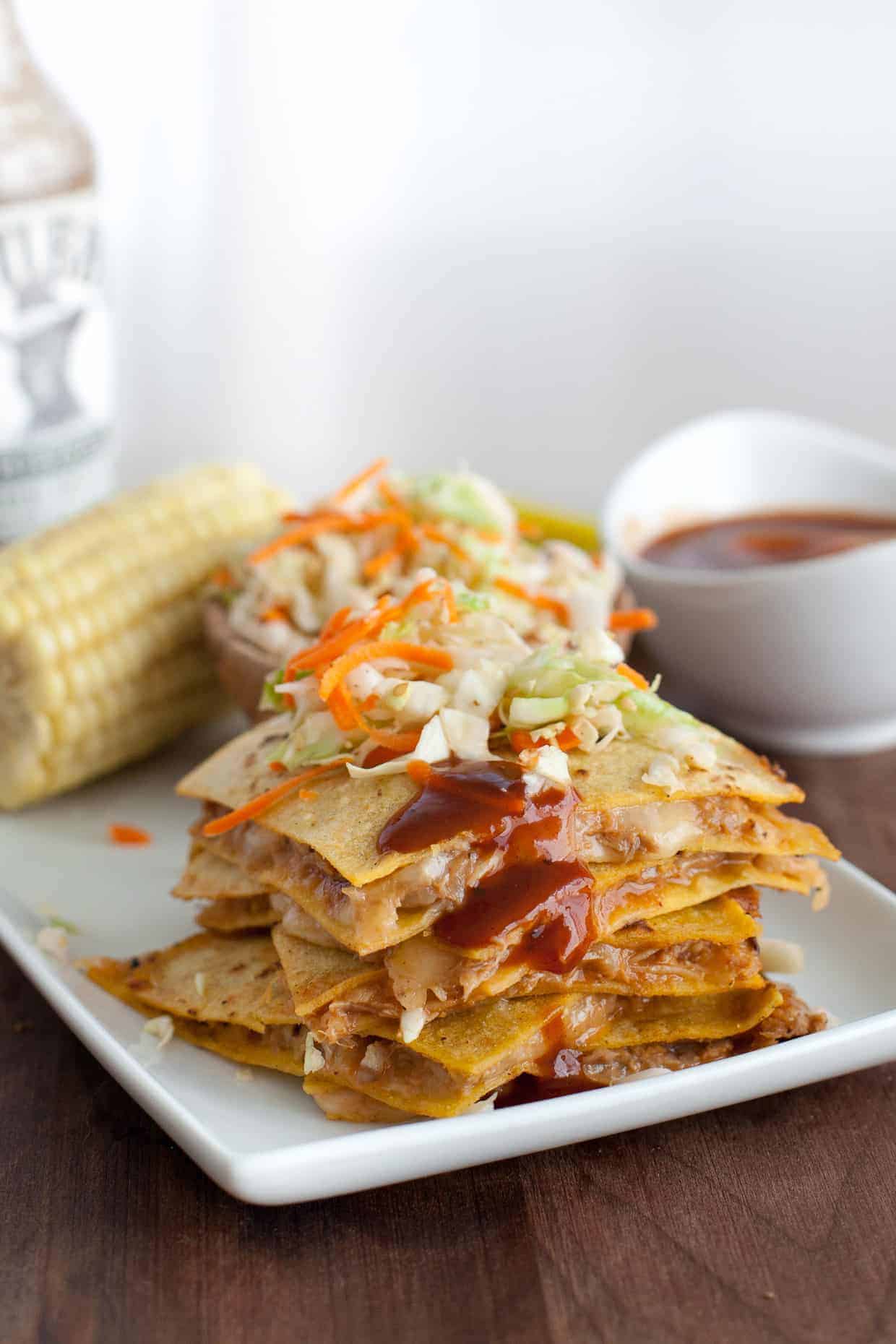 The neighbors got suspicious when they peered through the fence and noticed Lucas and Mikey digging a 4-foot deep 3x5-foot pit in our backyard. By offering an invitation, I assured them that we were planning to roast a pig, not bury a body. For my last 20-something birthday, we invited all our friends over for a potluck pig roast; we'd provide the pig, dessert, and appetizers - they bring some sides and drinks. Just like Field of Dreams promises, "if you build it, they will come." You promise a 50lb pig roast in your urban backyard and 40 of your closest friends will show up. Spoiler alert: this is the story of how not to roast a pig, and how to turn a crummy situation into these addicting Texas BBQ pulled pork quesadillas.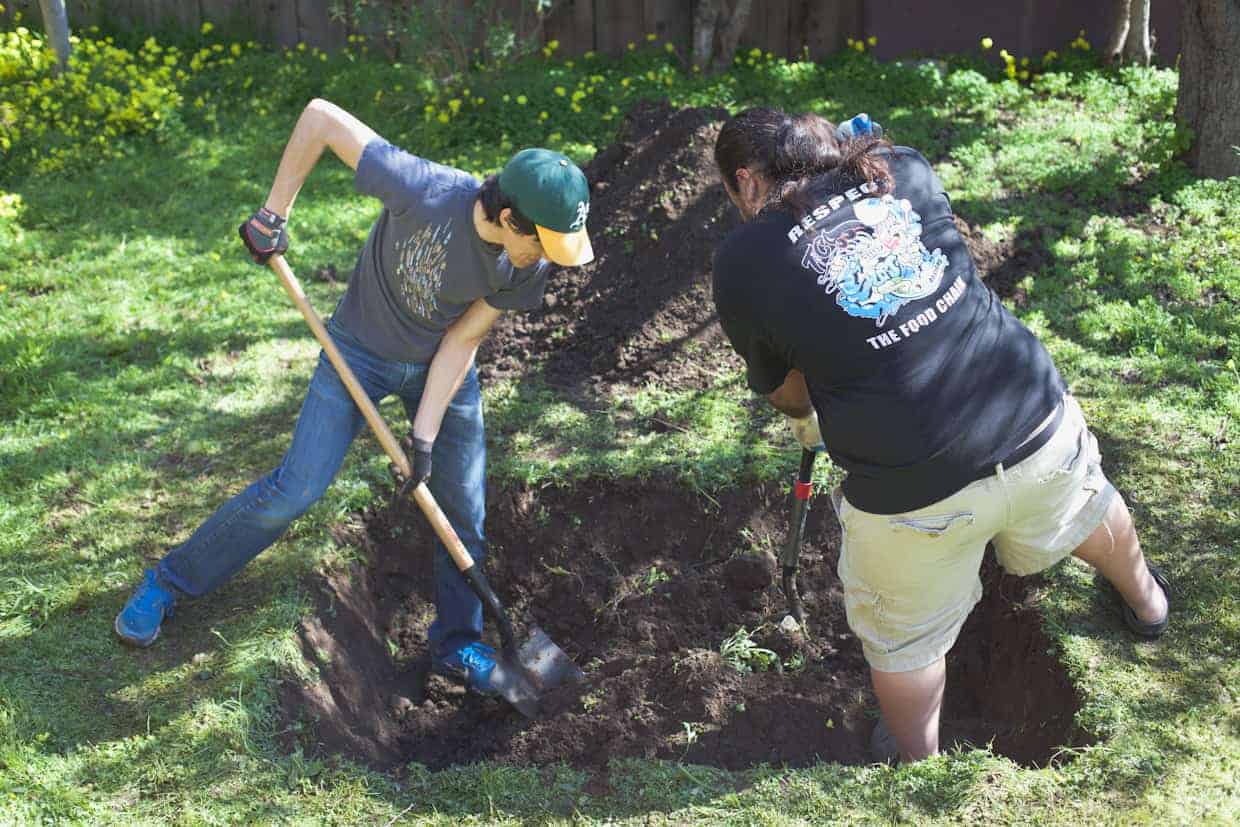 Our friend Mikey is from Hawaii where he and his family roast pigs all the time. In sand with lava rocks. We're not in Hawaii, but the internet promised we'd be able to substitute red brick for lava rocks. So we ordered a pig; with no idea what we were doing, but confident we could figure it out. Greg welded a grate to hold the pig, so surely we were set. The boys lined the bottom of the pit with brick, filled it with applewood, mesquite wood, and mesquite lump coal, and got a massive fire rolling at around 1am, crossing our fingers that no one would call the fire department on us. That's the one thing we did right: we called the 8-1-1 "know before you dig" line and called the local fire department to find out the rules for fire pits in your backyard. The rules are...a bit fuzzy.
With the fire in full force, we scraped together all the college-years energy we once had and braced ourselves for an all-nighter. And by that, I mean Lucas and Mikey treated themselves to McDonald's as soon as they opened at 7am, and I skeptically judged them while trying to get 3 hours of sleep before baking cupcakes.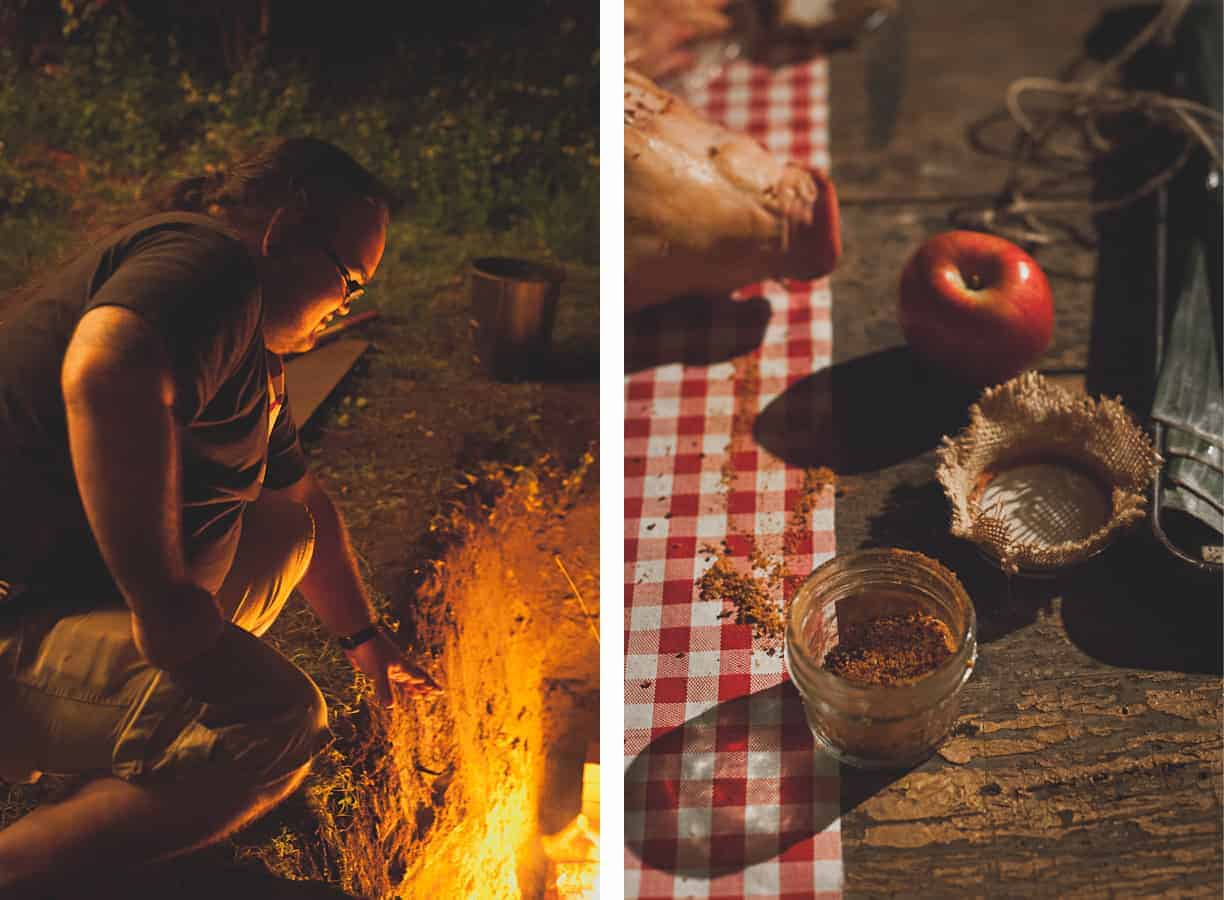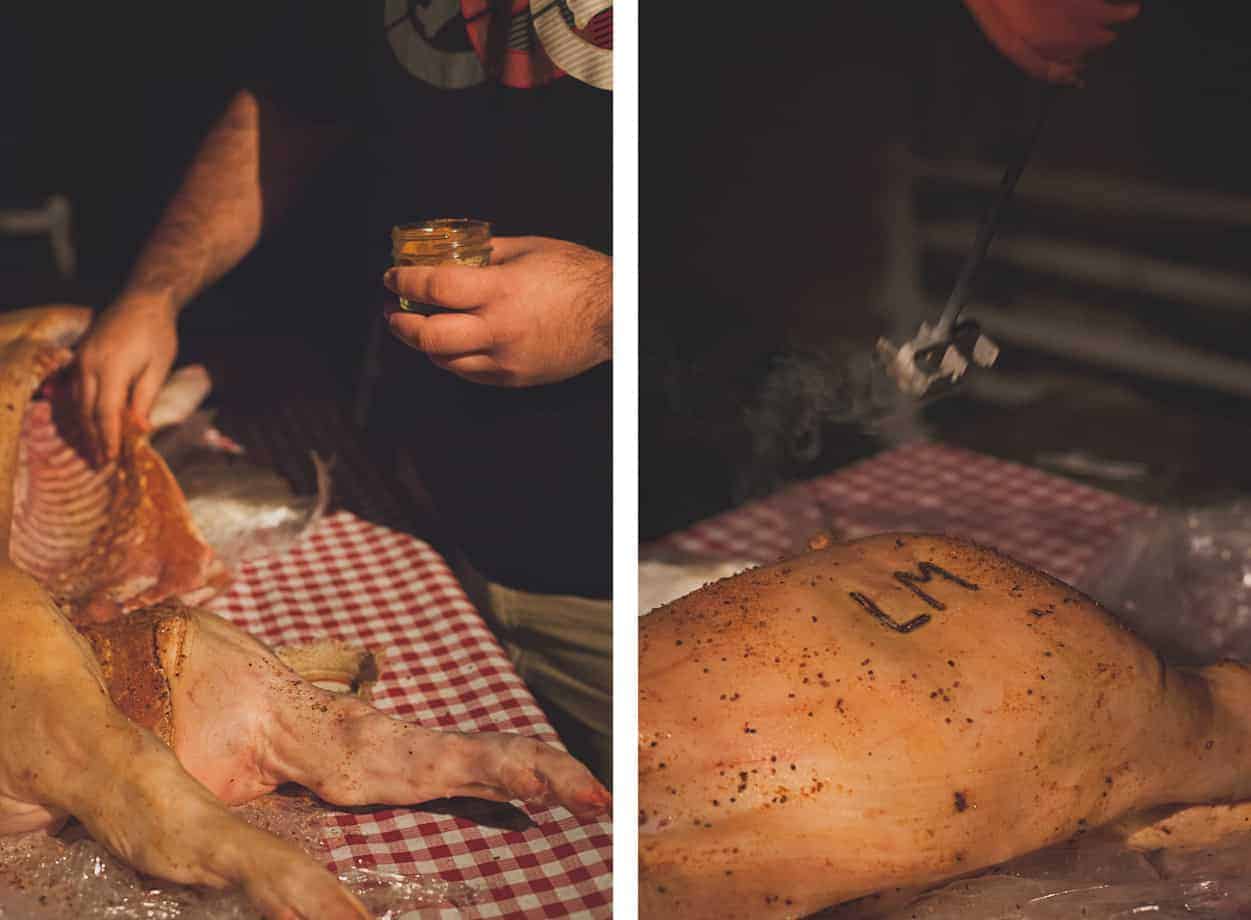 Meanwhile, our 50lb suckling pig hung out in the bathtub covered in several pounds of ice and blankets. When it was time to drop the pig on the hot coals, we covered him in BBQ rub, stuffed an apple in his mouth, branded his bum, and wrapped him in banana leaves and wet burlap. The "we" here is Lucas and Mikey while I stood by in my jammies and documented. After lowering the pig into the ground, they covered the pit with boards, buried it with a tarp and plenty of dirt, and let him cook for 12 hours. This should work. Definitely. Why wouldn't it work?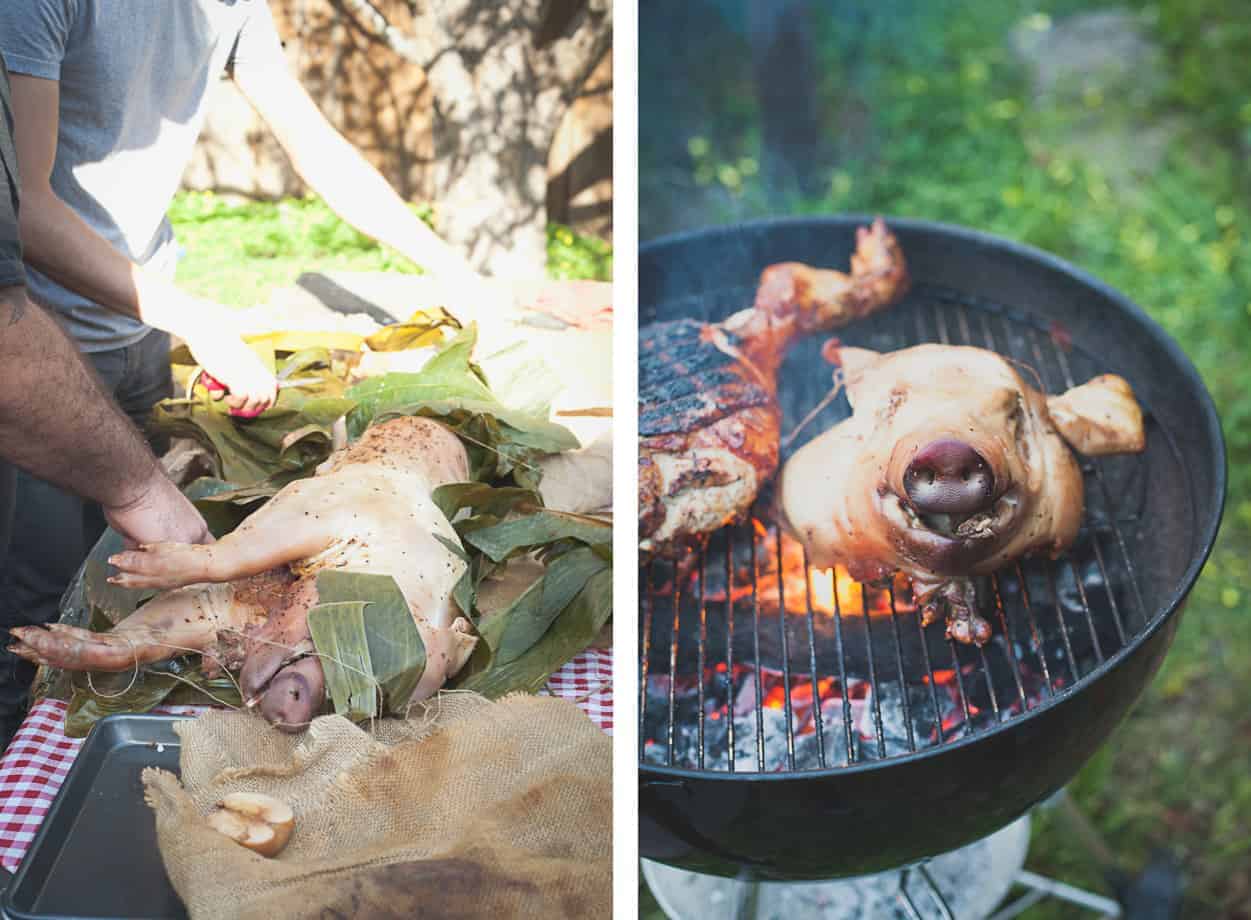 So here's the scene. Forty of our closest friends are standing around anticipating a super tender, fall-off-the-bone pig to emerge from the pit. And when the boys pull it up from its 4-foot tomb, the pig...is...not...cooked. Guys. It's smoked on the outside and completely uncooked on the inside. And everyone's watching. And hungry. Lucky for us, the one thing we're not short on is friends who are problem solvers, butchers, and grill-masters (I'm lookin' at you, Mikey, J, and Greg!). With two grills, the oven, and the stove fired up, they guys managed to cook all the pork within the hour and no one left hungry. Saved the day in the most epic way possible.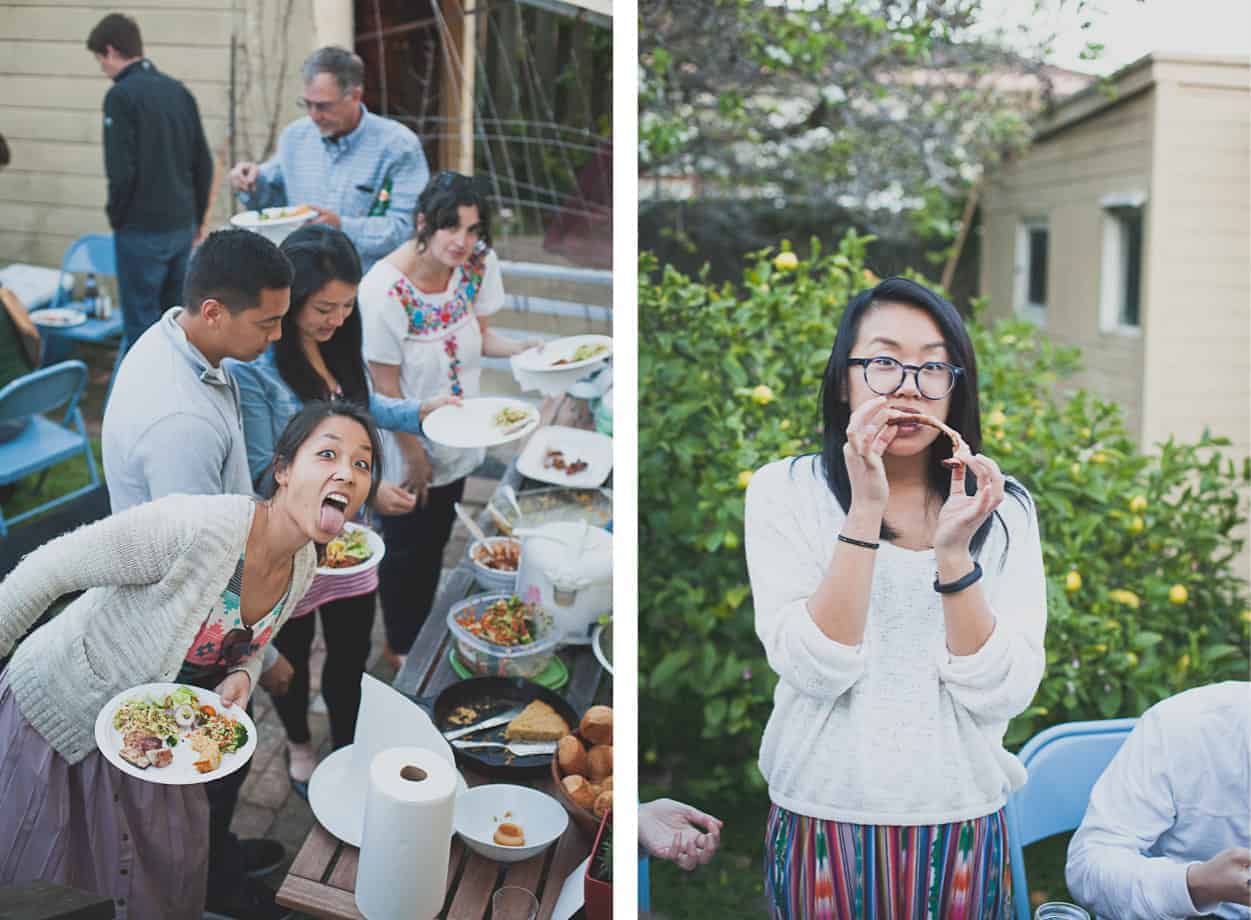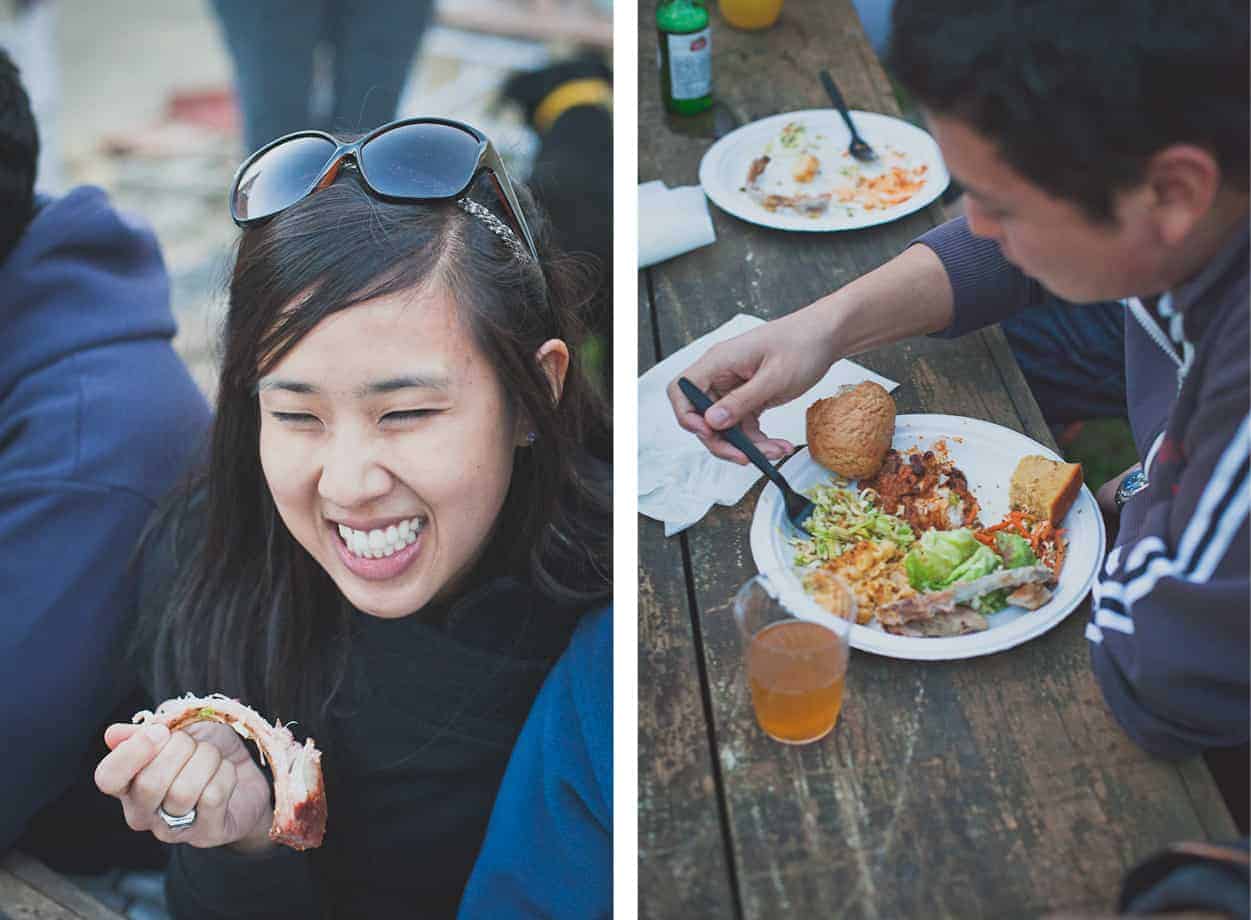 I've heard a number of hypotheses for why the pig roast didn't turn out as expected. 1. The type of brick Lucas bought might not have been the best for heat retention. The idea is that you smother the fire and the bricks/lava rocks retain the heat and cook the meat, so the brick is very important. 2. The pig should have gone directly on the coals, rather than on the grate. 3. The pit was too deep and all the heat rose to the top, creating a cold pocket at the bottom. This is likely since the dirt/clay in our yard is particularly cold and wet, and there was a few feet of space above the pig.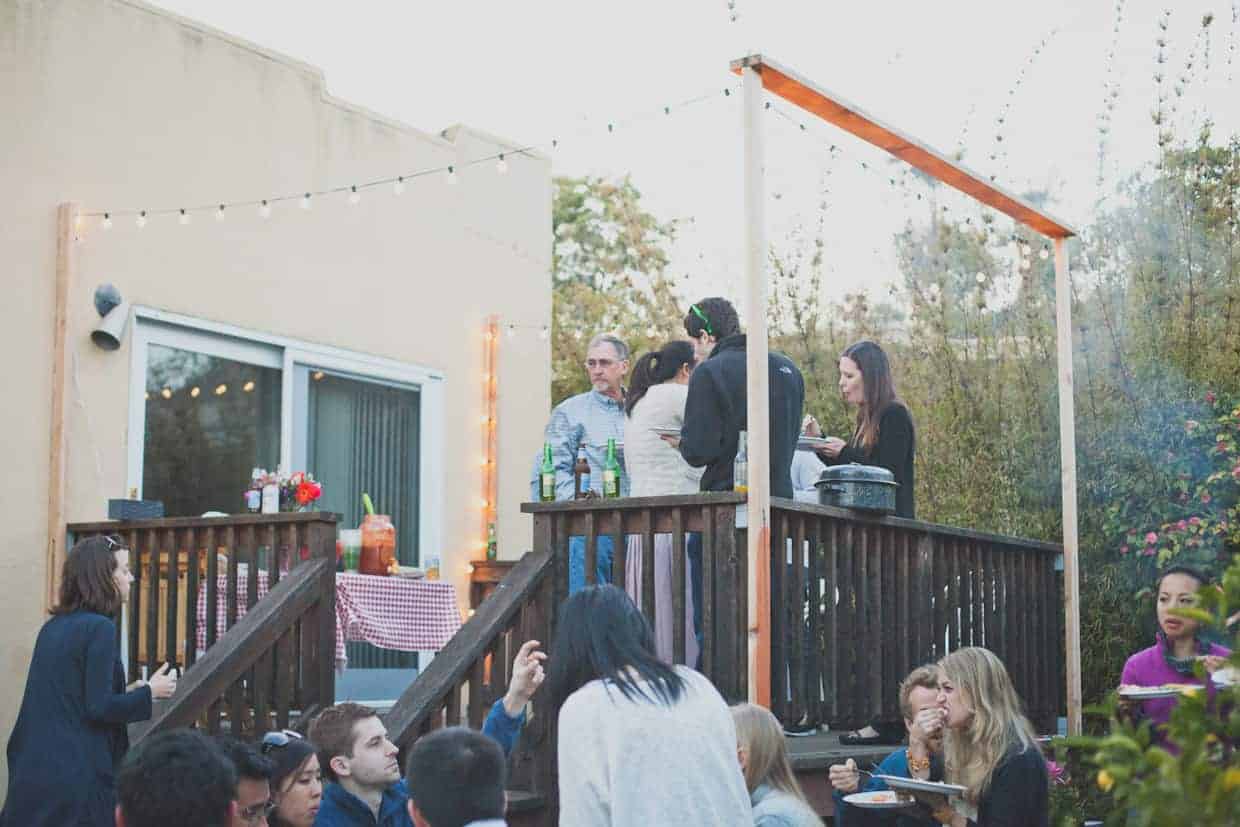 We will try again, but we'll have to wait until our tomatoes are done fruiting. The night after the pig roast, Lucas and I rushed to fill the hole with dirt before the rain came. The rain that then sunk our filled-in hole in the most suspicious way. We've since converted the area to a garden bed where we're trying our hand at strawberries, tomatoes, chard, zucchini, peter pan squash, ancho chiles, and bell peppers.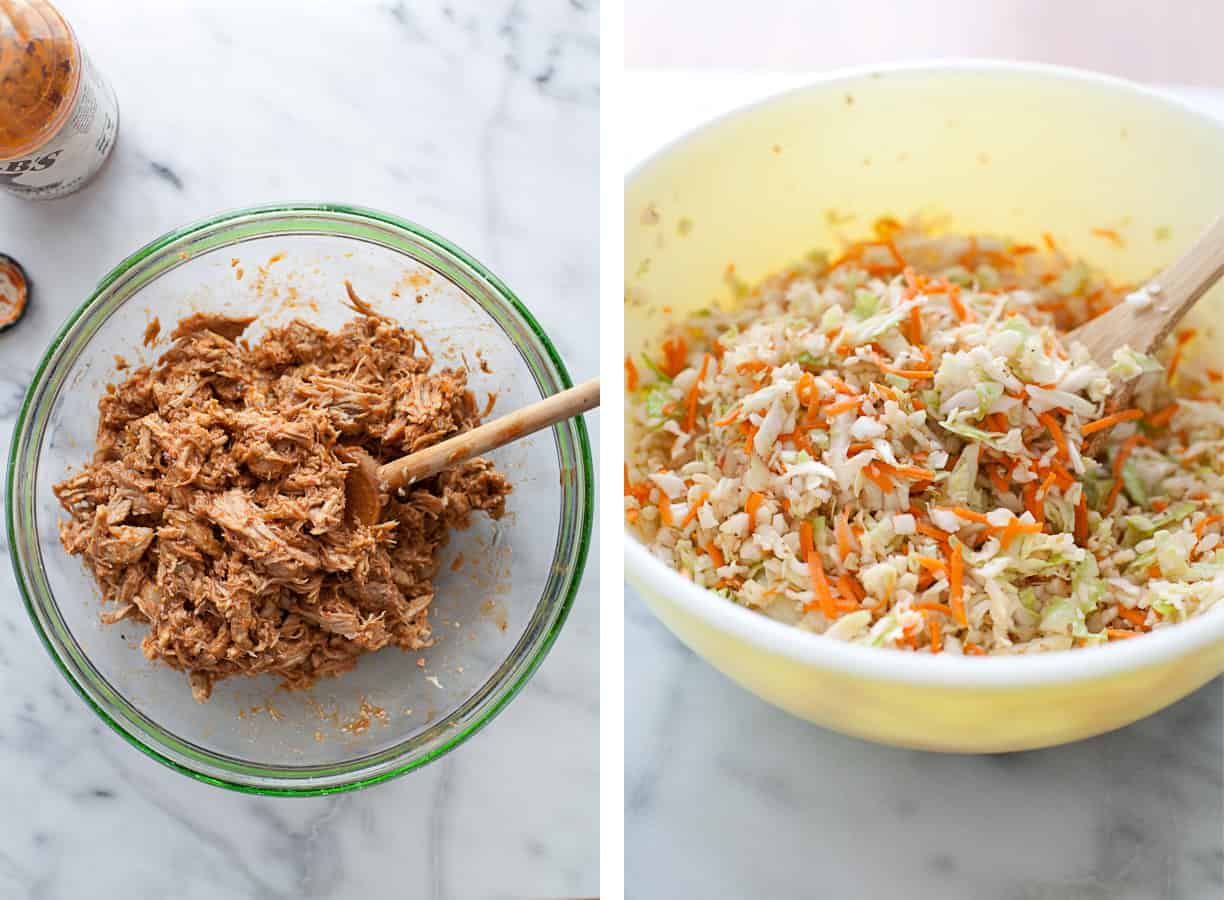 Even though the roasted pig was a bust, at least I contributed killer gluten-free carrot cupcakes and goat cheese stuffed fig and pancetta bites to redeem the Menanix household name. And then there's this quesadilla. The tasty happy accident to come out of the failed pig roast. After butchering the pig, Mikey brought me a pot of pork bits that he couldn't get any sizeable chunks of meat off and I threw it in the slow cooker with water. The next day I wound up with tender and juicy pulled pork and pot of hearty pork bone broth that I plan to turn into ramen very soon. We threw it all in the freezer until I was ready to face it again. So dramatic, this one.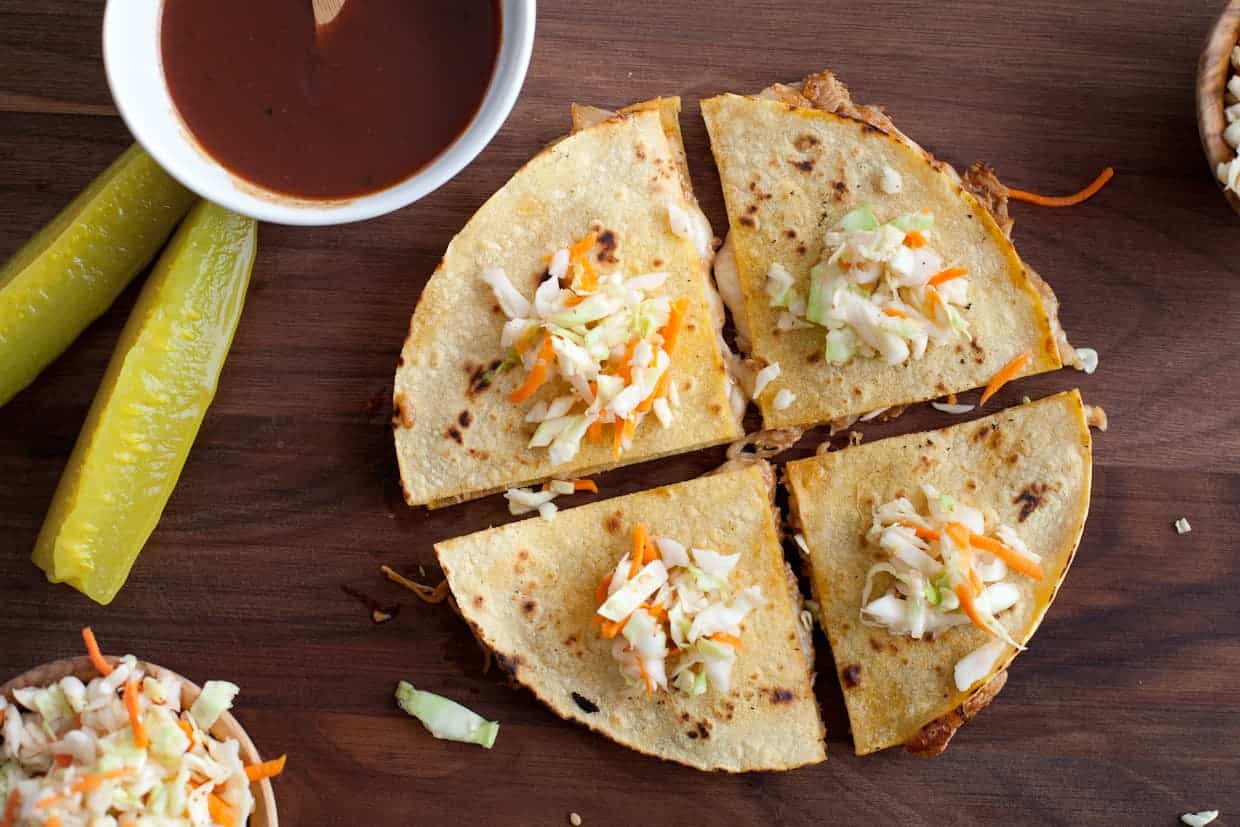 With a Texan husband, we've got some strong Texas BBQ love in our house, so we turned the pulled pork into Texas-themed BBQ pulled pork quesadillas. I mixed the pulled pork with some straight-from-Texas BBQ sauce.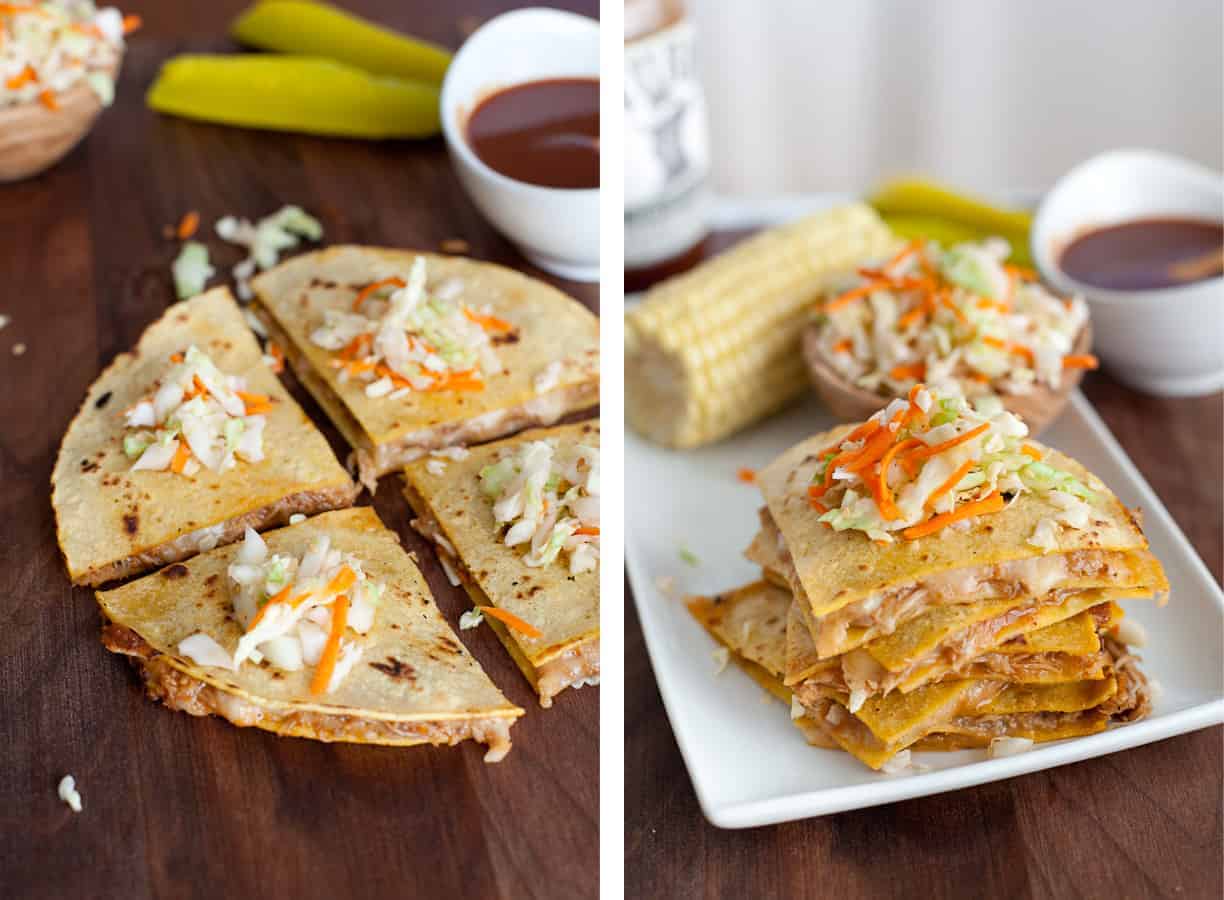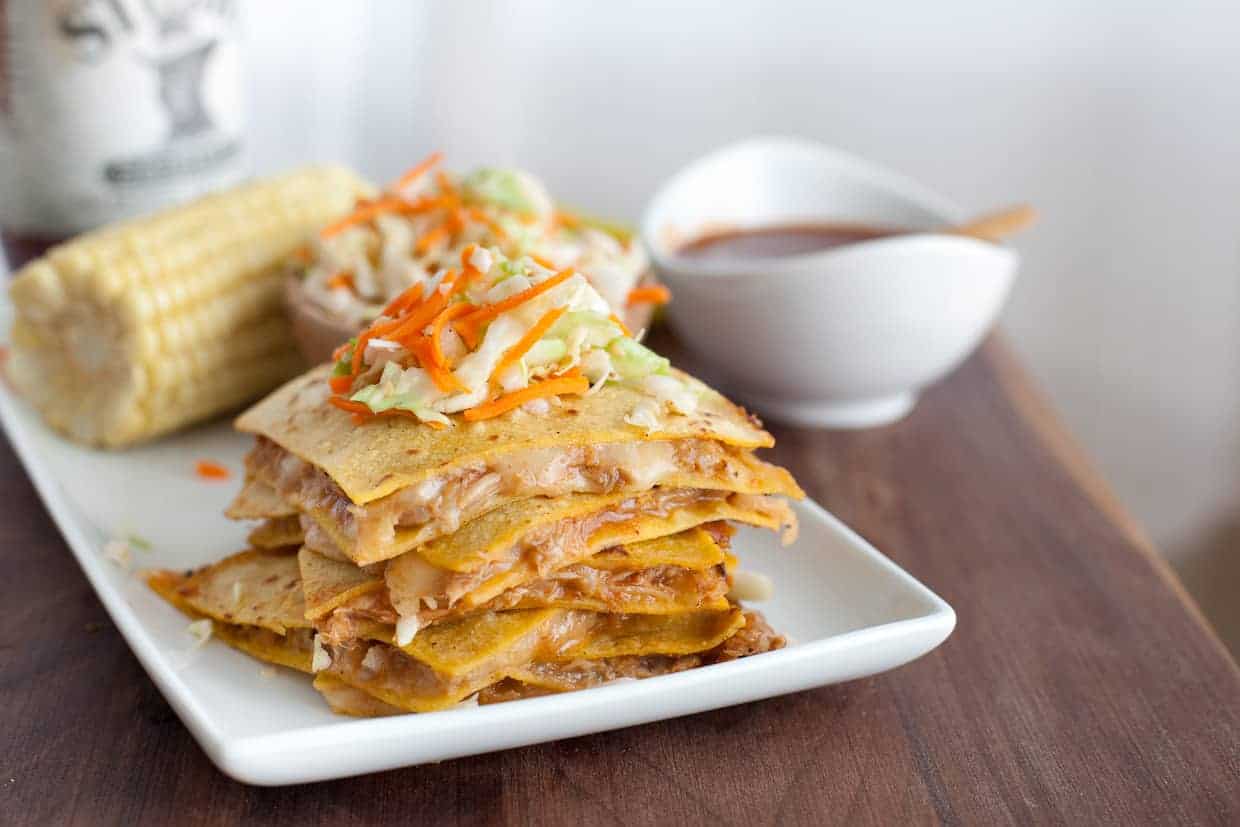 Picture it: corn tortillas filled with melted monterey jack cheese and pulled pork, topped with a homemade vinegar slaw and a drizzle of sauce. These BBQ pulled pork quesadillas are juicy, messy, and taste just like your local Texas BBQ joint all wrapped up in one. We ate them for lunch for a week straight. Sometimes you just gotta go for it. These Texas BBQ pulled pork quesadillas are the delicious outcome to our "how not to roast a pig in a hole in the backyard" story.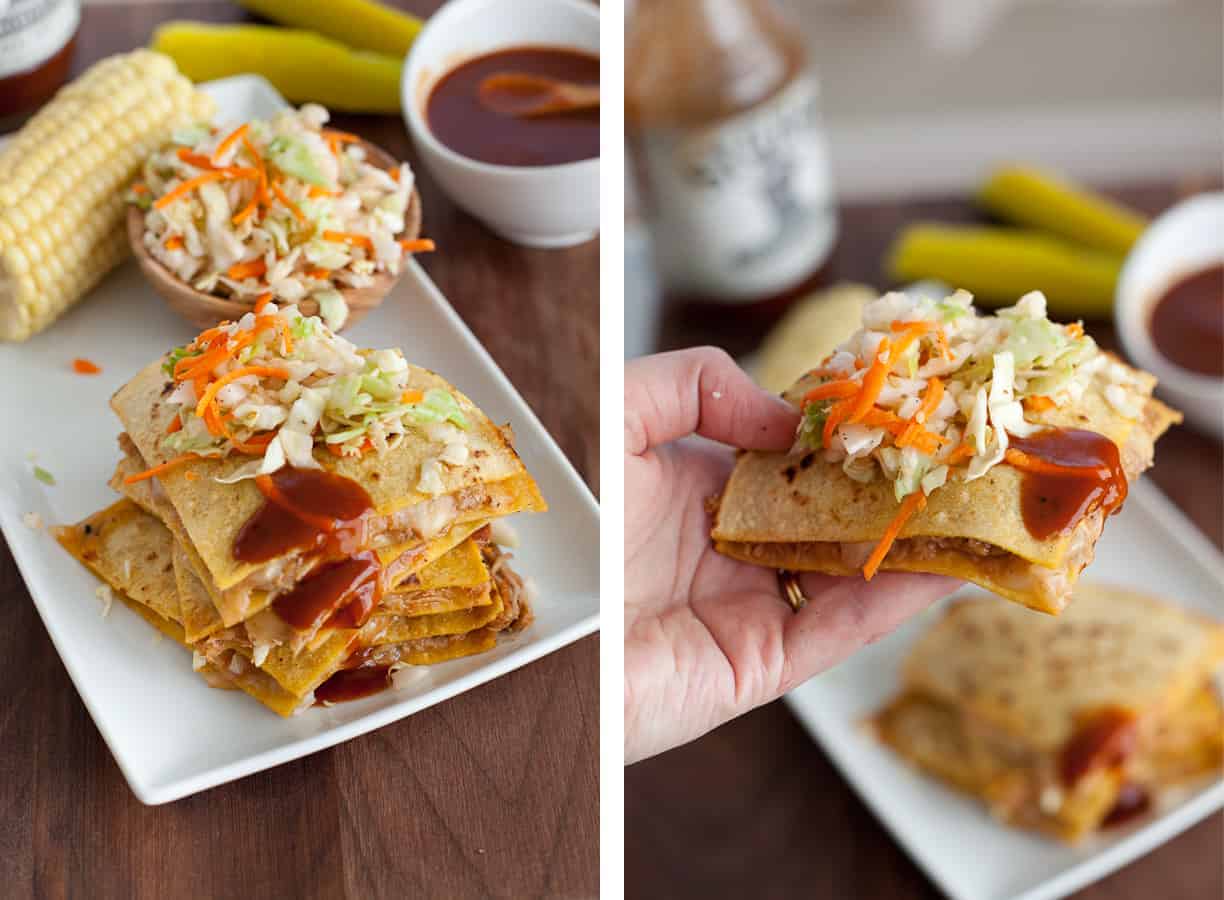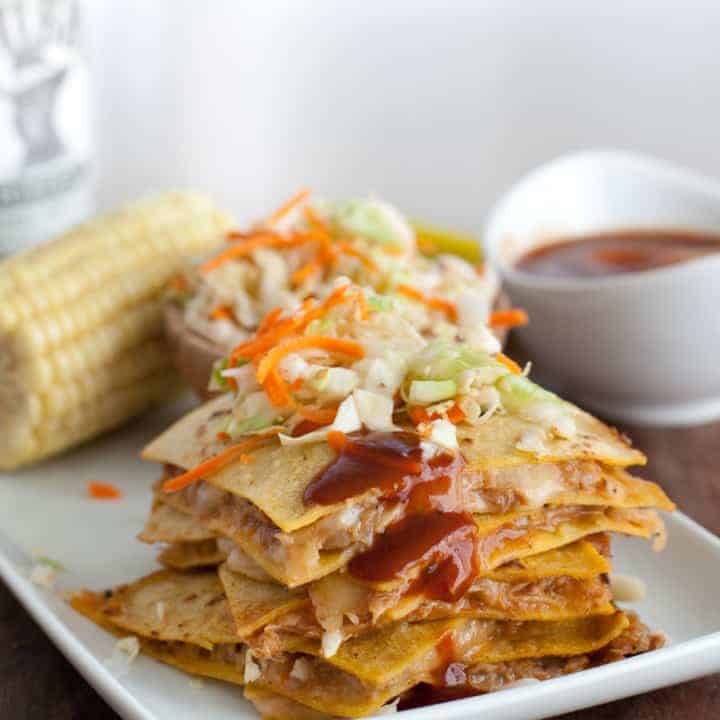 Texas BBQ pulled pork quesadillas with vinegar slaw
Yield:
8-10 medium quesadillas
Ingredients
BBQ pulled pork quesadillas
4 cups pulled pork (about 2 pounds of pork shoulder or pork putt cooked covered in water in a slow cooker for 6-8 hours)
1 cup of your favorite tangy bbq sauce, plus more for serving
2 cups shredded monterey jack cheese
16-20 large corn tortillas (about 8" tortillas)
Texas-style vinegar slaw (recipe below)
Butter for the pan
Texas-style vinegar slaw
3 tablespoons white vinegar
2 tablespoon red wine vinegar
2 tablespoons sugar
2 teaspoons kosher salt
¼ teaspoon of pepper
¼ teaspoon celery seeds
½ large head green cabbage, shredded
1 carrot, shredded
1½ tablespoons toasted sesame seeds
Instructions
BBQ pulled pork quesadillas
Toss the pulled pork with the bbq sauce.
Melt a small bit of butter in a cast iron skillet over medium-high heat.
Lay one tortilla in the skillet, sprinkle 2 tablespoons of cheese on top, generously spread ⅓ to ½ cup pulled pork over the cheese, layer another 2 tablespoons of cheese on top of the pulled pork, and place the second tortilla on top. Cook for 2-3 minutes until the cheese begins melting and the bottom tortilla begins to get crispy.
Flip and cook for another 2-3 minutes until all the cheese melts and both tortillas are crispy.
Slice into 4 pieces, drizzle some more bbq sauce on top, and serve with a few heaping spoonfuls of slaw.
Texas-style vinegar slaw
Whisk the white vinegar, red wine vinegar, sugar, salt, pepper, and celery seeds together in a bowl.
Toss the cabbage and carrot together in a large bowl.
Pour the dressing over the cabbage, add the toasted sesame seeds, and toss to combine.
Cover with plastic and refrigerate until ready to serve.