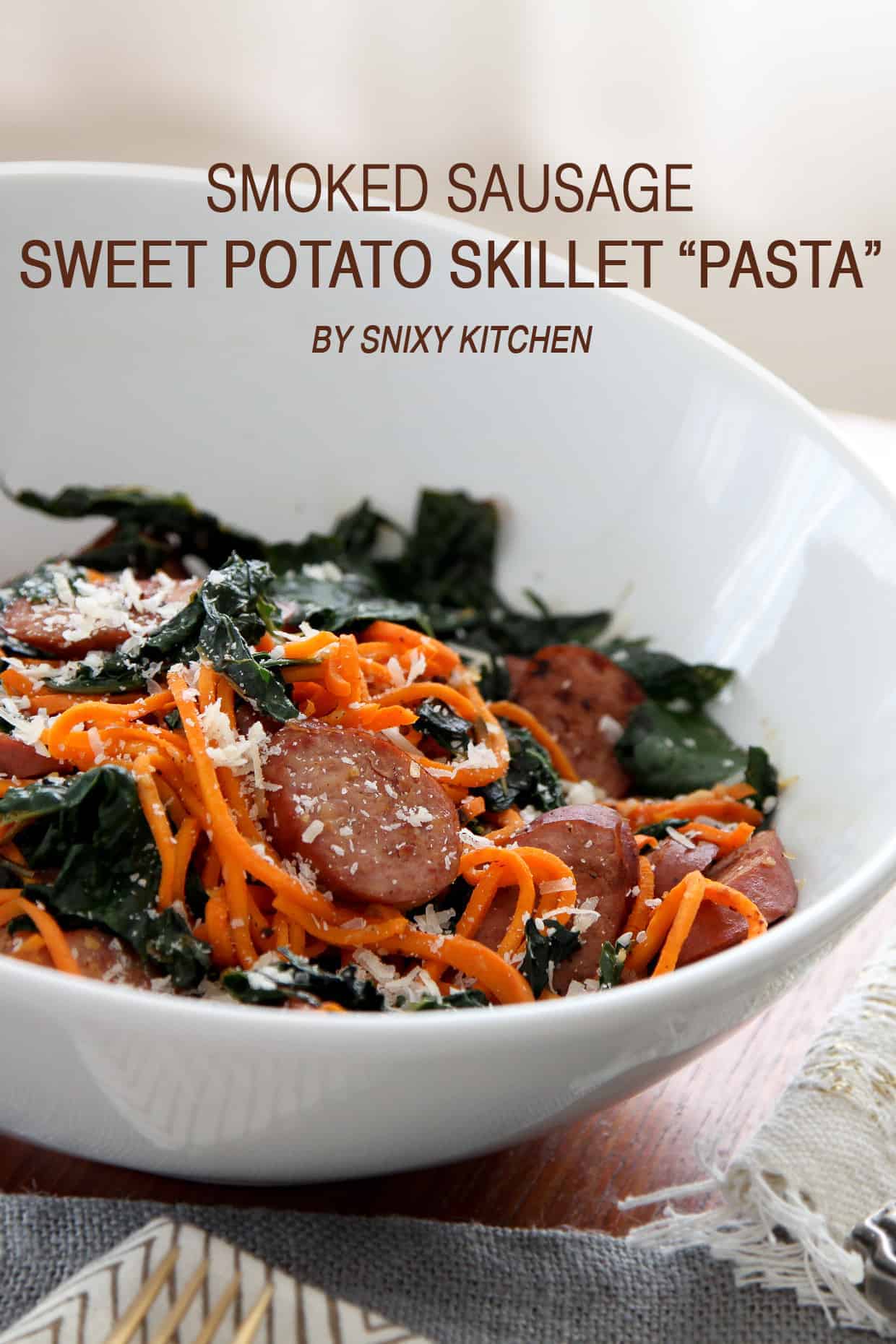 This post is sponsored by Hillshire Farm**
Up until now, there's been exactly one way we've eaten sausage for dinner: on sandwich rolls with cooked peppers and onions. A little mayo, some mustard. This old link gets me thinking I really need to re-visit some of my early recipes - that picture makes the sausage look...well...unflattering, to say the least. The point is, we have traditions in my family and sausage sandwiches are one of them. Maybe 'tradition' isn't the right word; a tradition implies that there's a reason or a sentiment behind why you've always done it that way, but the fact is, we do it that way because it's quick, easy, and comforting. Calling it a tradition covers up the fact that, when it comes down to it, I didn't have any better alternative dinner recipes for sausage. A darn shame.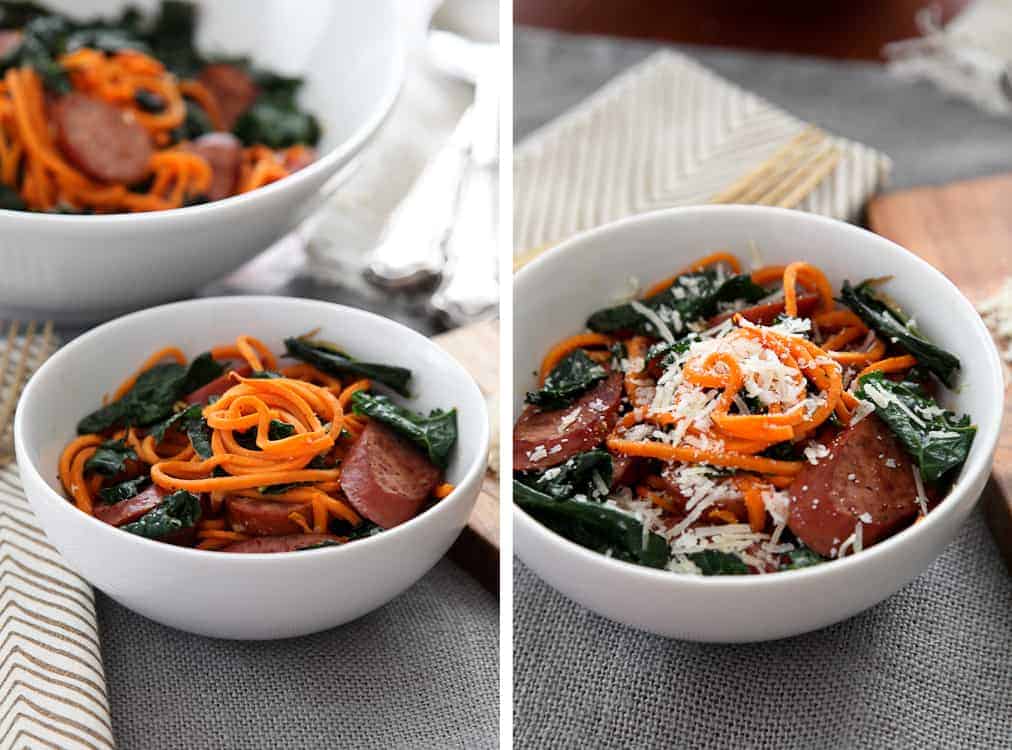 Now if you're talking about breakfast, we've got an arsenal of AM sausage recipes. There was a time (long, long ago) when I'd make Lucas breakfast every morning. I'd wake up dreary-eyed, get out my miniature non-stick personal egg pan (Thanks, Aunt Lisa!), whip up some eggs with whatever veggies we had on hand, toss in some sausage, cover, and cook. Pack it up with some bread. We used to eat a lot of bread. Then go back to sleep, as if cooking hadn't interrupted dreamland for 15 minutes.  That's love right there. When I could no longer be bothered to wake up way earlier than my grad student alarm, I turned to baking an entire sheet pan of 9 eggs with veggies and sausage on Sundays. I'd freeze sliced squares for him to grab on his way to work. Those habits have since faded. Although, now that he's joined the start-up world where breakfast options and snacks aren't waiting for him at the office, we should really get back in that routine (except with Lucas making it himself;).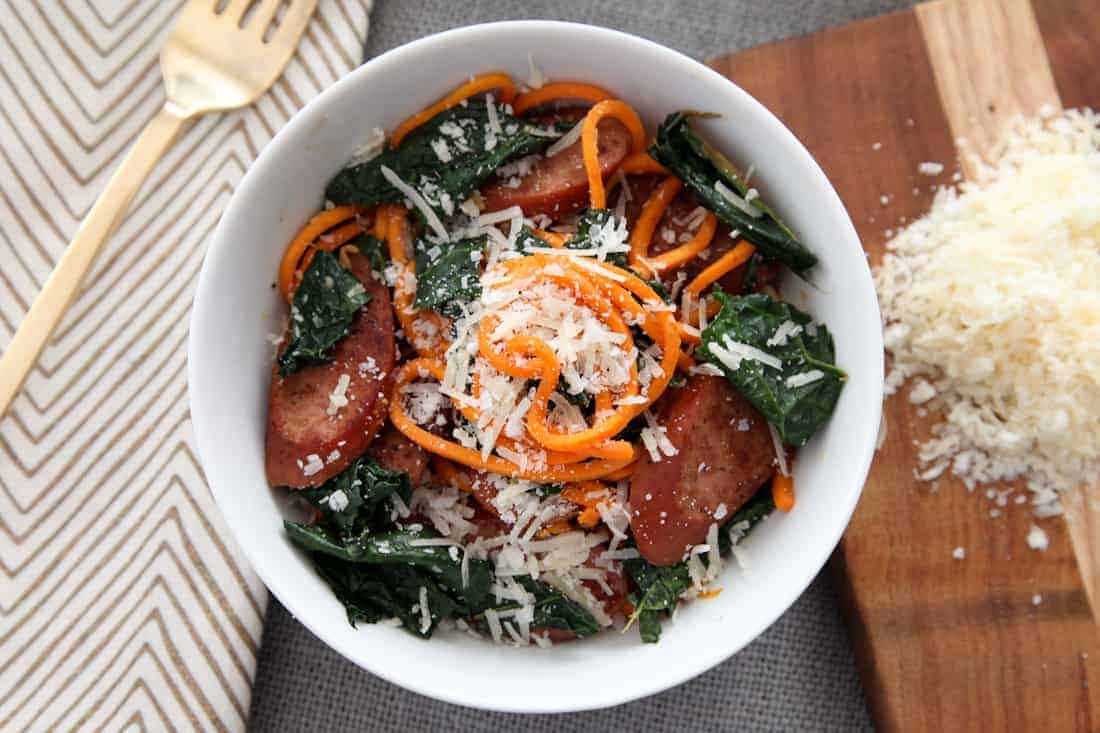 Whenever we go to visit, my mom has breakfast sausage on hand; I wonder if she always has it on hand, or just when we're around. Either way, my dad regularly makes potatoes with sausage gravy for breakfast. It's one of his signature dishes. Like, I'm pretty sure Guy Fieri should come visit my dad on Sunday mornings. And once, for his birthday, I made him sausage biscuits. No, not sausage gravy and biscuits - I put the sausage in the biscuits. We have no shortage of unique breakfast sausage recipes.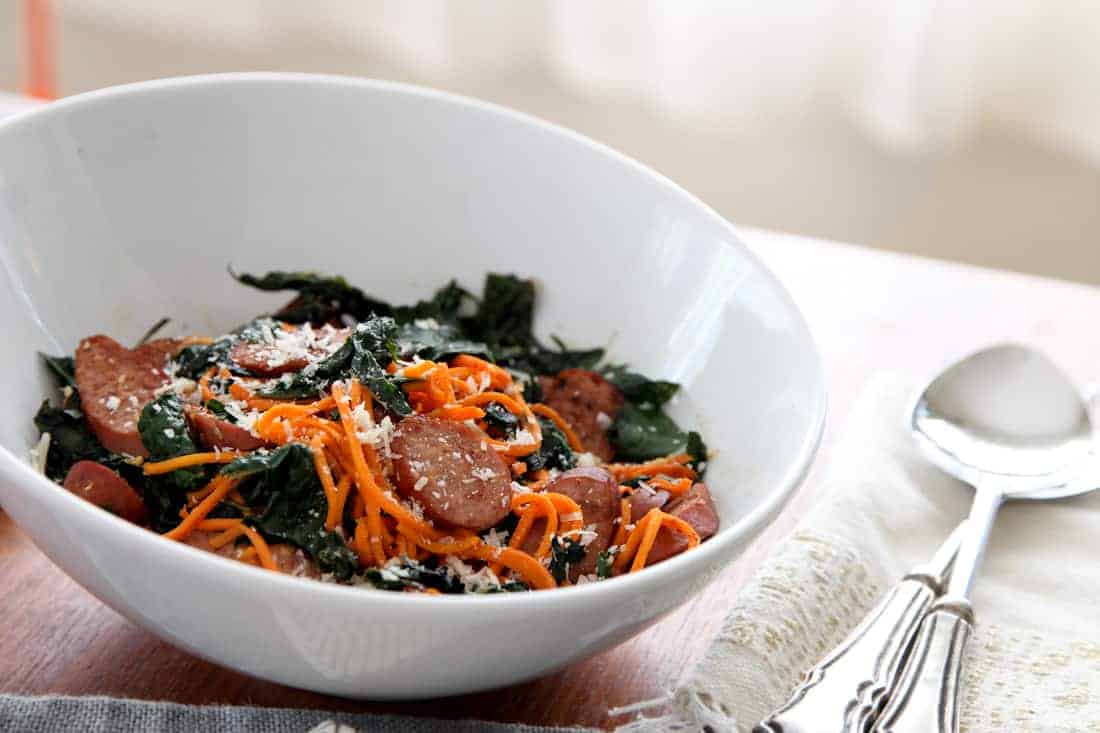 Why are my creative sausage recipes reserved for breakfast though? Especially when you consider that many dinner sausages are pre-cooked, cutting your prep time down tenfold. And they are pre-seasoned. Boom - two birds, one stone. After Lucas insisted that he was suffering from a meat withdrawal last week, I picked up a package of smoked turkey sausage and got to work designing the new speedy weeknight I-can't-think-of-anything-else recipe for our menu rotation. Rather than our standard sausage sandwich, I bring you smoked sausage sweet potato skillet pasta. Remember when your parents would cut up hot dogs and put it in boxed mac and cheese and call it dinner? (Tyler just informed me that was not a thing). Well, this is like that for fancy adults with developed taste buds. Like adults who crave a more refined comfort food that tastes like hours of prep, but actually only takes 15 minutes. And is healthy.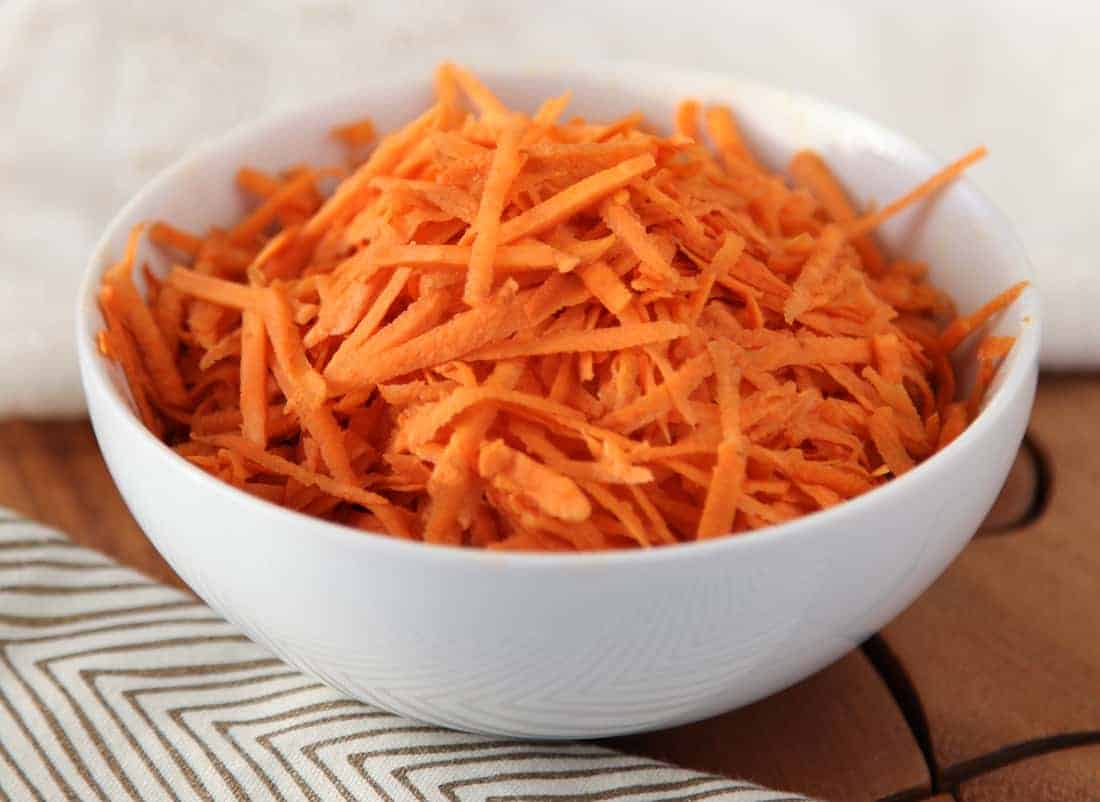 Say what?! Yes, you can have a savory smoky dinner that's actually good for you in no time at all. Replacing boxed spaghetti with spiraled sweet potatoes makes the whole dish much more flavorful and way healthier. Not to fear, if you don't have a spiral noodle cutter, you can have the same quick veggie pasta experience with a julienne peeler or a wide box grater (as shown above). The world is your oyster. World, meet smoked turkey sausage, your new weeknight best friend.  
**Hillshire Farm sponsored this post and compensated me via a cash payment, gift, or something else of value to write it; however, please be assured that the opinions and thoughts in this post are all my own. I have not been compensated in any way for my opinions in this post; I only accept sponsored posts that allow me write about topics I'd naturally talk about on Snixy Kitchen.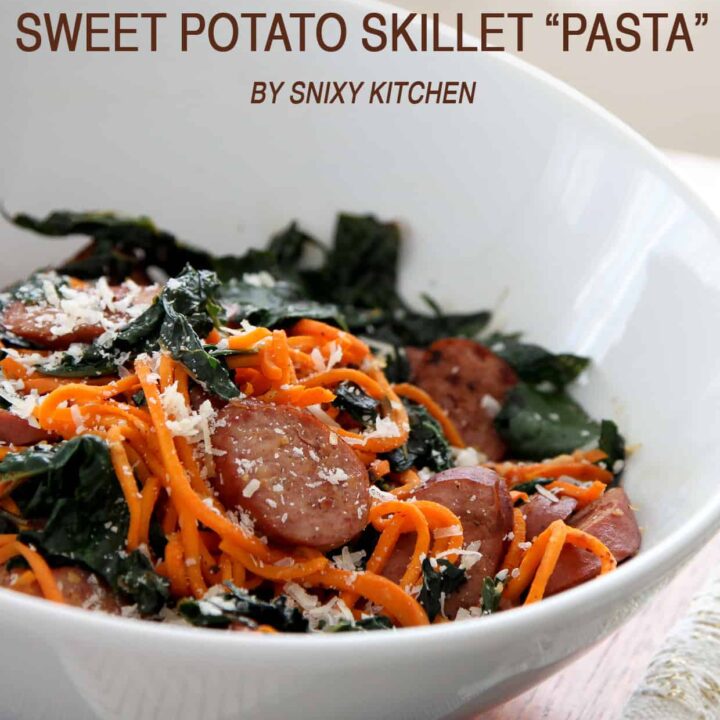 Smoked sausage sweet potato skillet pasta
Ingredients
2 large sweet potatoes, peeled
1 tablespoon olive oil
Salt & pepper, to taste
1 (14-ounce) package Hillshire Farm smoked turkey sausage, sliced on the diagonal, ¼-inch thick
4 cups kale, ribs discarded, and leaves ripped into bite-sized pieces
½ cup freshly grated parmesan cheese
Instructions
Preheat the oven to 425ºF.
Run the peeled squash through the spiralizer, cutting the noodles every 12-15 inches. Here is a helpful guide to cutting noodles with pictures of the process. If you don't have a spiral cutter, slice the sweet potato with a julienne peeler or a large box grater.
Toss the spiral noodle, julienned, or grated sweet potatoes with olive oil, salt, and pepper and spread out on a large baking sheet. Roast for about 6 minutes (4 minutes if using grated sweet potatoes), tossing occasionally. Turn the oven to broil and broil for another 3 minutes, until no longer raw. *Note: if you start eating the noodles and wish you'd cooked the sweet potato noodles for longer, no fear! Just toss the bowl in the microwave for 45 seconds to cook it some more.
Meanwhile, heat a large skillet over medium-high heat. Add the sliced sausage and cook for about 2-3 minutes on each side, until lightly browned. Add the kale and cook, stirring, until cooked through, about 3-4 minutes.
Toss the cooked sweet potatoes with the sausage, kale, and ¼ cup of the parmesan cheese.
Divide the noodles among 4 bowls and top with the remaining parmesan cheese.