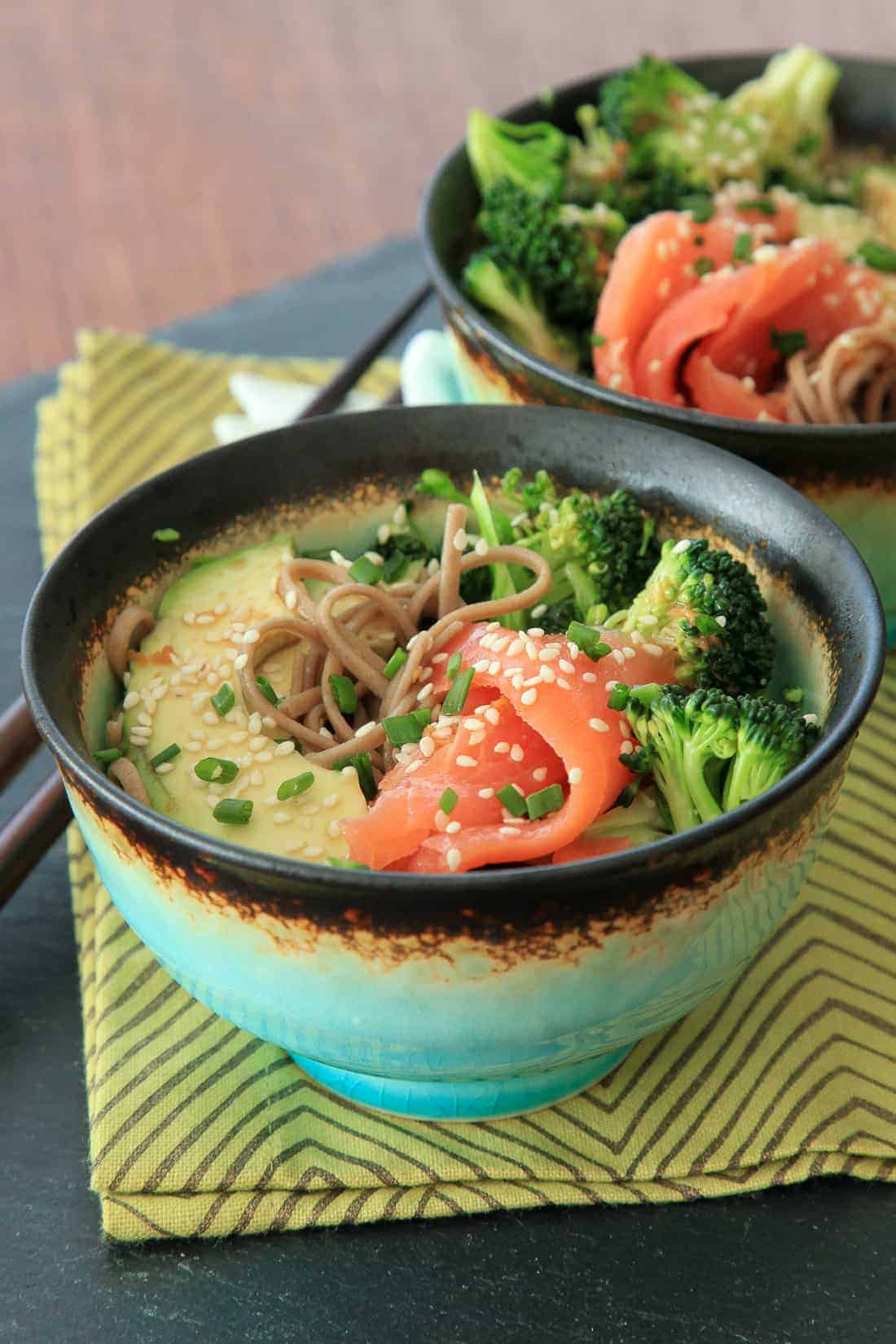 When you insist on experimenting with new recipes every single week, there are occasional meals when you and your husband awkwardly smile at one another from across the table and you know you're both wishing you'd just ordered pizza instead. And still, he packs up the leftovers of whatever flop you just created and takes them for lunch the next day, because he knows you'd be upset about wasting food. Usually about halfway through the meal, you break the silence with, "we probably shouldn't make this again" and he reassures you that it was a good idea...in theory. And it's not that bad. Then the next night, you know that you must redeem your cooking skills with something guaranteed to please the taste buds - something like this smoked salmon served over cold sesame soba. This quick soba bowl is a wow-worthy dinner that definitely made up for the spiralized beet pasta/salad I tried to pass off as dinner the night before.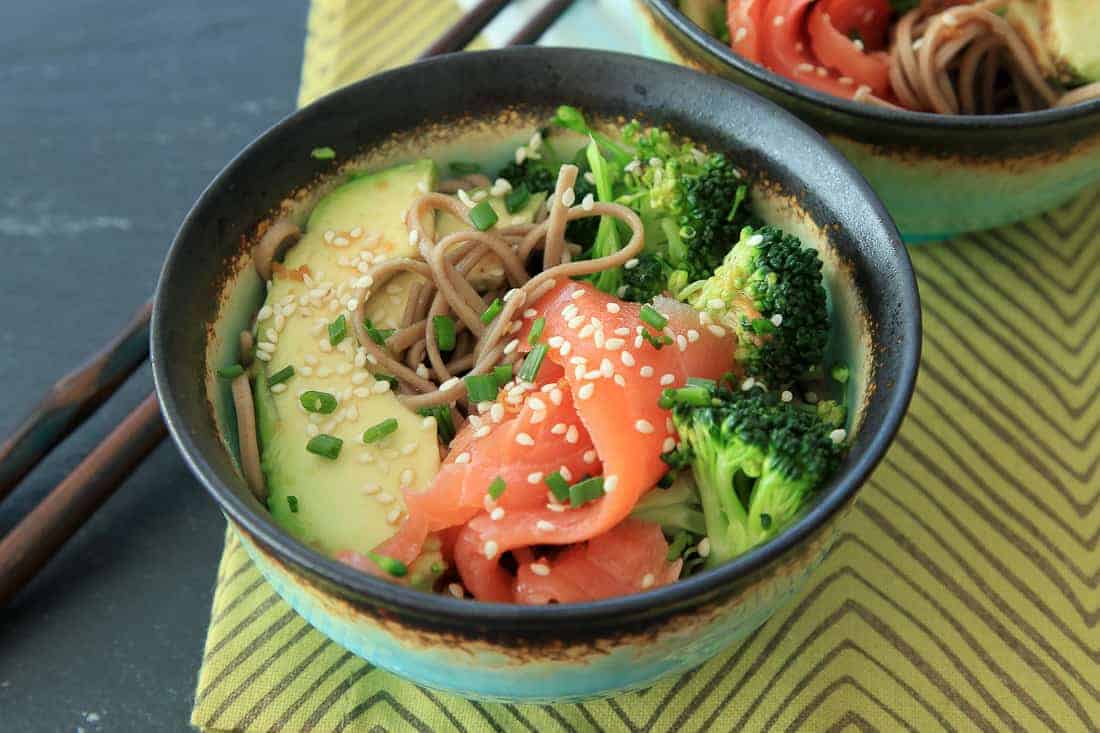 This week, we started a new routine in the Menanix household. At least that's the plan - can you really call it a routine if it's only happened once? I'm in charge of dinners Tuesday, Thursday, and Friday, while Lucas takes on Mondays and Wednesdays. Weekends we plan together. Whether we meal-plan ahead of time or have to think of something on the fly at 6:30pm when we're both near starving, that's the agreement. Oh, and, generally, cooks don't clean (but that's always been a given).
I got the idea from my current advisor; he told me about how when he and his wife were first married, he, being the resident foodie, would cook elaborate meals, leaving heaps of dishes for her to clean up. Meanwhile, she'd cook much simpler meals, and his clean-up task was easy-peasy. Now, he laughed, they've traded habits; he's learned to clean while he cooks, and she's taken on much fancier dishes. It doesn't seem quite that way with us; while I can most definitely dirty up every single surface and dish in the kitchen, I'm also becoming much more of a multitasker when it comes to cleaning as I go. Lucas has always been willing to try cooking complex dishes, as long as there are very detailed instructions in the recipe that he can follow word for word. Either way, the split schedule actually makes cooking dinner loads more compelling - less of a chore. Three experimental dishes is much more manageable than five, and I look forward to tasting whatever he's put on the weekly menu.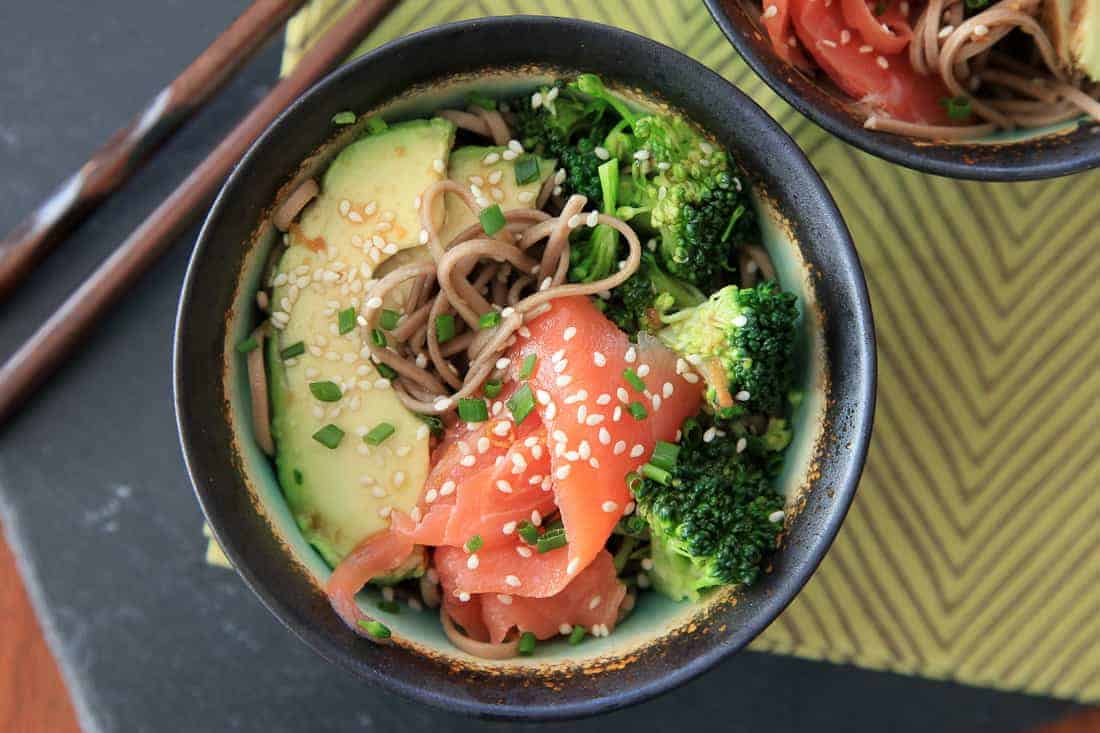 This smoked salmon soba bowl was one I added for a night that I knew I'd have little time to cook. It's super simple and healthy, with flavors that feel fresh with each bite, and yet it only takes about 15 minutes. Score. After one bite, Lucas let out, "why is Japanese food SOOO good?!" This isn't your traditional Japanese dish, but it draws inspiration from Japanese seasonings. It was so yummy that I begged Lucas to leave the leftovers for me to share with my brother's girlfriend Alexis over lunch the next day. I'd fill in the sentence, "I could eat ___ for lunch for the rest of my life," with "smoked salmon soba with sesame-mirin dressing."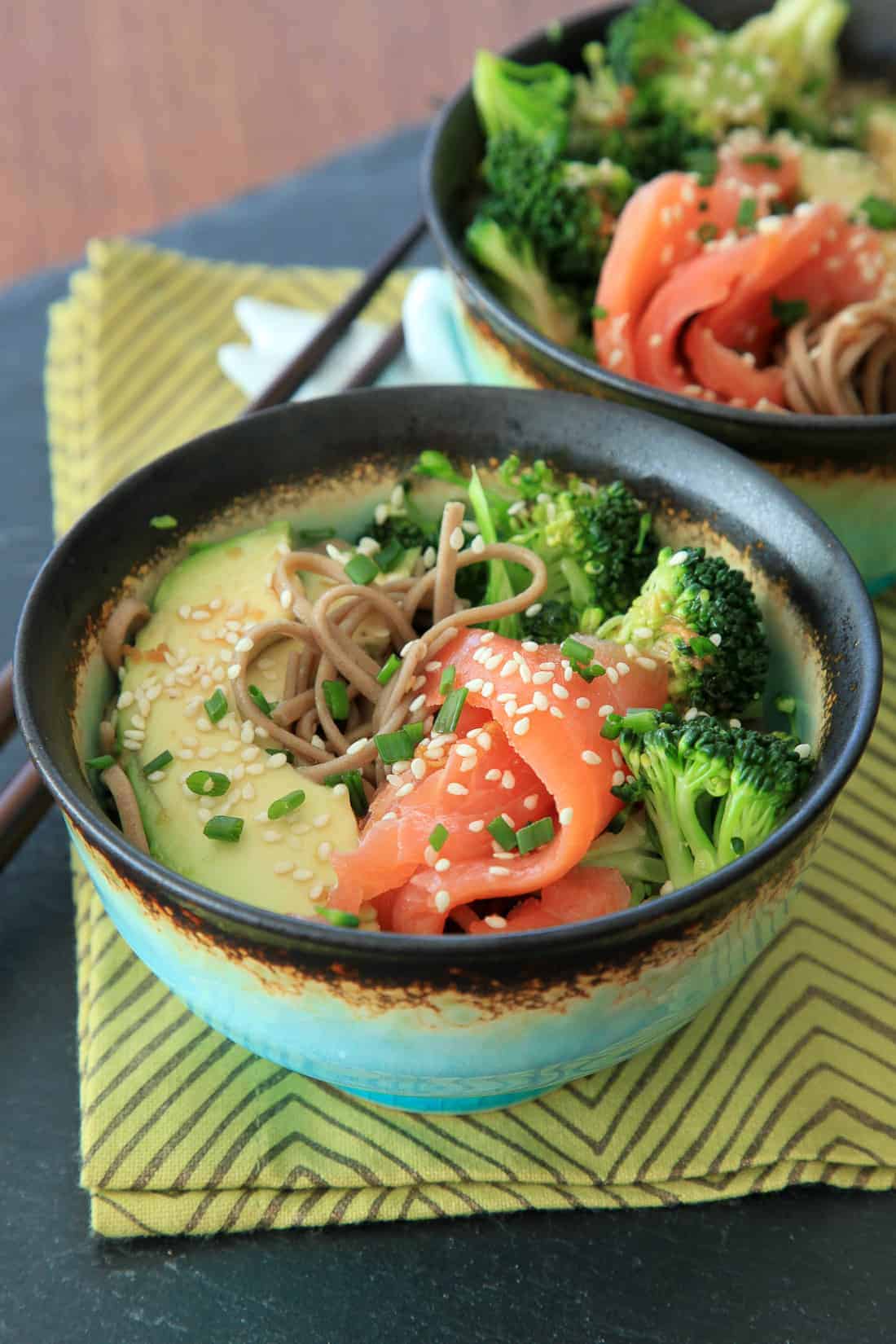 I've seen many gluten-free recipes around the web with soba noodles, but when I went on a search for them, I discovered that most soba noodles you see in stores list "wheat flour" as the primary ingredient. Seems like a bit of a nasty trick - if buckwheat is what makes them soba, shouldn't that be the first ingredient? In searching five stores, I found only one store that sold one brand of soba noodles made solely out of buckwheat flour. That same store also happened to have about 30 brands of soba noodles for sale, which increased the odds.
Cut to me in the noodle aisle turning over every. single. package. of noodles to read the ingredients list. The disappointing part about pure buckwheat flour soba noodles is that they cost about 5x as much as the brands with wheat flour (go figure). Up next: homemade soba noodles. In the meantime, I cooked a pot of regular soba for Lucas, while reserving the gluten-free noodles for myself. Lucas's taste-test revealed that the pure buckwheat flour soba noodles were actually better than the kind cut with wheat; he described them as more flavorful with better texture. The authentic buckwheat noodles are also supposedly great for digestion. That said, if you can find them, I urge you to try the 100% buckwheat soba. Toss in some steamed broccoli, avocado, smoked salmon, and sesame-mirin dressing, and everyone at the table will be slurping their noodles in satisfaction.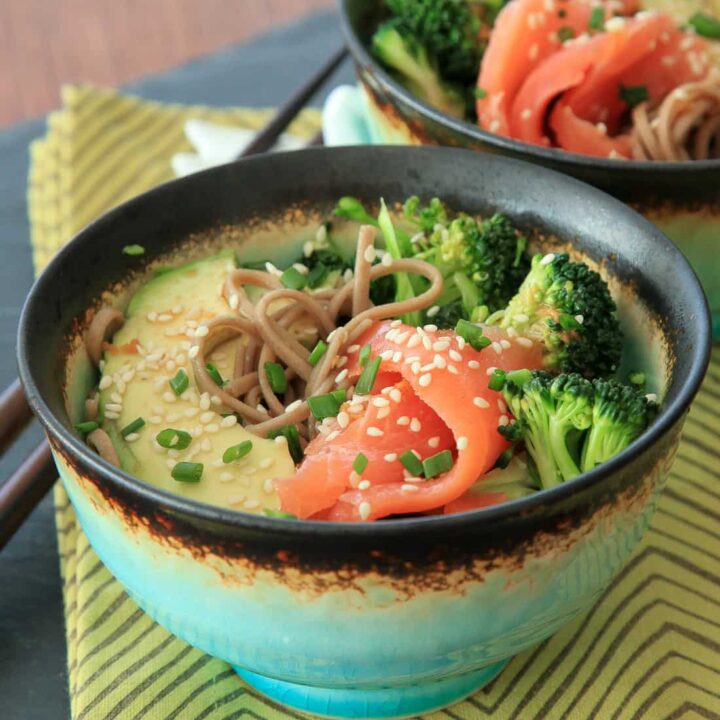 Smoked salmon soba bowl
Ingredients
Smoked salmon soba bowl
 2 cups broccoli, cut into bite-sized florets
1 pound 100% buckwheat flour soba noodles
1 avocado, cut in half and sliced
½ pound smoked salmon, ripped into bite-sized pieces
1 tablespoon sesame seeds
2 teaspoons chives, chopped
Sesame-mirin dressing
2 tablespoon sesame oil
3 tablespoons mirin
3 tablespoons fresh lemon juice, from about 2 lemons
5 tablespoons tamari sauce
1 teaspoon finely grated fresh ginger
¼ teaspoon red pepper flakes
Instructions
Smoked salmon soba bowl
While preparing all the ingredients, steam the broccoli until just bright green, about 5-7 minutes. Transfer the cooked broccoli to a plate to cool.
Meanwhile, bring a medium saucepan with water to boil over medium-high heat. Add the soba noodles and cook, stirring occasionally, until cooked through, about 4 minutes. The pure buckwheat soba noodles can get chewy fast if you don't keep an eye on them, so set a timer and check them regularly. Strain the noodles, and run cold water over them until cool throughout.
While the noodles cook, prepare the dressing (below).
In a large bowl, toss the noodles with half of the dressing. Divide the noodles among 4 bowls.
Divide the cold cooked broccoli, avocado slices, and smoked salmon among the 4 bowls.
Sprinkle sesame seeds and chives on top of each bowl.
Drizzle the remaining dressing on top of each bowl and serve.
Sesame-mirin dressing
Whisk all the ingredients together in a bowl and set aside