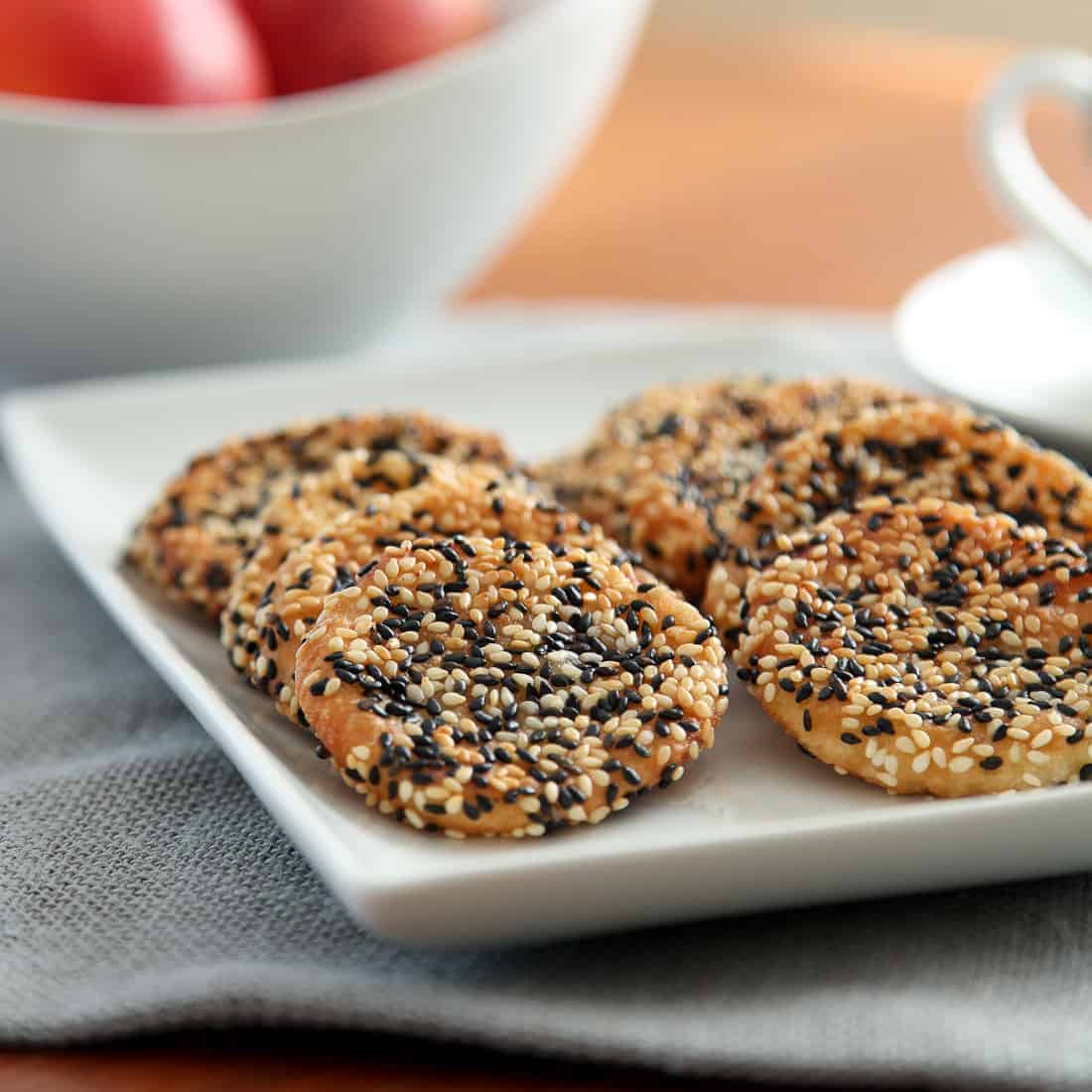 On each plate at the reception, we had a "Letter to the Bride & Groom" Madlib to entertain guests while we rushed to take as many pictures as possible in our now 20 minute cocktail "hour" that got cut short because of the shuttle snafu. We grabbed them all at the end of the night and spent a good part of our mini honeymoon giggling our way through the stack. There was one adjective in particular that seemed to make it on about 75% of the Madlibs: "sweaty." Coincidentally, most people chose it as the first adjective, which when placed in the letter read, "Congratulations to the sweaty couple!" Appropriate.
When Lucas stepped away from me after we had watched our talented friends sing and read for us during the ceremony, I busted up laughing because the entire left side of his shirt was completely soaked through. It seems everyone else also noticed. One thing's for certain, all of our friends and family in attendance most definitely love us if they're willing to sit through an outdoor ceremony in 110 degree direct sunlight (especially those standing up with us).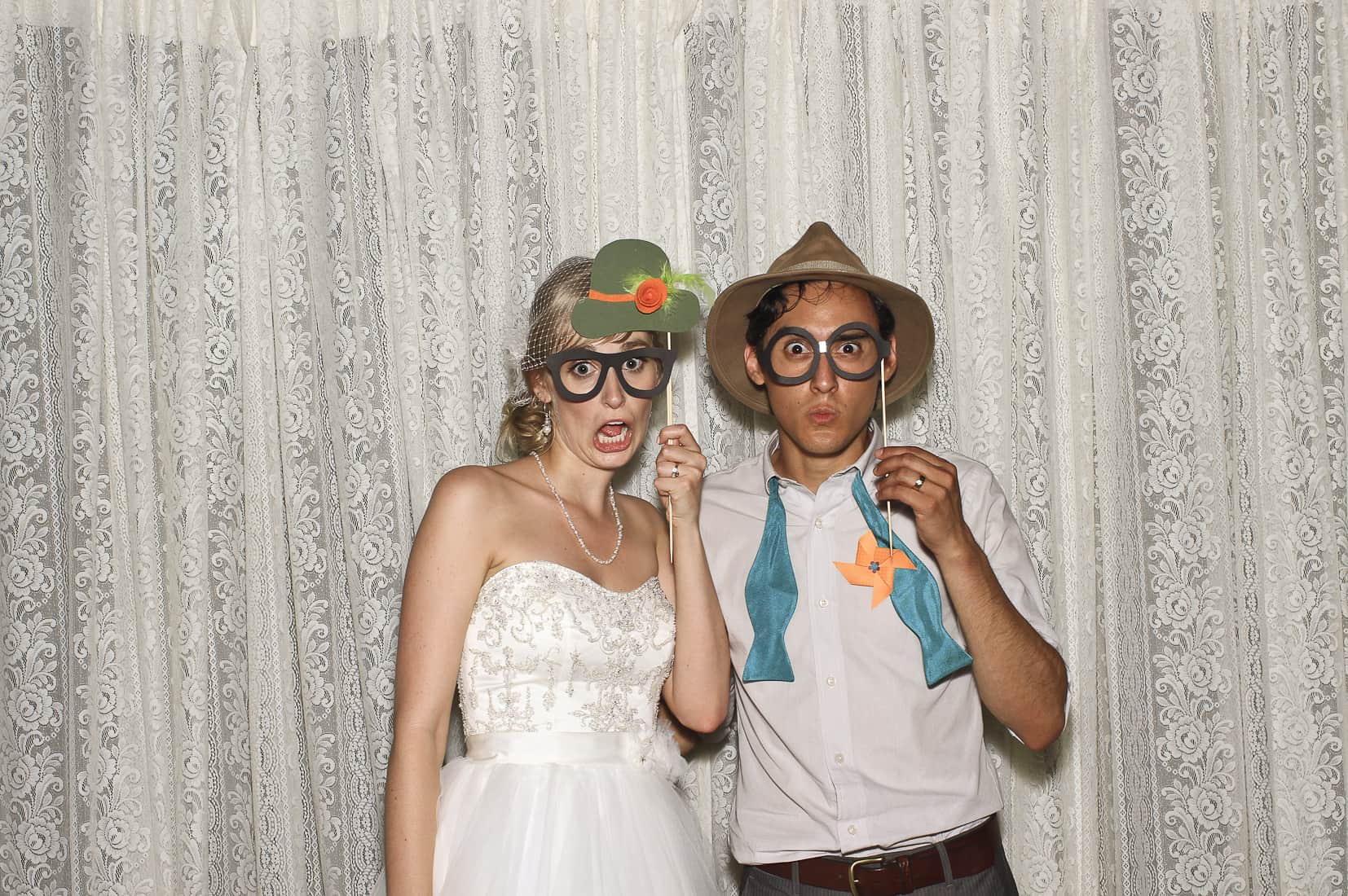 You can hardly see the sweat glistening on our faces!
Everyone says that your wedding day will race by;  you'll say hi to each guest (if you're lucky), blink twice, click your heels together, and it'll be over. Something like that. Add a delay, some heat, and a killer custom dance playlist (#husbandbrag) and where on earth did the time go?! We shoveled BBQ into our mouths, took 10 more photos in the evening sun, said hi to a few guests, watched our friends and family bring us to tears of laughter with their toasts, fed each other cake, twirled to our first dance song (on our dance floor over the pool), and it was nearly 9pm!
The candid snapshots we've collected from various guests show that everyone seemed to be enjoying themselves, but we ran out of time to say hi to each and every one of our friends and family. So, if you were there and we didn't see you, WE LOVE YOU for being there for us! To keep y'all interested, here are a couple of pictures of the dance floor my dad, brother, husband, uncle, and family friend built over our swimming pool.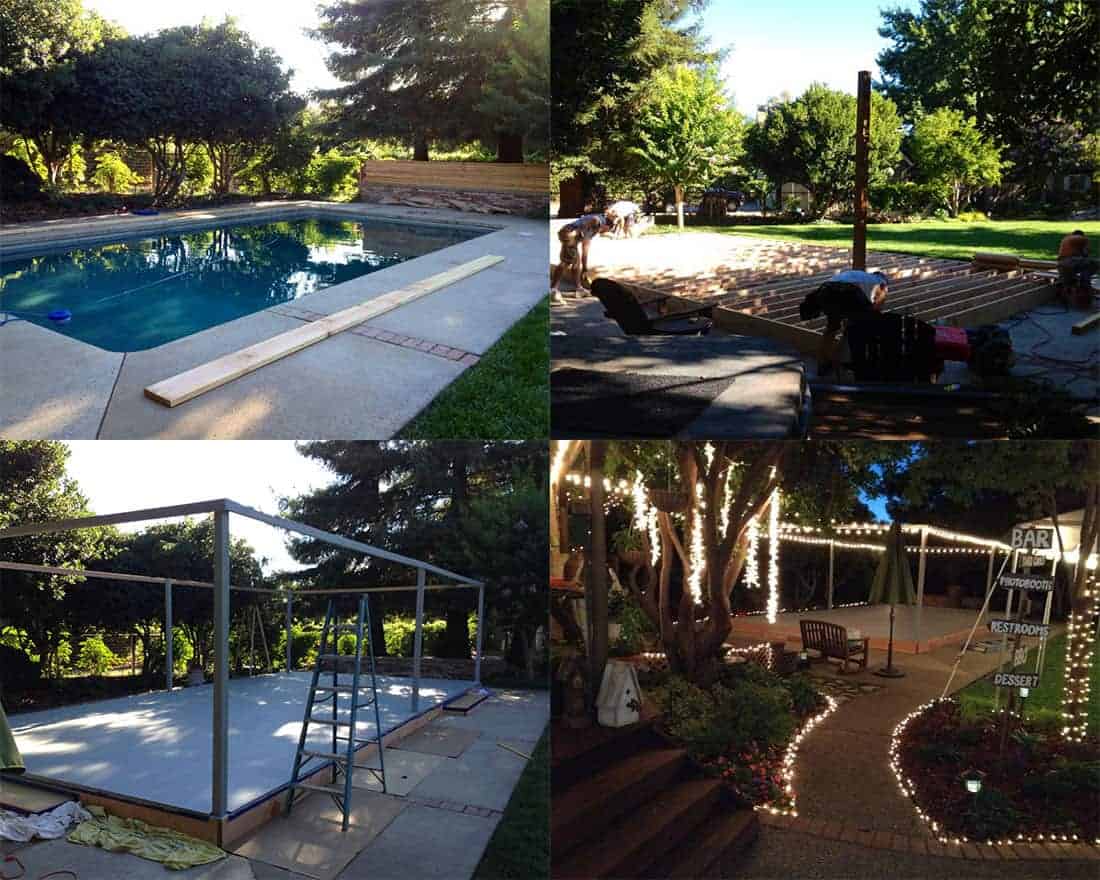 The reception celebration ended at 11:30pm with We Are Young blasting and every single guest still at the party joining arms in a gigantic 50+ person (sweaty) circle around me and my new husband. Some shirtless, some shoeless, and all dancing, stomping, and screaming along at the top of their lungs. And in the last 20 seconds, everyone stormed the center into a gigantic mob of hugs and love. It was magical. The stuff of movies. You couldn't recreate it if you tried. Even if you listen to the song on repeat dancing in the living room with your husband and cats. So it's settled then, we have the best friends and family in the world. Yup.
I could share a thousand memories that made our celebration our favorite day of the year, but then I'd never get to tell you about this nomworthy summer dessert. When we get our photos back, I'll post again with a few more anecdotes and pics of all the details (and if you know anyone in the market for some vintage wedding decor - send them my way!).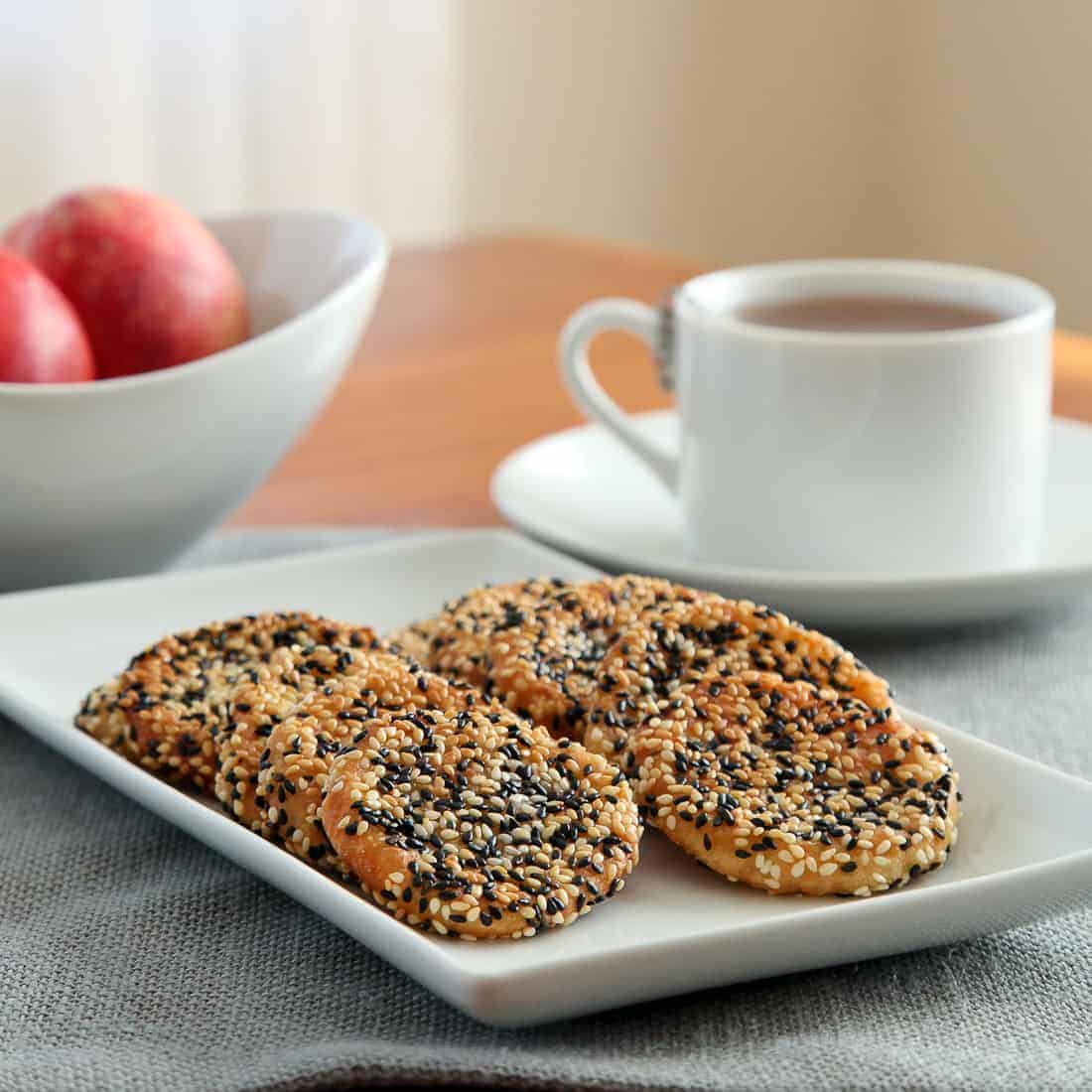 It took me a bit to get back in my cooking groove after the wedding - I've spent a great deal of time these past two weeks sleeping, and the last thing I wanted to do was figure out what I was going to feed myself...let alone my HUSBAND. When our (vegan) friend Dane suggested a cooking adventure Thursday night, it was just the right inspiration to put me back on track. Dinner schminner - I needed to come up with a vegan gluten-free dessert to top off whatever savory dish we'd whip up.
Turns out I've been replacing my flour filled desserts with lots and lots of dairy - yogurt, heavy cream, milk, butter, more butter. You know, the tasty stuff that'll make you forget that the flour's missing. These vegan and gluten-free sesame peach mochi cookies are so addicting that you'll be more than happy to toss out the flour and dairy as long as you've got a plate of these treats. I adapted these summer sweets from a pumpkin version my friend Jen makes in the fall. They're chewy, slightly sweet, nutty, with a hint of juicy peach. A welcome alternative to super sugary summer desserts. I plan on gaining 10 pounds tonight as I singlehandedly finish off the second batch I made this afternoon.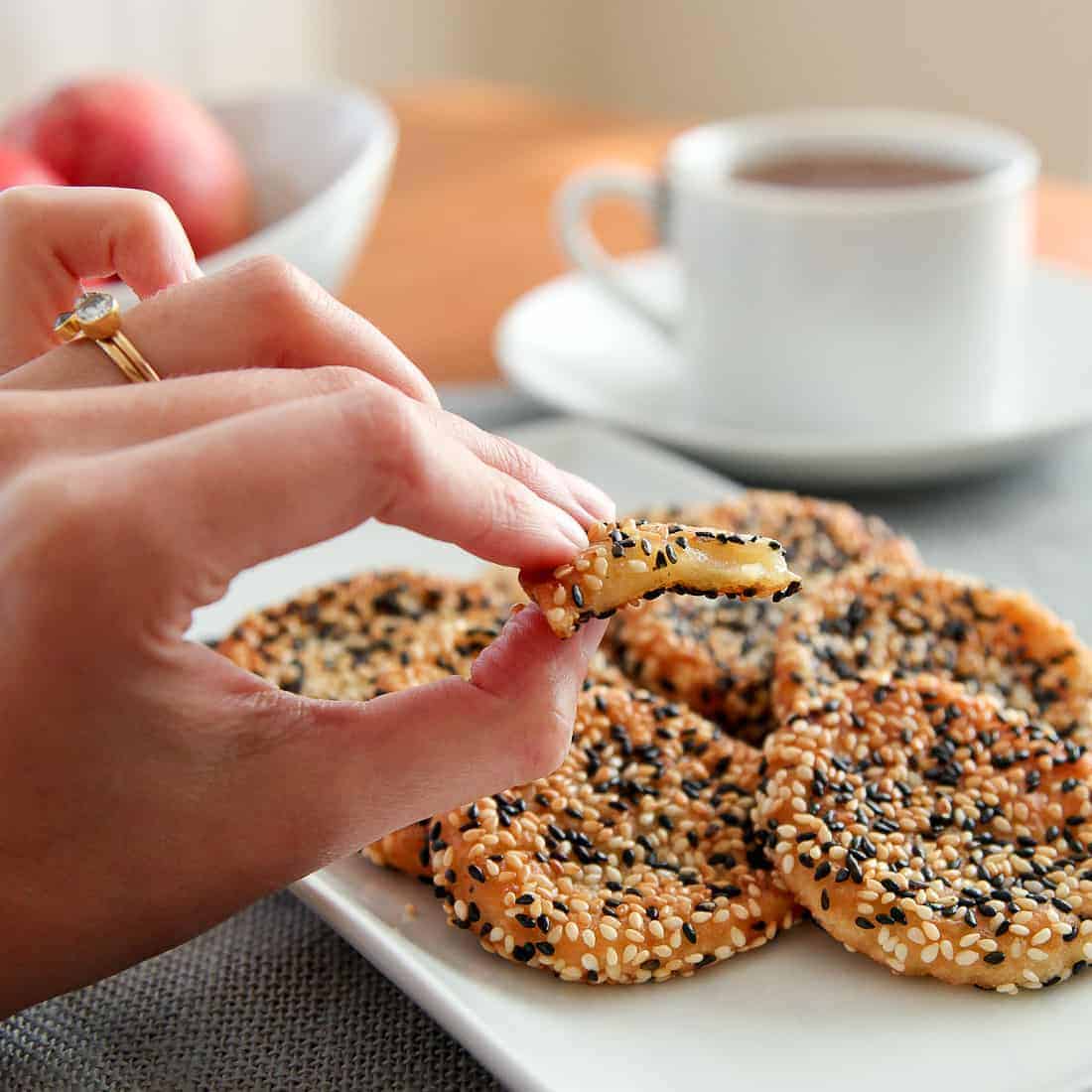 Obligatory wedding ring shot:)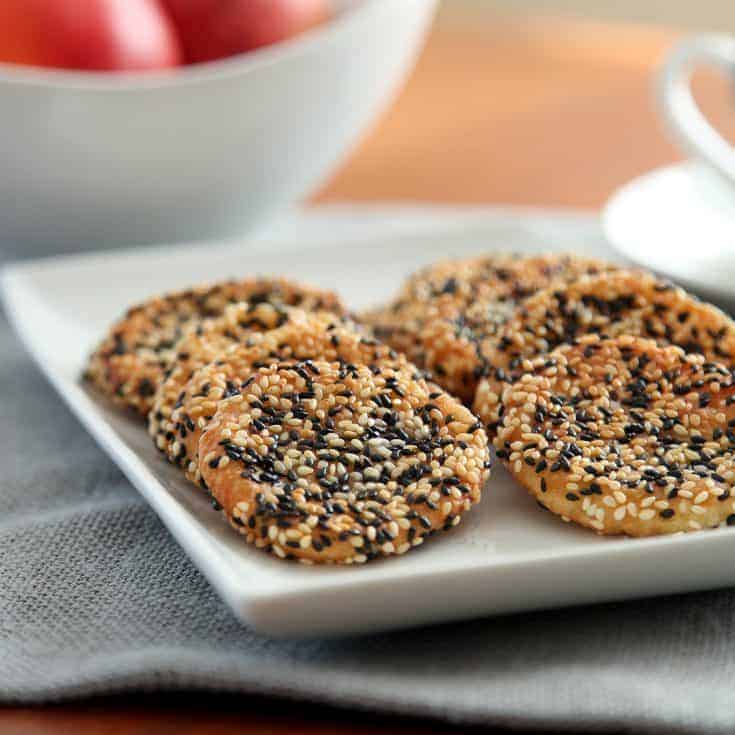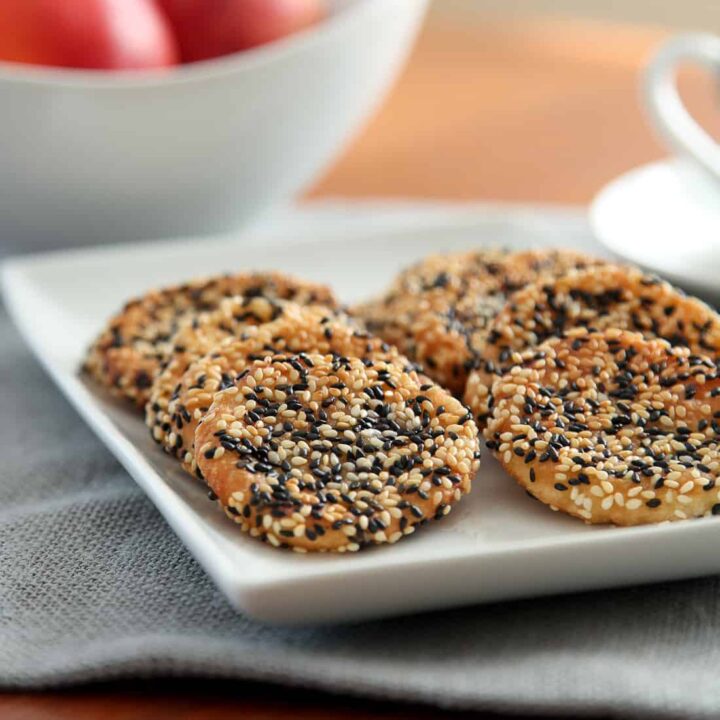 Sesame peach mochi cookies
Ingredients
1 cup sweet rice flour
¼ cup powdered sugar
1 large peach, peeled, and mashed up (½ cup)
¼ cup sesame seeds (I mixed black and white)
½ teaspoon water
Vegetable oil for frying
Instructions
Combine the sweet rice flour, powdered sugar, and peach mash in a medium bowl. Use your hands to knead it together. Add the water and knead until it forms a soft dough (Just a little bit more moist than the consistency of playdough - if it's too dry, add a tiny bit more water).
Divide the dough into 18-20 1-inch balls and flatten each into a 1½ - 2" disk.
Spread the sesame seeds out on a small plate and press both sides of each disk into the sesame seeds.
Heat a thin layer of vegetable oil in a medium skillet over medium heat.
Working in batches of 5-6, fry each disk for 2-3 minutes on each side, until lightly golden brown.
Transfer to a paper-towel to drain and repeat until you've fried all of the disks.
Let cool slightly and serve.