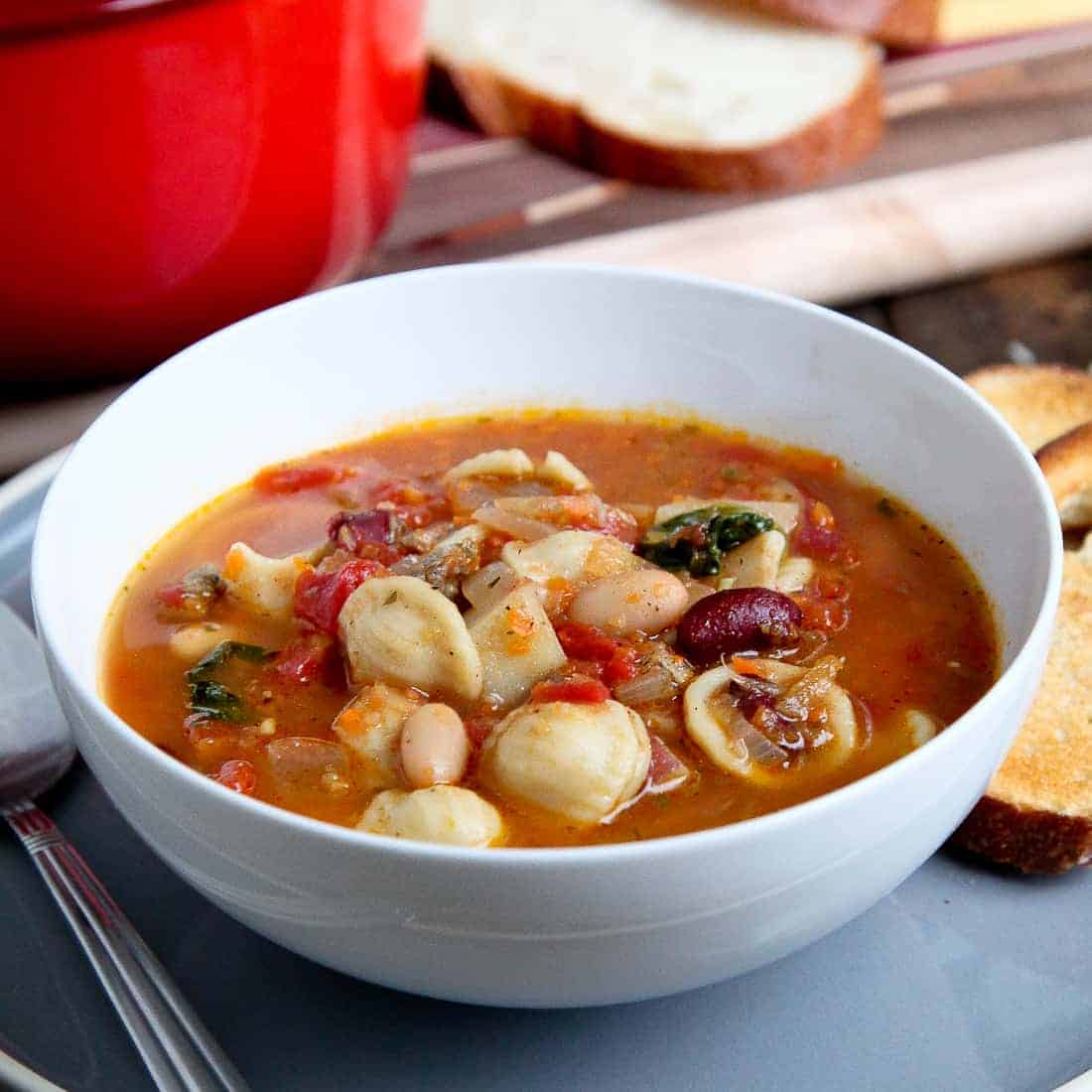 The world didn't end on Friday, but the wild storms in Northern California kept us on the edge of our seats. Artichoke came running into the bedroom meowing at the top of his lungs around 6am just to let us know about the howling wind and pouring rain. Side note: I think I'm going to figure out how to set my alarm to the sound of a cat's meow, because it's really not that unpleasant of way to wake up. As long as it's then accompanied by furry snuggles and loud purrs. My cousin Sofie and I made a run for it to my car across the street later that day and were drenched in 3 seconds flat. And cold. Very, very cold. This chilly wet weather put us all in the mood for soup last week.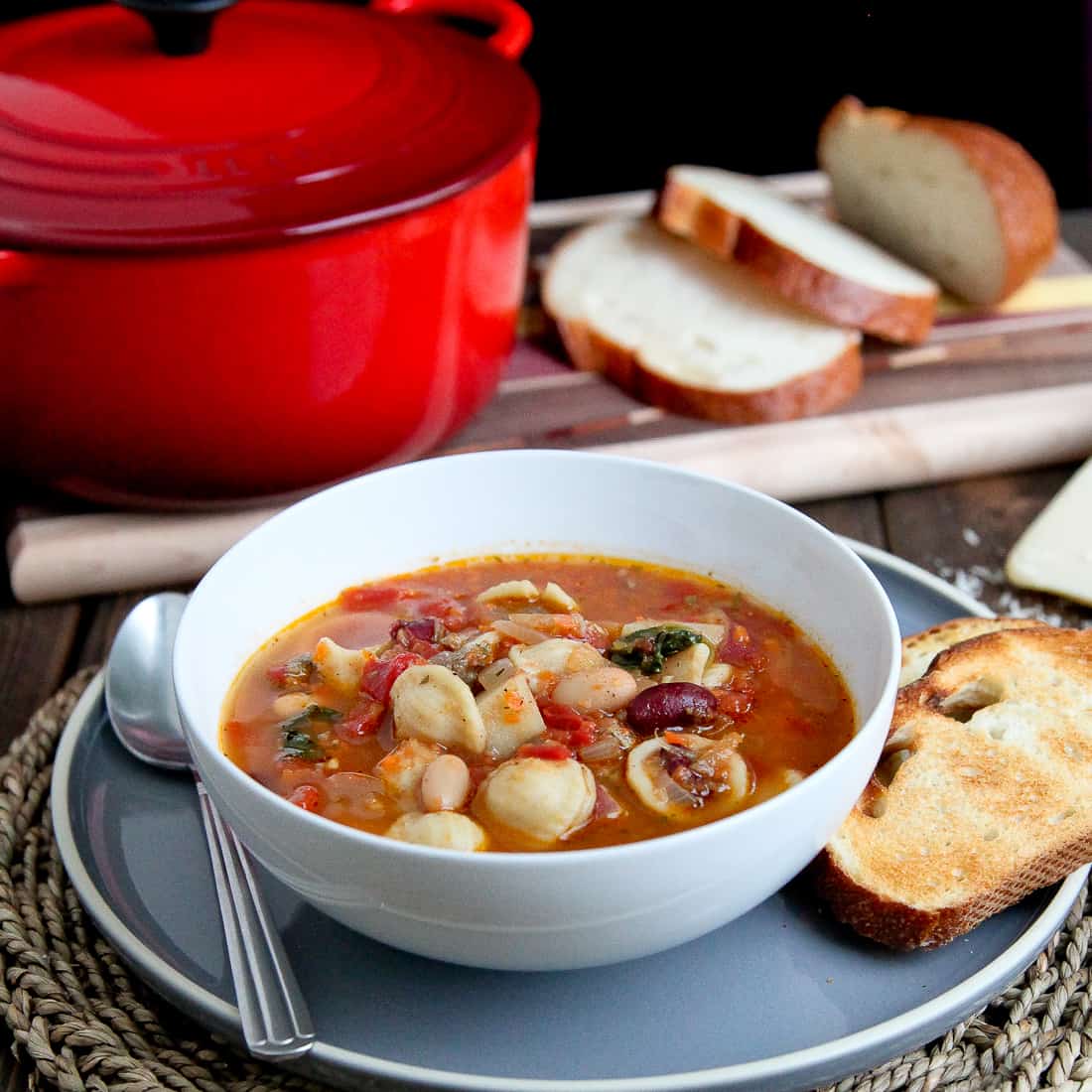 Chunky, vegetable-filled soup to warm us up with every bite. And this soup did just that. While the veggies simmered on the stove, Lucas decided it'd be a good time to tell me that he's had many terrible minestrone soups. The good bowls were fantastic, but most, he claimed, have been gross. That's what every home cook wants to hear - "Usually I don't like this, but don't worry, honey, I'm sure yours will be tasty." No pressure.
When we finally dug into a steaming hot bowl, he paused to confirm it was the best bowl of minestrone he's ever had, and went ahead and ate it for both lunch and dinner the following day. To be fair, I'm not sure what his comparison bar is because I'll have to agree that many canned minestrone soups are sub-par with hard potatoes and undercooked beans. Even so, this soup is THE BOMB. That's really the best way to describe it. Despite its seasoning simplicity, each hearty spoonful has loads of comforting flavor, leaving you feeling warm and healthy on a cold winter night. A new December staple in our kitchen. In fact, just two days later, we've now got a vegetarian version with soy chorizo cooking in the Le Creuset for Christmas Eve dinner.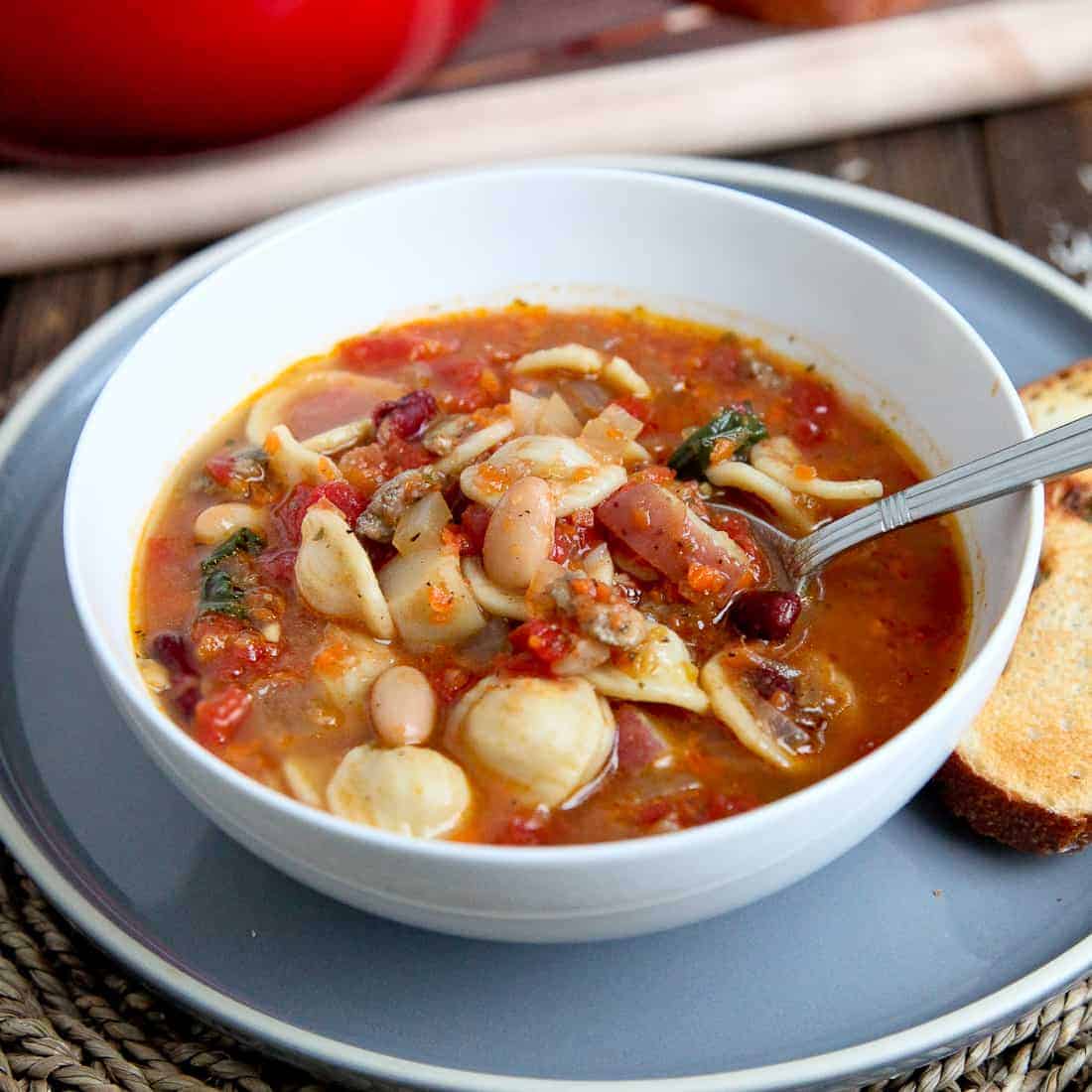 On the topic of soup, here's Lucas's all-time favorite card pair joke from the game Cards Against Humanity. Roll-on-the-floor-with-tears kind of laughter.
Prompt card: What does The Rock eat for breakfast?
Response card: Soup that is too hot.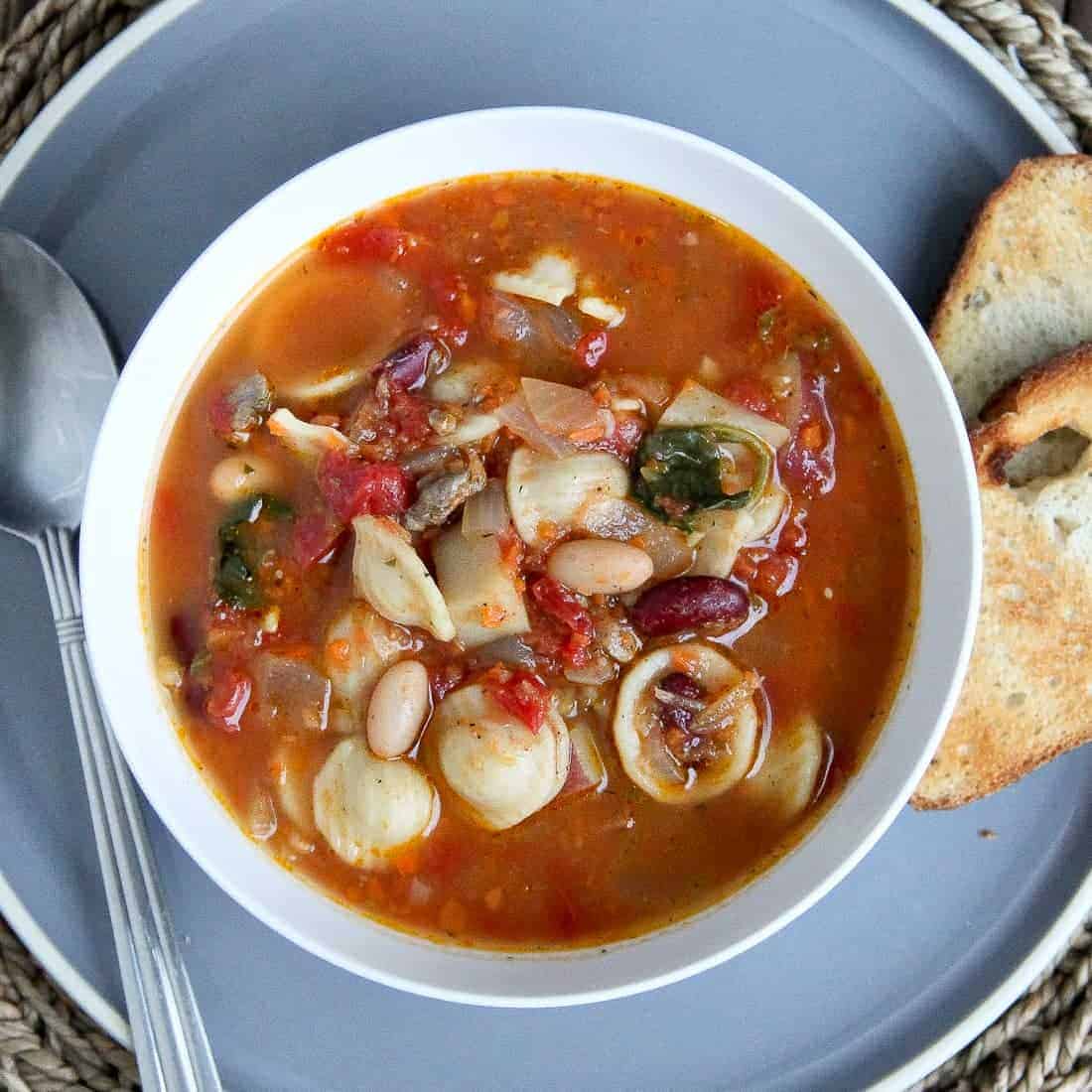 Sausage & Vegetable Minestrone Soup
Ingredients
Sausage & vegetable minestrone soup (Adapted from Bunky Cooks)
Serves 6-8
6 ounces italian sausage (about 2 medium sausages, casings removed)
1 medium yellow onion, coarsely chopped
2 carrots, diced ( I pulsed the carrots, celery, and garlic in a food processor together until diced)
3 stalks diced celery, diced
4 cloves garlic, diced
¾ teaspoon dried thyme
3-4 small red potatoes, chopped into ¼- ½-inch pieces
Two 14.5-ounce cans diced tomatoes
2½ tablespoons tomato paste
6-8 cups chicken broth
1 bay leaf
15 ounce can red kidney beans, drained and rinsed
15 ounce cannellini beans, drained and rinsed
2½ cups gluten-free pasta, such as orecchiette, shells, or elbows, cooked al dente
3 large handfuls fresh spinach leaves
½ cup dry white wine
2 tablespoons fresh store-bought pesto
About 1 cup parmesan cheese, grated
Kosher salt and pepper
Optional: Gluten-Free Sourdough, sliced and toasted for serving
Instructions
Add the sausage to a large heavy bottom pot, and cook over medium-low heat until lightly browned, stirring occasionally, but leaving the sausage in small chunks.
Add the onions, carrots, celery, garlic, potatoes, and thyme and cook, stirring occasionally, over medium-high heat until the vegetables begin to soften, about 8 minutes.
Push vegetables to the side of the pot and add tomato paste to the cleared area.
Cook the tomato paste, stirring, until fragrant, about 2 minutes. Stir to combine the tomato paste with the vegetables in the pot.
Add the canned tomatoes, 6 cups of chicken broth, bay leaf, 2 teaspoons salt, and 1 teaspoon pepper.
Cook on medium-low uncovered for about 30 minutes, until the vegetables are tender.
Discard the bay leaf. You can make this part of the soup in advance and refrigerate it or freeze it after this step.
When you're ready to serve, add the beans and cooked pasta to the soup and heat through. If the soup is too thick, add some more chicken broth.
Add the spinach, stirring to combine, and cook until the leaves wilt.
Add the white wine and pesto, and stir to combine. Add more salt and pepper to taste.
Serve with a sprinkle of parmesan cheese and a side of crusty gluten-free toast.