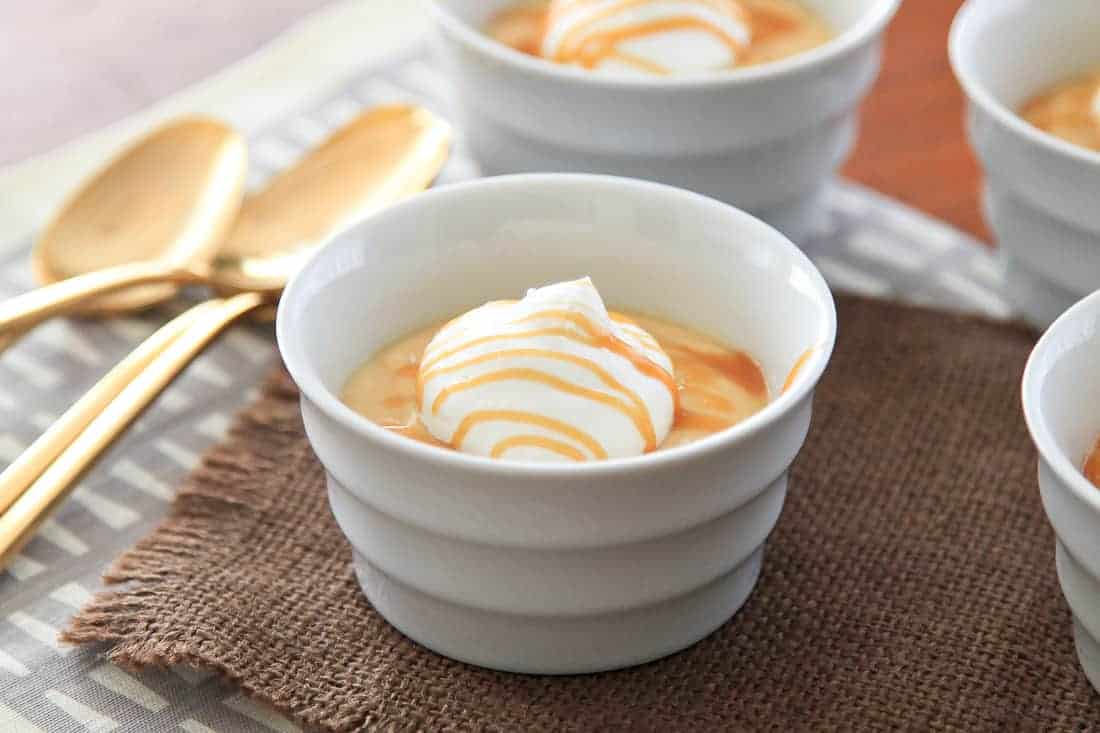 When Lucas got his wisdom teeth extracted a few weeks ago, I knew I'd spend the weekend nursing him back to health - making sure he was comfortable, stopping residual bleeding, keeping him medicated, capturing video of the funny things he said, and bringing him soft foods. I used it an excuse to turn my kitchen upside down, covering every surface with pots, pans, and ingredients, just to make the whole experience a little more enjoyable. For me, anyway; I don't think anything could have made it more fun for him...except maybe not having his wisdom teeth taken out. I promised you there'd be more puréed, mushy, creamy, smooth, or silky foods to come and I wasn't lying. Now featuring: salted caramel pudding.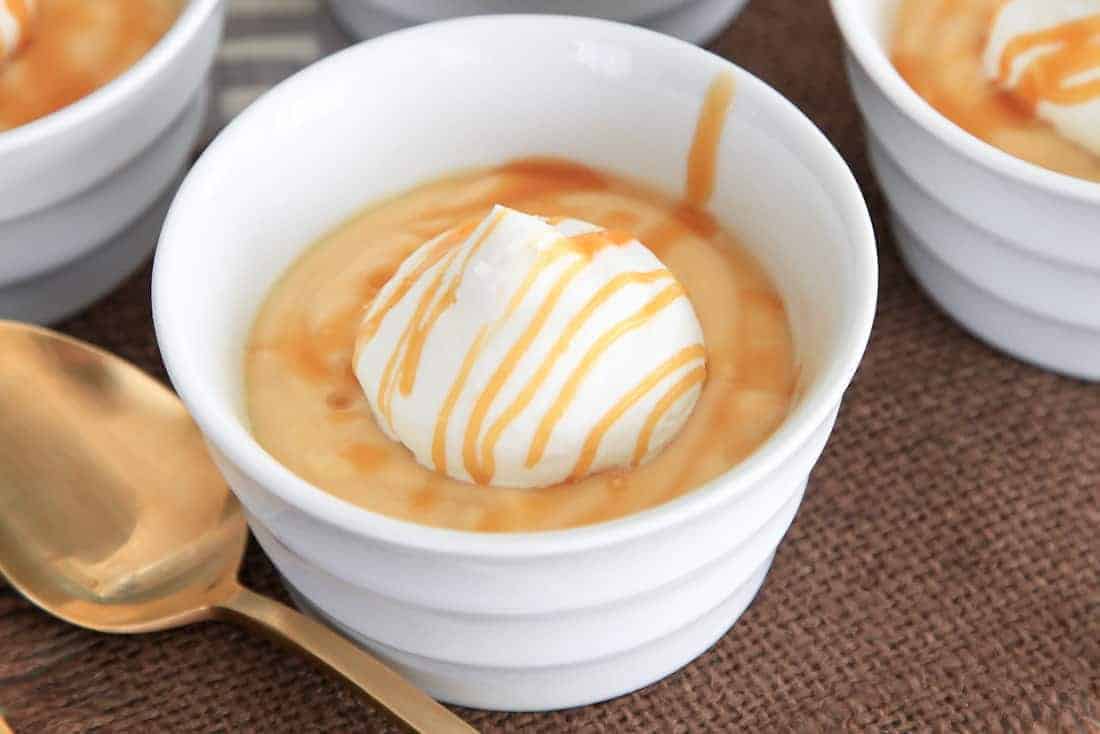 Let me first back up to tell you why my 27-year-old husband was just now getting his wisdom teeth out. In December, Lucas left his 9-5 job as a product developer for a well-known lifestyle technology accessories company to join the volatile start-up world as the first employee of a budding company. Director of Engineering. When their Kickstarter is live, I'll share more details, but for now, I'll tell you that their first product aims to help parents provide healthy lunch options for their kids. Yup, that's right, he's in food-related products now. Cue my excitement.
This career shift meant that his comprehensive health insurance from his old job would expire at the end of December. Not knowing what kind of independent coverage he'd end up with in the marketplace, he scheduled about a week's worth of appointments to get all caught up on check-ups by the new year. At which point he discovered his wisdom teeth were making their way toward the surface and, at some point, likely in the next year, he'd have to get them extracted once they erupted. We could wait until this happened, if it happened...or play it safe and take them out while he had decent dental insurance. We chose the latter and rushed to get a December appointment.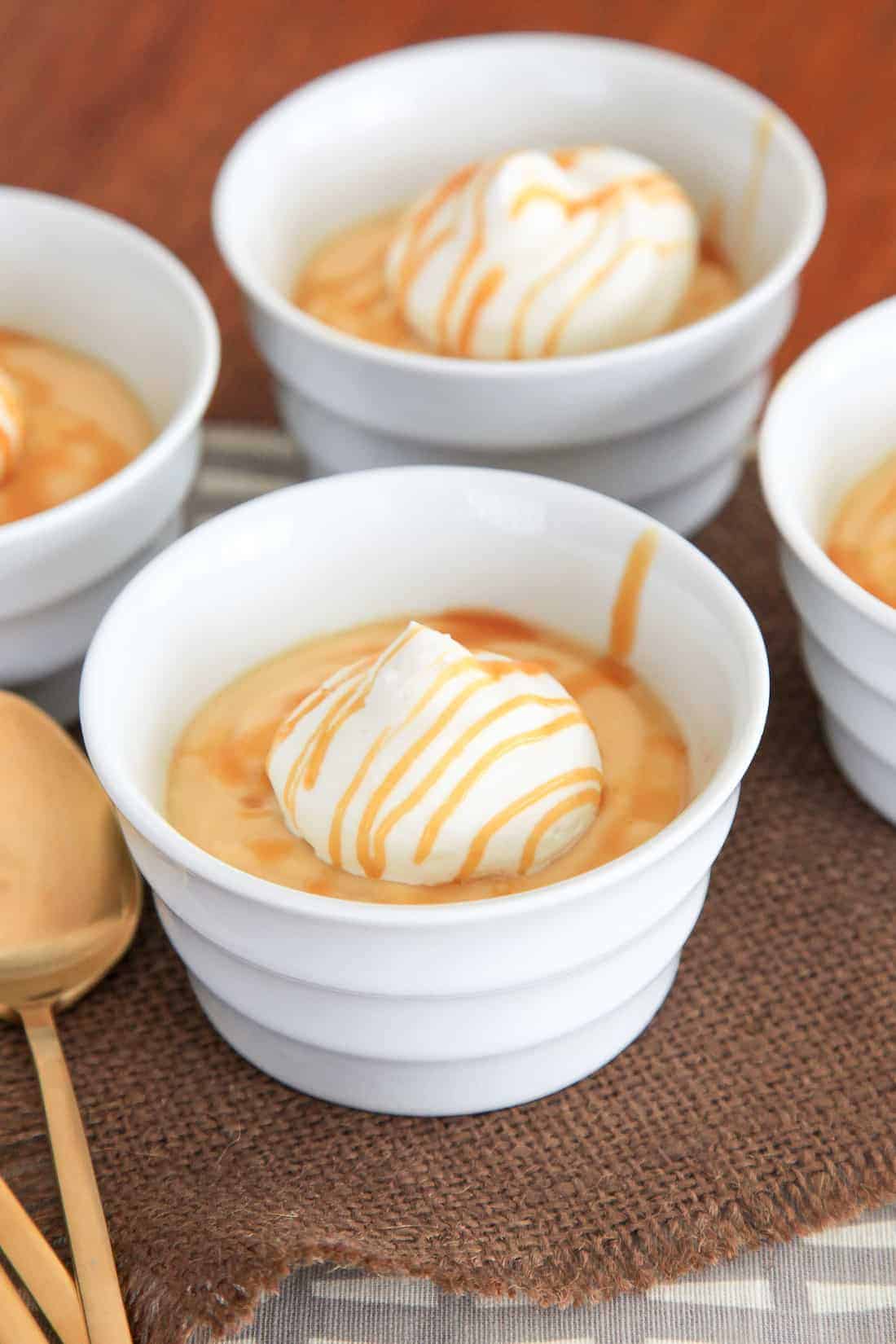 I spent the 4 days leading up to his appointment dreaming up how I'd spend my culinary marathon weekend. When I asked Lucas for input on his favorite soft foods, mashed potatoes was his only request. I suggested salted caramel pudding, and he looked at me with distaste, "I really don't like pudding." With the idea already solidified in my head, I, of course, ignored him, knowing I'd eat it all myself if he turned it down.
A few months ago, I won a giveaway for a few jars of Spoonable Brooklyn's saucy salted caramel from Heart of Gold, and I've hung onto it to use it for something special. Begging for an excuse to use it. I'm all for making homemade caramel sauce (as you. can. see.), but what if I could make a recipe that much simpler with some pre-made gourmet salted caramel? Plus, no risk of accidentally burning a batch when you get distracted by a kitty rolling around begging for pets on the kitchen floor.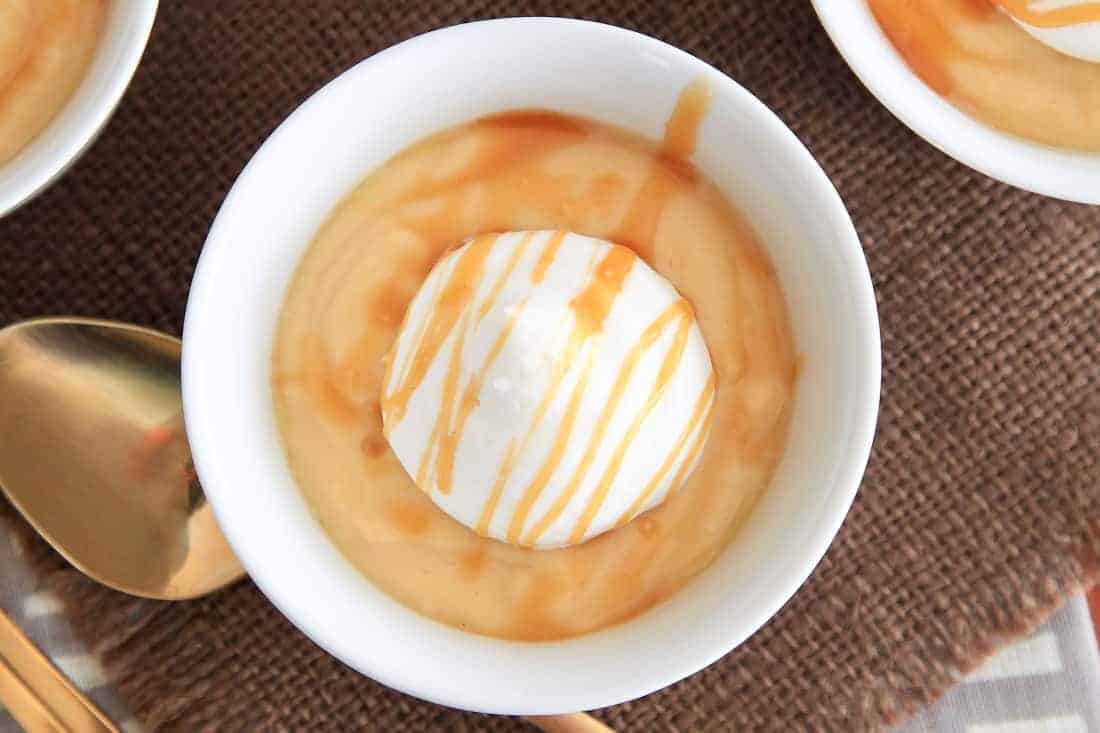 This stuff is what I imagine angels eat while they sit around on puffy while clouds discussing whatever it is that blissful angels talk about. Guess what? Lucas's aversion to pudding is reserved only for store-bought pre-made or boxed pudding. He's all about homemade pudding. Salty, sweet, smooth, creamy, custard-like caramel pudding with a dollop of whipped cream on top. I don't think he realized how many cups he'd gobbled up because when it was all gone the next day, he was pretty disappointed. After making two batches of salted caramel rice krispy treats, there's one more jar left that's getting turned into this salted caramel pudding sometime this week. As if I don't have enough holiday sweets sitting around...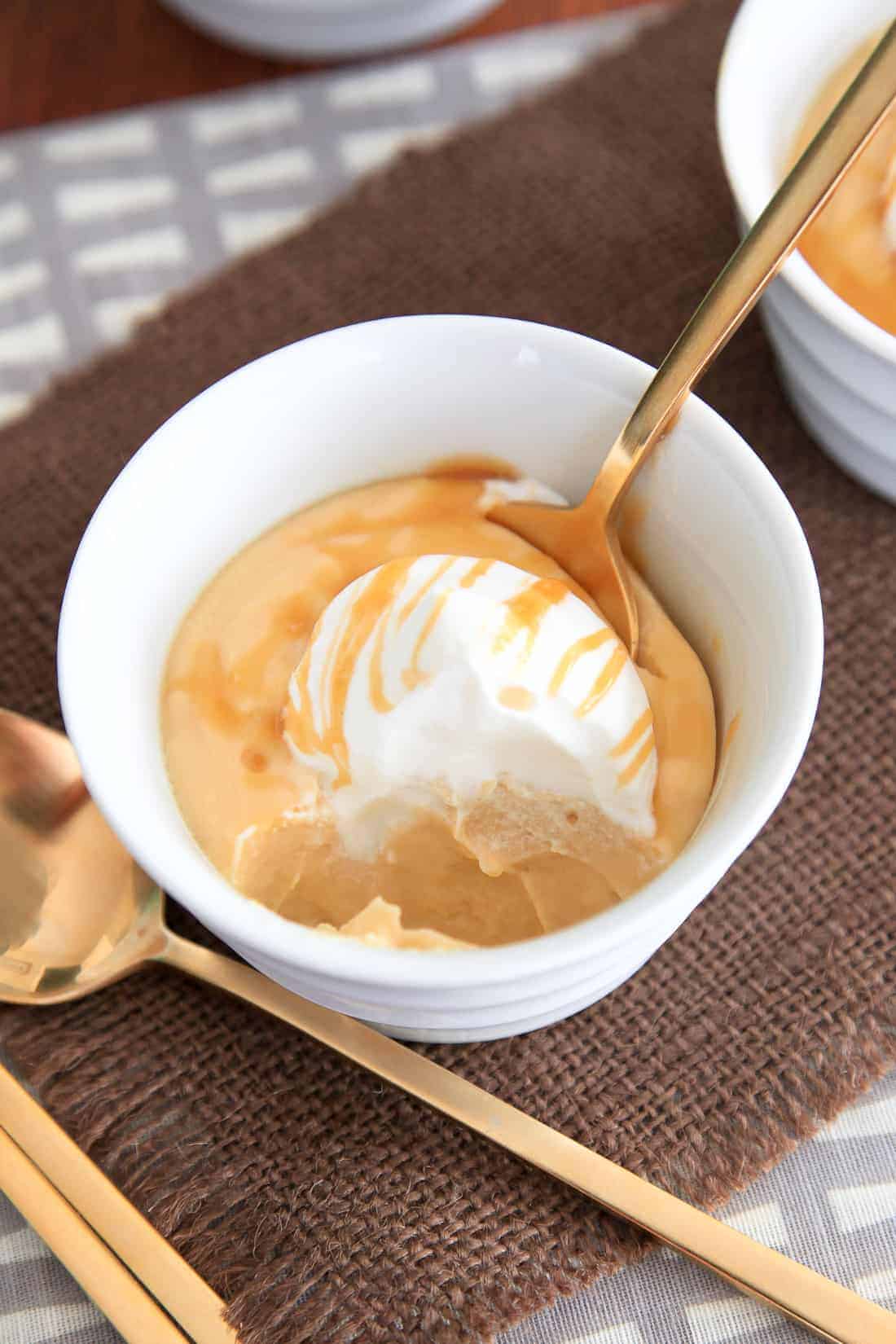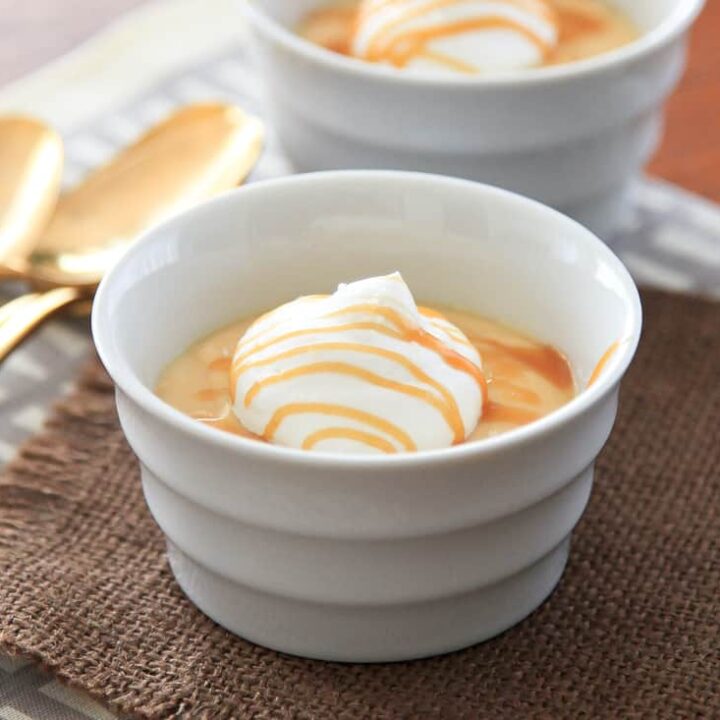 Salted caramel pudding
Ingredients
Salted caramel pudding
3 cups whole milk
¼ cup cornstarch
5 large egg yolks
3 tablespoons butter, softened
1 teaspoon vanilla extract
1 cup salted caramel sauce, plus 1-2 tablespoons for drizzling, slightly warmed so it's smooth
Whipped cream
½ cup heavy whipping cream
¼ cup powdered sugar, or to taste
Instructions
Salted caramel pudding
In a small cup, whisk together the cornstarch and ½ cup of the milk until smooth, and set aside.
Heat the remaining milk in a small pan over medium heat, until just simmering. Remove from heat.
Whisk the egg yolks in a large heat-proof bowl.
Whisk in about ½ cup of the hot milk into the egg yolks to temper them. Gradually whisk in the rest of the hot milk.
Whisk in the cornstarch mixture.
Slowly whisk in 1 cup of caramel sauce.
Return the custard to the saucepan and cook over medium heat, continuously whisking, until it thickens and a candy thermometer reads 175°F, about 5 minutes.
Remove from heat. Whisk in the butter and vanilla.
Strain the custard through a fine-mesh sieve and divide it among 6 small ramekins. Refrigerate until cool, about 4 hours.
Pipe dollops of whipped cream on top of each pudding and serve, drizzled with extra caramel sauce.
Whipped cream
With stand mixer or by hand, beat heavy whipping cream until it begins to froth, a couple of minutes.
Add powdered sugar and continue beating until soft peaks form.