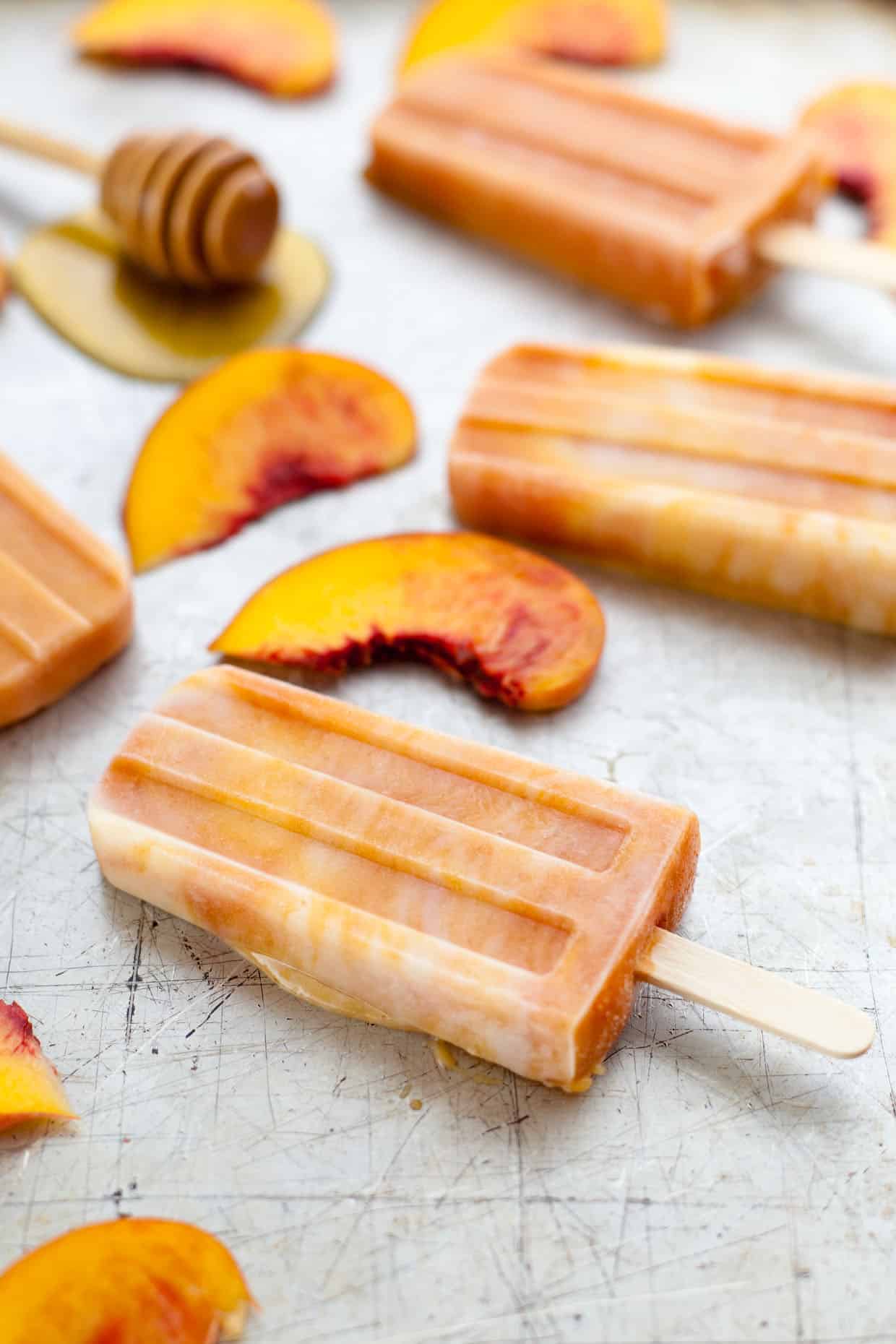 Over Labor Day weekend in my hometown, it's customary to throw on a bikini and float down the Sacramento River on inner tubes rented from the liquor store. Others head up to Lake Almanor to soak up their final summer tan (or in my case, cherry red burn). The first weekend of September in Chico feels like a warm summer hug in a way we don't normally get down in The Bay. By this time, the dog days of summer have come and gone, but the sultry heat still begs for a few drippy peaches and cream popsicles to cool you down.
I'm neither of these places this weekend. With Lucas in China (AGAIN!) and my mom texting me picture updates of the family card game score sheet from up at their peak-of-the-lake cabin, I'm home with the kitties, cooling off the house with the screen door. Summer is finally creeping its way in, and I'm sitting on the couch wearing less clothes than normal eating three popsicles a day. Right when school starts back, summer grabs on hard to lure me back in with a slightly uncomfortable bear hug.
The screen door lets in the song of the ice cream truck that occasionally comes down our street. You may remember, this was a very rare occurrence as a kid growing up in the country. So in the same way Aioli's ears perk up as she quickly scampers in the moment she hears the tweeting birds of her favorite youtube video, the melody of the ice cream truck still give me a youthful trill. My eyes light up and I all but run into the middle of the street waving a dollar around (I have boundaries, folks).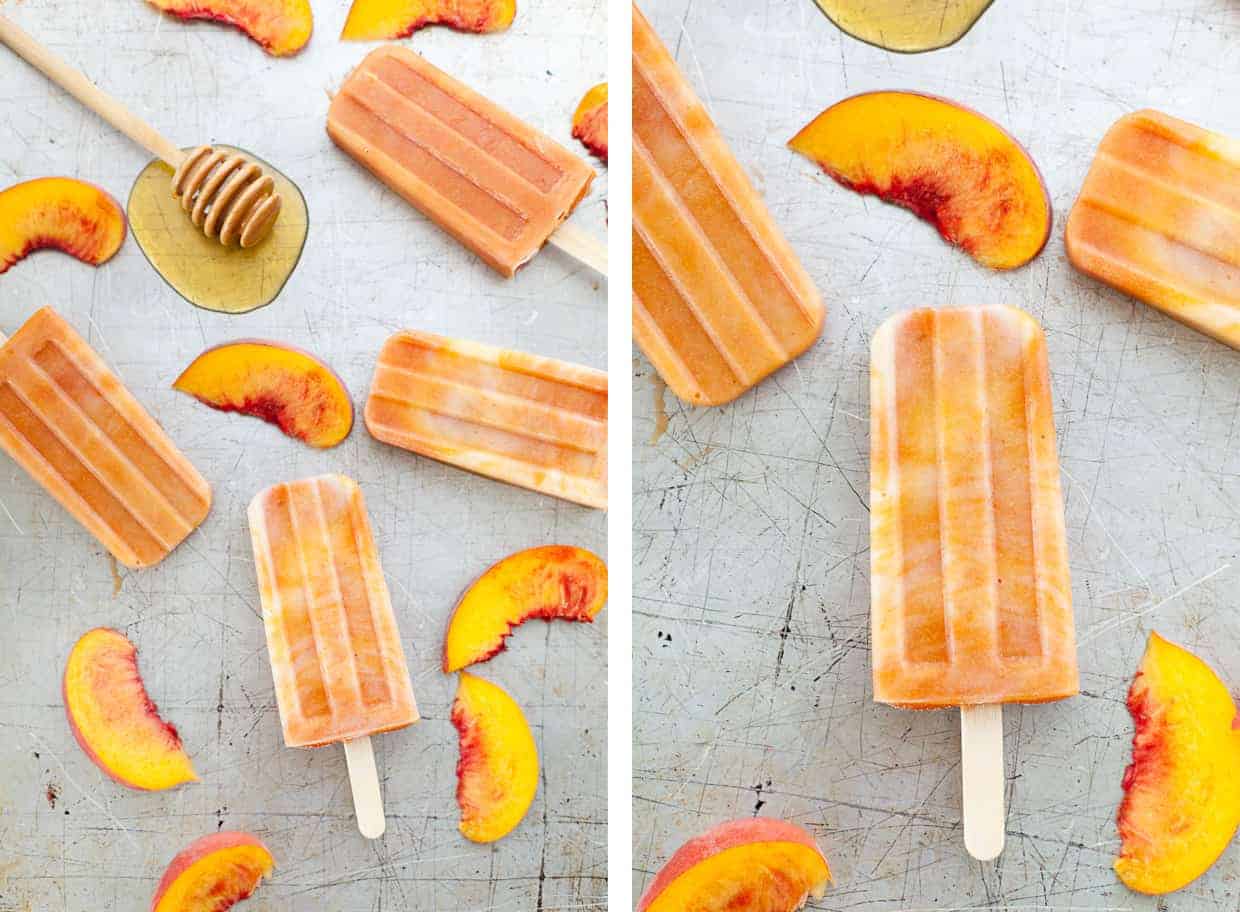 The first time I heard it, I popped on my shoes and rushed right out to "water the plants" or "check the mail" (anything to mask the fact that I'm nearly 30 and still lose my cool when I hear the ice cream truck). Guys, the ice cream truck around here is shaddddy. A very very old soccer mom van, sloppily painted matte pepto bismol pink adorned with peeling stickers on one side. I can only assume they're selling popsicles out of a dingy ice chest. Definitely the kind of van every "don't talk to strangers" children's book taught us to avoid.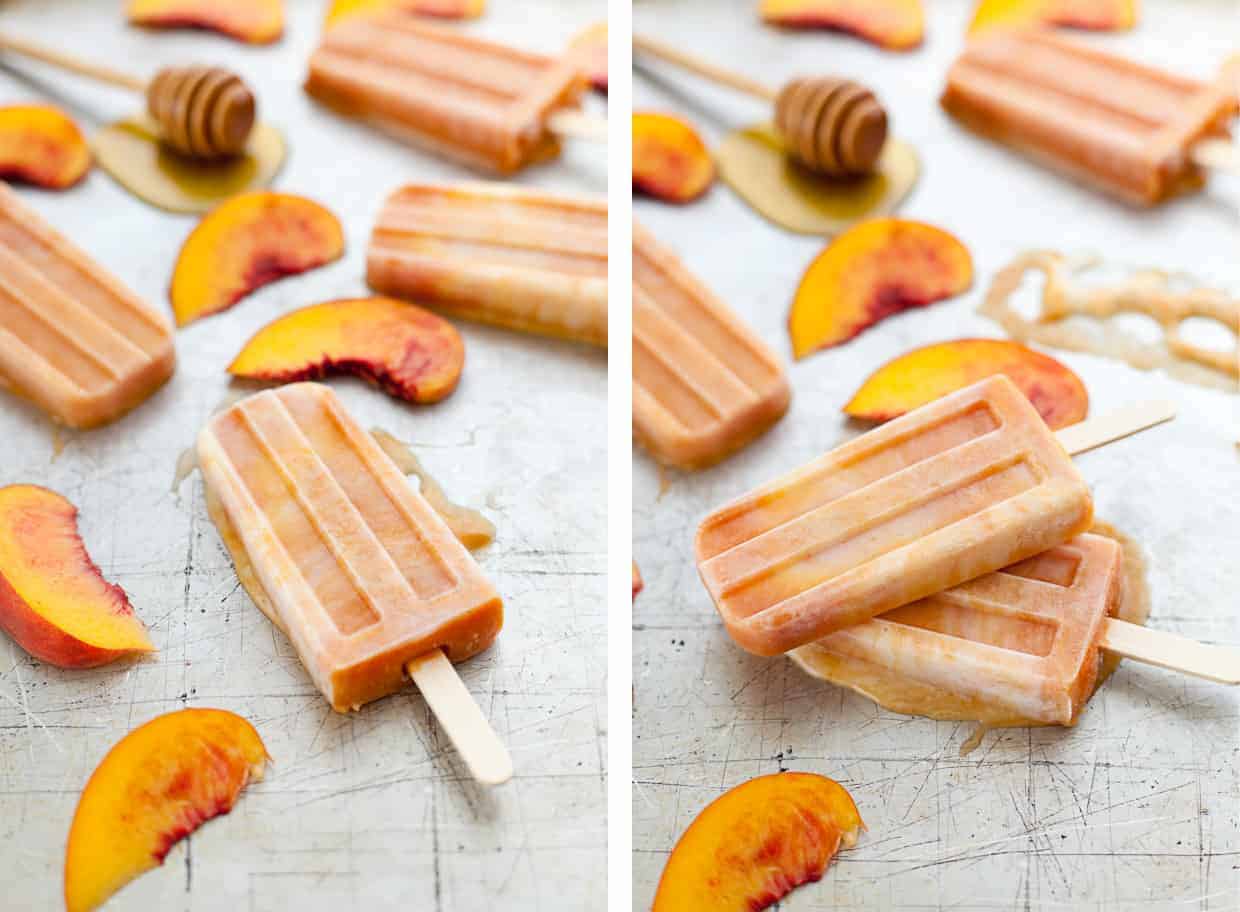 Instead, I've kept a constant rotation of fresh fruit popsicles in our freezer for the past month. And when I hear the sweet sound of the ice cream truck moseying down our street, I head straight to the ice box to pull out a homemade roasted peaches and cream popsicle. Each batch takes about 4 hours to freeze up, which is just about enough time to hold me over until I need another. Popsicle addict over here.
Sure, I could eat a bowl of non-fat yogurt topped with fresh peaches and a drizzle of honey for breakfast. Orrrrrrr, I could eat all that as a popsicle. It's no contest, really. Weather permitting, I've got no plans to let go of summer sweets anytime soon.
This popsicle recipe tastes like a seductively warm peach cobbler with a scoop of vanilla ice cream. When you roast peaches, they develop a deep caramel flavor that brings out the peaches' natural sweetness. Swirled together with vanilla-hinted yogurt, and you've got the quintessential summer ice pop.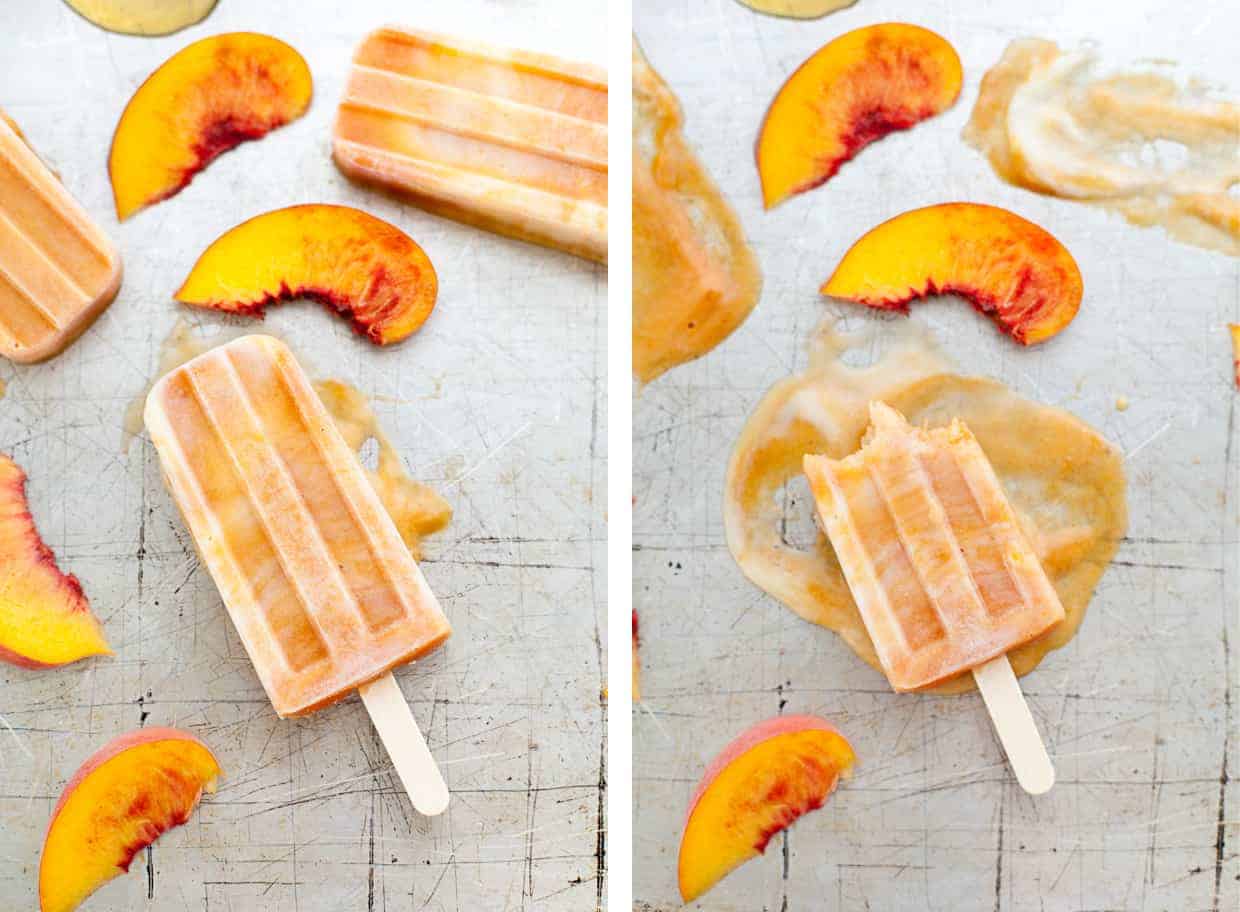 So hot here these popsicles melted in about 5 minutes flat. Don't worry, I made sure to slurp up the peachy popsicle massacre.
Thanks for reading Snixy Kitchen! To stay up on what's coming out of my kitchen, follow me on Facebook, Instagram, Twitter, Bloglovin', or Pinterest, or subscribe via e-mail to get new recipes right to your inbox.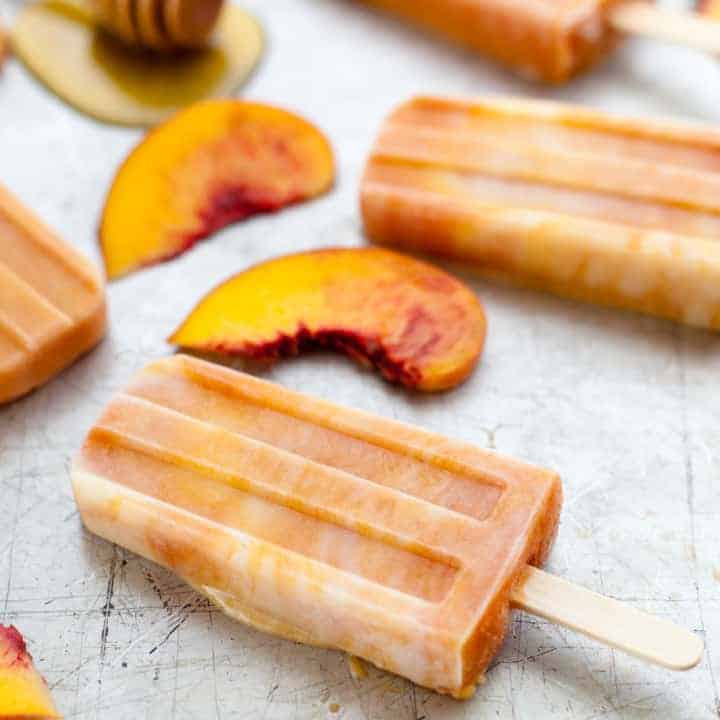 Roasted peaches and cream popsicles
Ingredients
3-4 large peaches, cut in half and pit removed
4 tablespoons honey, divided
1 cup plain yogurt
1 teaspoon pure vanilla extract
Instructions
Preheat the oven to 400°F.
Place the halved peaches cut side up on a baking sheet. Drizzle 2 tablespoons of honey over the peaches. Roast the peaches for 20 minutes until tender.
Transfer the roasted peaches to a blender or food processor and blend until smooth. Pour the puréed peaches into a medium bowl.
In a separate bowl, mix together the yogurt, remaining 2 tablespoons of honey, and vanilla extract.
Gently swirl the yogurt into the peach mixture (for the marbled effect, be sure not to over mix - just swirl enough to distribute the yogurt).
Use a funnel to fill each popsicle mold with the peachy popsicle mix. (Note: Fill just under full because it will expand a bit when it freezes, which can make the lid difficult to remove).
Place the lid over the mold and insert your popsicle sticks as straight at possible.
Freeze for 4-6 hours, or until frozen solid. For best results, freeze over night.
To help remove your popsicles from the mold, fill a large bowl with warm water and briefly dunk the bottom part of the mold in the bowl or briefly run the mold under running warm water.