Oh hi there. Long time no see. I've been spending my days and nights wedding planning (and bridal showering and bacheloretting – yup, it's a verb now). Not gonna lie, I've probably had time to pop in and say hi, but I've just been too exhausted to think about what'd I say. How I'd explain my disappearance. So here you go – create your own excuse. I've just been very _____, spending way too much time ______, and way too _______ to blog. I hope whatever you've filled in those blanks with doesn't hurt your feelings too much.
On a less somber note, it's now less than three weeks until I marry my best friend! I've only got this last name for a short time now. Hope you had a productive and relaxing Memorial Day weekend like us. Wait, wasn't that like weeks ago, you ask? Yes, but that doesn't mean we can't talk about it, ok?! What I love about three-day weekends is that you can spend one full day getting all kinds of work done, spend another day eating lots of food with long-lost friends, and still have one more day to catch up on sleep and recharge. The best.
My namesake Sarah and her daughter Sofia threw me a beautiful bridal luncheon on Memorial Day weekend, complete with a homemade menu of all my favorite foods (and a gluten-free dessert!), wedding-themed tissue pom decorations, and lots of girl chat with a group of wonderful women. Meanwhile, in preparation for my bachelorette party two weekends ago (more to come on that), Lucas began the whole-house cleaning that I joined in with after the luncheon.
The second day of our 3-day weekend was packed with even more tasty food when we met our friends for brunch and had Mikey over for dinner; Mikey, who I hear is a fantastic cook, is one of Lucas's college buddies who just moved from Hawaii to The Bay for a new job. The weekend before, Mikey and I had spent an entire day talking food, which mostly took the form of me preaching about California's abundance of fresh produce – no more need for frozen veggies on the regular. I had a lot to prove with this meal - it had to be full of flavors and simultaneously persuade him to toss out the bag of frozen green beans.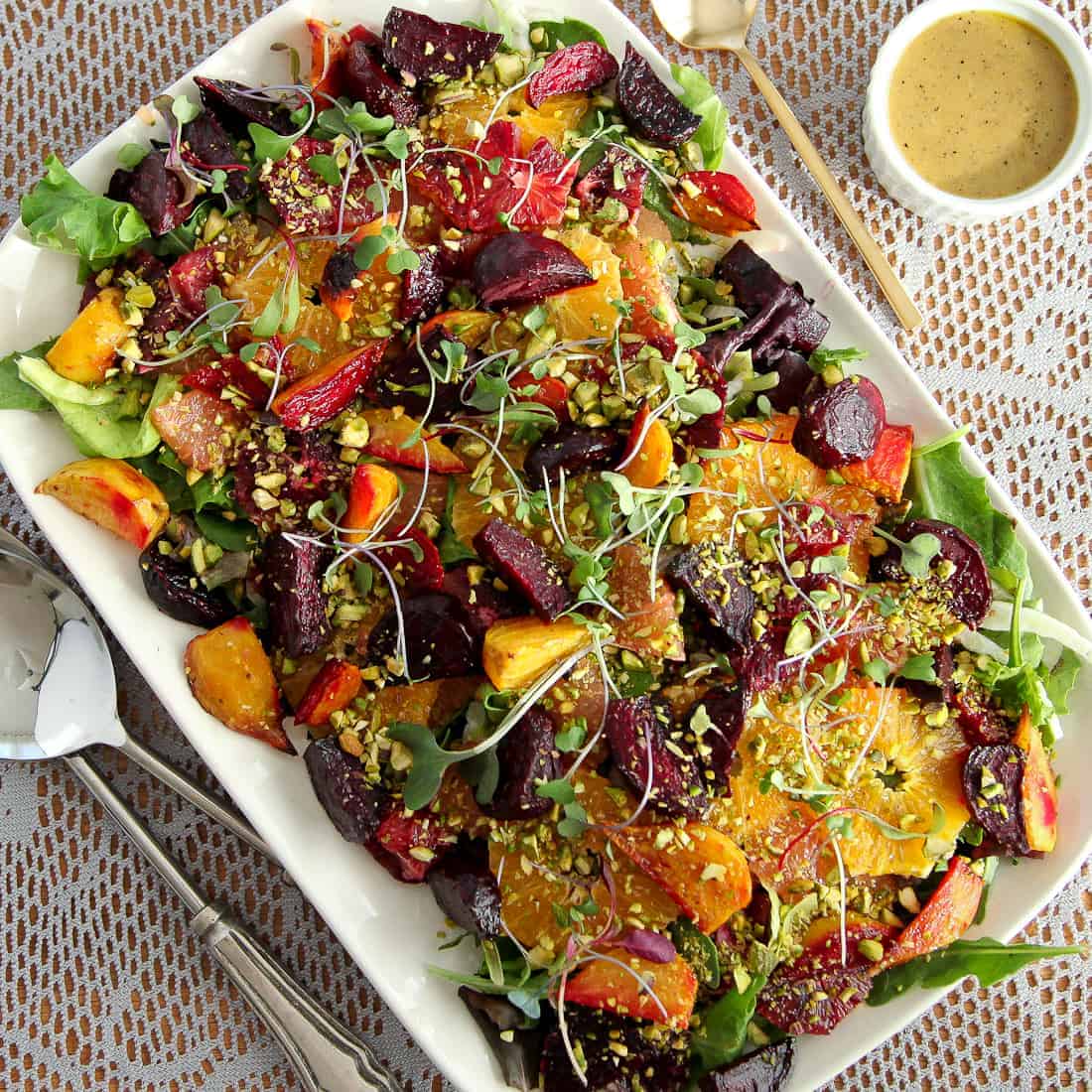 We kicked off the meal with this super refreshing roasted beet and citrus salad – roasted golden and red beets, blood orange and valencia oranges, ruby red grapefruit, shaved fennel, pistachio crumble, and a mustard vinaigrette all on top of loads of mixed greens. The perfect balance of savory and sweet – every bite more interesting than the next. There's no way this super spring salad couldn't woo Mikey into the land of farmer's markets.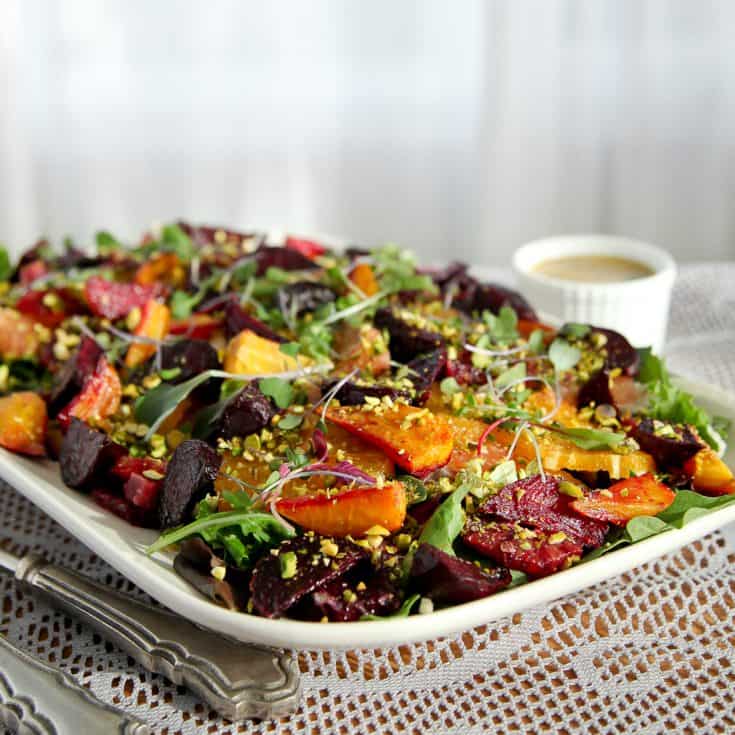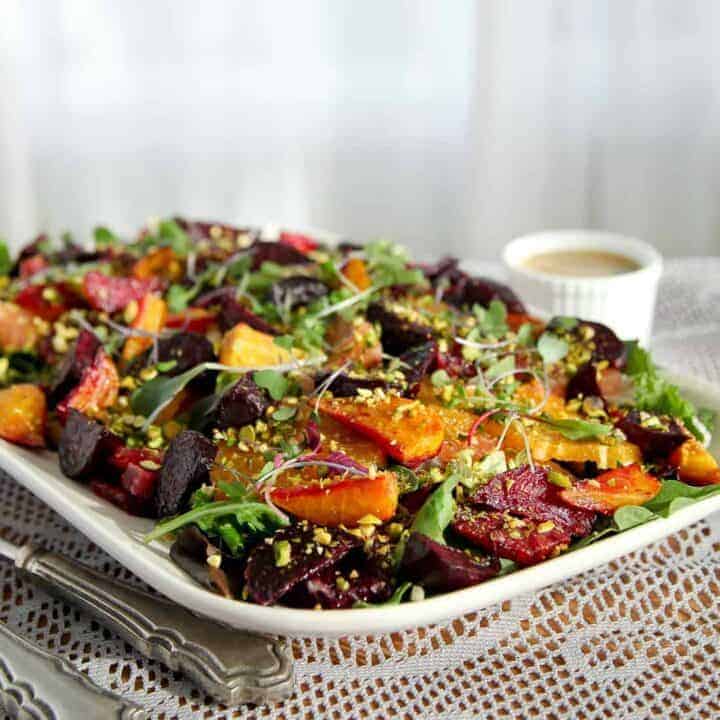 Roasted beet and citrus salad with mustard vinaigrette
Ingredients
3 small red beets, peeled and sliced into 6 wedges each
3 small golden beets, peeled
4-5 cups mixed greens
1 blood orange, peel removed and sliced into rounds
2 valencia oranges, peel removed and thinly sliced into rounds
1 ruby red grapefruit, peel removed and thinly sliced into rounds
1 fennel bulb, shaved
2-3 tablespoons pistachios, coarsely chopped
Optional: 2-3 tablespoons microgreens
1 tablespoon dijon or honey mustard
1 tablespoon apple cider vinegar
¼ cup olive oil plus more for coating the beets
1 teaspoon salt
½ teaspoon freshly ground black pepper
Instructions
Preheat the oven to 400ºF.
Toss the beets in a couple of tablespoons of olive oil. Place the beets on a foil-lined baking sheet and roast for about 45 minutes, or until tender when pierced with a fork. Let cool.
Layer together the mixed greens, beets, orange and grapefruit slices, and shaved fennel.
Whisk together the mustard, vinegar, olive oil, salt, and pepper. Drizzle over the vegetables.
Sprinkle with pistachios and microgreens, and serve.