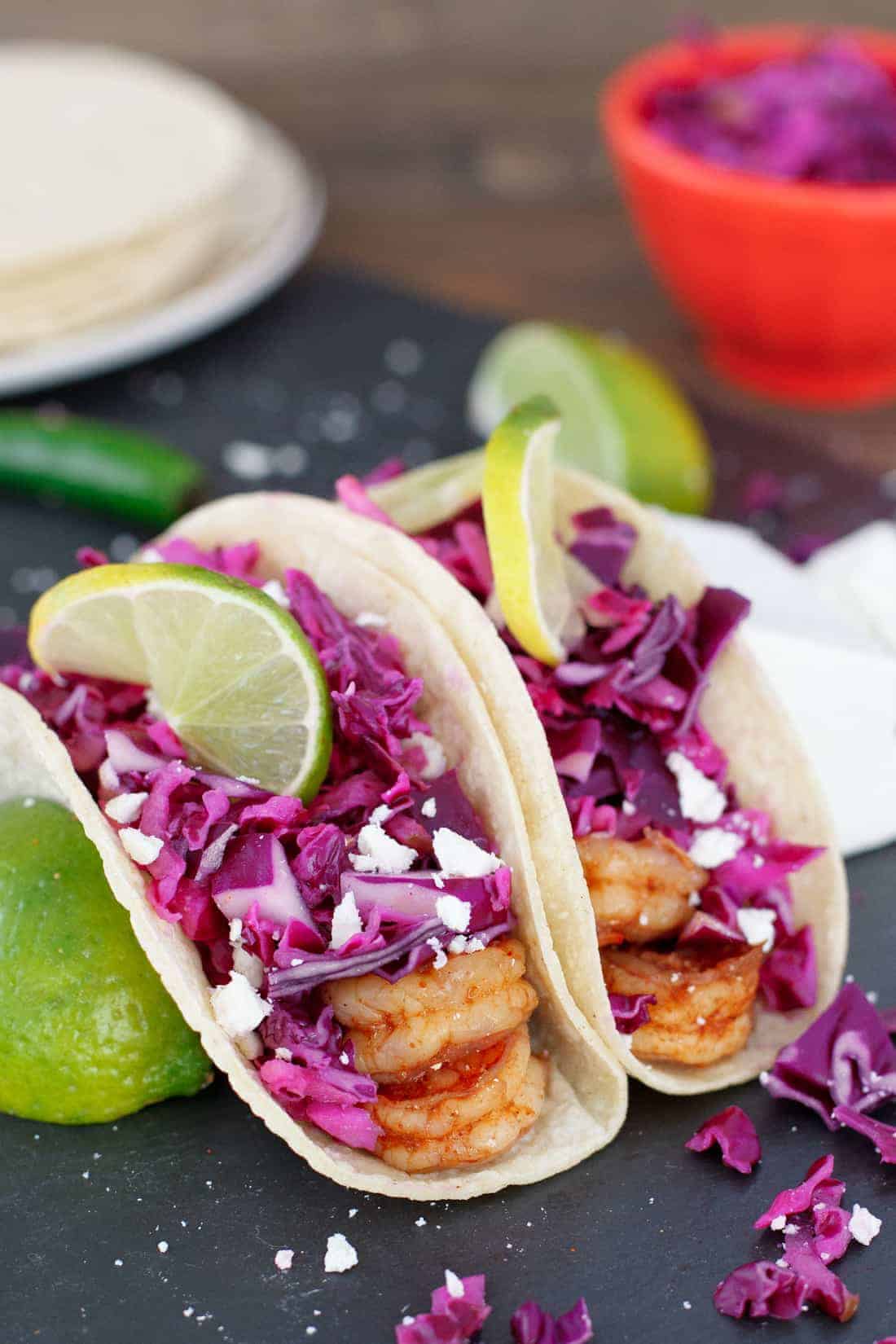 Recipe Rewind February 26, 2014: While eating our way through Nashville this weekend, we stopped by a little home goods shop in Franklin where I gawked over the cutest recipe card box ever. Then I came back down to earth and remembered that I don't need (another) physical recipe card box - I have a food blog that's super handy for storing all my favorite recipes! I keep forgetting that fact. There are many recipes posted on Snixy Kitchen that I regularly refer to (like these gluten-free brownies, chili stuffed peppers, and crispy tofu with mushrooms), but mostly what happens when I'm figuring out what's for dinner I simply forget I've got my own personal recipe box stored online. So on this mission to re-photograph my recipes from the beginning of Snixy Kitchen, we're meal-planning from my archives. Flipping through my digital recipe box. And what a treat it is.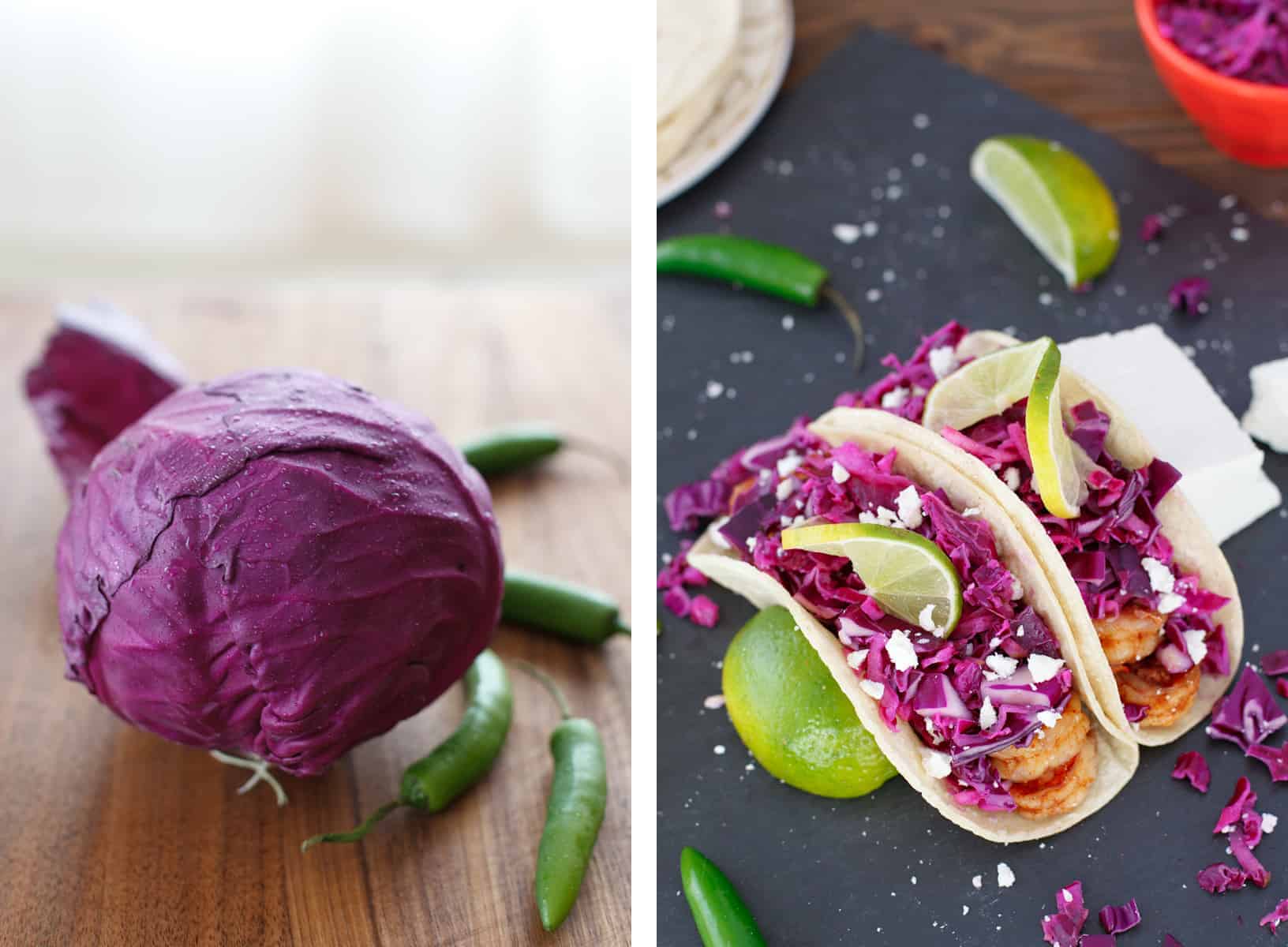 After reviving Dad's simple spicy green beans, our second stop on the Snixy Kitchen Recipe Rewind is this spicy shrimp tacos with cabbage slaw recipe. For this remake, we remembered how super-duper spicy these tacos were. Like my-mouth-is-on-fire-and-I'm-now-crying-from-the-heat spicy. For me, anyway - I'm a spice wuss. Accordingly, we adjusted my original recipe by cutting the cayenne and serrano chile, and adding an apple to the slaw. This time, to make the recipe gluten-free, we used corn tortillas. The last change I made was the cheese. Typically, when we buy cotija cheese, we end up buying an enormous wheel...that we never finish before it goes bad. Ricotta salata cheese is a similar sharp crumbly cheese, and I prefer its flavor and smaller packages. We'll certainly keep this rewind in the recipe rotation.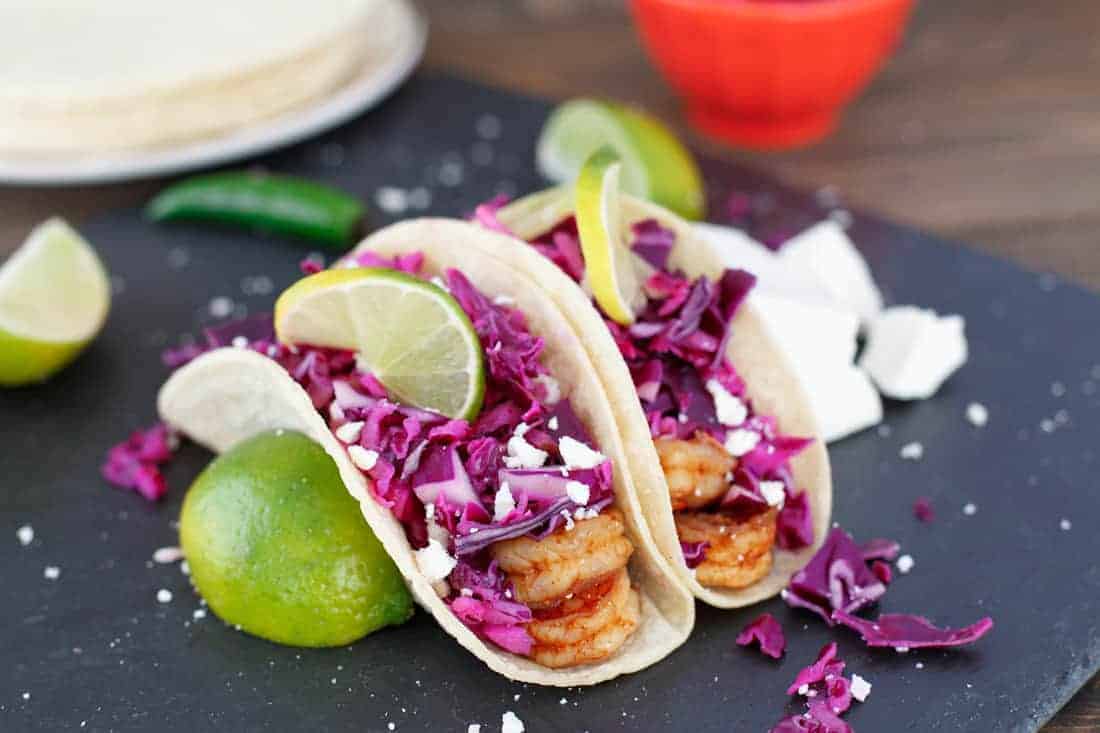 Original post from January 3, 2012:
Christmas 2011 was the year of kitchen gifts. We have the world's smallest kitchen (seriously, it's smaller than our bathroom - we have one cabinet), but everyone knows that contributing to my kitchen accessories is always the best bet. And our kitchen is bursting at its seams already. Even Lucas got his own collection of cooking gizmos, including cookbook The Homesick Texan to bring him back to his Texan roots (and perhaps subtly hint that he should make dinner too:). This cookbook is perfect for him because now we have recipes for the familiar flavors he grew up with. And look at those fish tacos on the cover - how can you resist?
Unfortunately, we wanted to cook these tacos on a night that the seafood market was closed (where do people who don't have a seafood market on their street corner buy fresh fish?). I also didn't have hours to marinate the fish. So, I adapted her spicy cabbage slaw and used some shrimp we had on hand, seasoned on the fly.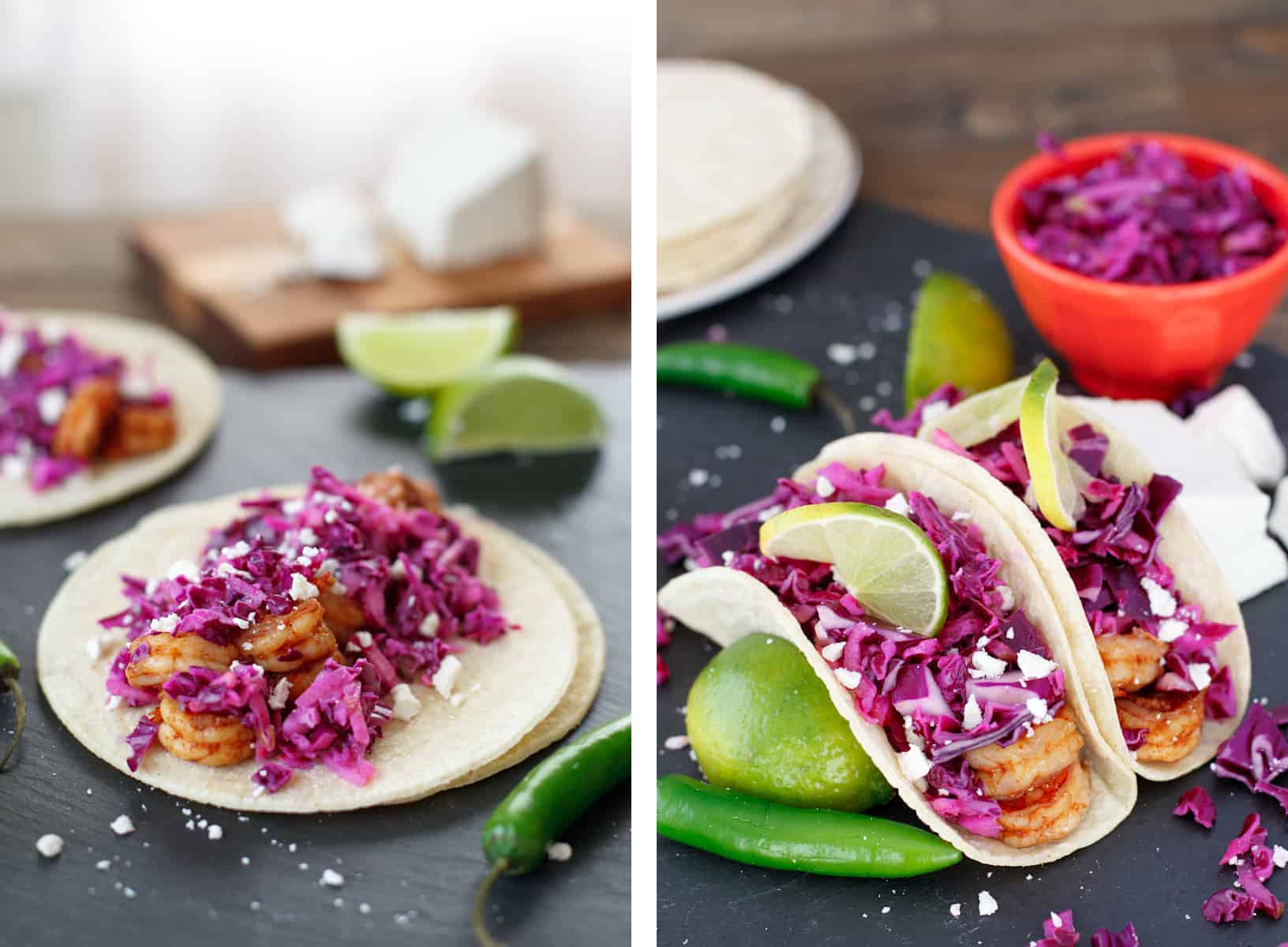 This spicy slaw is the first crossroad in my culinary blogging where I must explain my war against cilantro. Cilantro is my nemesis. If even a tiny piece of cilantro lands in my food, the dish is ruined; my mouth fills with the overwhelming taste of soapsuds. I'm not waging this battle on my own either - The NY Times posted an article in 2010 that explained this sensation experienced by cilantrophobes around the world. Needless to say, I eliminated cilantro when adapting this recipe. Despite the missing element, Lucas loved the slaw so much that he ate it on a quesadilla the next day (and by the spoonful when he ran out of tortillas).
Photo Comparison: In the spirit of learning, here's a before and after shot from the original post in January 2012 to today's recipe rewind two years later. We shot the original at night with overhead light on our coffee table with a point-and-shoot. We reshot this recipe with a Canon 5d Mark II with a 50mm f/1.4 lens. A little styling and lighting in the new photo totally out fiestas the original.

January 2012 February 2014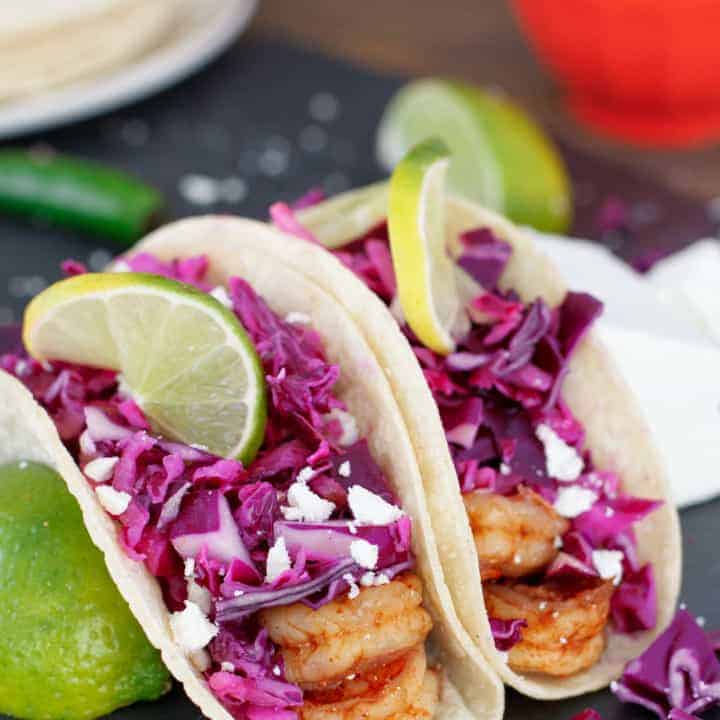 Shrimp tacos with spicy cabbage slaw
Yield:
2 servings, 6 tacos
Seasoned shrimp tacos topped with a spicy purple cabbage slaw filled with peppers and apples. Weeknight dinner made easy and flavorful.
Ingredients
Spicy cabbage slaw (Adapted from The Homesick Texan)
2 cups purple cabbage, shredded
1 teaspoon kosher salt
½ serrano pepper, seeds/ribs removed and diced
¼ teaspoon ground cumin
2 tablespoons olive oil mayonnaise
½ granny smith apple, julienned
2½ tablespoons lime juice
Additional salt and pepper to taste
Shrimp Tacos
24 large raw shrimp, peeled and deveined (If using frozen shrimp, be sure they are uncooked)
½ teaspoon fresh ginger, pressed
1 teaspoon ground cumin
½ teaspoon chile powder
¼ teaspoon cayenne pepper
¼ teaspoon paprika
¼ cup water
Salt and pepper to taste
6 corn tortillas
Crumbled cotija cheese
1 lime
Instructions
Prepare the slaw. Toss the shredded cabbage with 1 teaspoon salt and let it sit unrefrigerated for an hour.
After an hour, drain off the excess liquid and mis the cabbage with the serrano pepper, cumin, mayonnaise, and lime juice.
Add salt and pepper to taste and refrigerate until serving.
Cook the shrimp. In a cast-iron skillet, sauté shrimp with ginger, cumin, chile powder, cayenne pepper, paprika, water, salt, and pepper until just cooked. Set aside.
Heat tortillas in medium skillet.
Add 4 shrimp, handful of spicy cabbage slaw, and crumbled cotija cheese to each tortilla. Squeeze lime juice inside and serve.