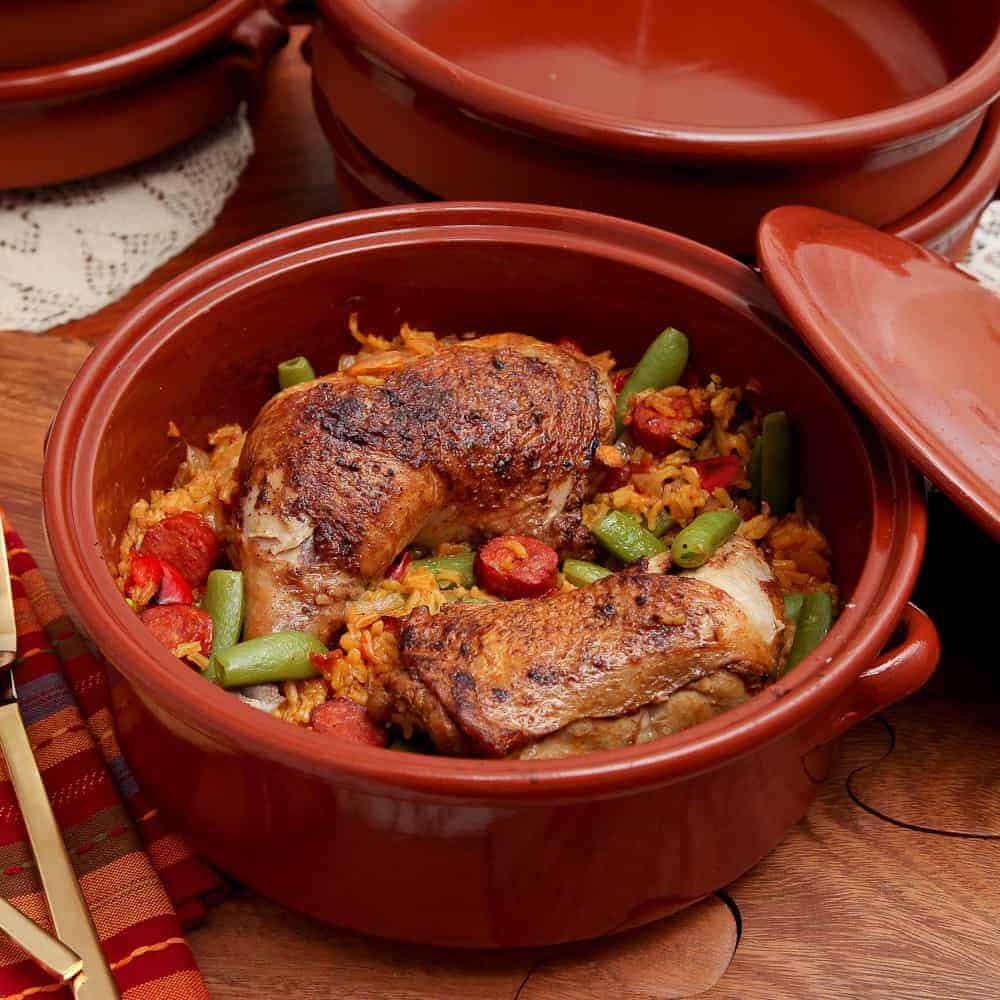 I accidentally ate mac and cheese this weekend. It was not a moment of weakness where I thought, "oh, screw it, I'm eating this." It was an honest-to-goodness mistake. We had some friends over for some BBQ this weekend and one of them brought over some bacon-filled deli mac n' cheese. My response? "Ooo - good call. This goes great with my potato salad!" (You know, because you can never have too many carbs at a BBQ).
And I promptly took two bites before realizing what I'd done. It was as if for a moment I'd completely forgotten I'd given up gluten. I can't say for certain if the stomach ache and massive headache I endured the next day was in direct response to those two bites, but I'm sure it didn't help. I've suffered from a headache for about a week and a half now, but Sunday's was even more intense...and coupled with an upset tummy. Now on to flushing it out of my system in preparation for our upcoming trip to Boston for Tina's wedding!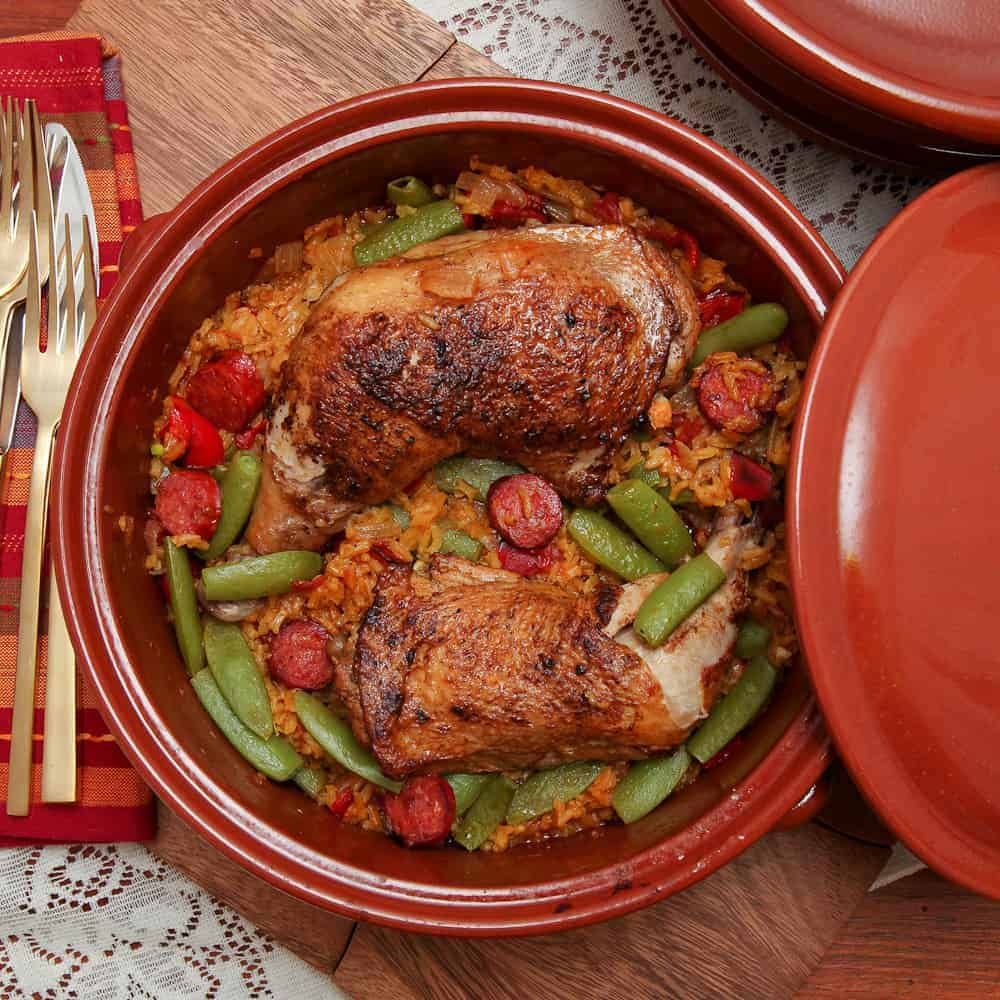 Ever since switching to a gluten-free diet, we've taken to eating a lot of rice dishes. So much that I've considering buying one of those enormous bags of rice to have on hand. Only then I'd have to commit to just one type of rice. I need options. Long grain rice, short grain sushi rice, mixed wild rice, white rice, brown rice. You get the picture.
For this quick weeknight paella, my friend Angi and I used long grain rice instead of the traditional rice used in paella because it's what we had on hand and I am partial to the texture of long grain rice. If you prefer, you can use Valencia rice or a short-grain rice and adjust your cooking time accordingly.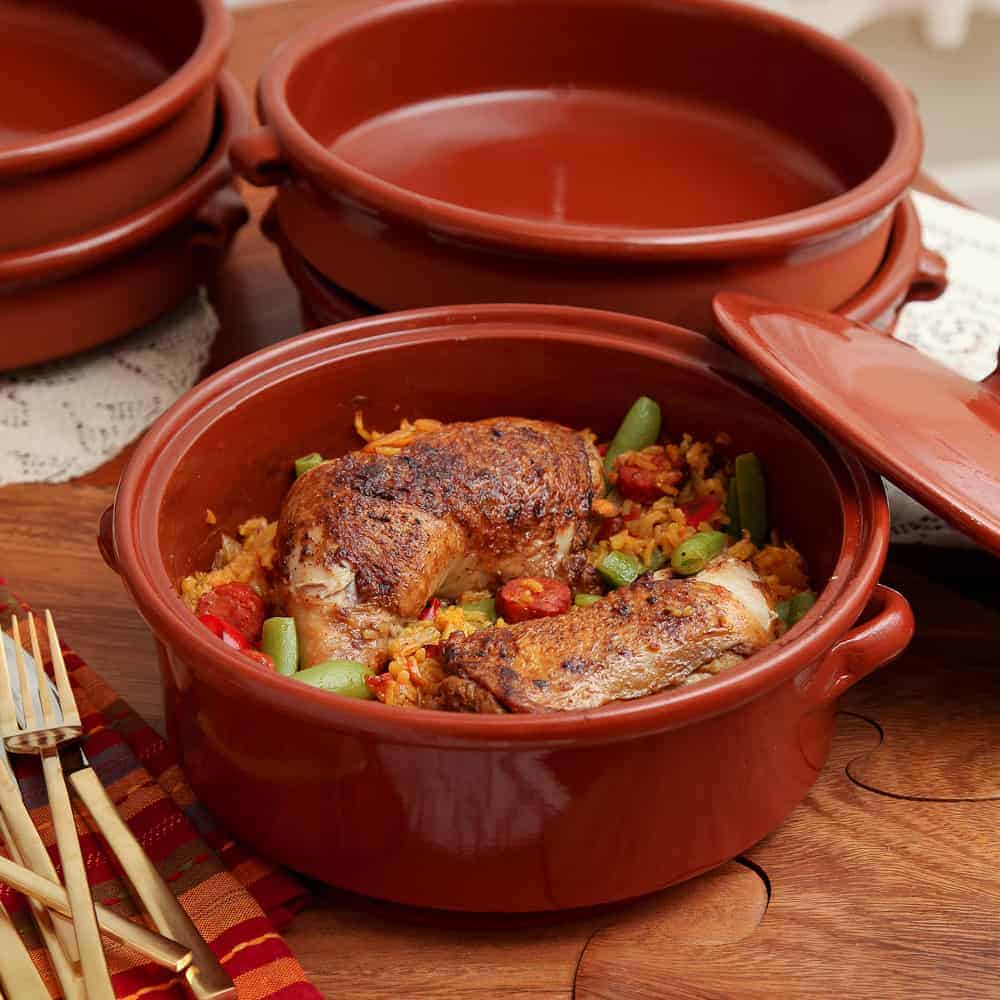 At our wedding, Lucas's uncle leaned over to me, "I think your wedding gift will wind up on your blog." Cryptic, but here we are. He was right. As a complete surprise, Lucas's aunt and uncle gave us a traditional terra-cotta dutch-ovenstyle clay pot or cocotte and four matching clay cazuela pans. (One of many thoughtful gifts sure to make an appearance in the coming weeks.) So naturally, paella made the menu shortly after the wedding.
This is weeknight paella. In contrast to the 6-hour paella Lucas made for my birthday a couple of years ago. For just one and a half hours of prep/cooking, this paella boasts tons of deep smokiness. One-pot dishes always have the potential of also turning out one-note, but this dish has layers of complex flavors that keep you interested. Inviting smoked paprika and crunchy snap peas to the party was the key that pushed this dish over the edge. Add this handsome cookware to the mix and this recipe is what we call a "repeater."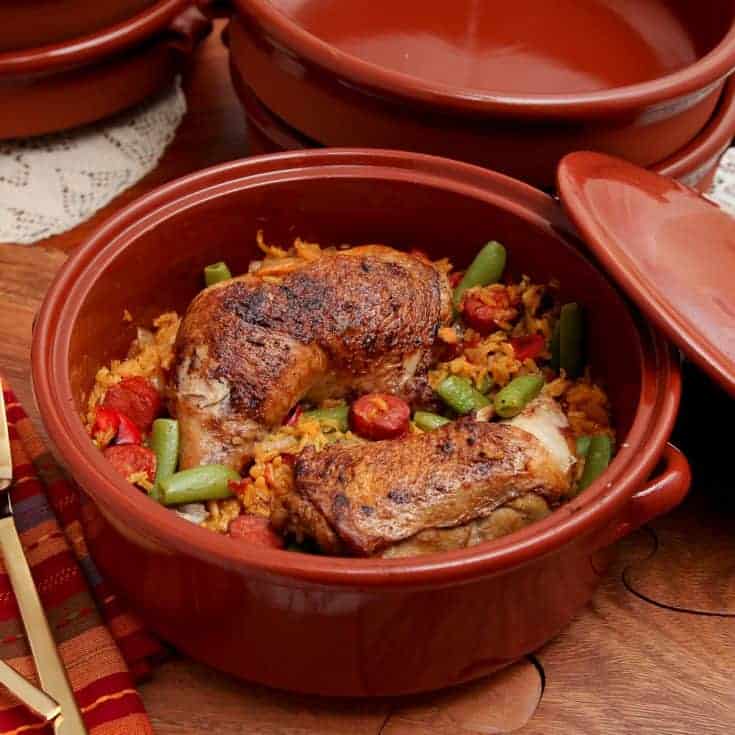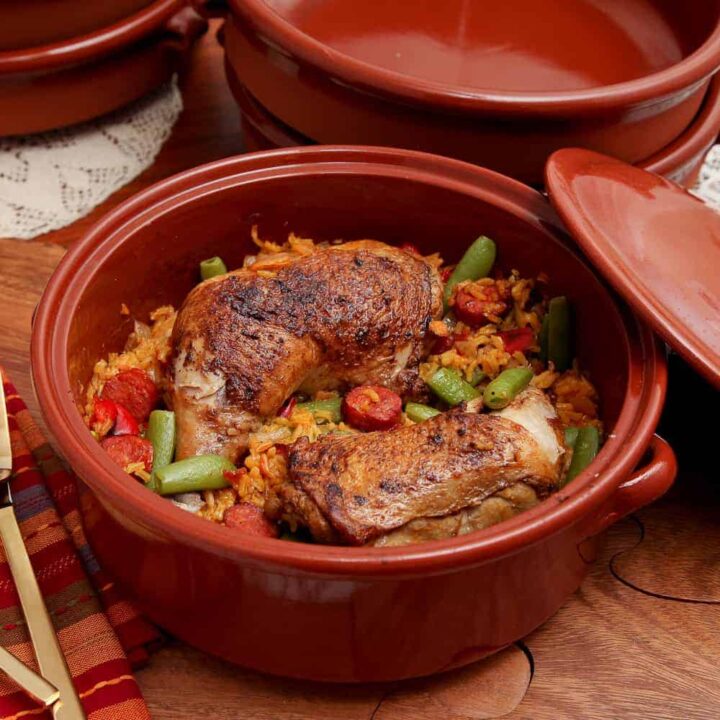 Chicken & Spanish chorizo weeknight paella
Ingredients
½ cup dry white wine
½ teaspoon saffron threads
1½ teaspoons salt, plus more to taste
1¼ teaspoons smoked paprika
1 teaspoon fresh ground black pepper, plus more to taste
5 large chicken legs with skin and bones
8 ounces ¼-inch-thick slices Spanish chorizo
1 tablespoon olive oil
1½ cups onion, chopped (1 large)
4 garlic cloves, minced
1½ cups long-grain rice
2 cups low-sodium chicken broth
1 14.5-ounce can diced tomatoes
1 large tomato, chopped
2 small red bell peppers, chopped and roasted under the broiler until they begin to blacken
3 cups sugar snap peas, trimmed
Instructions
Preheat the oven to 385ºF.
In a bowl, combine the saffron threads with the white wine and set aside.
Mix together the salt, smoked paprika, and pepper in small bowl, then rub it all over the chicken legs.
Heat a large heavy-bottomed dutch oven over medium-high heat (Note; I used two dutch ovens for this dish because neither of mine was large enough, but if you have one large one, then one should be sufficient).
Cook the chorizo until it begins to brown, about 5 minutes. Transfer the chorizo to a plate and cover.
Add olive oil and cook the chicken legs until browned, about 5 minutes per side. Transfer to the plate with the chorizo and cover.
Leaving only 1 tablespoon of oil in the pot, reduce heat to medium. Add the onion and cook, stirring often, until translucent. Add the garlic and cook for 30 more seconds.
Add the rice and stir to combine. Add the wine and saffron mix and bring it to a boil, scraping up the bits from the bottom of the pan.
Add the chicken broth, chopped tomatoes, canned diced tomatoes, and roasted red peppers. Cook until it begins to simmer. Nestle the chicken on top of the rice, then cover the pot with a lid and bake in the oven until the rice is nearly tender and most of the broth has been absorbed, about 20-25 minutes.
Remove the chicken from the pot and cover it to keep it warm. Season the rice with salt and pepper, to taste.
Stir in the snap peas. Cover with the lid and bake until the snap peas are cooked, about 10 more minutes. Nestle the chicken back into the pot and serve.