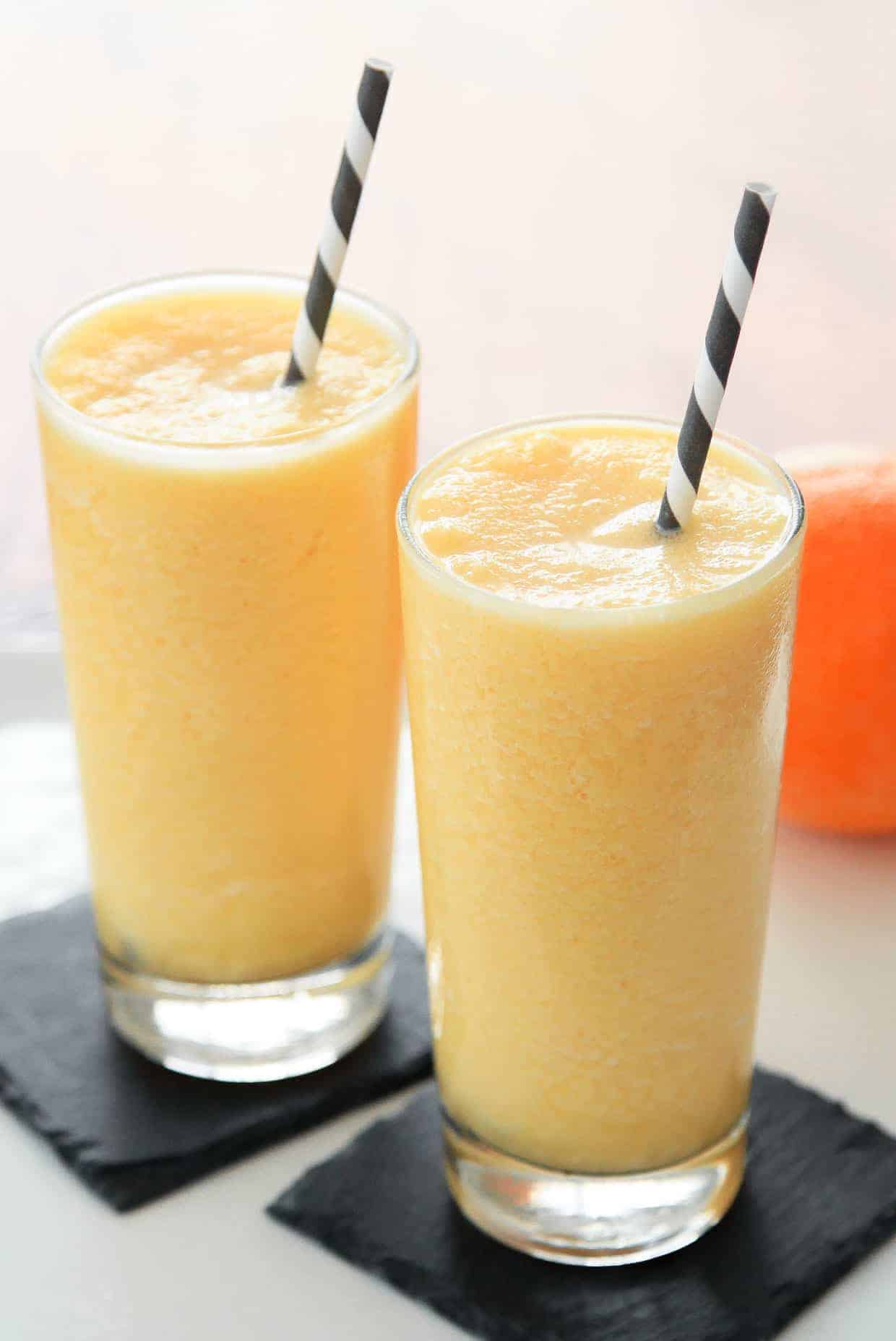 The other night as we were going to bed, I let out an exasperated, "winter sucks!" As if he could read my mind for once, Lucas echoed my concern, "...because stone fruits aren't around!" Yup. That's how I feel when the single sign on the what was once multiple crates of peaches reads, "End of season; get them while they last!" Their departure...and the sign...it all feels so personal. It's all about mindset though; the dwindling bins of fresh peaches make room for an entire row of winter citrus! Just when you thought winter was about hearty stews and warm soups, I'm here to tell you that this is what winter is all about - satsuma mandarins, navel oranges, and grapefruit.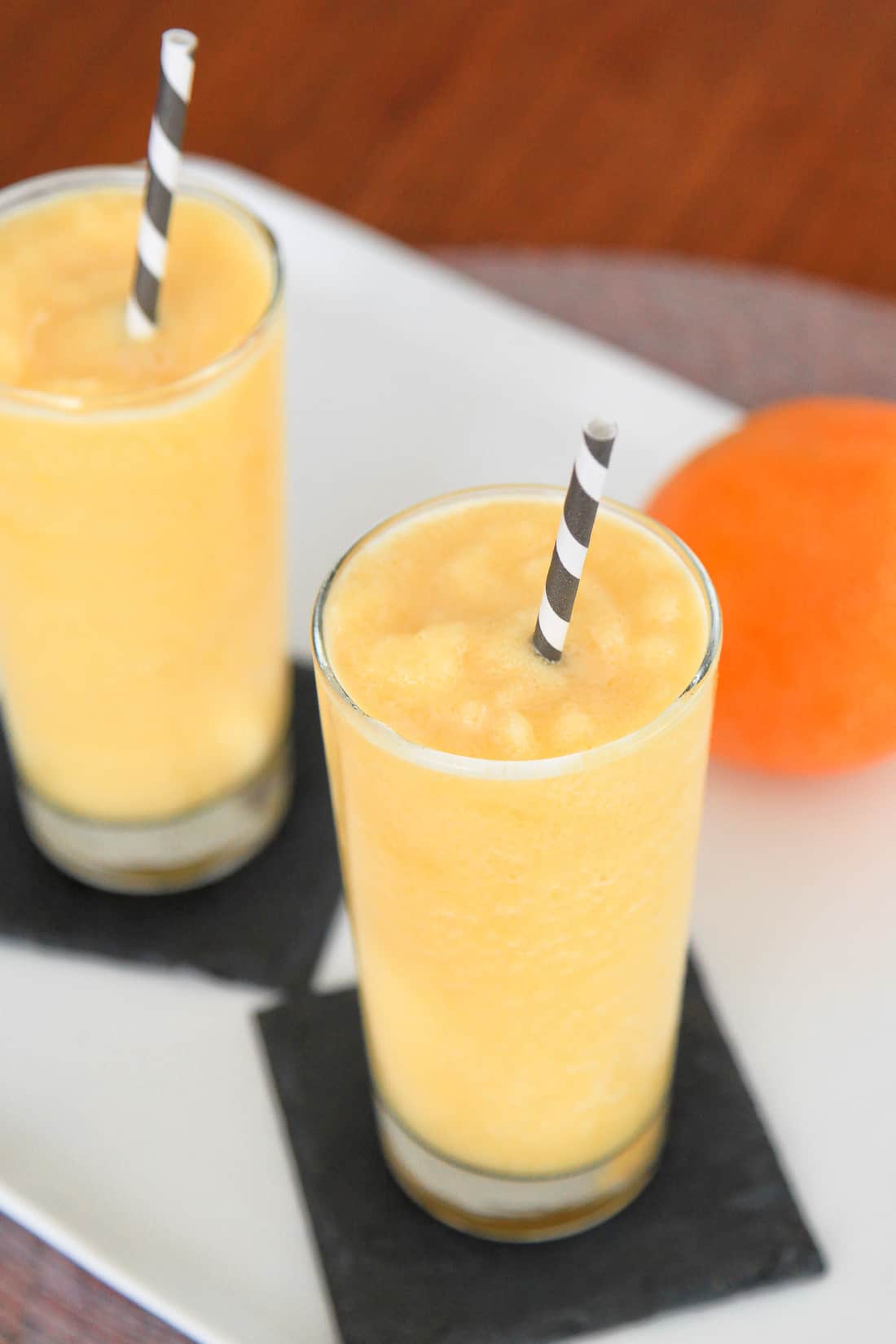 After consuming enough comfort food to go into hibernation as soon as the holidays are over, I'm ready for something fruity and sweet. Something with a hint of summer fun, while still in season. Something that says, "you know what winter? you're cooler than I thought." With that, I bring you a frothy Orange Julius copycat recipe. I dub it an "orange frothy." This is not just any old smoothie - it's got sweet citrus tang with notes of vanilla bean. A mind-blowing "why didn't I think of that earlier" pair of flavors.
This recipe is the final part of the three-part series entitled, "Lucas goes to the oral surgeon." Starring in reverse order of appearance on his soft-food menu: salted caramel pudding, spiced crock-pot pearsauce, and this orange frothy. While I used this wisdom tooth-inspired puréed, mushy, creamy, smooth, and silky menu as an excuse, this orange frothy really was a treat for Tyler and I after a day's worth of culinary adventures. Lucas slept (drooled) on the couch while we sipped in the sun-soaked dining room. From fancy striped straws (leftover from our wedding - which I should tell you, I haven't forgotten about my promise to share stories and pictures...stay tuned very soon). Don't worry, when Lucas woke up several hours later, I blended up another to share with him sans straws (we'll have no dry sockets in this house). Delish!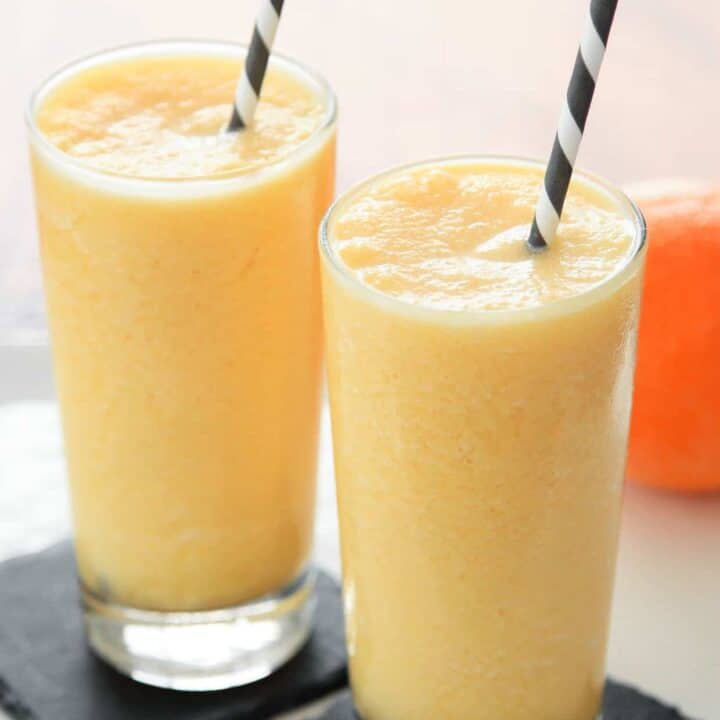 Orange frothy: an Orange Julius copycat
Ingredients
1½ cups fresh squeezed orange juice
2 cups ice
2 tablespoons vanilla yogurt (I used Siggi's Vanilla Yogurt)
1 tablespoon honey
1 teaspoon pure vanilla extract
Instructions
Combine all of the ingredients together in a blender. Blend until smooth.
Pour into two glasses and serve with a straw.