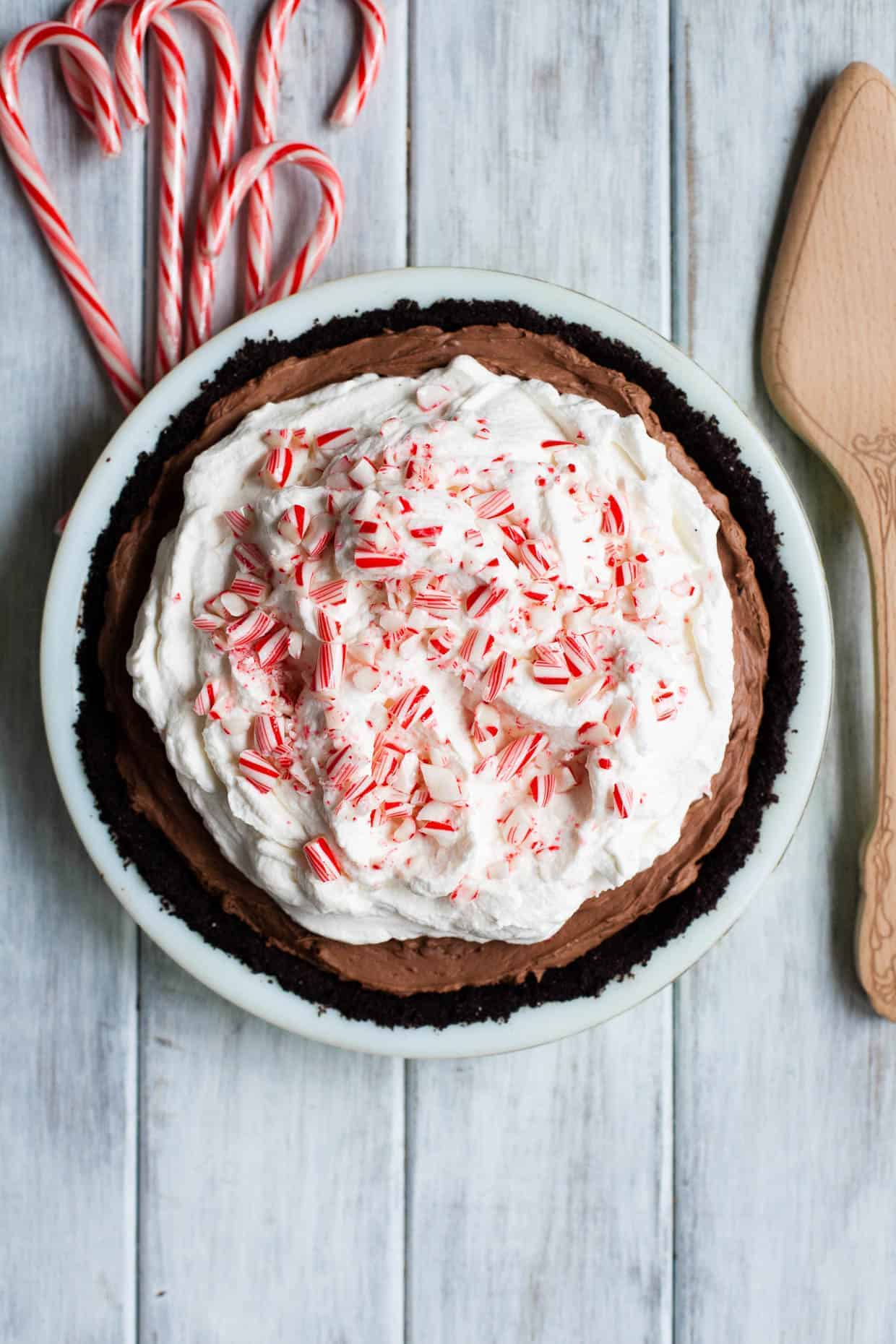 It's two days before Christmas and I had no response when my mom texted me this morning asking me for my Christmas dinner/dessert grocery list. All I could think about was how much sleep I plan to catch up on over the holidays (and how I still haven't wrapped any of my Christmas gifts...some of which are still in the mail). Like me, are you still scrambling for that last-minute no-bake dessert that will still impress? It's a mouthful, but this no-bake double chocolate cheesecake pie with peppermint whipped cream is here for you. Super hero pie rushing in to save the day.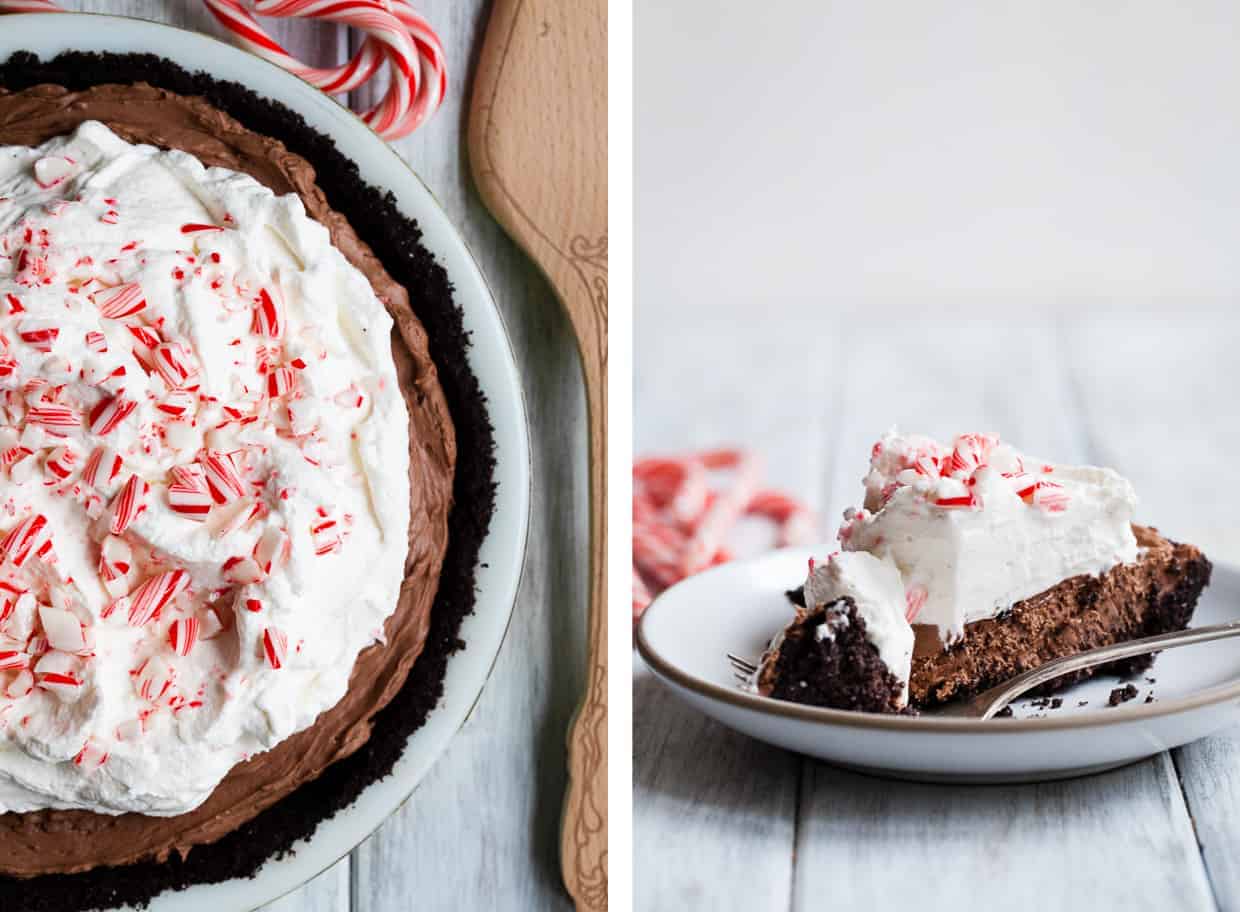 The extra bonus is that this recipe makes TWO pies. One for your family and one to bundle up and take to your local firehouse to thank the firemen for working through the holidays.
I'd planned to drop it off the night I made it, bringing Lucas with me as a comfort blanket (who knew I was so shy), but no one answered the fire station office phone at 9:45pm (well, duh), so I chickened out and decided to go during business hours the next day. Except the overnight freezer situation melted the red candy canes all over the whipped cream, making pie looked 100% homely. Even still, Carla promised that my 8.5-month pregnant belly would make me seem more approachable and my pie more trustworthy.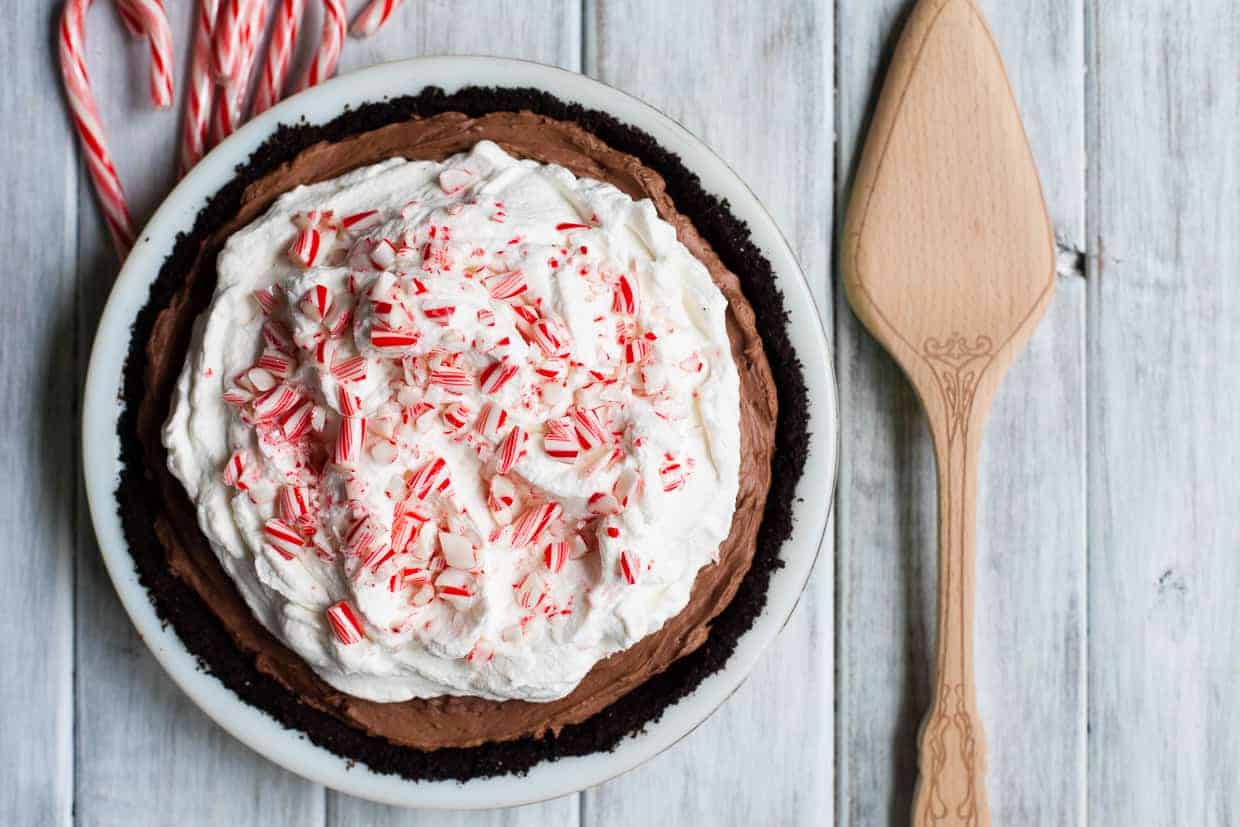 When I got to the station, it didn't even matter that I waited to come during business hours because the office was closed for renovations with a sign slapped to the door that instructed all deliveries to pick up the courtesy phone to call dispatch. The phone that read in big bold letters "THIS IS AN EMERGENCY LINE ONLY!!" (Ashlae, I'm with you - they definitely make it confusing on purpose!)
I hesitated, but decided that pie is an emergency.
The ear to ear smile on the fireman's face when he found me shivering in the cold holding an icebox pie was worth it. No one cared that I'd hogged the emergency line for 5 seconds as soon as I uttered "pie delivery." We laughed at the melted candy canes while I swore the pie was delicious underneath its rough exterior, and he promised they'd "eat it for dinner tonight." My kind of dinner.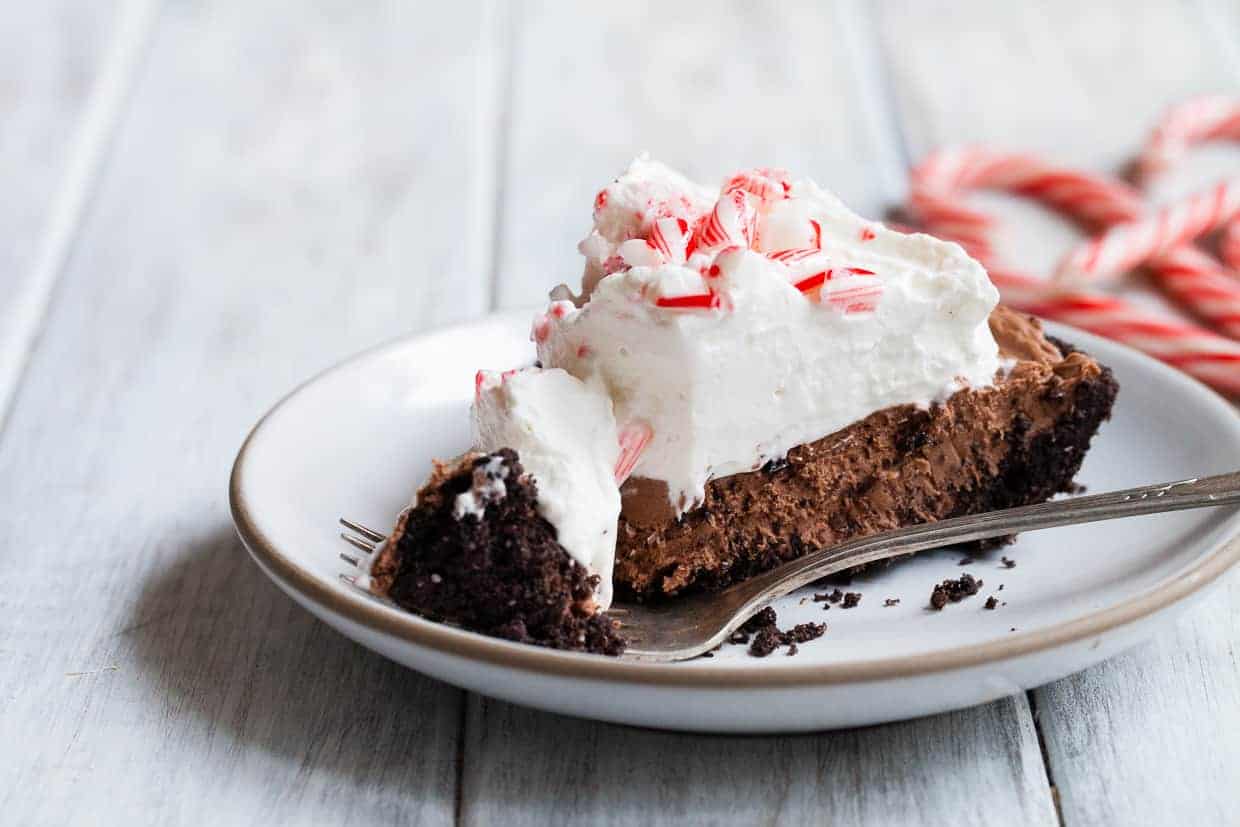 In other big news, I sent the second pie that I butchered for pictures to work with Lucas the next day in my shiny new PieBox. He reported that they loved the pie and were obsessed with the PieBox. Apparently so much so that the cleaning guy took my brand-new PieBox home as a souvenir. Fortunately his coworker was hot on the scent and tracked my PieBox down, bringing it back home today. Moral of the story is: get a PieBox. Then put a leash on it and brand it with your name.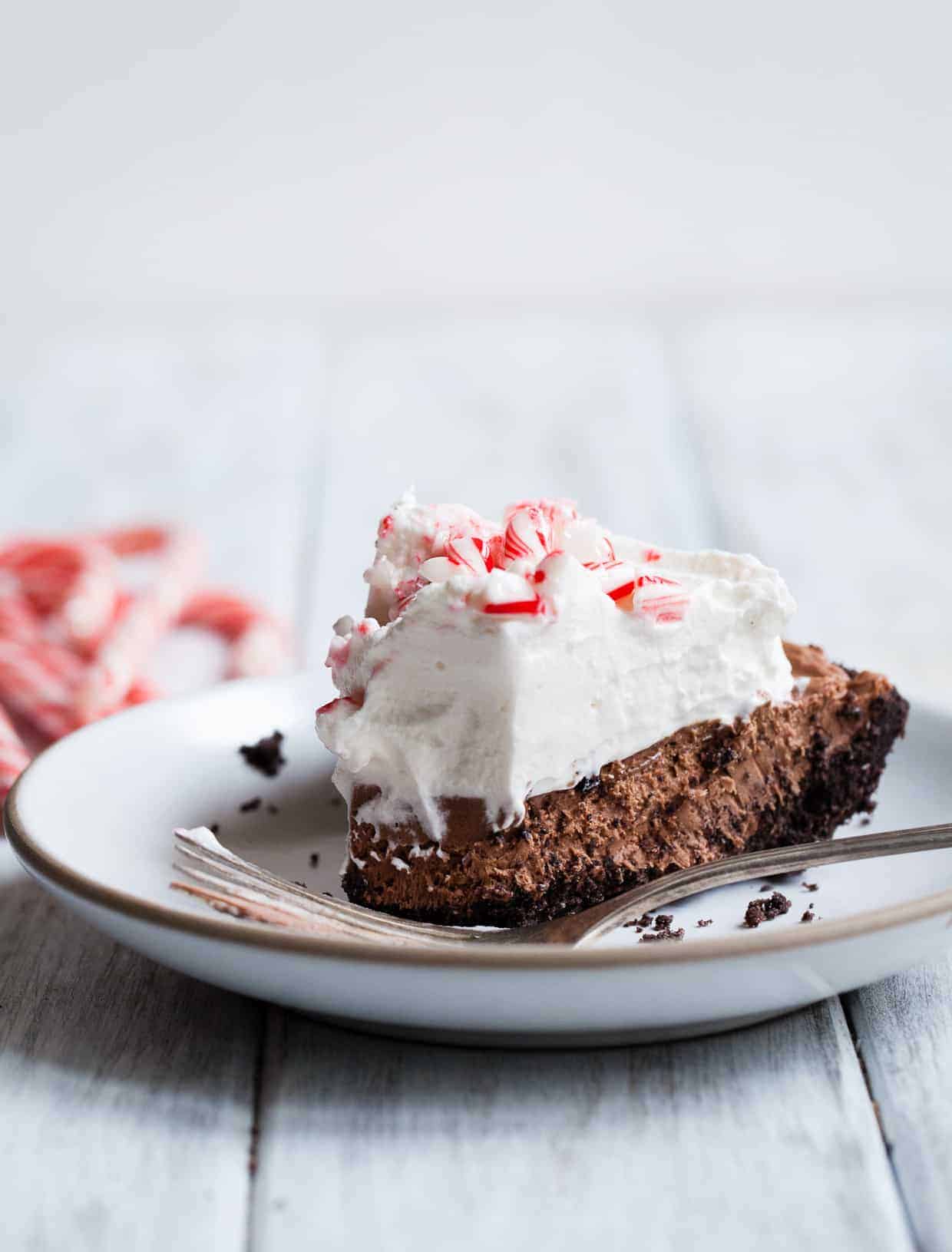 This pie is pretty straightforward with its title, but let's go over the highlights: gluten-free chocolate cookie crust (Trader Joe's now has gluten-free peppermint Joe Joes!) filled with rich double dark chocolate no-bake cheesecake and topped with billows of peppermint whipped cream and a heavy sprinkling of crushed candy canes. It's Christmas in a pie.
So - if you're still looking for holiday pie inspiration, make this pie. Two of them - and package one up for your local firehouse.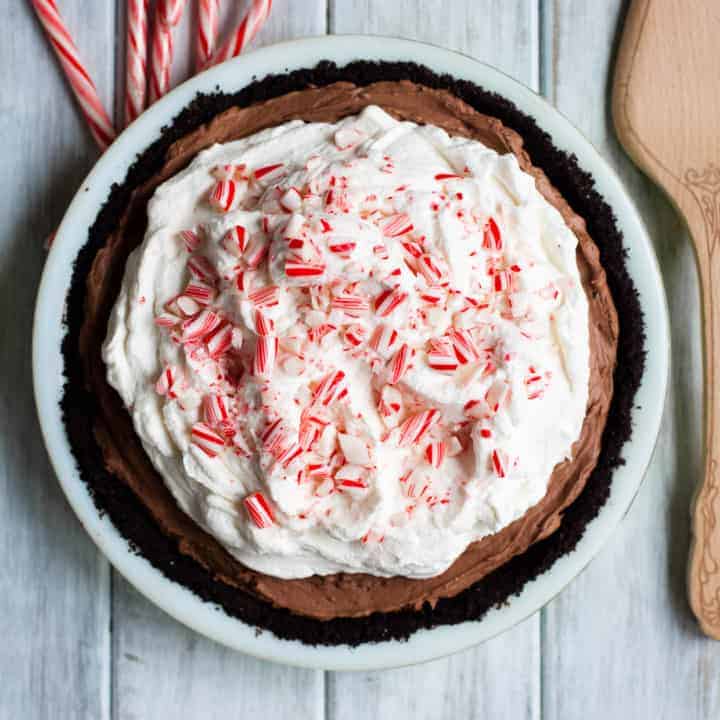 No-Bake Double Chocolate Cheesecake Pie with Peppermint Whipped Cream
Ingredients
Chocolate Cookie Crust
3 cups ground gluten-free chocolate cream cookies (Like Oreos - I used 1.5 packages of Trader Joe's gluten-free peppermint Joe Joes)
¼ cup unsalted butter, melted
Double Chocolate Cheesecake Filling
1 quart heavy whipping cream
1¾ cups powdered sugar, sifted and divided
½ teaspoon peppermint extract
¼ teaspoon chocolate extract
2 8-ounce blocks of cream cheese, room temperature
8 ounces bittersweet chocolate (60%)
2 ounces unsweetened chocolate
¼ teaspoon kosher salt
¼ cup crushed candy canes (about 8-10 candy canes)
Instructions
Chocolate Cookie Crust
Combine the cookie crumbs with the melted butter and mix thoroughly.
Use your hands to firmly press the mixture into the bottom and sides of two shallow 9-inch pie dishes. (This requires some patience and a balance between gentle and firm).
Freeze the pie crusts while you prepare the filling.
Double Chocolate Cheesecake Filling
In a double broiler or in a microwave safe bowl, melt the chocolate until smooth. Set aside to cool briefly.
In the bowl of a stand mixer (or with a hand mixer), whisk the whipping cream on medium-high speed until it holds firm peaks. Remove about 3 cups of the whipped cream and set aside for folding into the cheesecake later.
To the remaining 5 cups of whipped cream, gently fold in ½ cup of the powdered sugar, ½ teaspoon peppermint extract, and ¼ teaspoon of the vanilla extract. Transfer the peppermint whipped cream to a separate bowl and set aside for topping the pie (don't worry about cleaning the bowl).
In the same bowl of the stand mixer (or with a hand mixer), beat the cream cheese until light and airy.
Add the melted chocolate, remaining 1 teaspoon vanilla extract, remaining 1¼ cups powdered sugar, chocolate extract, and salt, and beat until thoroughly combined.
One cup at a time, mix the unsweetened 3 cups of whipped cream into the cream cheese mixture until completely combined and smooth.
Divide the chocolate cheesecake filling between the two prepared pie crusts and spread out evenly with a spatula.
Divide the peppermint whipped cream over the center top of each pie.
Chill in the freezer or fridge for 2-3 hours to set the cream filling before serving (it will be more firm and easier to slice from the freezer, but the fridge will work too!).
Just before serving, top each pie with crushed candy canes.
Here's another easy almost no-bake holiday pie you might like! Almost No-Bake Pumpkin Cheesecake Mousse Pie.