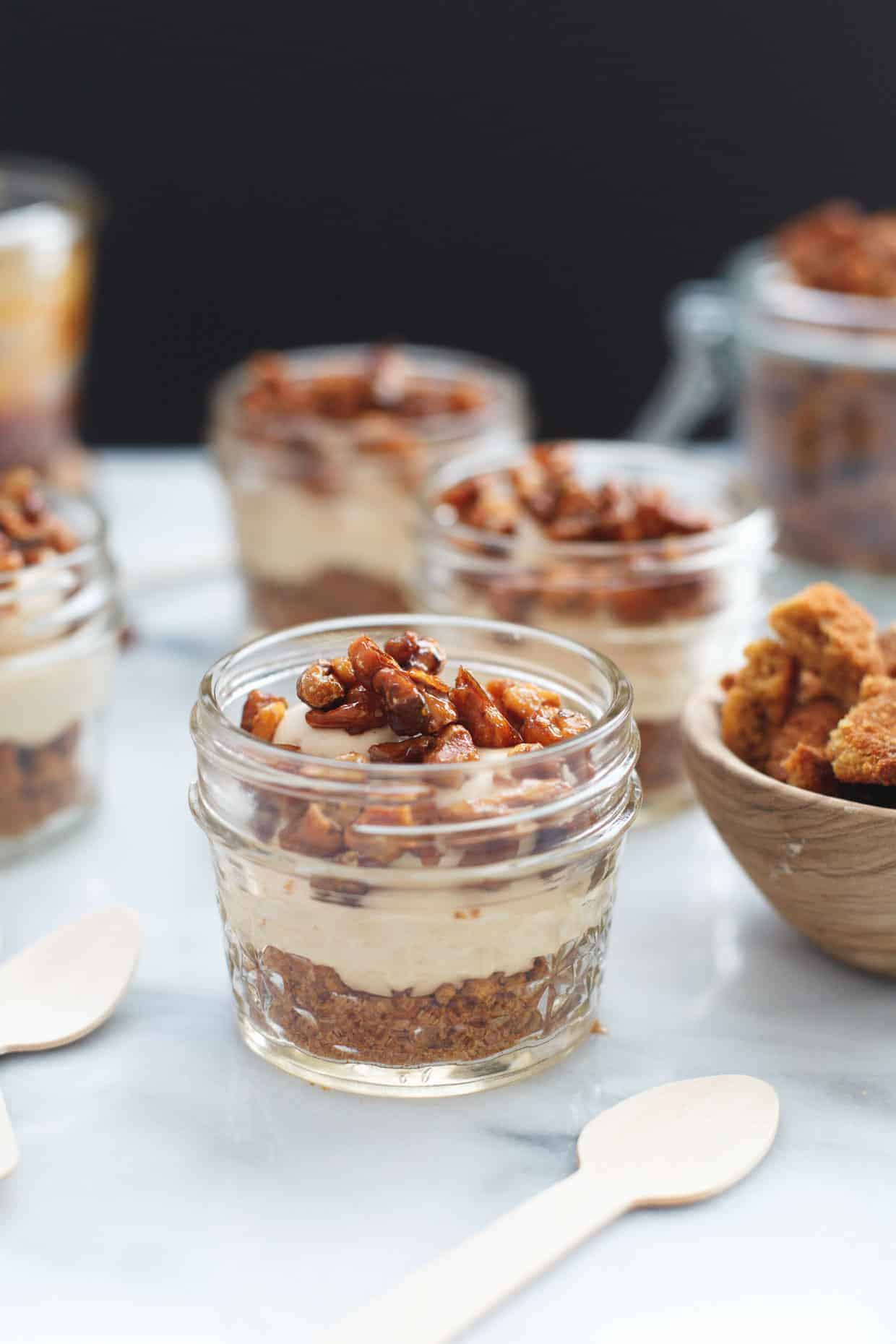 One reason I love when my mom visits (besides the dishes, of course:), is that she helps me brainstorm recipe ideas. And the holidays are her specialty. When I told her my idea for these no bake caramel cheesecake mousse cups, she added "and you can top them with grandma's candied walnuts." Then she went on and on about how my late great grandma made THE BEST candied walnuts every Christmas that she'd put in jars as holiday gifts.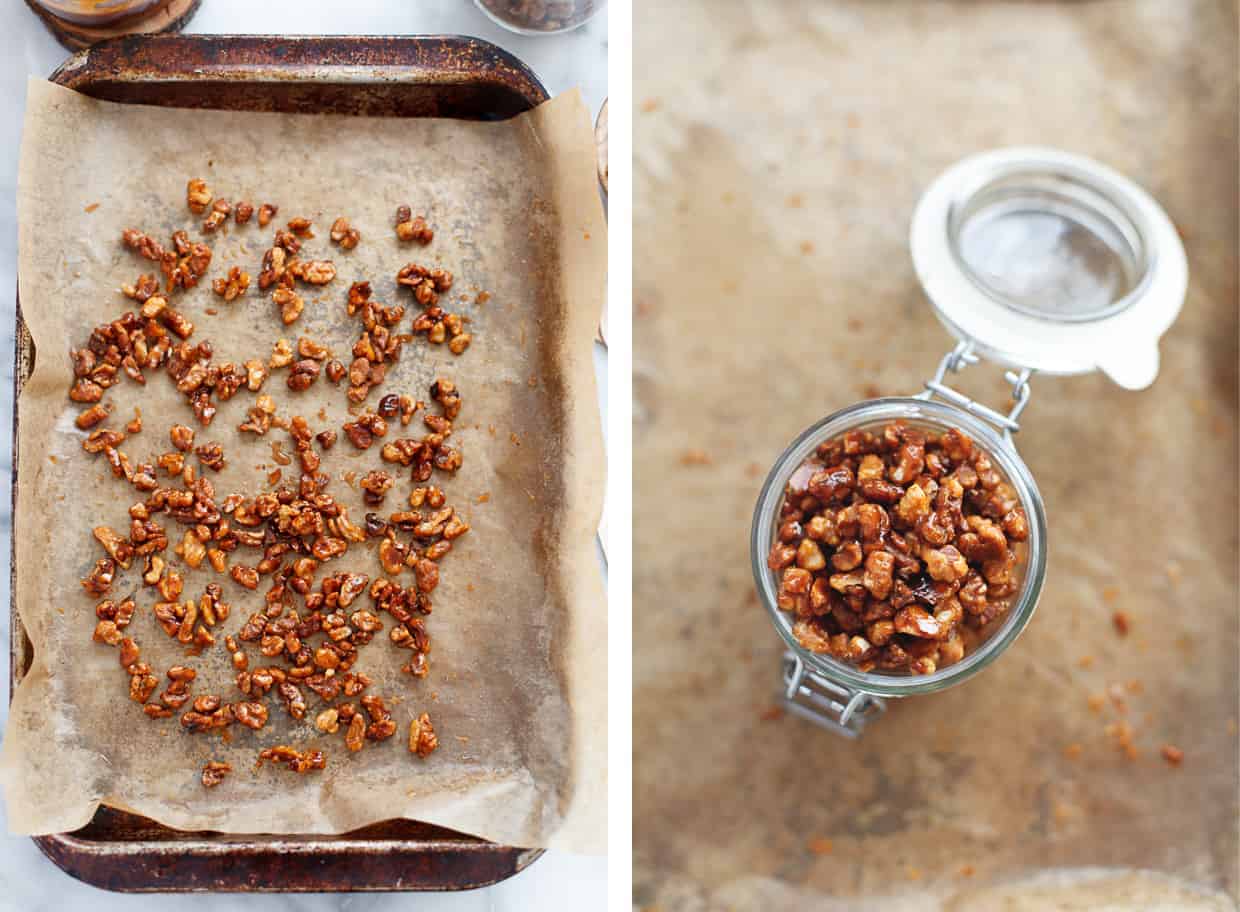 This is the same grandma who had hand-cured olives on every holiday table from the olive trees lining their property and an unlimited supply of fresh eggs in the henhouse. Also the same grandma who, I discovered as I was sorting through her recipes on a recent trip home, kept among her cherished passed-on belongings a recipe card for Spinach Gelatin Salad that included: 4 packages lime jello, 1 cup mayonnaise, 1 carton cottage cheese, 1 cup diced celery, 3 tablespoons minced onion, and 1 package thawed frozen spinach. So I was simultaneously intrigued and skeptical about the nuts.
As soon as she got home on Friday, my mom texted me a picture of my great grandma's tattered and well-loved candied "glazed" walnuts recipe. Along with a card I wrote to them when I still didn't have a grasp on the use of capital letters or punctuation:
"To GranDma and GranDPa I like you a lot I live in a Two Story house I like your chickens Love Sarah"

All relevant facts, obviously. I think I should include that in my compliments from here on out:
"Dear Annie, I like the way you toss your hair. I live in a one story house. I like your record collection. Love, Sarah" (With punctuation because I'm out of breath from reading the last card).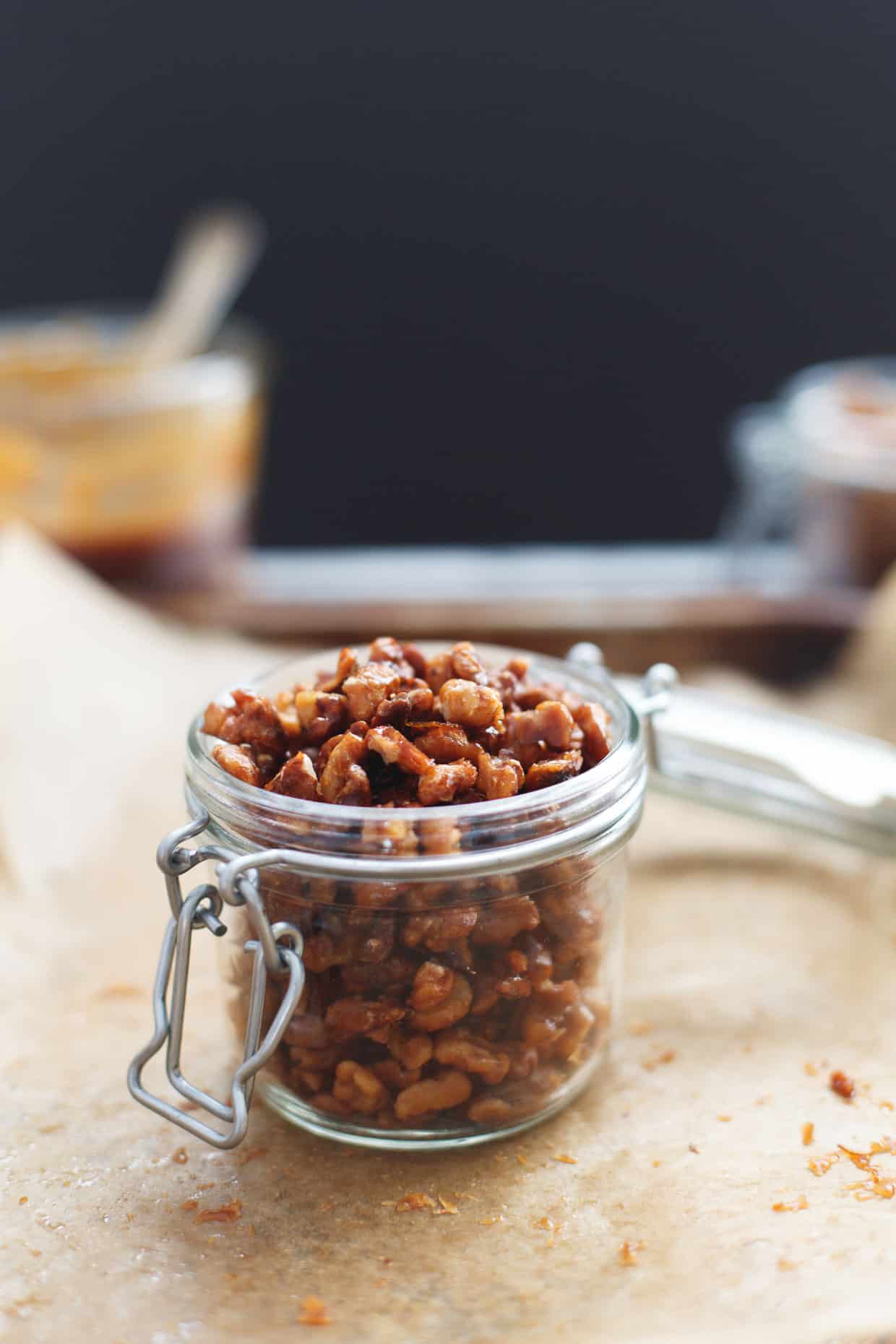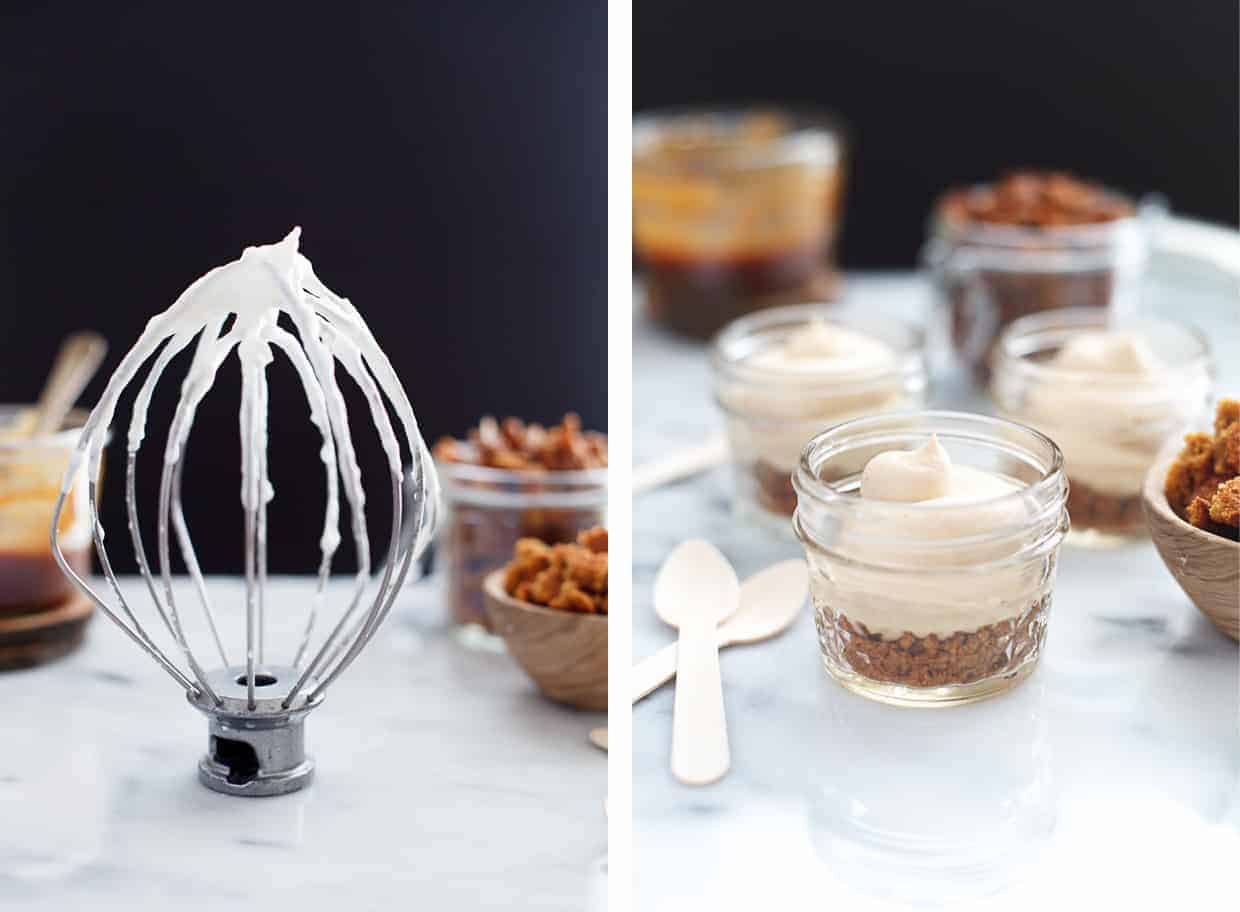 ANYWAY, these are not my grandma's candied walnuts you see here. Sorry, Grandma. I messed those up.
Twice.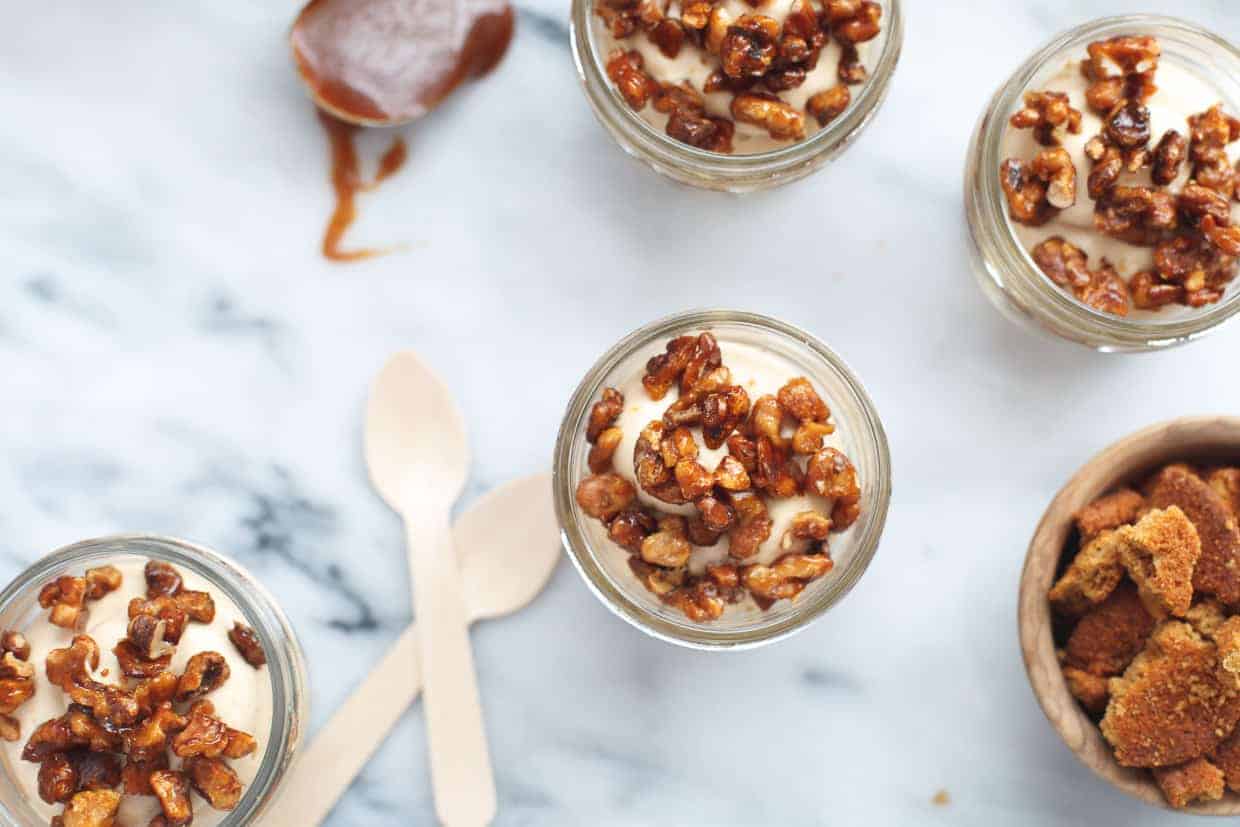 For my first go at it, I cut the recipe in half, set the sugar to boil with a 5-minute timer, and carelessly went about washing dishes. I'm sure you can see where this is going. I should know better too - I've made (and burned) caramel many times before. That batch scorched the bottom of the pan.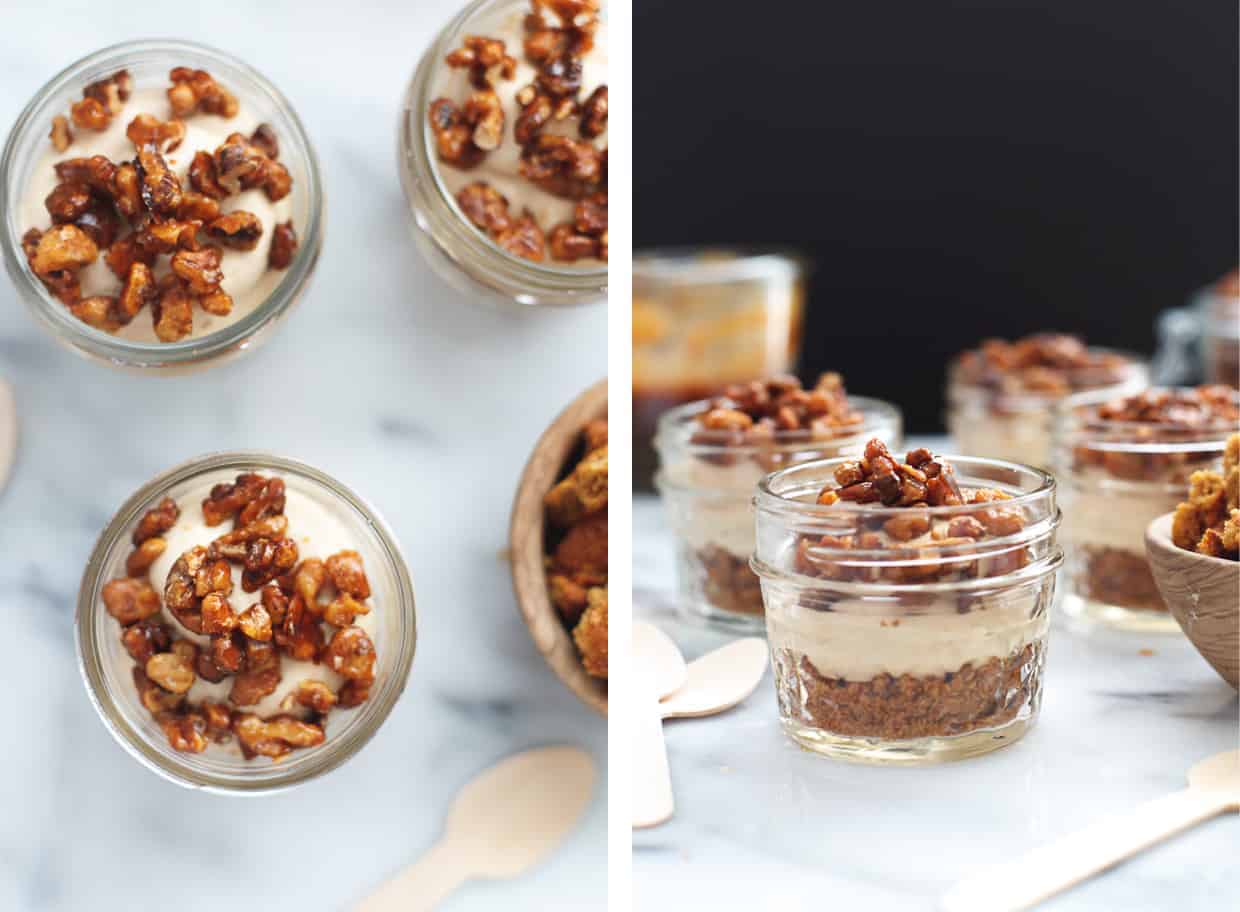 The second time, I let it go for a couple of minutes after it boiled, watching it like a hawk. When I went to "pour syrup over nuts, stirring constantly" the whole thing turned into a giant blob. Perhaps the chopped versus whole walnuts left more surface area to be coated?
Fortunately I rescued the blob by putting it in the oven, letting the sugar melt , and stirring it around. They still weren't the prettiest though. Plus, I can't very well send you into the world with a recipe that says "It'll turn into a giant blob. Don't worry. You'll fix that."
Instead, I kept Grandma's ratios (eliminating the butter/margarine) and skipped straight to the oven. This third batch turned out crispy, beautifully caramelized, and sweetened into walnut candy crack without putting up a fight. Plus, no boiling = less dishes. Win.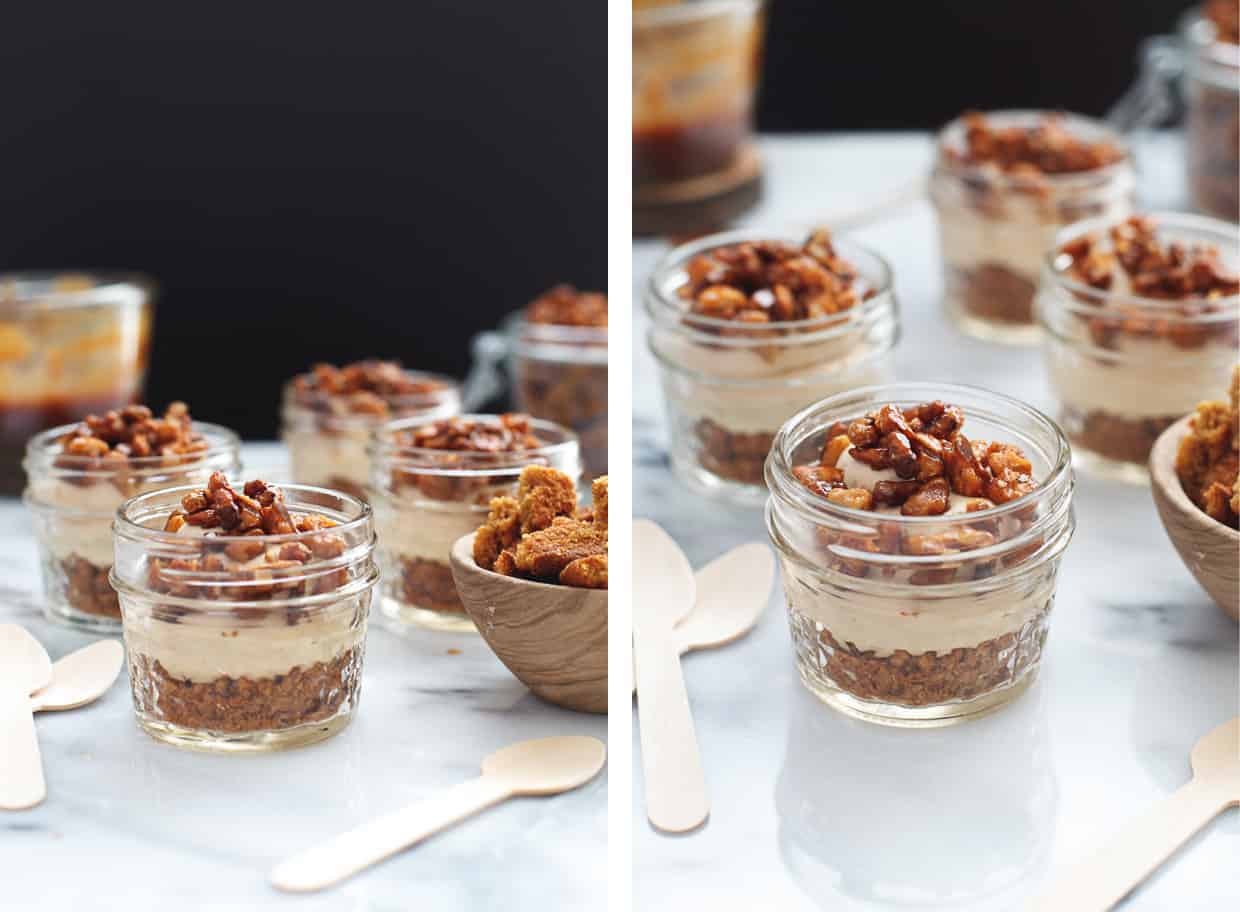 All the nut drama aside, these no bake caramel cheesecake mousse cups come together quickly without any fuss. I made my own caramel sauce and candied walnuts, but if you're in a time crunch, subbing in some good-quality store-bought caramel sauce and candied walnuts will do the trick. And if you're opting for one simplification over the other, I urge you to make these quick candied walnuts as the finishing touch.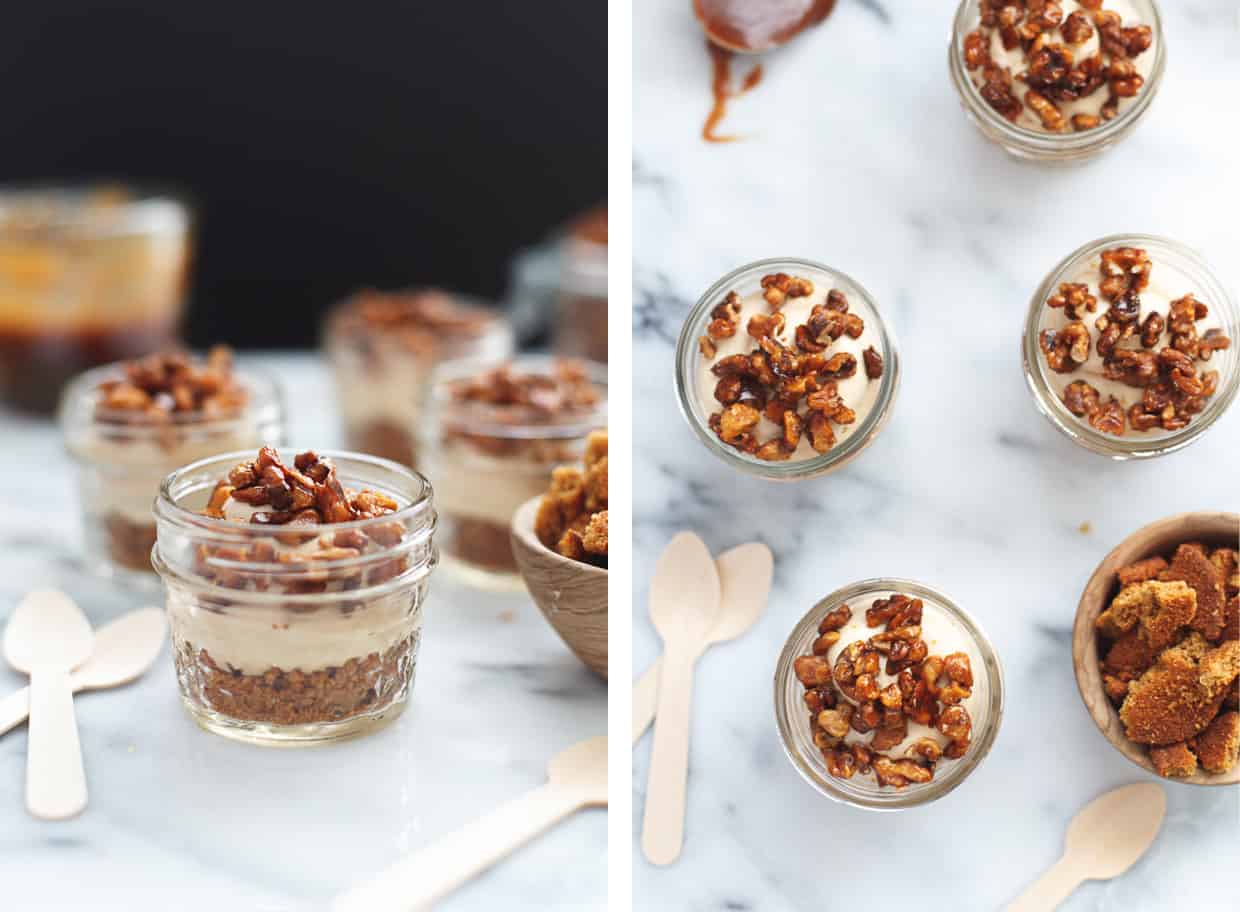 Eat this with me: a bed of crunchy ginger snaps, a few heavenly spoonfuls of light velvety caramel cheesecake mousse, and crispy candied walnuts to leave a lasting impression. If you're looking for a quick last-minute Thanksgiving dessert that will still be the star of the party, this is it.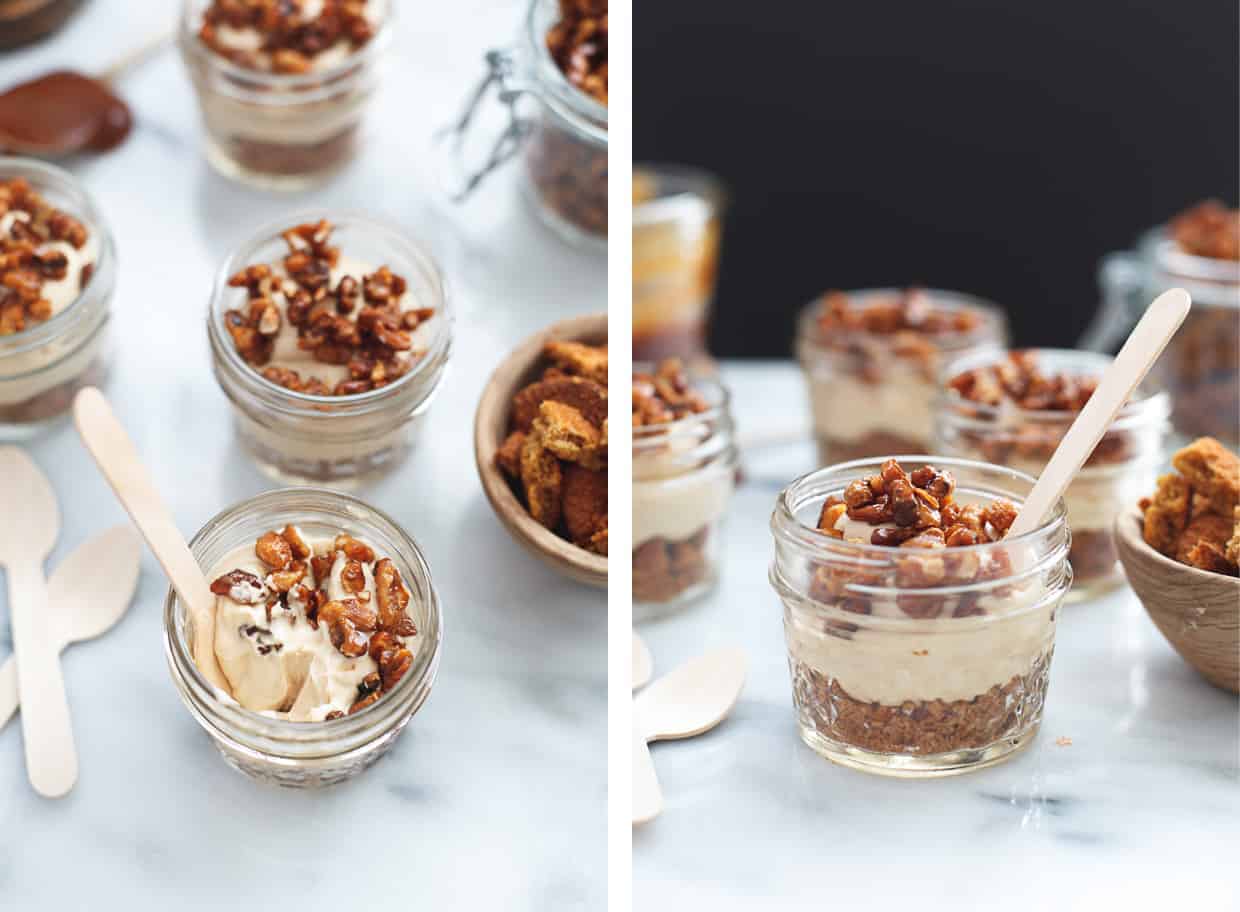 They're small enough that you'll have room for multiple desserts, a T-day necessity. Plus, you can twist the mason jar lids on and easily transport them to wherever you're going for Thanksgiving...or a holiday party...or your favorite neighbors who haven't yet complained of a sugar coma.
Thanks for reading Snixy Kitchen! To stay up on what's coming out of my kitchen, follow me on Facebook, Instagram, Twitter, Bloglovin', or Pinterest, or subscribe via e-mail to get new recipes right to your inbox.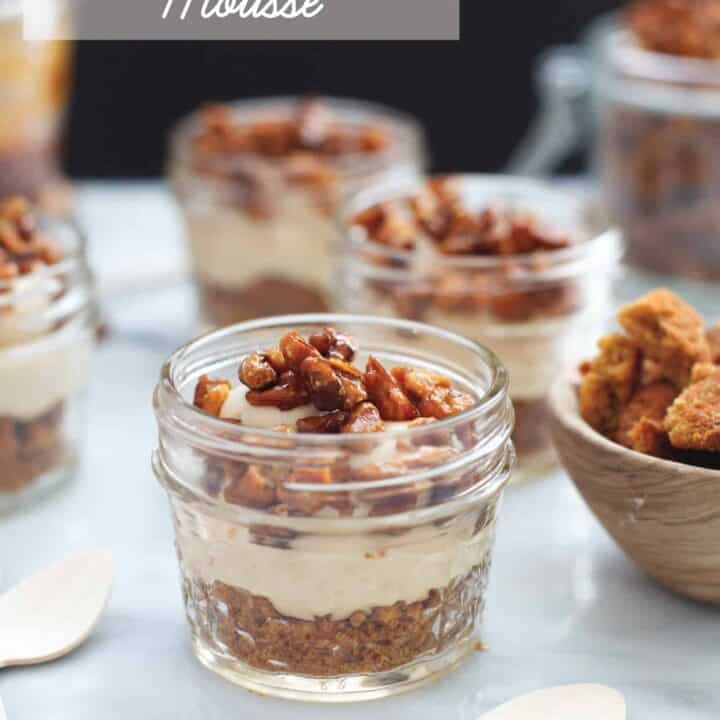 No Bake Caramel Cheesecake Mousse with Candied Walnuts
Ingredients
½ cup + 2 tablespoons heavy whipping cream
½ cup powdered sugar
½ teaspoon pure vanilla extract
4 ounces cream cheese
3 tablespoons caramel sauce (recipe below, but in a pinch, good-quality store-bought will work too)
½ cup candied walnuts (recipe below, but again, store-bought candied nuts will work too)
1 cup crumbled ginger snaps (I use Trader Joe's gluten-free ginger snaps because they're extra crispy and crumbly. I crush it until there are still a few pieces just smaller than a dime)
Instructions
In the bowl of a stand mixer, whisk the whipped cream on high speed until it begins to froth, a couple of minutes.
Add powdered sugar and vanilla and continue beating until soft peaks form. Transfer the whipped cream to a bowl and set aside.
In the bowl of the stand mixer (no need to clean it), add the cream cheese and beat on medium-high speed until smooth.
Add the caramel sauce and beat until well combined, scraping down the sides as necessary.
Fold in the whipped cream and mix on low-speed until completely smooth.
Divide the ginger snaps among the 6 small dessert cups or mason jars (If you use mason jars, you can put the lid on and take it to go!), creating about a ½-inch layer of ginger snaps in the bottom.
Using a piping bag fitted with a large tip*, pipe the mousse into the jars over the top of the ginger snaps.
Top with a sprinkling of candied walnuts.
Chill for at least 30 minutes before serving. Keep any leftovers covered and chilled for up to two days.
Notes
*If you don't have a piping bag and pastry tips, you can also cut the corner off of a gallon-sized Ziploc bag or just scoop the cheesecake mousse into the dessert cups.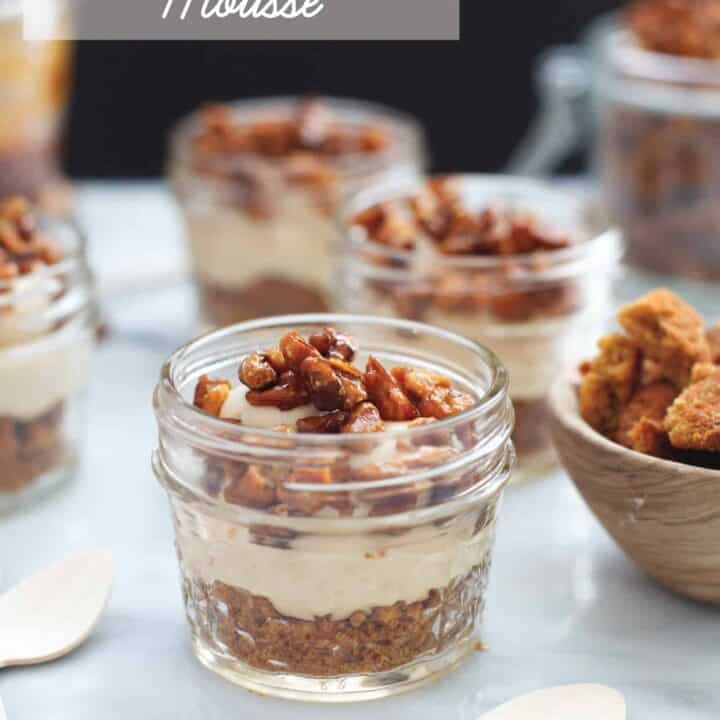 Candied Walnuts
Ingredients
½ cup chopped walnuts
4 teaspoons granulated sugar
2 teaspoons light corn syrup
¼ teaspoons salt
Instructions
Preheat the oven to 325°F and line a baking sheet with parchment paper or a Silpat mat.
Combine the sugar, corn syrup, and salt in a medium bowl until completely mixed. Add the walnuts and stir to coat completely.
Spread the walnuts out on the lined baking sheet, trying to separate them as best as you can, but it's okay if some of them clump.
Bake at 325 for 4 minutes, then use a rubber spatula to mix up the nuts, trying to break up any clumps. Bake for 4 minutes longer. Stir once more, and cook for 1 minute longer, or until the nuts turn a deep golden caramel color (but are not burned!).
Remove from the oven and let cool on the baking sheet. You can also break apart clumps when you pull them out to cool. They'll get crispy as they cool.
Once they're cool, sprinkle them on top of the caramel cheesecake cups. Store any extras in an airtight container for up to 2 weeks.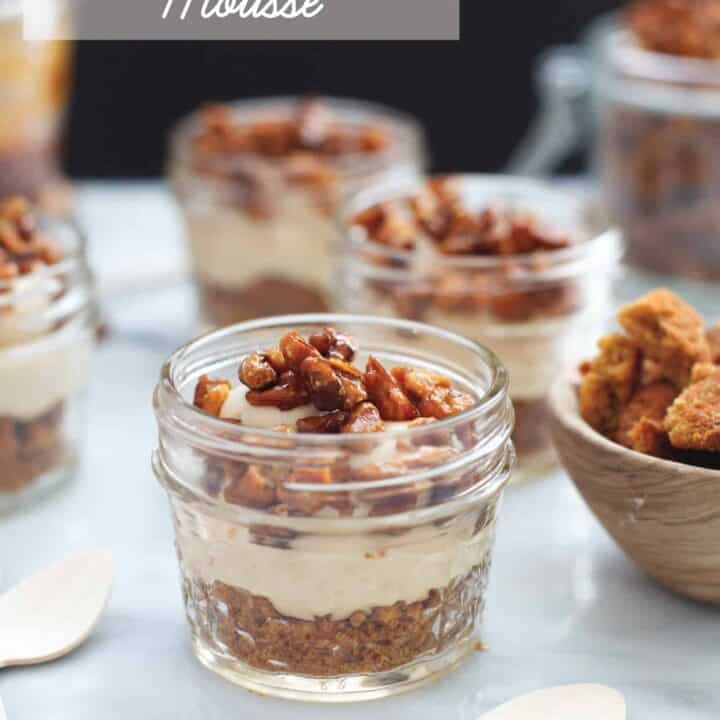 Salted Caramel Sauce
Ingredients
1 cup sugar
2 tablespoons water
200 ml (⅚ cup) heavy whipping cream
½ teaspoon pure vanilla extract (I use Rodelle organic vanilla extract)
1½ tablespoons unsalted butter, room temperature
½ teaspoon fleur de sel
Instructions
Prepare the butter and salt in a small bowl so you're ready when you need to add it.
In a small saucepan, heat the heavy whipping cream and vanilla over medium heat until it just begins to simmer. Reduce the heat to low to keep it warm while you prepare the rest.
Heat the sugar and water in a separate small saucepan over medium heat, stirring occasionally with a wooden spoon until the sugar dissolves and it starts to boil, about 4 minutes. (I recommend between a 1.5-quart and 2.5-quart saucepan; any larger and you'll have a hard time using the candy thermometer as it won't full submerge in the caramel).
Stop stirring and clip a candy thermometer to the edge of the pot. Let the sugar boil without stirring at all, until it reaches 305°F, about 3-5 minutes. While it boils, grab a clean wooden spoon or rinse and dry the one you were stirring with before. (If you don't have a candy thermometer, for caramel sauce, it's okay - just boil until the sugar begins to turn amber, making sure to keep a close eye on it so the sugar doesn't burn. As soon as it turns amber, it will quickly darken, so immediately add the butter to cool it down).
Add the butter and fleur de sel, and slowly stir in the warm whipping cream. Be careful, as it will react and sizzle quite a bit when you start adding the cream. The temperature will also drop when you add the cream.
When the sizzling calms down, return to medium low heat and cook, stirring constantly, for 3 minutes.
Immediately transfer to a heat-proof bowl. If the caramel solidifies at all while you wait to serve, don't worry, you can just pop it in the microwave for 15-20 seconds and it'll soften up again.
Store any leftovers in an air-tight container in the fridge for about a month.
Notes
This recipe makes more than you'll need, but you won't be able to completely submerge the thermometer if you reduce the recipe, so keep any leftovers in a air-tight container in the fridge to serve over ice cream or these apple pie puffs. Just remove from the fridge and microwave for 15-20 seconds to soften up before drizzling.