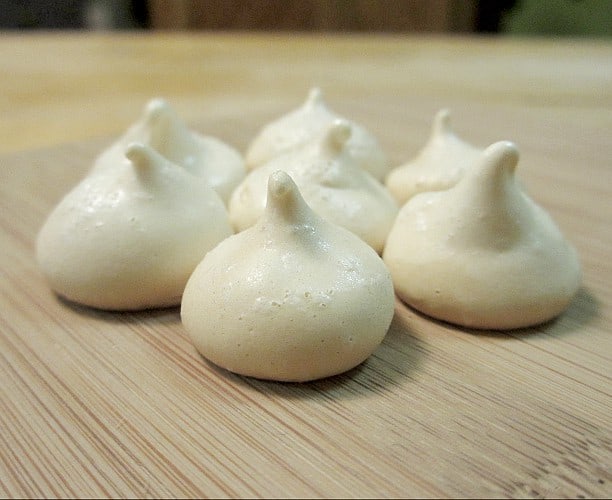 As a spooky Halloween treat last year, I made meringue cloud ghosts and brought some upstairs to my landlords. We have an exchange going; I share my homemade sugary sweets and Max, their middle school aged aspiring chef, brings me bites of his hand baked goods. I think Max's sweet tooth might be just as big as mine. When Max asked me for my meringue recipe, I knew it was a perfect snack to bake together. Most meringue recipes I've seen require baking for a very long time at a low temperature. Not only does my oven have a hard time maintaining a given temperature, I also don't have the patience or time to be baking for 5 or 6 hours.
To fix this predicament, I adapted a cookie recipe I've made before that only required baking the meringues for an hour. Baking meringues in an oven with a mind of its own is not an easy feat. I like to think my oven just gets REALLY excited when I put food in to bake, that it heats up anywhere from 50 to 100 degrees hotter than I've told it. I discovered this quirk when baking (and burning) a red velvet cake the week I moved in. My mom bought me an oven thermometer after that fateful incident. To ensure my oven doesn't burn whatever it is I'm trying to bake, I have to set a timer every five minutes to check the oven temperature. If it's too hot, I have to leave the oven door ajar to let some excitement heat escape. For meringues, this process is quite tedious, and runs the risk of slightly ill-cooked meringues, but my sweet tooth doesn't care how pretty they are as long as they're tasty...which they are.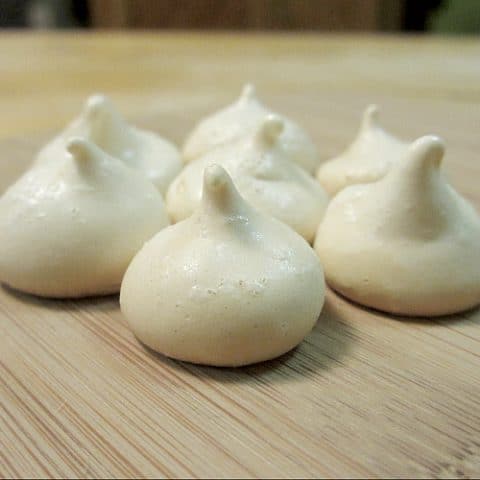 Meringue cloud cookies
Ingredients
2 large egg whites (¼ cup)
½ cup sugar
½ teaspoon vanilla extract
Instructions
Preheat oven to 225ºF
In a stand mixer. whisk egg whites on medium-low until frothy.
Increase the speed to medium and whisk in ¼ cup of sugar.
Continue whipping until soft peaks form.
In a continuous stream, add the remaining sugar and vanilla and whip until stiff, shiny peaks form.
Transfer meringue mixture to a pastry bag with a plain decorating tip (If you don't have pastry bags, cut the corner off of a gallon ziploc bag).
Pipe clouds onto parchment-lined baking sheet. The meringues will not grow very much, so do not worry about putting them close to each other.
Bake for 60 minutes, or until firm.
Eat immediately (or within a couple of days.