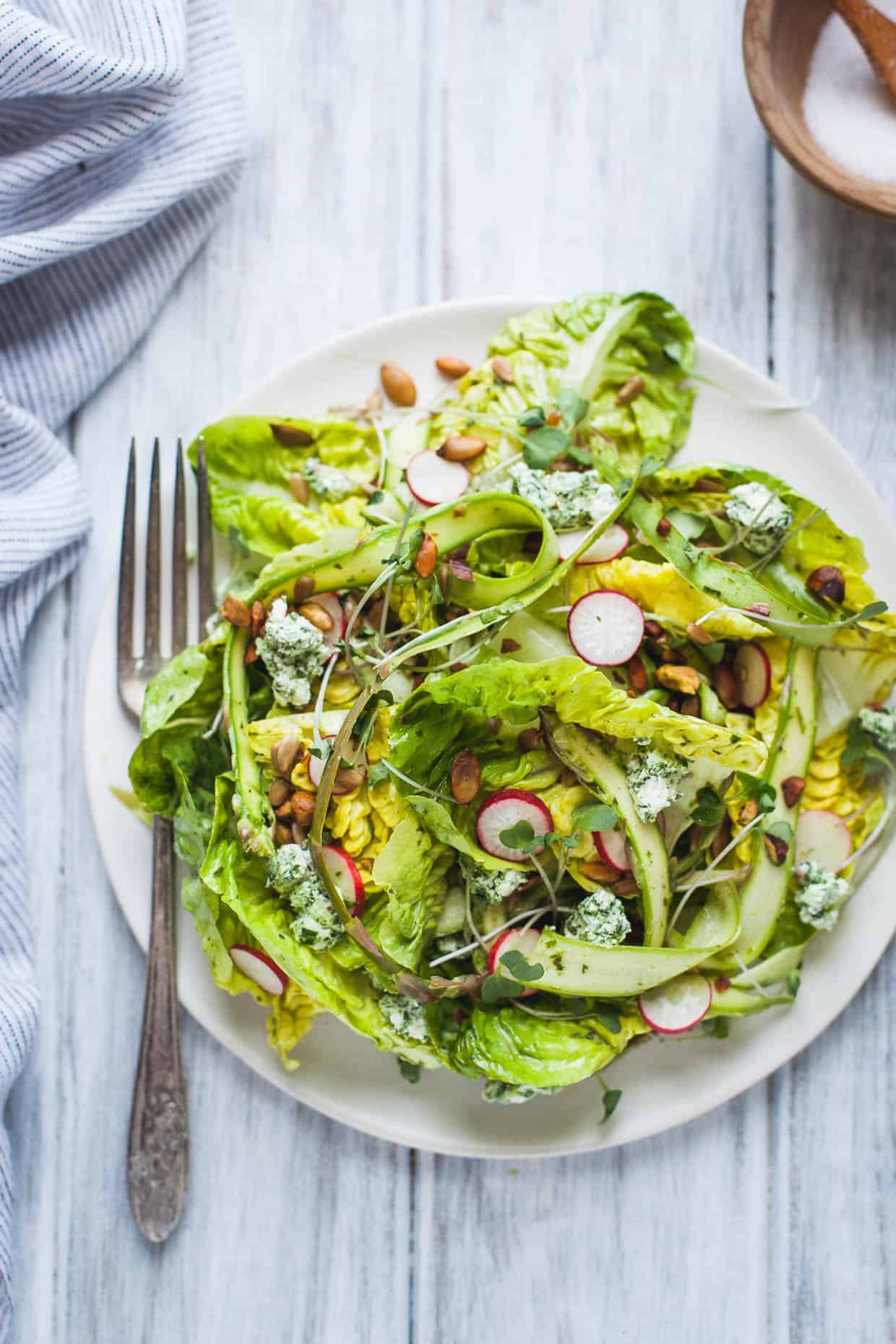 When my brother was a kid, he convinced my aunt that he was allergic to "green stuff"...aka salad. But he most definitely said "green stuff" which should have been a big red flag that he was full of crap. I'm not sure what's more unbelievable: the fact that my aunt bought his fib and let him get away without vegetables for the night, or that my brother later went on to become vegan for a several years.
The same 10-year old who would have sooner done all of the dishes for a month than take a bite of lettuce, would easily eat a whole bowl of this little gem spring salad nowadays.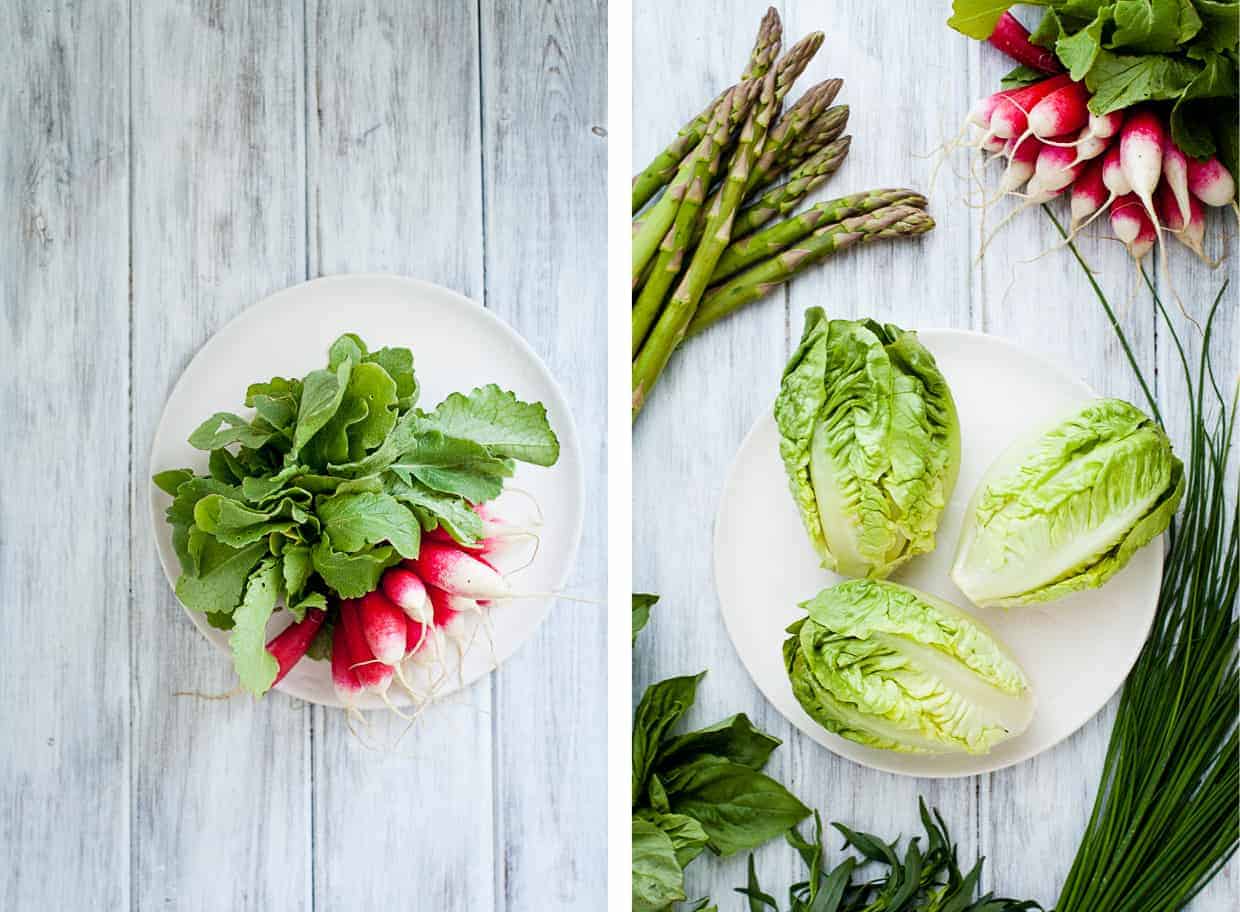 It's been almost two years since I shared a salad on this blog. And it's not because I'm allergic to green stuff. To put that in perspective, I've shared 54 dessert recipes since I posted my last salad. This ratio would explain a few things. Namely, why all my pants seem to have shrunk and why my cat's suddenly taken a liking to kneading my belly at night.
Fortunately this isn't actually an accurate representation of my salad to sweet ratio - I promise. And this isn't like last week when I promised my dentist I floss regularly either - I really have been eating my greens!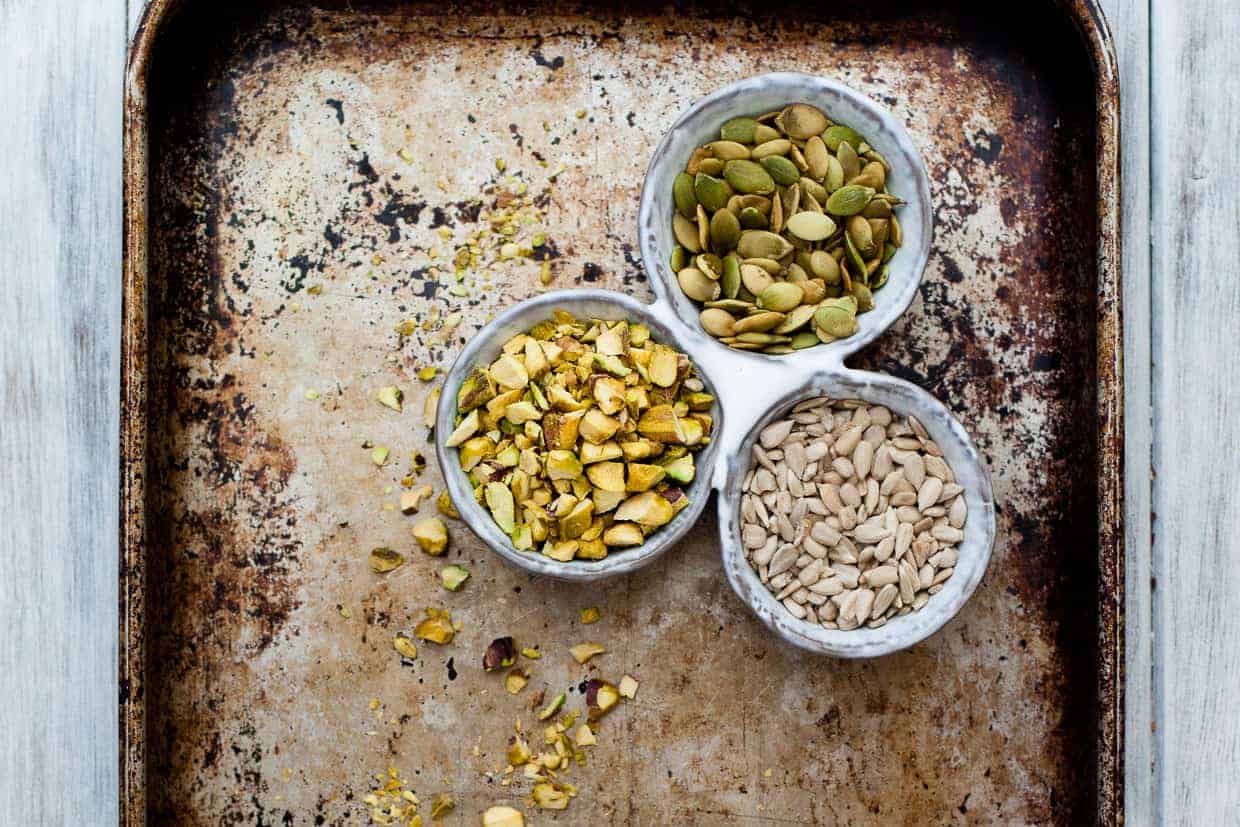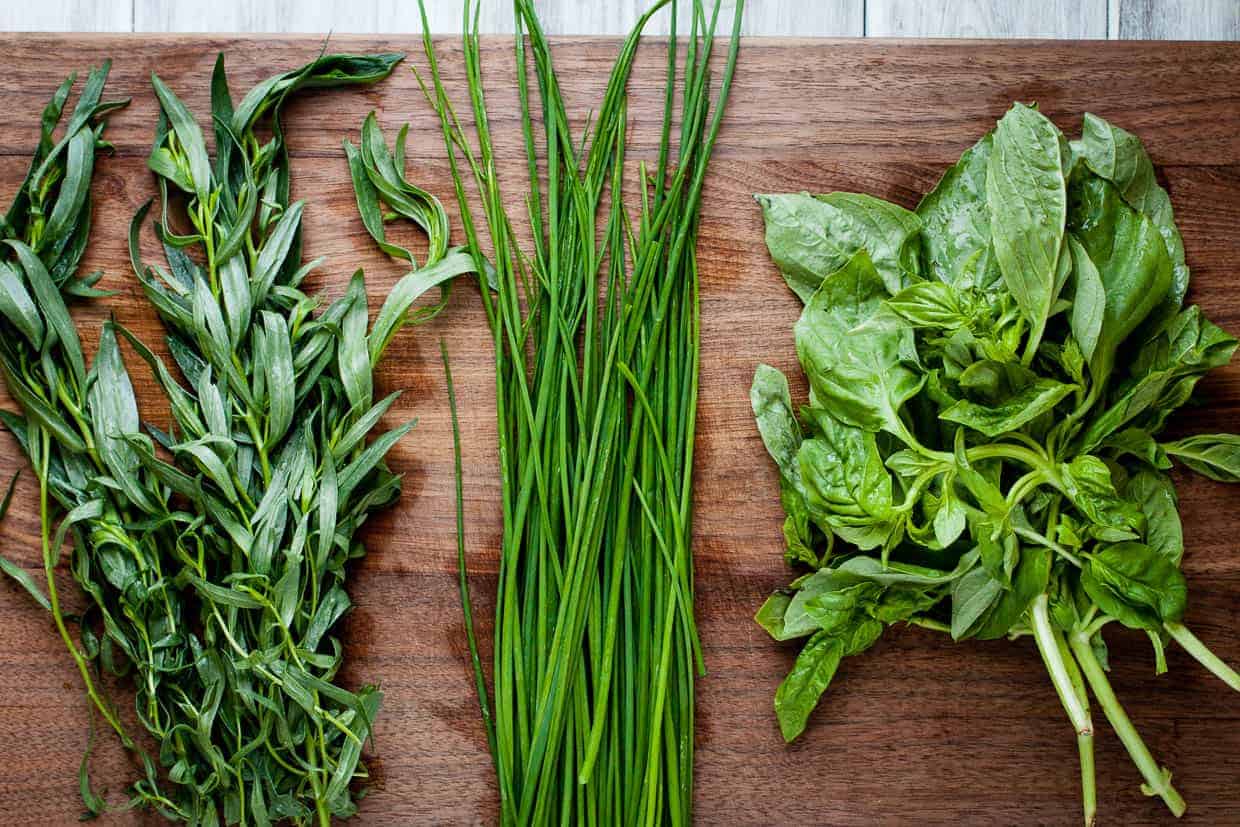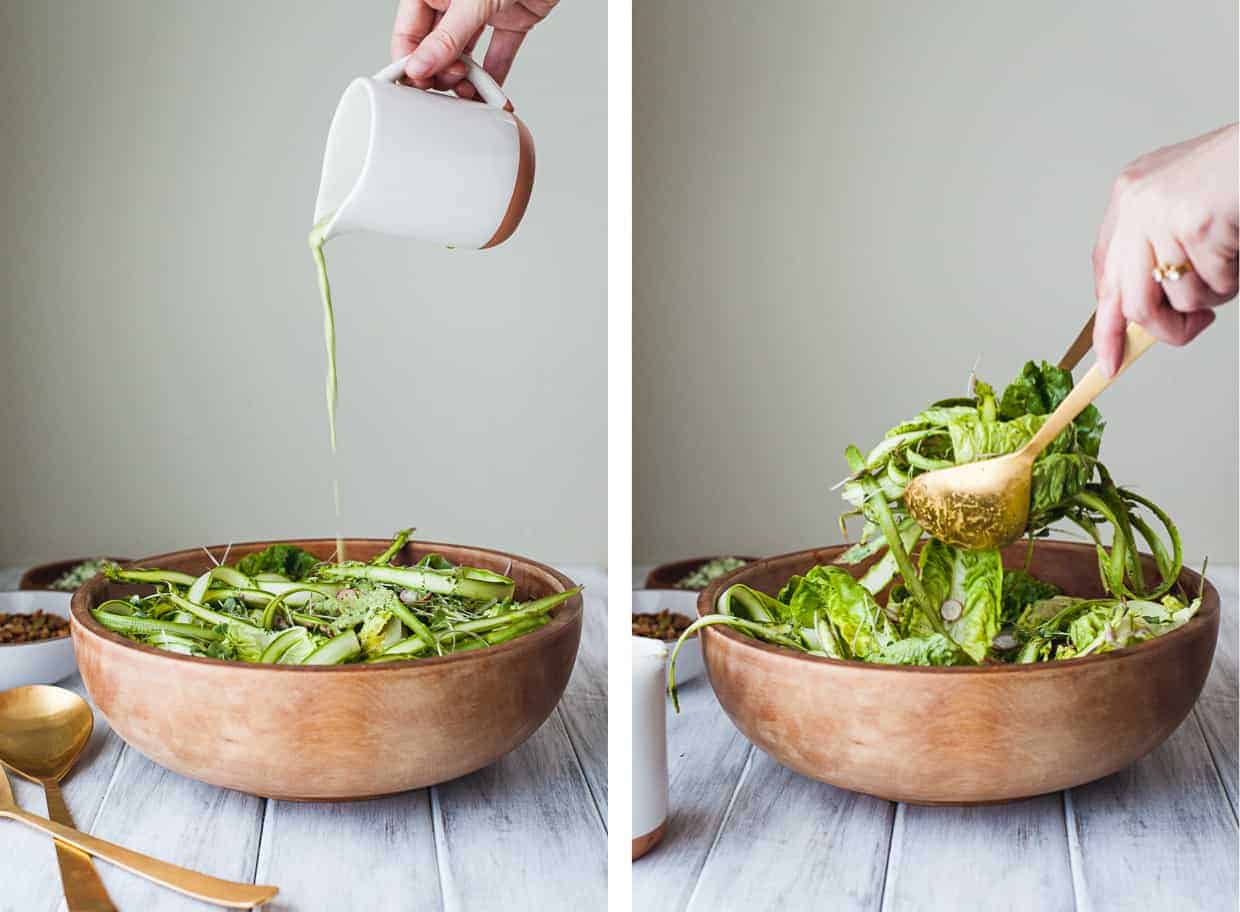 My mom just passed down my late grandma's wedding salad bowl, so I'm finally getting around to sharing one of my so-called salads publicly. A bowl like this deserves a salad in its honor. The antique bowl came to me showing its age through a severely chipped finish that needed some TLC. Lucas sanded the surface just in time for me to pile in this spring salad the second he handed it to me...without washing the bowl. In my defense, he handed me a sexy smooth salad bowl that didn't appear to have sawdust on it, so we're probably not going to die.
We definitely still ate the salad. That's how awesome it is - you'll look past any trace of sawdust for another bite.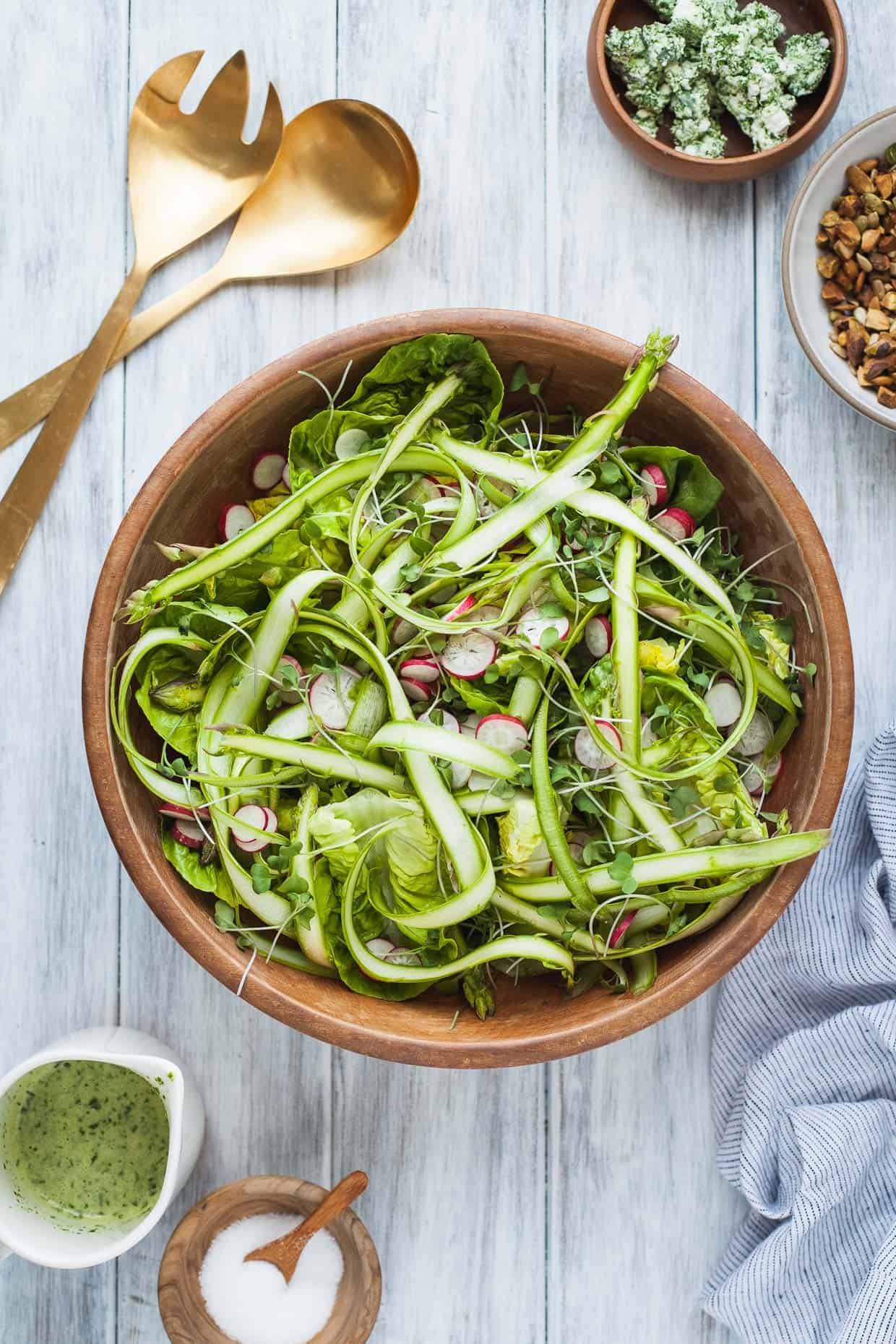 This green-on-green salad pulls herb-y inspiration from Alanna's Green Goddess Sandwiches (somebody get me a napkin to wipe up my drool). In true green goddess form, this salad version is heavy-handed on the greens, but with a lightened up herby vinaigrette that's only ever-so-slightly creamy.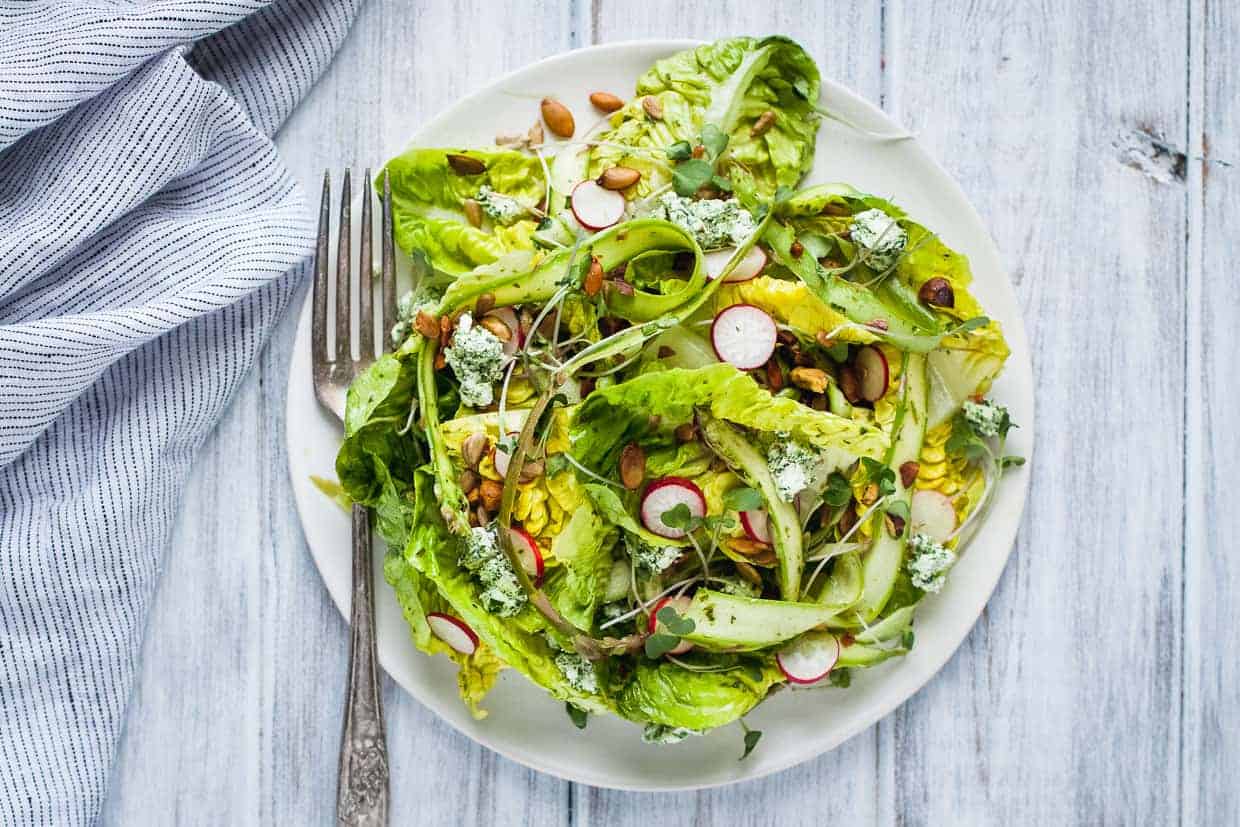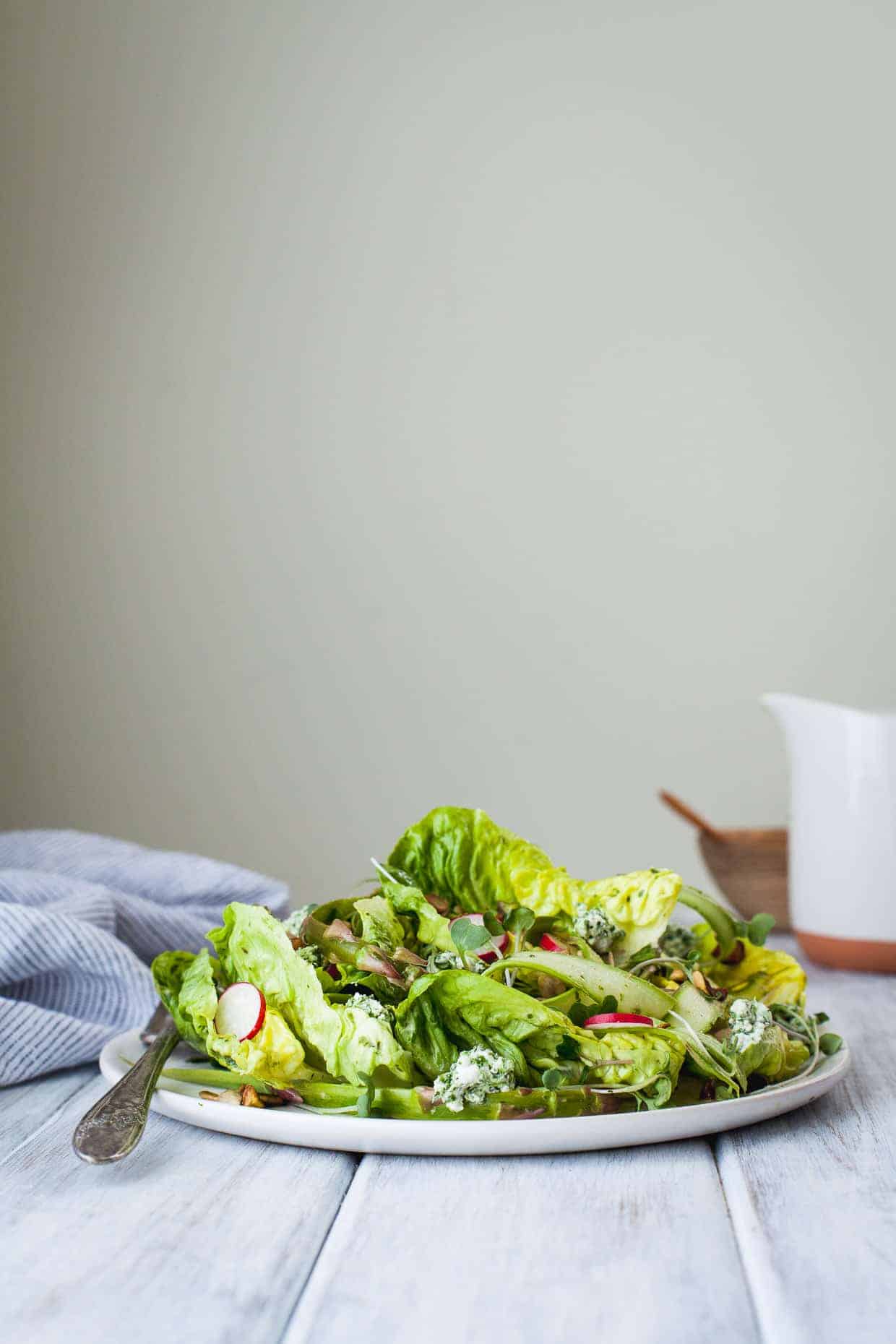 Nine times out ten, we consume salad with chopsticks in our house (seriously, try it - it's so much easier that trying to stab soggy greens), but this sweet little gem lettuce has enough crispy oomph to be picked up with a fork. Radishes are tossed in for spice and texture, roasted nuts and seeds give a salty toasty crunch, tangled ribbons of silky shaved asparagus add a grassy note, and with pockets of creamy herbed goat cheese, this salad is my new favorite spring combo.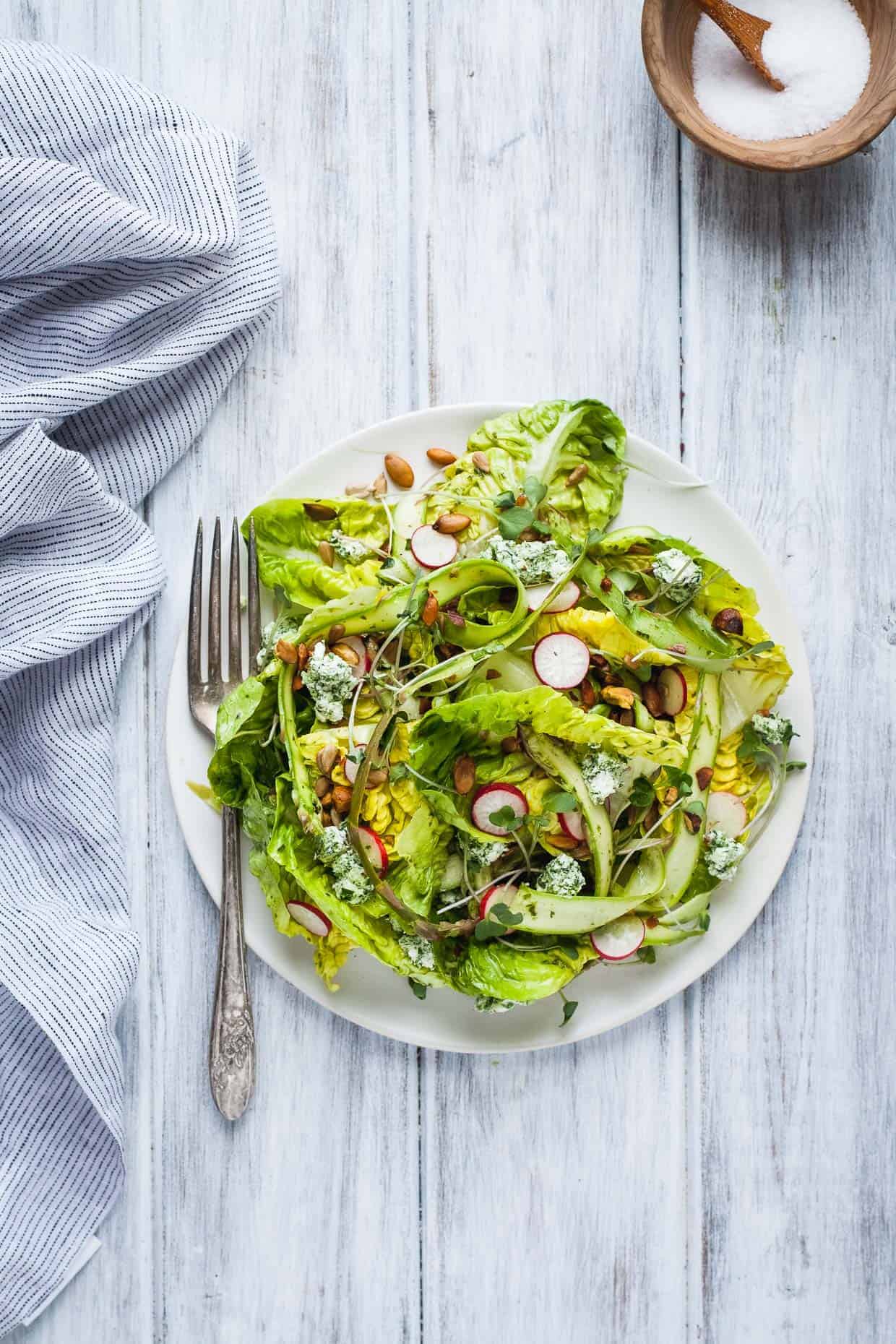 Thanks for reading Snixy Kitchen! To stay up on what's coming out of my kitchen,  follow me on Facebook, Instagram, Twitter, Bloglovin', or Pinterest, or subscribe via e-mail to get new recipes right to your inbox.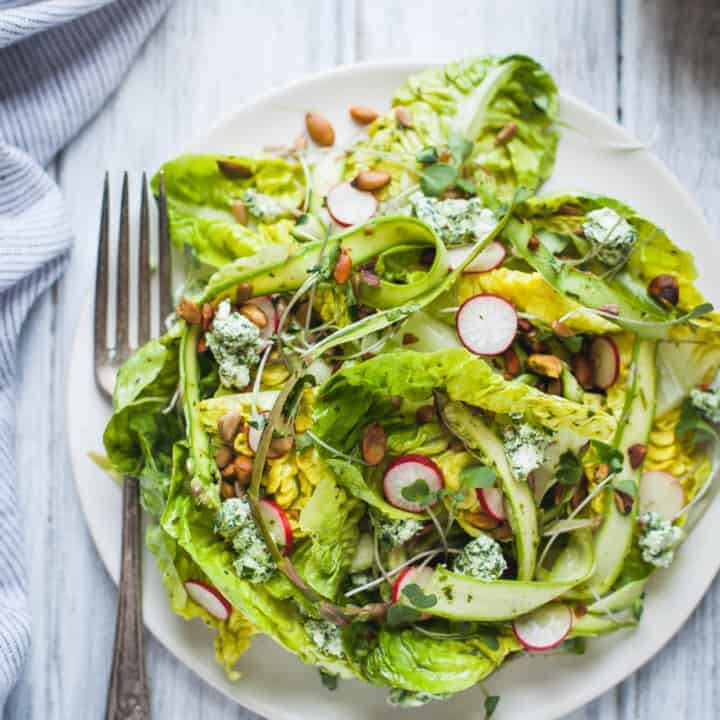 Little Gem Spring Salad with Toasted Seeds and Herbed Goat Cheese
Ingredients
For Salad
6 small heads of little gem lettuce, leaves ripped apart
1lb asparagus spears, bottoms trimmed off and spears shaved with a vegetable peeler (*See note)
1 cup sliced English breakfast radishes (from about 10-15 small radishes)
⅓ cup broccoli sprouts (or other sprouts)
3 tablespoons sunflower seeds
3 tablespoons pepitas (pumpkin seeds)
¼ cup chopped pistachios
¼ teaspoon olive oil
¼ teaspoon salt
Herbed Goat Cheese
1 tablespoon packed fresh basil leaves
1 tablespoon chopped fresh chives
½ tablespoon packed fresh tarragon leaves
2 ounces goat cheese (chèvre)
Herbed Vinaigrette
2 tablespoons packed fresh basil leaves
2 tablespoons chopped fresh chives
1 tablespoon packed fresh tarragon leaves
¼ cup + 1 tablespoon extra virgin olive oil
2 tablespoons good-quality mayonnaise
¼ cup white wine vinegar
Juice of 1 lemon
1½ tablespoon honey
Salt & pepper, to taste (a couple of pinches should do)
Instructions
Preheat the oven to 350°F.
Layer the little gem leaves, shaved asparagus, radishes, and sprouts in a large salad bowl.
Toss the sunflower seeds, pepitas, and pistachio with olive oil and salt and spread them out in a thin layer on a baking sheet. Toast in the oven until lightly browned and fragrant for 10 minutes, tossing the nuts halfway through baking.
Meanwhile, prepare the herbed goat cheese. Pulse 1 tablespoon basil, 1 tablespoon chives, and ½ tablespoon tarragon in a food processor until finely minced. Add the goat cheese and pulse a few times to incorporate. Use a spatula to remove it from the food processor and set in the refrigerator while you prepare the vinaigrette.
Without cleaning the food processor, pulse the remaining 2 tablespoons basil, 2 tablespoons chives, and 1 tablespoon tarragon in a food processor until finely minced. Add the remaining dressing ingredients and purée until smooth and creamy.
Toss the dressing with the greens in the bowl. Top with toasted nuts and dot with herbed goat cheese. Serve!
Notes
*Depending on your peeler, each spear of asparagus will yield only 3-5 shavings. Chop and reserve the rest of the spear for a later recipe. Stir fry, anybody?