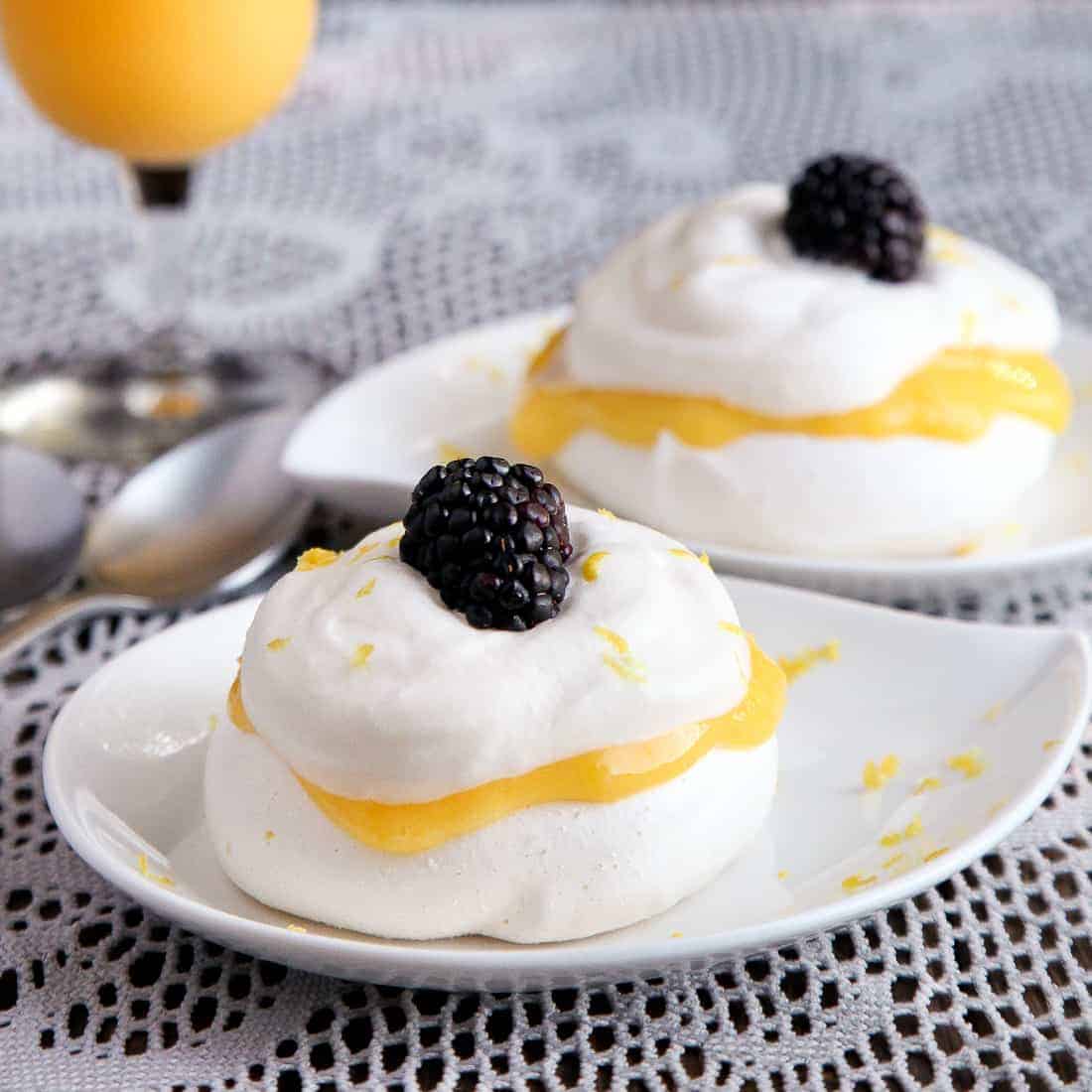 A year ago, I told you about our anniversary day of cooking where Lucas and I each secretly and simultaneously prepared a dish to serve for our 2-year anniversary meal. I whipped up citrus tuna tartare with pear chips and lavender lemon cupcakes, while Lucas concocted tender chocolate stout braised short ribs, and we had such a blast that we decided to make this top-secret feast an annual tradition. To be continued when our anniversary changes after the June wedding.
This time around we split up the courses to compensate for last year's lack of oven coordination that sent me knocking on our landlords' door begging to borrow their oven. Add to that the fact that this took place before we moved last week and two chefs in our previous pint-sized kitchen was one too many. So, Lucas on the entrée and I on appetizers and dessert. Dessert. My speciality. And arguably the most important meal of the day.
While peeling the dozens hundreds of magnets off our fridge while moving, I wondered WHOSE brilliant idea it was to put poetry magnets up and down the side of the fridge 3 years ago? Oh, and more importantly, I discovered a fortune I stuck up there after our last Chinese take-out that read "Treat yourself: Dessert three nights a week is okay." The sentiment is there, but three times a week?! Shoot - try 7. Like I said: most important meal. It's possible this mentality is hindering my pre-wedding get fit fast goals, but...WORTH IT.
Since dessert a vital part of my diet, I'll share our anniversary dinner courses with you in reverse starting with this lemon cream pavlova. Unfortunately for you, we gobbled up Lucas's Chinese-style steamed fish before photographing it (made to replicate one of his favorite dishes from his many trips to China). Coming soon are the anniversary appetizers. Yes, I realize our anniversary was February 6th or 7th (ehh...sometime around then) and it's now mid-March and almost my birthday. I wanted to build the suspense up for a month after I alluded to the day of cooking on Facebook. Read: Busy bride-to-be.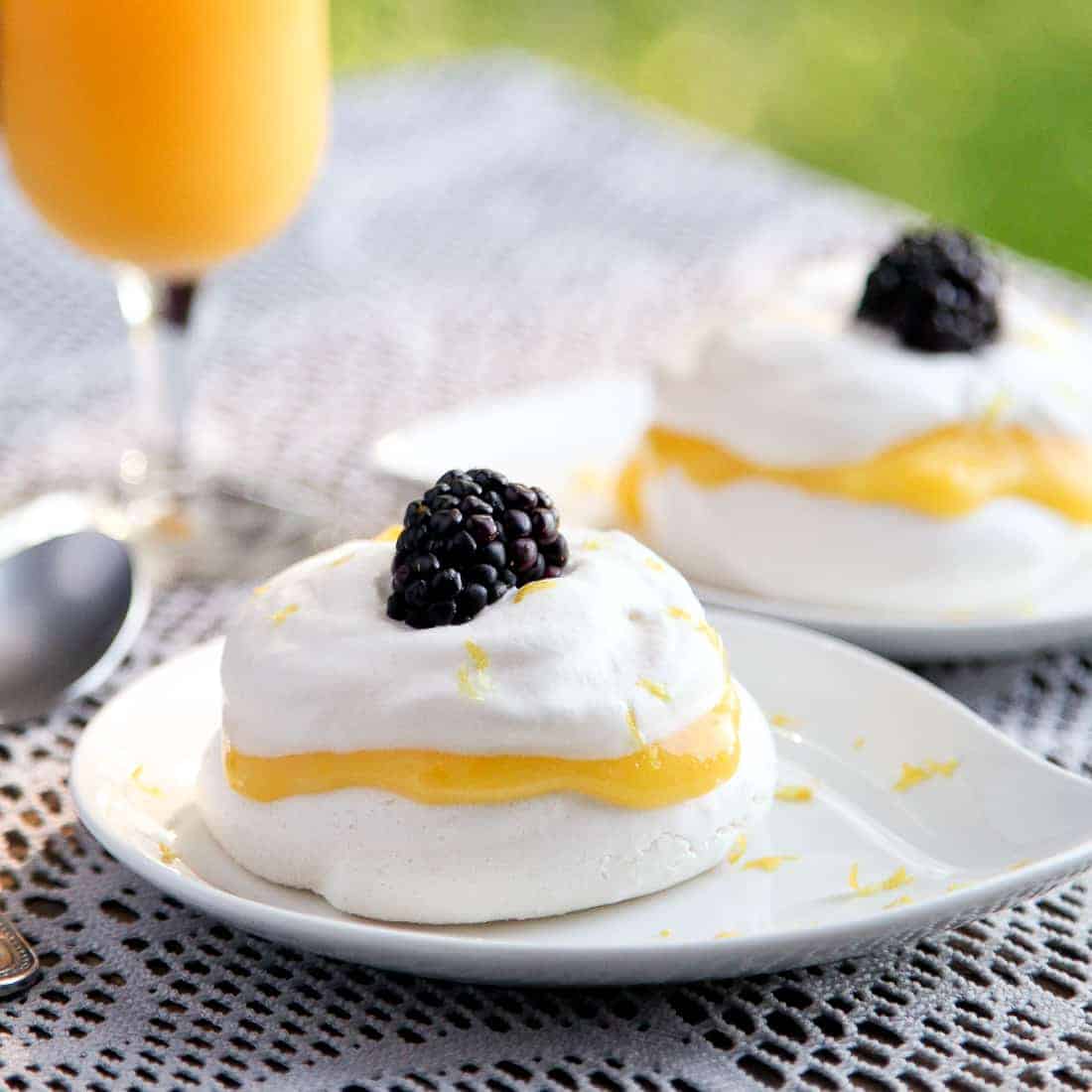 Fun fact: Since adjusting my diet to reduce gluten a couple of months ago, my headache frequency and intensity has also decreased. To test the theory, I've eaten a few nibbles of homemade gluten-filled confections. Maybe more than a nibble, but who's keeping track? They were the kind of treats worth getting a migraine over. The first was a fluffy red velvet cupcake to test out wedding cake flavors. The second was some killer pizza that I'm pretty sure had aspartame or nicotine or some other super addicting additive - nothing else could explain how awesome this pizza tasted or how many slices I shoveled into my mouth. And the most recent was when I baked oatmeal cookies for all of our new neighbors on Sunday and I...just...couldn't...help...myself.
Guess what happened? I woke up with a massive headache the next day...every single time. How could something so delicious be so evil for me? I'm still in denial - need more experiments to corroborate the findings, but it seems gluten is a lead suspect in my 15-year battle with headaches.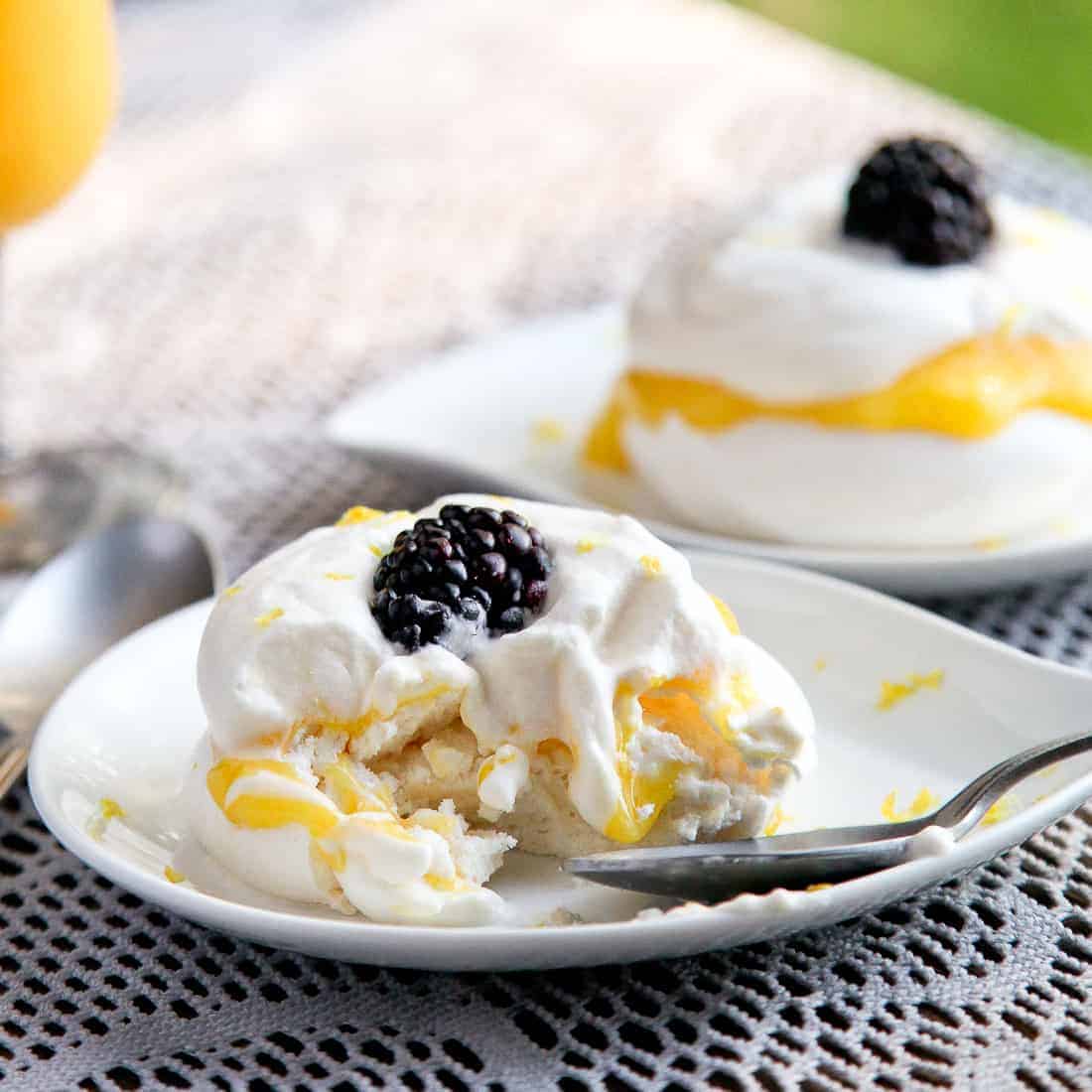 You know what doesn't have gluten in it? This sweet, creamy, crunchy, fluffy, everythinggoodaboutdessert lemon cream pavlova. That's what. And it's so delicious that you won't even notice that it's gluten-free. You'll be too busy licking your plate clean. Wondering how you can make them in bulk to eat night after night. I'm thanking my lucky stars that this lemon cream pie inspired dessert is gluten-free. Now I know what to do with the ripened meyer lemon tree in our new backyard! A light and airy baked meringue base spread with rich lemon curd and topped with a dollop of vanilla whipped cream. Smooth, decadent, and a harmonious balance between tart and sweet.
Lemon cream pavlova (Adapted from Matchbox Kitchen)
Makes 8-10 pavlovas
Lemon curd*
1 tablespoon lemon zest
½ cup lemon juice
1 egg
2 egg yolks
½ cup sugar
2 tablespoons butter, cut into 4 pieces.
Prepare a double broiler, or fit a heat proof bowl over a large pot filled with an inch of simmering water.
In the heat proof bowl combine the lemon zest, lemon juice, egg, egg yolks, and sugar.
Cook, whisking CONTINUOUSLY (so you don't wind up with sweetened scrambled eggs), until mixture thickens enough to cover the back of a spoon.
Remove bowl from heat, and add butter, stirring to combine.
Strain curd through a fine metal strainer to remove any (almost undetectable) pieces of cooked egg.
Cover with plastic wrap, so that it touches the top of the curd to keep it from developing a skin.
Refrigerate until chilled.
*Note, this will make more lemon curd than you need, but you can save the rest for another sweet project. Or serve it over ice cream.
Pavolva or Meringue
¾ cup sugar
2¼ teaspoons corn starch
3 egg whites
¼ teaspoon cream of tartar
Smidgen of salt
1 teaspoon pure vanilla extract
Preheat the oven to 250° F.
Mix together the corn starch and sugar in a small bowl and set aside.
Using a paper towel, wipe the bowl of a stand mixer with a tiny bit of vinegar to remove any fats or oils that could keep the egg whites from fluffing up.
In the bowl of the stand mixer, combine the egg whites, cream of tartar, and salt on medium-low speed until soft peaks form.
With the speed on medium-high, slowly pour in the sugar and corn starch mixture in a continuous stream.
Increasing the speed to high, add the vanilla extract, and whip until stiff, shiny peaks form.
Use a spatula to dollop the whipped meringue onto a parchment-lined baking sheet, making about 6-8 mounds. The meringues will not grow very much, so do not worry about putting them close to each other.
Reduce the oven to 225° F and bake for about an hour, or until the meringues are dry to the touch, but not browned or cracked.
Let cool on a cooling rack before serving.
Whipped Cream
½ cup whipping cream
¼ teaspoon vanilla
¼ cup powdered sugar
With stand mixer or by hand, beat heavy whipping cream until it begins to froth, a couple of minutes.
Add the vanilla and powdered sugar, and continue beating until soft peaks form.
To assemble, spread a couple of tablespoons of chilled lemon curd over each cooled meringue, then top with a dollop of whipped cream and serve (optional: top with berries).