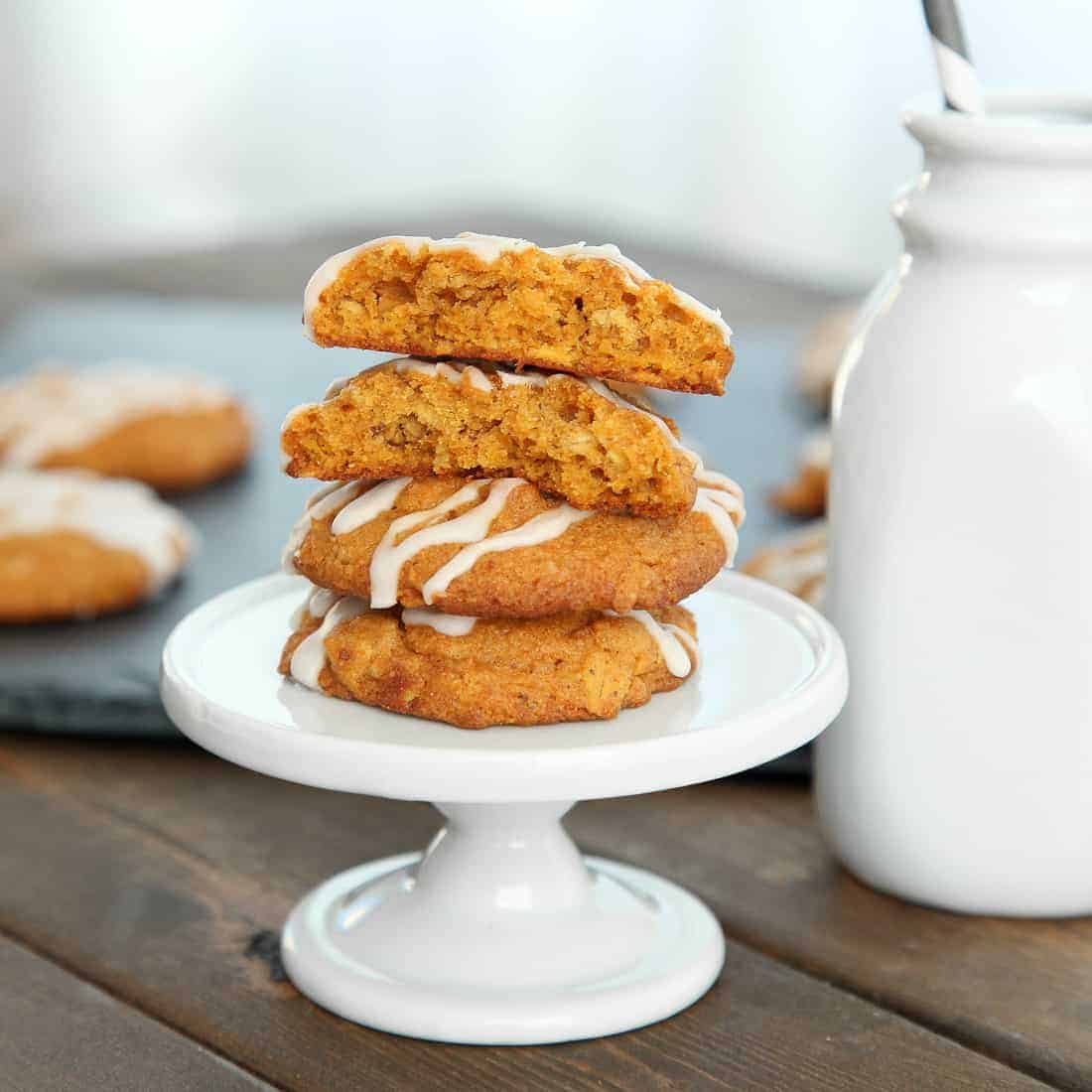 This week was a big first for me. My first time passing out candy to little people dressed in bizarre outfits. Earlier Halloween day, I was on the phone with my mom when my brother called her to ask how much candy he needed to buy – would he get trick or treaters? How many? Costco-sized bag? Turns out this year was also his first time, and I laughed at him for calling mom. Truth be told, I was just as nervous; how many pieces do I give each child? Do I put it in their bag or do I let them pick? Do I say anything to them? Yes, I may have googled "protocol for passing out candy on Halloween."
Guys, nothing useful will pop-up there – we all know not to pass out homemade goods (these pumpkin spiced cookies were a tempting thought though). When the interwebs failed me, I turned to my friend Nicole. 1-2 pieces per child, put it in their bag, comment on their costume. Got it. Oh, I should add that I decided to throw on my half of our couples "double rainbow" costume from last year. There's nothing scary about an adult female dressed as a rainbow, right?
Easier said than done! First of all, unless a kid is dressed as one of the many standard superheroes or princesses, there's immense pressure on the candy-giver not to misidentify the  costume. "Oh what a cute…butterfly? Ladybug? Ummm…..what are you?" After 10 or so doorbell rings, I'd gotten my groove – if you can't identify off-hand, just say "Ooo nice costume! Happy Halloween!"  Generic. Simple. Gets the job done. Then I open the door to a pint-sized girl no older than 8 wearing a silver and pink wig, dressed as…something from the future? Here's what happened next:
Me: Ooo! Cool hair! Happy Halloween (I put some candy in her bucket) Her: I know what you are dressed as! Me: Oh yeah? What am I? Her: A rainbow! Me: You're right! Happy Halloween! (She turns to walk back off my porch toward her dad as I'm shutting my door) Her (in full volume to her dad, while my door is still open): THAT was weird! 
Who knew a first grader could make you feel incompetent at the easiest job of the year in one fell swoop? Apparently I had good reason to be nervous – I'm terrible at passing out candy. And even more terrible at making small talk with children. I'm much better at having full, rich, meaningful conversations with my cats, where I can invent their responses and they obviously think I'm witty and brilliant all the time. Speaking of my kitties - I miss them! They started their month-long stay at Grandma's house last weekend (more on the reason below), and it's a bit ridiculous how blue we got without the purry fluff balls.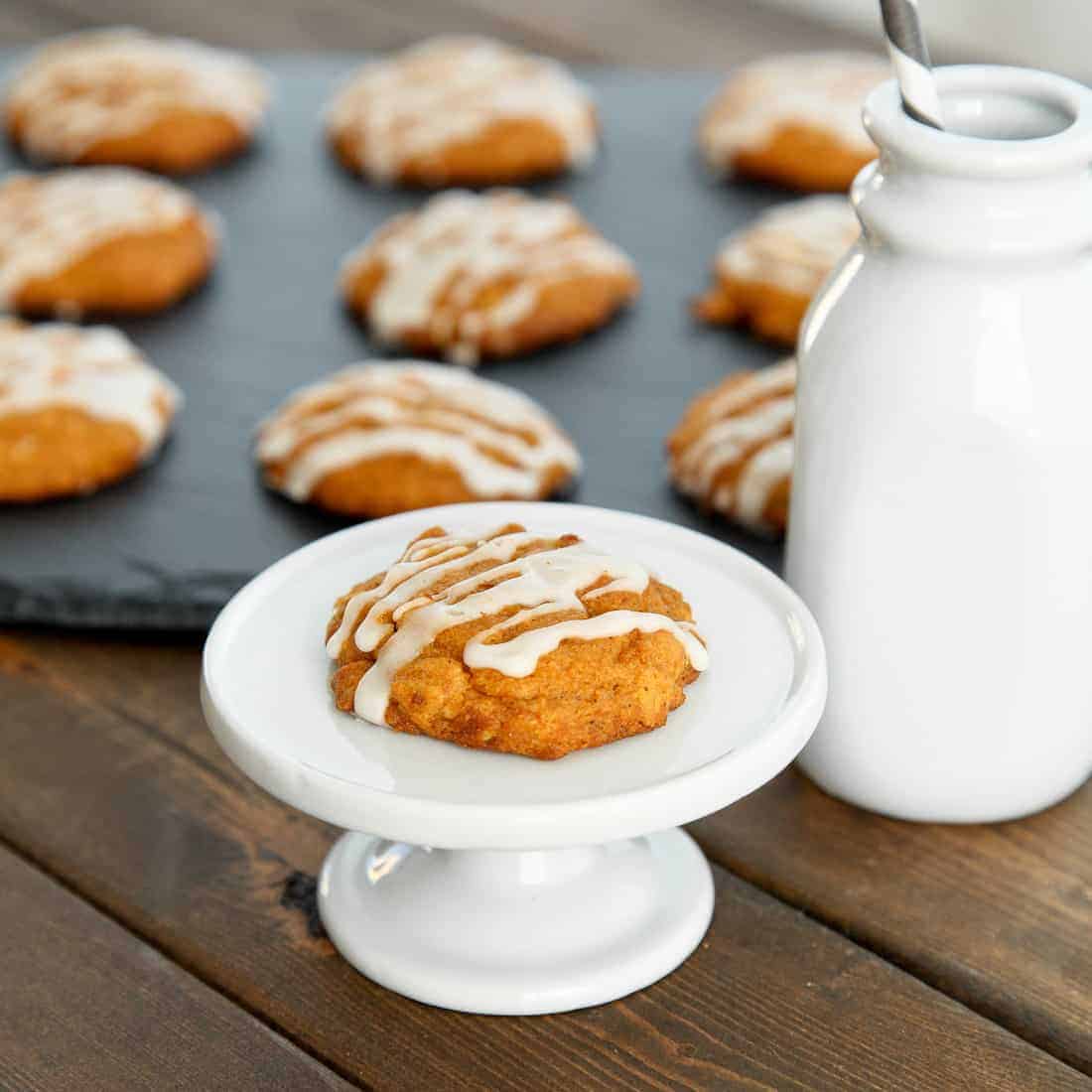 A moment that calls for comfort snacks. This cookie is one of those treats – if you didn't feel like fall was here yet, one bite of these cookies and you'll be transported to your cozy living room with a toasty fireplace while Christmas carols play in the background. I assume your mom, like mine, starts the Christmas music well before Thanksgiving ;) (KIDDING, MOM!). These cookies are everything you want in a cookie, AND they're gluten-free. Say what?! I know I'm a little late to the pumpkin fest, bringing this recipe after you've sacrificed all of your pumpkins to jack-o-lanterns, but go swipe a can of pumpkin to whip up a batch of these to-die-for morsels. They're soft and fluffy (a rare trait for gluten-free cookies) and spiced like pumpkin pie with a drizzle of homemade sugary vanilla icing to act as a creamy sweetener a la whipped cream.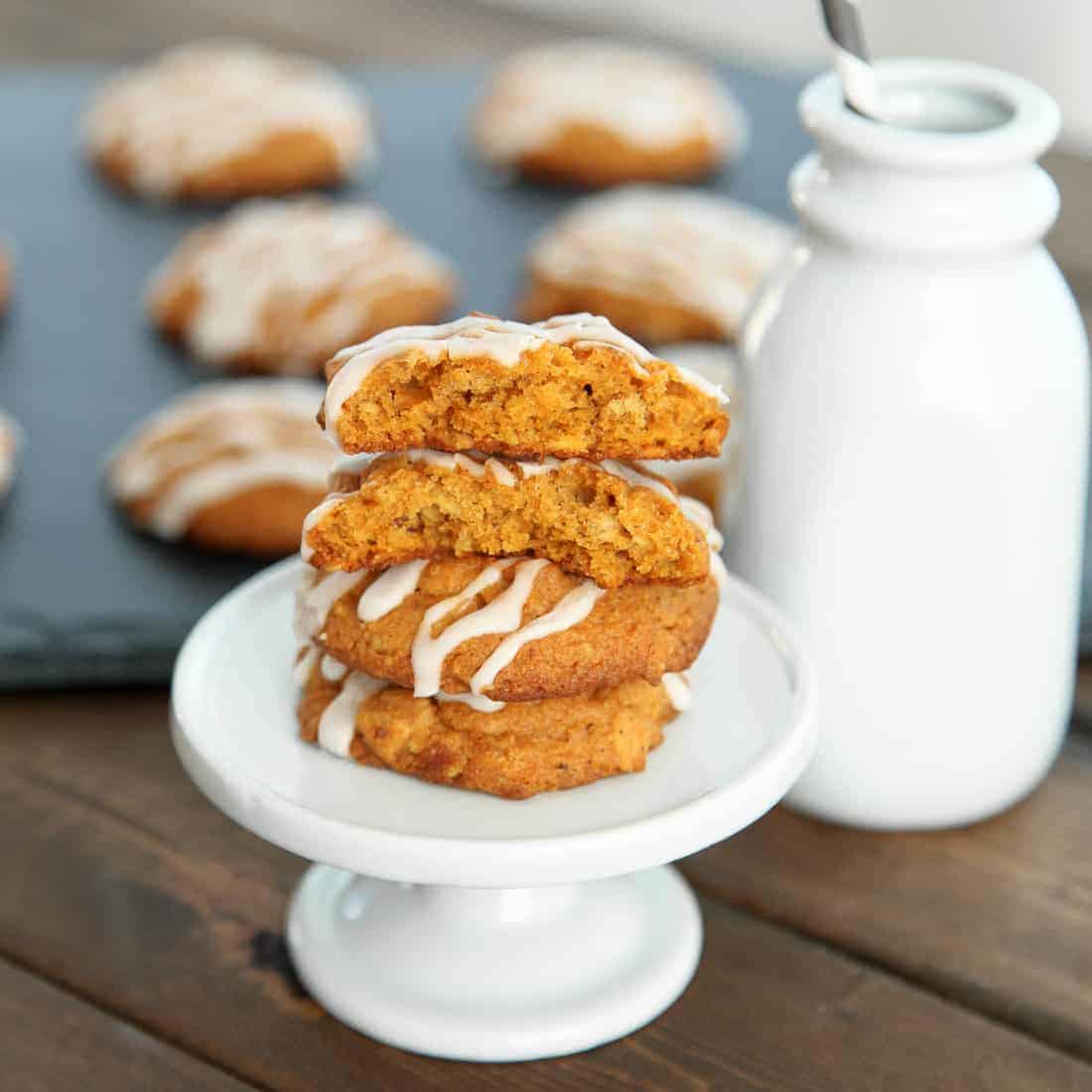 So why are the cats staying with my mom for a month? I thought you'd never ask. We're currently on our 14-hour flight to Taipei (and later Tokyo & Kyoto) for our once-in-a-lifetime honeymoon(!!!).While we haven't planned out much of an itinerary, we do have most of the places we're eating figured out in a handy spreadsheet with accompanying handmade food map of each city. It's safe to say we'll spend much of our trip eating. I'm curious to find out if the pumpkin craze has hit Japan. Check me out on Instagram to follow pictures from our trip!
(This is only partially a lie now because by the time I finally found a minute to post this, we've been in Taipei for 2 days...and have eaten more food in those 2 days than I ate all of last week. Pics to come! :)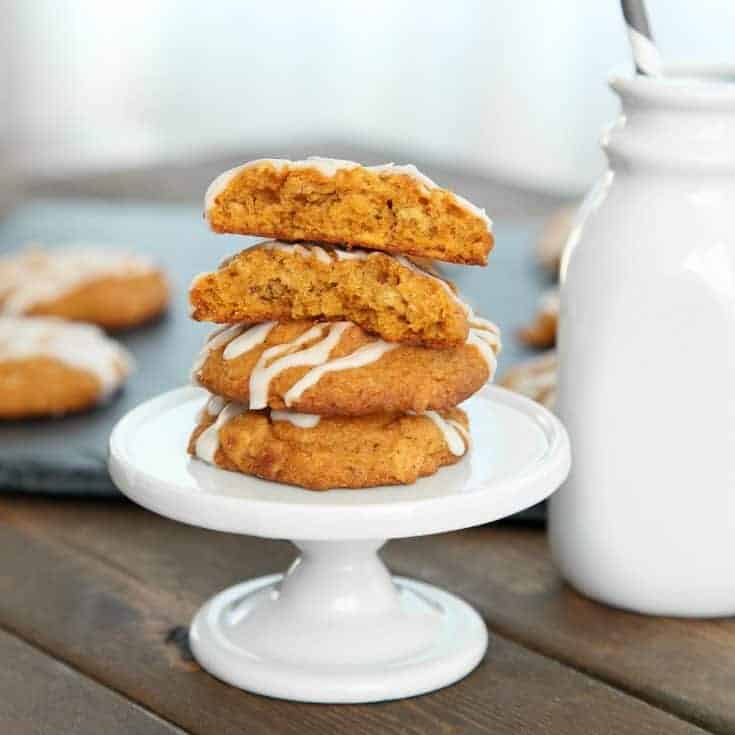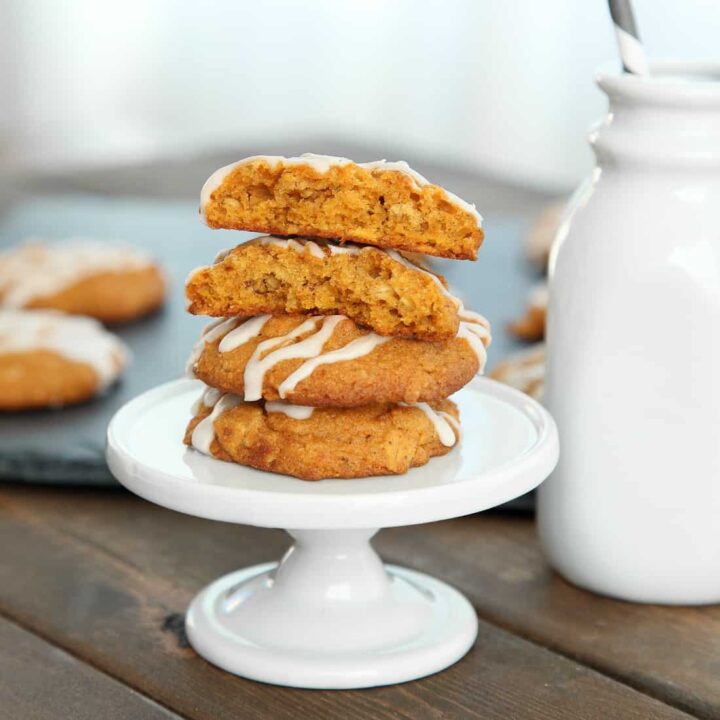 Iced oatmeal pumpkin spiced cookies (gluten-free)
Ingredients
Pumpkin cookies
½ cup gluten-free oats
1 teaspoon baking soda
1 teaspoon baking powder
1 teaspoon ground cinnamon
½ teaspoon ground nutmeg
½ teaspoon salt
1½ cups sugar
½ cup unsalted butter, softened
1 cup pure pumpkin purée
1 large egg
1 teaspoon vanilla extract
Vanilla icing
2 cups sifted powdered sugar
3 tablespoons non-fat milk
1 tablespoon unsalted butter, melted
1 teaspoon vanilla extract
Instructions
Preheat the oven to 350° F. Line baking sheets with parchment paper.
Whisk together gluten-free flour, oats, baking soda, baking powder, cinnamon, nutmeg and salt in a medium bowl.
In the bowl of a stand mixer, beat the sugar and butter until light and fluffy.
Mix in pumpkin, egg, and vanilla until smooth.
Slowly add the dry ingredients, mixing until just combined.
Drop tablespoon-sized balls of cookie dough 2 inches apart on a baking sheet.
Bake for 14 - 16 minutes or until lightly golden brown and edges are firm (mine took just 14 minutes).
Let cool for a couple of minutes, then transfer to wire racks to cool completely.
For the glaze, combine all of the ingredients in small bowl and whisk until smooth.
Drizzle glaze over cooled cookies and serve. Cookies are best served same-day. If you plan to keep the cookies over night, glaze them right before serving or they'll turn a bit too soft and cake-like.