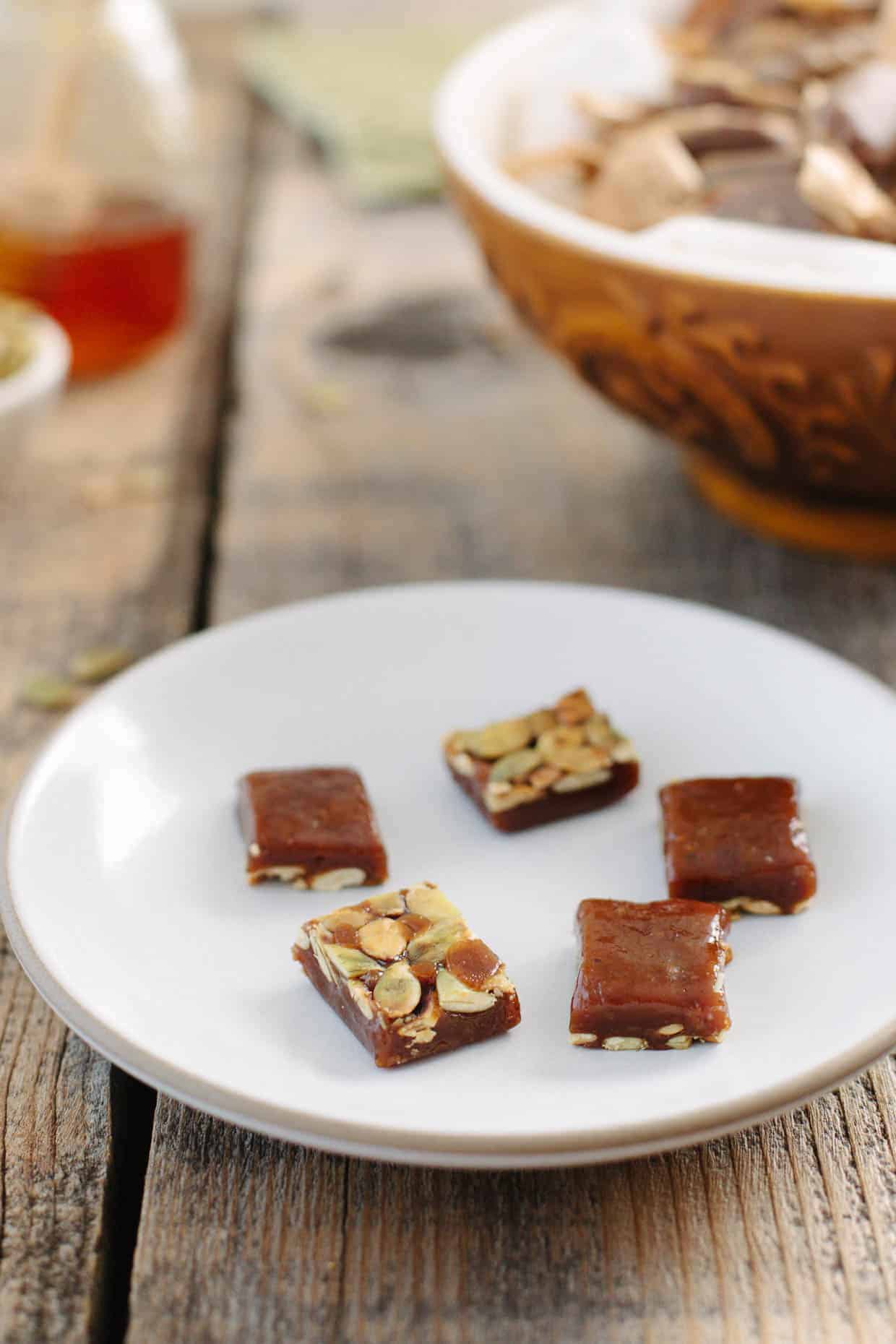 With Lucas extending his China trip to finalize tooling at the factory, I've been home alone for nearly two weeks. Just me, two extra snuggly kitties, a pound of honey pumpkin caramels, and season one of Transparent (Have you discovered this show yet? I've renamed Amazon Prime Instant Video: "Procrastination Station"). Also, should I be telling a bunch of strangers on the internet that I'm home alone? Potential creepers, I'm here with TWO FEROCIOUS HUNTER CATS who I'm pretty sure file their nails into razor blades while I sleep.
By "hunt" I mean: stare at the wall and mew until a human handles the situation. They're basically arachnid sighthounds. Without a husband to do to the exterminating, last week's prey nearly killed me. No joke. Aioli spotted the largest, furriest, scariest house spider crawling on the ceiling right above the couch. Surely coming to get me.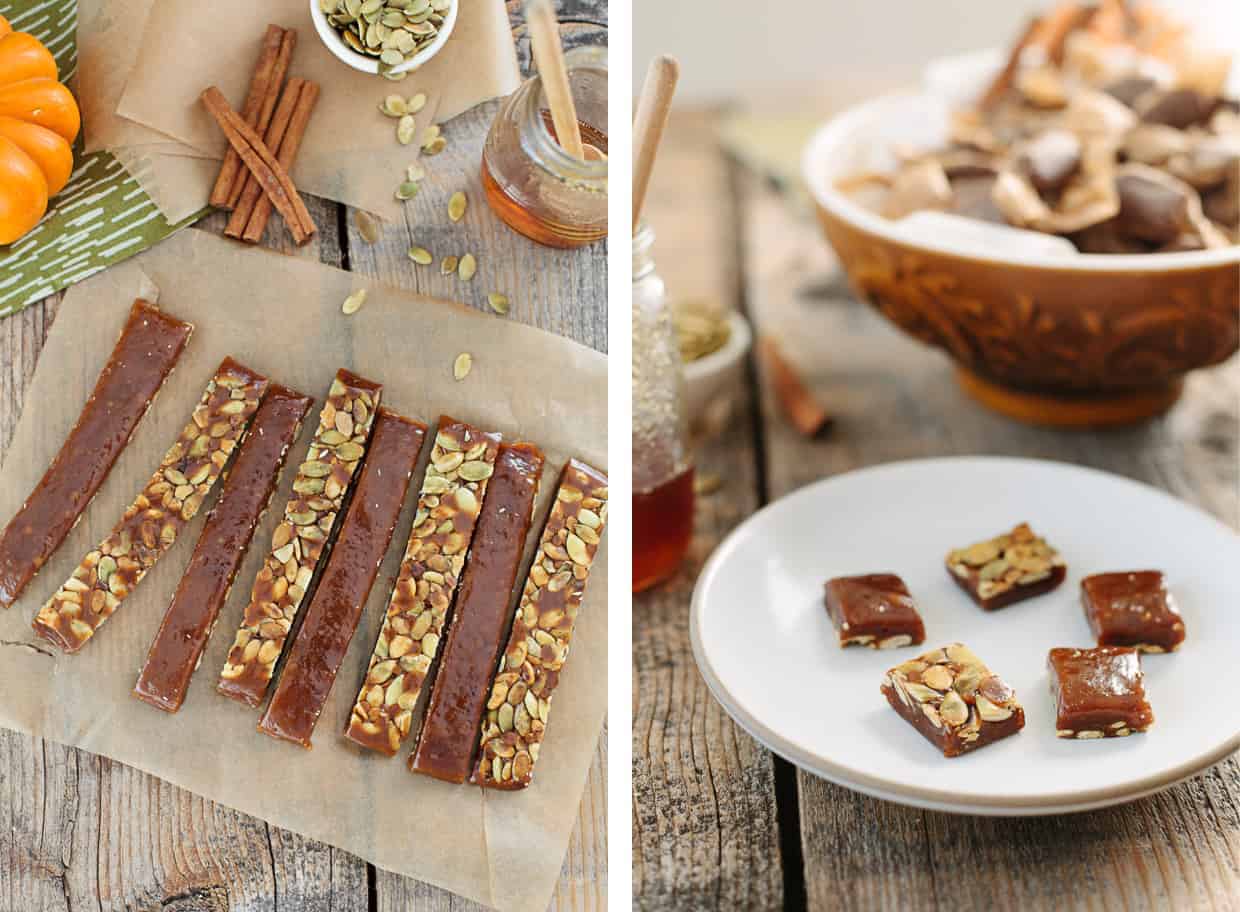 Can we just pause for a second to acknowledge that the ceiling is just about the most terrifying place to try to kill a spider? One wrong move and you'll have a spider falling on your face. Or worse: into the blankets on the couch, where you can now never comfortably sit again.
But I'm almost thirty, I can handle a measly goodluck spider. So I pulled our flimsy plastic bar stool into the living room and worked up the courage to attack the spider with a crumpled paper towel. I smushed, turned, and squished, certain the spider was done for. When I pulled the paper towel away, the very-much-alive beast rappelled directly toward me, now obviously pissed off. The momentum from my gut-wrenching squeal teetered the bar stool out from under me and I went crashing to the hardwood floor. Note: Get sturdier bar stools.
In case you're wondering, I eventually captured the spider. Though he put up a good fight, using scare tactics to inflict tennis ball-sized battle wounds on my knee and the top of my foot in the process. Plus dark purple bruises on the inside of my impacted toes. Well played, spider.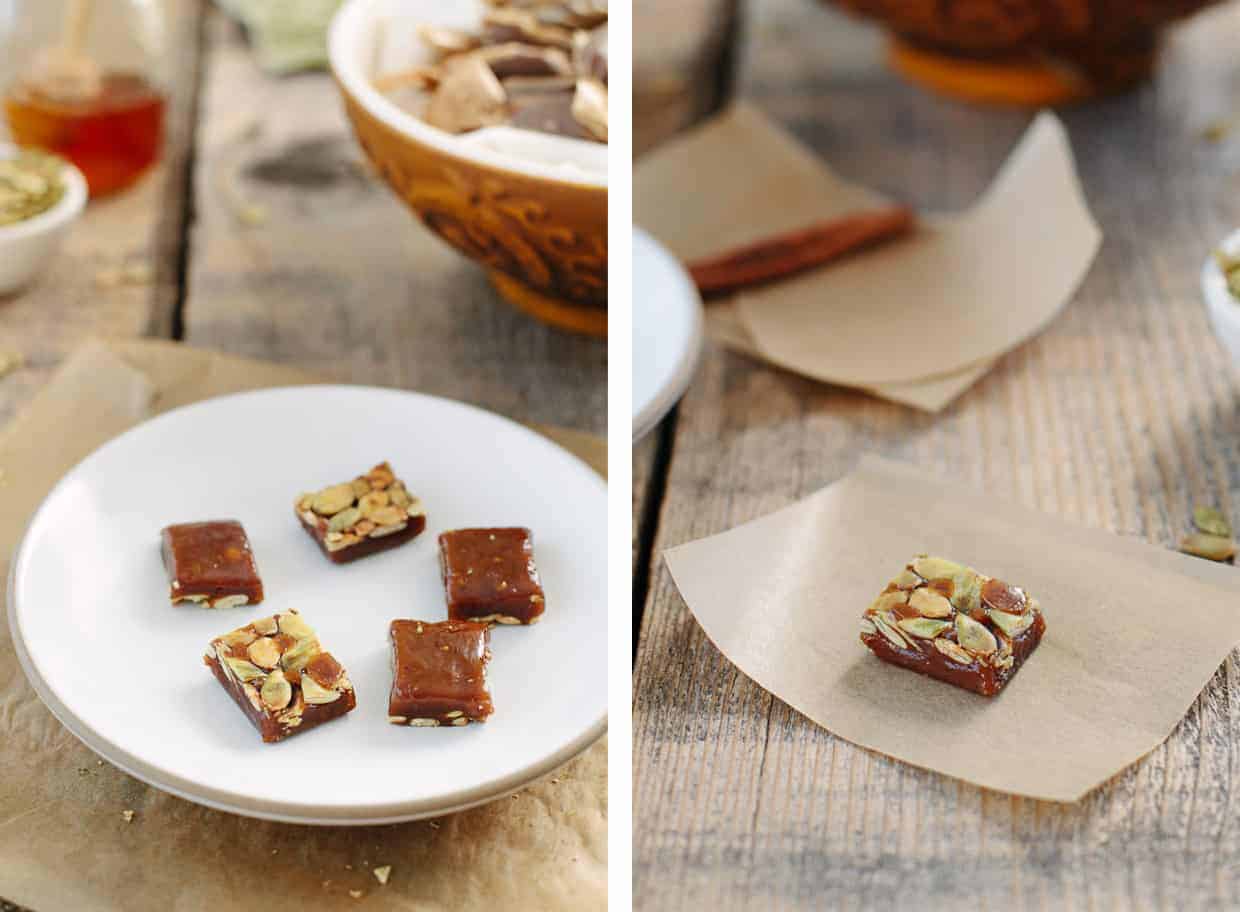 While we're on the subject of spiders: a couple of years ago, my dad and I were in the backyard doing some work on my childhood playhouse when I spotted a black widow on the wood he was sawing, about 2 feet from me. He insisted I stay put, while he took a large swing of his hammer, with utmost confidence he wouldn't miss. When something bounced off the wood and hit my leg, you can't even imagine the pitch of my scream.
Guts, guys. BLACK WIDOW GUTS. On my bare leg.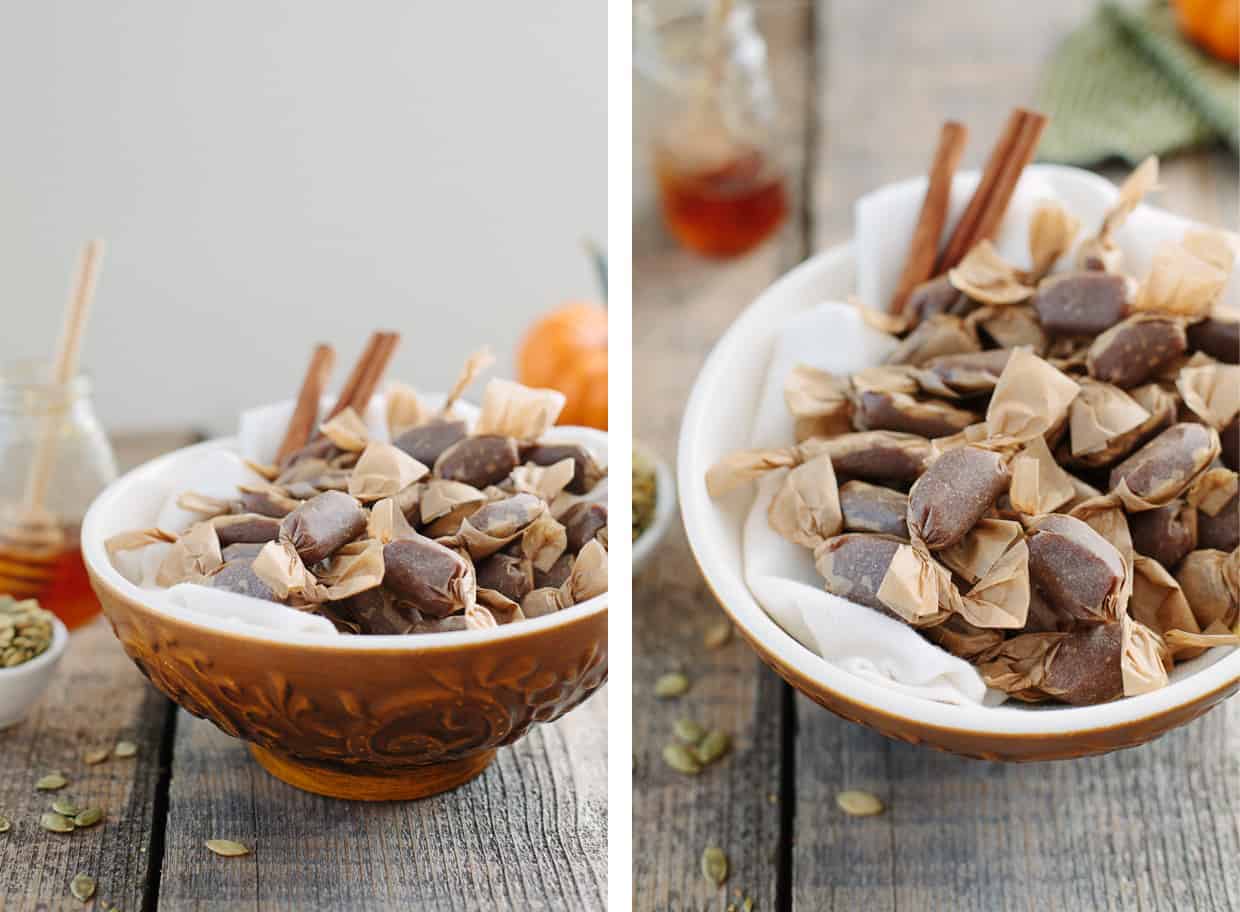 These honey pumpkin caramels have absolutely nothing to do with spiders (thankfully), but if you've recently had a run-in, a pound of these caramels will surely ease the stress. Each caramel is filled with robust honey sweetness wrapped up with a hint of spiced pumpkin pie and a dollop of cream. A fancy version of a traditional nut & chew, with crispy pumpkin seeds subbing in for nuts. Honey caramels are smoother with much deeper flavor than their traditional corn syrup counterparts. Use clover honey for a more subtle flavor or organic wildflower honey if you want to give the honey its time in the spotlight.
I'm most definitely wrapping up a combo pack of these honey pumpkin caramels and some salted honey lavender caramels to give as Halloween treats to my friends. Oh how I wish I could pass them out to trick-or-treaters.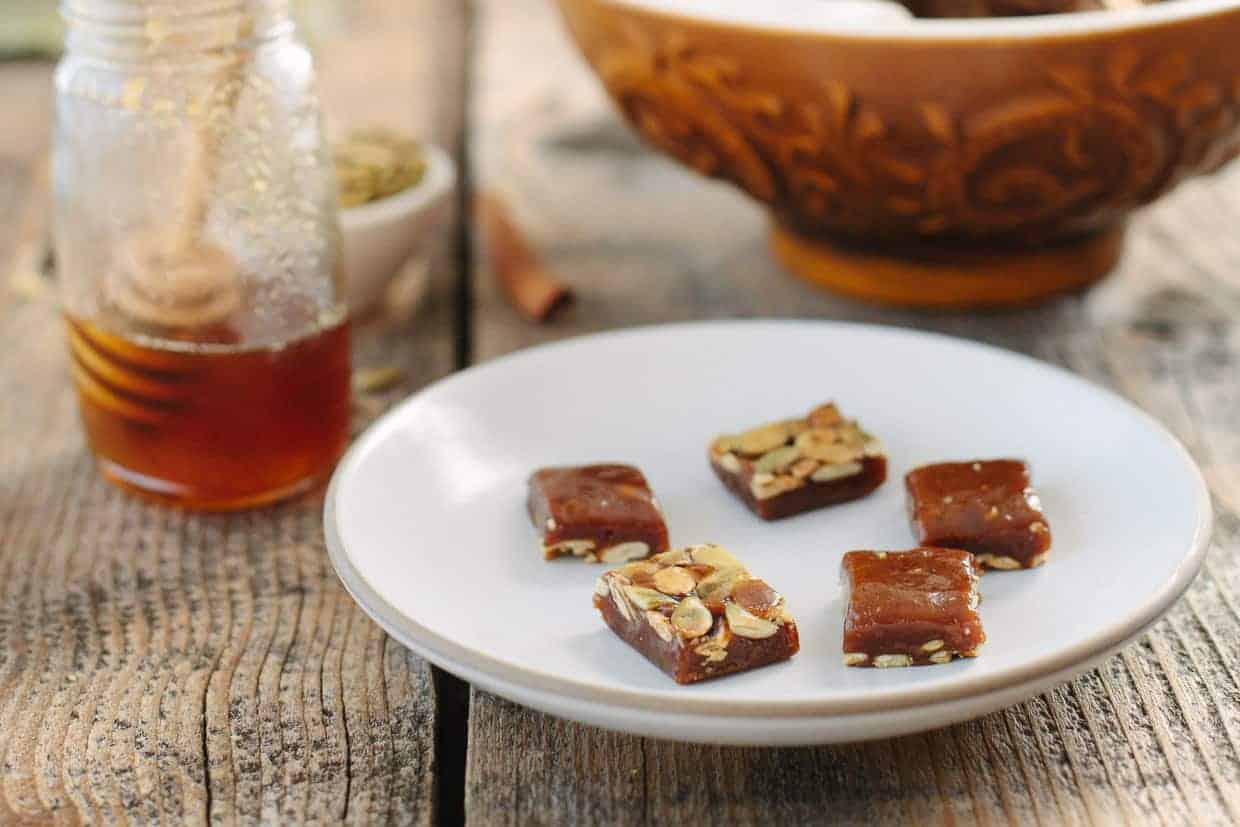 Got a sweet tooth? Try these other caramel flavors:
Salted Honey Lavender Caramels
Honey Matcha Green Tea Caramels
Thanks for reading Snixy Kitchen! To stay up on what's coming out of my kitchen, follow me on Facebook, Instagram, Twitter, Bloglovin', or Pinterest, or subscribe via e-mail to get new recipes right to your inbox.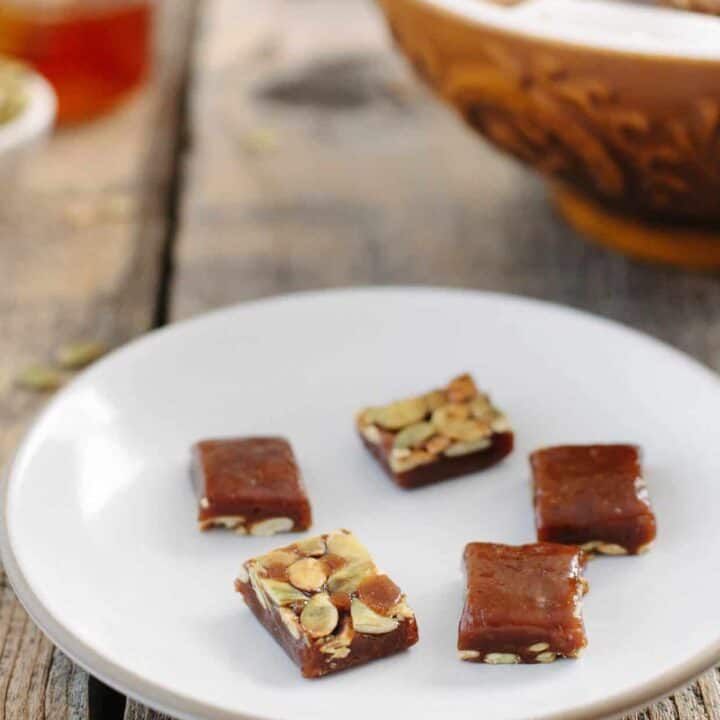 Honey pumpkin caramels
Ingredients
¼ cup pepitas, lightly toasted
½ cup heavy whipping cream
¼ cup + 2 tablespoons pumpkin purée (not pumpkin pie filling)
¾ cups sugar
¼ cup honey
1 tablespoon water
1½ tablespoons butter
¾ teaspoon cinnamon
¼ teaspoon nutmeg
¼ teaspoon ginger
pinch cloves
¼ teaspoon salt
Instructions
Read all the directions before getting started. Stuff happens so fast and you want to make sure you're prepared for what's coming next. The times in this recipe are estimates and will depend on the size of pot you're using, so use the temperatures as your guide. Also, make sure that you have an accurate candy thermometer - 5 degrees off will drastically change the texture of your caramels from soft and chewy to more like sugar daddies. Here's a handy article on how to calibrate your candy thermometer.
Butter a glass 8x4-inch baking pan and line the bottom and edges with parchment paper, cutting slits in the corners so it will lay flat. Butter the parchment paper, as well. (I used a glass bread dish for one batch and another smaller baking dish for a second batch. If you only have an 8x8 pan, double the recipe.) Evenly sprinkle the pepitas on the bottom of the glass baking pan.
Measure out the butter, cinnamon, nutmeg, ginger, cloves, and salt into a small bowl and set aside.
In a small saucepan, heat the heavy whipping cream, pumpkin purée and vanilla over medium heat until it just begins to simmer. Reduce the heat to low to keep it warm while you prepare the rest.
With just a couple of stirs, combine the sugar, honey, and water in a separate small saucepan.
Clip a candy thermometer to the edge of the pot. Without stirring, heat the sugar, honey, and water over medium heat, until the sugar dissolves and it starts to boil, about 4 minutes. (I recommend between a 1.5-quart and 2.5-quart saucepan; any larger and you'll have a hard time using the candy thermometer as it won't full submerge in the caramel).
Let the sugar boil without stirring at all, until it turns amber reaches 302°F, about 3-5 minutes (watch carefully so that it does not burn - if your thermometer is off, it might burn before it hits this point). While it boils, grab a clean wooden spoon or rinse and dry the one you were stirring with before.
Quickly add the butter and spices, and slowly stir in the warm whipping cream. Be careful, as it will react and sizzle quite a bit when you start adding the cream. The temperature will also drop when you add the cream.
Keeping a close eye on the thermometer, continue stirring until the temperature is back up to 248°F. Immediately remove the pan from the heat and pour the hot caramel into the prepared pan. DO NOT scrape the pot or you'll end up with crispy bits in your caramels.
Set the pan on a wire rack to cool until fully set, at least 5 hours (I kept mine overnight).
Use the parchment paper to pull the caramel sheet out of the pan and place it on a pastry board or cutting board. Peel the parchment paper down from the edges. With a large sharp knife, cut the caramels into bite-sized squares and wrap them tightly in wax paper or parchment paper squares. The caramels will keep wrapped for up to one month.