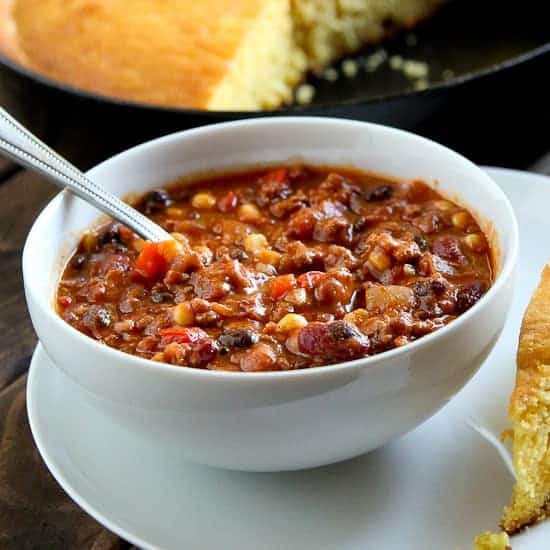 With my head buried in books for the past few weeks I've had very little time to emerge to make dinner. On days when I decide crackers aren't substantial enough for a full meal, I usually heat up Trader Joe's tomato soup, toss together some semblance of a salad, or bake chicken thighs...OR beg Lucas to figure out dinner because I've waited so long that I'm now officially hangry. So, I shamefully admit that this is the first real meal I've actually cooked in a few weeks. When Lucas walked in to the smells of various spices wafting through the air last week (yes, I'm behind), he grinned, "it's been awhile since you cooked!" And OH. MY. GAWD. What a dish to make a comeback with! Packed with veggies, protein, and rich spices, this homemade turkey and veggie chili makes a perfect pre-wedding meal. And the mere 15 minutes of hands-on time was a definite bonus for my busy study schedule.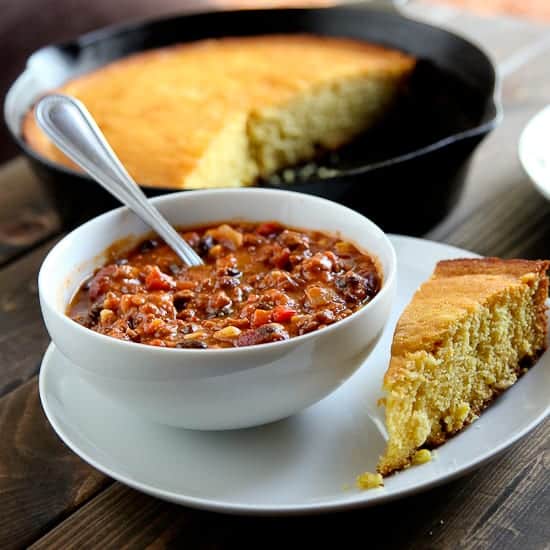 I grew up with microwaved canned turkey chili. You know, the kind that kinda looks like dog food coming out of the can, but tastes oh-so-delicious. After a couple of minutes in the microwave, we'd drop a handful of goldfish crackers to swim around in the bowl before digging in. Nom Nom Nom.
This healthy spin on turkey and veggie chili knocks that canned version out of the ballpark, getting even more rich and flavorful as leftovers the next day. Just the right balance of sweetness from the corn, heat from the spices, and freshness from the vegetables. And there no reason to feel guilty after a heaping bowl of this stuff. To fancy it up a little more than the canned chili of my past, I served this chili up with a slice of the most delicious homemade buttermilk cornbread I've ever eaten. Seriously, where has this cornbread recipe been hiding all my life? Okay, so maybe it counters the healthiness of the chili, but at least I made the cornbread a teensy bit healthier by reducing the butter by half. My oh my, this combination is unforgettable.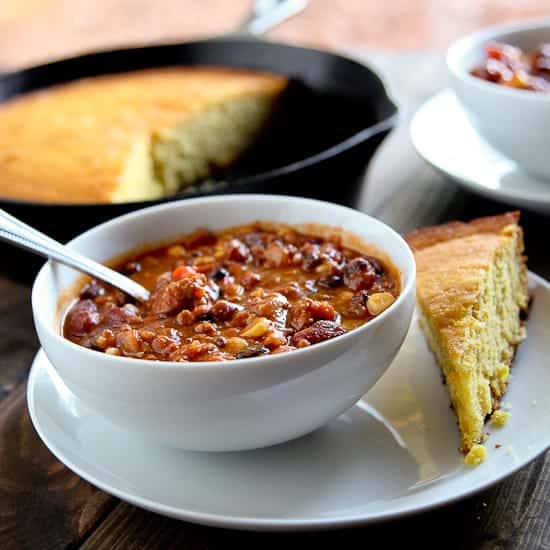 Shortly after my cooking comeback, Lucas boarded a plane to China to prep for the launch of the iPhone 5. I quickly resorted back to my "eat what's in the house and takes less than 5 minutes of energy" philosophy (or, as was the case this past few days, "drive up to Chico and eat what's in Mom's kitchen"), but at least this time I had crazy good leftovers in the fridge.
Note: Once I pass (fingers crossed) my qualifying exam in November, I plan to spend weeks in the kitchen making up for this dry spell, I promise!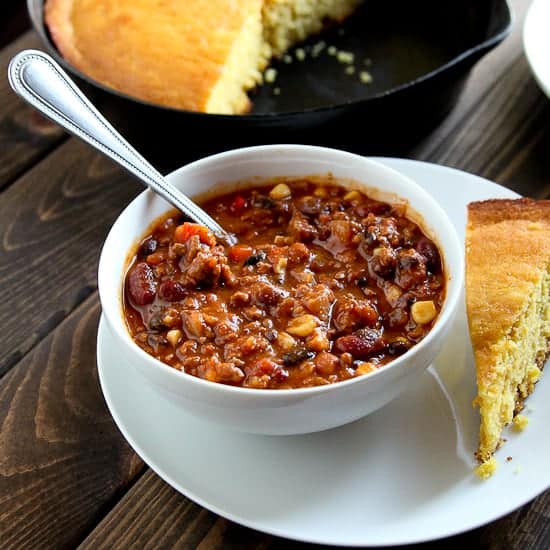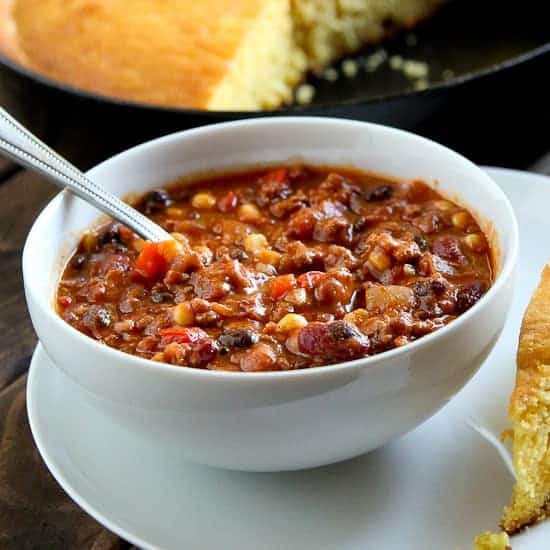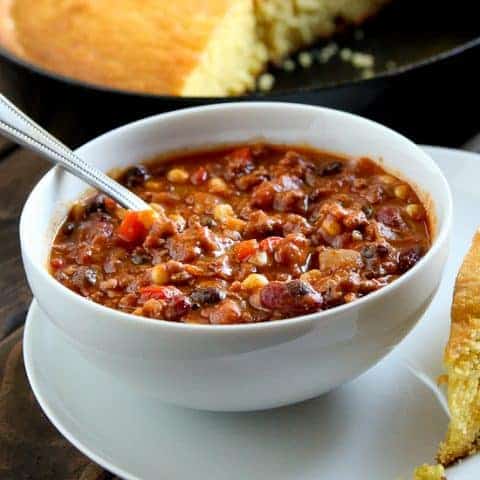 Healthy turkey and veggie chili
Ingredients
1½ teaspoons olive oil
1 pound lean ground turkey
1 15-ounce can kidney beans, drained and rinsed
1 15-ounce can black beans, drained and rinsed
1 15-ounce can pinto beans, drained and rinsed
1 cup frozen sweet corn
1 red bell pepper, chopped small
1 yellow onion, chopped small
1 28-ounce can crushed tomatoes
5 garlic cloves, minced
2 cups water
1½ teaspoons cumin
1 teaspoon unsweetened cocoa powder
½ teaspoon garlic powder
1½ tablespoons chili powder
½ teaspoon paprika
¾ teaspoon dried oregano
½ teaspoon ground cayenne pepper
½- ¾ teaspoon salt
½ teaspoon ground black pepper
2 teaspoons reduced sodium soy sauce or gluten-free tamari
Instructions
Heat the oil in a large heavy bottom pot over medium heat.
Add the turkey and cook until browned, stirring to break it up as it cooks.
Add the onion, red bell pepper, and garlic, and cook for a few minutes, stirring, until tender.
Mix in canned tomatoes, beans, corn, cocoa powder, spices, and soy sauce. Add the water and stir to combine.
Bring the chili to a boil, then reduce heat to low and simmer partially covered for about 30 minutes until the chili thickens. (*Sometimes I simmer with the lid on, sometimes completely off - if you're finding that your chili isn't thickening to your desire, try removing the lid completely)
Serve with freshly baked corn bread (by popular demand, here's a link to my corn bread recipe).