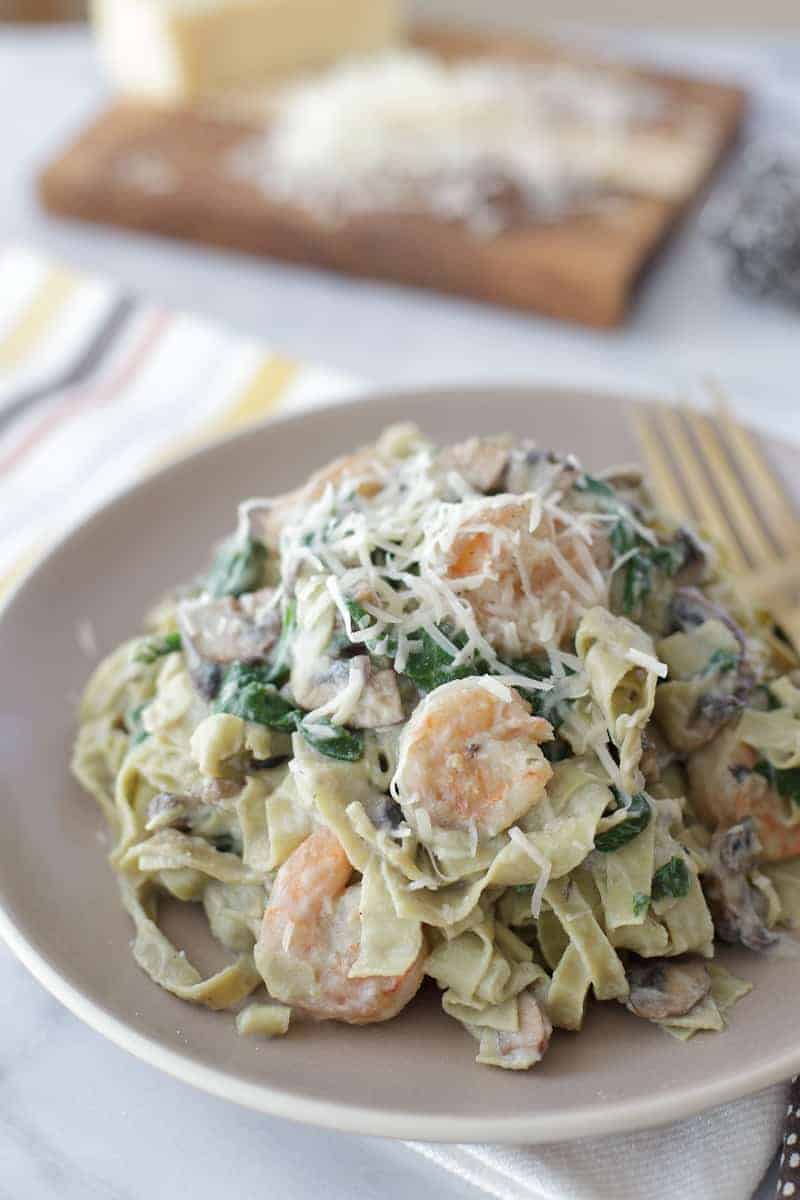 Raise your hand if your favorite pasta dish as a child was creamy fettuccine alfredo. Did your house exclusively refer to fettucine alfredo as "Sarah's favorite pasta" like mine? I'd order it every time I found it featured on a dinner menu and I'd throw in some shrimp for good measure. And when I grew up a bit, things got fancier and I'd toss a pre-made jar of alfredo sauce with some boxed fettuccine for a comforting meal. What with that and the boxes of fruit roll ups and otter pops I consumed, if I still ate the way I wanted to eat as a child (and a college student, for that matter), I'd most definitely have all sorts of health problems. I distinctly remember setting out to make fettuccine alfredo from scratch and realizing it was filled with loads of butter, cream, and parmesan cheese. That's when alfredo and I broke up. We've rekindled our relationship today with this recipe that allows you to indulge in your favorite creamy pasta without the associated guilt and hours of exercise to work it off. I bring you a new family staple: guilt-free shrimp and veggie fettuccine with cauliflower alfredo.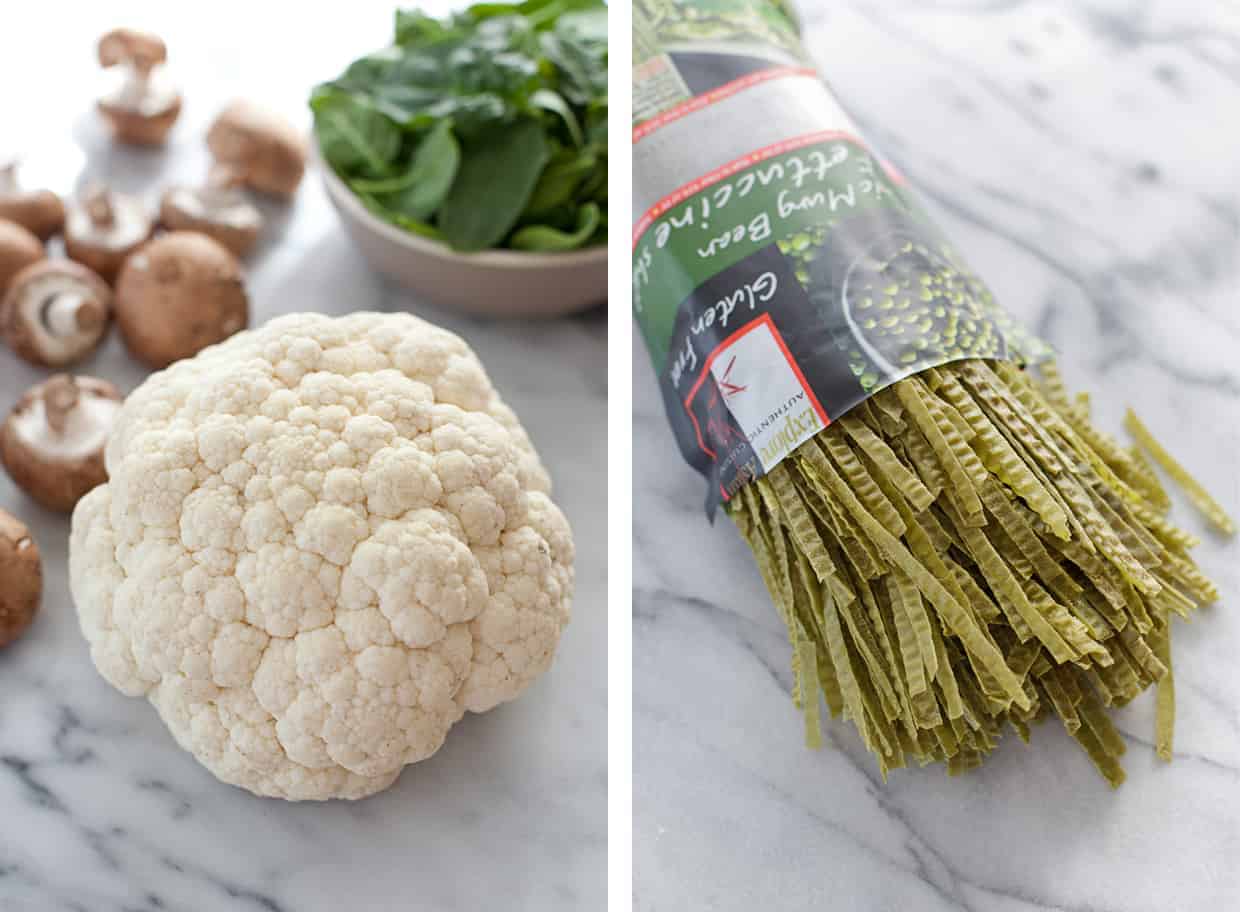 This alfredo gets its creaminess from puréed cauliflower mixed with garlic, chicken broth, and only a tiny bit of milk and parmesan. And because as an adult I'm no longer afraid of finding vegetables in my pasta, I threw in some spinach and mushrooms alongside the shrimp for a wholesome meal. With half the calories of a traditional fettuccine alfredo, and 1/10th the grams of fat, you'll be shocked by how remarkably close to the real deal this skinny alfredo recipe tastes. Close enough to make you put that old recipe back on the shelf for good.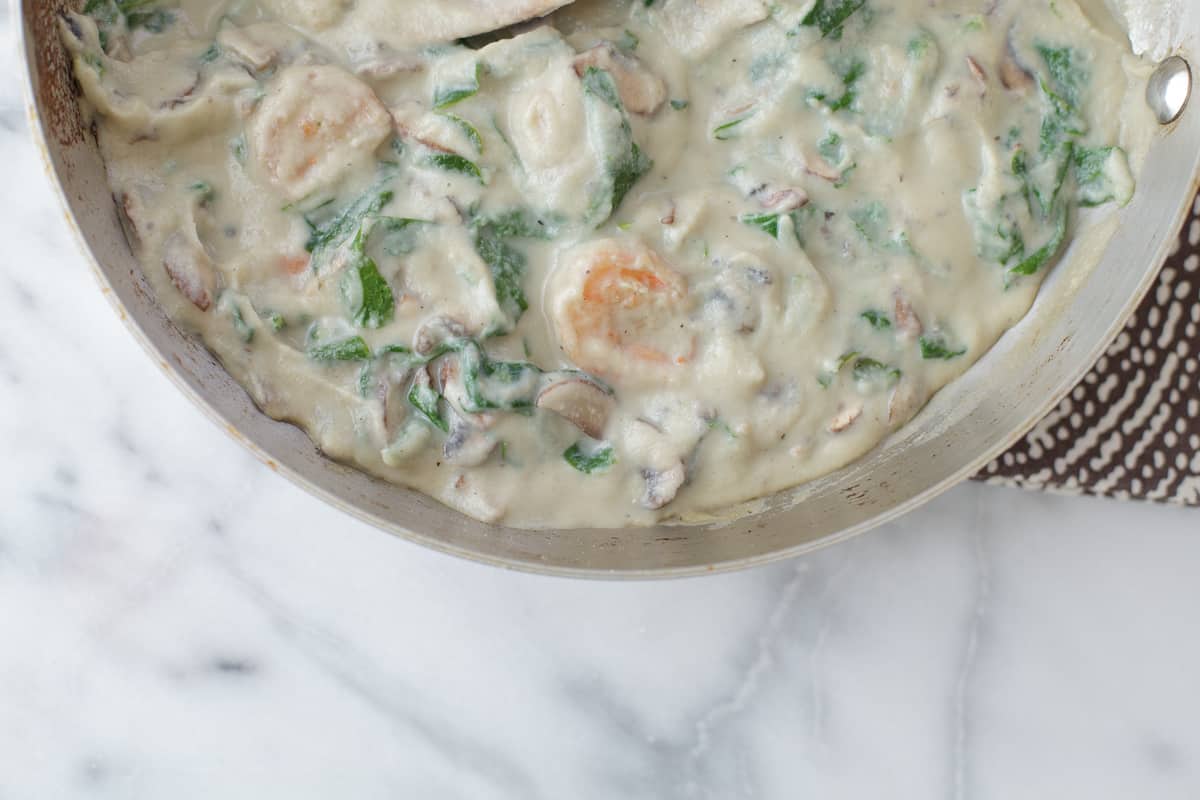 What's more - I mixed it up with high-protein mung bean pasta. Since switching to a gluten-free diet to combat headaches, my 6-piece KitchenAid pasta-maker attachment went from being one of my most-used kitchen tools to collecting dust in a cardboard box on a lonely shelf. I miss you, old friend! While I'm working hard to get back into pasta-making with my grain mill and gluten-free flours in hand, so far every gluten-free pasta dough I've tried has ripped to shreds when feeding it through the pasta rollers. I miss the days of serving velvety homemade pasta once a week...like WOAH.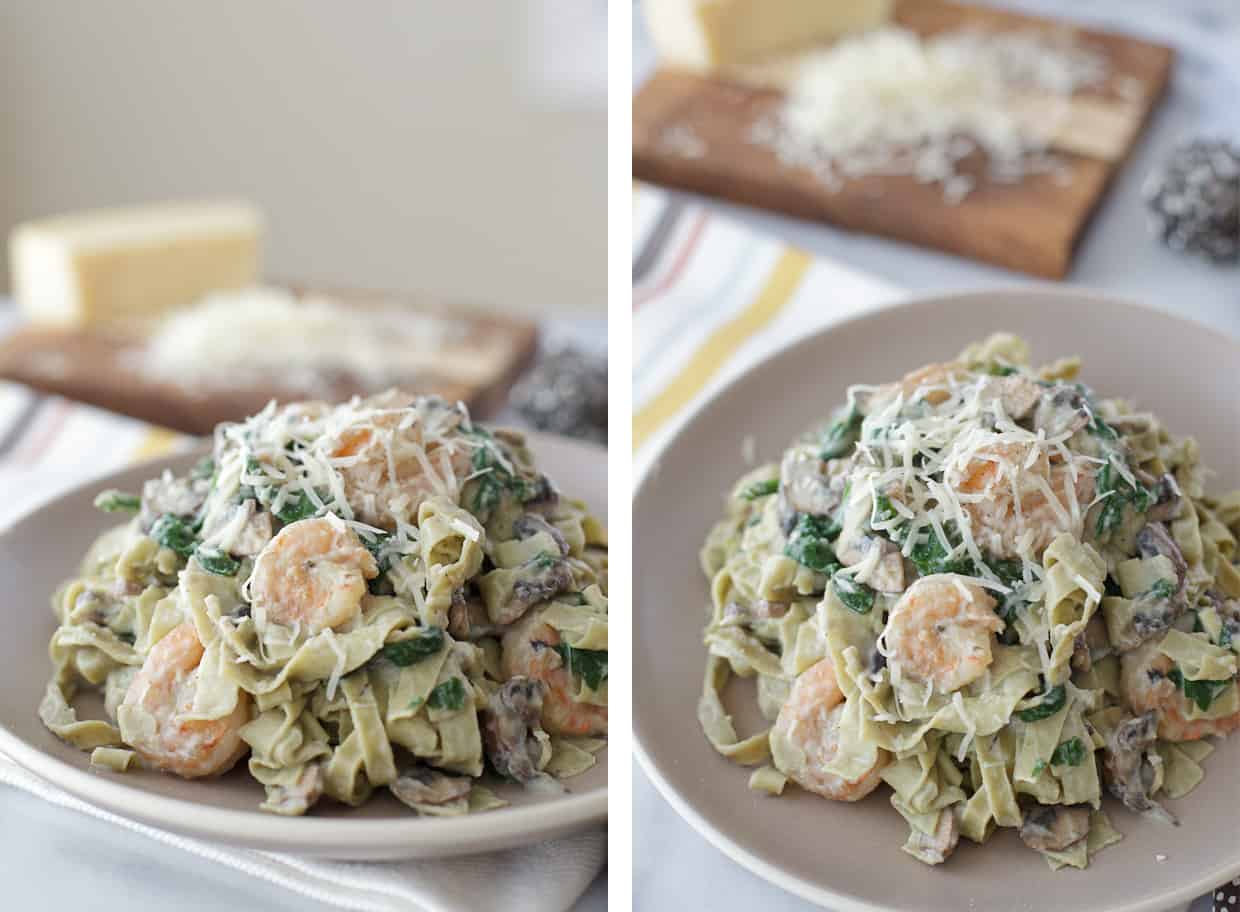 When I stumbled upon Explore Asian's organic pasta in the blogosphere, their mung bean fettuccine and black bean spaghetti piqued my curiosity. Mung bean pasta, folks! Each serving is much lower in carbs and higher in protein than traditional wheat-based pasta - plus, with only mung beans and water, it's gluten-free. And if it really is as sturdy and al-dente as their website promised, I may have finally come across something to replace my constant velvety homemade pasta cravings. Then last month, Explore Asian sent me a gift box with some of their gluten-free pastas to try out.
While I've always been a proponent of other gluten-free pastas as a totally suitable substitute to the high carb wheat-based pastas you buy for next to nothing at the supermarket, there's something special about this gluten-free mung bean pasta alternative. This fettuccine is the most like the homemade noodles we used to roll out with our pasta-maker; they're soft and velvety without getting the least-bit mushy when overcooked, and they soak up all the flavors of the creamy sauce.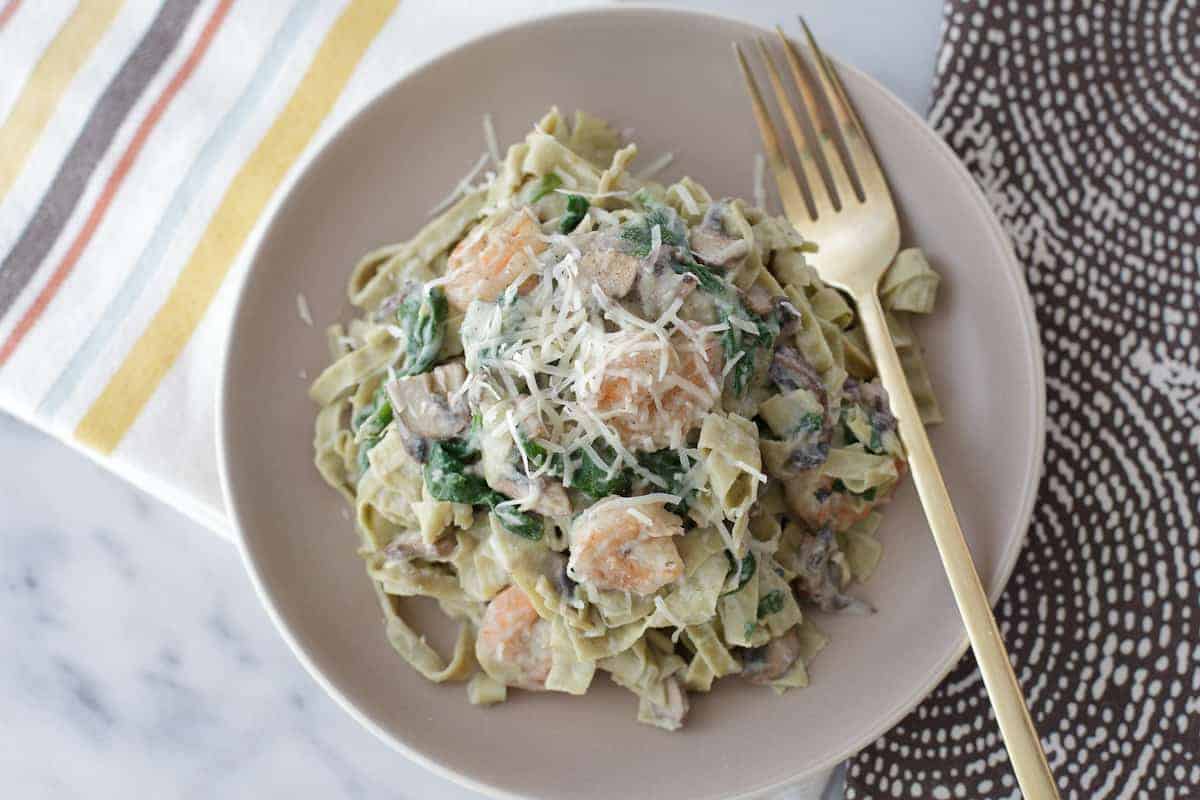 My only word of caution is that you be careful when transporting the uncooked pasta; the bagged packaging doesn't offer much in the way of a protective shield for the delicate noodles and without care, you might end up with a bunch of broken pieces at the bottom of the bag. Let's be honest, though, a few broken strands of fettuccine is not the end of the world once you cook it up and top it with this creamy sauce. I'm now a huge fan of the bean pastas that Explore Asian sent me to review, and I'll definitely be searching them out to use in more recipes. You can't keep this girl away from her hunger for silky smooth pasta.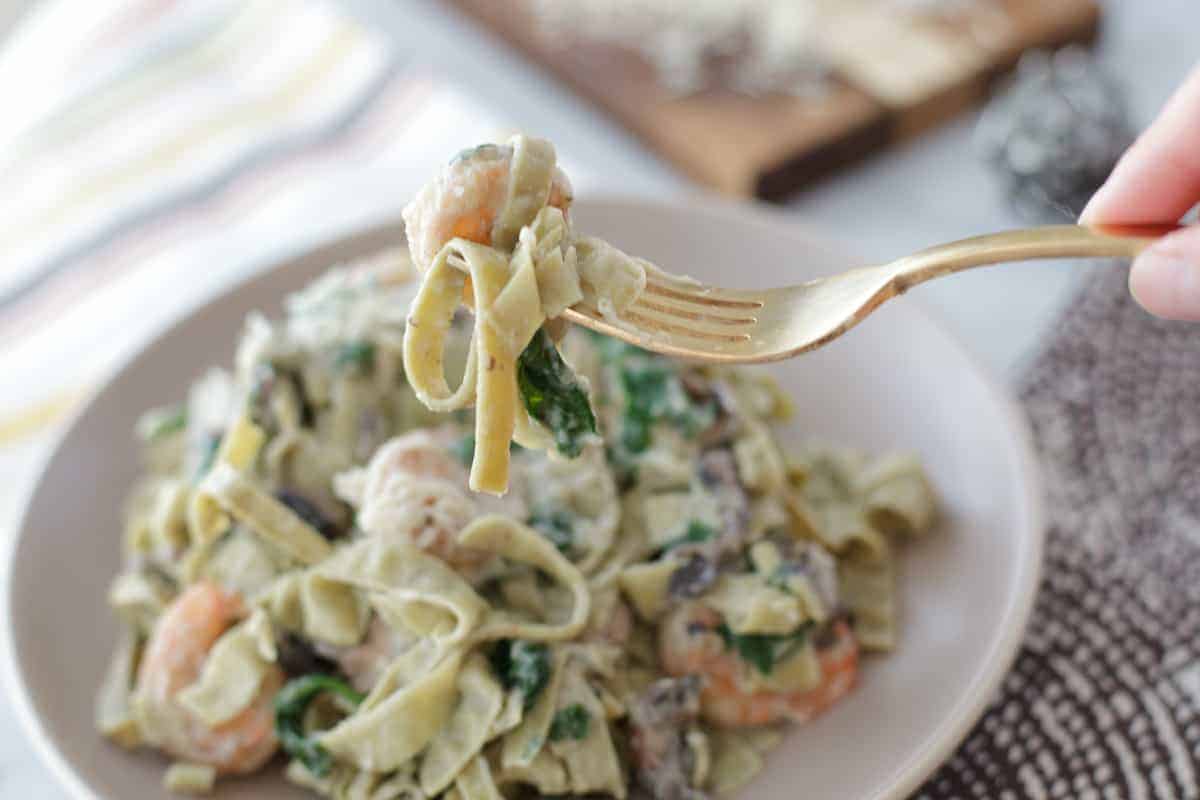 **Explore Asian has generously given me some of their pastas to sample. As always, the opinions expressed here are solely my own.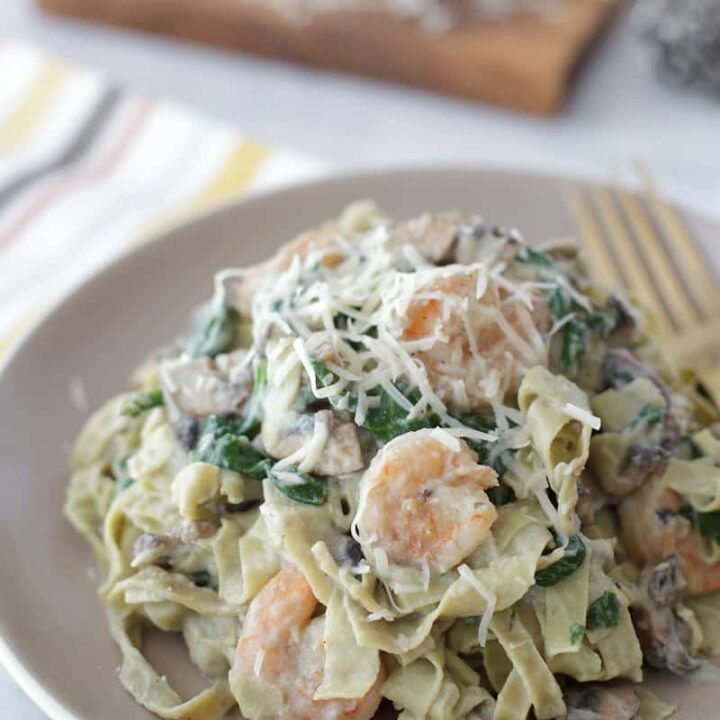 Guilt-free shrimp and veggie fettuccine with cauliflower alfredo
Ingredients
4 cloves garlic, minced
1 teaspoon unsalted butter
1 large head cauliflower, chopped into florets
1 cup vegetable broth
¾ cup whole milk
¼ cup freshly grated parmesan cheese, plus (optional) more for serving
½ pound of shrimp, peeled and deveined
2 cups cremini mushrooms, sliced
4 cups spinach
Salt & pepper, to taste
Instructions
In a large pot, steam the cauliflower for about 8 minutes, until soft when pierced with a fork.
Melt the butter in a large skillet over medium heat and add the garlic. Cook for 1-2 minutes, until just fragrant.
Combine the steamed cauliflower, cooked garlic, vegetable broth, milk, and parmesan cheese in a blender or food processor and purée until smooth and creamy. Set aside.
In the same pan you cooked the garlic in, add the shrimp and sauté for 2 minutes over medium high heat. Add the mushrooms and spinach and continue cooking until the spinach melts, and the shrimp is cooked completely through.
Add the sauce to the pan with the shrimp and veggies and cook until heated through, stirring to combine. Season with salt and pepper, to taste.
Toss the sauce with the cooked fettuccine and serve with freshly grated parmesan cheese on the side.