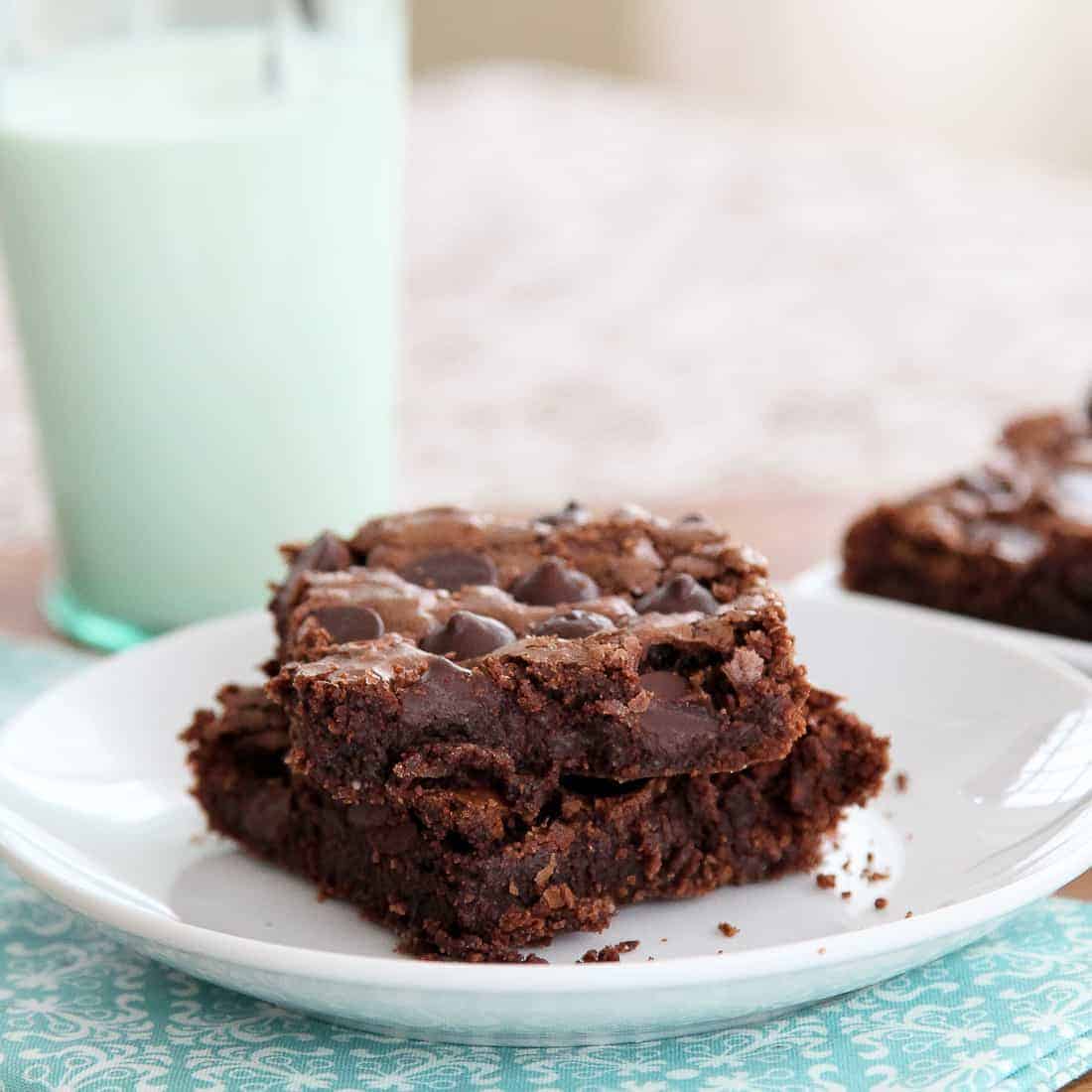 How many potlucks with piles of freshly baked flour-filled goodies must a person like me endure? Pure torture for the gluten-free, I say. The host of the last one boasted a brownie taste-test among the spread of chocolate-y confections. So what does one who can't eat them do? Force-feed all the homemade treats to your pal Angi…before dinner, that's what. Who will then loyally report how terrible they all are because that's what good friends do. And then leave just when the party's getting started (ie. when Officer McGruff shows up to the block party potluck) to go home and bake gluten-free brownies with you. These are serious cravings. Desperate measures.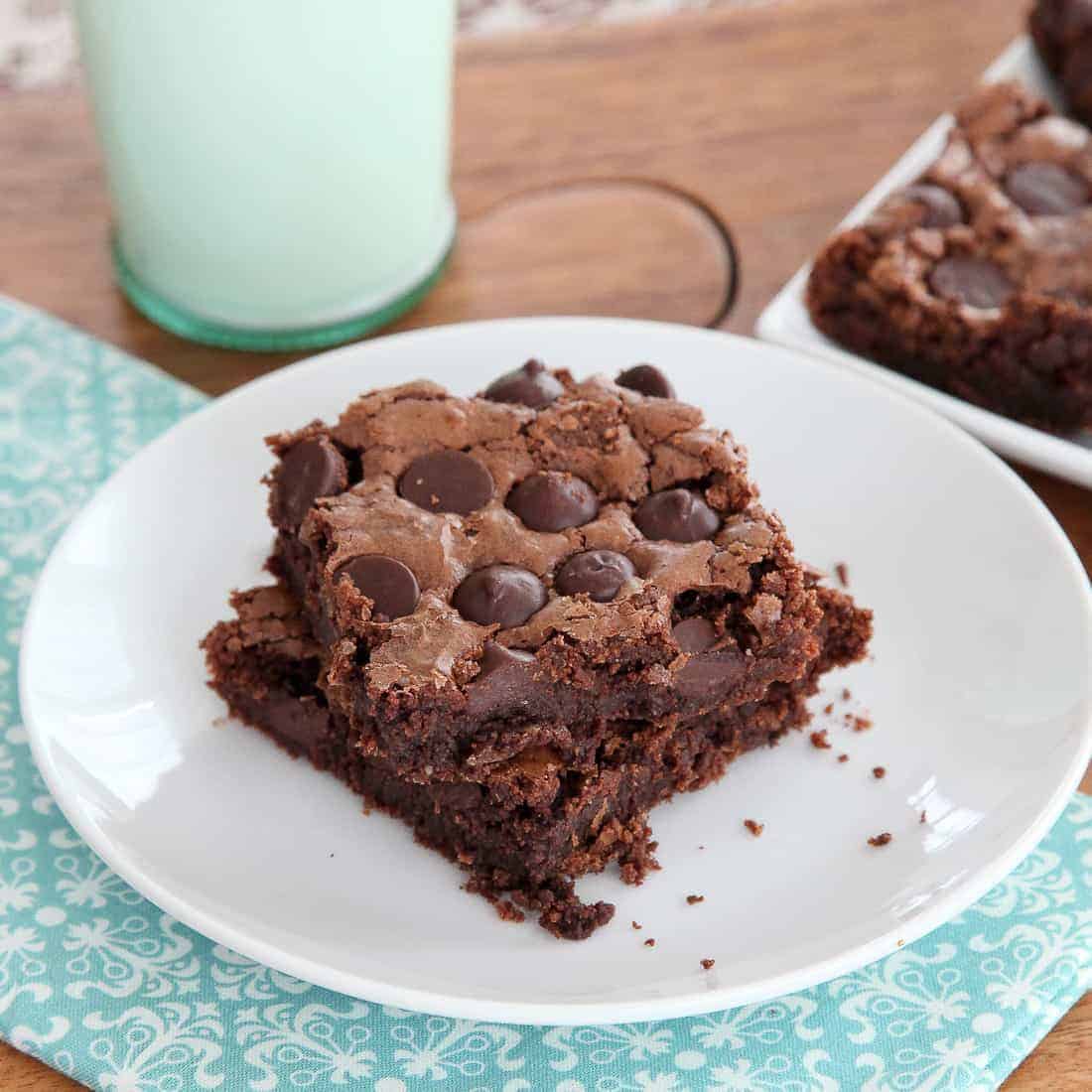 With its buttery not-too-fudge-y, not-too-cakey chewy texture, this brownie will win hearts everywhere. The uber rich chocolate flavors punch, leaving just the perfect sweetness on the tongue. This MUST-HAVE-MILK recipe was first developed for Tina's Napa bachelorette party. A post-lunch dessert after a day of wine tasting. If you've read her blog at all, you'll know that girl adores chocolate more than most (and is eating gluten-free right now too...or was, pre-wedding). My only regret is not bringing a gallon of milk to serve alongside these rich morsels. Since we just got back from Boston for her love-filled wedding this past weekend, I figured I'd share a recipe in her honor.
All reliable taste tests need multiple case studies, though. This one's kid tested, mother approved. As demonstrated by the child-sized brownie that the 2½-year-old girl next door devoured before I'd finished serving them and the multiple helpings her parents (and I) gobbled up after. With a tall glass of milk, of course. Just to be sure, I might need to make this recipe every time we have company for dinner. You know, for research sake.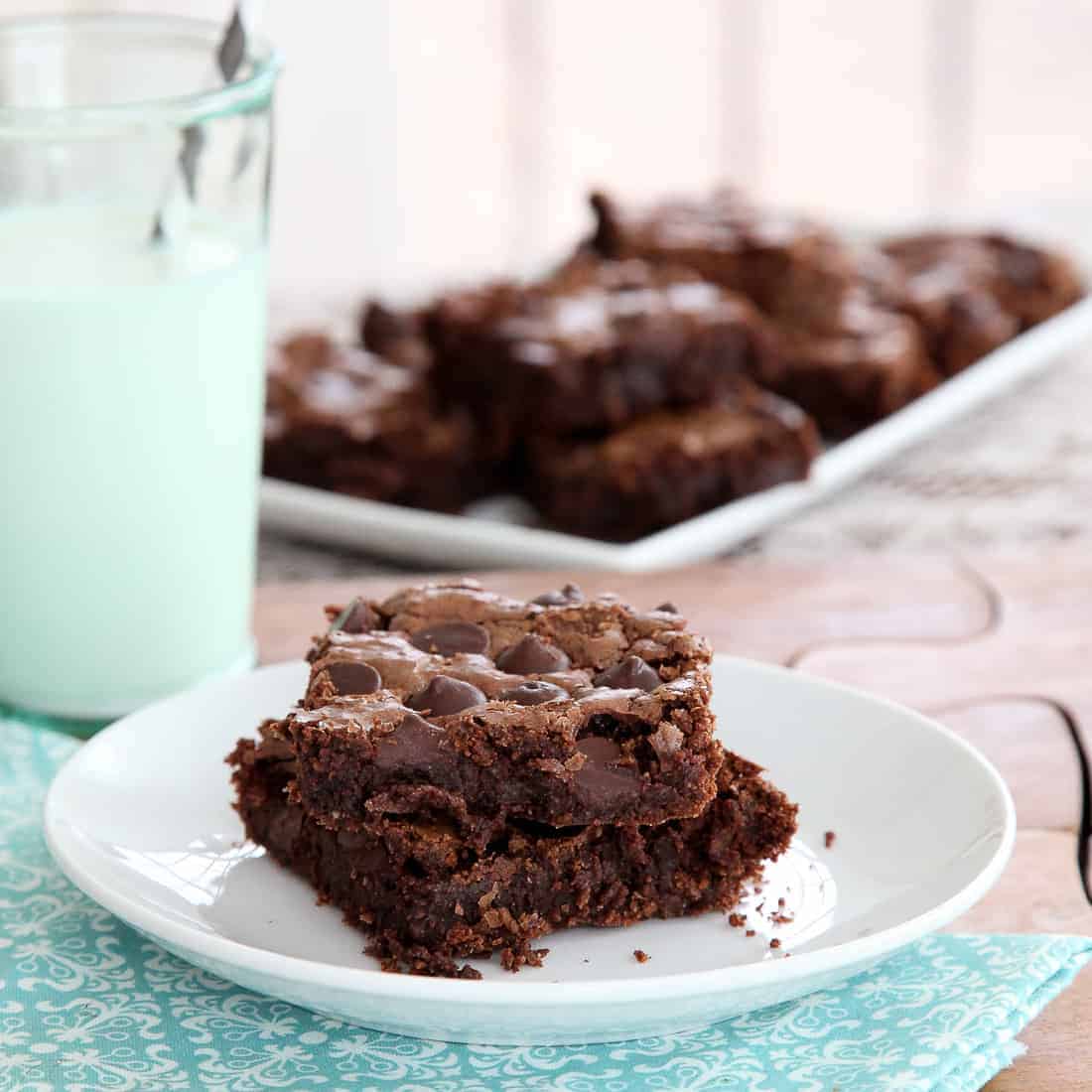 On the topic of eating gluten-free, I went to the campus health center a few days ago for my 2½ week long headache. In general, my headaches have been significantly less frequent and less severe since switching to a gluten-free diet in January, but something triggered a debilitating one recently. I was fed up with not being able to work productively and hoped for something to get instant relief and go about my business.
While going through my headache history (it's a long one), I listed all the changes I've made recently to try to eliminate headaches, including changing my diet to gluten-free. This admission apparently caught the NP's attention because she sassily responded, "why would you do that?" When I explained that I'd read some articles (and many success-story blogs) linking headaches to gluten intolerance, she simply smirked and continued on in the history. Not the least bit interested in if it had helped. She'd apparently made up her mind that it was a sham approach and made sure I knew that by her response.
I get it, you're skeptical. I was too at first, but when I've been coming to you for four years with headaches without a single effective suggestion, who are you to give me attitude about the method I'm trying? This has helped. This interaction merely confirmed what I've felt for some time now: it's time to search for alternative routes for support in feeling healthy and functional. In the meantime, I'll bury my frustration by shoving these brownies in my face. No one can be skeptical about these brownies.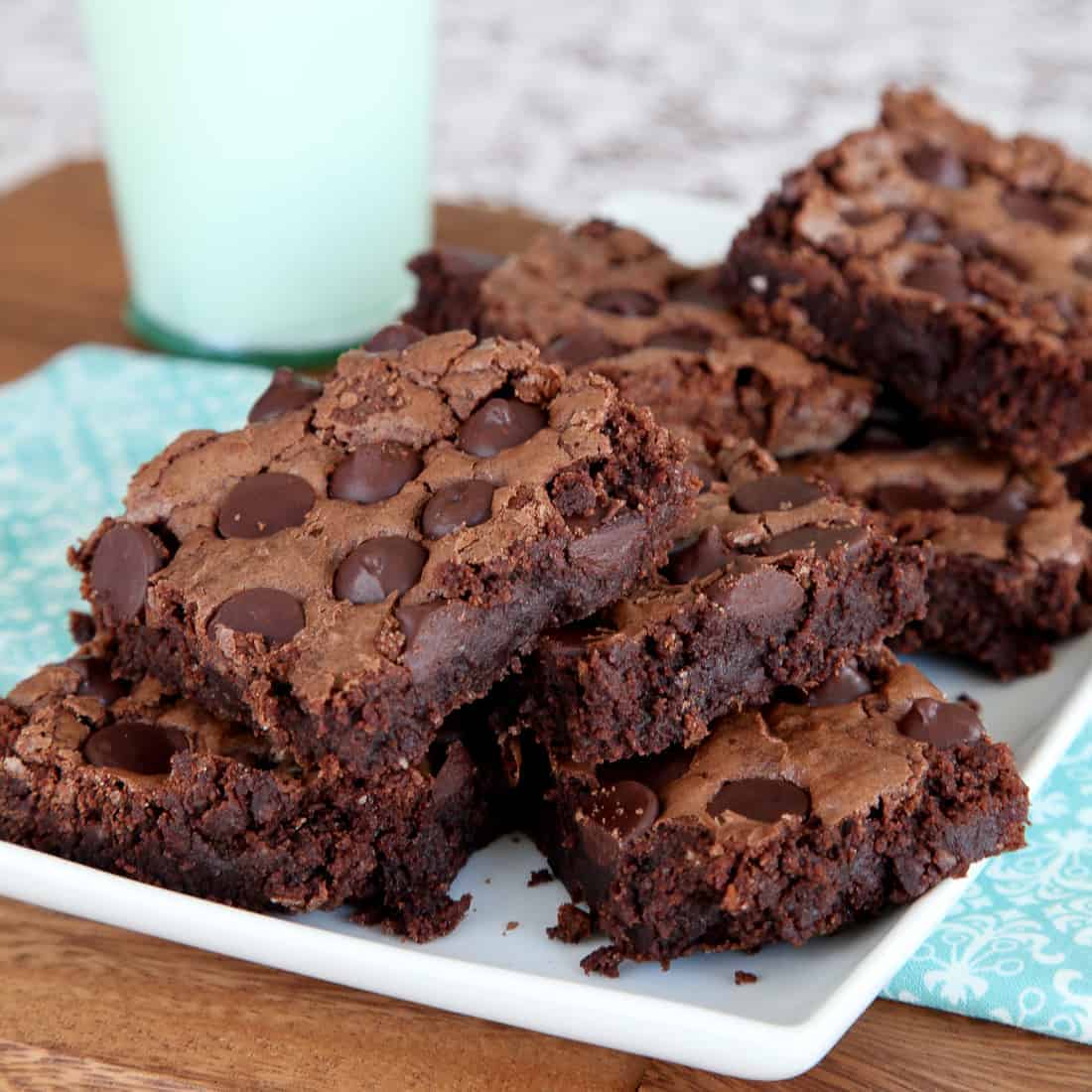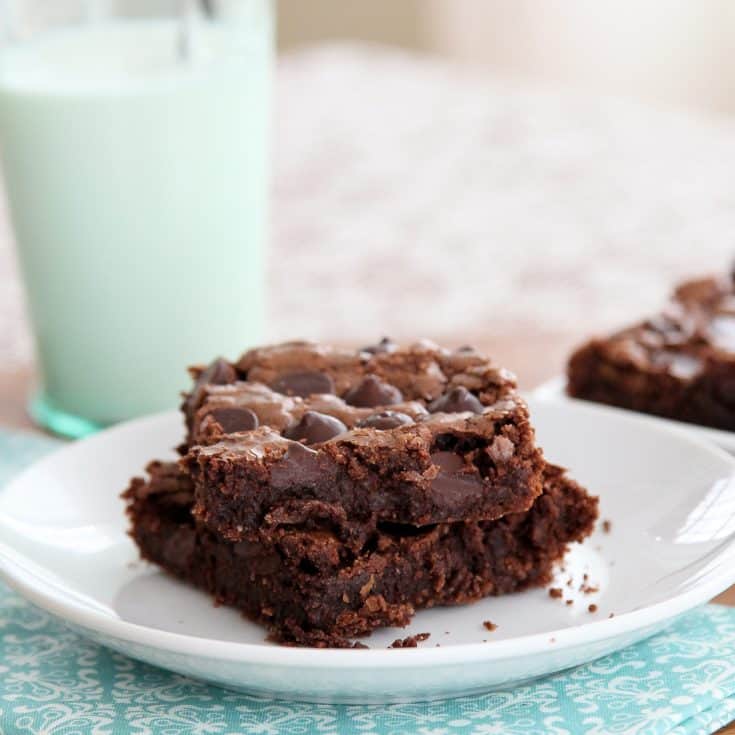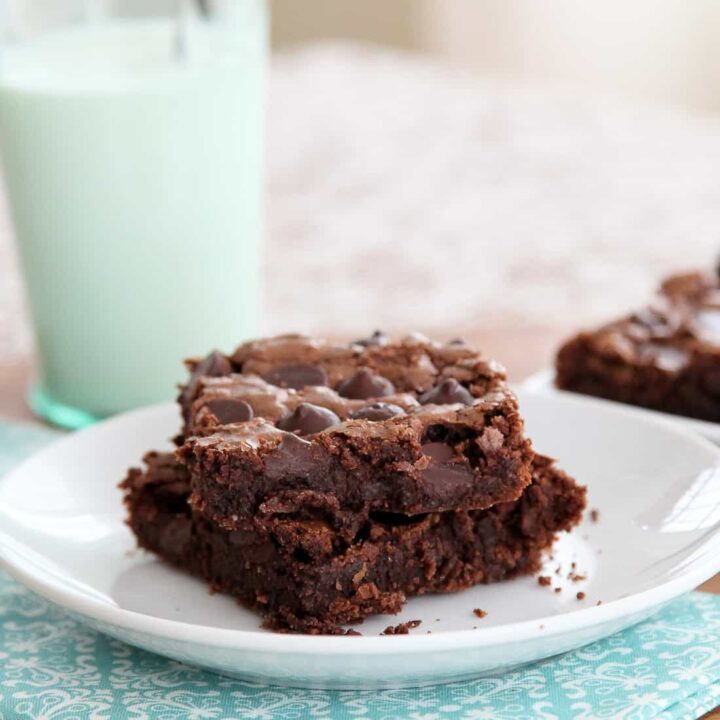 Triple chocolate gluten-free brownies
Instructions
Preheat oven to 350°F. Line an 8x8 pyrex baking dish with parchment paper (or grease & flour with brown rice flour).
In the bowl of an electric mixer, combine the eggs, butter, sugar, vanilla extract, chocolate extract, and coffee granules. Add the melted chocolate chips and whisk to combine.
In a separate bowl, mix together the almond flour, brown rice flour, baking powder, cocoa powder, and salt. Slowly add the dry ingredients to the wet ingredients, mixing just until completely combined.
Pour the batter into the baking dish. Sprinkle the dark chocolate chips evenly on top.
Bake for 25 to 30 minutes, until a toothpick inserted into the middle comes out clean or only with a few crumbs.
Let cool for about a half an hour before serving to prevent them from crumbling.
Serve with a big glass of milk!