Gluten-free supernatural brownies with incredibly fudgy and gooey centers and a thin crackly sugar crust. They're rich and addicting, getting even more delicious over time!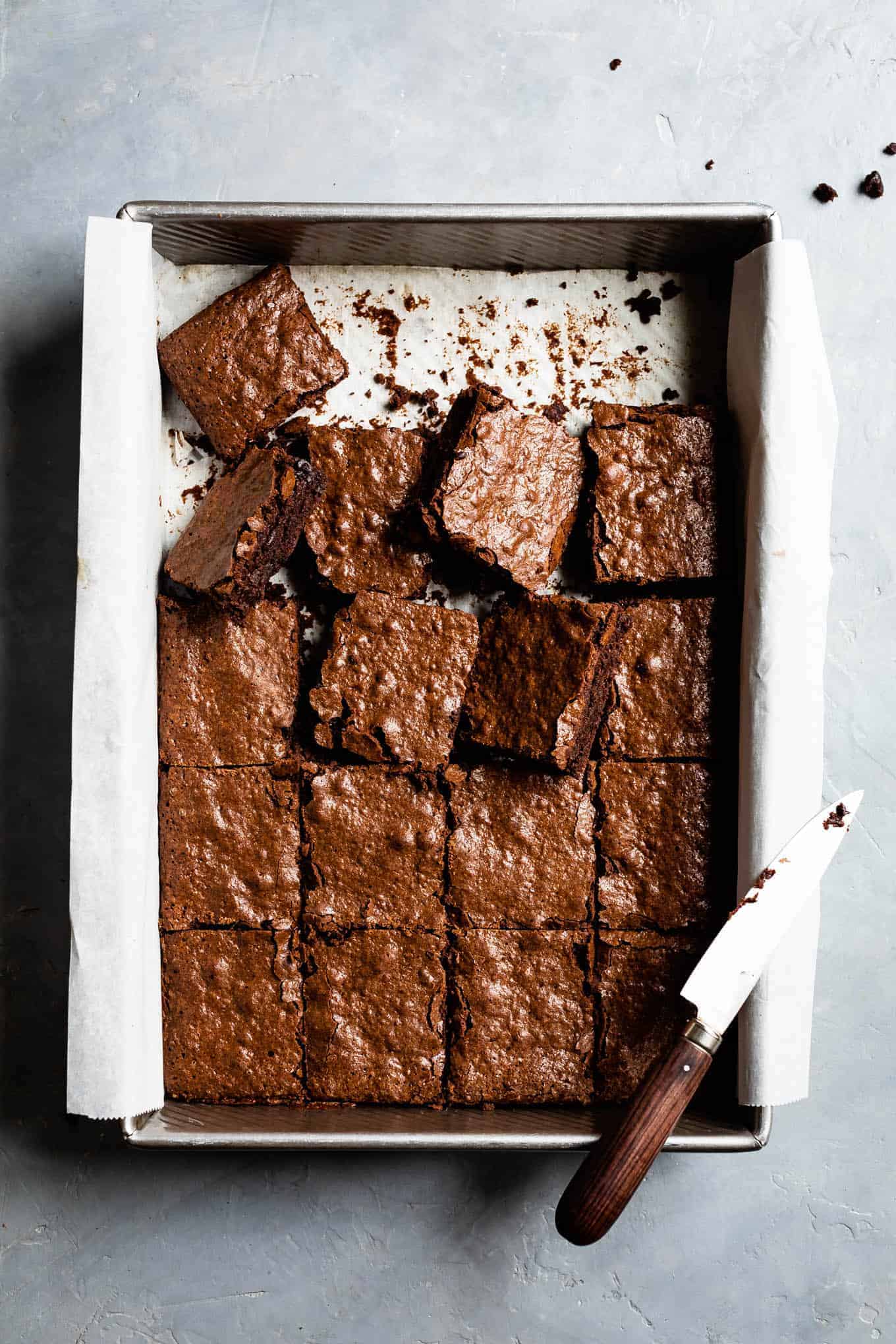 If a recipe takes ME only 30 minutes, you can rest assured it takes Lucas double or even triple the time (and somehow also every dish in the house). We laugh about it - he's well aware. He argues that it's because he doesn't have the experience to skim through a recipe and decide the most efficient order to prepare things or determine what should happen concurrently. That's a very underrated kitchen skill! (And so is doing the dishes while cooking.) So, he does each thing in order completely before starting the next, painstakingly slow.
That's where my friend Michelle's new cookbook Weeknight Baking shines. Creator of baking blog Hummingbird High, Michelle wrote a cookbook where all the recipes come together quickly...or quickly over a few nights. And part of how she accomplishes this is by being very explicit about what to do when and in what order.
Supernatural Brownies
Take these better-than-supernatural fudge brownies, for example. Throw mise en place out the window. Don't start by measuring every single ingredient out at the beginning because you'll have time to measure the dry ingredients while the chocolate melts and cools. Same with chopping the chocolate - do that while the butter melts. She turns baking into a well-oiled machine so you can make delicious desserts in less time. Perfect for weeknights.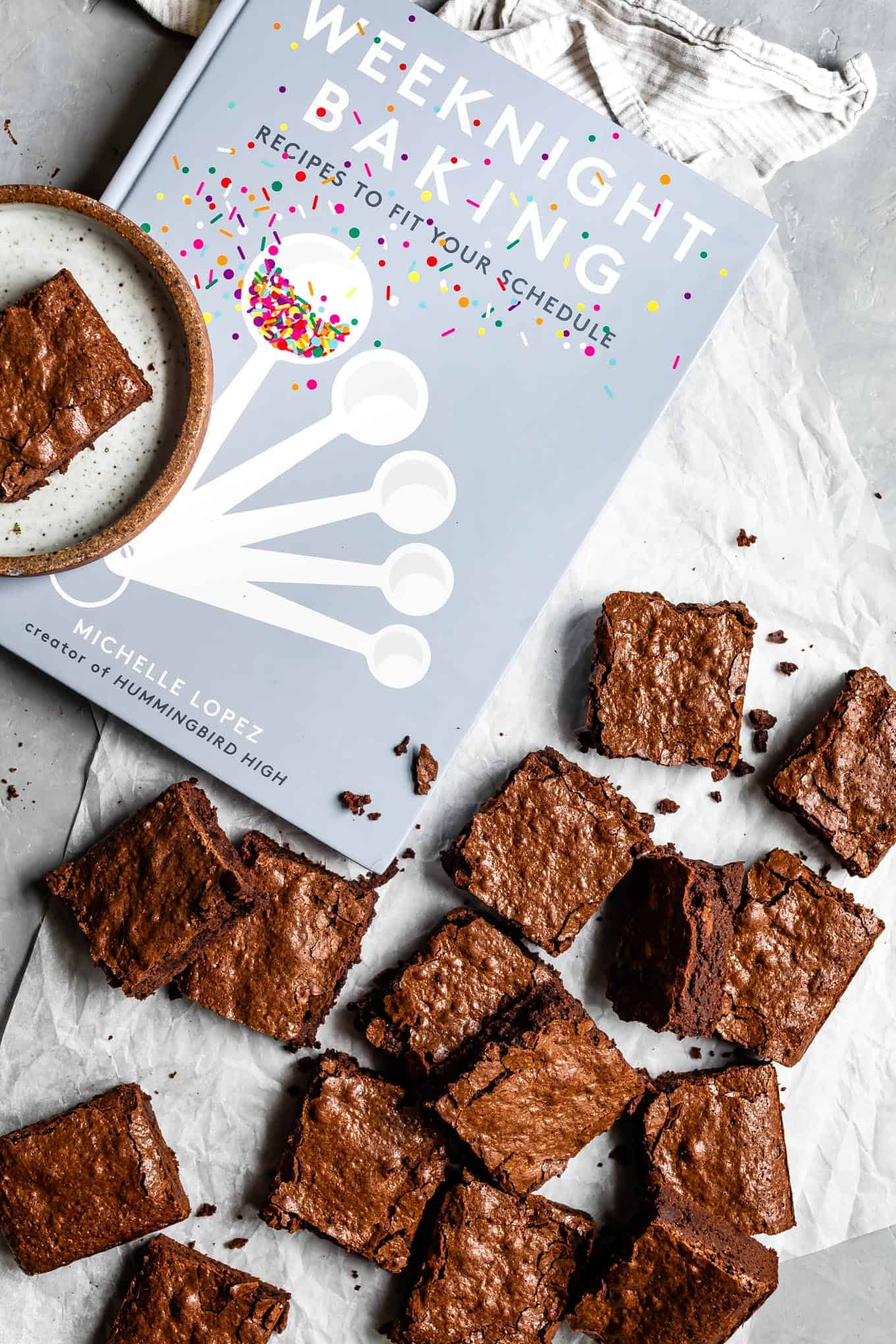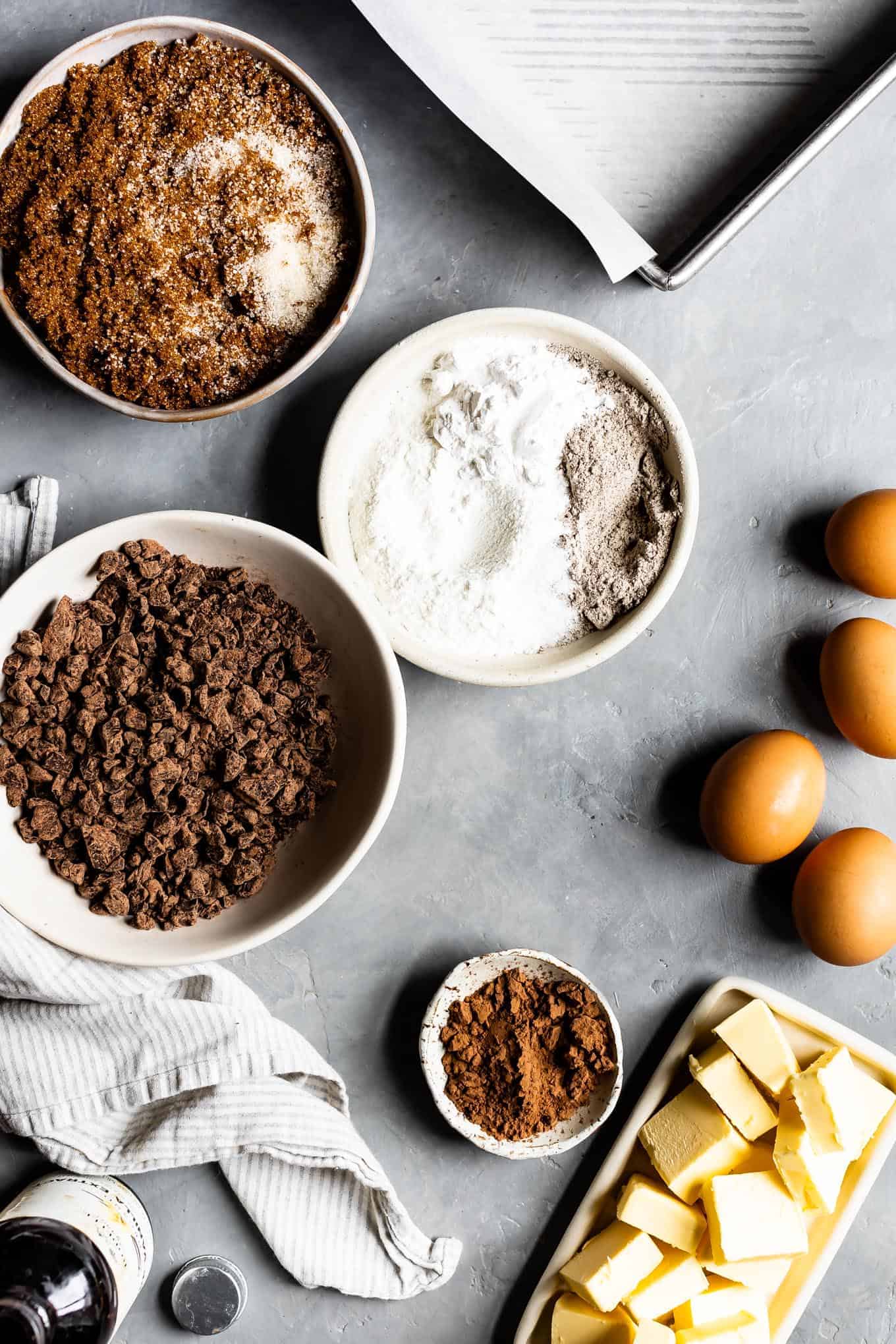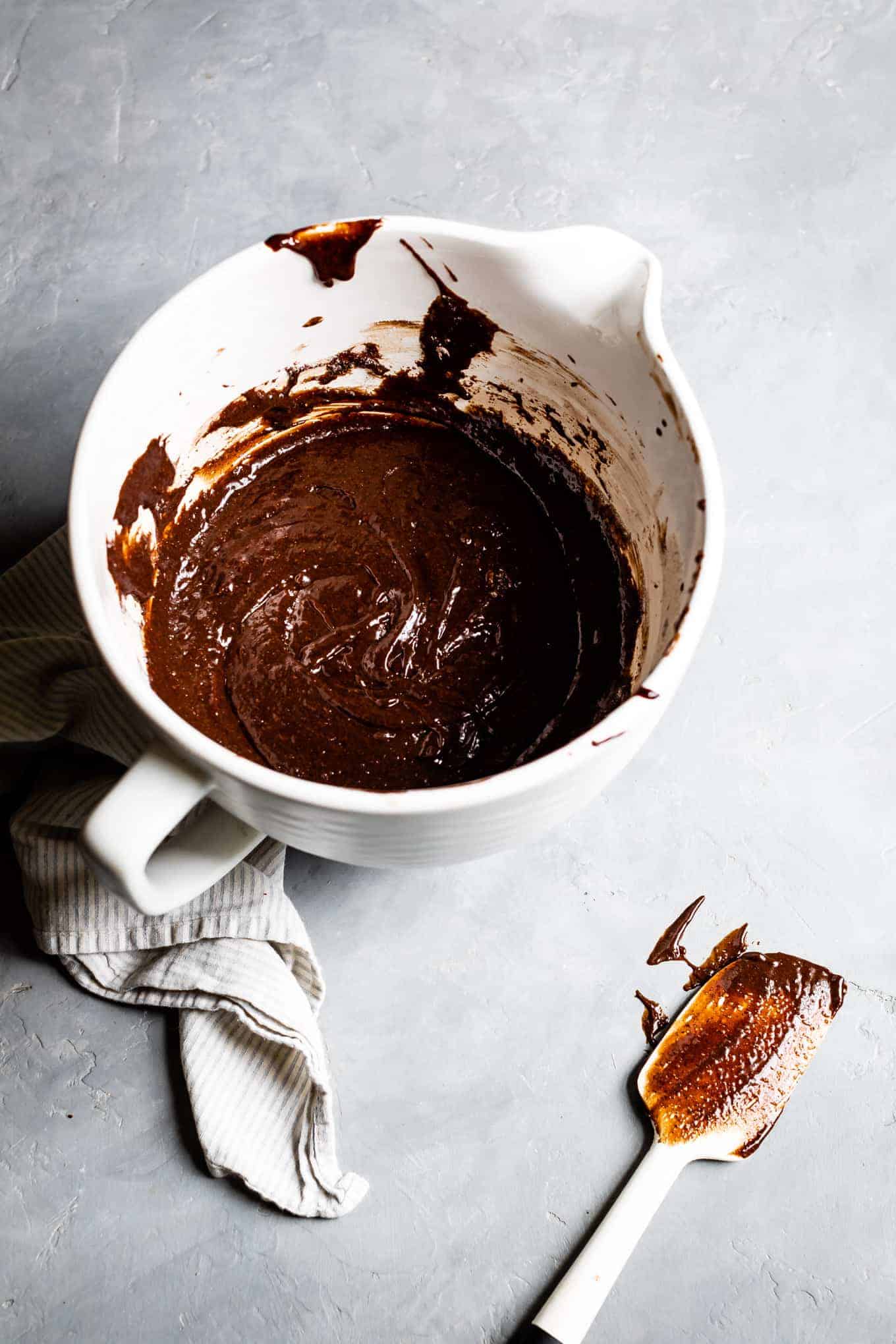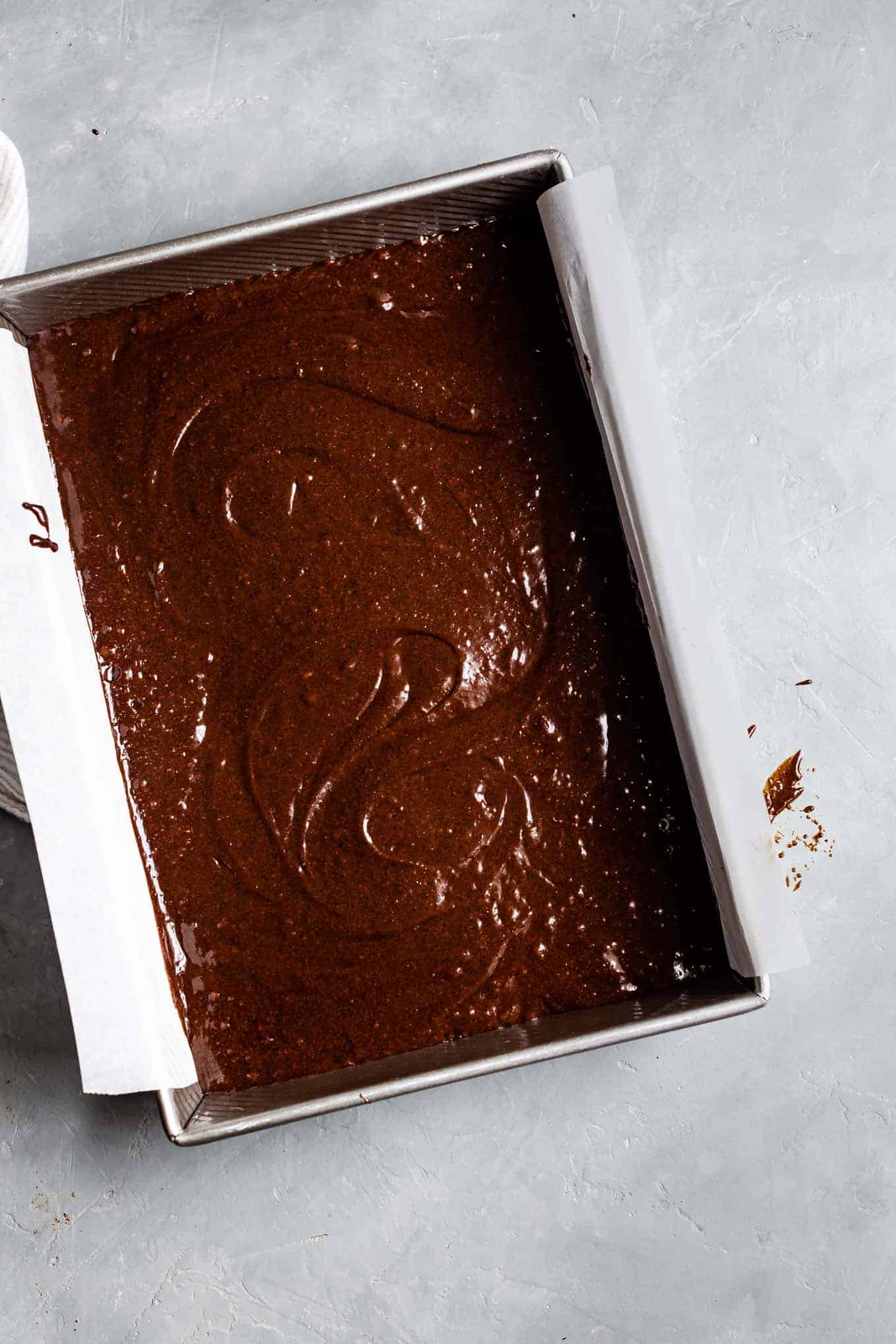 Gluten-Free Better-than-Supernatural Brownies
Here I've adapted the base recipe for her better-than-supernatural brownies to create a gluten-free fudge brownie recipe. With their crisp thin crackly crust and gooey fudge centers, they've made my list of the best gluten-free brownies ever.
The key to supernatural brownies is ensuring you don't overbake the brownies. When in doubt, take them out of the oven a tad early, even if they look underdone. They'll continue baking as they cool and you'll have the most unbelievably gooey fudgy chocolatey centers. Bake too long and they'll still be delicious, just a little more dry and fudgy!
Gluten-free fudge brownies
There are two kinds of brownies: cocoa brownies and chocolate brownies. Cocoa brownies use cocoa powder as the chocolate base, allowing you to control the fat and sugar content. These brownies, while usually very chewy, can fall anywhere from gooey to cakey. If you've made boxed brownies, you've made cocoa brownies.
Chocolate brownies, on the other hand, rely on melted chocolate for their chocolate notes. These brownies tend to be denser and fudgier, especially at room temperature as the chocolate firms up. The deliciousness of chocolate brownies relies on high-quality chocolate.
Michelle's better-than-supernatural brownies are a chocolate brownie, but she's also thrown in a bit of cocoa powder to enhance the cocoa notes. Best of both worlds.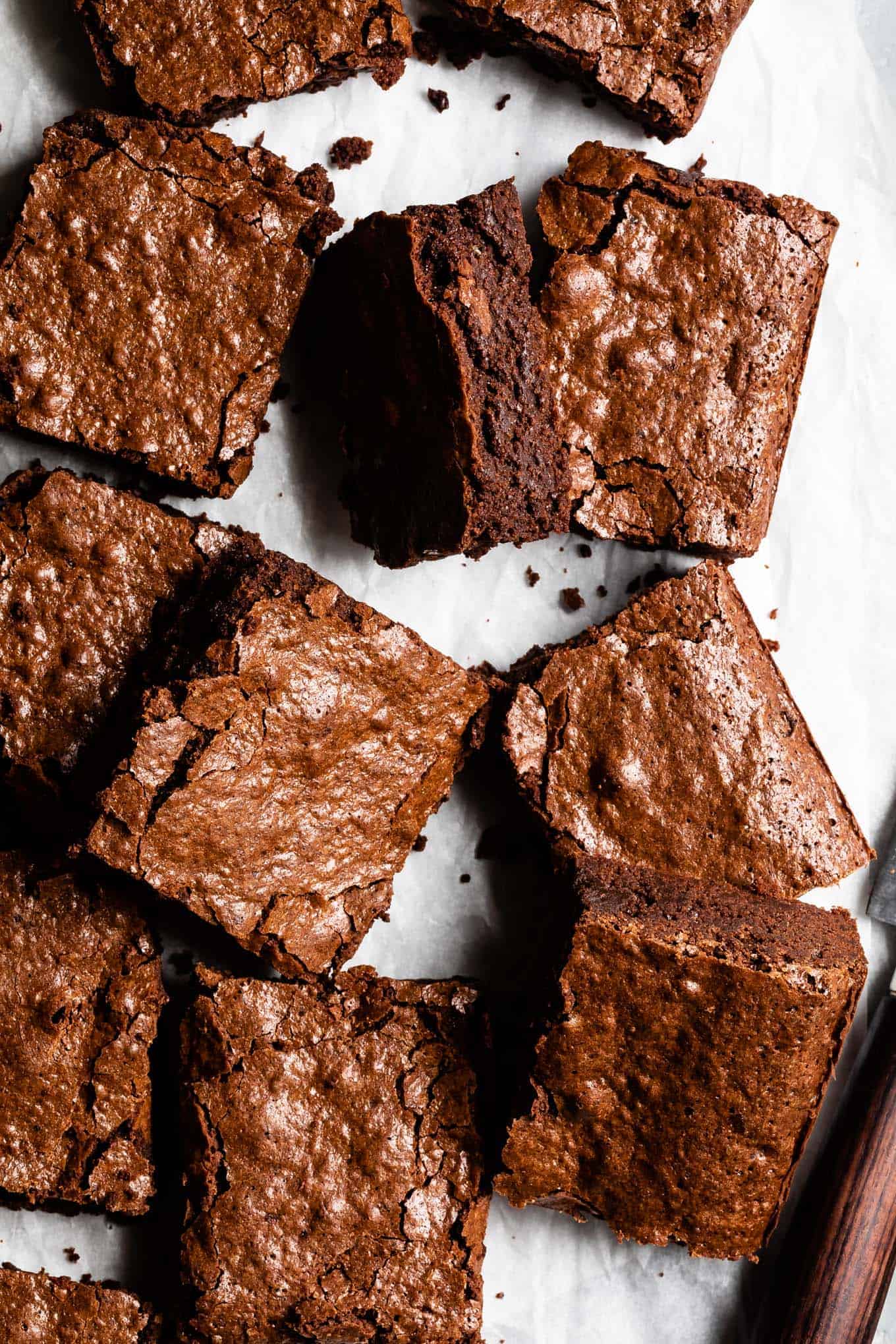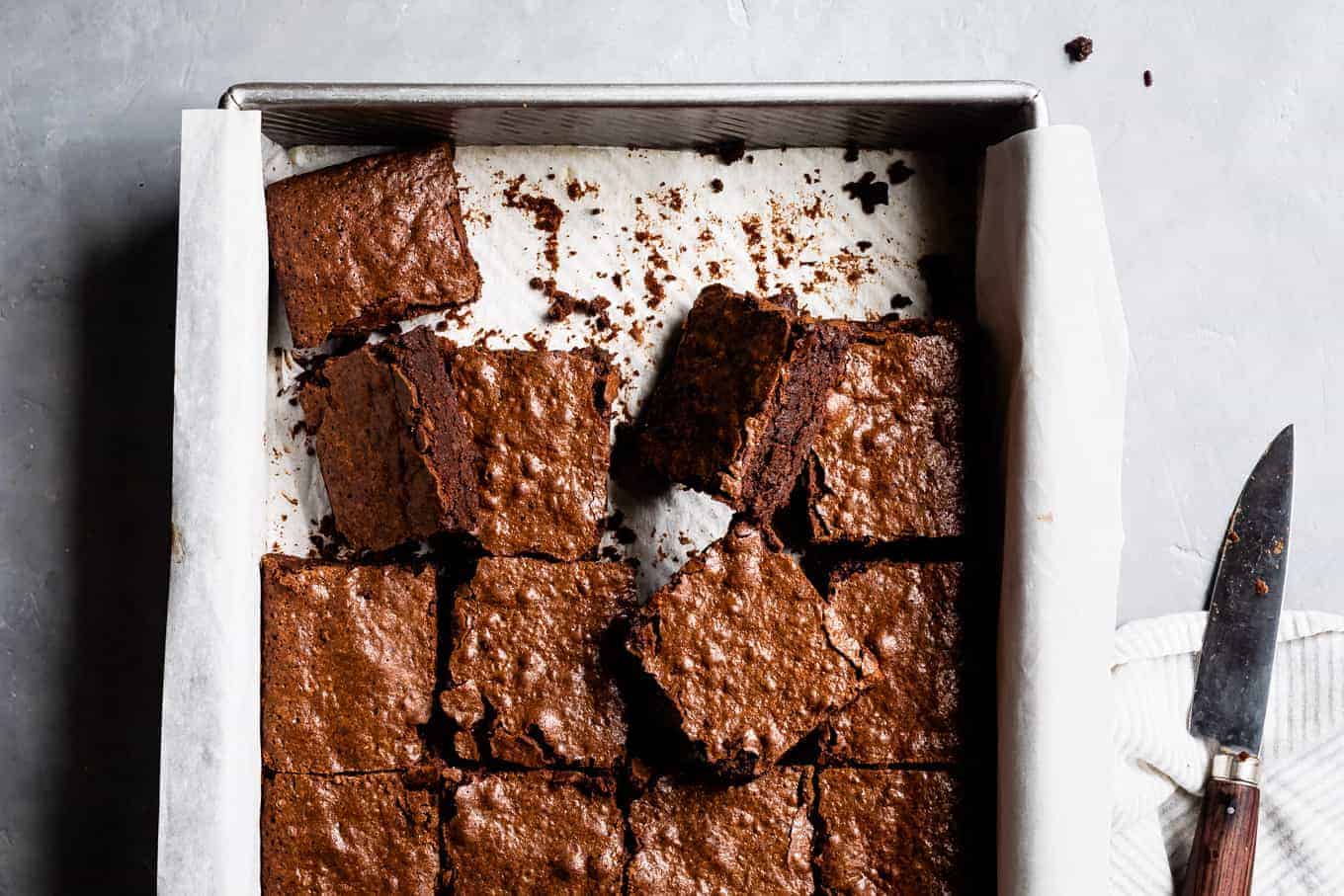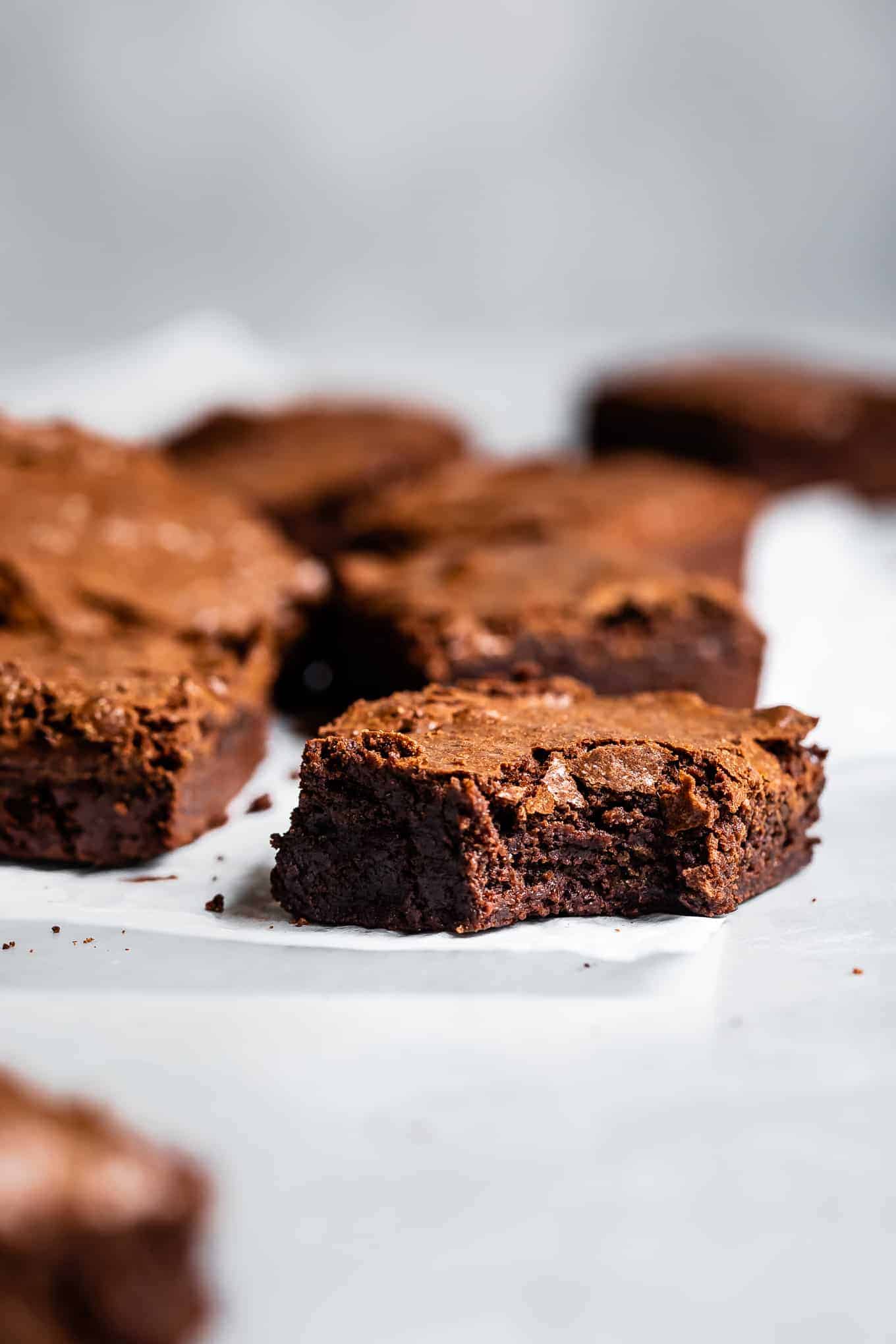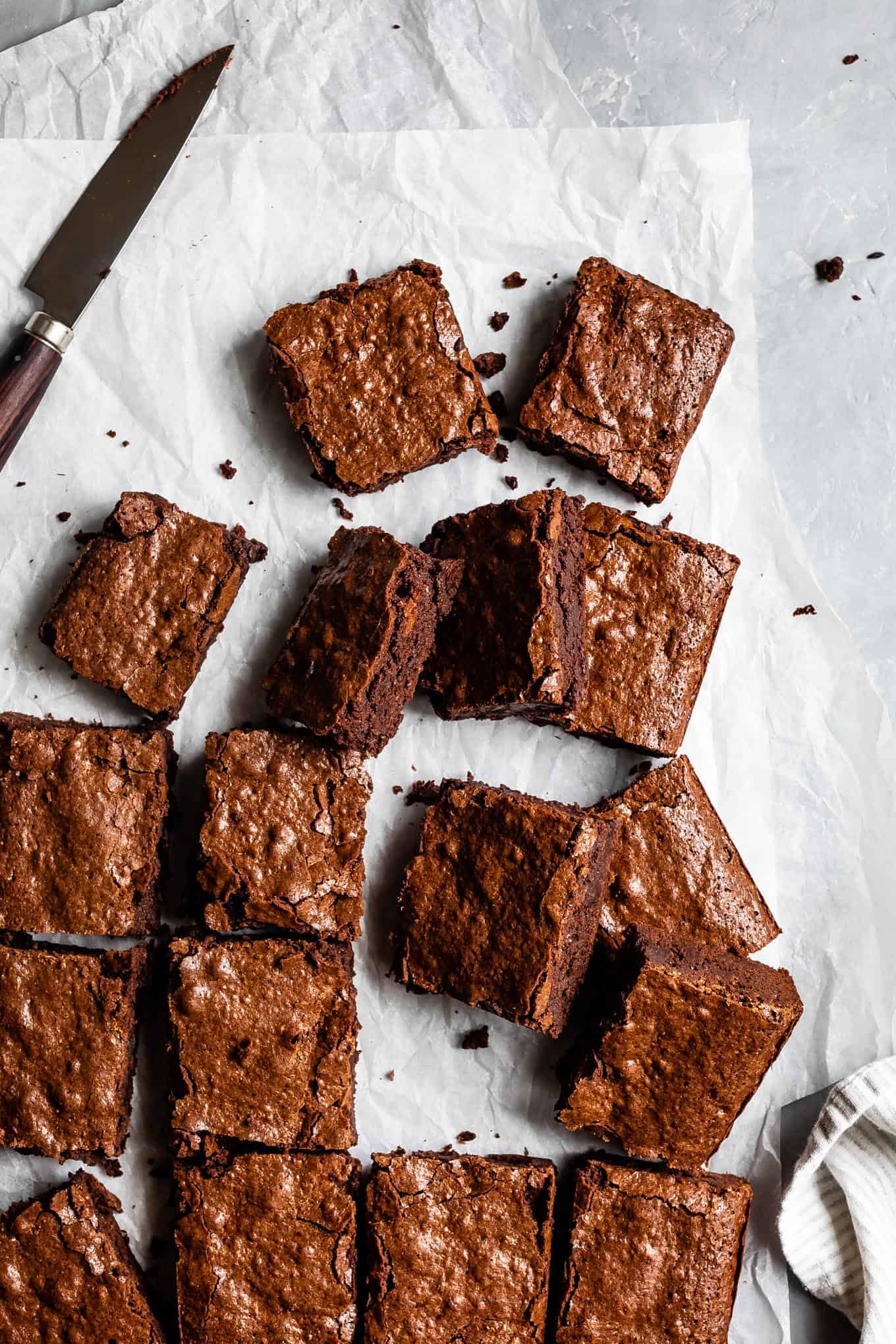 Best gluten-free brownies
Until now, I was a staunch supporter of cocoa brownies. I have a tried and true recipe for cocoa brownies that I believed knew no match.
That is until I met Michelle's better-than supernatural fudge brownies. These are a distinctly different breed of brownie than I'm used to, but equally delicious. I've now got a recipe for the best gluten-free cocoa brownies and the best gluten-free chocolate fudge brownies.
How to make gluten-free brownies?
Of all the desserts to convert gluten-free, brownies are one of the easiest. They don't need a lot of flour compared to the rest of the ingredients - usually just about a cup of flour. Here I've subbed out the all-purpose flour in favor of a blend of buckwheat flour, sweet rice flour, and tapioca starch.
Buckwheat flour enhances the richness of the chocolate and cocoa. It's a finely ground soft flour that works well as a base for baked goods. Sweet rice flour adds the chewiness and tapioca supports in binding while also allowing for the crisp crackly crust on top.
Bake them for a holiday party, bake them for movie night, bake them for a potluck, bake them for your kid's teachers - you decide, but just bake them. While the brownies bake, grab a copy of Weeknight Baking!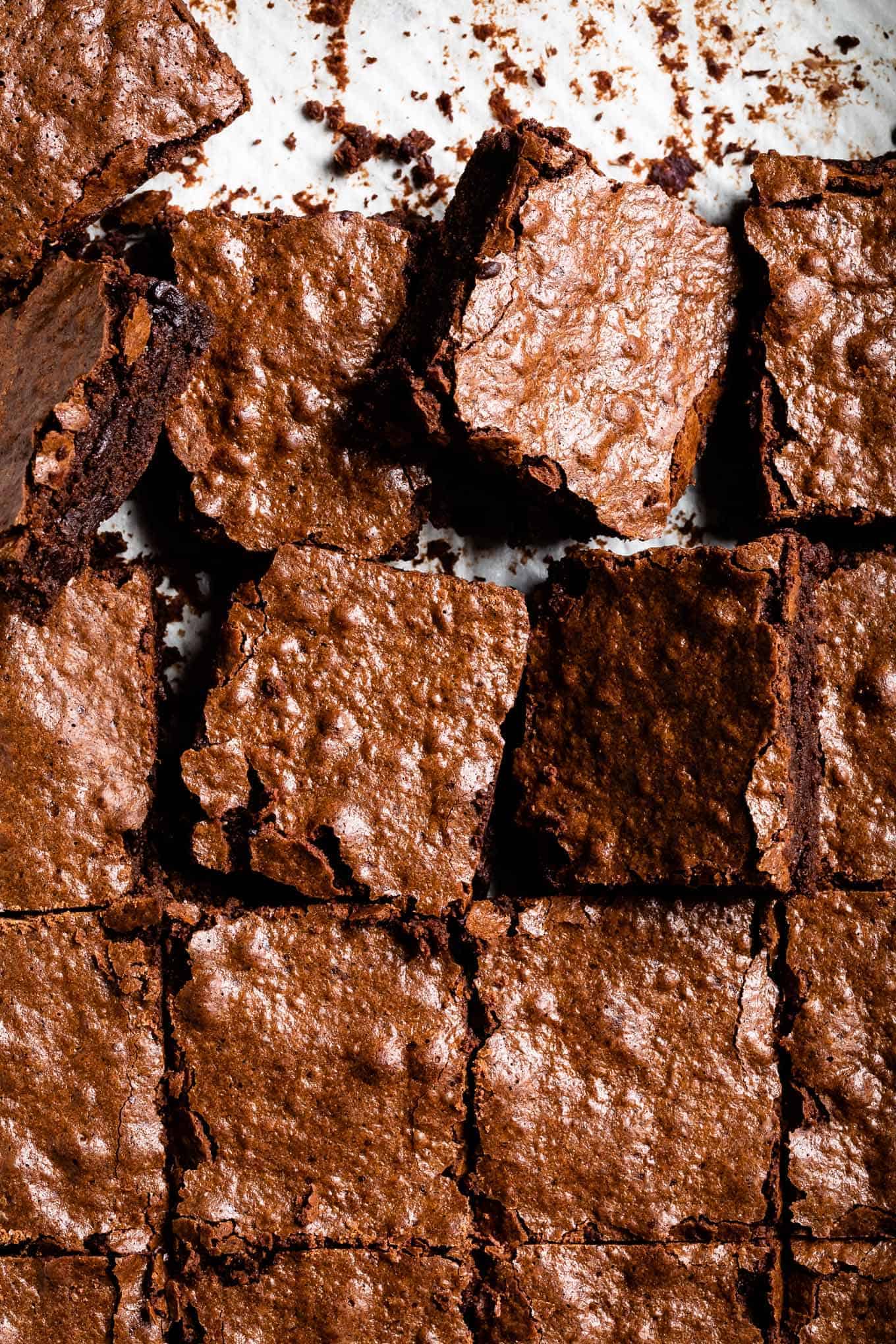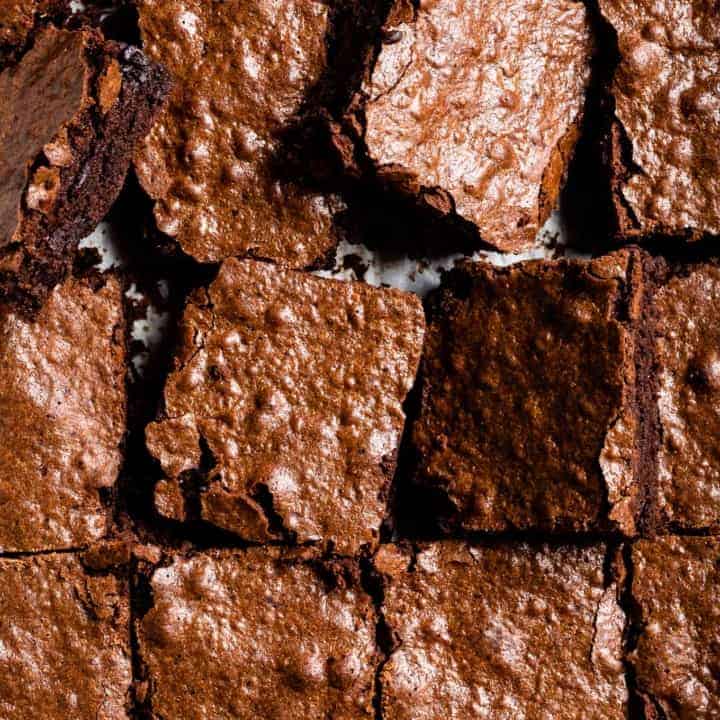 Gluten-Free Supernatural Brownies
Adapted from Weeknight Baking by Michelle Lopez, these gluten-free supernatural brownies have incredibly fudgy and gooey centers with a thin crackly sugar crust. They're rich and addicting, getting even more delicious as they sit overnight!
Ingredients
1 cup (8 ounces) unsalted butter, cut into 1-2 inch pieces
2 tablespoons dutch-processed cocoa powder, sifted if lumpy
8 ounces dark chocolate (between 63-73% cocoa), from whole feves or high-quality chocolate bar, broken into pieces (I used Guittard bittersweet baking discs)
½ cup + 1½ tablespoons (80g) buckwheat flour
¼ cup + ½ tablespoon (45g) sweet rice flour (different from "white rice flour" or "brown rice flour")
1½ tablespoons (12g) tapioca starch
½ teaspoon kosher salt
4 large eggs
1 cup (212g) tightly packed dark brown sugar
1 cup (208g) granulated sugar
2 teaspoons pure vanilla extract
Instructions
Position a rack in the center of the oven and preheat the oven to 350°F. Lightly spray a 9x13-inch cake pan with cooking spray and line with parchment paper, leaving a 2-inch overhang on the pan's two long sides. Spray the parchment, too.
Place the butter and cocoa powder in the top of a double boiler or in a heatproof bowl set over a medium, heavy-bottomed saucepan filled with a few inches of simmering water (be sure the bottom of the bowl does not touch the water). Cook over medium heat to melt the butter. While the butter melts, in a food processor, pulse the chocolate for a. few seconds at a time until roughly chopped. Add the chocolate to the butter and cook, using a. heatproof silicone spatula to stir the mixture and scrape the sides of the bowl occasionally, until the butter and chocolate halve melted and combined, about 10 minutes. Set the double boiler or bowl on a wire rack and let the chocolate mixture cool while you prep the other ingredients.
In a small bowl, whisk together the buckwheat flour, sweet rice flour, tapioca starch, and salt.
In the bowl of a stand mixer fitted with the whisk attachment, combine the eggs, sugars, and vanilla. Whisk on low until combined, 1-2 minutes, using a silicone spatula to scrape down the bottom and sides of the bowl as necessary. Increase the mixer to medium and slowly pour in the chocolate mixture, aiming for the sides of the bowl as opposed to the whisk. Continue whisking on medium until the batter is smooth, about 1 minute.
Sprinkle the dry ingredients over the batter all at once and use a silicone spatula to mix until just combined.
Pour the batter into the prepared pan and smooth the top. Bake for 35-40 minutes, or until a. skewer inserted into the center comes out with just a few crumbs attached. Cool completely on a wire rack before slicing. It's better to pull the brownies out of the oven early than leave them in too long - if you over bake the brownies they'll be tough. They might appear underbaked, but they'll be perfect when cooled.
Run a butter knife or offset spatula along the edges of the pan and use the overhanging parchment as handles to lift the brownies out of the pan and onto a cutting board. Slice into 20 rectangles, each about 2¼ x 2½ inches, and serve. The brownies can be stored in an airtight container or zip-top bag at room temperature for up to 3 days.