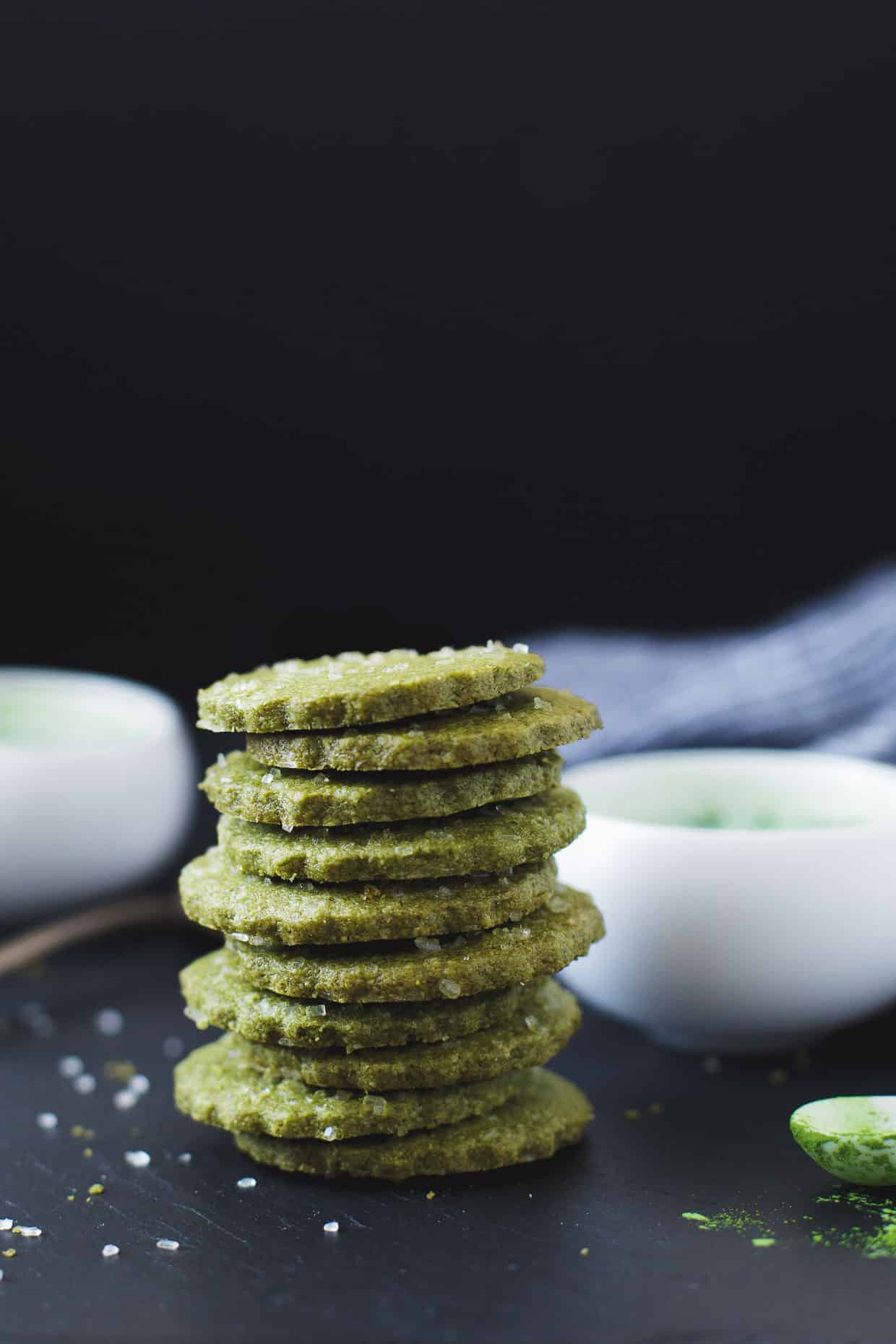 I consumed ¼ pound of matcha in less than 3 months. That's about 450 of these gluten-free matcha shortbread cookies, 150 matcha cupcakes, or 30 matcha lattes. Well when you put it that way, that's totally reasonable. My waistline disagrees. You might be thinking three matcha recipes in a row is a tad overkill, but it's my birthday tomorrow and matcha is my spirit food. And since I'm turning 30 (!!!), that means I can hoard all 30 cookies to myself, right?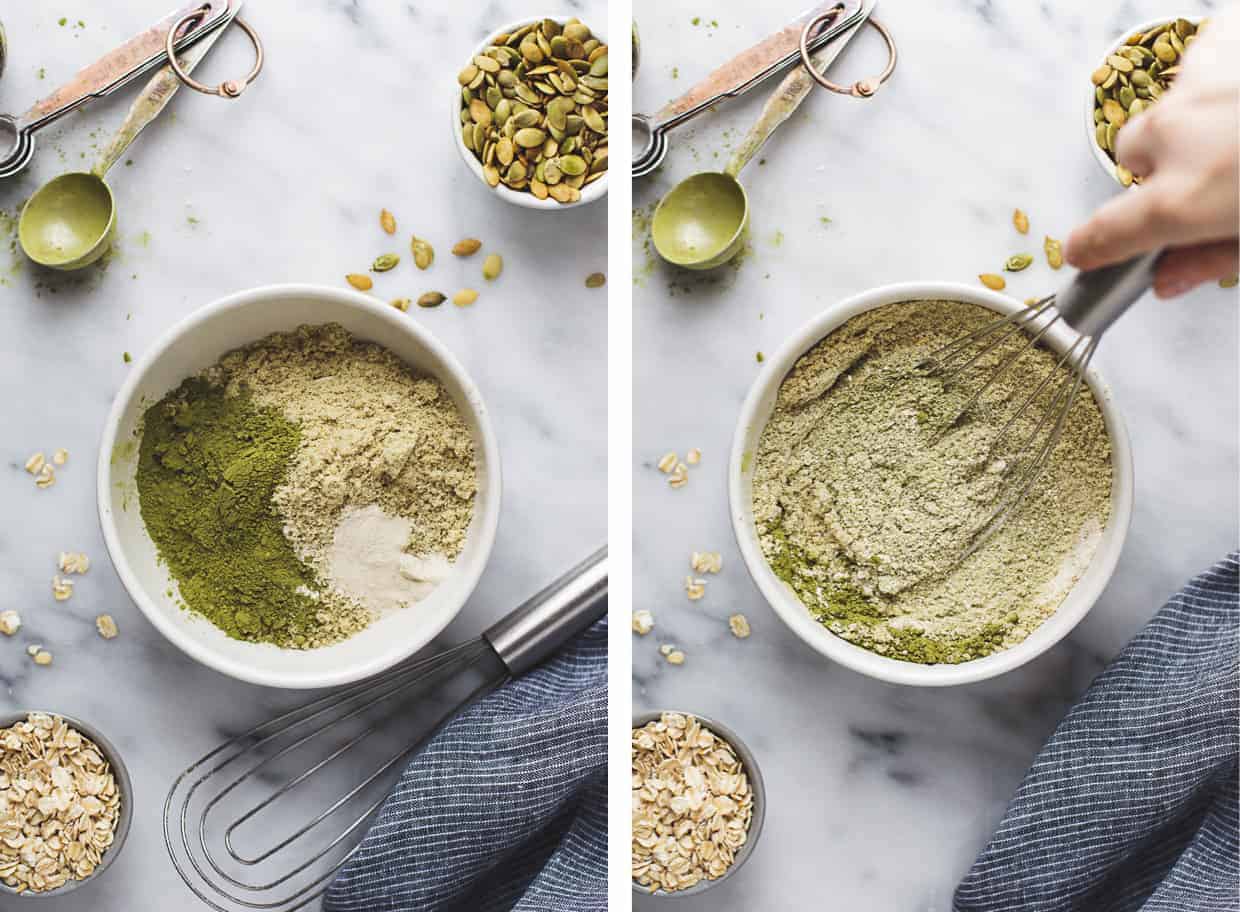 I'll dip them one at a time in a matcha latte made with the fancy shmancy ceremonial grade (birthday) matcha Alyssa and Carla boxed up for me straight from Tokyo with strict instructions not to "waste" it in cookies (I didn't - I promise! For that I used the ¼lb of extra special organic baking matcha Alanna gave me - swoooooon!). Don't judge - this is a normal amount of matcha mania. And that's definitely not an oxymoron.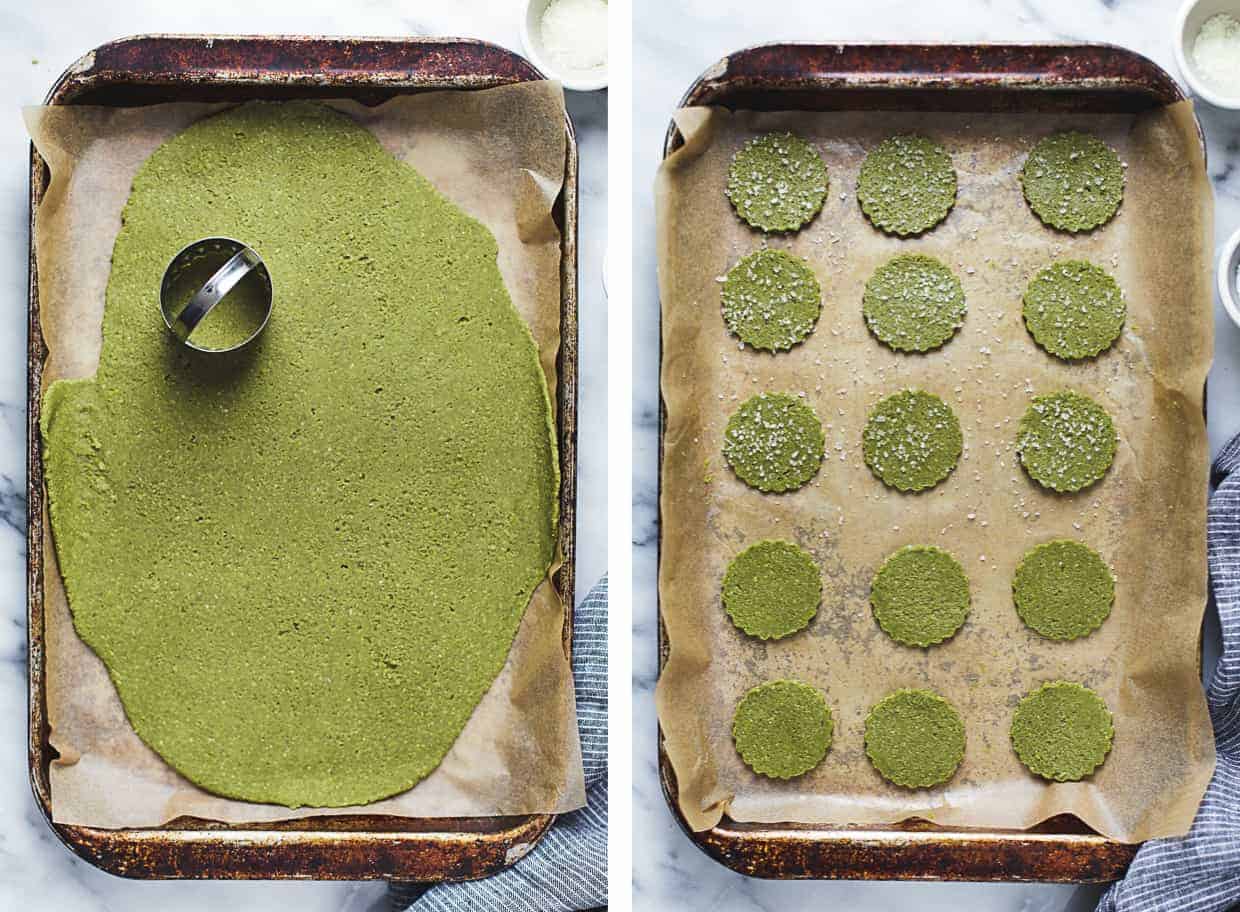 Phi sweet talked me into co-hosting an Alternative Flours Feastly meal for 14 people last month. While she was over there deep frying a whole celery root (iknowright?!) and whipping up sous vide pine nut pudding like NBD, I signed up for the flours/grains - wild rice & black sesame crackers, hand-cut chestnut pasta, adzuki red bean flour tofu, and candied black sesame and kinako puffed millet crumble. Plus a crapload of pickled things. Perhaps a little too ambitiously, I was like "yeah, no sweat."
Only I was totally sweating, guys. Bullets. And then I nearly pooped my pants when the pressure of having only a week to develop four new recipes with grains/flours I'd never met before hit. Recipes worthy of people's money. This was my cooking anthem that week. So I did what any normal person under pressure would do.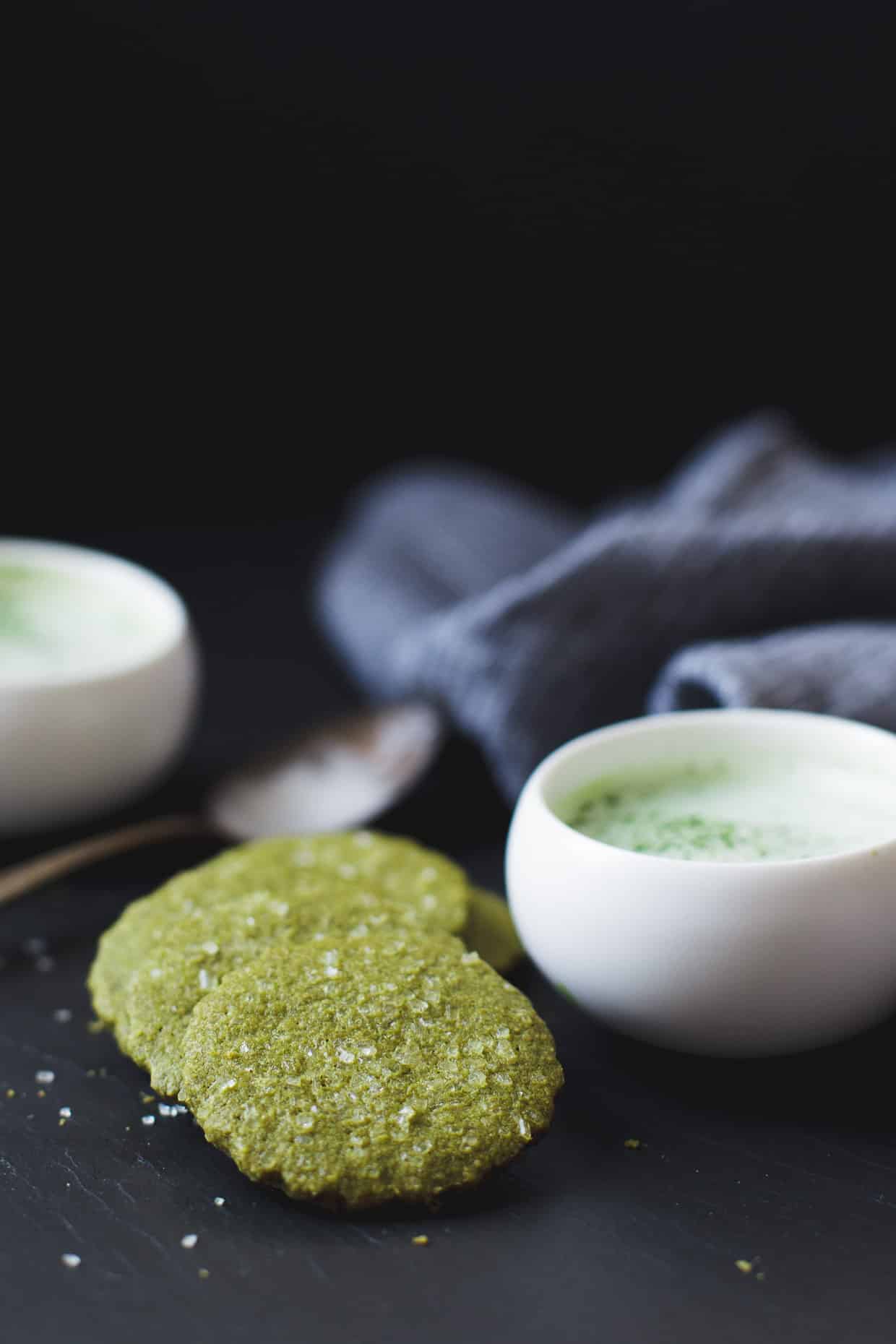 I volunteered another new recipe. After exchanging mile-long to-do list texts with Phi the day before, I added, "and if I'm feeling up to it, I was thinking of testing out pumpkin seed matcha cookies" before my brain could tell my fingers that was a bad idea. When inspiration comes, there's sometimes no choice but to lean into it with a hearty yes and a spoonful of powdered sugar.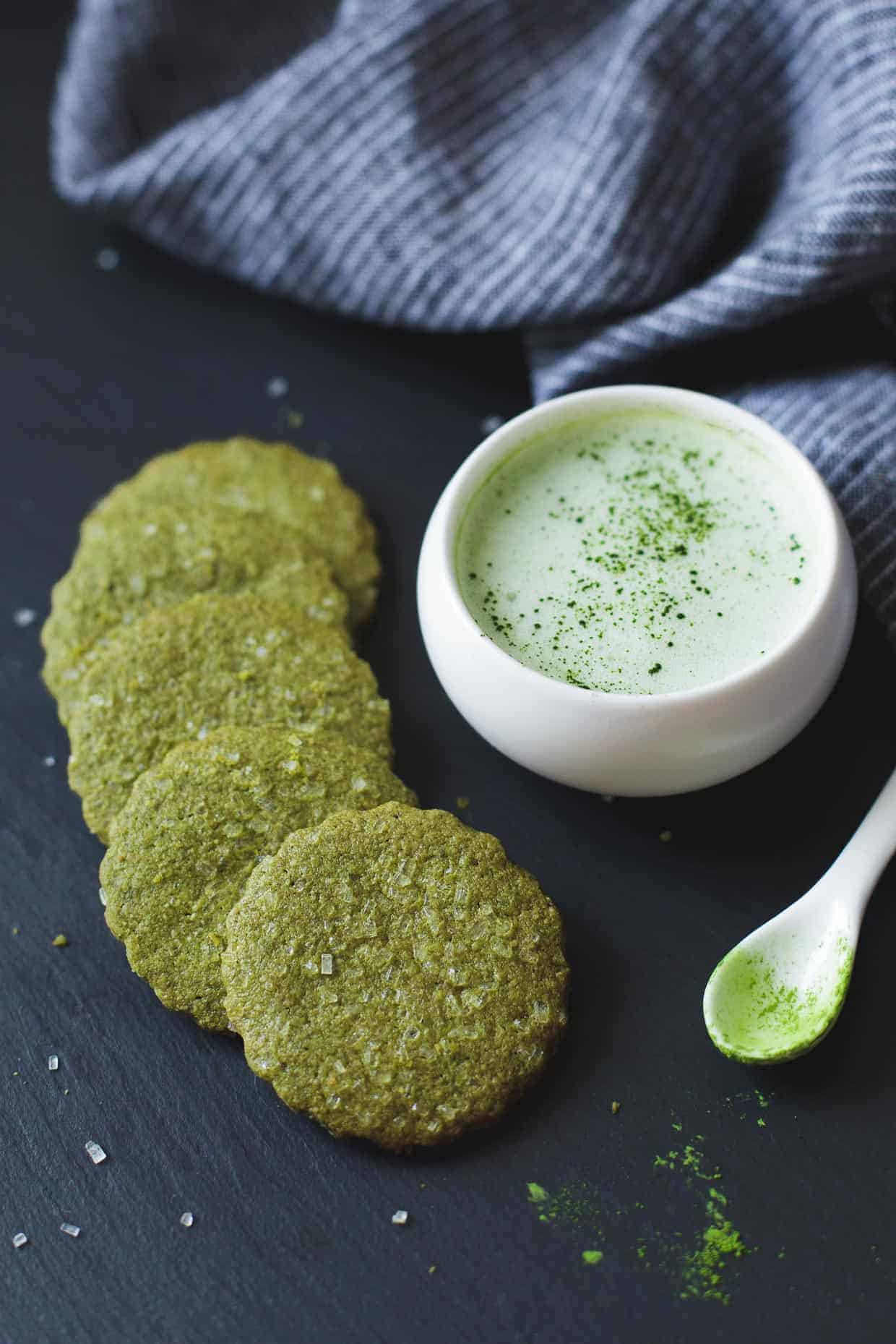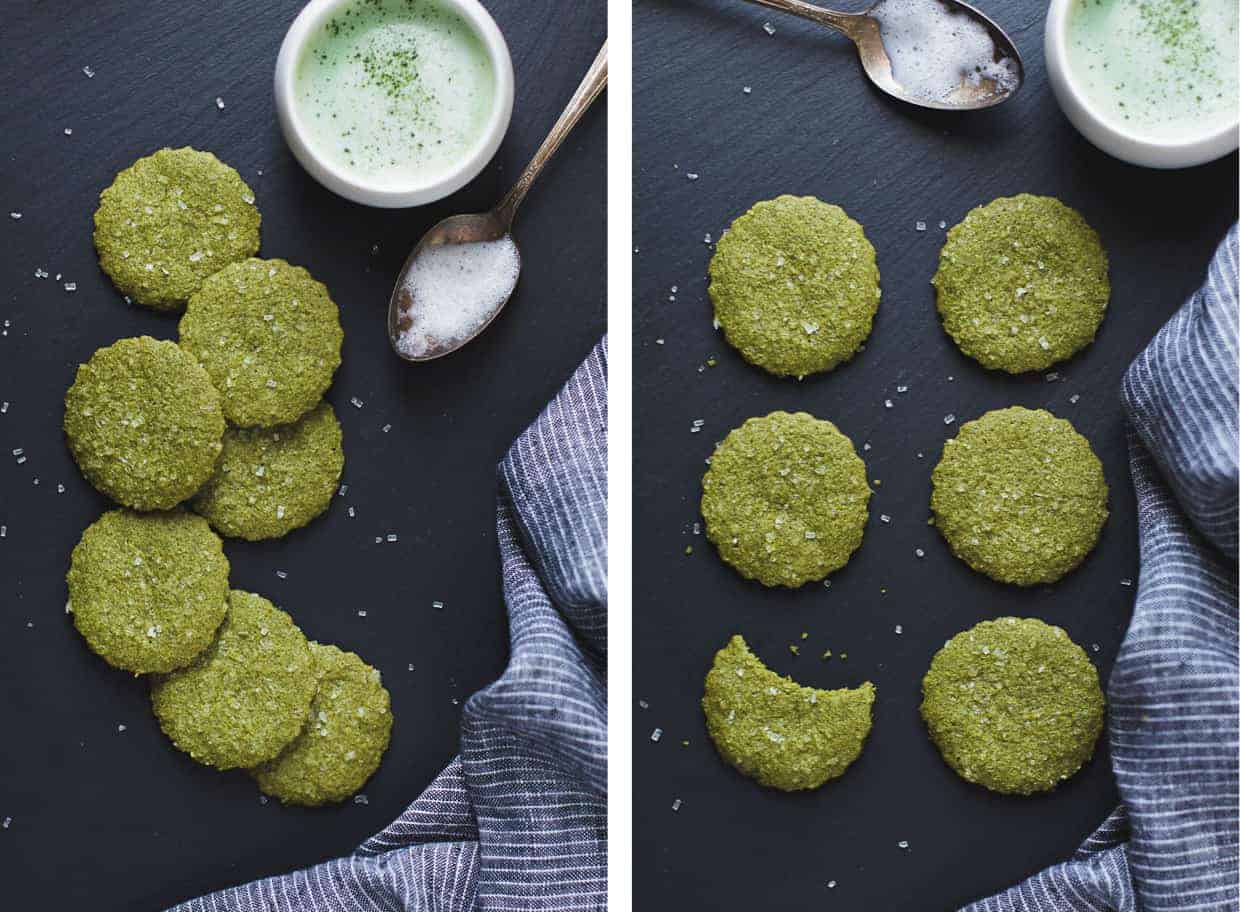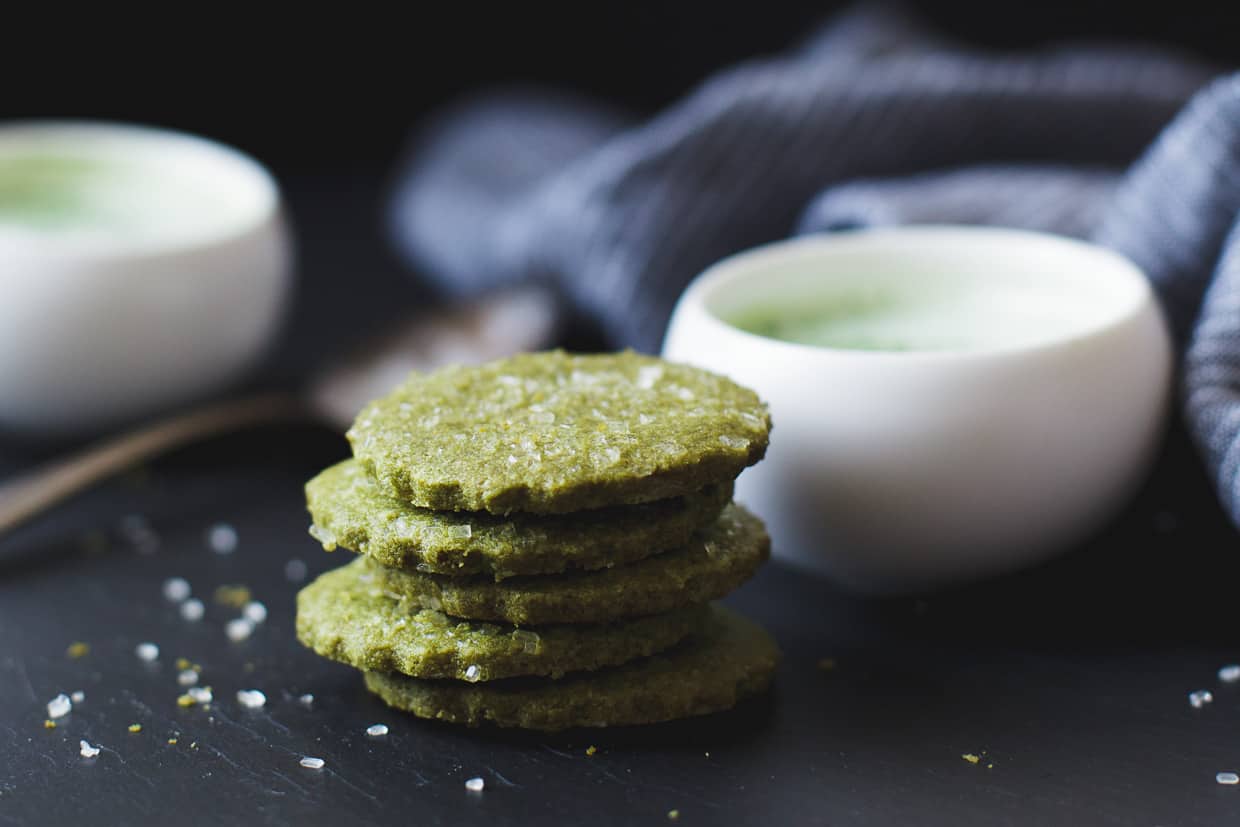 These snappy little bites were born from last-minute midnight cravings and served alongside a mug of toasted rice genmaicha as a night-cap to our feast. We'll come back to the dinner when I share some of those recipes and photos next week.
For now: Dessert first.
With strong vegetal notes, these morsels are not meant for matcha newbies. The nutty ground up pumpkin seeds highlight matcha's earthiness, and with just a hint of sweetness, they are the perfect palate cleanser at the end of a meal to top off dessert with something calm. Plus pumpkin seeds are filled with zinc, magnesium, vitamin E, and compounds that can potentially ward off cancer. So basically, these cookies fight cancer. Eat 30.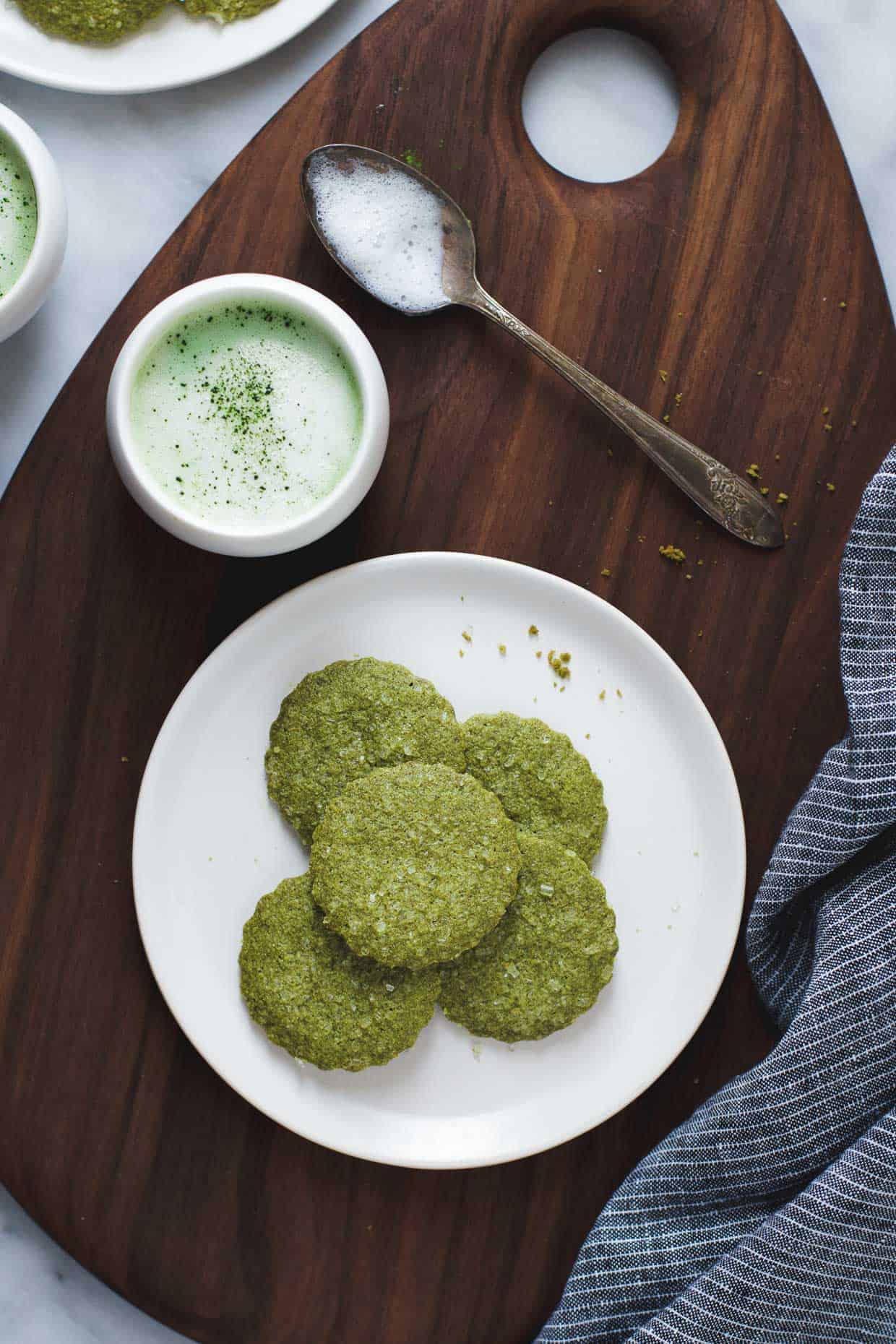 In honor of Matcha March (it's a thing, go with it), here are some other Snixy Kitchen matcha recipes:
And other matcha recipes I'm drooling over right now: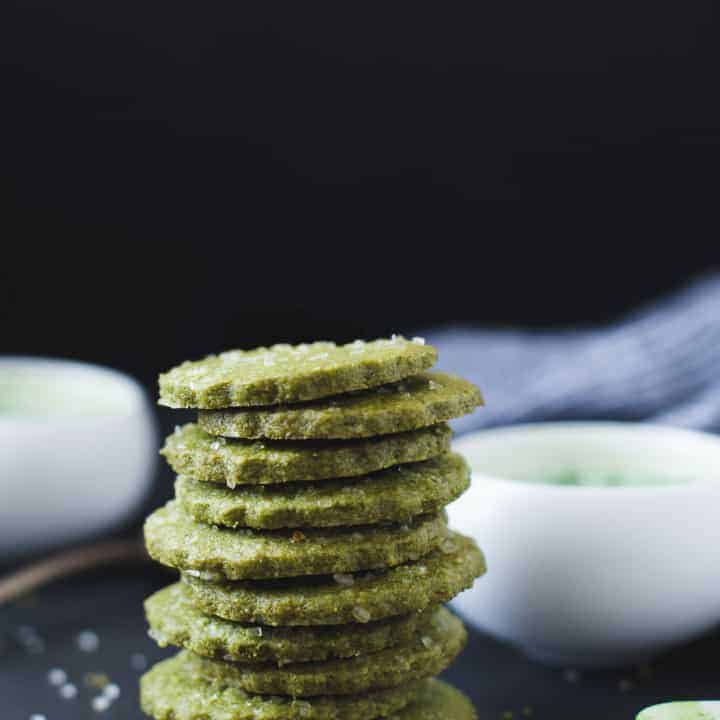 Gluten-free Matcha Shortbread Cookies
Yield:
30 1½-inch cookies
Ingredients
½ cup gluten-free oat flour*
½ cup finely ground pepitas/pumpkin seeds**
¼ teaspoon baking powder
6 tablespoons butter, room temperature
¼ cup powdered sugar
Optional: 1-2 tablespoon sanding sugar
Instructions
In a medium bowl, sift together the oat flour, ground pepitas, xanthan gum, baking powder, and matcha powder. Set aside.
In the bowl of a stand mixer, beat the butter on medium high speed until light and fluffy. Gradually add the powdered sugar and beat on low until fully incorporated. Add the vanilla and beat to combine.
With the mixer on low speed, gradually add the dry ingredients to the butter and beat until fully combined. Scrape the sides and beat again for about 30 seconds.
Roll the dough between two sheets of parchment paper until it is about ⅛-inch thick. Set the flattened dough, with the parchment paper on a medium baking sheet and freeze it while you preheat the oven, or about 10 minutes.
Preheat the oven to 300°F.
Remove the dough from the freezer and peel off the top layer of parchment paper. Lift the parchment paper onto a cutting board and cut out the cookies using your favorite cookie cutter (anything between 1 and 2-inches will work!). Transfer the cutout cookies to a piece of parchment paper on the cold cookie sheet as you go.
Optional: sprinkle the cookies with sanding sugar (you can even press the cookies into the sanding sugar if you want!).
Bake cookies for 12-13 minutes, removing them earlier if you see the edges start to turn light brown (the color of your baking sheet may vary the cooking time).
Transfer the cookies with a spatula to a wire rack to cool and repeat until you've used up all the dough.
Notes
*I grind my own oat flour by pulsing gluten-free oats in the blender or food processor until fine, then sifting out any large pieces.
**Raw unsalted pepitas are available on Amazon. I grind the pepitas/pumpkin seeds in the blender or food processor by pulsing, scraping the sides, and pulsing again until fine. Be careful not to run it too long or you'll end up building up heat and moisture. Sift out any large pieces and grind them again.
Thanks for reading Snixy Kitchen! To stay up on what's coming out of my kitchen, follow me on Facebook, Instagram, Twitter, Bloglovin', Pinterest, or subscribe via e-mail to get new recipes right to your inbox.