These festive gluten-free cherry pie cookies give you all the flavor of a cherry pie in bite-size cookie form. A tender melt-in-your-mouth sugar cookie topped with sweet cherry pie filling - these cookies are so easy to make!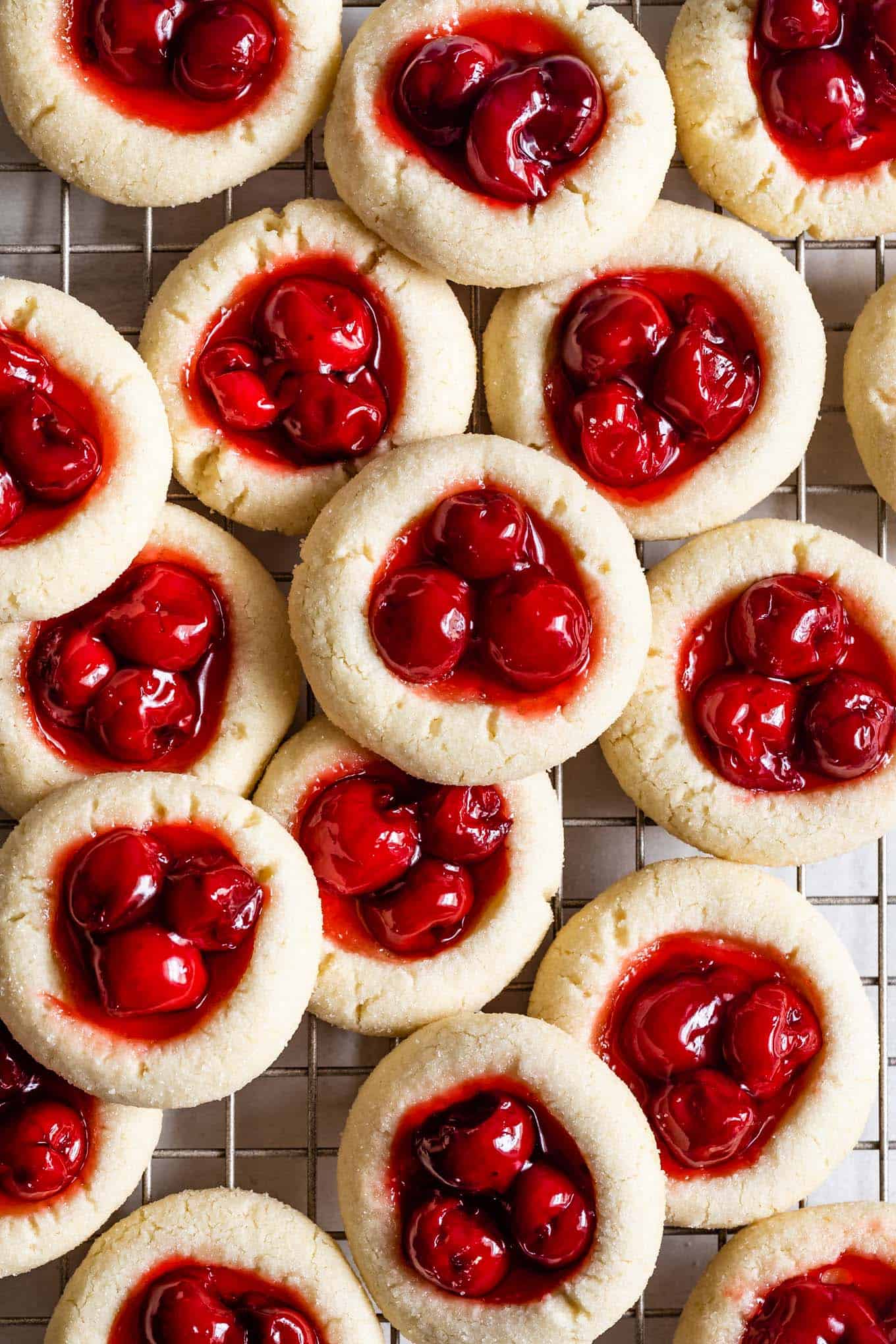 This post is sponsored by Andronico's Community Markets, a year-long partner of Snixy Kitchen, but the opinions are all my own.
The other day Ira told me I'm his favorite daddy.
Ira, turns to Lucas: You're not my favorite daddy anymore.
Me: Who's your favorite daddy?
Ira: You are.
Me: But I'm not a daddy...
Ira: But you're the boss of the daddies.
That's right, buddy. He's three and he already understands the pecking order of the house. So what if it's only because I had just baked cookies? When the cookies are gone, I'll be chopped liver next to Lucas, but for the time being, I'll take it.
Maybe if I keep baking these gluten-free cherry pie cookies, I'll stay on the podium.
Festive Cherry Pie Thumbprint Cookies
Got weekend BBQ plans this with no time to make a pie? These gluten-free cherry pie thumbprint cookies pack all the flavor of a cherry pie in easy-to-eat melt-in-your-mouth cookie form. AND they come together lickety-split.
Keep this recipe handy; these cookies can sub in for pie all year long - bring them to a summer 4th of July potluck or dress up your holiday cookie platter!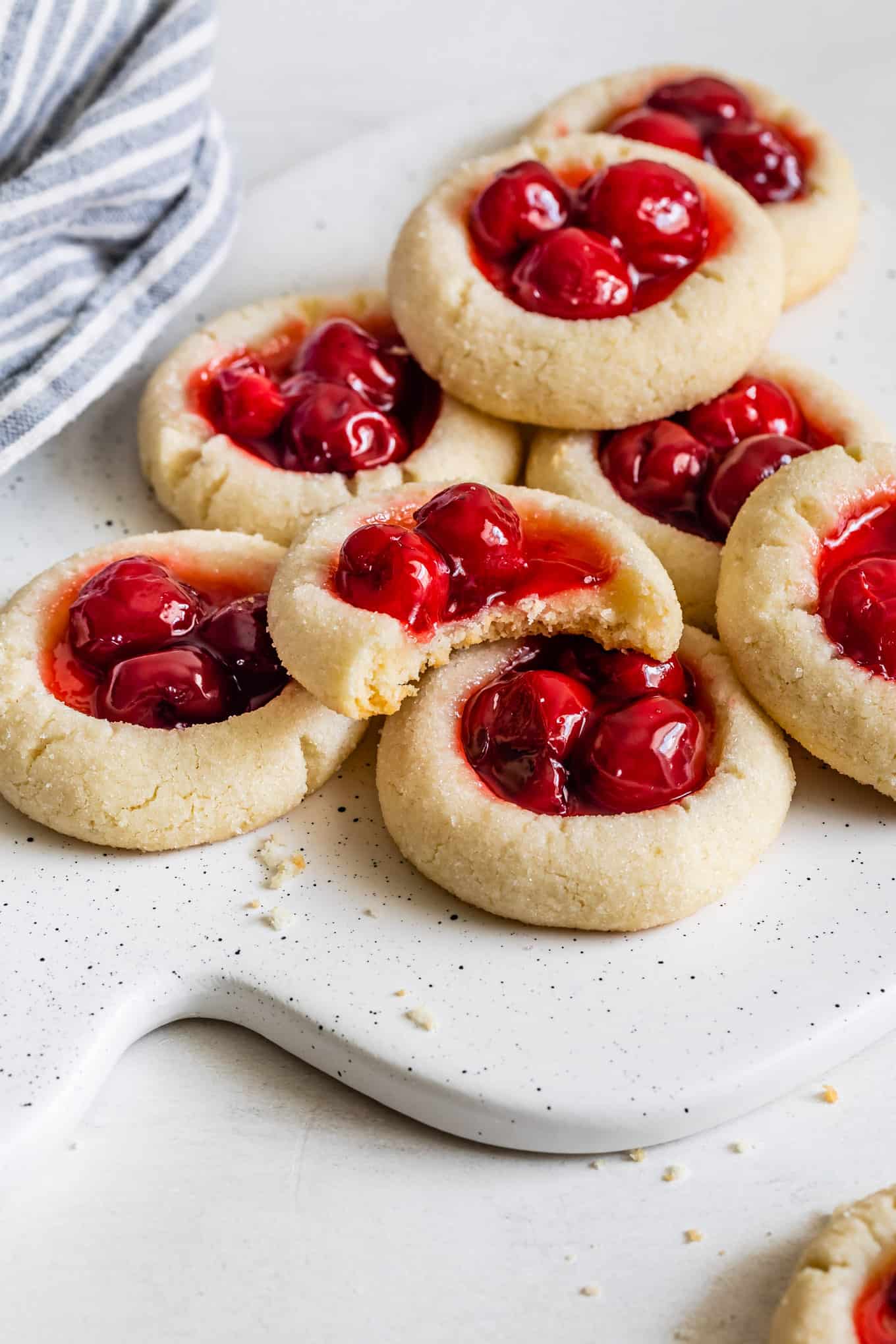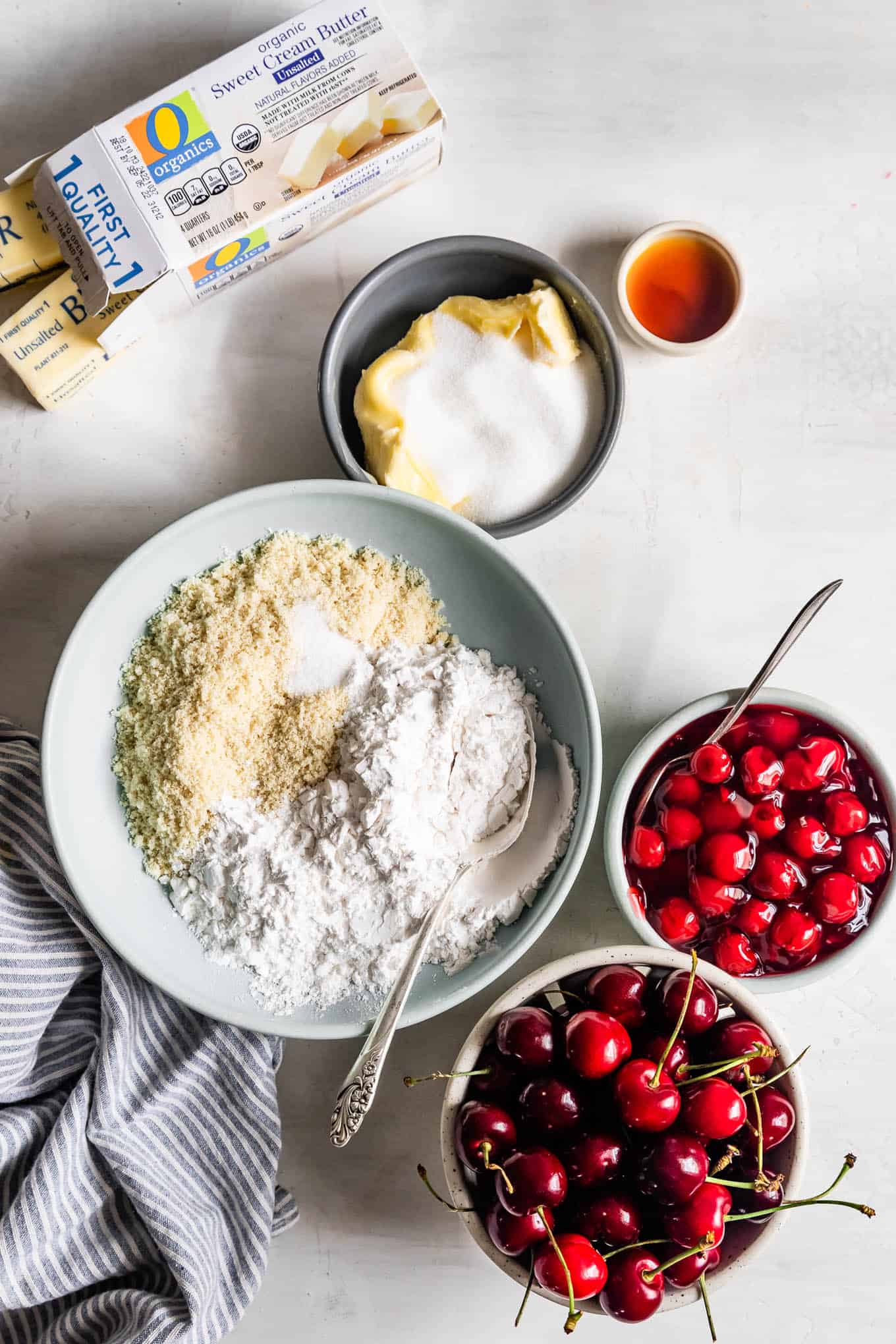 ANDRONICO'S: Ingredients for Cherry Pie Cookies
I love shopping at my local Bay Area Andronico's Community Market because I can get everything I need all in one place. As a gluten-free baker, it's not unlikely that I'd need to rush between multiple stores to gather my flours and ingredients, but Andronico's has a large Bob's Red Mill gluten-free flour section, while also carrying all the everyday staples I need like a classic canned cherry pie filling.
Ingredients you need for gluten-free cherry pie thumbprint cookies:
Bob's Red Mill super-fine blanched almond flour
Bob's Red Mill tapioca flour
Kosher salt
Unsalted butter
Granulated sugar
Vanilla and almond extracts
Cherry Pie Filling (or fresh cherries)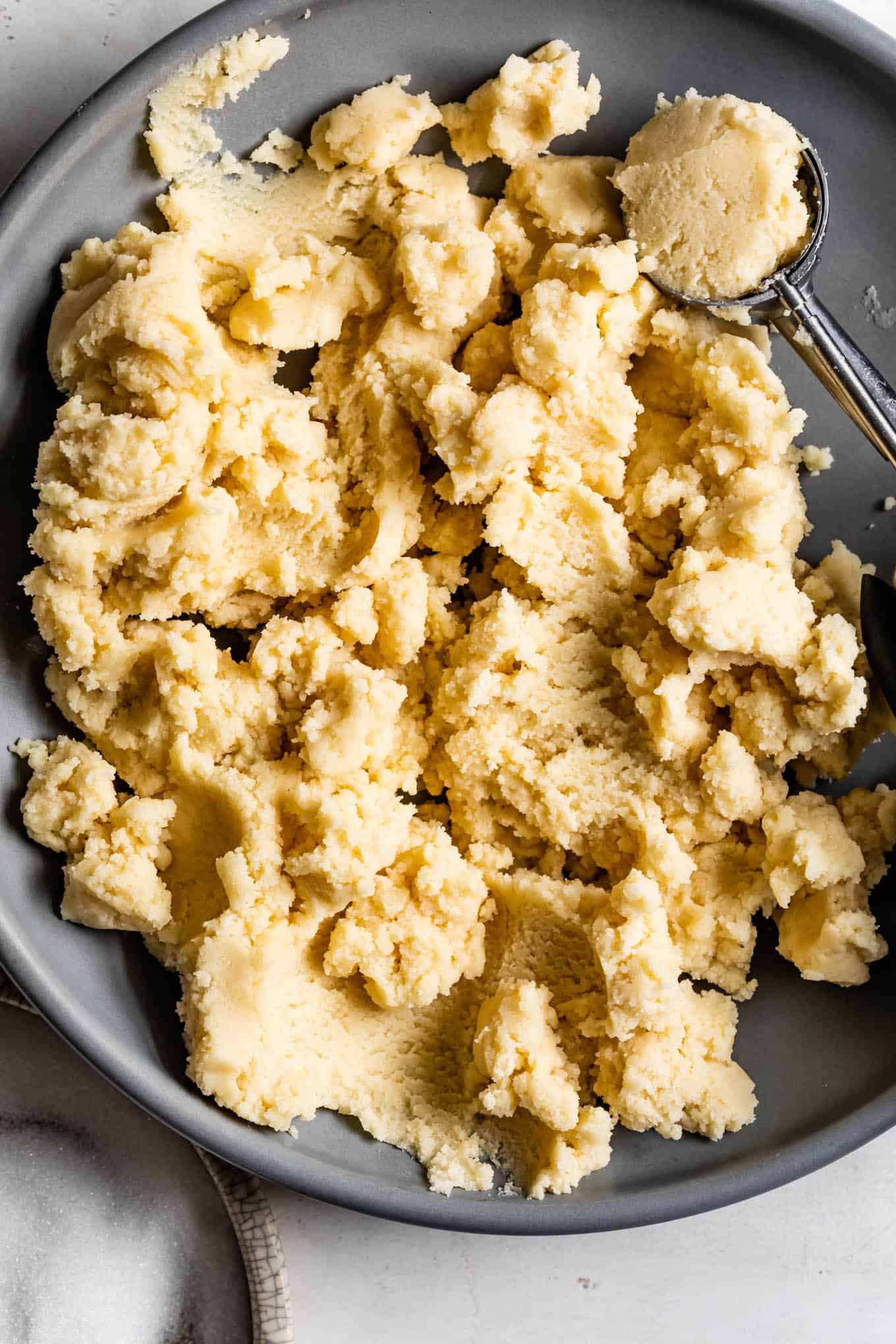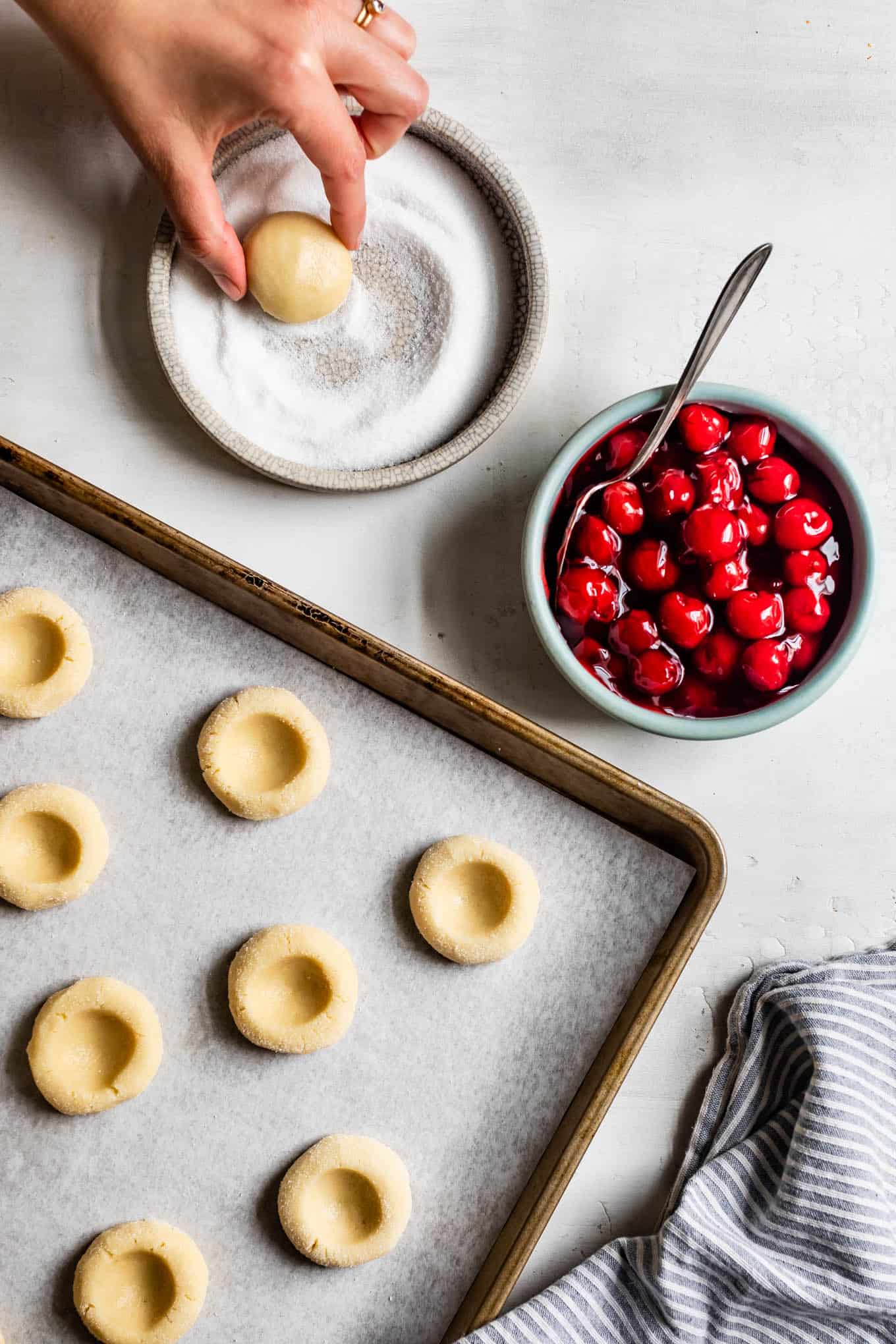 Gluten-Free Cherry Pie Sugar Cookie Dough
For a classic tender buttery cookie, this recipe uses a combination of superfine blanched almond flour and tapioca flour. The result is a gluten-free almond thumbprint cookie that's crisp on the outside and soft and fluffy on the inside.
Super-fine Blanched Almond Flour: Finely ground almond flour gives a hint of nuttiness with the classic flavor of a freshly baked cookie. The sweet nuttiness of almond flour pairs beautifully with a buttery sugar cookie. Almond flour also adds moisture and fat to the cookies, which means you need more flour than a traditional cookie recipe to keep them from spreading, but this also allows them to stay thick and moist.
Tapioca Flour: If used alone, almond flour would create a snappy cookie, but paired with tapioca flour, it becomes soft and pillowy. Tapioca flour adds chewiness and fluffiness to the cookie crumb. It's what keeps the cookies from being too dense.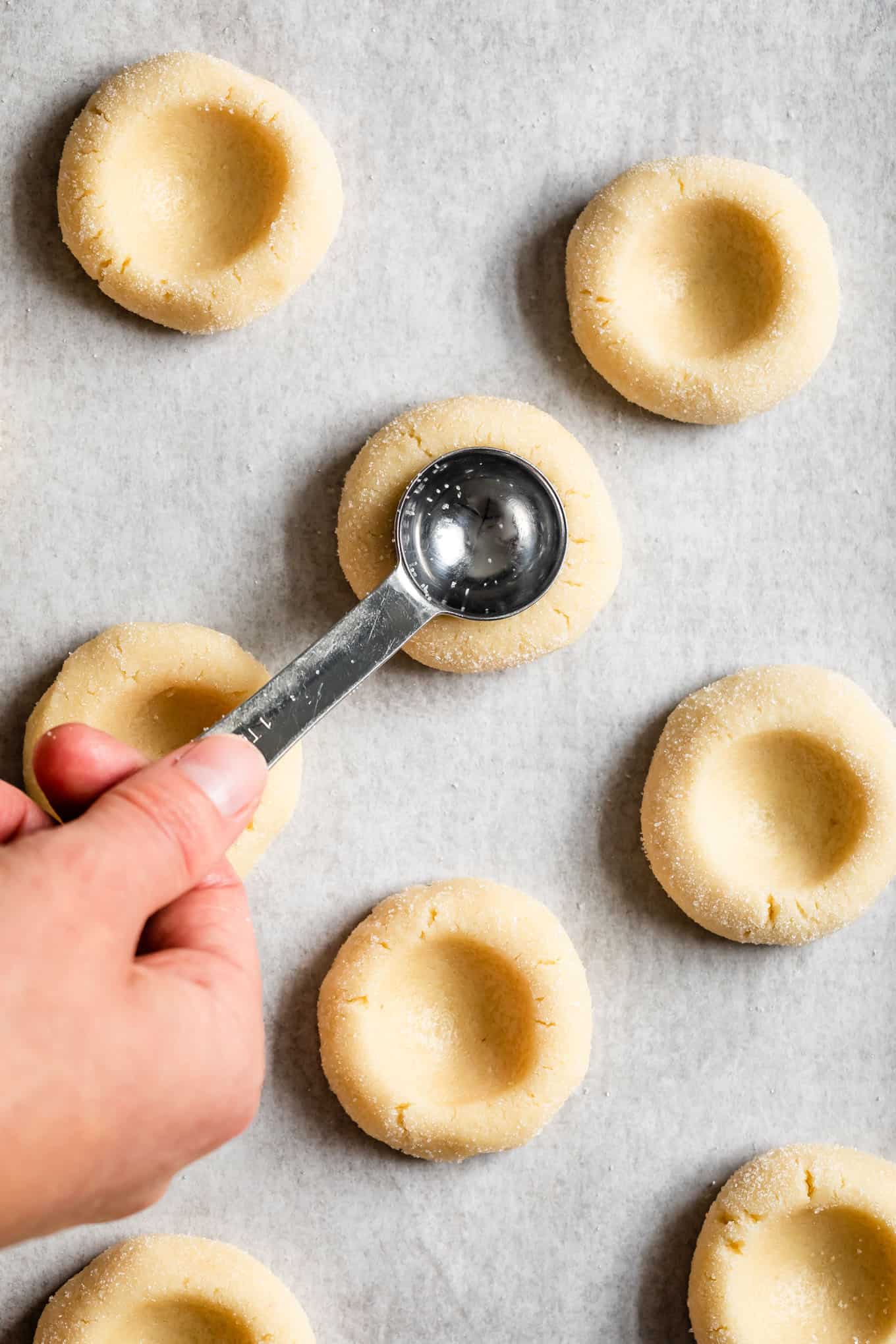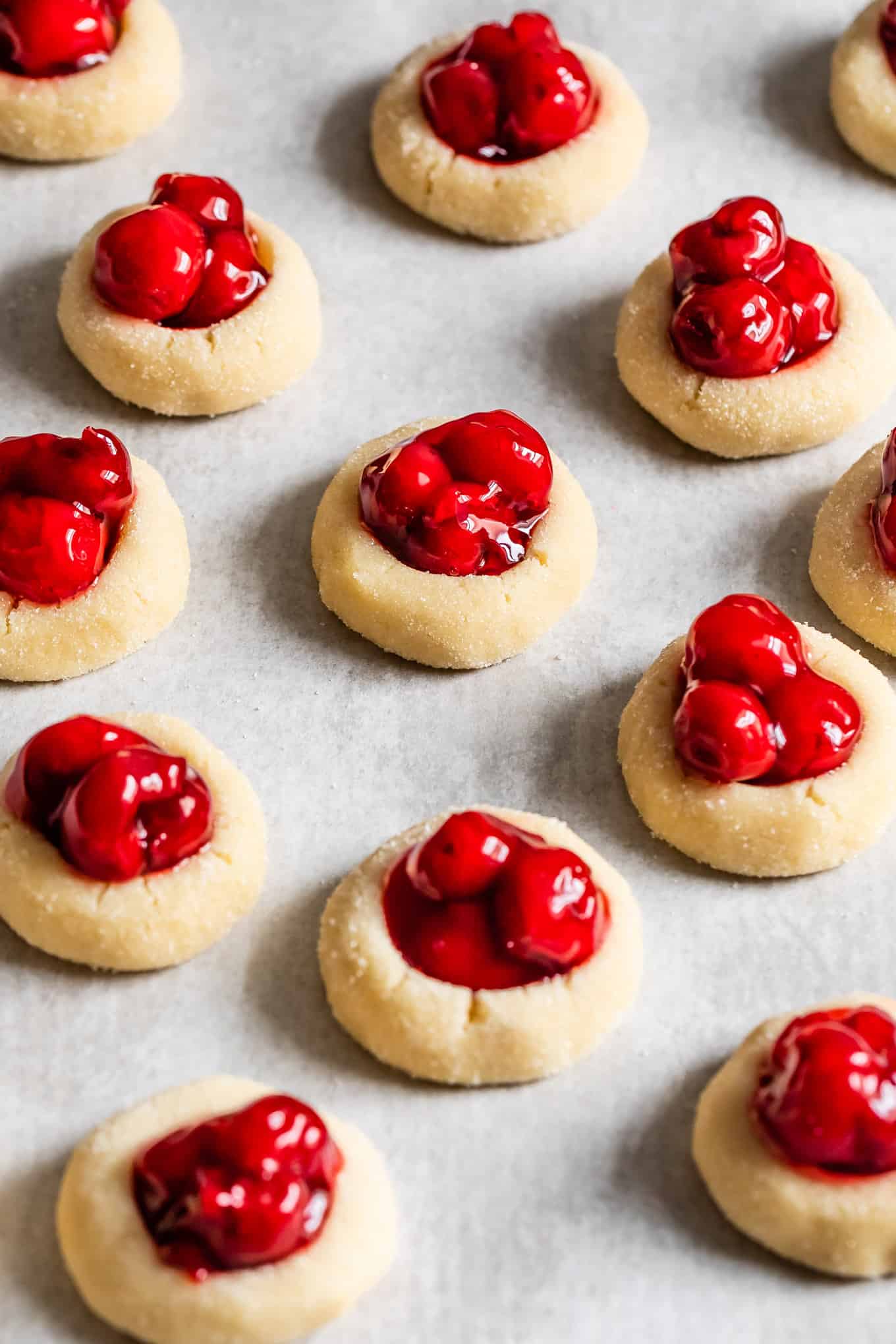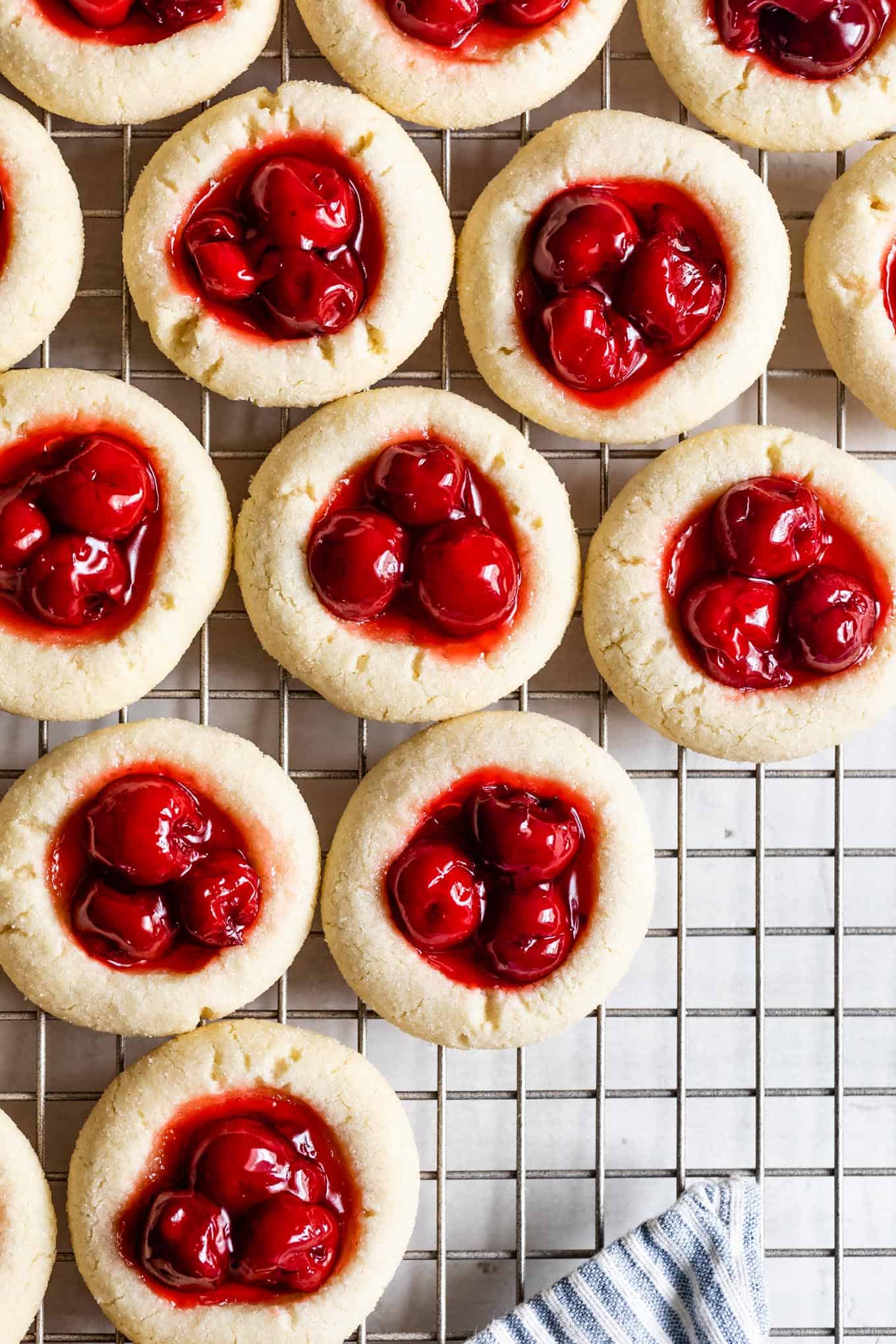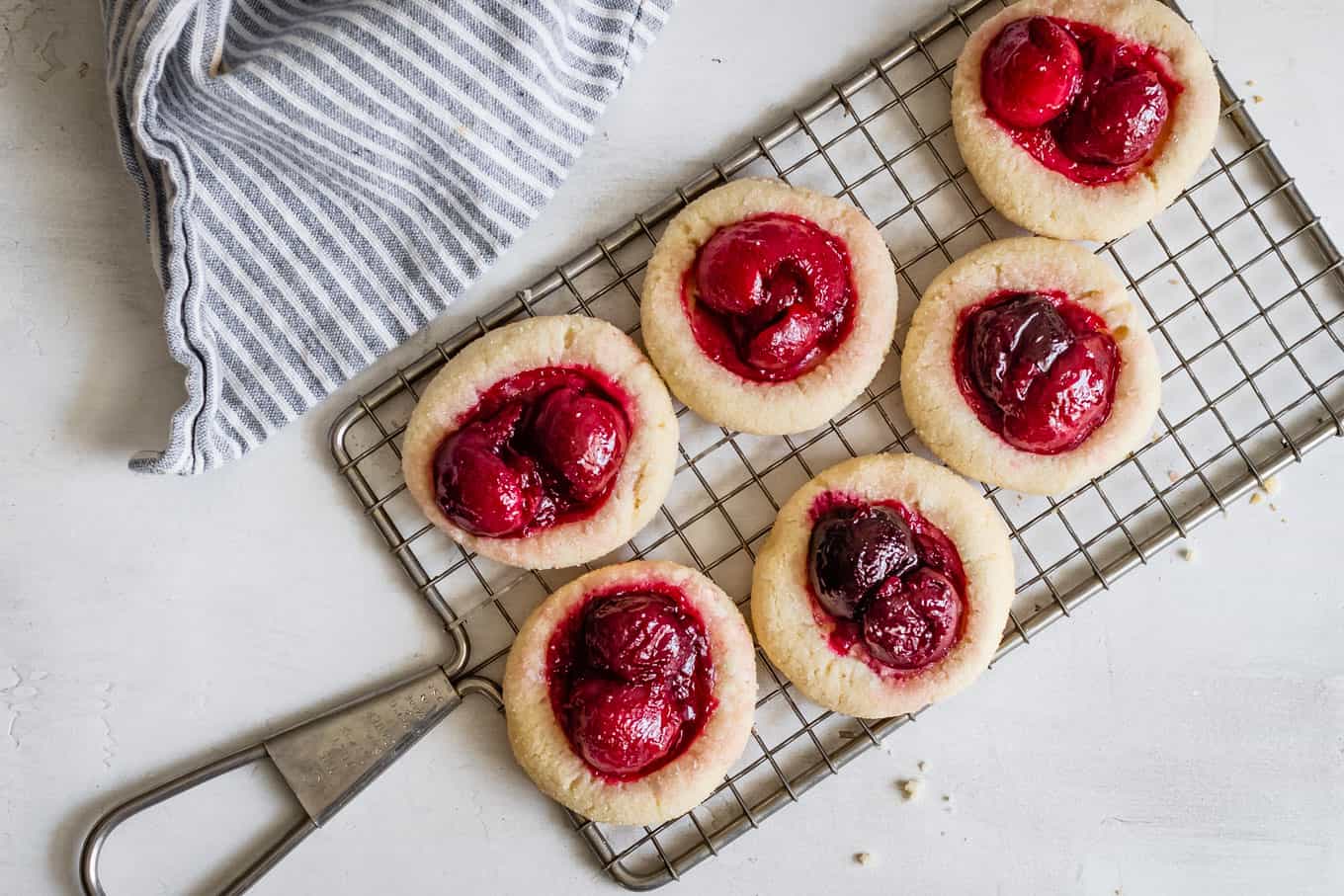 Cherry Pie Filling or Fresh Cherries
For these cookies, you can either use premade canned cherry pie filling or make your own cherry pie filling from fresh or frozen cherries. Both have their own merits.
The canned cherry pie filling cookies are beautiful and festive - they look bakery worthy with bright red cherries surrounded by a jammy filling. I recommend looking for a cherry pie filling that notates "more cherries" as you'll be using mostly the whole cherry part! Note that cherry pie filling is different than just canned cherries. It's been cooked and reduced to have a thick syrup. This will bake up jammy and will keep the filling from running all over your cookies. If you buy canned cherries (ie. not pie filling), you'll need to follow the steps to make your own cherry pie filling.
The homemade cherry cookies are less sweet, tasting more like classic cherries, but their appearance is much more rustic, with the filling baking up less jammy.
How to Make Gluten-Free Cherrie Pie Cookies
These gluten-free cherry cookies are so quick and easy to make. You may never make pie again.
Sift together almond flour, tapioca flour, and salt. Set aside.
Cream the butter and sugar then mix in the vanilla and almond extracts.
Mix in the dry ingredients, beating until it forms a moist dough.
Working one at a time, roll a ball of cookie dough, toss it in sugar to coat, then press a "thumbprint" into it.
Fill with cherry pie filling and bake.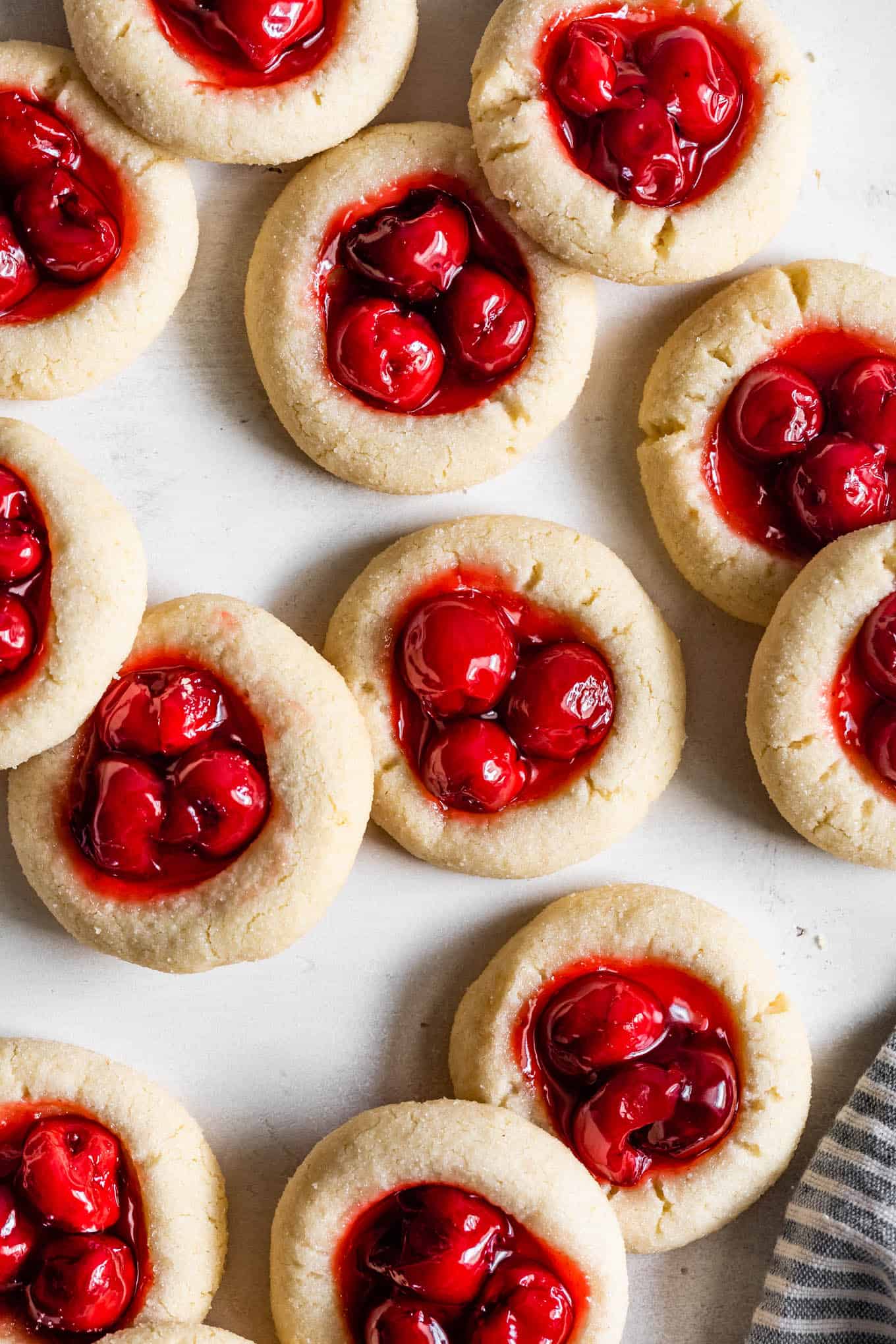 Tips for Gluten-Free Cherry Pie Thumbprint Cookies
Roll balls firmly
Measure out your cookie dough and firmly roll it into a ball in the palm of your hands. At this point, make sure there are no visible cracks.
Keep them from cracking by pressing them immediately after rolling
While it may seem efficient to roll all the cookie dough balls out first and then press the thumbprint into them, this will lead to more visible cracking. As the cookie dough balls sit, they develop a thin shell that will lead to cracking when pressed. Instead, work one at a time: roll out a cookie dough ball, dip it in sugar, and press the thumbprint into it. Repeat.
Keep in mind: cracking is just an appearance issue, the cookies will still bake up and taste the same, even with cracks. So try not to stress too much if your cookies crack a bit at this stage!
Use a measuring spoon for perfect "thumbprints"
Thumbs are not round (duh), so if you choose to use your actual thumb, your cookies will be less uniform. I recommend using a 1 teaspoon size measuring spoon to press the "thumbprints" in the cookies. This will make a deep well that's perfectly round.
Overfill the thumbprints
The cookies spread a bit and get fluffier when baked, so to make sure the cavity is still full after baking, overstuff the thumbprints with cherry pie filling. I recommend three cherries in each cookie, even if they're stacked on top of each other.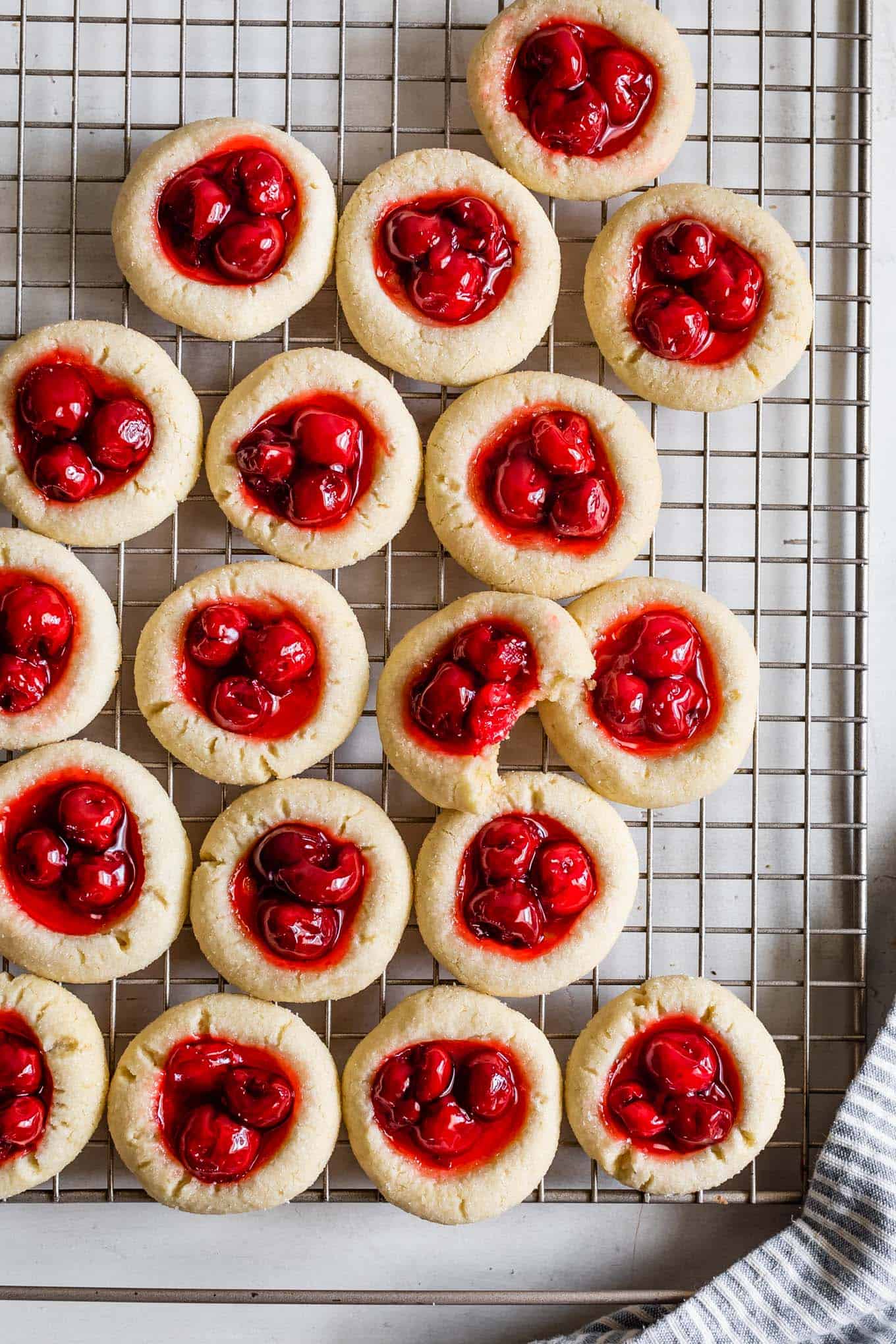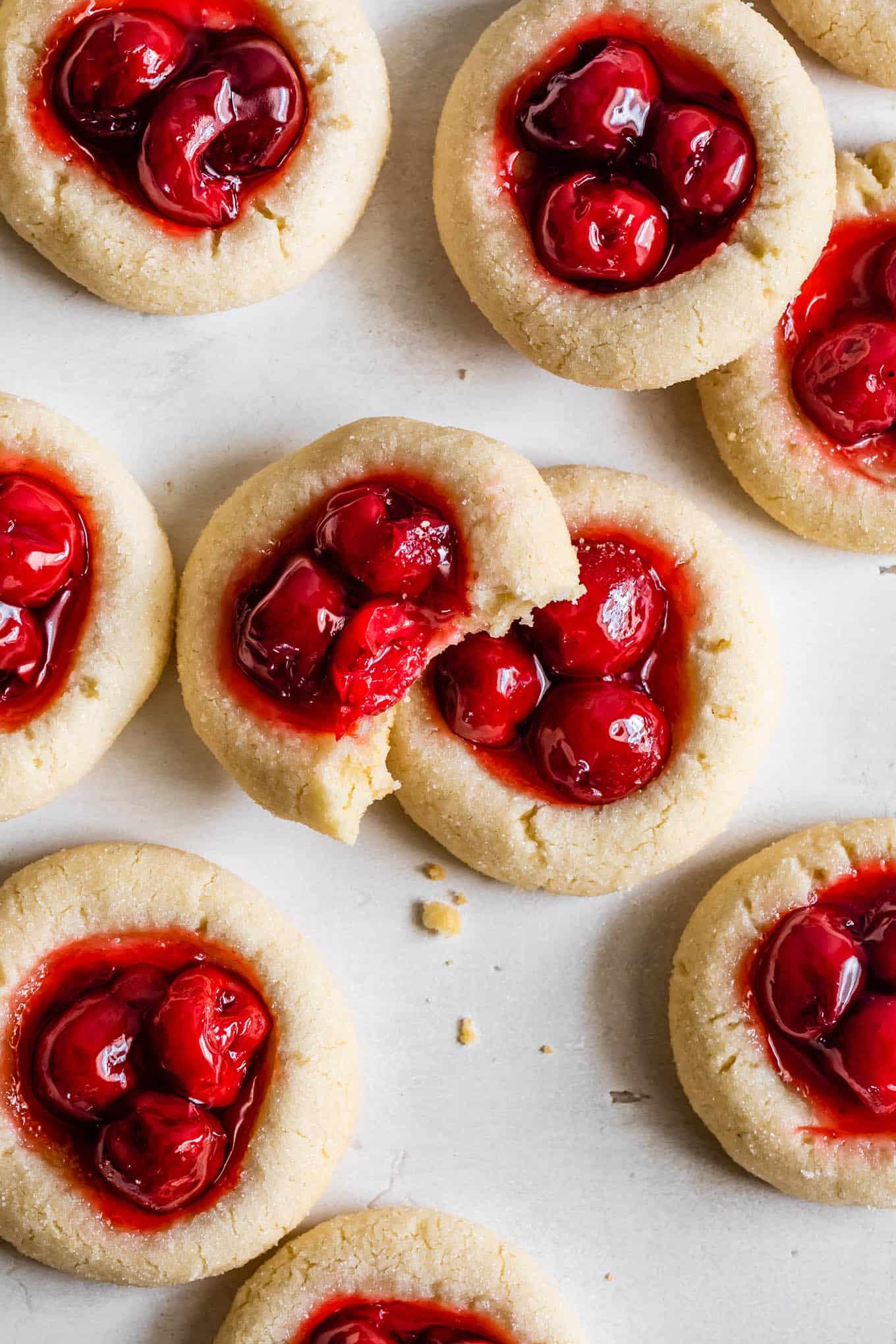 How to Store Thumbprint Cookies
These cherry pie thumbprint cookies do not need to be refrigerated. Store cookies in an airtight container at room temperature for several days. Despite the moisture from the cherry pie filling, these cookies will last for up to a week without compromising texture too much.
You can also freeze these thumbprint cookies, either before or after baking. Either way, freeze them in a single layer on a baking sheet for a couple of hours. Once frozen, transfer to a freezer bag or container to store for longer.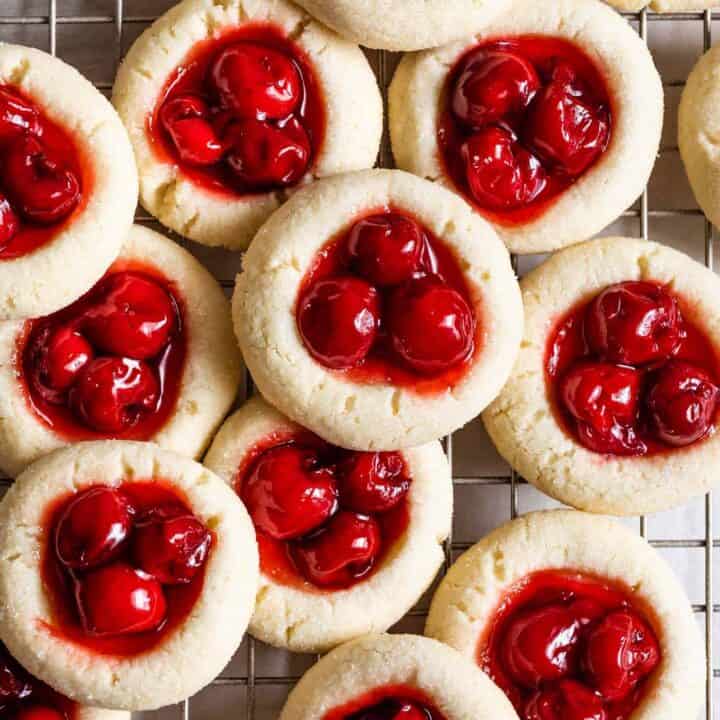 Gluten-Free Cherry Pie Cookies
These festive gluten-free cherry pie cookies give you all the flavor of a cherry pie in bite-size cookie form. A tender melt-in-your-mouth sugar cookie that's so easy to make!
Ingredients
1¼ cups (140g) Bob's Red Mill super-fine blanched almond flour
1 cup (112g) Bob's Red Mill tapioca flour/starch
¼ teaspoon kosher salt
½ cup (8 tablespoons) unsalted butter, room temperature
¼ cup + 2 tablespoons (78g) granulated sugar, plus ¼ cup more for rolling
¾ teaspoon pure vanilla extract
¼ teaspoon almond extract
1 21-ounce can cherry pie filling
Optional homemade cherry pie filling
1½ lbs fresh or frozen cherries, pitted
½ cup granulated sugar
½ cup water, 2 tablespoons reserved
1½ tablespoon corn starch
1 tablespoon lemon juice
Instructions
If making homemade cherry pie filling, prepare that first. If using canned cherry pie filling, skip to Step 2. To make the homemade filling, combine the cherries, sugar, water, and lemon juice in a small saucepan (reserving 2 tablespoons of water). Bring to a boil and cook, stirring regularly, for 5-6 minutes, until the cherries begin to soften, but are still whole. Mix the remaining water with the corn starch to make a slurry. While mixing, pour the corn starch slurry into the cooking cherries and cook for another 2-3 minutes until the sauce has thickened. Transfer to a bowl and chill completely before using on the cookies.
Preheat the oven to 350°F and line a large baking sheet with parchment paper. Place ¼ cup sugar in a small bowl for rolling and set aside.
Sift together almond flour, tapioca flour, and salt in a medium bowl. Set aside.
In the bowl of a stand mixer fitted with the paddle attachment or a large mixing bowl with a hand mixer, cream the butter and sugar together until light and fluffy, 3-5 minutes. Add the vanilla and almond extracts and mix to combine.
Slowly add the dry ingredients into the butter and mix until well combined. Mix for 30 seconds longer to moisten the dough until very pliable.
Working one at a time, roll 1-1½ tablespoons (~20g) of dough into a tight 1-inch circle, smoothing any cracks (the tighter you roll the dough, the less likely it is to crack). Gently flatten into a disc and toss the disc in the bowl of sugar to coat. Place 1-inch apart on the baking sheet and carefully and slowly use your thumb or the back of a 1 teaspoon measuring spoon to make a deep indent, smoothing any cracks if desired. Repeat with remaining dough.
Fill each cavity with 2-3 cherries with a bit of its thick syrup. Overfill the cavities, stacking cherries if needed, to ensure they're filled to the brim even after baking.
You can chill or freeze the cookies on the baking sheet or bake it immediately. Bake for 14-15 minutes (adding 1-2 minutes if baking from frozen), until the cookies are set and the bottoms are just barely golden brown. Let cool on the baking sheet for 5 minutes before transferring to a wire rack to cool completely.