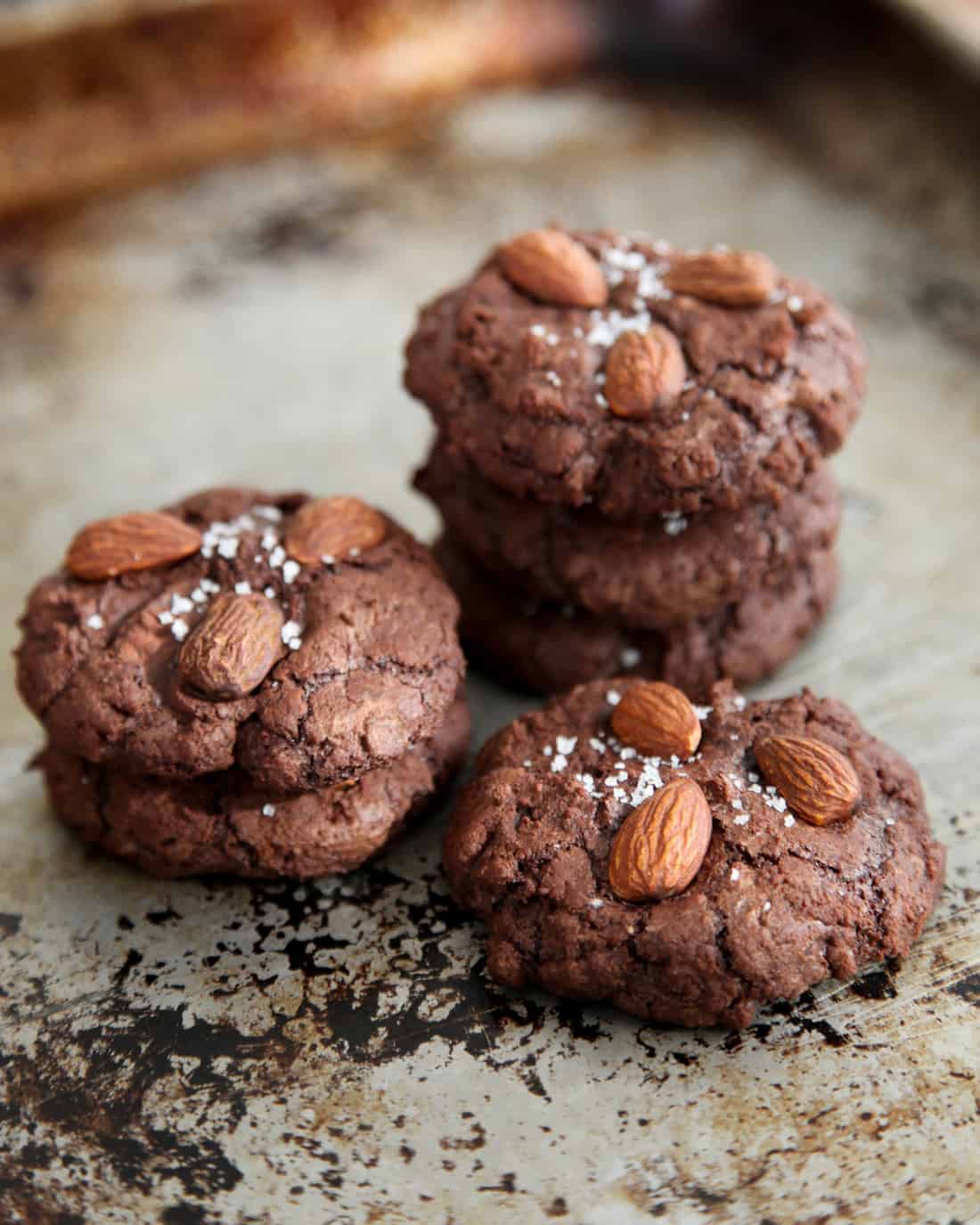 Spoiler alert: Today's post is brought to you by the letter C as in Chocolate and the number 1,000,000 as in how many total page views we hit last week!
When I first started this blog in January two years ago (TWO YEARS AGO?!), we were taking photos with our point and shoot camera on our coffee table at night with the overhead lights shining from every direction in multiple colors. Lucas would then spend WAYYYY too much time editing them in Photoshop to make the food look remotely edible. Most of the time it still didn't! Delicious, but you'd never know by looking at these pictures. I had a standard WordPress theme that really didn't do anything I wanted it to. That feels like decades ago. About a month in, we discovered that food styling really was a thing, natural light was our best friend, and Adobe Lightroom was way easier. This realization started my love affair with leftovers.
At some point in those first few months, we borrowed a dSLR from Lucas's work and felt the power of control. Control over depth of field, light, and so much more. And even though my most popular post to date - pepperoni pizza quesadillas - was a product of our trusty point-and-shoot + iPhone, I dreamed about owning my own. Once I felt like I'd outgrown my camera's features, we upgraded to a Canon 5d Mark II in May 2012...that had way more bells and whistles than I could figure out. On the day I took my first food photos with the dSLR, I specifically remember chatting my friend Buddy, "it turns out I don't know how to use the camera...I need a tutorial." He was so patient - I had NO IDEA what I was doing. Zero. Zip. Nada. It's like tossing a kid who doesn't know how to swim into the deep end and saying "swim!" Except I didn't drown.
Six months after starting the blog - to mark my 100th post - we launched our self-hosted dot com with a custom theme (built by my talented husband who watched hours of video to figure out how to build it - In our wedding vows, I did say he can make or do anything). In the past year and a half, I've learned so much - about cooking, about blogging, about photographing food, about editing photos. And much of that is from you, my readers, and your thoughtful feedback.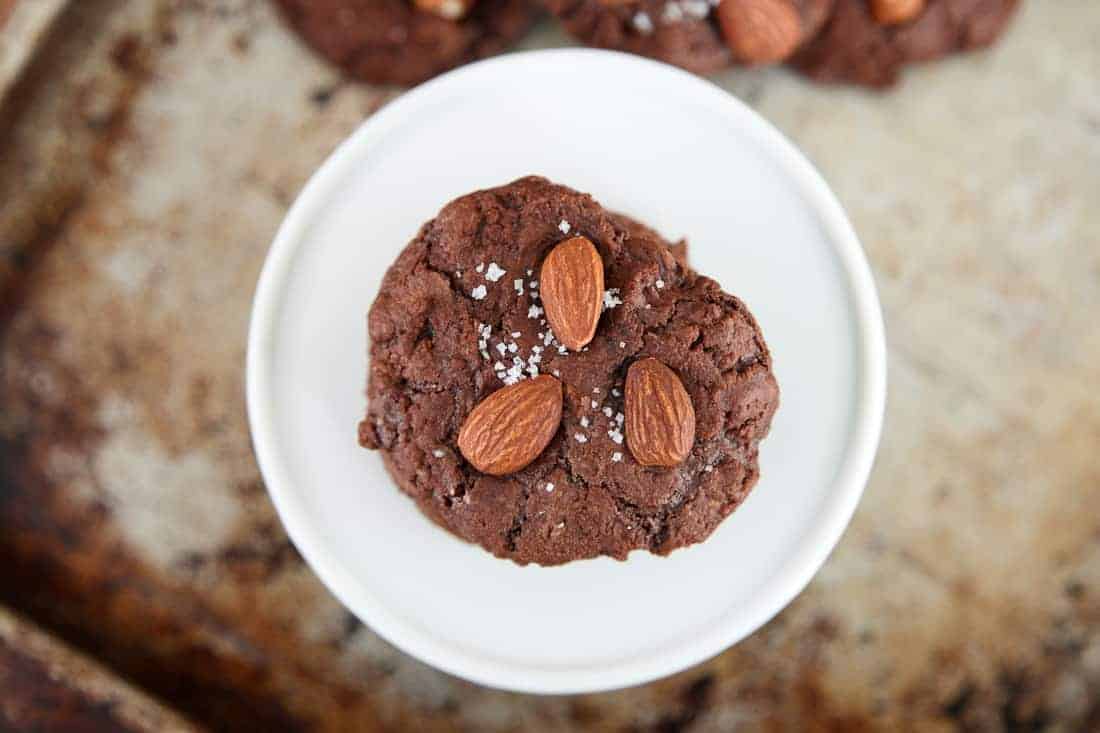 This post marks another milestone in Snixy Kitchen history - 1 MILLION page views! And we're going to celebrate with chocolate cookies. With a little salt and almonds. Because we're fancy like that.
Things have come a long way since the birth of Snixy Kitchen, and I owe so much thanks to you all for sticking with me (especially when I left you hanging with huge lags in posting during my qualifying exams and wedding). To thank you for your support, comments, and love that got me to a million, I'm hosting a chocolate-y giveaway (entry and details below).
I spent a long time wavering over what to do with my old posts...the ones with pictures that leave way too much to the imagination. I felt so sad for the recipes that inspired this start of my blog - they are the ones that mean the most to me and the ones I use the most frequently and they hardly got their time to shine. I could just delete them and start over, but then what about all those stories I told? The stories that give the food life. It feels kinda rude to just trash those moments. So, instead, I'm revisiting these old recipes, revising the steps and updating the pictures. I'll keep the old text, sometimes adding a few sentences, building on the story of the dish. You'll see these scattered throughout my upcoming recipes (don't worry all original links will still lead to the recipe).
Starting with a makeover for my dad's spicy green beans! Look at that - before, these comforting simple green beans were just a blur in the background of a strange picture of...something sorta resembling chicken. Progress feels good, folks.

January 2012 February 2014
Time for these flourless salted almond chocolate cookies. Many of you have heard me talk about my namesake Sarah before - even though she might try to deny it, she's a wonder in the kitchen. And she does it with such ease. She can look at a recipe and instantly tell if she's going to like it or what it's missing. Leveraging her kitchen skills, I asked if she'd be in charge of the cookie table for our wedding. Many of the women in our family and my mom's best gal pals brought a few dozen of their time-tested homemade cookies to share on a dessert table for our wedding - so many delicious cookies (and with the scorching temperatures, they all tasted fresh out of the oven too - ha!).
Sarah's daughter Sofia made a plate of my favorite Mexican Wedding Cookies, and Sarah whipped up a variation of this dark chocolate flourless cookie. Things went by so quickly at the wedding that I didn't even get to try them - in fact, after cutting the cake, I didn't step foot in the dessert area (up on the deck) again (shocking!). There definitely weren't any of these cookies left the next day, so they were obviously popular. For her version, she rolled them in powdered sugar instead of the salted almond topping. Since I just posted loads of stories and pictures of our wedding, I thought a wedding-inspired cookie would pair well.
When I first went to make a batch of these cookies, Sarah and my mom sipped wine at the kitchen table. I tossed questions Sarah's way to make sure I got it all just right. Bake at 400°F for 10 minutes, she said, but 5 minutes in, the whole house smelled burnt. When I pulled them out of the oven, the bottoms were charcoal black while the tops/middles still wet. This, after I'd just burned a batch of champagne lollipops. Not to mention having burned several batches of cookies over the past few months. Imagine steam coming out of my ears that cued an 11pm trip to the grocery store to pick up an oven thermometer. When some very scientific tests proved that the oven temperature wasn't the issue, it dawned on me that my cookie-burning karma started shortly after I got these new dark non-stick baking sheets.
I tossed in another batch - following the recipe exactly the same - using my old uncoated baking sheet (it's really the 9x12 bottom of my roasting pan, but in our old house, it was the only thing that fit in the itty-bitty oven). Both times I used parchment paper, but the second batch came out perfect. Lots of people have success with the dark non-stick baking sheets, so I'm not sure why they gave me problems, but my hypothesis is that the issue lies in a combination of my gas oven and the dark pans. I've since inherited my late grandma's baking sheets (ones that she got used from the University she worked at in the 80s). More tests are needed. I'll report back.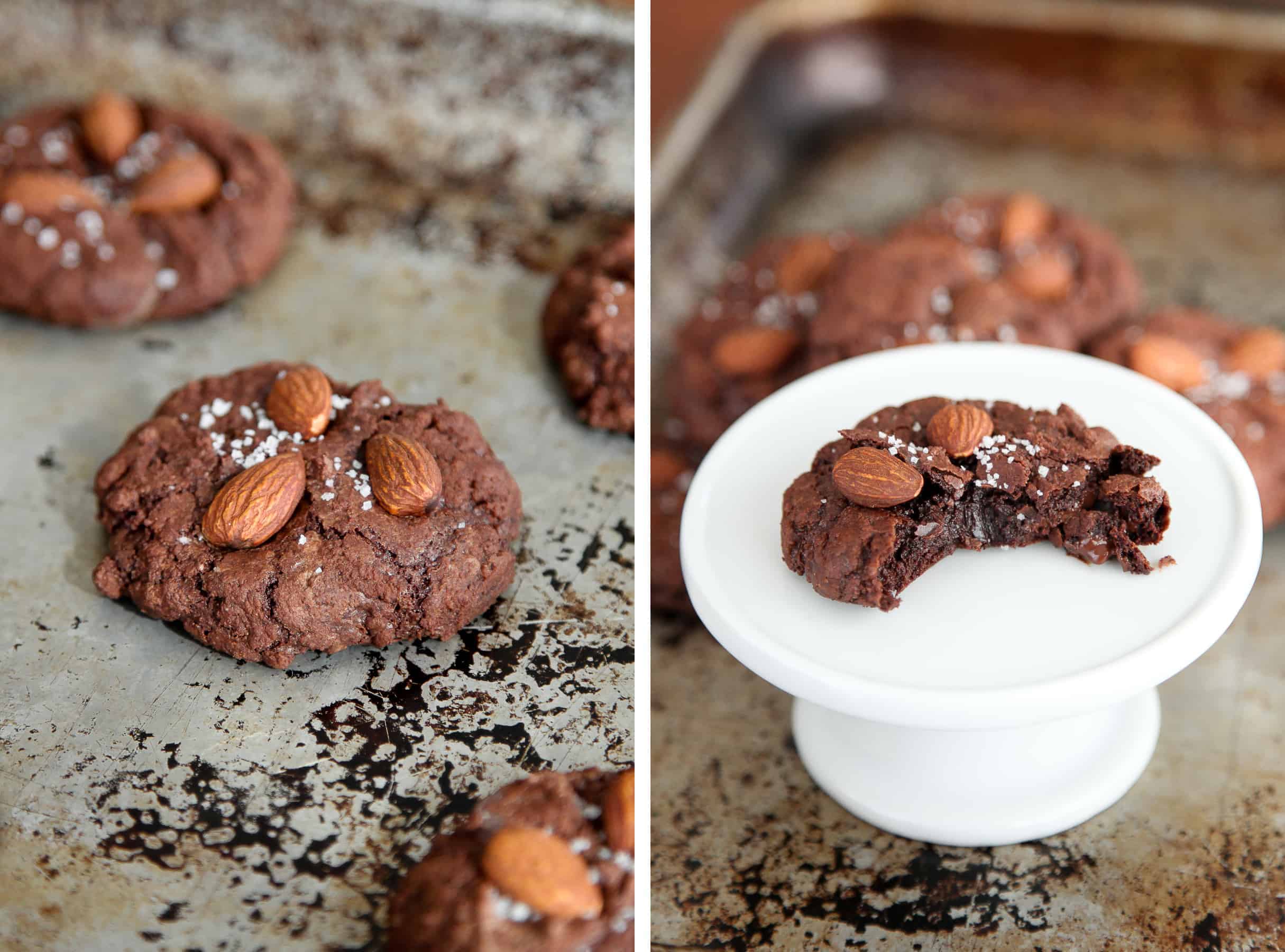 At this point, you're probably asking yourself, "I thought you didn't like chocolate?" Short story: it's growing on me. Long story: A few months ago, I was having one heck of a day - nothing particularly momentous happened, but I was fed up with one too many minor annoyances. And for some reason I found myself at the market during the time when every old person in Berkeley shops...slowly. When I finally reached the check-out line, I was greeted by a bucket of miniature chocolate squares - sea salt and almond chocolates from Lake Champlain. Impulse therapy buy. Drown my frustration in chocolate. I'm here, as someone who declares a strong dislike of chocolate, to tell you, "this is some wicked good chocolate." That means something. And, of course, the next time I went to the market, I had to test another to make sure...and another...and another. When my mom came to visit, I grabbed two more while checking out and handed one to her. She took a bite and stopped in her tracks in the parking lot, "THIS is the chocolate you need to buy me from now on." The wedding of salt, almonds, and chocolate is addicting.
So to put my own twist on Sarah's recipe, I drew upon this tiny chocolate bar for inspiration. Flourless salted almond dark chocolate cookies. These few-ingredient morsels are coated with a light sprinkling of fleur de sel that balances the rich deep dark chocolate to make the sweetness pop. Salt makes sugar taste better. Period. I think I'll be putting salt on all my chocolate confections from here on out. Or maybe even all my desserts. Scroll down for the recipe.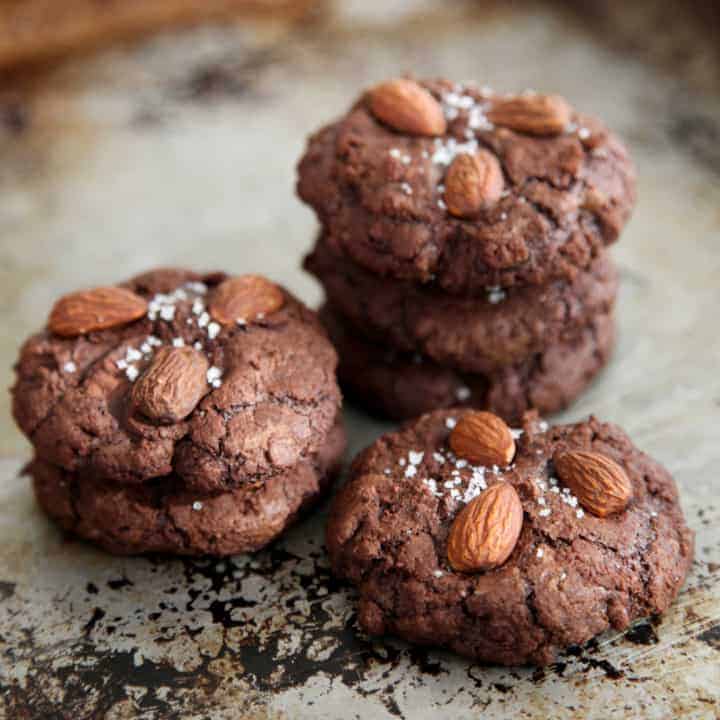 Flourless salted almond chocolate cookies
Yield:
1½ dozen medium cookies (18)
Ingredients
1 cup dark chocolate chips (divided into ⅔ cup for melting and ⅓ cup for mixing in whole)
2 egg whites
1-⅓ cups powdered sugar (divided into ½ cup for mixing with the egg whites and ½ + ⅓ cup for mixing with the dry ingredients)
⅓ cup good quality unsweetened cocoa powder
2 teaspoons cornstarch
A pinch kosher salt
For topping: about ½ dry roasted almonds
For topping: about ¼-½ teaspoon fleur de sel (or sea salt)
Instructions
Preheat oven to 400°F and line a large baking sheet with parchment paper.
Melt ⅔ cup of the dark chocolate chips over a double broiler, stirring constantly. (Alternatively, melt them in the microwave for 30 seconds at a time, stirring in between, for about 2 minutes).
With an electric mixer, beat the egg whites over medium speed until soft peaks form.
With the beaters going, slowly mix in ½ cup of the powdered sugar and keep beating until the mixture resembles fluffy marshmallow creme.
In a separate bowl, mix together rest of the powdered sugar (½ + ⅓ cup), cocoa powder, cornstarch, and kosher salt. With the mixer on low speed, gradually add the dry ingredients into the egg white mixture.
Stir in the melted chocolate and the other ⅓ cup of chocolate chips until combined.
Use a spoon or a cookie scoop to drop a tablespoon balls of dough about 2-inches apart on the baking sheet.
Top with almonds and bake until puffed up and beginning to crack, 10 minutes.
As soon as the cookies come out of the oven, sprinkle with fleur de sel and transfer them to a rack to cool.