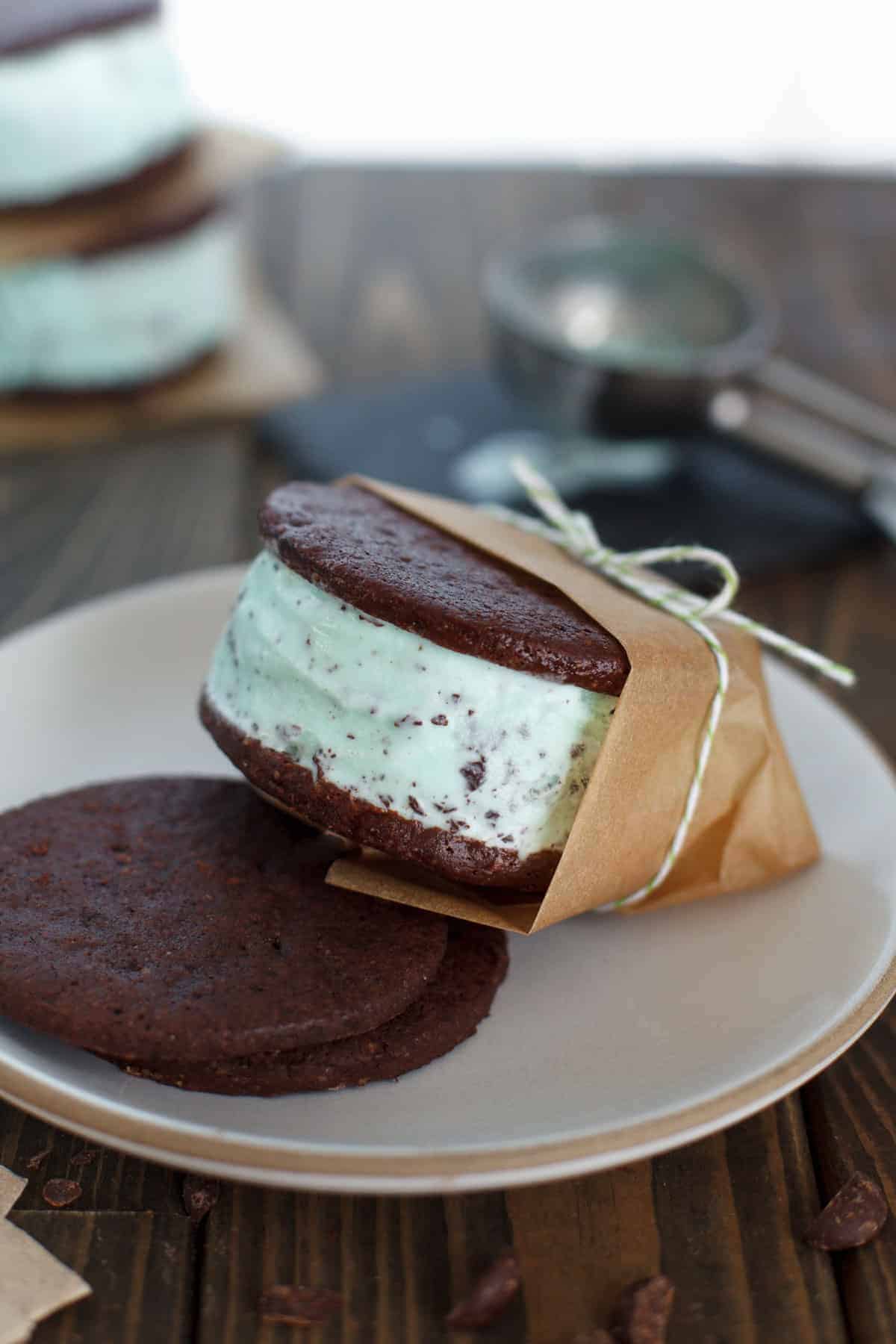 My Nana taught me many important life lessons. For starters, she made sure I knew how to eat popcorn politely - "one piece of popcorn at a time [...will keep you from looking like a fool when you drop half a handful down your shirt while shoveling it in your face]." (My husband is still trying to teach me that lesson). She showed me how to turn miniature scraps of calico fabric into a patchwork quilt, and when in doubt: just bake it and see what happens.
Arguably the most intentional and influential lesson of all: she conditioned me to call her whenever I pass an Alaska license plate on the road.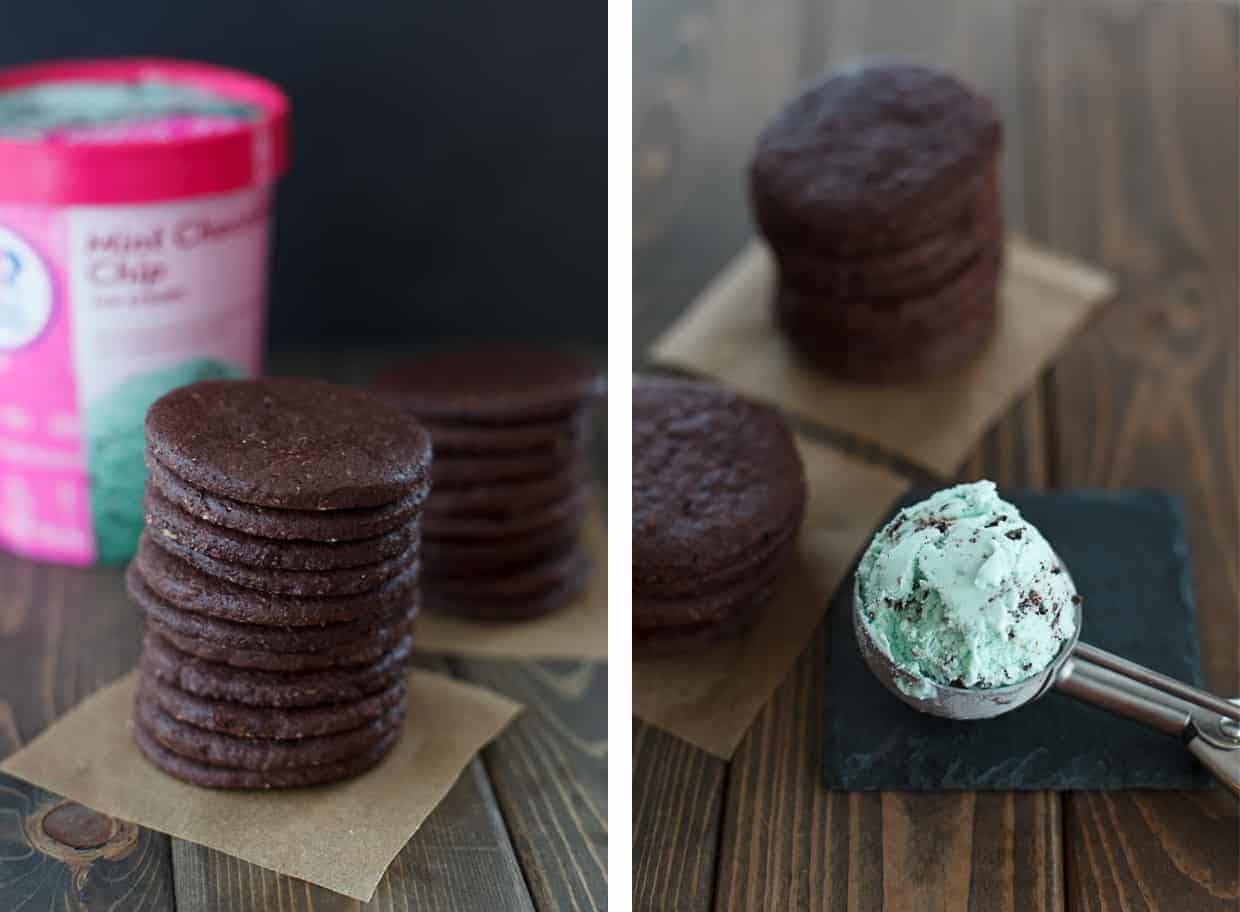 As a kid, car trips around town with Nana were spent attentively peering out the window in search of the unicorn of license plates; A spotting of ALASKA in a sea of California plates meant the promise of a scoop of Baskin-Robbins' Mint Chocolate Chip ice cream.
In case you're wondering, in my small hometown, that's the real life equivalent of finding Waldo. It happens infrequently enough to keep the wonder and excitement each time you spot one, but often enough that you never get discouraged.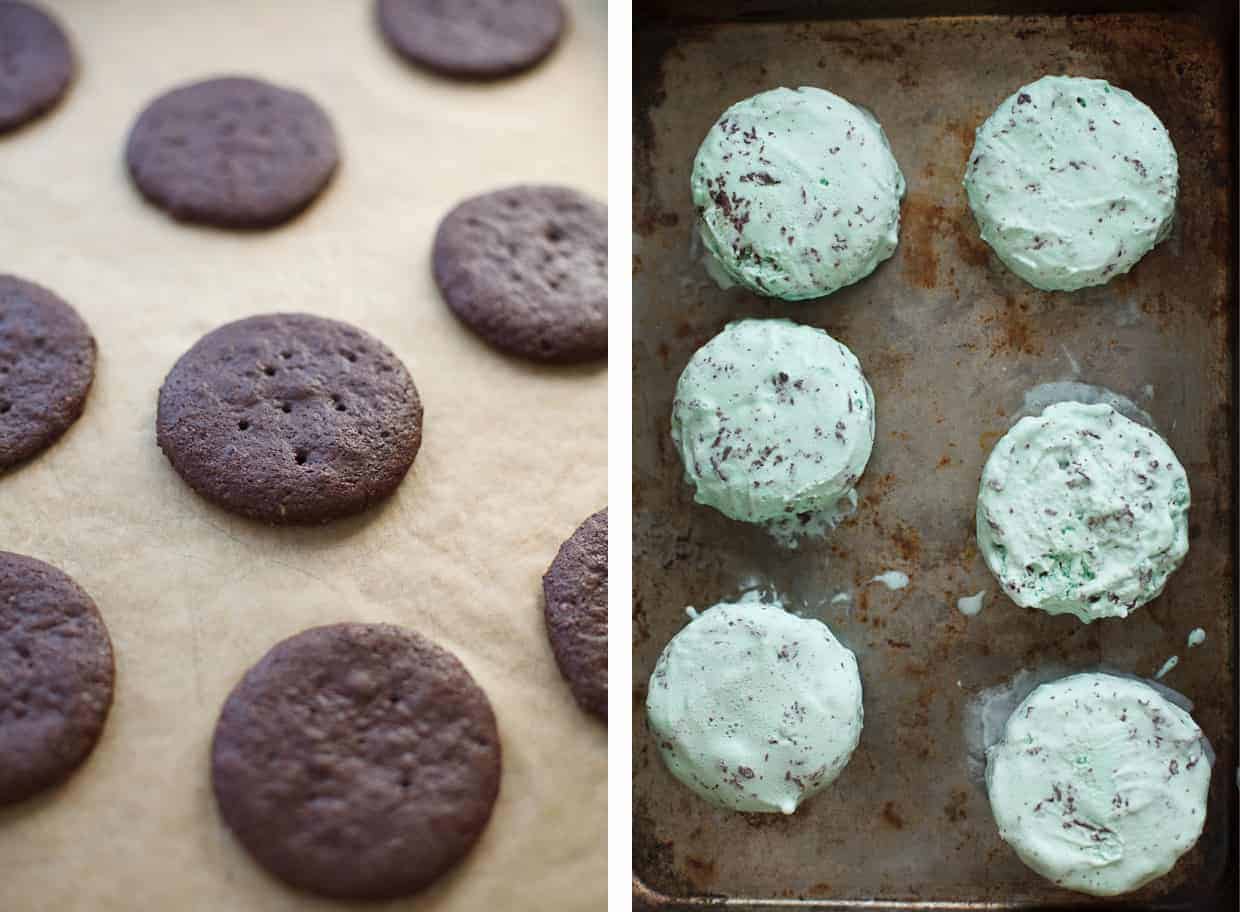 To this day, I still report all sightings back to Nana, with the secret hope of earning a cone of Mint Chocolate Chip ice cream. We don't live in the same town anymore, but rest assured - I'm keeping a tally of owed scoops. Among all her life lessons, Nana made sure I inherited her favorite ice cream flavor. These double mint chocolate chip ice cream sandwiches are the comfort-food of ice cream in my book.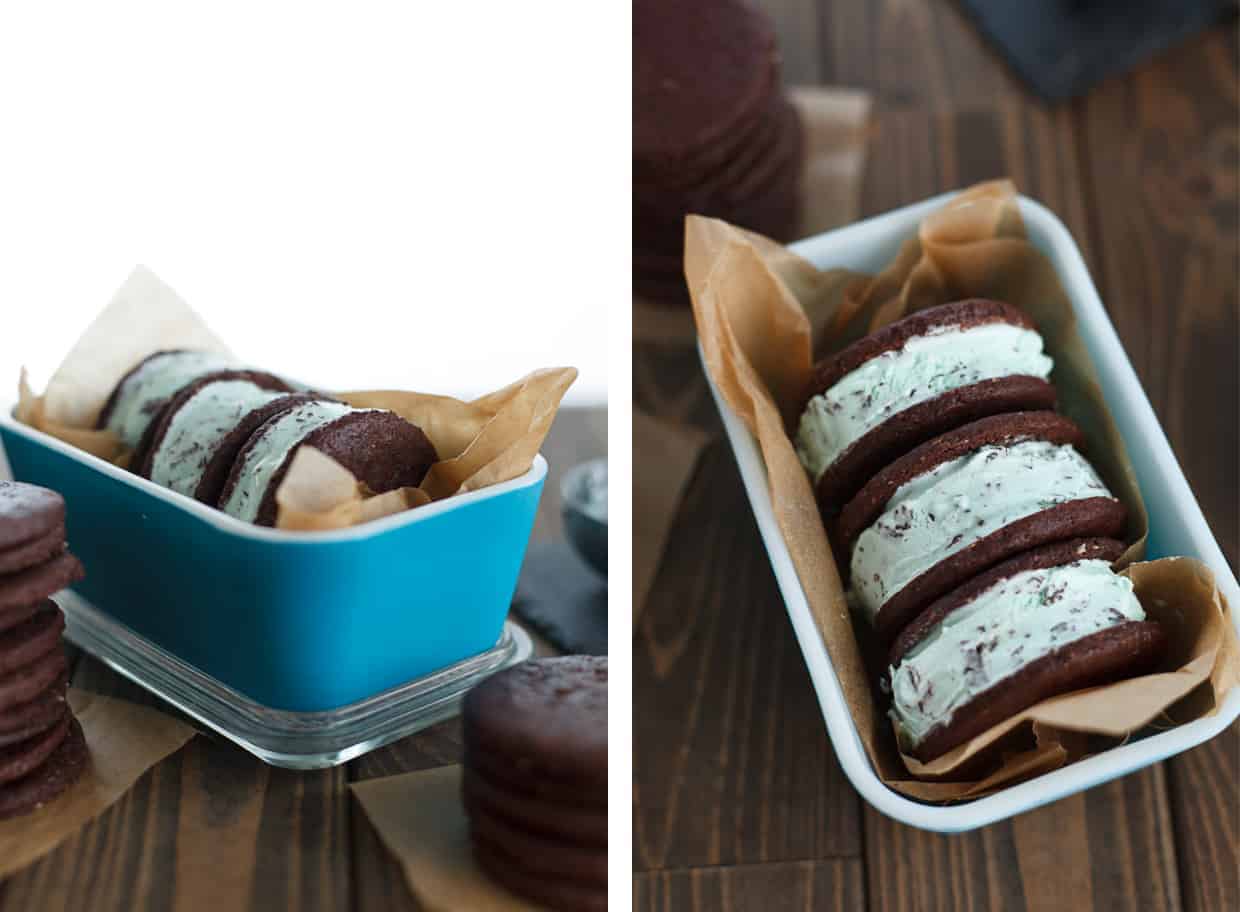 Earlier this summer, Baskin-
Robbins conducted a survey to uncover which ice cream flavors increase people's happiness the most. The results? Mint Chocolate Chip made the top ten, earning a slot just under Vanilla and Chocolate Chip Cookie Dough as the #7 ice cream flavor that makes people happy. (Click here to see if your favorite flavor tops the list). Their behavioral food expert explained, "the ice cream flavors enjoyed as a child can actually trigger happy memories, release tension and remove distractions in the moment." Spot on.
The most obvious conclusion is that other people's Nanas must also use the Alaska license plate pursuit. That, and I am one predictable ice cream fan.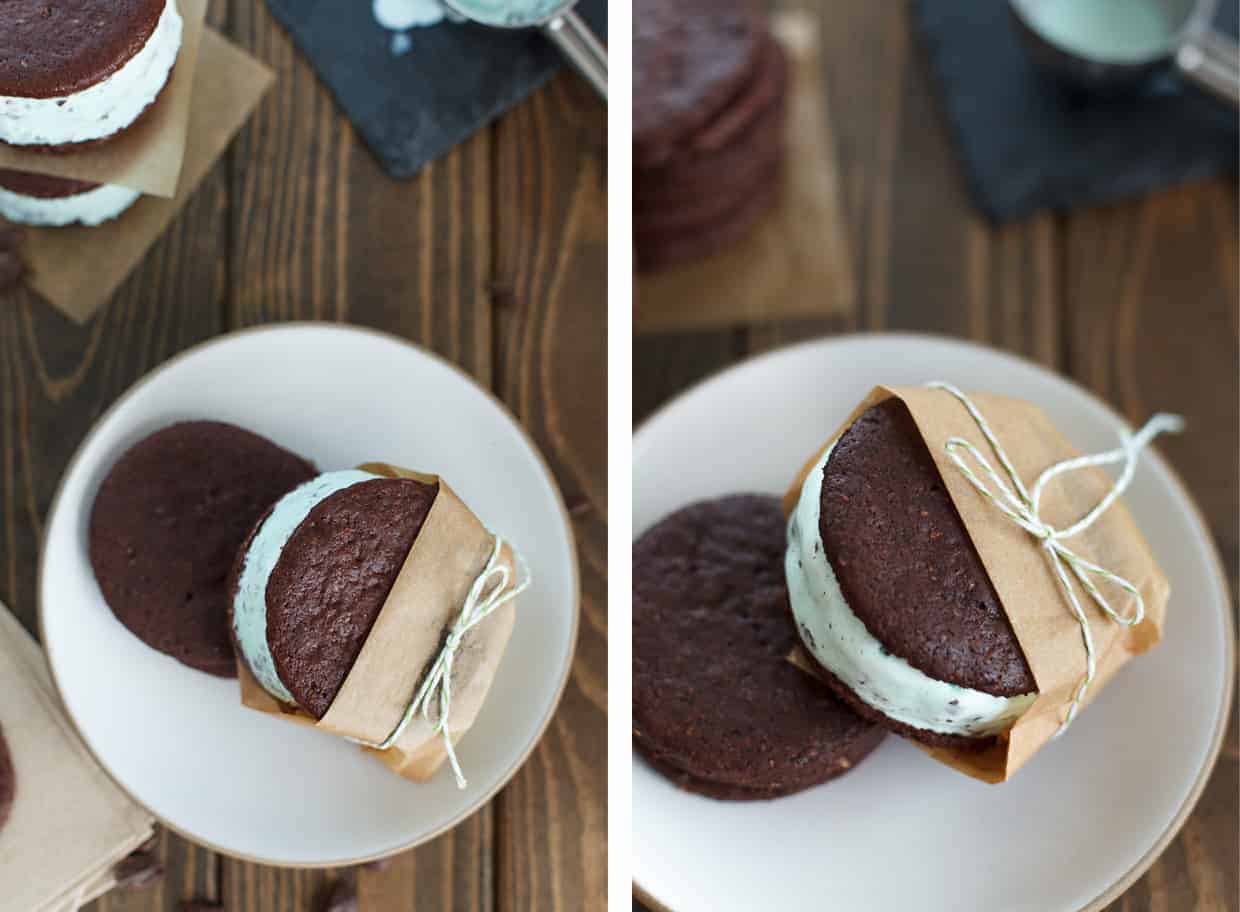 Mint chocolate ice cream sandwiches used to be one of my go-to desserts to keep on hand. When scooping up ice cream (ahem - 7 nights a week), I just can't help but put half the quart into my bowl (a habit I picked up from my dad). Ice cream sandwiches are the best way for a dessertoholic like me to maintain portion control. Since they're usually not gluten-free though, I haven't had one in a year and a half. So when I teamed up with Baskin-Robbins to create a recipe using one of their Happiest Flavors (that's what I'm calling them now), I knew I had to figure out how to turn my favorite ice cream sandwich into a gluten-free treat.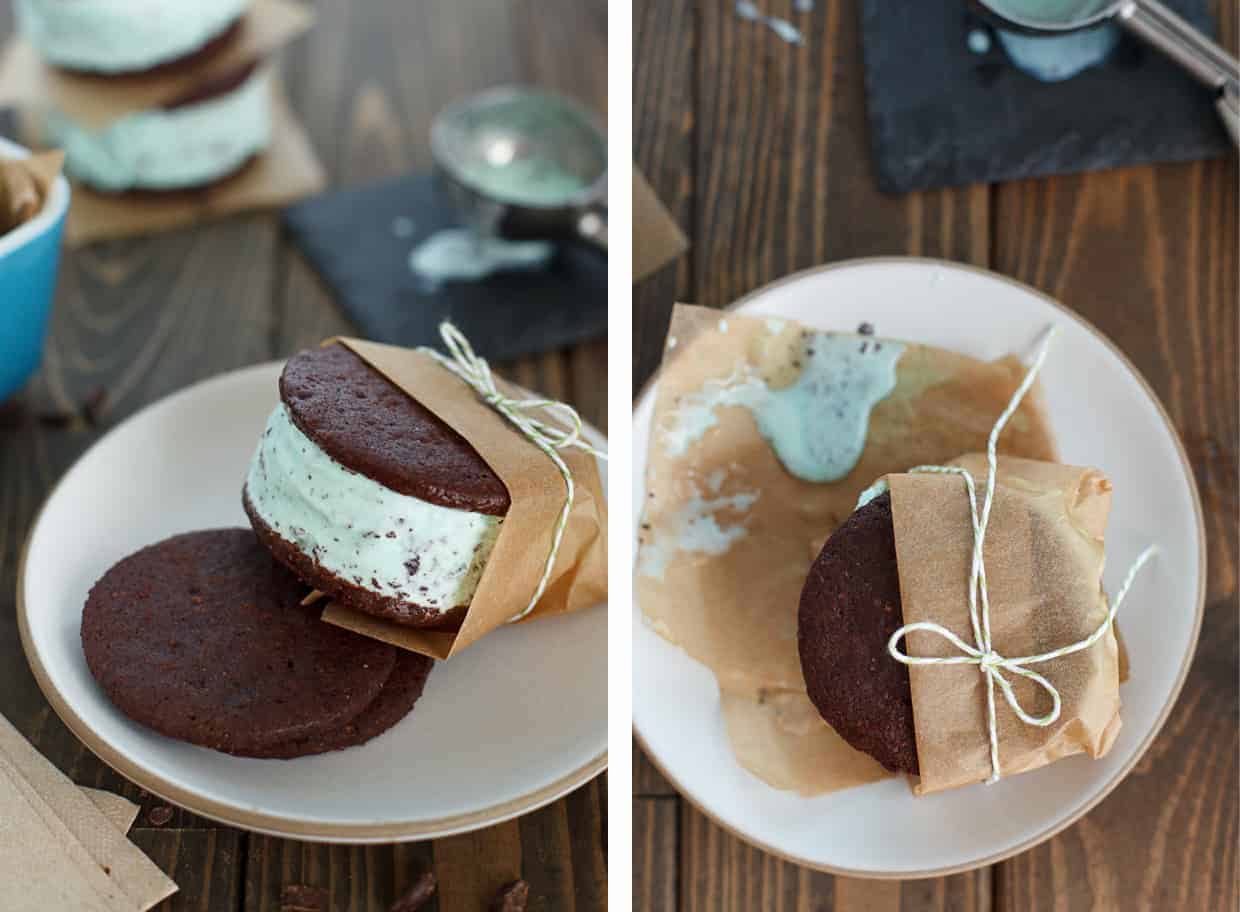 We took a large scoop of Baskin-Robbins' mint chocolate chip ice cream and sandwiched it between two freshly baked mint chocolate wafers. These minty cookies are soft and nearly brownie-like, mimicking the wafers of the ice cream sandwiches from your childhood that always left chocolate-y residue on your fingers (THE BEST PART, amiright?).
Pro-tip: The key to keeping your homemade ice cream sandwiches from spewing ice cream out all sides when you bite down is to use a measuring cup to pre-measure and re-freeze discs of ice cream before assembling.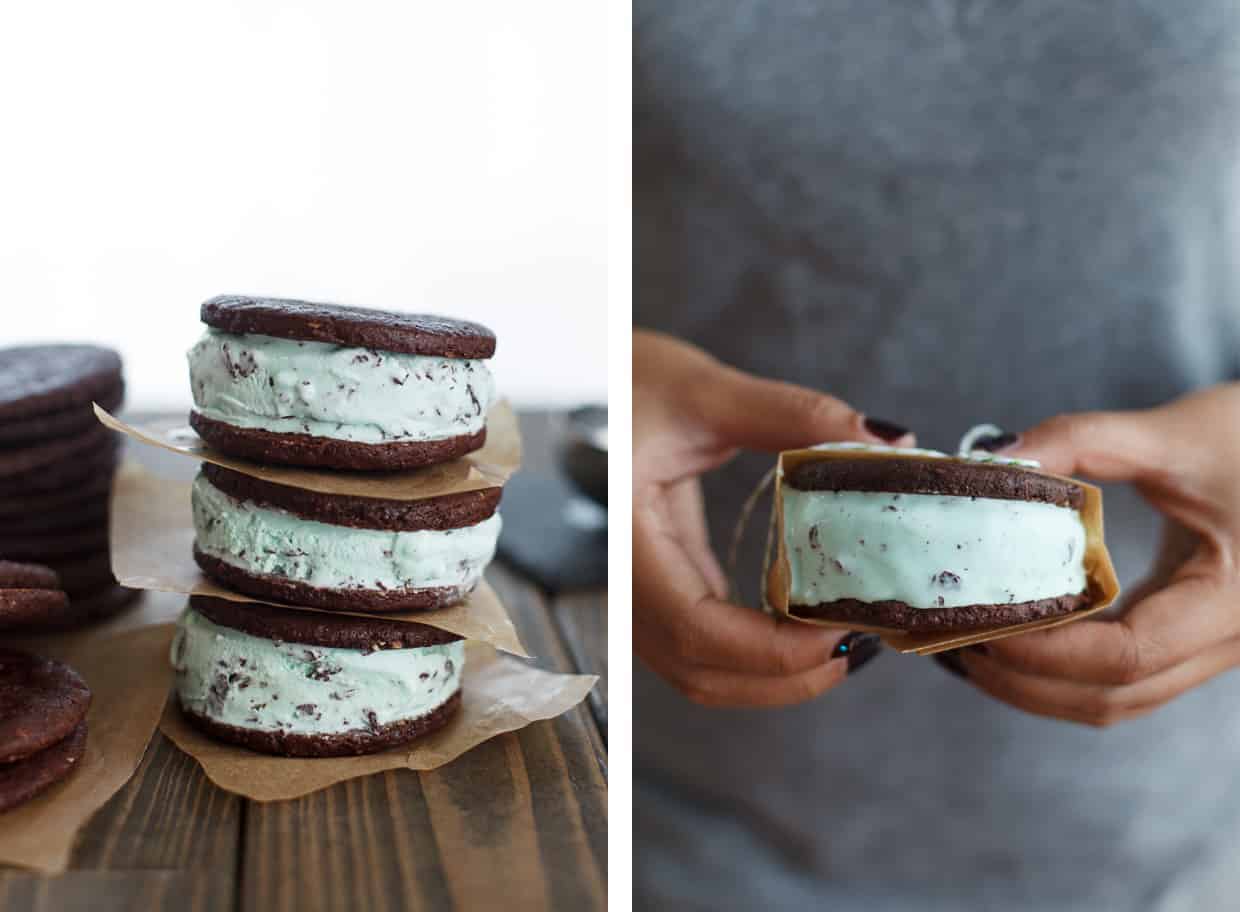 I'm slightly ashamed to admit how just quickly I ate all of these double mint chocolate chip ice cream sandwiches. Me: "Oh, it's melting while I photograph it? I'll save it. With my mouth." Repeat.
Stay in touch with the latest Baskin-Robbins flavors by following them on Facebook, Twitter, or Instagram. Or head over to see their flavor of the month.
Disclosure: This recipe post is sponsored by Baskin-Robbins, but please rest-assured that all opinions expressed here are 100% my own.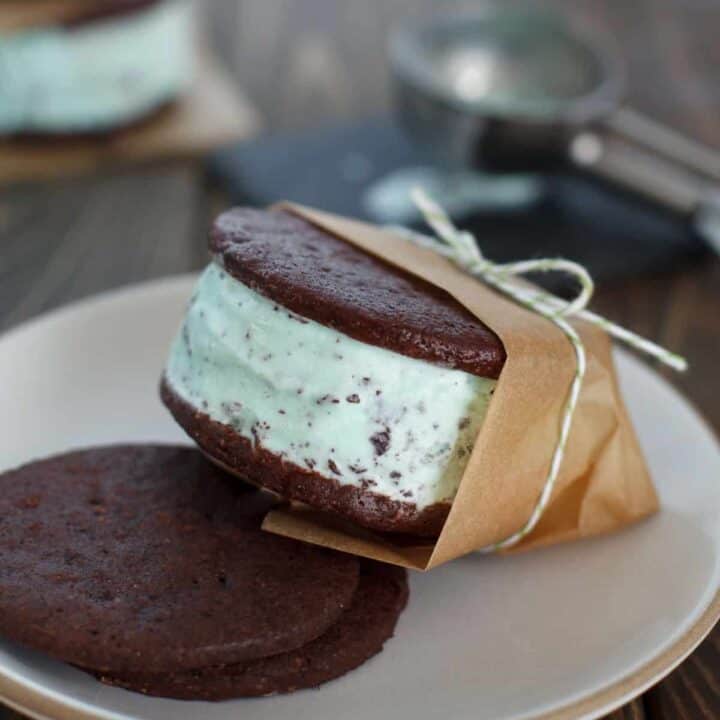 Double mint chocolate chip ice cream sandwiches
Easy mint ice cream sandwiches with gluten-free chocolate mint cookies.
Ingredients
Sandwiches
1-½ quarts Mint Chocolate Chip ice cream
24 mint chocolate wafers (recipe below)
Mint chocolate wafers
⅓ cup plus 2 tablespoons white rice flour*
⅓ cup sweet rice flour
⅓ cup plus 2 tablespoons tapioca starch (or corn starch)
½ cup oat flour
½ teaspoon xanthan gum
½ cup dutch process cocoa powder
1 teaspoon espresso powder
¼ teaspoon baking powder
¼ teaspoon baking soda
½ teaspoon salt
¼ cup sugar
½ cup light brown sugar
8 tablespoons butter, softened
2 large eggs
½ teaspoon pure vanilla extract
½ teaspoon peppermint extract
Instructions
Sandwiches
Prepare your ice cream by creating disks. Line a half-cup measuring cup with plastic wrap. One at a time, pack the measuring cup ¾ of the way full with ice cream.
Use the plastic wrap to help you pull the ice cream out of the measuring cup and place the disc on a baking sheet or plate in the freezer. Repeat until you've made 12 discs. (You'll want to keep the baking sheet in the freezer while you go or the ones you've completed will melt all over the place!). Note: You can also forgo this step and just scoop ice cream onto your finished cookies, but because the cookies are soft, the might break while you try to press the ice cream down into a sandwich. You also might end up with soft ice cream oozing out the sides when you bite down.
Once your mint chocolate wafers are cooked and cooled, prepare your ice cream sandwiches by pressing a prepared ice cream disk between two cookies.
To store, you can line foil with wax paper to wrap the sandwiches individually for freezing.
Mint chocolate wafers
Preheat the oven to 325°F.
In a medium bowl, whisk together the white rice flour, sweet rice flour, tapioca starch, oat flour, xanthan gum, cocoa powder, espresso powder, baking powder, baking soda, and salt. Set aside.
In the bowl of a stand mixer, cream the butter and sugar together until light and fluffy.
Add the eggs, vanilla extract, and peppermint extract, and mix until well combined.
With the mixer on medium-low speed, slowly add the dry ingredients and mix until completely combined. The dough will be quite sticky.
Divide the dough into two portions and roll out each half between two pieces of parchment paper until just under ¼-inch thick.
Place each sheet of rolled-out cookie dough on a baking sheet and freeze for at least 20 minutes.
One at a time, remove the top piece of parchment paper from one of the sheets of cookie dough and lay the frozen cookie dough on the back of the cold baking sheet (keep the second rolled-out dough in the freezer while you work with the first). Remove the other piece of parchment paper.
Working quickly while the dough is frozen, use a 3-inch round cookie cutter (or the top of a glass;) to create your cookies. Carefully transfer each cutout to a parchment-lined baking sheet, about 1.5-inches apart (if you don't have enough baking sheets, you can transfer the cookies to a piece of parchment paper the size of the frozen cookie sheet you're working on and then move it to the cookie sheet when you're done).
Roll any remaining dough between the parchment paper again and re-freeze while you work on the second sheet. Repeat until you've used all of your dough.
Use a wooden skewer to poke 5 evenly spaced holes in the center of each cookie.
Bake each sheet one at a time on the middle rack for 7-8 minutes, or until the center of the cookie springs back when touched gently (they'll firm up a bit as they cool). Remove from the oven and transfer to a wire rack to cool.
Notes
*For a non gluten-free version, you can replace the first 5 ingredients (rice flour, sweet rice flour, tapioca starch, oat flour, and xanthan gum) with 1-¾ cups all-purpose flour
Wafer adapted from Gluten Free on a Shoestring
Nutrition Information:
Yield:

12
Serving Size:

1
Amount Per Serving:
Calories:

665
Total Fat:

28g
Saturated Fat:

14g
Trans Fat:

0g
Unsaturated Fat:

12g
Cholesterol:

91mg
Sodium:

600mg
Carbohydrates:

94g
Fiber:

4g
Sugar:

54g
Protein:

11g
Thanks for reading Snixy Kitchen! To stay up on what's coming out of my kitchen, follow me on Facebook, Instagram, Twitter, Bloglovin', or Pinterest, or subscribe via e-mail to get new recipes right to your inbox.