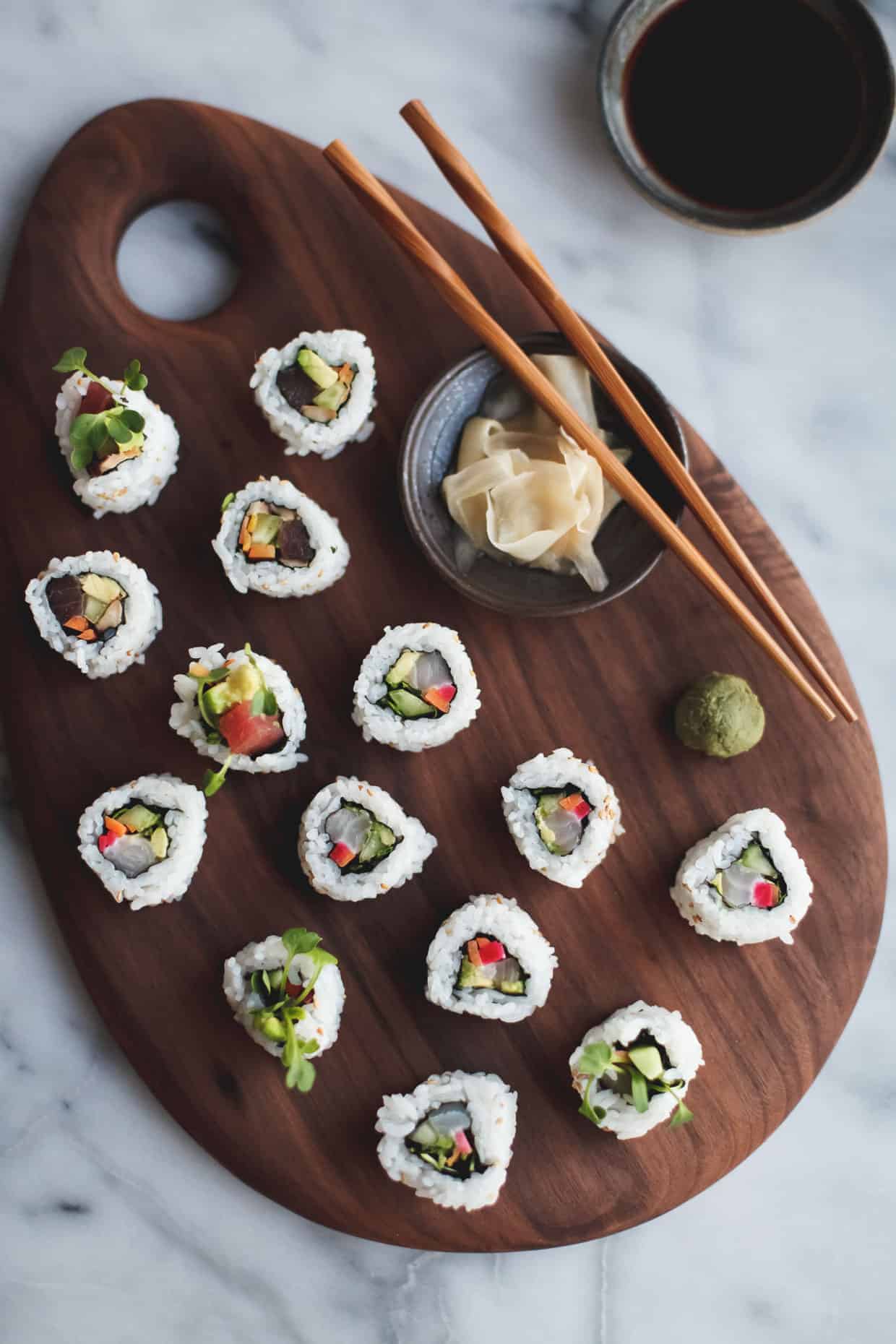 Back in college, you would never have guessed that 10 years down the line, I'd have fallen so hard into a sushi love affair to the point of making DIY sushi at home WHENEVER POSSIBLE.
This infatuation with sushi and its rhythmic process make it an obvious choice for dabbling with video. For today's sushi post, Alanna from The Bojon Gourmet and I teamed up to make our very first food video based on our mutual sushi love affair: How to Make Sushi. Keep in mind, this is our make-at-home version, which hardly holds a candle to many of the sushi chefs I've dined from over the years.
My first experience with sushi came just weeks into my freshman year of college when my hallmate got invited to sushi on Sunset Boulevard and brought me along for a double date. My jaw dropped at the prices on the menu and I only sampled one bite of sushi just to be polite (fancy sushi was totally wasted on my naive palate).
As our table company kept ordering more sushi and more sake (apparently 21+ is just a guideline?), I got increasingly more anxious about what would happen when the $300 bill came. Turns out we'd hit the town with a wealthy foreign heir (who would later go on to date Paris Hilton), and our dates covered the tab (and the $100 roundtrip cab fare) without batting an eye. If this is what sushi costs, I thought, I fold.
Then I spent the next four years eating way too much dining hall sushi.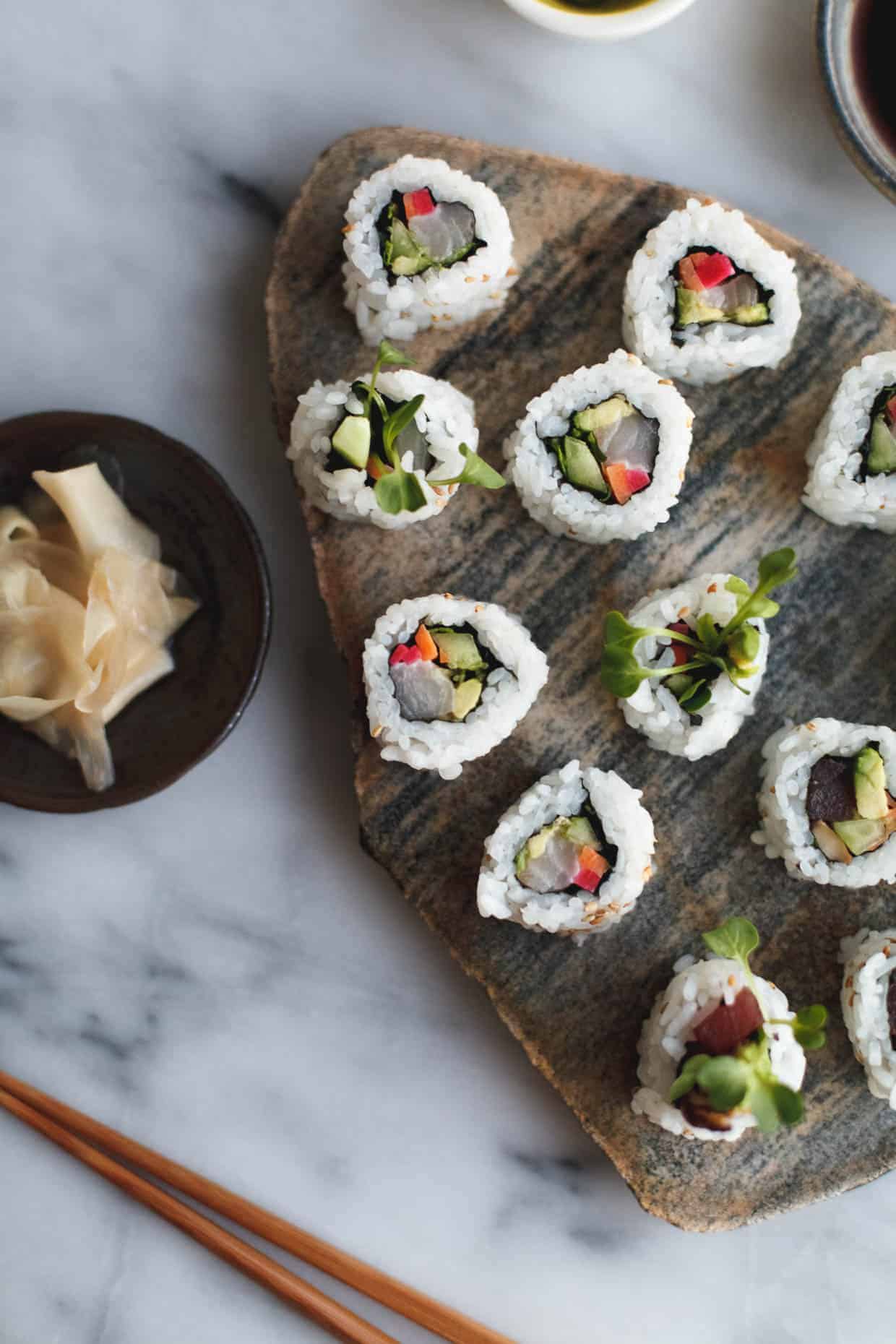 The omakase from our honeymoon has since overshadowed all those sushi experiences. Fortunately, we have a sushi-grade fish market around the corner that stocks the highest quality fish, so now we can try our hand at making it at home!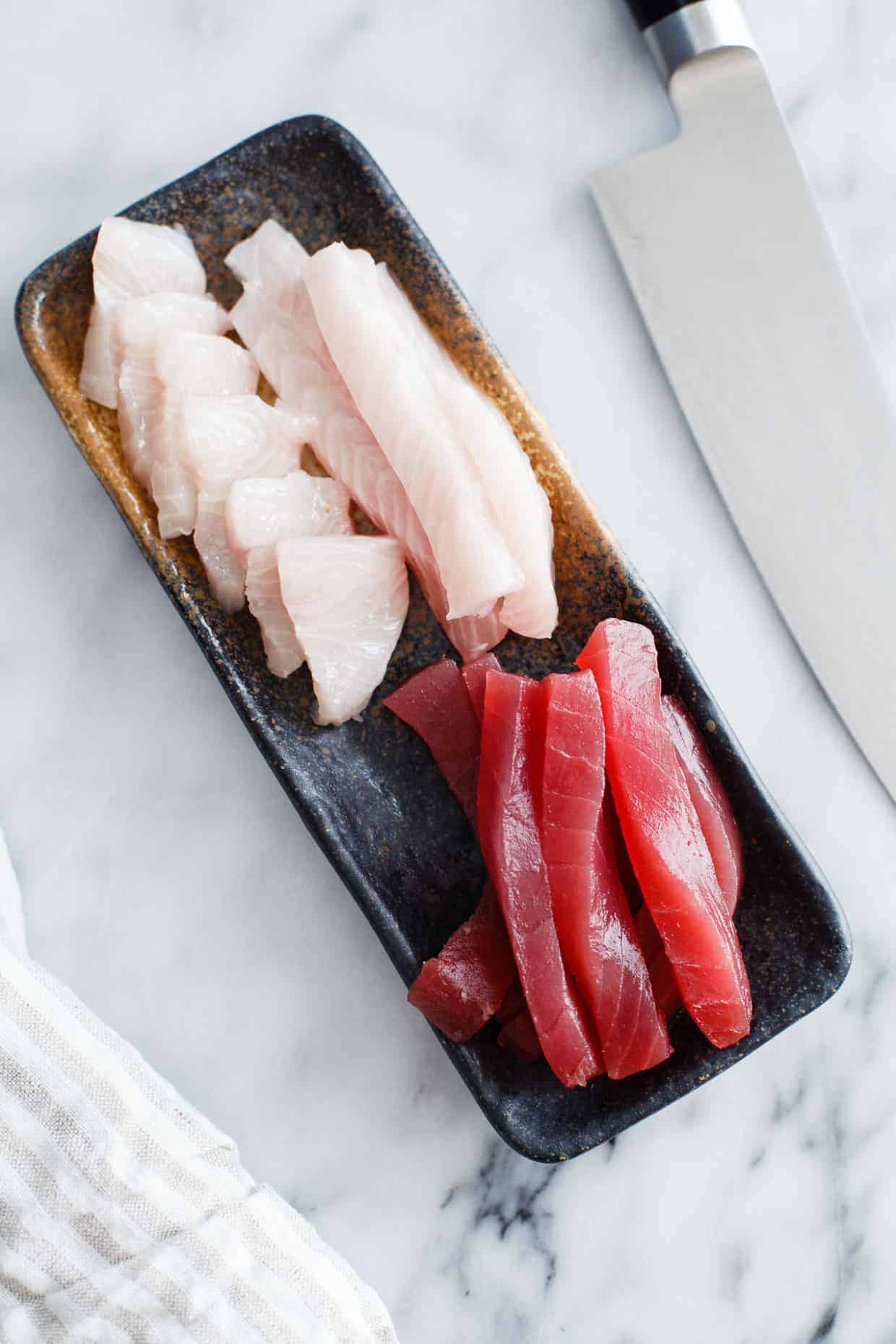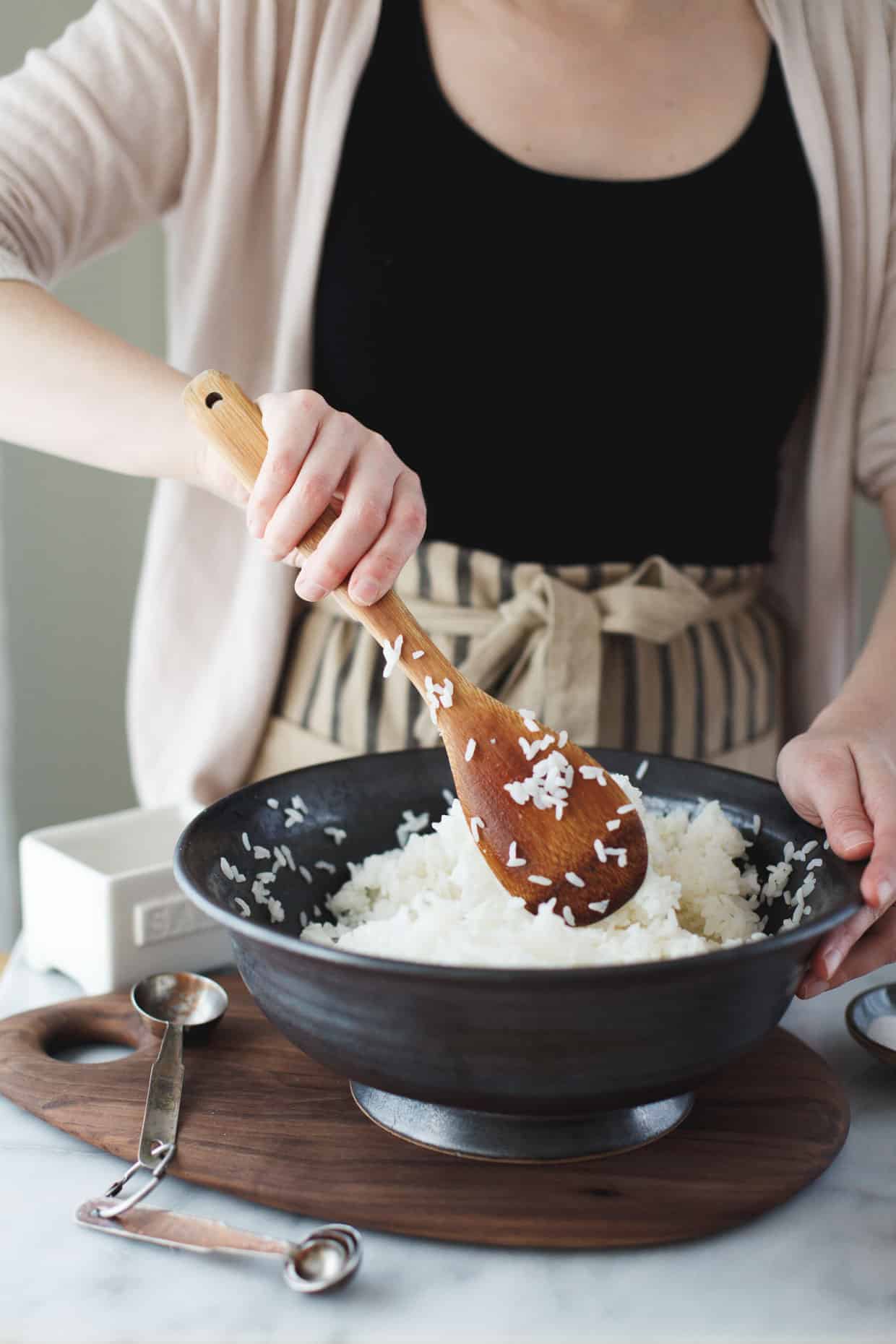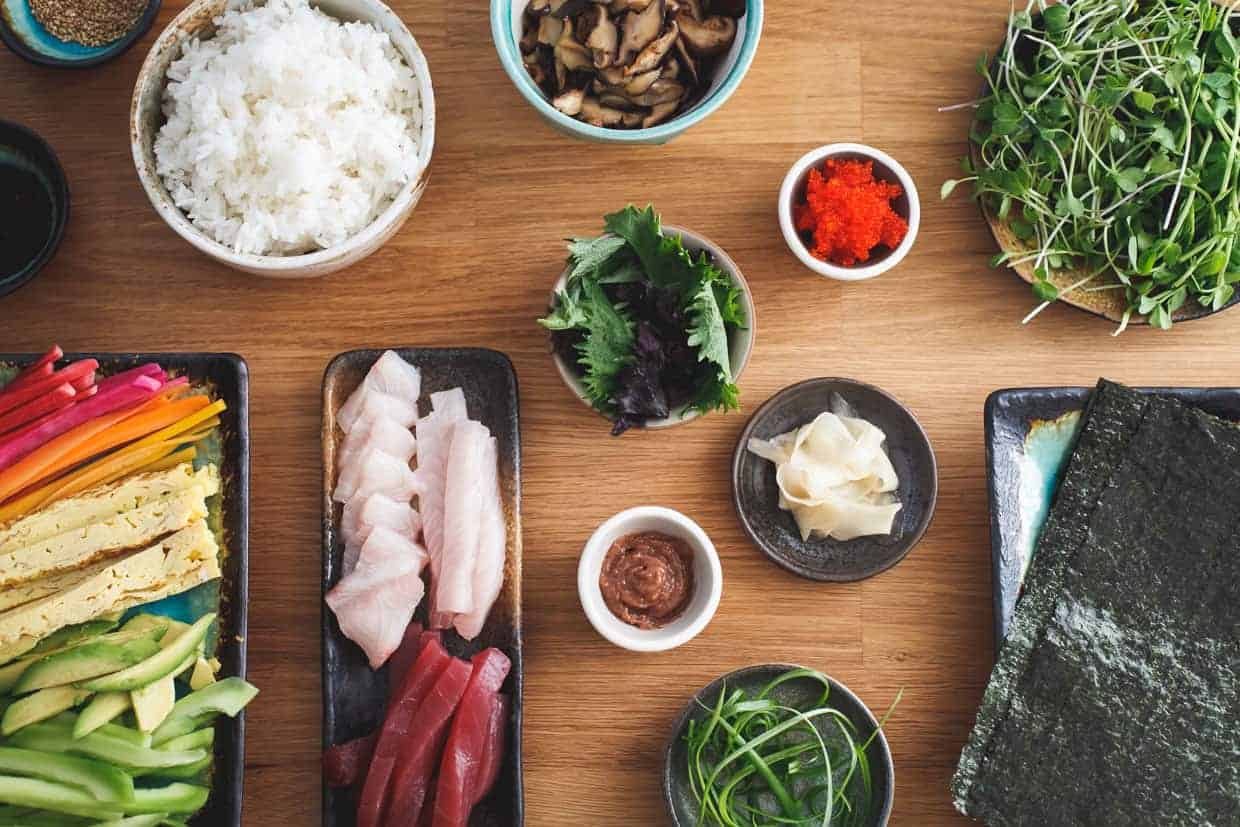 Ever since our foray into chickpea pasta, Alanna and I have been adding to a decades-long to-do list of collaborative food projects. I pray she's writing it down, because otherwise the ideas live amidst miles of texts and months of late-night Facebook chats. This current one, though, topped the list before there even was a list - as soon as Alanna spied a DIY Sushi Rolls kit getting dusty on the top shelf of my cabinet and I admitted that it hadn't been used because we already make sushi on the regular (sans kit).
I might as well have been singing a love song to her taste buds because they didn't let me forget the promise of a sushi night. Especially when said sushi night came with homemade oboro tofu.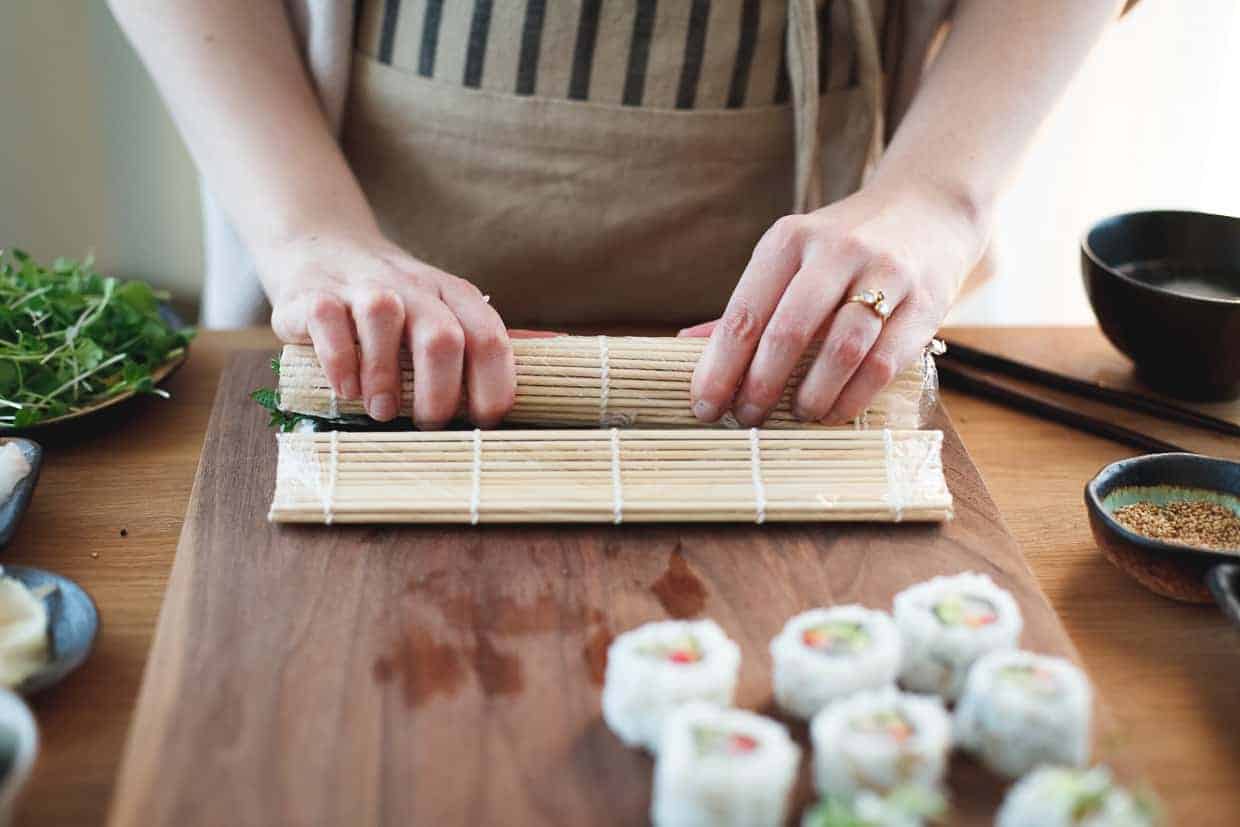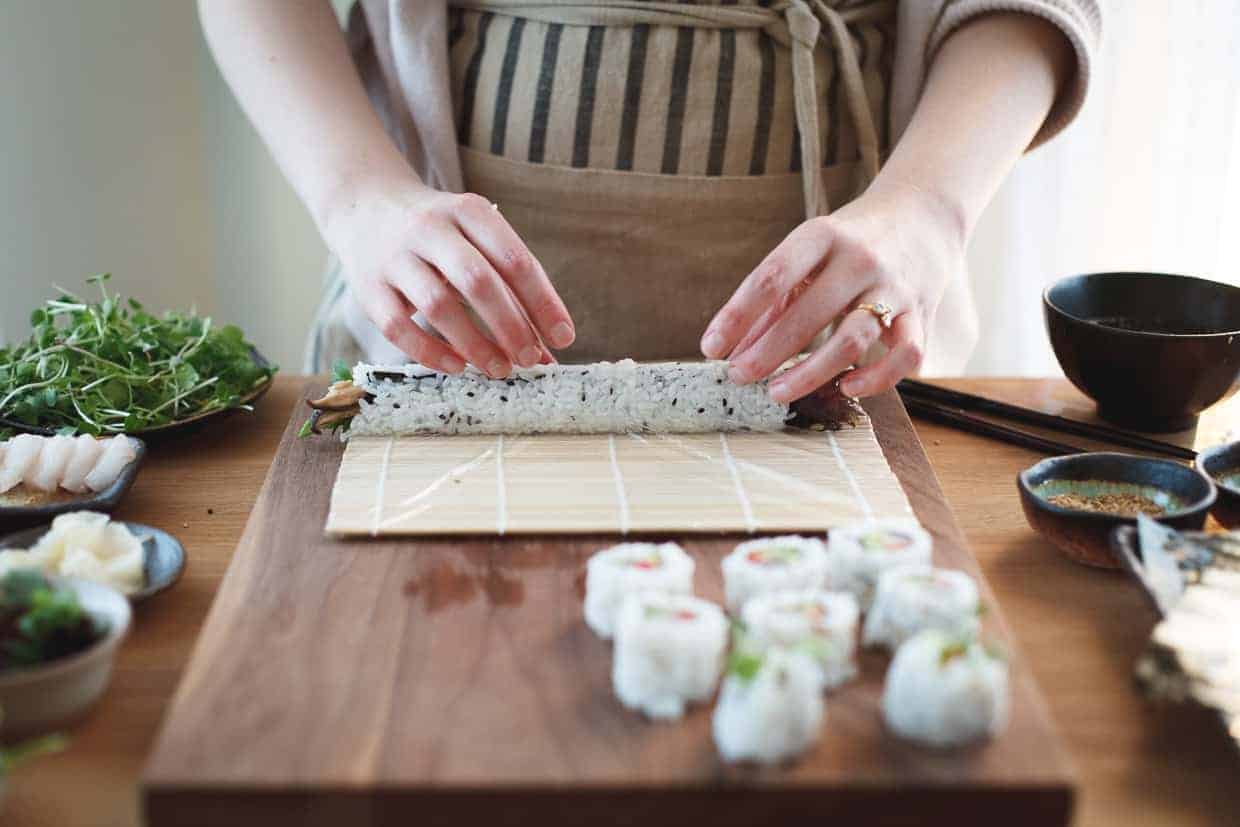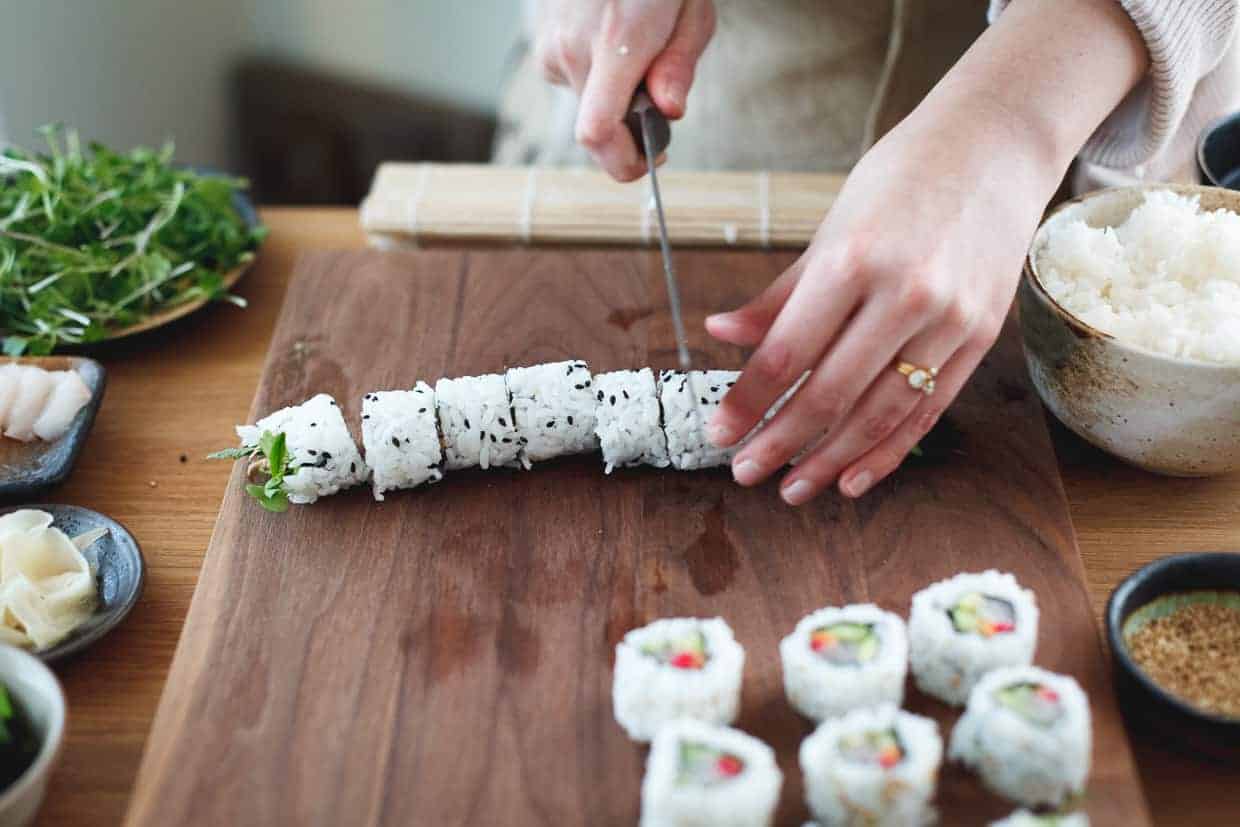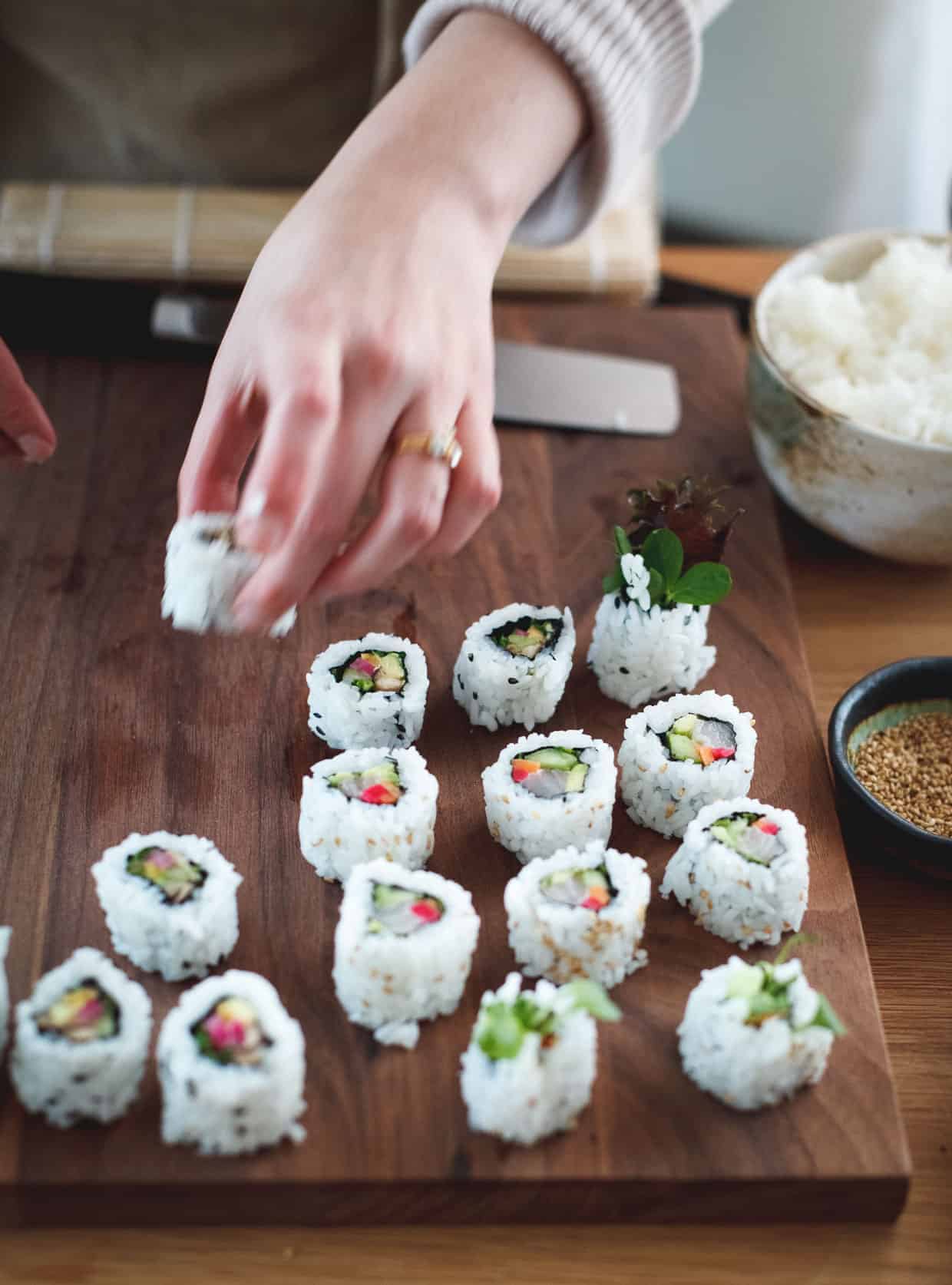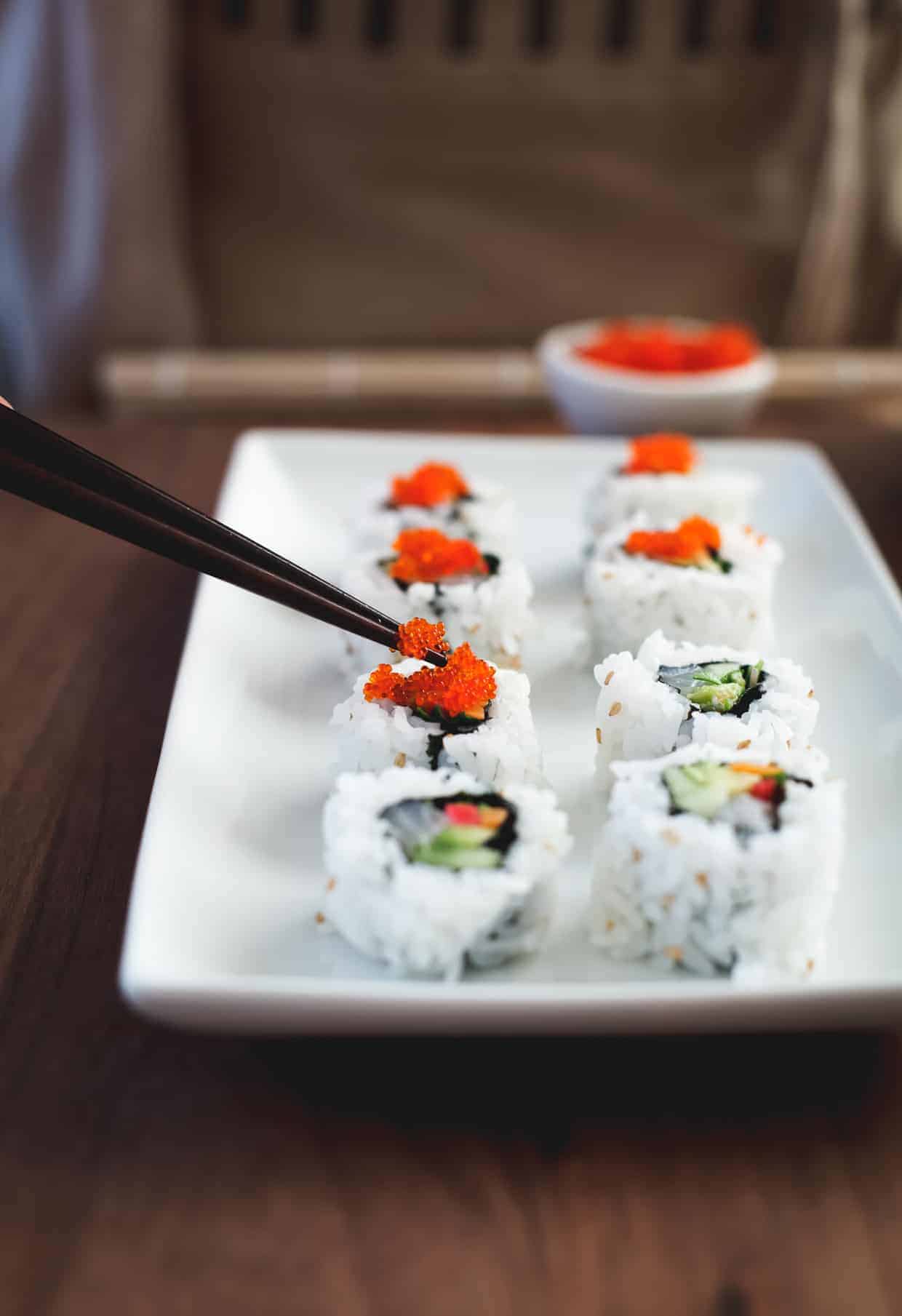 Let's clarify something. While Lucas and I make sushi often, we usually stick with whatever sushi-grade fish looks fresh + cucumber + avocado (+ roe when we're feeling fancy). Boom, sushi.
Alanna hears sushi and starts spinning her wheels about all the colorful veggies she can stuff inside - shiso leaves, mushrooms, egg (tomago), sprouts, scallions, and pickled carrots, purple daikon, and watermelon radishes. If ever there was someone to invite to a sushi fest!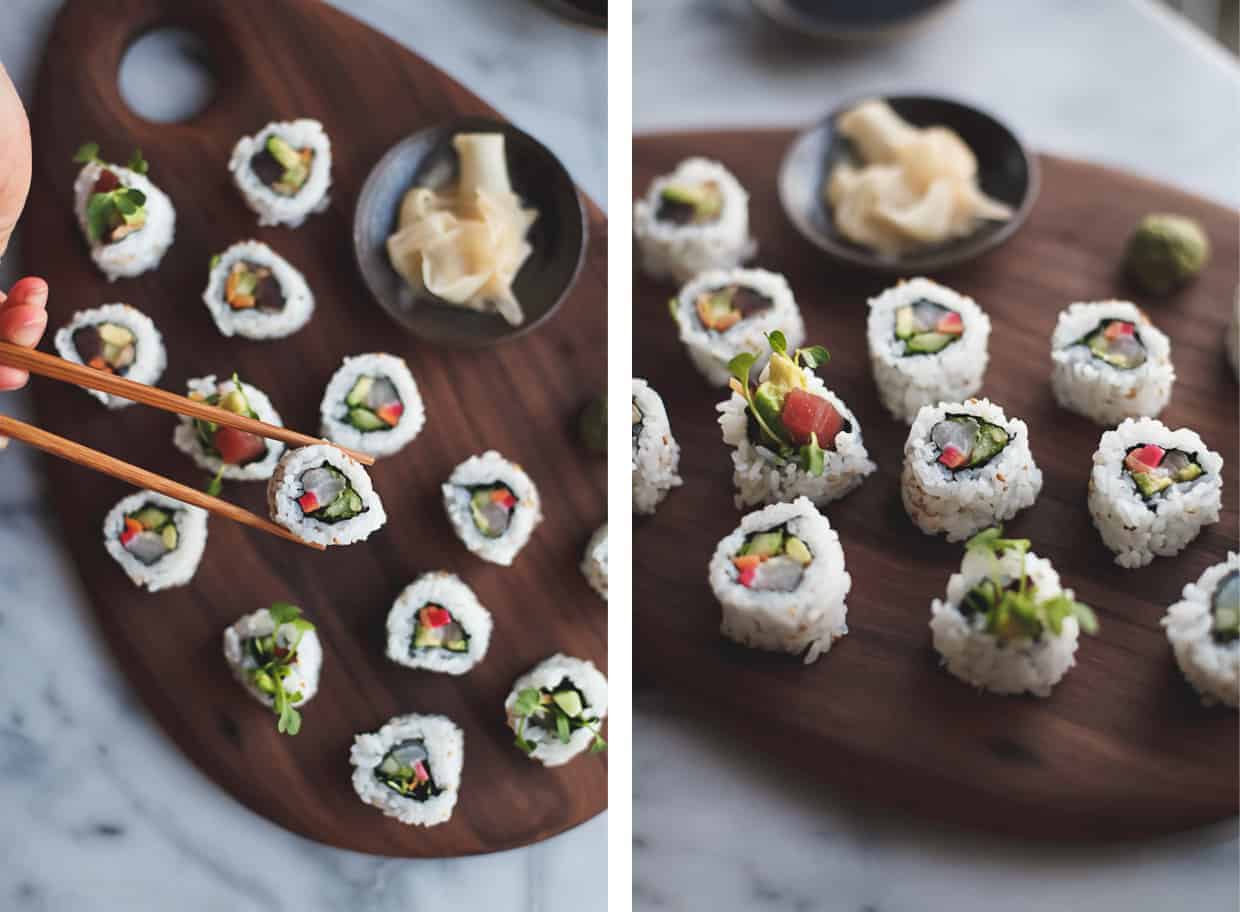 With her friend Amelia along, the three of us dispersed at the Monterey Market one Sunday afternoon to pick out sushi veggies. And because we have no self-control when let loose in a produce paradise, each of us separately filled up baskets. This is exactly what sushi night should look like - a rainbow of matchsticks splayed across the table.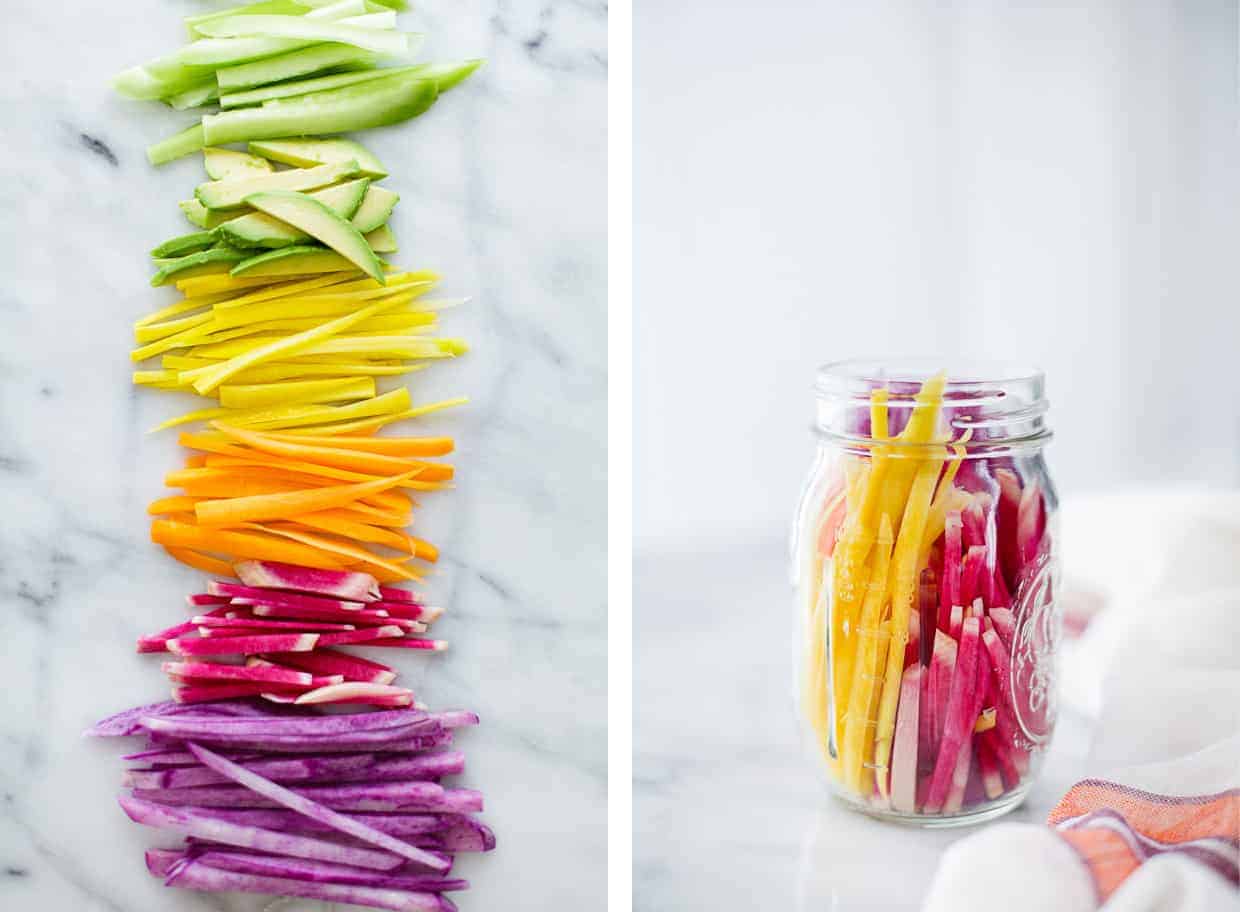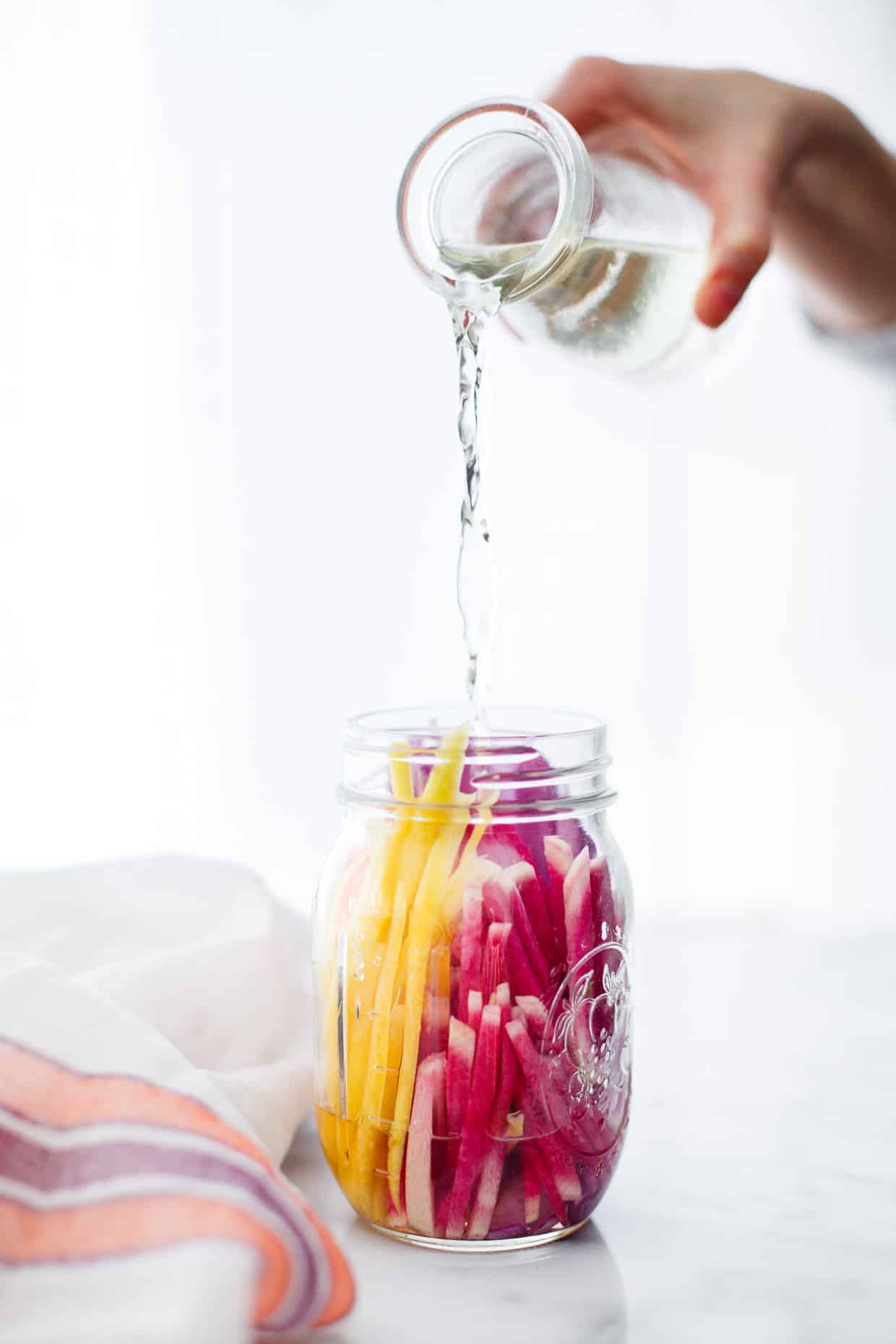 Piling layers of veggies inside makes each roll taste oh-so-fresh. Sushi night at our house will now forever include homemade quick pickles with our favored amberjack, but the great thing about sushi is that with a boatload of filling options, you can tailor your sushi roll to your personal tastes.
Not a fan of avocado? (Who are you?!) No problem, leave it out! Throw in something else like bell peppers! And if you're vegetarian, replace the fish with mushrooms or egg.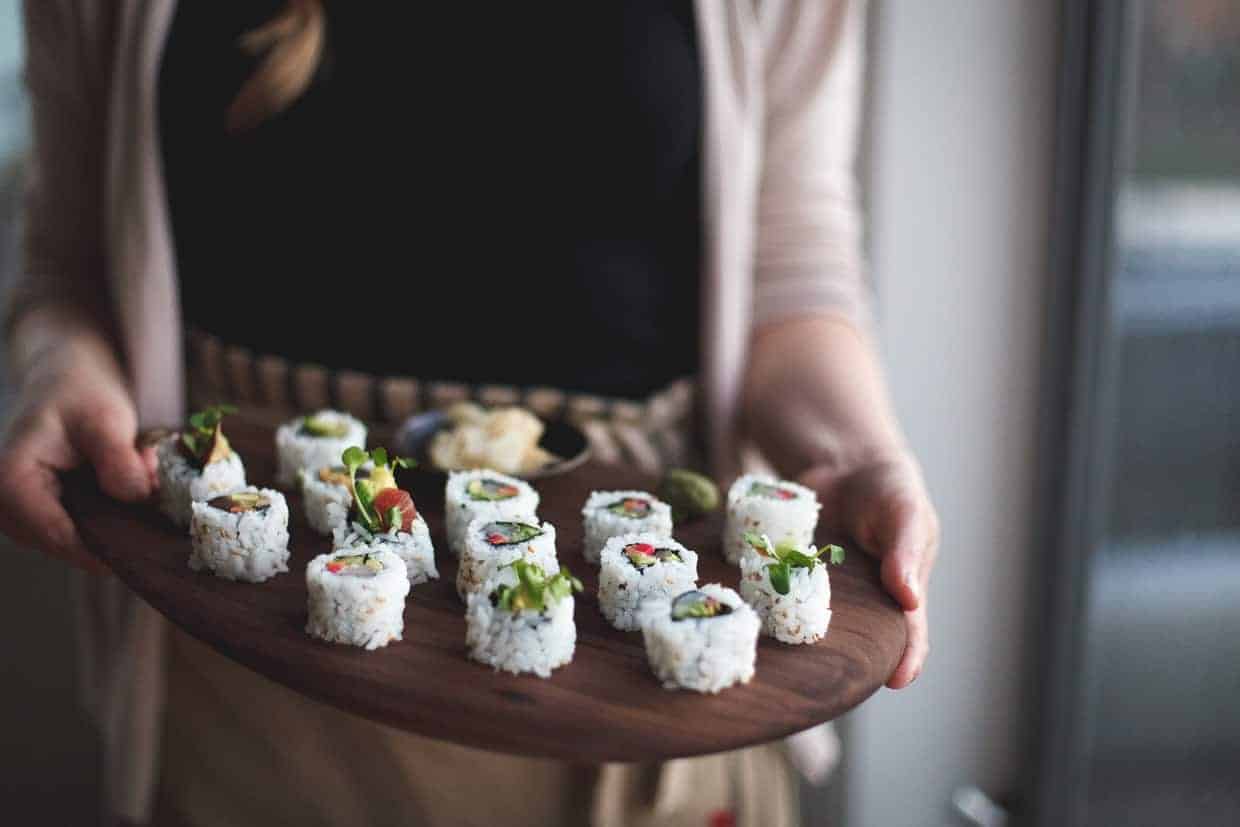 Check out Alanna's post from our sushi date for the killer vegetarian options shown below and the recipe for the vibrant quick pickles.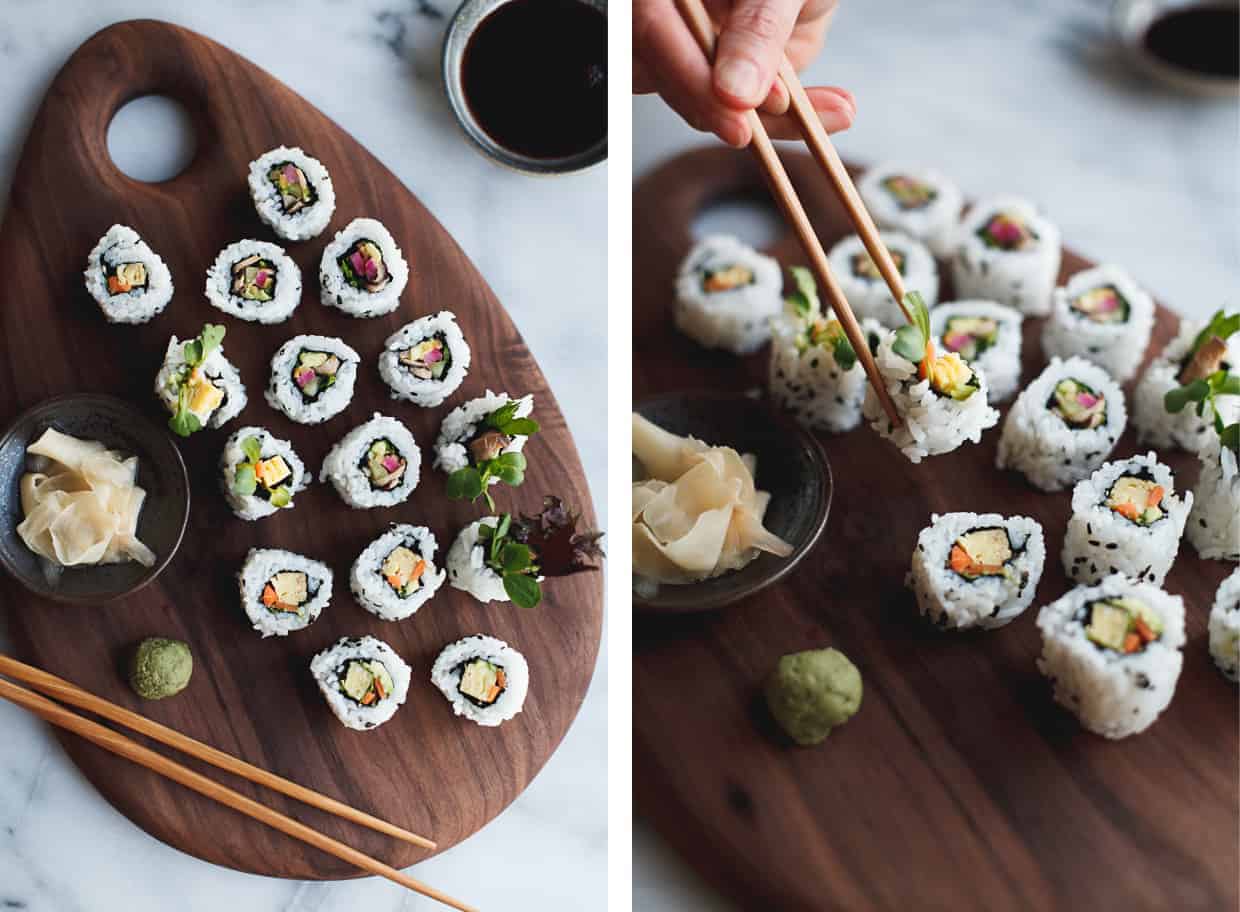 *All photos and video were styled and shot in collaboration with Alanna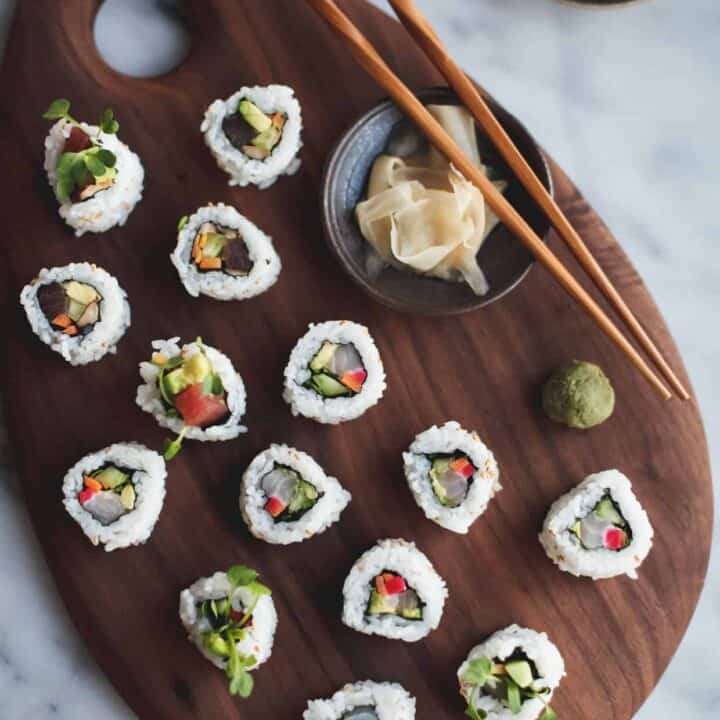 DIY Sushi at Home
How to make sushi at home with tips and tricks on rolling and seafood and vegetarian filling options!
Ingredients
Sushi Rice
2 cups sushi rice, thoroughly rinsed and drained well
2 cups water
2¼ tablespoons rice vinegar (unseasoned)
1 tablespoon sugar
½ teaspoon salt
Sushi Rolls
2 tablespoons toasted sesame seeds
1 or 2 - ¼-pound blocks of sushi-grade fish - I used meguro (tuna) and kanpachi (amberjack)
1 Japanese cucumber - peeled, sliced lengthwise, seeds scraped out, and cut into thin long strips
1-2 avocado, peeled sliced into thin strips
1 large handful pea shoots or kaiware sprouts
2 scallions, thinly sliced lengthwise
1 cup thinly sliced shiitake mushrooms, sautéed in sesame oil
Optional: Roe, for garnish
For serving: tamari or soy sauce, pickled ginger, and wasabi
Tools
Instructions
Sushi Rice
Cook the rice and water in a rice cooker. (Alternatively, if you don't have a rice cooker, bring the rice and water to boil over high heat. Reduce heat to low and cover for 15 minutes. Remove the pot from the heat and let stand, covered, for 10 more minutes.)
Fluff the rice with a fork and transfer it to a glass bowl. While the rice is still warm, add the rice vinegar, sugar, and salt and gently stir with a wooden spoon to distribute it evenly.
Let stand until cool.
Sushi Rolls (Watch the video above to see steps in action!)
Set a bowl of water and a towel nearby for your hands.
Lay a half-sheet of nori shiny side down on the bottom edge of the bamboo mat.
Lightly moisten your hands in the water bowl and grab a handful of seasoned rice (about ½-¾ cup). Gently press and spread the rice evenly over the nori, going all the way to the top and side edges, but leaving a 1-inch gap uncovered at the bottom edge. The rice should cover the nori, but should not be too thick - you should be able to see the nori through the rice.
Sprinkle a few pinches of toasted sesame seeds over the rice.
Flip the prepared nori rice-side down, lining the 1-inch uncovered gap up with the edge of the bamboo mat closest to you.
Lay strips of your favorite sushi and/or veggies lengthwise across the middle of the nori.
Use the bamboo mat to roll the bottom edge of the nori over the filling, tucking the nori in to firmly enclose the filling.
Open the mat gently and lay it over the roll again, and firmly roll forward until the sushi is tightly rolled. Roll the sushi roll up in the mat once more, pressing to even out the roll.
Lightly moisten a sharp knife and slice the roll into 8 pieces, using a gentle sawing motion. Optional: top the cut side of each piece of sushi with roe.
Repeat until you've used all of your sushi rice.