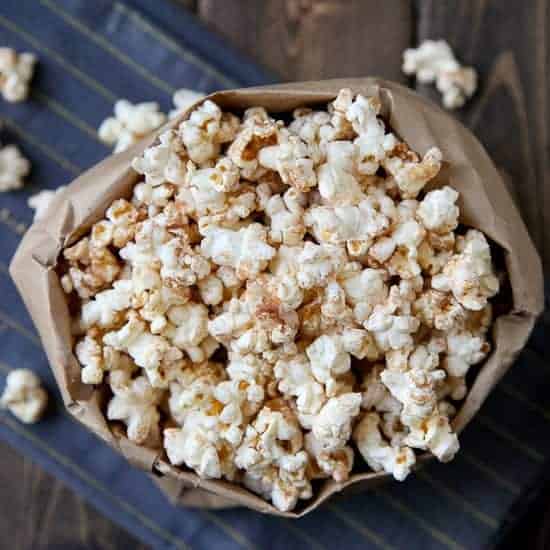 TGIF! Not that it really makes a difference since my schedule post-exam is pretty much data collection and wedding planning, with the latter ramping up on weekends when Lucas has more spare time. It's just the thought that "PHEW, I made it through another week!" Let's curl up by the fire, pop in a good movie, and munch on popcorn. Add candy to that equation and you've got nearly every Friday night of my high school career. Only back then, my BFF and I would take a ready-made microwaveable bag out of the gigantic Costco-sized box and add a few more tablespoons of melted butter and a heaping spoonful of salt. The more butter-soaked the better. The days of not feeling completely glutinous about eating butter with a side of popcorn are long gone. Tonight's version comes entirely homemade with quite a bit less butter.
I made this same popcorn snack for Hee-Jeong's qualifying exam last week (everyone in my cohort is almost done with quals!). One of her committee members has a gluten-free diet, which is tough for me because it turns out I'm a sucker for anything with flour (+butter). In a time of need, I called my GF pal Jenny - the same friend who over-salted our popcorn in high school. Looking for the ultimate finger food snack, I went with a revamped version of our classic midnight grub. The platter with only a few remaining kernels at the end of the 3-hour exam indicated it was a hit.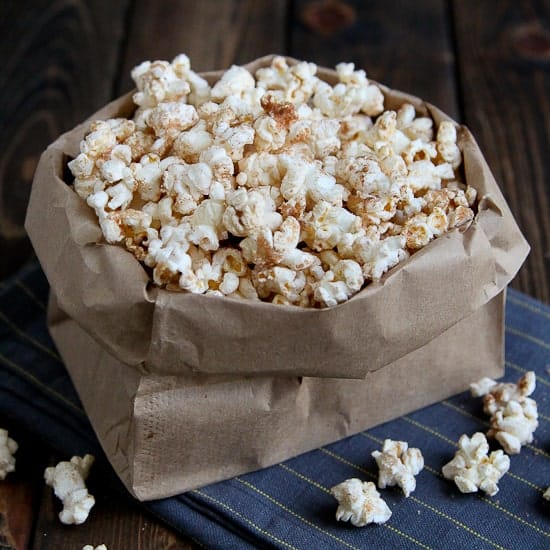 If you don't already know that you can make popcorn in a brown paper bag in the microwave, you're totally missing out. You don't need a bulky popcorn maker or a big pot with a bunch of oil. All you need is a small brown paper bag, a handful of kernels, and a microwave. And butter. Popcorn without butter is like peanut butter without jelly, peas without carrots, sushi without rice. Incomplete. This cinnamon toast popcorn one-ups buttered popcorn, adding a sweet twist to a salty favorite in 30 seconds. Now if only I had a fireplace to snuggle up in front of.
Cinnamon toast popcorn
Serves 2
1 small brown paper bag
½ cup popcorn kernels
2½ tablespoons butter
1½ tablespoons sugar
½ teaspoon cinnamon
Pinch of salt
Put the popcorn kernels in the brown paper bag and roll the top over 3-4 times. Microwave on high for 1-2 minutes (my microwave is dinky and is much less powerful than my parents', so I'd start with 1 minute if you're unsure).
Scoop the popped popcorn out of the bag into a large bowl, leaving the un-popped kernels. Microwave for another minute, or until the pops slow down. Add to the bowl of popped popcorn.
Melt the butter.
Mix together the sugar, cinnamon, and salt.
Slowly pour the butter over the popcorn, tossing with your hands about halfway through.
Sprinkle the cinnamon sugar mixture over the top of the popcorn and toss well to coat. Dig in.