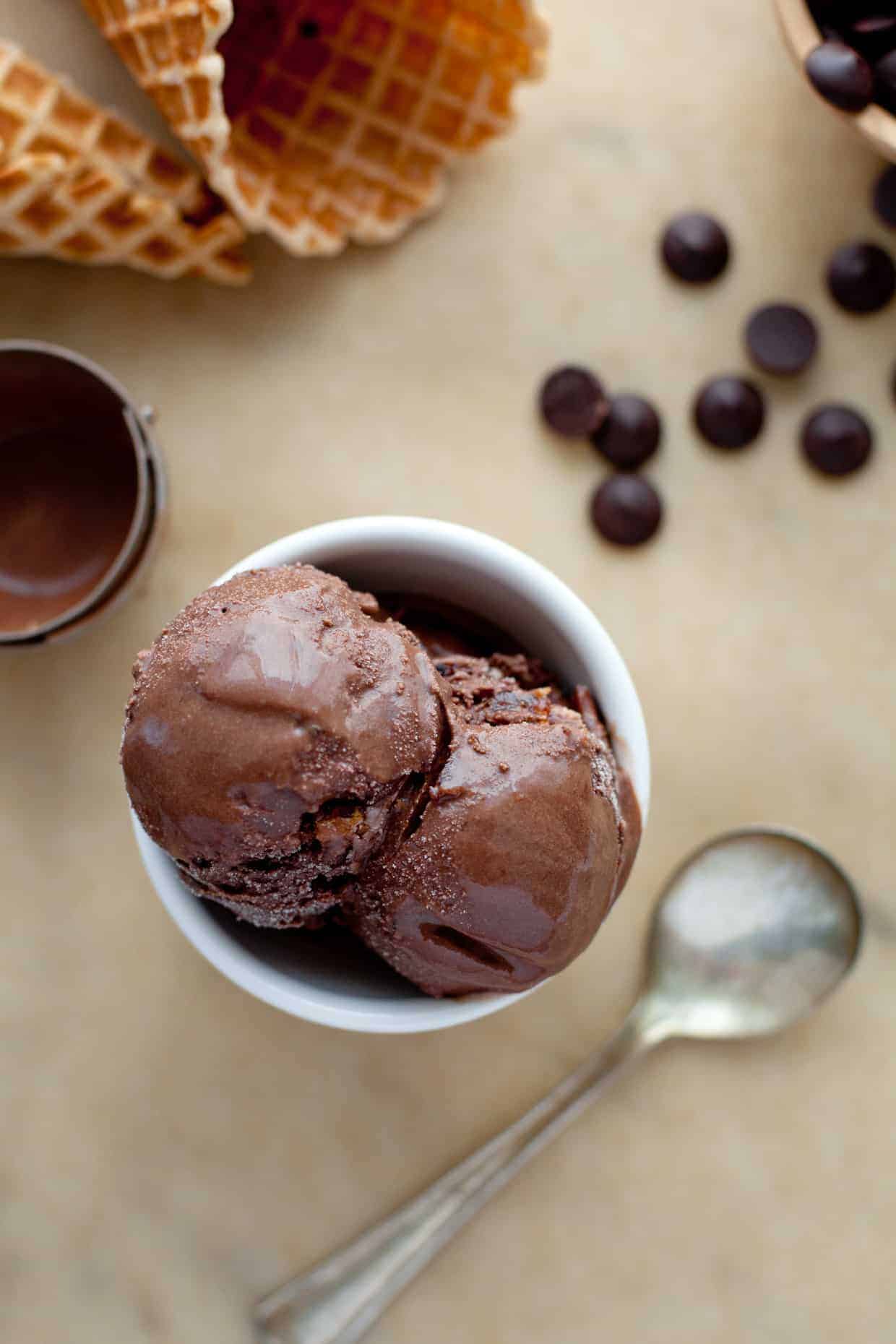 On this Saturday a year ago, we were melting in the 110°F sun while exchanging forever and ever vows in front of all our friends and family. Best and hottest day ever. A friend recently asked, "is Chico always that hot? When I think of Chico I think of scorching heat that I never want to go back to ever again." I assured him that was a fluke. An unexpected heat wave that should never have happened that day in June. THAT day in June is usually in the low 90s, I promised.
If it happens two years in a row, can we call it a fluke? Chico's planning to get up to a cool 101°F tomorrow. You know, to commemorate our anniversary. Recreate the experience. What do you do when the world is melting outside? Bust out the ice cream, that's what. A double scoop of this chocolate candied bacon ice cream will cure any and all heat ailments. Maybe I'll make homemade ice cream an anniversary tradition.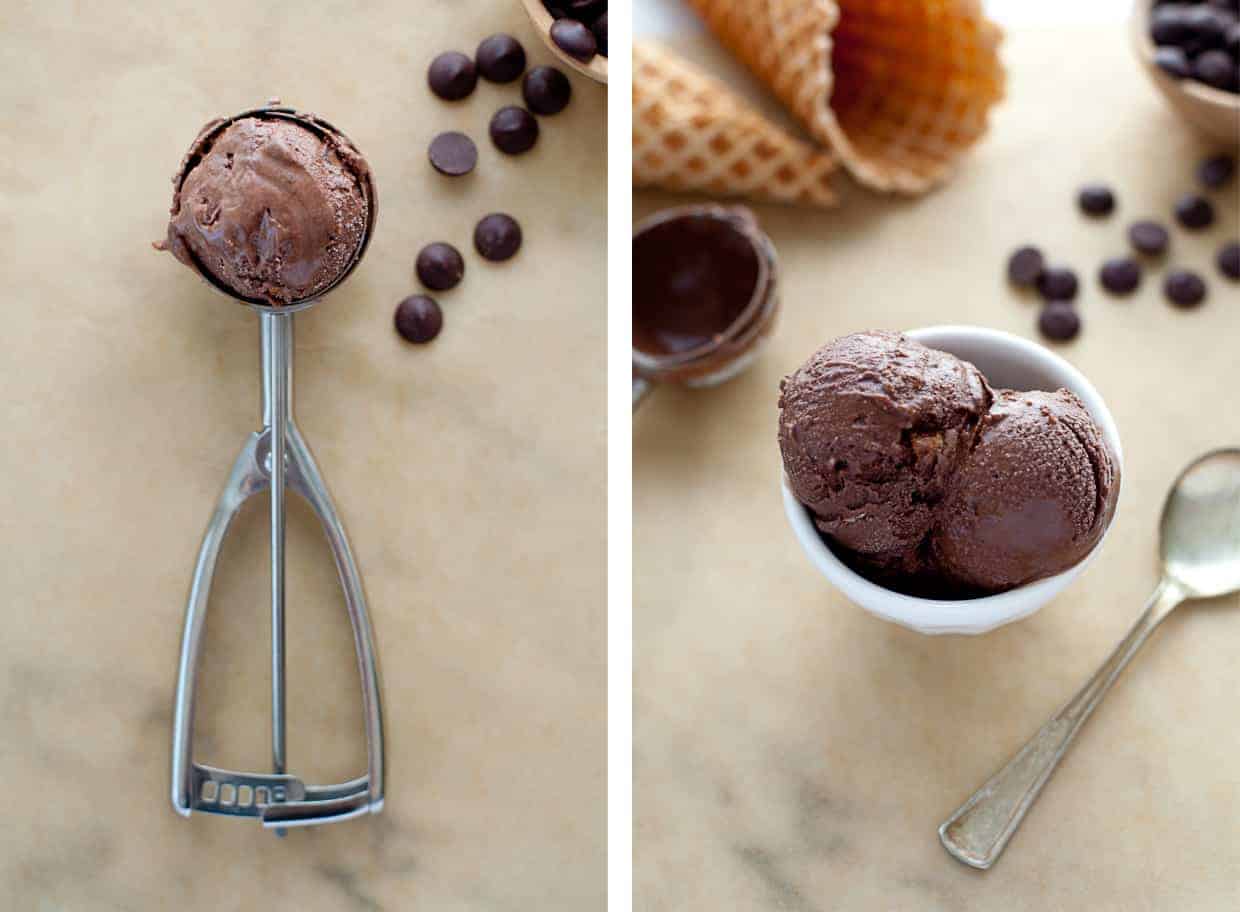 Luckily it's not nearly that hot down in the Bay this weekend, but I'll use any excuse to pull out the ice cream maker. And the bacon. This ice cream came to me in a dream. No joke. I have the most vivid lucid dreams, and I recently woke Lucas up with a light arm hit to describe every lengthy detail of the dream in which I made ice cream with CANDIED BACON in it! My dream self is wildly inventive with brilliant ideas.
Side note: In college I got cast in a show as the super frazzled fairy godmother because of my dreams. During the audition, the director asked each of us to describe one of our dreams; He gave me the role because mine was apparently the most wacko dream that made no sense at all.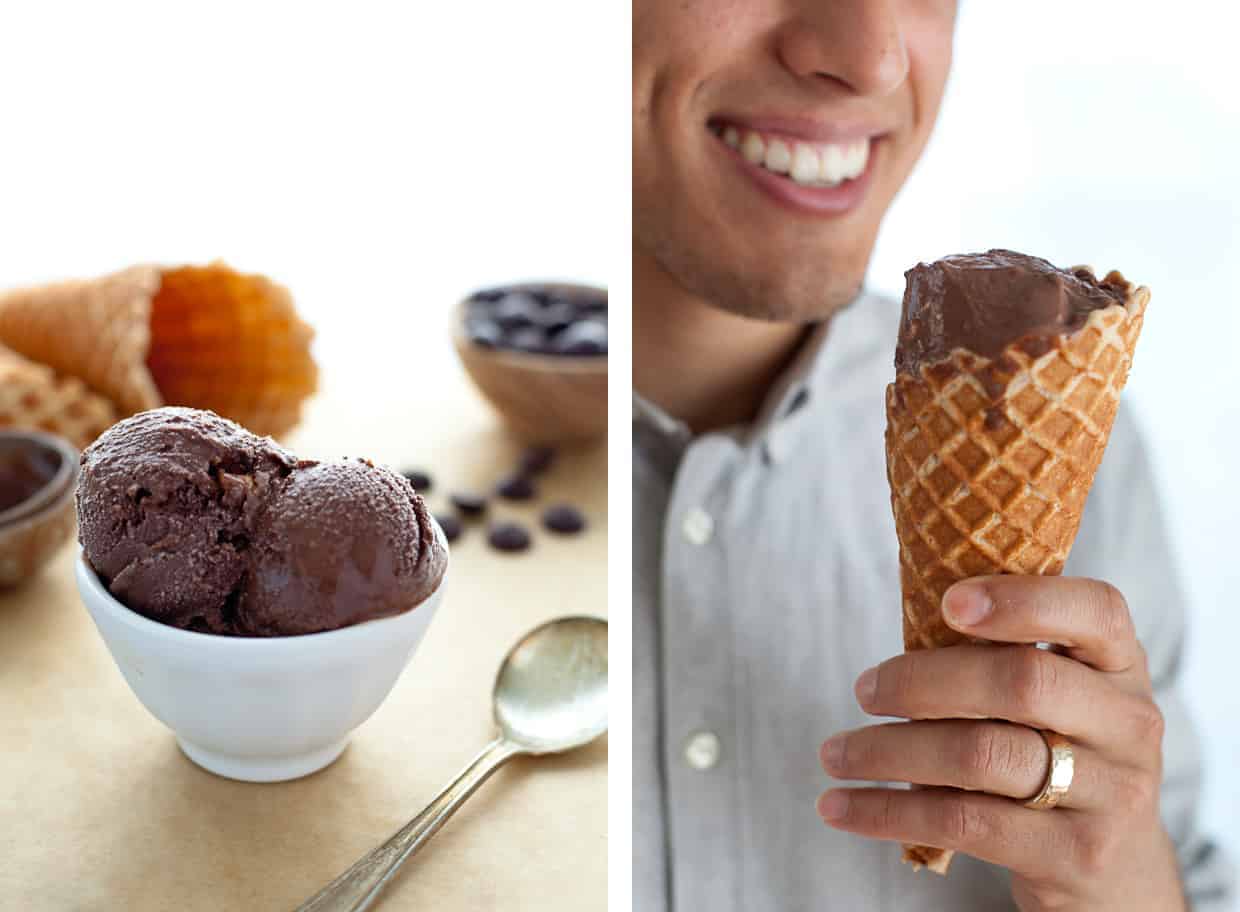 People have been throwing chocolate and bacon together for a while now, and I'm here to argue that it's not a passing fad. It's a deliciously addicting salty sweet combination you can't put down. Don't believe me? Try my double chocolate candied bacon cupcakes and you'll change your tune. So for my first foray into ice cream making this summer, Diane and I churned up a batch of deep dark chocolate ice cream and mixed in some oven-roasted candied bacon pieces. Magical combination.
I slightly adapted Jeni's Splendid Ice Cream base that replaces traditional egg yolk custard with other ingredients to get the perfect consistency. By boiling the milk and cream together and adding a slurry of corn starch to remove any remaining water, you end up with a smooth velvety ice cream with zero ice crystals. For the richest chocolate-y flavor, we added cocoa powder, melted bittersweet chocolate chips, chocolate extract, and a bit of coffee to make it all pop. The result is about 4 shades darker than your typical chocolate ice cream and about 100% yummier. And just when you thought you had the perfect ice cream, toss in some candied bacon to bring it to a whole new level. Bacon makes everything better, promise.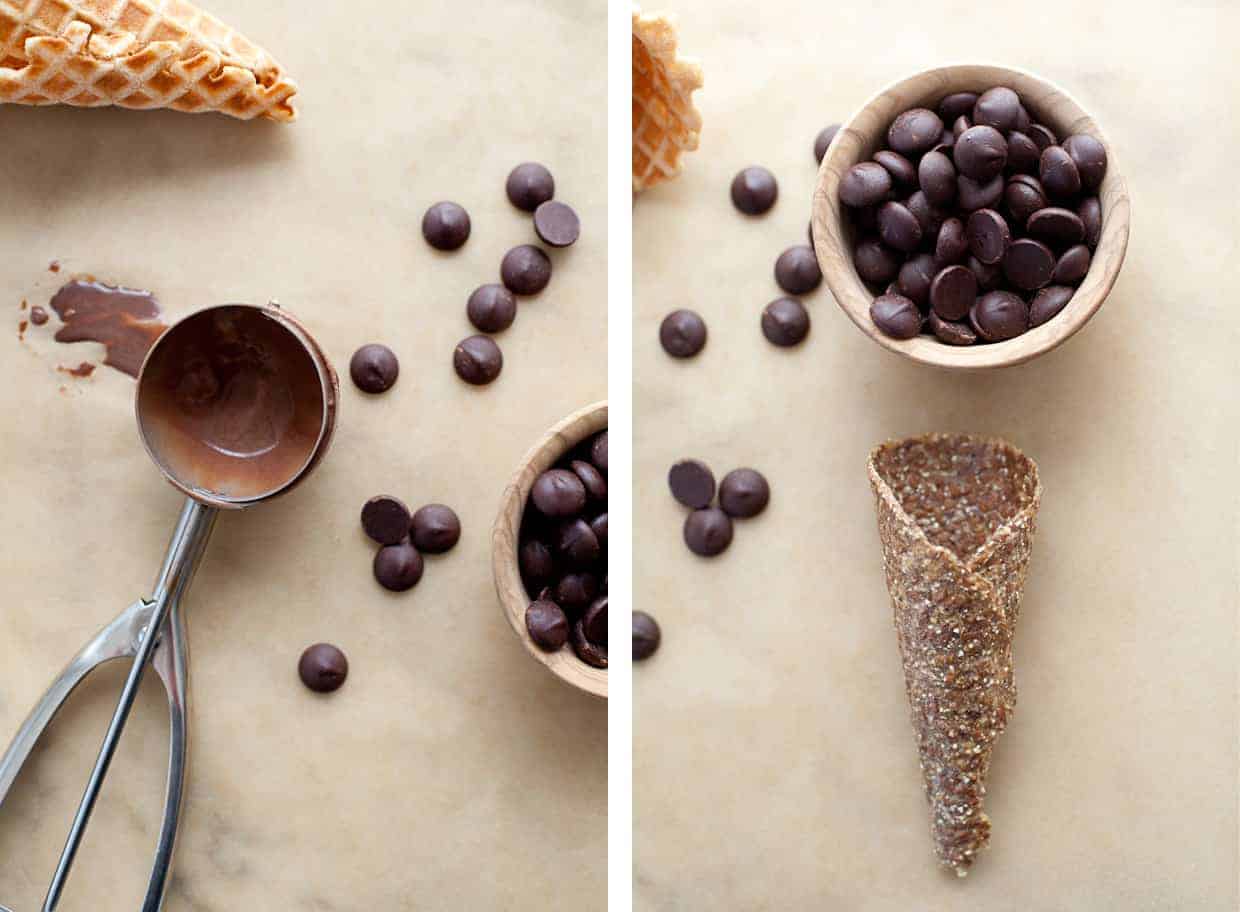 The natural market down our street sells both regular waffle cones and gluten-free cones that are surprisingly delicious and cinnamon-y. Nothing says summer fun more than a runny, melty, drippy ice cream cone with some good ole' American ice cream. I mean, is there anything more patriotic than chocolate and bacon? Happy 4th of July celebrations, everyone!
I want to hear about all of your tasty summer ice cream flavors! Tell me, what's the craziest ice cream flavor you can dream up?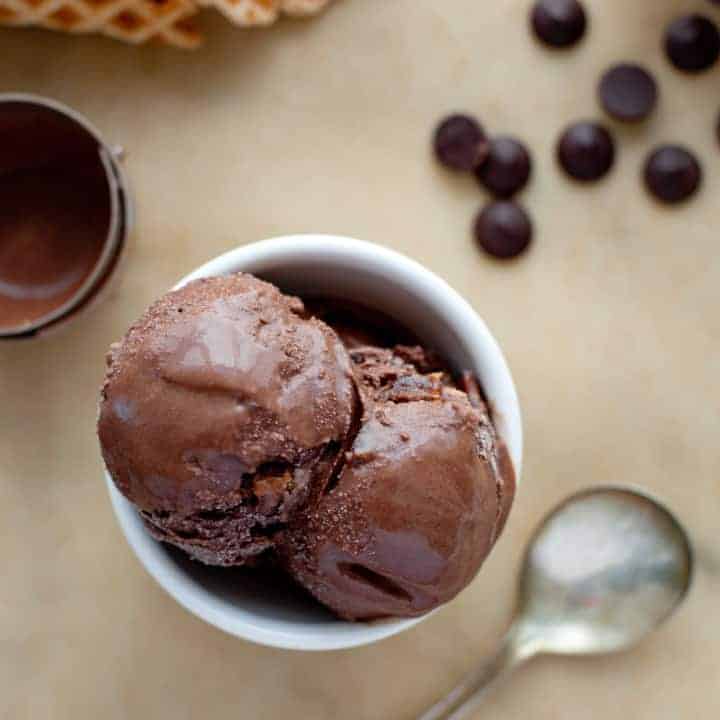 Chocolate candied bacon ice cream
Ingredients
Candied bacon
8 ounces bacon
½ cup light brown sugar
Chocolate syrup
½ cup dark brewed coffee
⅔ cup sugar
1-½ ounces bittersweet chocolate chips (55%-70% cacao)
Ice cream base
2 cups whole milk
4 teaspoons cornstarch or tapioca starch
3 tablespoons (1-½ ounces) cream cheese, softened to room temperature
⅛ teaspoon fleur de sel
1 cup heavy cream
½ cup sugar
2 tablespoons light corn syrup
Instructions
Candied bacon
Preheat the oven to 350ºF.
Line a baking sheet with foil and place a wire rack across the top.
Spread the brown sugar out on a plate and press each strip of bacon into the sugar to thoroughly coat each side.
Place each sugared strip of bacon on the wire rack, making sure they aren't touching one another.
Bake for 20-30 minutes, until the bacon is crispy, but not burned.
Remove from oven and let cool. Chop into tiny pieces. The key here is to cut the bacon into really small pieces (smaller than a tic tac) or else you'll end up with large sort of chewy bits of bacon throughout. No one wants chewy bacon.
Chocolate syrup
Sift the cocoa powder into a small sauce pan with the coffee and sugar. Cook over medium heat, stirring occasionally until the sugar dissolves and it begins to boil. Boil for 30 seconds.
Remove from heat and add the chocolate chips. Let it stand for 5 minutes until the chocolate melts. Stir until smooth.
Ice cream base
Whisk the corn starch in a small bowl with about 3 tablespoons of the milk to make smooth slurry. Set aside.
In a large bowl, whisk the cream cheese and fleur de sel into the warm chocolate syrup until smooth.
Prepare an ice bath by filling a large bowl with ice cubes and water.
In a medium saucepan, combine the remaining milk, cream, sugar, and corn syrup, and bring it to a boil over medium-high heat. Let it boil for 4 minutes. Remove from heat.
Give the corn starch slurry one last whisk to make sure it's completely incorporated. Slowly whisk the corn starch slurry into the hot milk saucepan and return it to medium-high heat.
Bring it back to boil and cook, stirring, until it lightly coats the back of a wooden spoon, about 1-2 minutes. Remove from heat.
Slowly pour the hot milk into the chocolate and cream cheese mixture and whisk until smooth.
Pour the mixture into a large 1-gallon Ziploc bag. Seal it and submerge the mixture in the ice bath until cold, about 30 minutes.
Pour your ice cream base into your frozen ice cream maker bowl. Follow the directions on your ice cream maker to mix the batter into ice cream, until thick and creamy. Add the finely chopped candied bacon and churn just until evenly incorporated throughout.
Pack the ice cream into an air-tight storage container, pressing a sheet of parchment paper directly against the ice cream.
Freeze until firm, at least 4 hours, but preferably overnight.
Notes
While churning this ice cream, it's normal for it to not get as thick as traditional egg yolk custard ice creams do. After about 20 minutes of churning, it should be about the consistency of a soft frozen yogurt.
Adapted from Jeni's Splendid Ice Creams