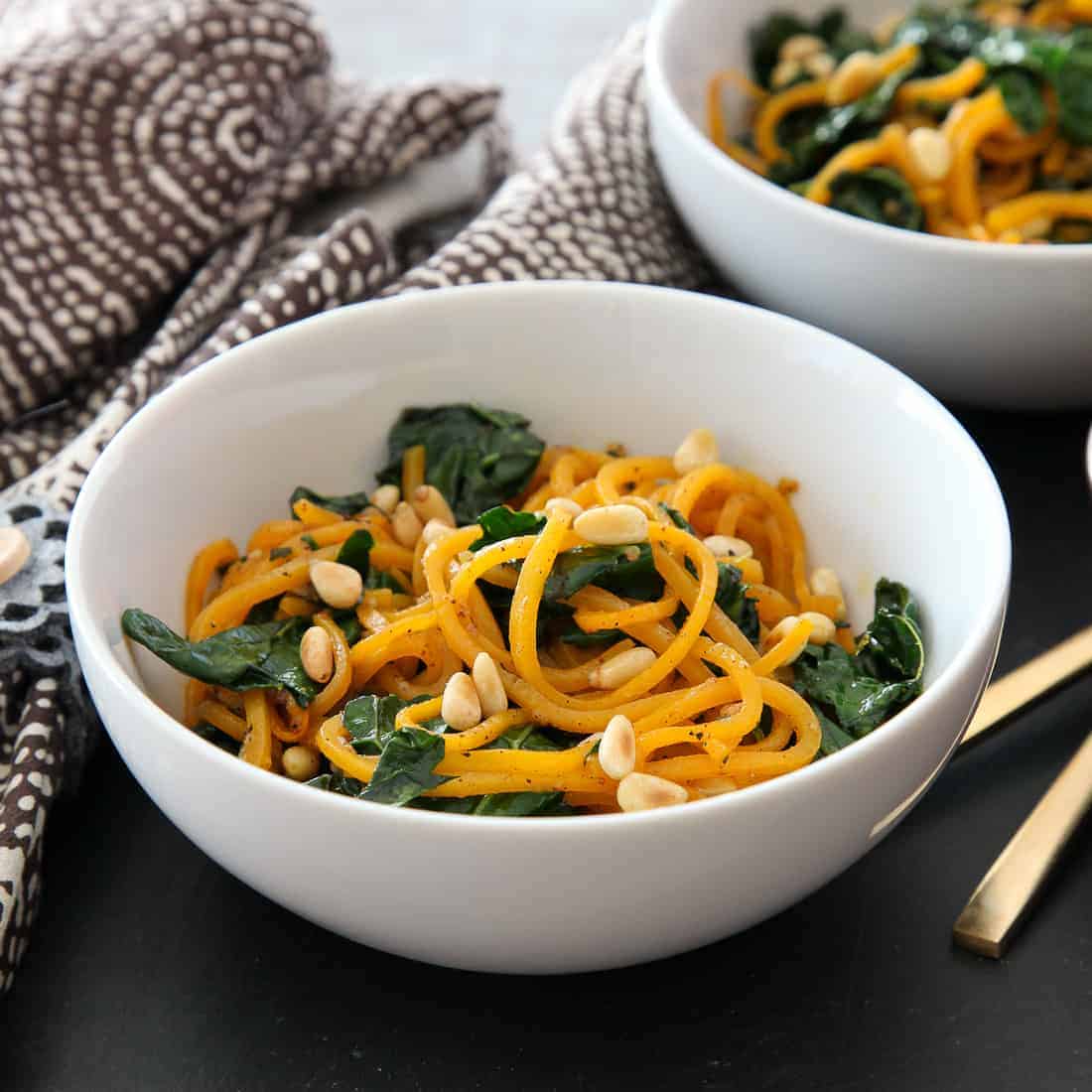 I'm a girl who loves her kitchen tools. I'm crazy for my food processor, I smile every time I use my switchit spatula, and I'm totally into tiny bowls. Two weeks ago, I added a new kitchen tool to my collection that I've already developed strong feelings for. Who knew such an inexpensive gizmo in an unassuming box would be so mind-blowing? You know that feeling when you and "that guy/gal you're dating" finally become Facebook-official? (Note, Lucas and I didn't become Facebook-official until we got engaged – everything before that wasn't serious enough;). Well I'm going Facebook-official…err….blog-official about my new love affair with my spiral cutter! It's a gluten-free eater's goldmine - especially for one who used to make homemade pasta on the weekly.
You can turn vegetables – zucchini, butternut squash, sweet potatoes, younameit – into pasta in seconds. That's not an exaggeration – it literally takes seconds. After spending hours hand-cutting zucchini noodles, I figured there must be a way to do this that isn't so time-intensive. I couldn't even have imagined what my google search would turn up (I hope for better results than I had with "protocol for passing out candy on Halloween"). The best $30 I've ever spent.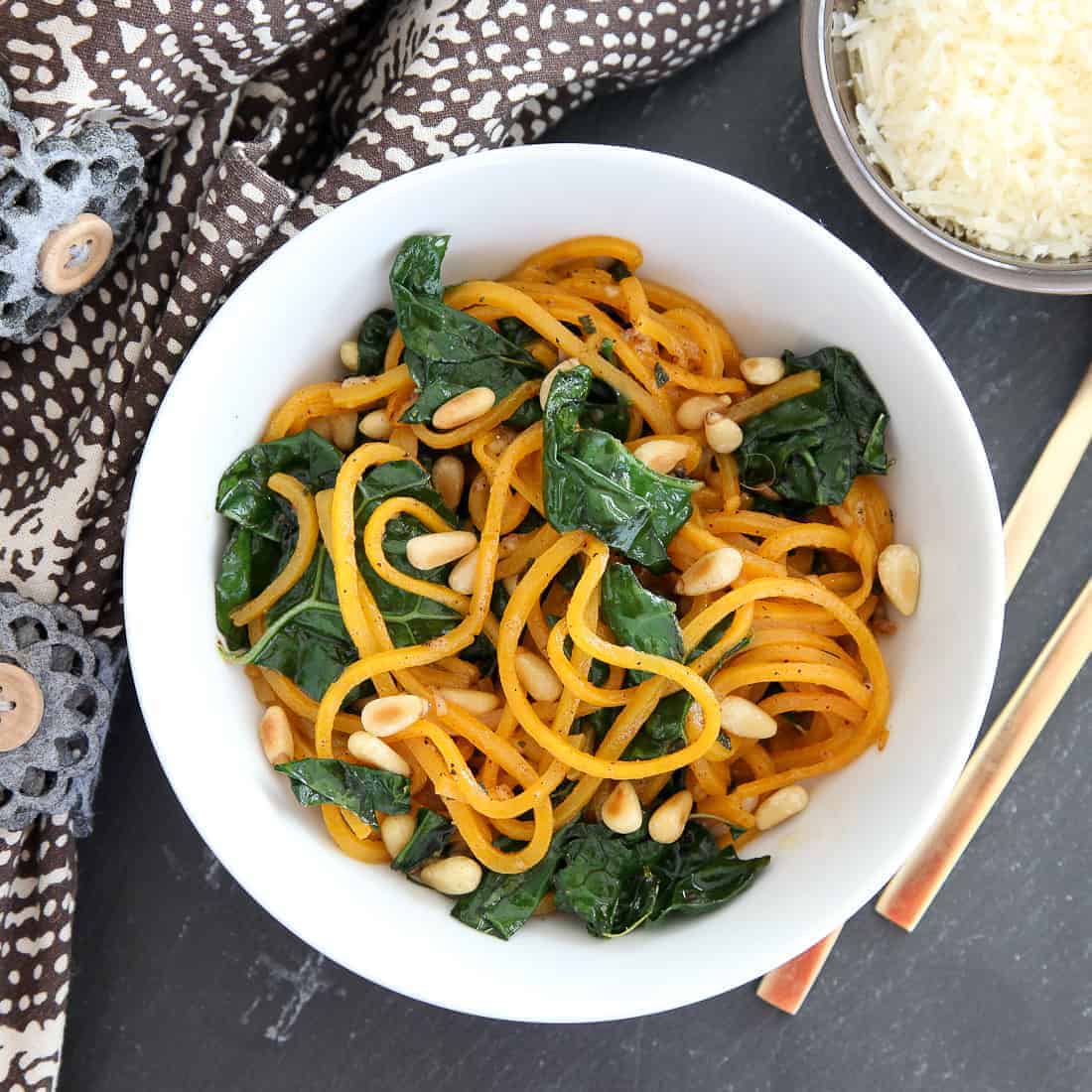 For our first date together (the "spiralizer" and I), I put it to the test with a hefty butternut squash. I topped my sweet soft noodles in a decadent sage and nutmeg brown butter sauce with kale, pine nuts, and fresh parmesan. Zero guilt was felt about rich brown butter pasta because we were eating VEGETABLES. Replacing the traditional wheat noodles with squashoodles not only reduces the carbs significantly, but also allows you to quickly turn your favorite pasta dishes gluten-free (or vegan if you used a different sauce!).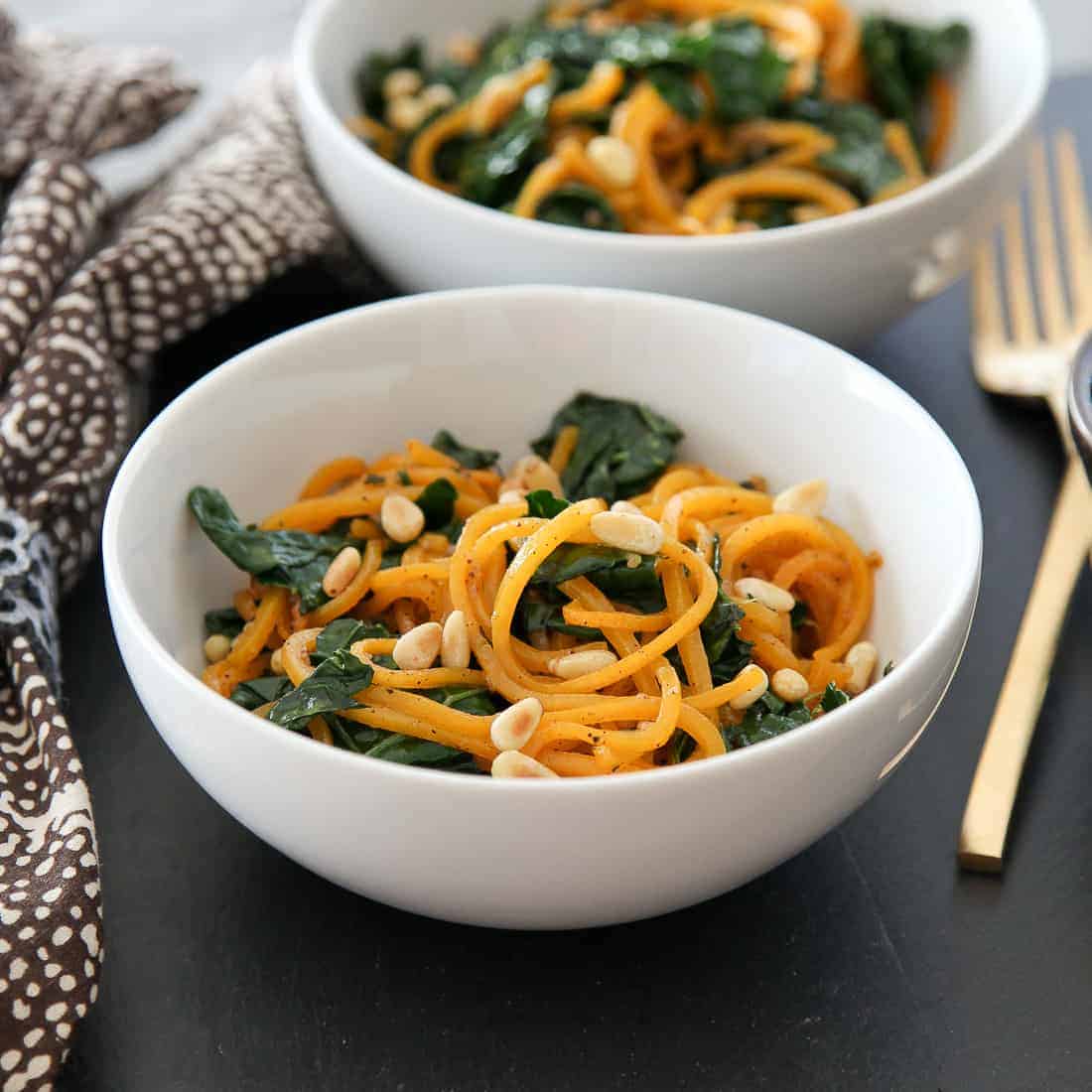 I sound like an infomercial right now, but I promise no one is paying me to rave about my new culinary toy (although, checks are totally welcome ha), I'm just head over heels. As a regular pasta maker, this whole gluten-free thing diminished my recipe repertoire tenfold, but now…NOW I can pull out my old faved recipes and give them new life without headache repercussions. If I just sold you on buying yourself a spiralizer, this butternut squash recipe is a good one to start with; the noodles are soft, but sturdy and not at all watery (often an issue with zucchini noodles, for example). The flavors are classic, but with a healthy spin, leaving you feeling full and refreshed at the same time.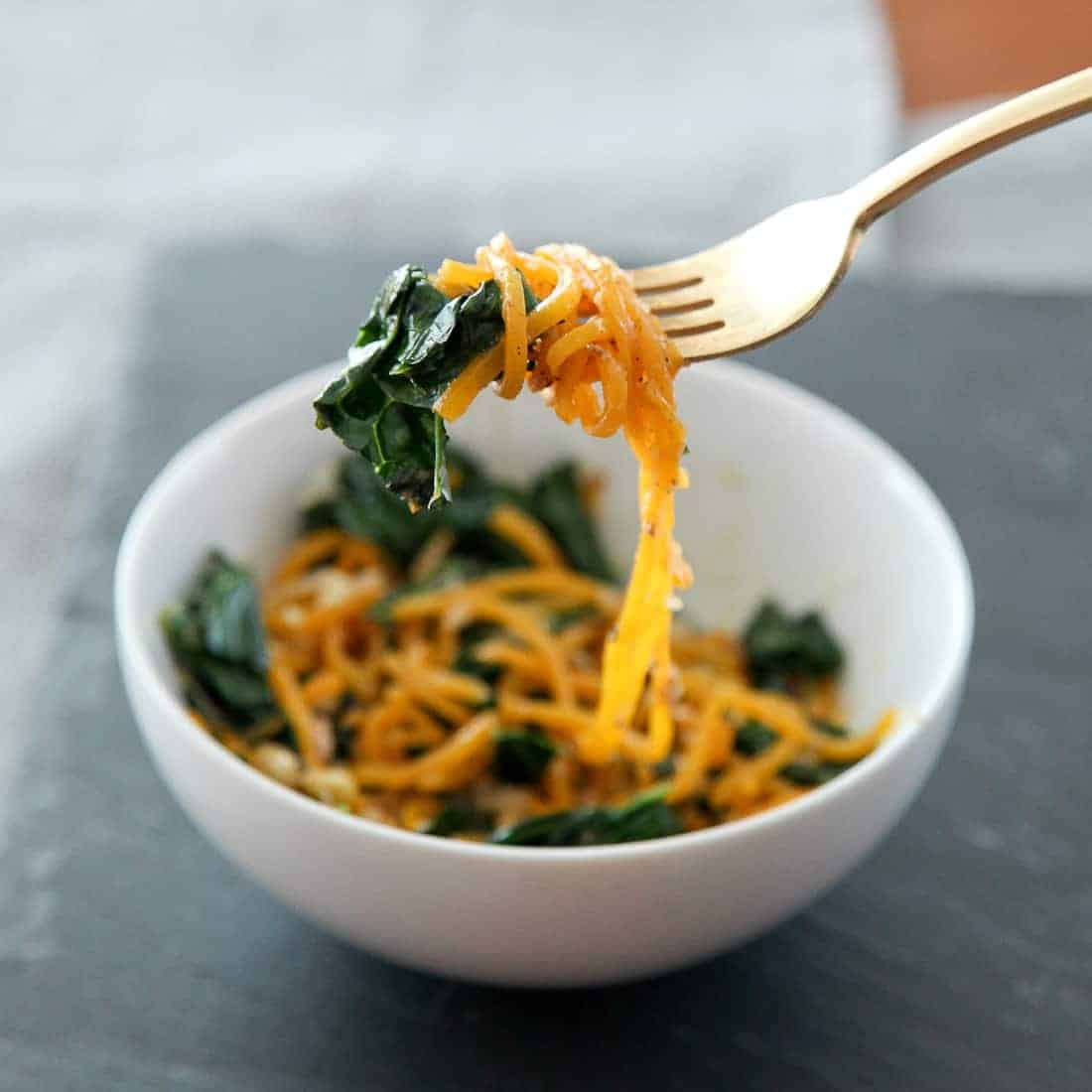 As many of you know, I've been unfailingly eating gluten-free for the past few months - it's been 10 months since I started the experiment, with a couple of months of true experimenting during which I realized that nothing was "worth" getting a headache over. As we traipse around Tokyo, land of more Michelin stars than anywhere else, I'm giving wheat a go and crossing my fingers that I'm headache-free. I feel strongly that I can't go to Japan without indulging in a serious bowl of ramen. I'll keep you posted on how it turns out when we return (with plenty of travel pictures:). For now, we're traveling 162 MPH on the bullet train to Kyoto!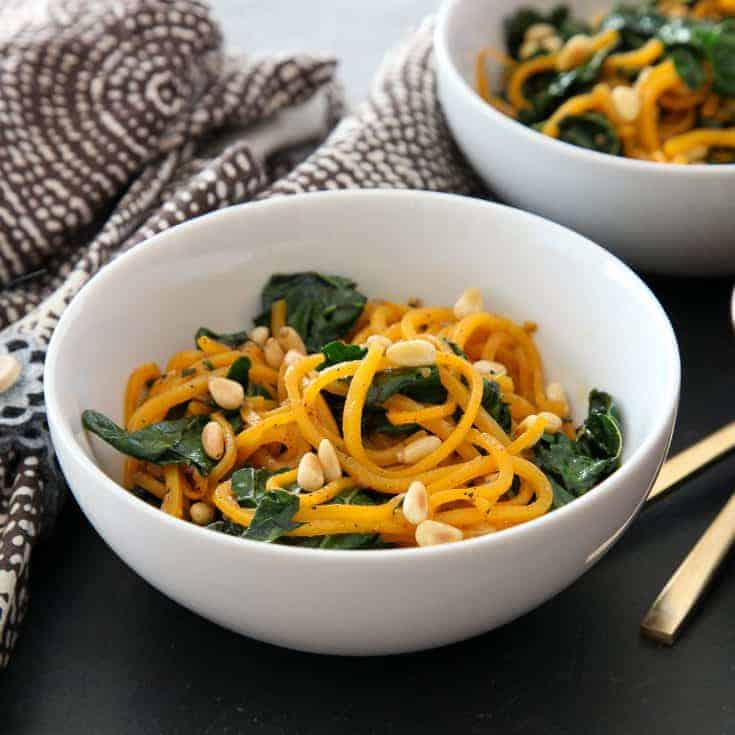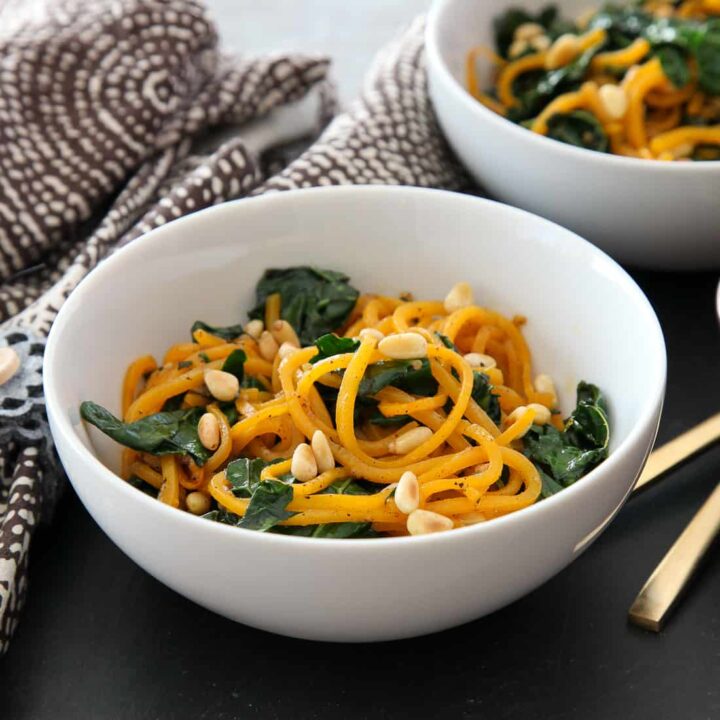 Butternut squash noodles with brown butter and kale
Ingredients
1 medium butternut squash
3 cups dino kale, ribs discarded, and leaves ripped into bite-sized pieces
6 tablespoons unsalted butter
¼ cup pine nuts, toasted
2 tablespoons of fresh sage, finely chopped (about 8 leaves)
½ teaspoon nutmeg
¾ cup freshly grated parmesan cheese
Instructions
Preheat the oven to 400ºF.
Prepare butternut squash: slice off the very top stem, slice the bulb of the squash off and set aside for another use, peel the skin off until the bright orange flesh shows, run the peeled squash through the spiralizer, cutting the noodles every 12-15 inches. Here is a helpful noodle cutting guide with pictures of the process.
Lay the spiralized butternut squash noodles on a parchment-lined baking sheet, and bake for 6 minutes. Increase the oven to broil for another 4 minutes, or until soft (watch carefully - you don't want to burn these).
Meanwhile, melt the butter in a large skillet over medium-low heat.
Add the sage and nutmeg, and continue cooking. After the butter foams, it will begin to turn golden brown with a nutty aroma. Stir frequently, watching carefully until it just browns. Transfer to a small bowl and set aside.
In the same pan, add kale and sauté until it softens, about 4-5 minutes.
Drain the kale through a fine colander and transfer to a large bowl.
Add butternut squash noodles to bowl with kale, pour the browned butter with sage over the top, add the pine nuts and ½ cup of parmesan, and toss until completely combined.
Serve with remaining parmesan sprinkled on top.