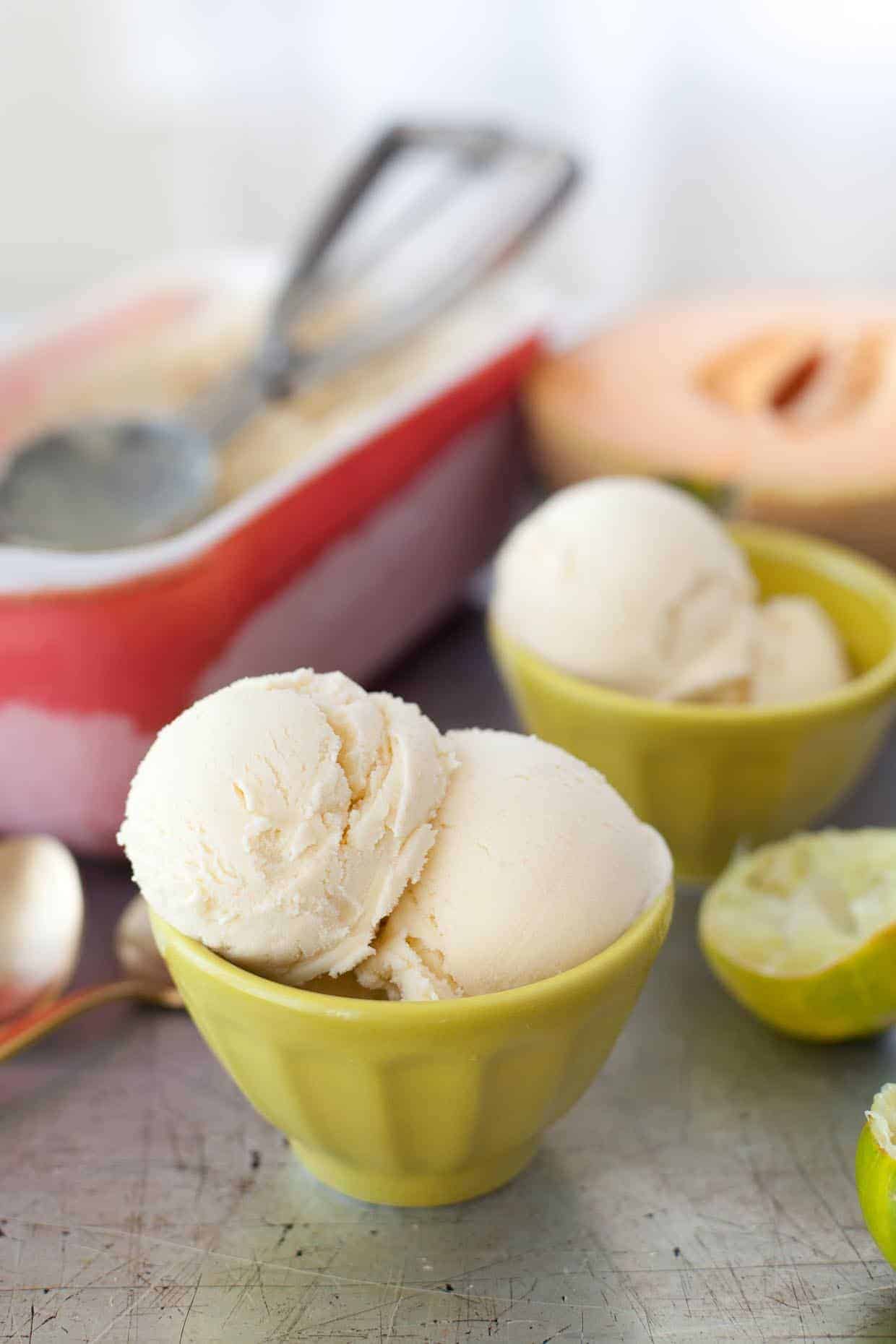 I never go to the grocery store without a plan. Sometimes that means sitting in my parked car in the market parking lot searching for recipes and jotting down a last-minute shopping list on my phone. Without a list, I'll go to the store for strawberries, whipped cream, and vanilla, but end up walking out with a box of fruit snacks and chips instead. It's like going to the grocery store hungry. Except all the time. Shopping lists simultaneously allow me to distribute my cognition so I remember the things I actually need for a recipe, while preventing my snack-fiend stomach from guiding me directly to the ice cream and chips.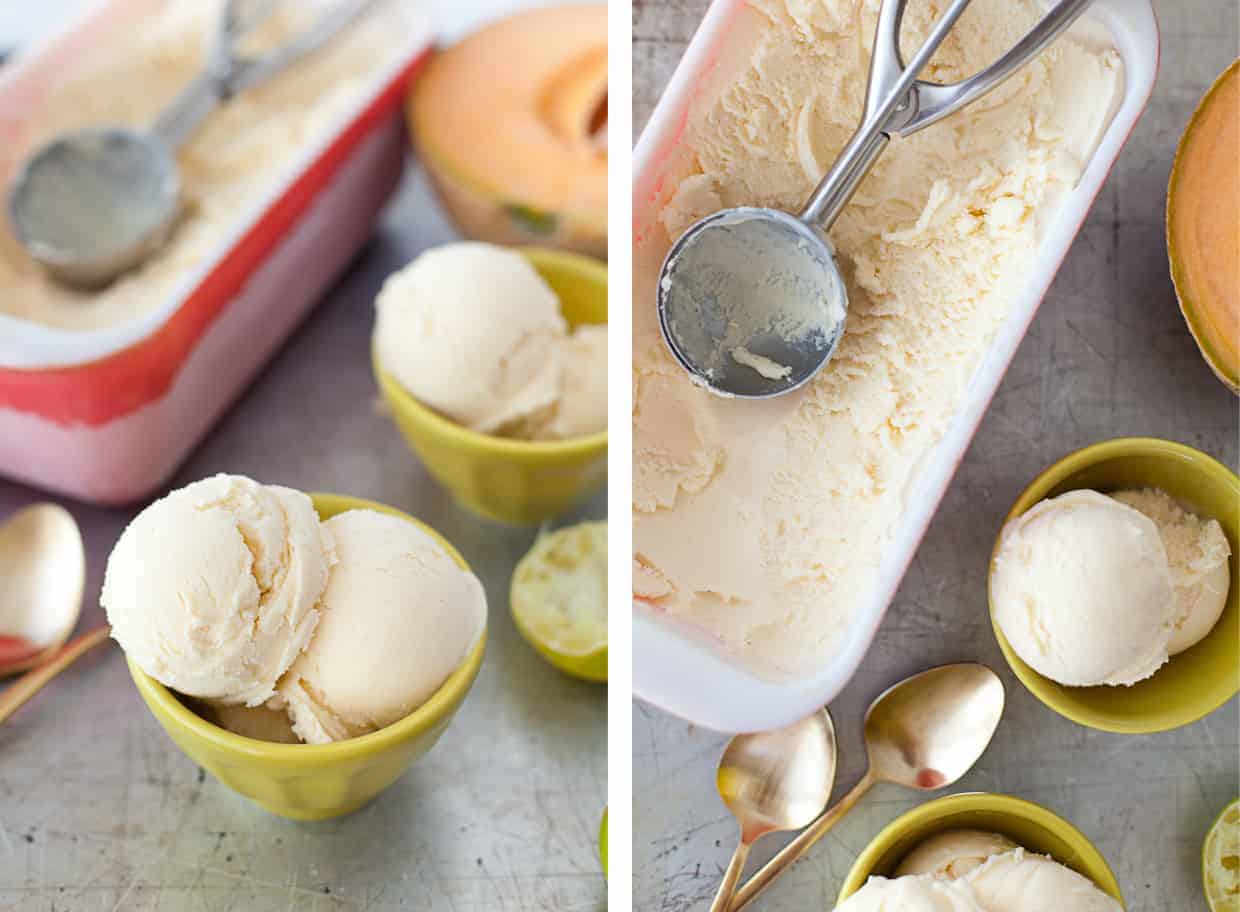 Here's the thing about meal planning and shopping lists though. About 90% of the time you end up with exactly what you need: no unhealthy impulse snacks and very little waste at the end of the week. The other 10% of the time, you decide you're too tired, or you're too lazy, or you just don't feel like eating the delicious and healthy meal you sketched out several days before when you couldn't possibly predict what you'd be craving more than 24 hours later. Generally this means: I want sushi more than anything other meal you could put in front of me.
When this happens, you head out to eat your body weight in kanpachi nigiri, and then come home and turn the ingredients you bought for a light mint cantaloupe gazpacho into a creamy mint cantaloupe ice cream. Ice cream was always a better choice anyhow.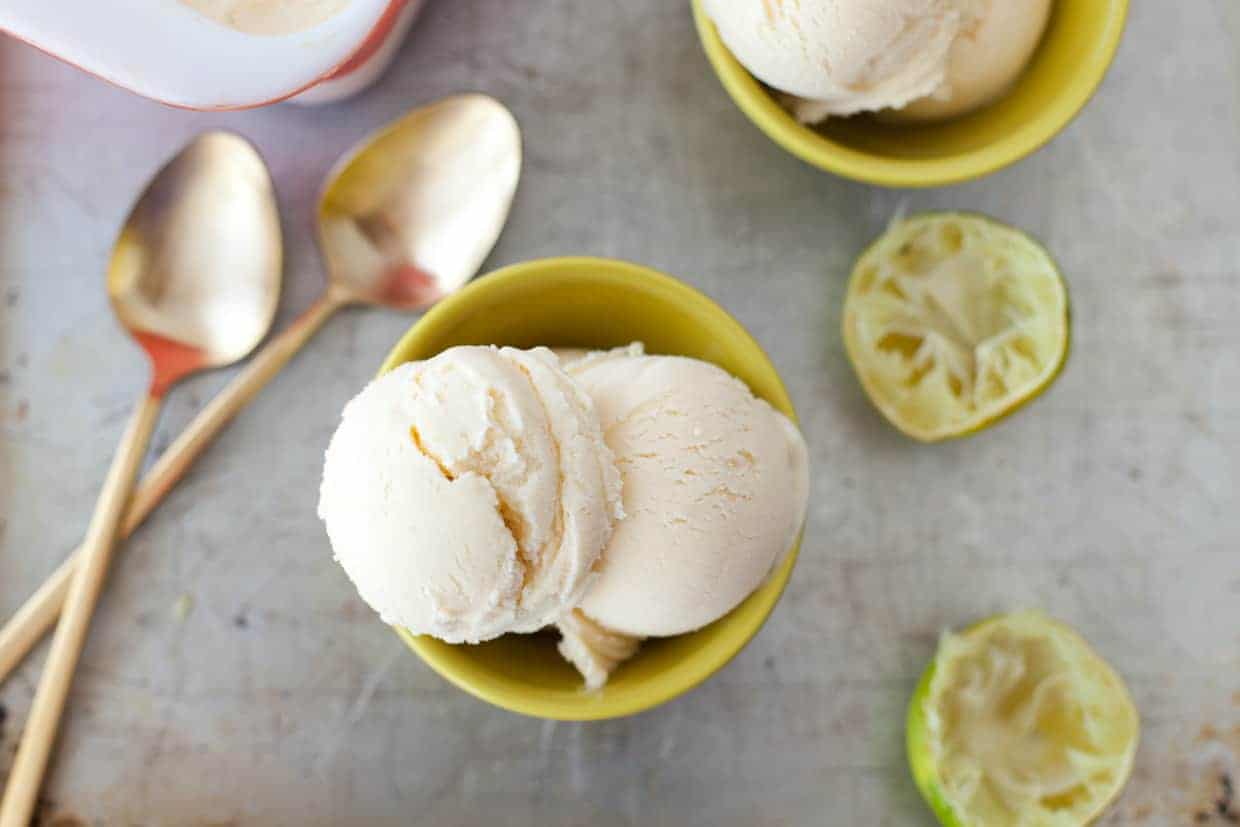 One can say then that this ice cream was inspired by gazpacho. For our one-year wedding anniversary a couple of weeks ago, we decided that instead of a weekend getaway, we'd save our pennies for a fancy meal at Quince. Lucas and I each ordered two different 9-course tasting menus, but because we shared every dish, we really ended up with an 18-course dinner.
And then needed to be rolled home after because we were stuffed. Stuffed in the "my taste buds are dancing and my stomach is on cloud nine" kind of way. One dessert was a hard candy bubble shell filled with frozen lychee cream and berries, and decorated with gold leaf. Now we know what Iggy means by, "I'm so fancy. Can't you taste this gold?" Another highlight was a small pre-dinner mint cantaloupe gazpacho that I wished I could swim in all summer long.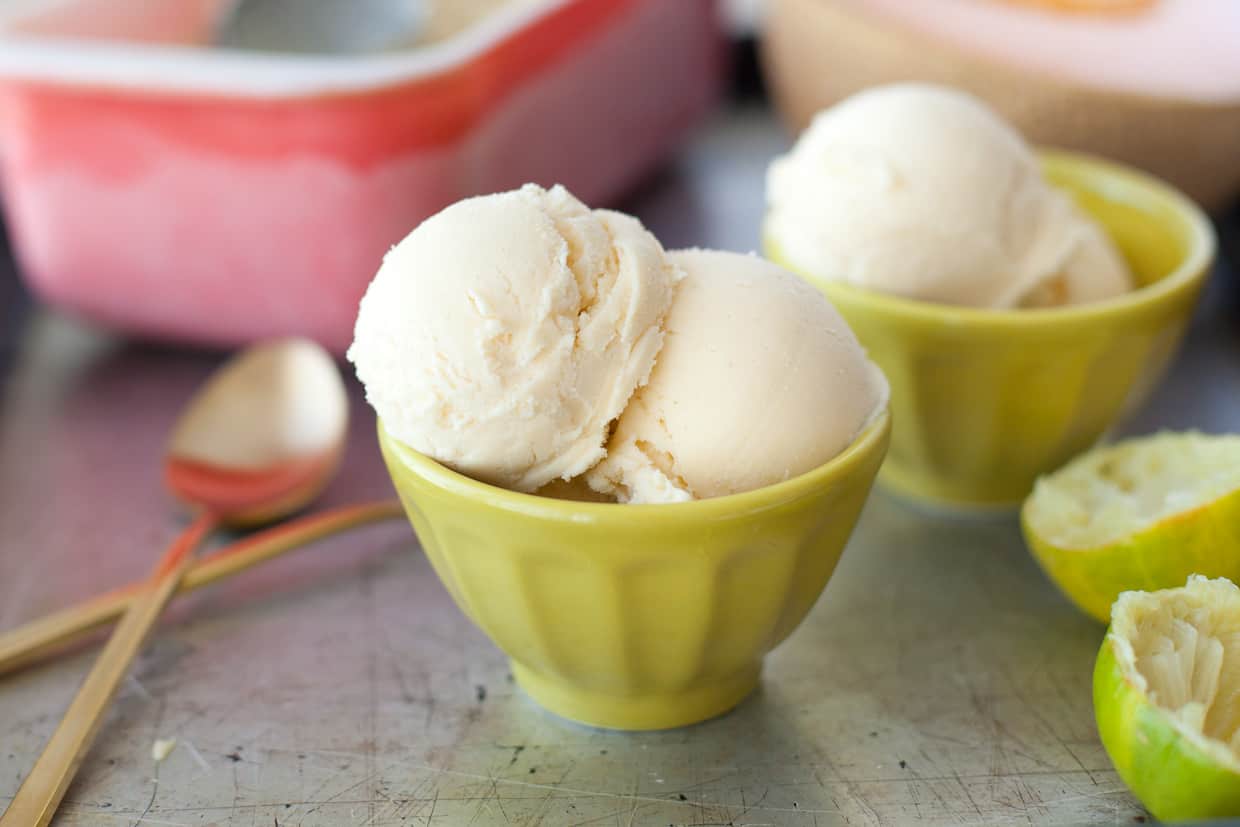 So I promptly added it to the weekly meal plan. And then turned it into ice cream instead. One of my favorite ice cream flavors to date.
Until I moved back to California, I thought I hated cantaloupe. What I actually hated was the tough, bland chunks of unripe cantaloupe used as filler in the bottom of a packaged fruit salad/cup. Anyone else with me on this one? It's terrible.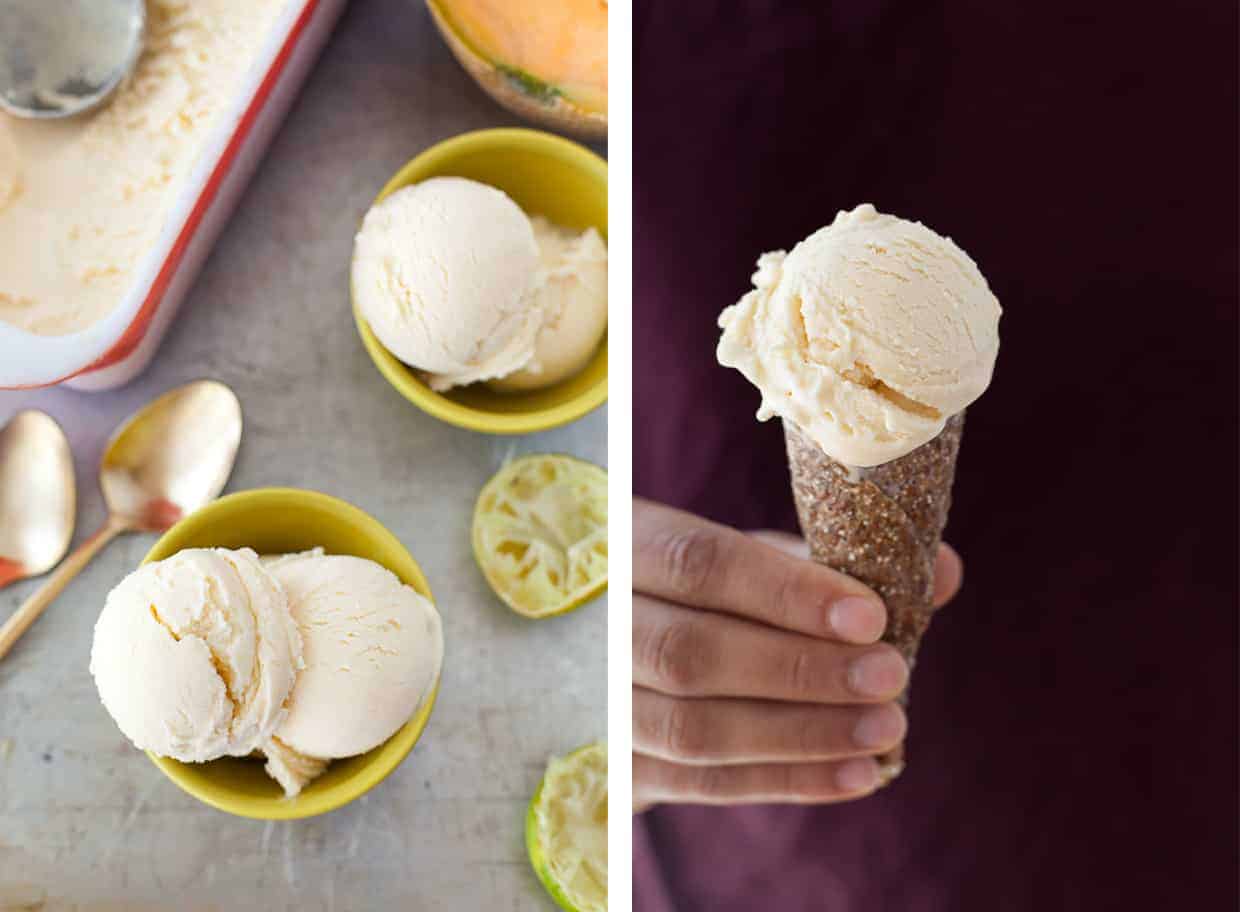 Farm fresh organic cantaloupe from the local produce market is soft and juicy, and pops with flavor. Just half a small cantaloupe gives a melony undertone, while a bit of mint and lime harmonize to create a refreshing summer bite. And because cantaloupe is high in potassium, this mint cantaloupe ice cream is bound to make you feel stress-free all summer long.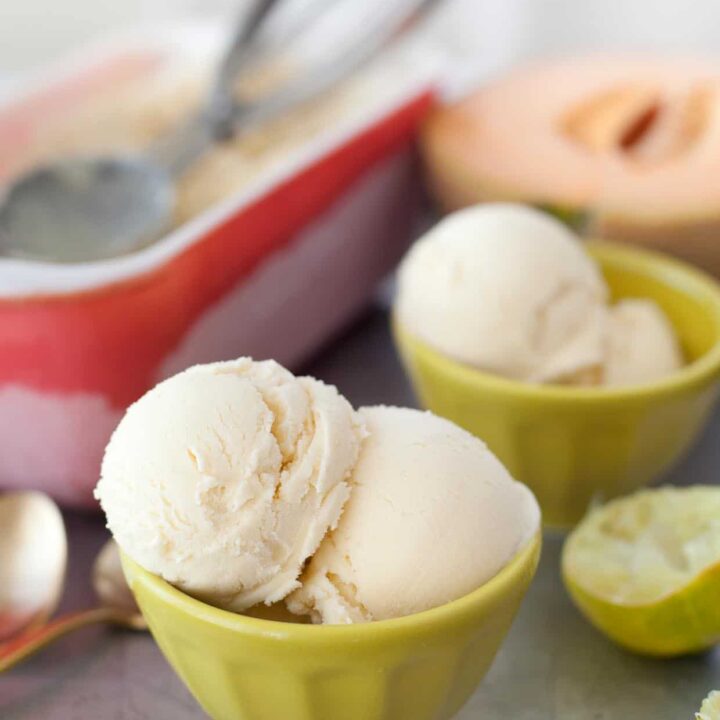 Backyard mint cantaloupe ice cream
Ingredients
Cantaloupe purée
2 tablespoons lime juice
¼ teaspoon finely chopped mint leaves
½ small cantaloupe, seeded, peeled, and chopped (about 1-⅓ cups puréed)
1 large handful whole mint leaves
¼ cup sugar
Ice cream base
2 cups whole milk
2 tablespoons corn starch
3 tablespoons cream cheese, room temperature
1¼ cups heavy whipping cream
⅔ cup sugar
¼ cup corn syrup
Instructions
Cantaloupe purée
Combine the lime juice, chopped mint leaves, and cantaloupe in a food processor or blender until smooth.
Add the purée, a large handful of whole mint leaves, and ¼ cup of sugar to a small saucepan and cook over medium heat, stirring, until the sugar dissolves, but do not boil. Transfer to a bowl and let cool.
Ice cream base
Whisk the corn starch in a small bowl with about 3 tablespoons of the milk to make smooth slurry. Set aside.
In a large bowl, whisk the cream cheese with about 1 tablespoon of the milk until smooth.
Prepare an ice bath by filling a large bowl with ice cubes and water.
In a medium saucepan, combine the remaining milk, cream, sugar, and corn syrup, and bring it to a boil over medium-high heat. Let it boil for 4 minutes. Remove from heat.
Give the corn starch slurry one last whisk to make sure it's completely incorporated. Slowly whisk the corn starch slurry into the hot milk saucepan and return it to medium-high heat.
Bring it back to boil and cook, stirring, until it lightly coats the back of a wooden spoon, about 1-2 minutes. Remove from heat.
Slowly pour the hot milk into the cream cheese bowl and mix until smooth.
Slowly pour in the cantaloupe mixture and whisk until smooth.
Pour the mixture into a large 1-gallon Ziploc bag. Seal it and submerge the mixture in the ice bath until cold, about 30 minutes.
Pour your ice cream base into your frozen ice cream maker bowl. Follow the directions on your ice cream maker to mix the batter into ice cream, until thick and creamy.
Pack the ice cream into an air-tight storage container, pressing a sheet of parchment paper directly against the ice cream.
Freeze until firm, at least 4 hours, but preferably overnight.