Last updated on July 7th, 2020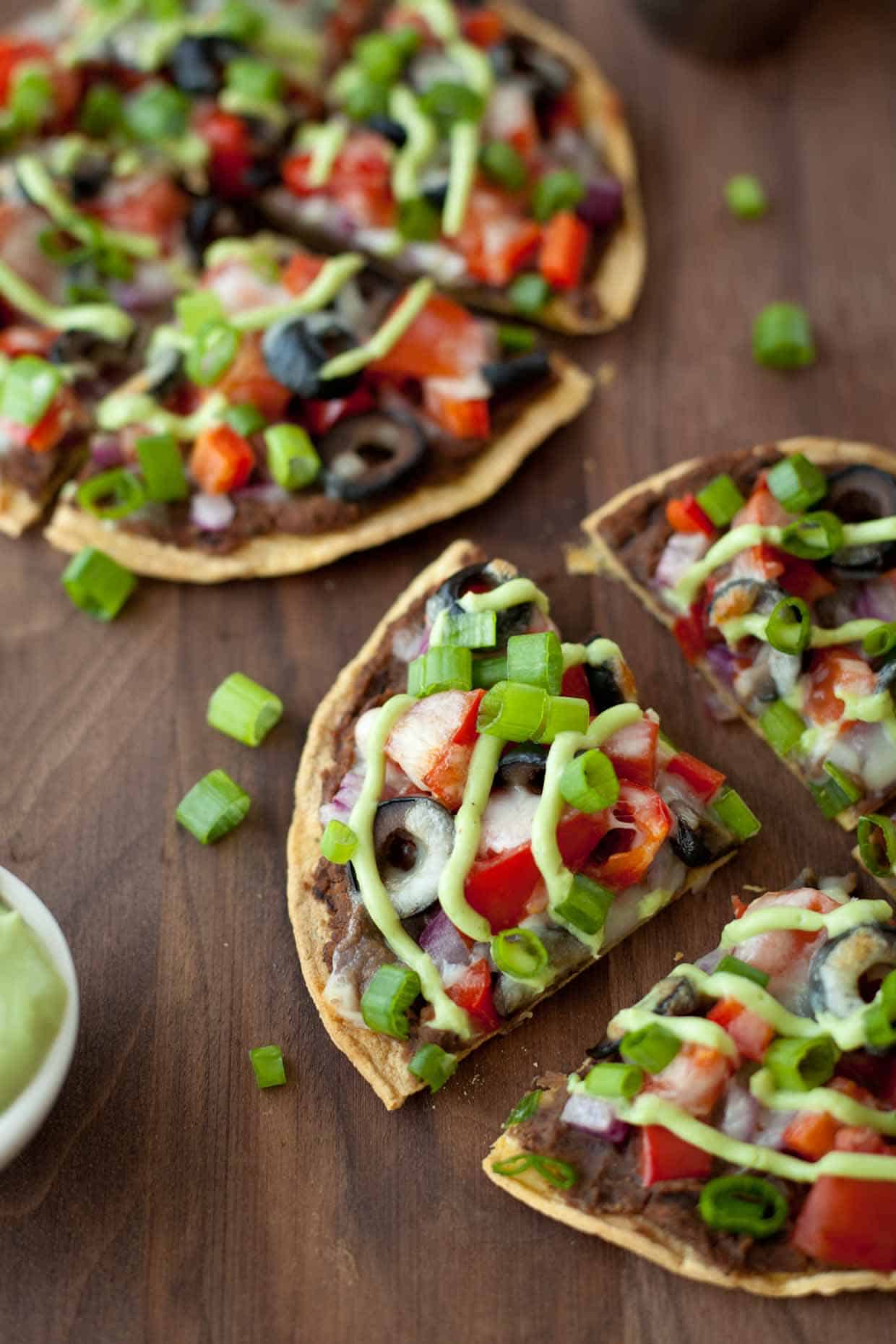 We make a lot of quesadillas in our house. Tortillas? Check. Cheese? Check. Random fillers from the bottom of the fridge? Boom – dinner. Lately, though, we've got a different quick and simple weeknight recipe on repeat. This black bean and veggie tortilla pizza recipe is so darn fresh and tasty that I'm a little mad I haven't been making it since I was a teenager. So many missed opportunities!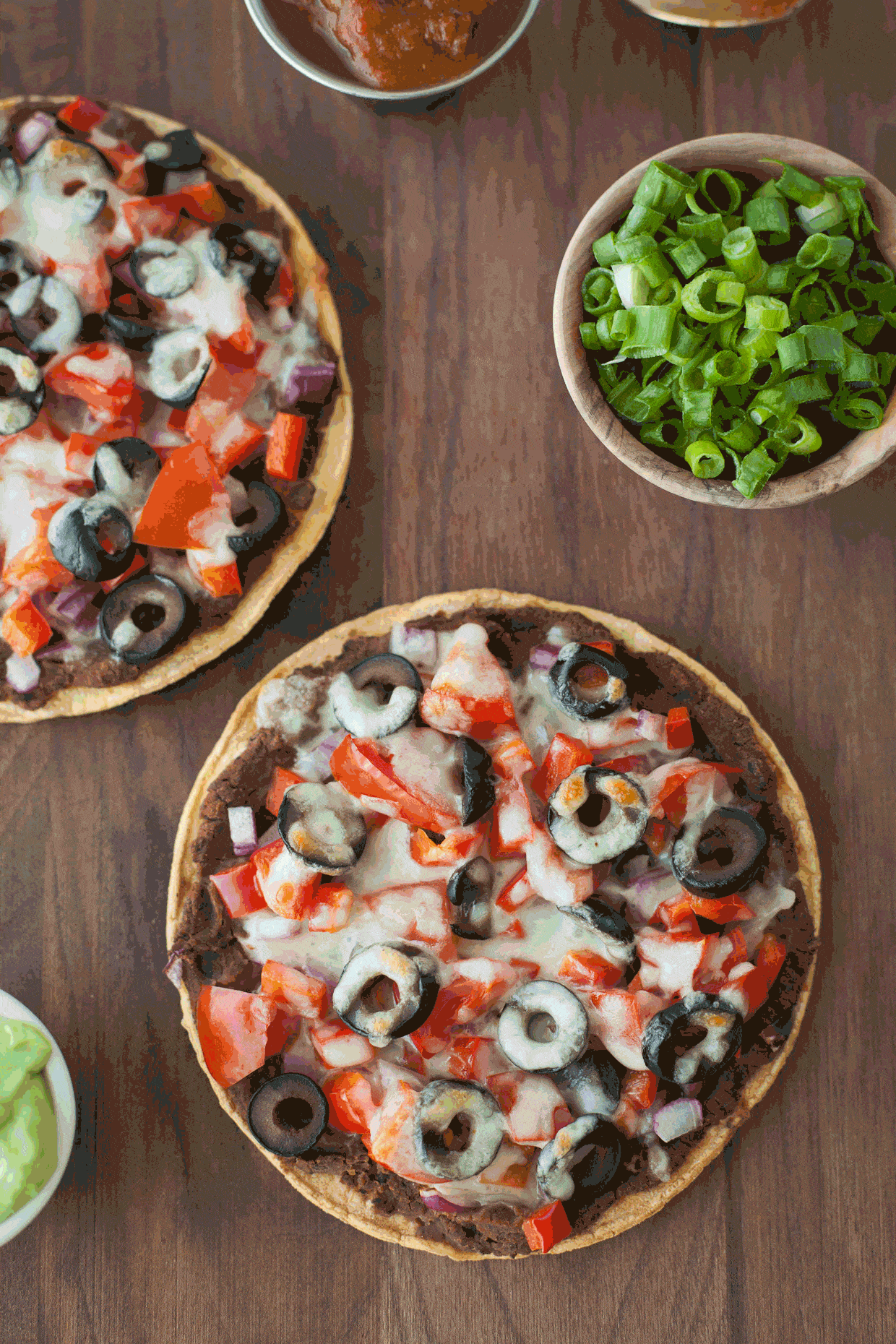 People who grew up eating Taco Bell might refer to this as Mexican Pizza, but what is that? This recipe with a crisp tortilla topped with seasoned refried beans and an array of toppings is most similar to a tlayuda, a popular street snack in Oaxaca, Mexico. Some say tyaludas should only have corn tortilla, refried beans, meat, and cheese, while others say it can be topped with anything from avocados to cabbage. This recipe pulls from that inspiration to make something my family now has on repeat for dinner. I did not invent this.
If you've ever had epic cravings that made you wonder what the lovechild of a pizza and nachos would taste like – it's this. This is what it tastes like.
I'm going with calling it tortilla pizza because I don't want you to think you're getting something authentic. Because it strays so far from authentic flavors, I prefer to think of it as the baby of nachos and pizza. Whatever you call it, it's DELICIOUS;)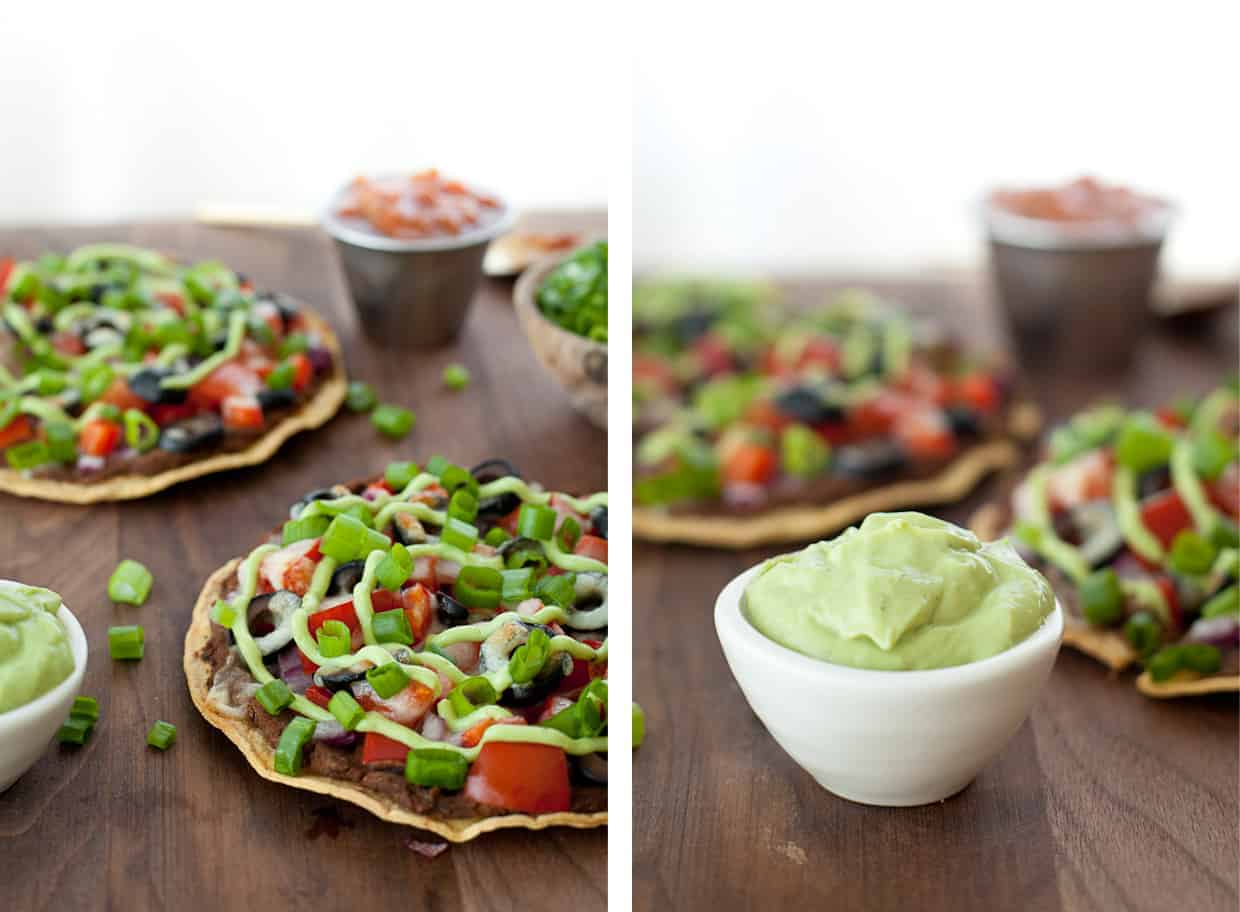 Organic black beans spread on crisp corn tortillas are loaded with fresh veggies. A tiny sprinkling of cheese and a drizzling of greek yogurt avocado cream on top. This is a customizable family-friendly dish that anyone from the picky toddler to the moody junk-food-craving teenager to the healthophite (that's a word now) will go gaga over.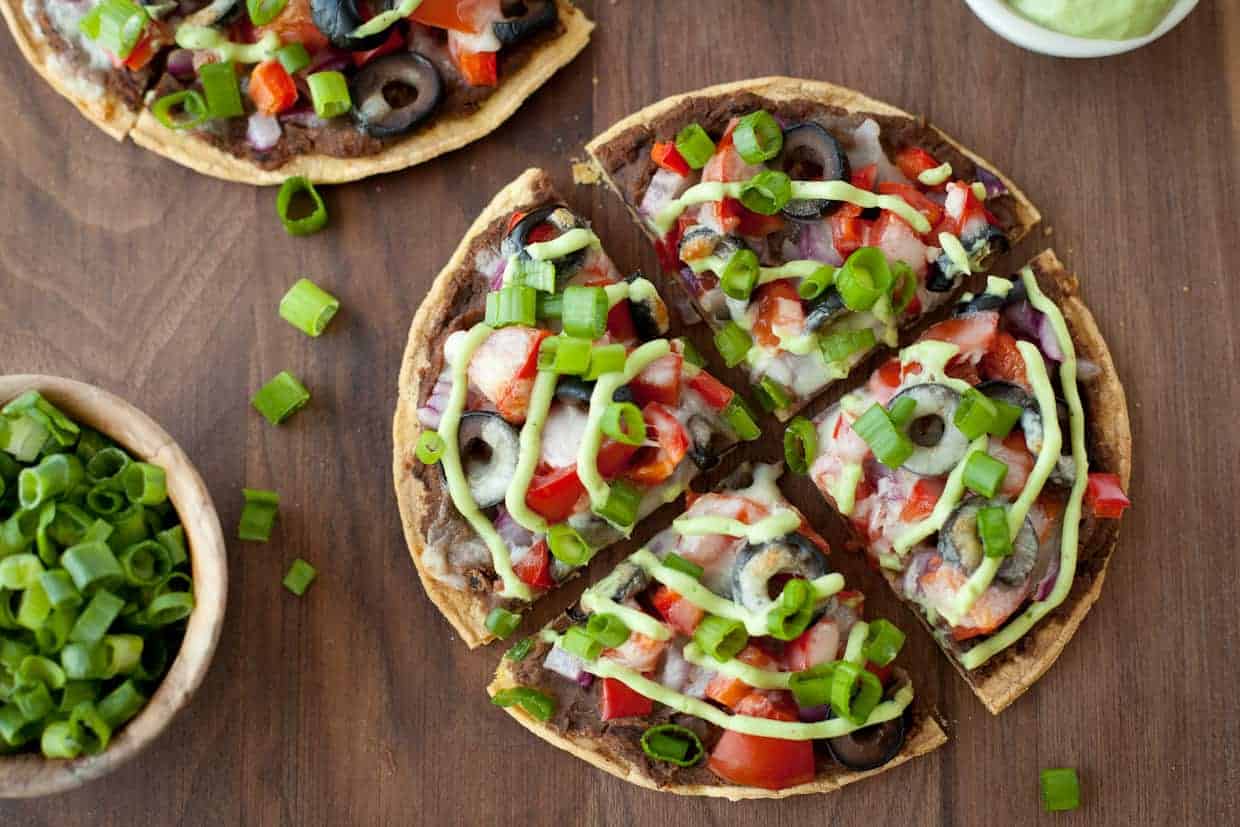 In California we toss fresh avocado willy-nilly all over everything. For this recipe, I mixed things up by swirling homemade avocado cream on top. Because: A. Yum – this stuff mimics rich sour cream, and B. Dude – look at all those pretty colors! I can't resist.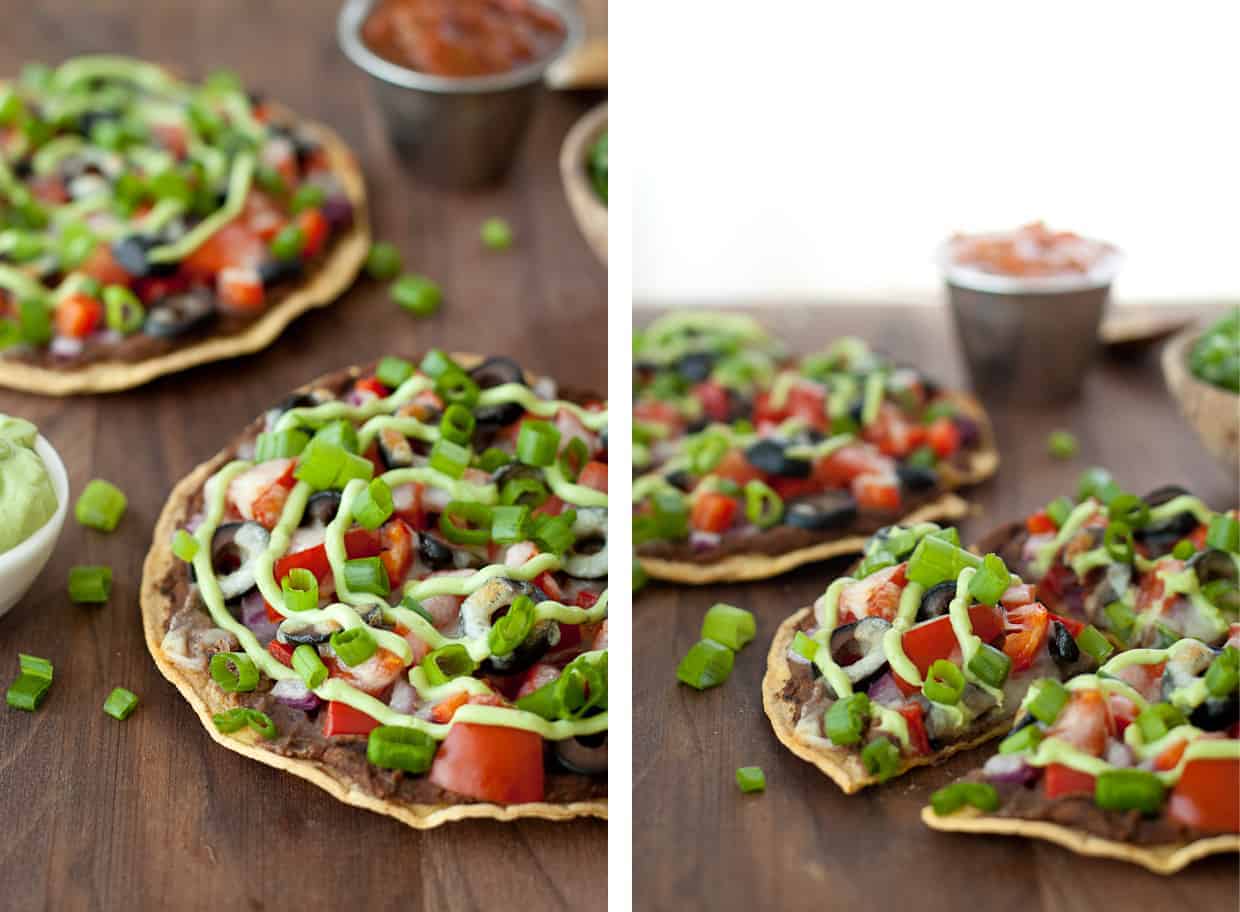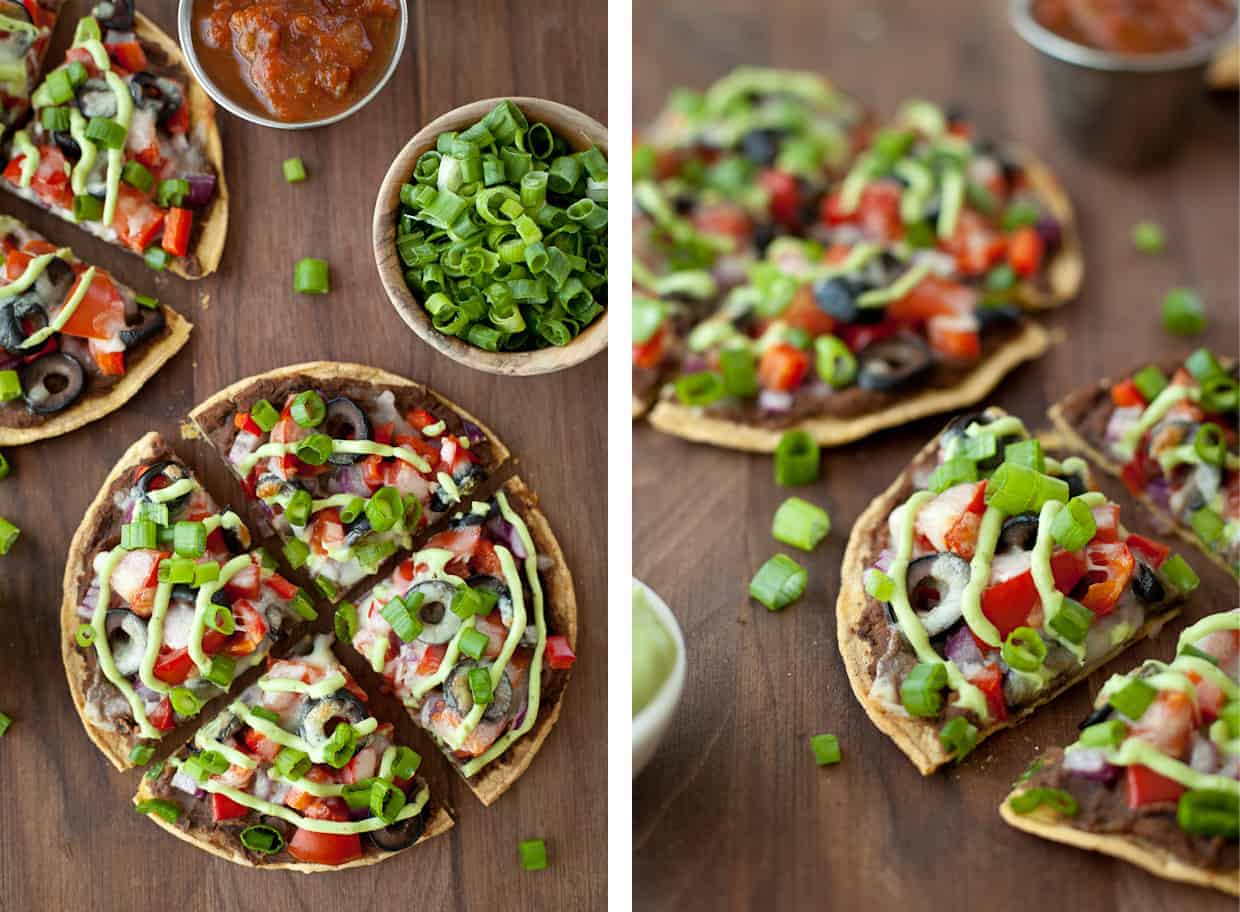 Now that I'm eating gluten-free, any time I can sneak in a pizza without worrying about the dough-induced migraine repercussions, I'm all over it. In the I'll-shove-this-into-my-face-in-15-seconds-flat kind of way. To be clear, that's a totally normal reaction when this tortilla pizza is involved. You should probably go make this recipe already. Or at the very least save it for later.
Other family friendly recipes on Snixy Kitchen:
Skinny Mexican pizza
Yields:
8 small pizzas - 4 servings
Ingredients
Mexican pizza
8 large (7-inch) corn tortillas (more if you're using smaller tortillas)
2 14.5-ounce cans organic refried black beans (I use the Trader Joe's kind that has jalapeños in it)
2 teaspoons paprika
2 teaspoon ground cumin
¼ teaspoon cayenne pepper
1 14.5-ounce can whole black olives, sliced
1 small red onion, diced
3 medium tomatoes, chopped
1 red bell pepper, finely chopped
½ bunch green onions, sliced
¾ cup shredded light monterey jack cheese
Avocado cream, to taste (recipe below)
Optional: salsa for serving.
1 ripe avocado
½ cup greek yogurt
2 tablespoons freshly squeezed lemon juice
1 large clove garlic
3 tablespoons extra virgin olive oil
¼ teaspoon kosher salt
¼ teaspoon freshly ground pepper, or to taste.
Instructions
Mexican pizza
Preheat the oven to 400° F with a pizza stone (or a large baking sheet) inside.
Working in batches, lay as many tortillas out as possible on the pizza stone without overlapping and bake for 10 minutes, or until just crispy. Repeat until all tortillas are crispy.
Meanwhile, heat the black beans, paprika, cumin, and cayenne over medium heat until smooth and pliable (it doesn't need to be heated all the way through, just enough to make it easy to spread).
Divide the black beans among the crispy tortillas (about ⅓ cup per tortilla), and use a rubber spatula to spread the beans out evenly to the edges.
Evenly the olives, red onion, tomatoes, and bell pepper among the tortillas.
Sprinkle 1.5 tablespoons of shredded cheese over the top of each pizza.
Bake the pizzas for about 10 minutes, or until the cheese is melted and bubbly and the toppings are cooked through. My pizza stone holds only 4 pizzas at a time, so work in batches if needed.
Before serving, dollop or swirl avocado cream over the pizzas, to taste, and sprinkle sliced green onions on top. (To swirl it, I put the cream in a Ziploc bag and cut off the tip!).
Optional: serve with a side of salsa.
Avocado cream
Toss all the ingredients in the food processor and blend until smooth. (Yup, that's all!). You'll likely have leftover cream that you can dip chips in too!