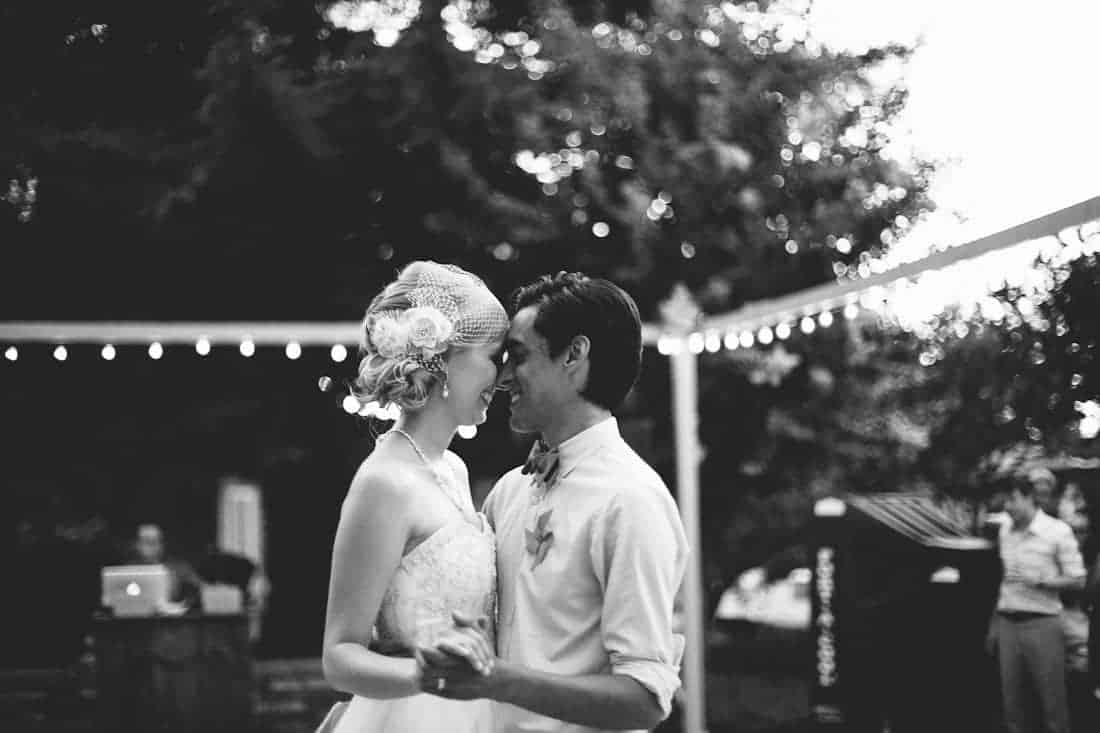 All photographs are copyright of Brent Van Auken Photography.
Since we're both music freaks, we decided that if we hired a DJ, we'd just end up telling the DJ exactly what to play. Instead, we opted to forgo the DJ and plan it all ahead of time. That way we knew we'd hear exactly what we wanted. Of all the decisions we made for the wedding, making our own iTunes playlist was one of the best (you know, right up there with deciding to get married in the first place). I hope we can help other see that it's not too scary to DJ your own wedding.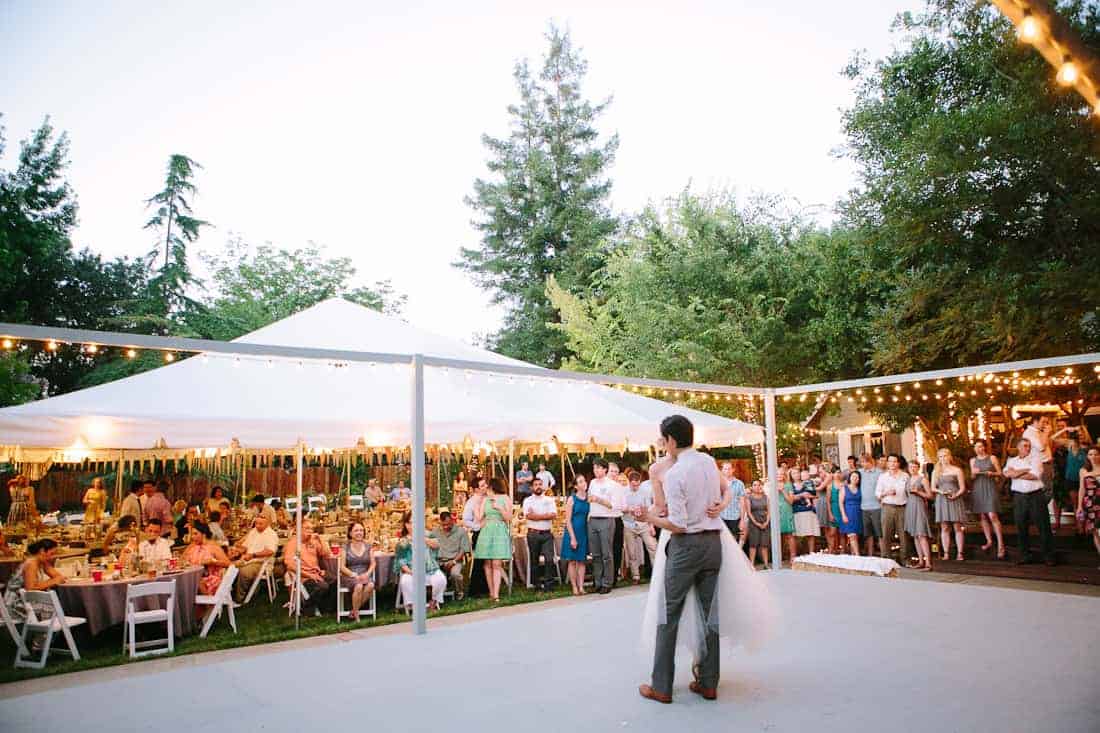 Here's the gist of how we DJed our own wedding - our ultimate DIY. We had three main playlists on iTunes: cocktail hour, dinner, and dance. Plus a playlist for the ceremony songs and all of the important moments (first dance, etc.). We spent months on our dance playlist - grouping songs that would go well together, keeping in mind the flow of the night (ex. oldies earlier on, sets of two slow songs followed by a fast up-beat song to get everyone back on the dance floor, and, at a certain point, all fast up-tempo dance songs the rest of the night). Lucas then used Audacity to edit every single song to somewhere between 2 and 4 minutes, making all of the transitions between songs smooth so we could set iTunes to play with a 2 second crossfade.
We rented high-quality sound equipment: an 8-channel mixer, (2) 15-inch speakers, (2) subwoofers and (1) wireless mic. Don't worry, mom brought potted plants and notes to all the neighbors so they didn't hate us;)
Given that everyone was on the dance floor pouring their hearts out at 11:30pm, we're super happy with how it all played out.
Note: Two songs  weren't as popular on our dance playlist, so we just faded them out early: You're the One That I Want & That Beep.

Below are our wedding playlists - split by important moments, dance, dinner, and cocktail hour. All of the songs are listed in order and the times show the length we cut them to, if at all.  
Click here to download a printable PDF version. To read more about our DIY backyard BBQ wedding, check out the full posts in Part 1 and Part 2.
Ceremony Music
Mothers & Grandmothers Processional: What I Wouldn't Do | A Fine Frenzy
Bridal Party Processional: Home | Edward Sharpe & The Magnetic Zeros (RAC Mix)
Father & Bride Processional: All You Need it Love | The Beatles
Ceremony: You & I | Ingrid Michaelson | Sung by Lana Shea ft. Kevin
Ceremony: First Day of My Life | Bright Eyes | Sung by Sofie Christensen accompanied by Mattias Christensen
Recessional: Best Friend| Mario Matteoli
Important Moment Songs
First Dance: Gotta Have You | The Weepies | 3:14  
Father Daughter Dance: Father & Daughter | Paul Simon | 3:02
Mother Son Dance:  My Wish | Rascal Flatts | 2:55
Bouquet Toss: All The Pretty Girls | Fun. | 3:17
Garter Toss: Hold On | Wilson Phillips | 4:10
Dance Playlist | 3 hours 17 minutes
Marry You | Bruno Mars | 3:31
I Got A Feeling | Black Eyed Peas | 3:18
Say Hey (I Love You) | Michael Franti & Spearhead ft. Cherine Anderson | 2:24
Tutti Frutti | Little Richard | 2:22
I Want You Back | Jackson 5 | 2:49
September | Earth Wind and Fire | 2:39
Crazy In Love | Beyonce Knowles ft. Jay-Z | 2:23
Dynamite | Taio Cruz | 2:15
Hey Ya | Outkast | 3:33
Crazy Little Thing Called Love | Queen | 2:30
You're the One That I Want | John Travolta/Olivia Newton-John | 2:34
The Twist | Chubby Checker | 2:17
Jailhouse Rock | Elvis Presley | 2:14
Lets Get It On | Marvin Gaye | 2:36
I'm Yours | Jason Mraz | 3:32
Single Ladies (Put A Ring On It) | Beyoncé | 2:00
Just Dance | Lady GaGa | 2:54
The Sign | Ace Of Base | 2:17
Dance With Me Tonight | Olly Murs | 2:40
Twist And Shout | Beatles | 2:29
Get Off Of My Cloud | The Rolling Stones | 2:49
Do You Wanna Dance | Cliff Richard | 2:09
Chattahoochee | Alan Jackson | 3:20
Come On Eileen | Save Ferris | 3:35
Love Shack | B-52's | 2:38
Bust a move | Young MC | 2:53
Billie Jean | Michael Jackson | 3:10
All My Life | KC and JoJo | 4:14
You and I | Wilco ft. Feist | 3:11
You Shook Me All Night Long | ACDC | 3:22
Living On A Prayer | Bon Jovi | 3:39
Jump, Jive, An' Wail | Brian Setzer Orchestra | 2:44
Good Lovin | The Rascals | 2:29
California Gurls | Katy Perry Ft. Snoop Dogg | 3:36
California love | 2 Pac | 2:40
Cupid Shuffle | Cupid | 4:04
Get Down Tonight | KC & The Sunshine Band | 2:10
I Wanna Dance With Somebody | Whitney Houston | 2:49
I Don't Feel Like Dancing | Scissor sisters | 2:52
Moves Like Jagger | Maroon 5 | 2:51
Bulletproof | LA ROUX | 2:22
Sara Smile | The Bird And The Bee | 2:59
I Love How You Love Me | Camera Obscura | 2:08
That Beep | Architecture in Helsinki | 2:50
Shout | Otis Day and The Knight | 4:33
Party Rock Anthem | LMFAO ft. Lauren Bennett & Goon Rock | 3:35
I Know You Want Me (Calle Ocho) | Pitbull | 2:09
Party in the USA | Miley Cyrus | 2:11
Call Me Maybe | Carly Rae Jepsen | 2:19
Love In This Club | Usher | 3:18
Ignition (Remix) | R Kelly | 2:56
Hot in Herre | Nelly | 2:37
Get Low | Florida ft. T Pain | 2:15
Jump Around | House Of Pain | 1:56
Hollaback Girl | Gwen Stefani | 2:42
Get lucky | Daft Punk | 2:54
Feels So Close | Calvin Harris | 2:25
Right Round | Flo Rida | 2:51
Scream & Shout | Will.I.Am ft Britney Spears | 3:00
Beware | Panjabi MC | 2:49
We Can't Stop | Miley Cyrus | 3:52
Raise Your Glass | P!nk | 2:09
Tik Tok | Ke$ha | 2:10
Thrift Shop (Clean) | Macklemore ft Wanz | 2:59
I Love It | Icona Pop | 1:56
Last Song: We Are Young | Fun. ft. Janelle Monae | 4:08
Extras:
Forget You | Cee Lo Green | 3:41
Love On Top | Beyonce | 2:47
It Takes Two | Rob Base & Dj E-Z Rock | 2:07
Animal | Neon Trees | 2:01  
Dinner Playlist | 1 hour 32 minutes
You Always Make Me Smile | Kyle Andrews | 2:44
Little Bit | Lykke Li | 4:34
Butterfly Nets | Bishop Allen | 2:59
Mushaboom | Feist | 3:47
Love Lost | The Temper Trap | 3:36
The Show | Lenka | 3:49
At Last | The Dø | 4:10
Unhidden Track: Quarter Past Wonderful | Oren Lavie | 2:13
Everybody | Ingrid Michaelson | 3:31
I'd Rather Be With You | Joshua Radin | 2:49
The Girl | City And Colour | 3:41
Sea of Love | Cat Power | 2:20
Take My Heart | Soko | 3:00
After All | Sondre Lerche | 3:06
Nothing But Our Love | Dale Earnhardt Jr. Jr. | 4:06
Here Comes The Sun | The Beatles | 3:06
It'll Be Better | Francis and the Lights | 2:51
California Girls | The Beach Boys | 2:40
Falling In Love At a Coffee Shop | Landon Pigg | 3:46
Lucky | Jason Mraz & Colbie Caillat | 3:10
Hold You In My Arms | Ray LaMontagne | 5:06
Valentine | Kina Grannis | 2:32
If You Fall | Azure Ray | 3:04
Easy To Love | Ivan & Alyosha | 3:32
Walking Far From Home | Iron & Wine | 4:46
Why Do You Let Me Stay Here? | She and Him | 2:31
Lucky | Kat Edmondson | 2:56
Lucky | Lana Shea | 4:27
 Cocktail Hour Playlist | 1 hour 27 minutes
Digital Love (Daft Punk Cover) | Alphabeat | 2:52
Sugar, Sugar | The Archies | 2:48
All I Want Is You | Barry Louis Polisar | 2:38
Eight Days A Week | The Beatles | 2:44
Be Gentle With Me | The Boy Least Likely To | 3:50
Baby I'm yours  | Breakbot ft. IRFANE | 3:36
Jolie Coquine | Caravan Palace | 3:47
Brighter Than The Sun | Colbie Caillat | 3:54
Radar Detector | Darwin Deez | 3:13
Harold T. Wilkins | Fanfarlo | 4:02
Little Bitty Pretty One | Frankie Lymon & the Teenagers | 2:41
When U Love Somebody | Fruit Bats | 4:31
Walking The Dog | Fun. | 3:40
When They Fight They Fight | Generationals | 3:20
Coney Island | Good Old War | 2:46
Sleepy Tigers | Her Space Holiday | 3:28
A song about California | Hey Ocean | 3:50
Never Had Nobody Like You  | M. Ward ft. Zooey Deschanel | 2:26
Stuck On You | Meiko | 2:58
Magic (Oh Oh Oh) | MoZella | 3:38
Relator | Pete Yorn & Scarlett Johansson | 2:34
Young Folks (Feat. Victoria Be | Peter Bjorn And John | 4:37
You Are The Best Thing | Ray LaMontagne | 3:57
The Calculation | Regina Spektor | 3:11
Many The Miles (Acoustic) | Sara Bareilles | 5:28