Last updated on July 1st, 2018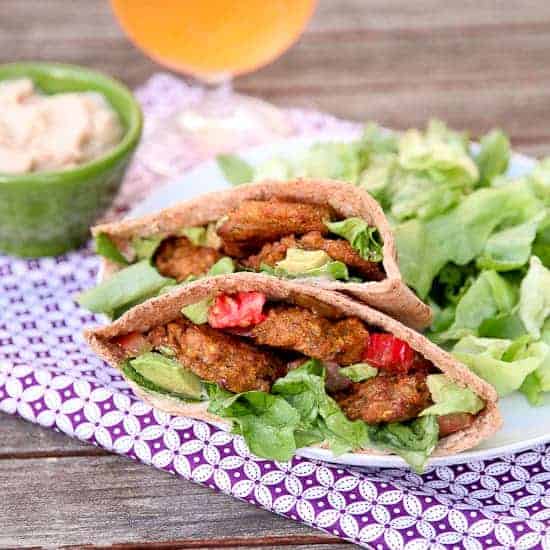 I'm dreaming of a day without a MOUNTAIN of academic reading on my horizon. That day is November 30th. And until then, I'm having nightmares of being attacked by various researchers for misinterpreting their work (yes, totally rational fear – ha). To make it so that cooking dinner doesn't also seem like a scary task each night, Lucas and I finally went back to our old routine of meal-planning and grocery shopping on Sundays. Get it out of the way, I say. We're once again back to eating wholesome home-cooked meals and I'm perfectly happy to put the box of tomato soup back on the shelf. Especially if it means I get to eat these zucchini and chickpea baked falafels.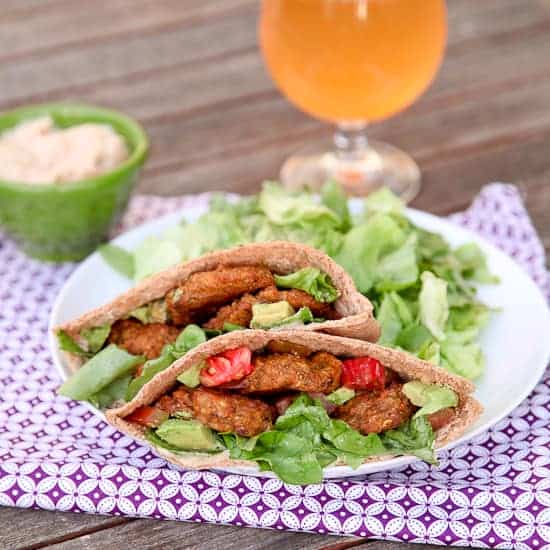 We used to bake traditional falafels about once a week for dinner, until one night, I overcooked a batch and we decided it was time for a falafel hiatus. To break back into one of our favorite quick weeknight meals, I decided to put a twist on my regular recipe, adding shredded zucchini to the batter for an even healthier dish. I got to share these falafels over girl chat with my fellow cat-lovin' friend Angi last week. She dutifully updated my recipe for each extra dash of this, or pinch of that I  haphazardly threw into the bowl. "I'm adding an egg. Why? Because why not. I want to see what'll happen." That's the kind of cooking mood I was in. The kind where you throw caution to the wind and  cross your fingers in hopes that it'll turn out edible. More than edible, these were arguably the best falafels I've ever made.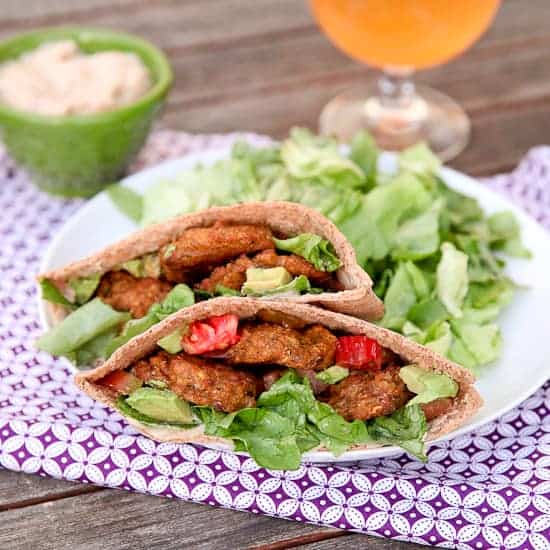 The funny thing is that Angi keeps coming over for dinner on nights when I serve a well-known meal that I've never actually tasted at a restaurant before; even though I could name every ingredient, I wouldn't be able to tell you if what I whipped up tasted like an authentic falafel. That's secretly the primary reason why I invite Angi over for dinner – she's my own personal taste-tester, my link to the outside world. And yes, she confirmed that these zucchini and chickpea falafels taste like a fresh upgraded version of the often fried Middle Eastern fritters. Each crispy shell holds in a moist interior bursting with spice. Served in a whole wheat pita stuffed with tahini sauce and fresh veggies, the croquettes are super addicting. Angi couldn't help but ask for seconds.
Zucchini and chickpea baked falafels
Serves 4-5
1 medium zucchini, shredded
1 cup canned chickpeas, rinsed (Most recipes call for soaking dry chickpeas overnight, which I've read, helps hold the falafels together. I'm into quick meals, and have found that the flour keeps them together just fine)
½ large yellow onion, roughly chopped
4 tablespoons fresh parsley leaves
4 cloves of garlic
1½ teaspoons kosher salt
¾ teaspoon cayenne
2 teaspoons ground cumin
1 teaspoon paprika
Juice of 1 lemon
1 egg
1½ teaspoons baking powder
6-8 tablespoons whole wheat pastry flour (just enough so you can form a patty from the mixture)
Olive oil spray for baking
Serve in whole wheat pita bread with: tahini (our favorite brand), lettuce, tomato, and avocado.
Preheat the oven to 350°F.
Place the chickpeas, onion, parsley, garlic, salt, cayenne, cumin, and paprika in a food processor and pulse until you have a slightly chunky paste.
Transfer to a bowl and add the zucchini, lemon juice, egg, baking powder, and flour. Stir to combine.
Spray two 9 x 13 glass dishes with olive oil. One at a time, pat about 2 tablespoons of batter into a ¾-inch thick patty. Repeat until you use up all the batter.
Bake for about 25 minutes, flipping halfway through, until both sides are golden brown.
Serve in a whole wheat pita bread with tahini, lettuce, tomato, and avocado.