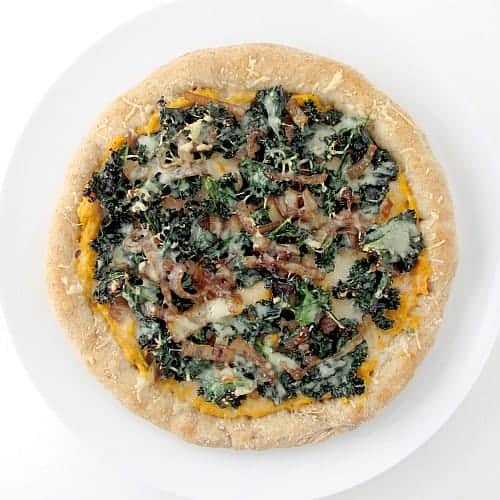 Since I've tried my hand at a raw kale dish, tonight was part two in this experiment: cooked kale. Not only because I'll never truly know how much I like kale until I try it with both preparation methods, but mostly because I had half a bunch of kale leftover that I wasn't going to let go to waste. I went into tonight a little more confident having already made one successfully savory kale plate, but still, I had no idea what it would taste like with a little heat and wilt. Oh,and remember my sweet potato shopping spree? Well, in addition to kale, I have a hefty sweet potato collection that I need to eat my way through. These surplus of vegetables are the exact ingredients needed for a pizza recipe I stumbled upon via Tastespotting this weekend; it gave me inspiration to go the extra leap and sauté up some kale for dinner. And you can't really go wrong when you toss something on a freshly baked pizza.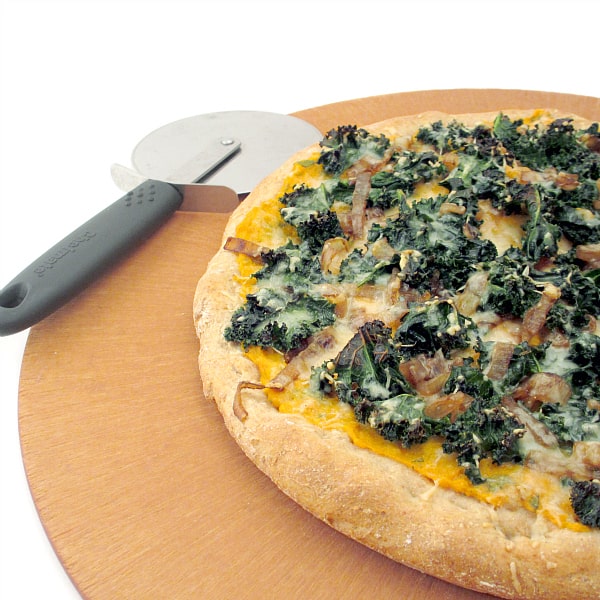 Rather than caramelized onions (because, let's face it, I have neither time nor patience to caramelize onions on the stove for 30-40 minutes), I used some leftover shallots that I browned in a bit of butter. The sweetness from the shallots mimicked the caramelized onions and served the same purpose of balancing out the more bitter kale. The recipe also called for a whole wheat crust, so I decided to adapt my trusty thin crust pizza dough by adding 1 ½ cups whole wheat flour and 1 cup all-purpose flour. It sure looked beautiful, but I just can't seem to fall in love with whole wheat pizza dough; every time I make it, it tastes a little too earthy for me. I guess if you like whole wheat breads and pastas, this recipe might be your cup of tea: it's got a crispy bottom, but a slightly fluffy crust. I, on the other hand, much prefer my trusty recipe, and if it means I get to eat crispy thin crust dough, I don't mind throwing whole wheat and a healthy diet to the curb. Wheat-y crust aside, the flavors in this pizza were delicious, and I will definitely try it again with a different dough.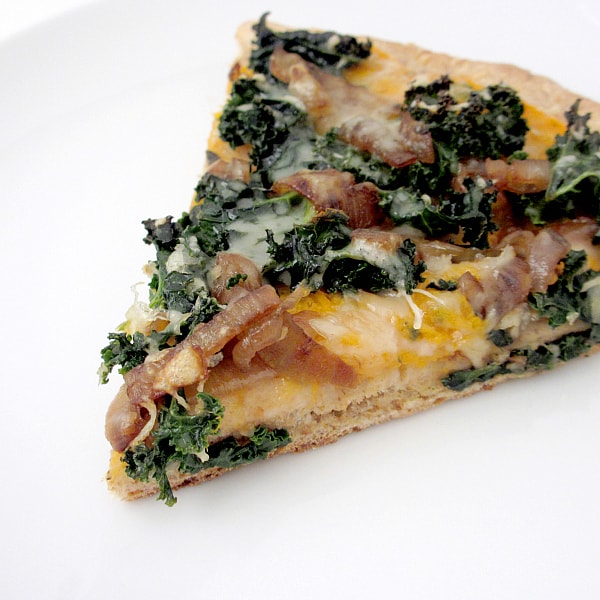 In addition to my traditional 12-inch pie, I decided to make a more deep dish style pie for my second pizza by baking it in my cake pan. Voilá - personal pan pizza! The jury is in: I like kale. Period. If I, an incredibly particular eater, can become a believer, I urge all you skeptics to give it a shot too.
Whole wheat pizza with sweet potato sauce, kale, and shallots (Adapted from Type A Housewife)
Makes two 12-inch pies
Whole wheat pizza dough (Adapted from earlier recipe)
1 ( ¼ ounce) package active dry yeast
1 cup warm water (about 100ºF)
1 teaspoon honey
1 ½ cups whole wheat flour
1 cup all-purpose flour, plus extra for sprinkling
½ teaspoon salt
1 tablespoon olive oil
Cornmeal, for sprinkling
Mix honey and yeast with warm water and let stand for 10 minutes until yeast foams.
Whisk together flour and salt in large bowl (or stand mixer). Add yeast mixture and combine. Add olive oil and mix. Using dough hook (or by hand) knead dough until it is stiff, but smooth and elastic.
Fill sink with a couple of inches of hot water. Cover the bowl and let rest in sink for 30 to 60 minutes.
Preheat oven to 450ºF.
Spread olive oil on pizza sheet with a paper towel and cover surface with flour. Discard excess flour from sheet. Sprinkle a thin layer of cornmeal over surface (I only had polenta-style cornmeal, and it worked perfectly).
Split dough in half (it's okay if it deflates a little when you cut it), and press the dough onto the pizza sheet. Prick dough with form to avoid air pockets.
Par-bake each pizza for about 5-10 minutes until firm, but not browned.
Top with favorite ingredients. Bake for about 10-15 more minutes until crust is slightly browned.
Sweet potato, kale, and shallot pizza
4 small sweet potatoes
3 tablespoons milk
1 tablespoon fresh sage leaves, finely chopped
½ tablespoon butter
2 shallots, sliced
½ bunch of kale, ripped into bite-sized pieces
1 ½ freshly grated parmesan cheese, or to taste
Kosher salt and freshly ground pepper to taste
Whole wheat pizza dough (recipe above)
Preheat oven to 450°F.
Pierce sweet potatoes several times with fork and bake in the microwave 5-10 minutes, or until soft. When potatoes have cool enough to handle, scoop insides into a bowl and mash. Add milk, sage, and salt and combine until smooth. Spread mixture onto par-baked pizza crusts.
Heat butter in cast-iron skillet over medium high heat. Add shallot and cook, stirring, until lightly browned. Add kale and cook until tender and wilted. Remove from heat and add salt and pepper to taste.
Top the sweet potato covered crust with half of the cheese. Add kale and shallots, and then add remaining cheese. Bake for an additional 10 minutes until the cheese melts and the crust gets crispy.