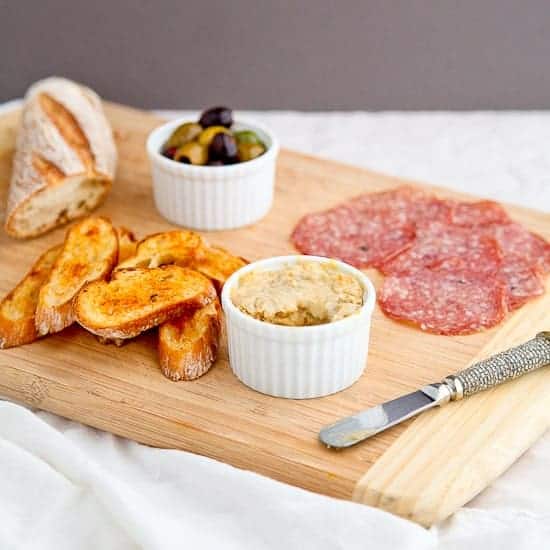 While at my favorite restaurant in Philly (that shall remain nameless for this post), I schmoozed with the waitress in hopes of sweet-talking the warm Tuscan white bean spread recipe out of her. A couple of years ago, in a moment of desperation after leaving Philadelphia cuisine, I called up that same restaurant. With my most persuasive voice, I told them a story of a starving girl 3,000 miles away who dreamed about the bean spread night after night. The guy on the other end took pity and told me they used "gigante beans." From that day forward, I searched high and low for this bean, popping in and out of random markets just in case. Nothing. I snatched up various cans of similar looking beans, but none of them lived up. All of my attempts to recreate the dish failed.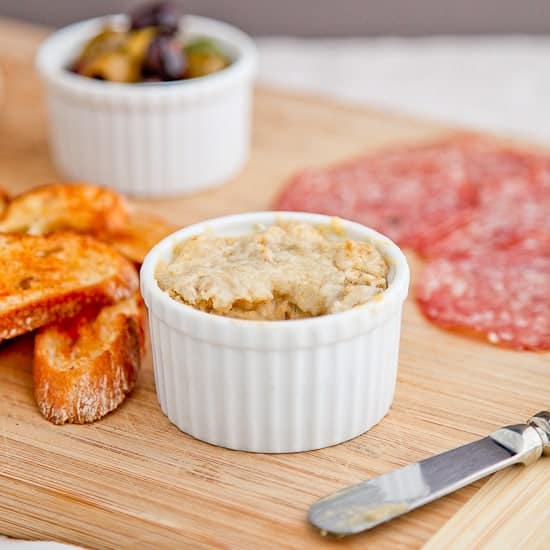 On my most recent trip, a coy smile and a few compliments later, the waitress caved. She quietly slipped me a business card with the recipe hand-written out with the words "shh…it's a secret??" scrolled across the top. The entire trip home, I guarded that note with my life – it was the key to a mouthful of pure bliss. I'm breaking my promise of silence, but not to tell the world their recipe. Mostly because the one scratched down for me called for Costco-sized portions of each ingredient that when translated down to single servings meant adding only a microscopic amount of each. The waitress' crucial clue was that the man on the phone was just trying to sound cultured when, in fact, the label on their bulk can of beans simply reads "Giant white beans." Sure, everyone knows gigante means giant, but my failed recreation attempts had me convinced that there was some Spanish influence that made gigante beans a unique and unattainable variety. It was that part of me that used to be too scared to stray one grain of salt from a recipe. No longer!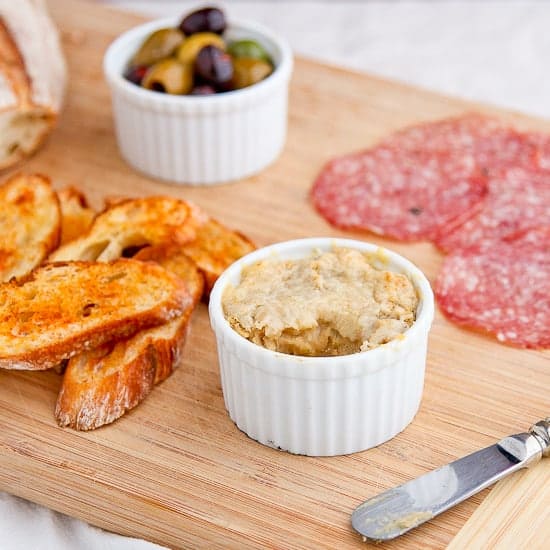 Once I knew all the elements, I fudged the rest until I got the consistency I desired. To be clear, the ratios I came up with are not their top-secret recipe. Nonetheless, the result was marvelous. Tasty enough to eat by the spoonful. Fancy enough to spread on paprika toasted baguette slices. And you know how I feel about topped toasts. This spread is a perfect snack for a wine and cheese party (or just a night at home on the couch). The gigantic white beans turn a normal tortilla chip bean dip into an upscale spread that's sure to impress your guests...even though you most definitely won't want to share.
Warm white bean spread
Makes about 2 cups
14-oz gigantic white beans, drained (I found a jar of gigantic white beans at the market down the street, but if I had to guess, I bet you could find them in the Spanish influence aisle at a larger supermarket).
2 tablespoons milk
2 large cloves garlic, pressed
¼ teaspoon salt
¼ teaspoon pepper
1½ teaspoons chives, finely chopped
5 tablespoons shredded grano padano cheese (or parmesan)
Baguette for serving
1 tablespoon olive oil (optional)
1 teaspoon paprika (optional)
Preheat the oven to 450ºF
Combine the white beans, milk, garlic, salt, pepper, chives, and 4 tablespoons of cheese in a food processor and mix until smooth. Set aside.
Slice a baguette on an angle. Lay the slices out on a baking sheet. Brush the top of each slice with olive oil and sprinkle with paprika. Put the baking sheet in the oven and bake for a couple of minutes on each side, until toasted. Set aside.
Transfer the bean spread to a small oven safe dish. Sprinkle with remaining tablespoon of cheese.
Bake the bean spread for 10-15 minutes, until the spread is warm and the cheese is melted and golden brown. If desired, put it under the broiler for an additional minute or two to get the cheese extra golden brown.
Serve the bean spread with toasted baguette.