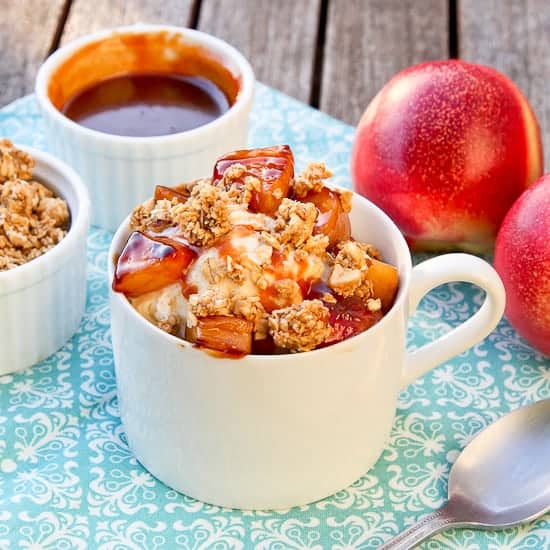 Although you wouldn't know it by the breezy Bay Area weather, July is here! Which can only mean one thing: I scream, you scream, we all scream for ice cream! I'm seriously screaming for ice cream. As a kid, I had super human hearing when it came to the ice cream truck melody. Growing up in the country means that the ice cream man rarely treks out to your neighborhood, so when he does, you better not miss it. Empty out the piggy bank for spare change and run barefoot down the street chasing him!
I have a weakness for a bowl of after-dinner ice cream dessert. I've got so much love for the frozen treat that I'll happily scarf down two scoops even though it means I will most definitely have a stomach ache for the next hour. Worth it.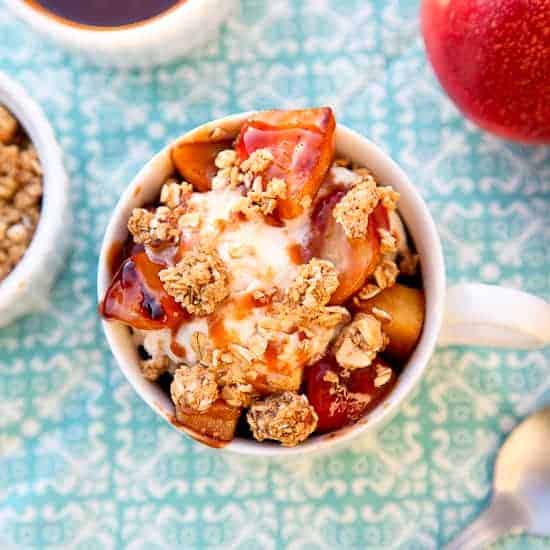 Besides ice cream weather, you know what else July brings in abundance? Stone fruit! In the spring, I thought citrus season was my favorite, but the overflowing bins of juicy plums, nectarines, peaches, and cherries have changed my mind (I will likely do this several times as the seasons shift and bring new ripe produce). The sweet nectar from a perfectly tender peach drips down your shirt as you take a bite, but you don't even care because it tastes like sunshine! Throw some chopped up bits of stone fruit over a scoop of ice cream and you've captured summer love in one tasty bowl. This warm caramel, nectarine, and granola sundae goes above and beyond that summer love story, adding layers of texture and temperature that'll make you dance. Warm homemade caramel drizzle, sweet sautéed nectarines, and crunchy granola over frosty vanilla ice cream make this a summertime sundae you can't pass up. A fruit parfait taken to a whole new level.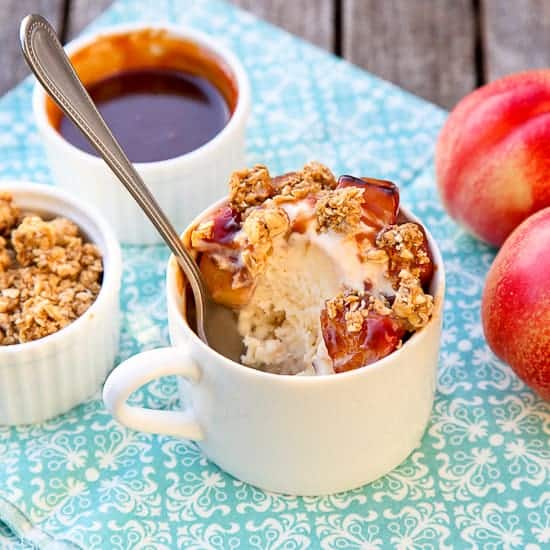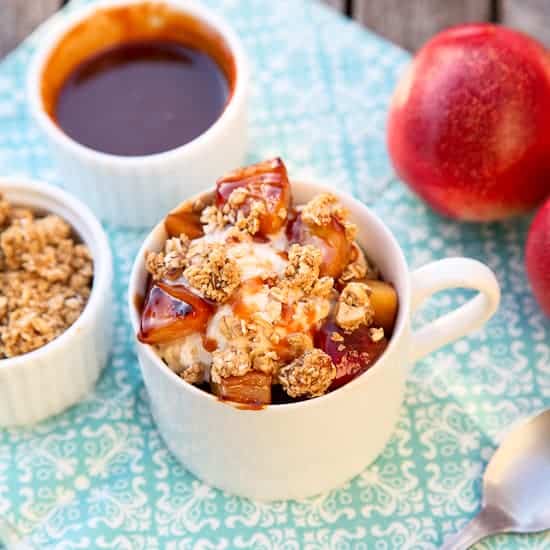 Warm caramel, nectarine, and granola sundaes
Serves 4
Sundaes
1 cup homemade caramel sauce (recipe below)
1 tablespoon unsalted butter
3 nectarines, chopped (I prefer to make this with the crunchier nectarines; the really soft ones tend to fall apart as you cook them, but still taste delicious nonetheless)
1 cup of your favorite granola (I recommend the Original or Ginger Snap flavors from Lifestyle Granolas)
Vanilla ice cream
Prepare the caramel sauce according to the recipe below.
In a medium skillet, melt the butter over medium high heat. Continue cooking for a minute or two (just be sure not to burn it!).
Add the chopped nectarines and cook, stirring constantly, for about 5 minutes.
Add the caramel sauce and stir to combine. Remove from heat.
Divide the caramel and nectarines among four bowls of vanilla ice cream.
Sprinkle the granola on top. Enjoy while basking the summer sunlight!
Caramel sauce
½ cup sugar
¼ cup water
½ cup heavy cream
2 teaspoons vanilla
Add the sugar and water to a medium saucepan and stir until combined.
Heat over medium-high heat. As sugar starts to melt, stir to make sure sugar distributes evenly. Stop stirring and continue cooking.
Watch CAREFULLY. As soon as the mixture begins to turn color, it will change very quickly. Just as the caramel reaches a dark amber color, remove from heat and pour in cream and vanilla all at once, stirring with a wooden spoon to combine (Stand back as it will react and sizzle quite a bit). This stage is key, if the caramel gets too dark before you remove it from the heat, it'll taste burned and bitter.
When the sizzling calms down, return to medium low heat and cook, stirring constantly, for 3 minutes.
Pour into a bowl and let rest while you prepare the nectarines.