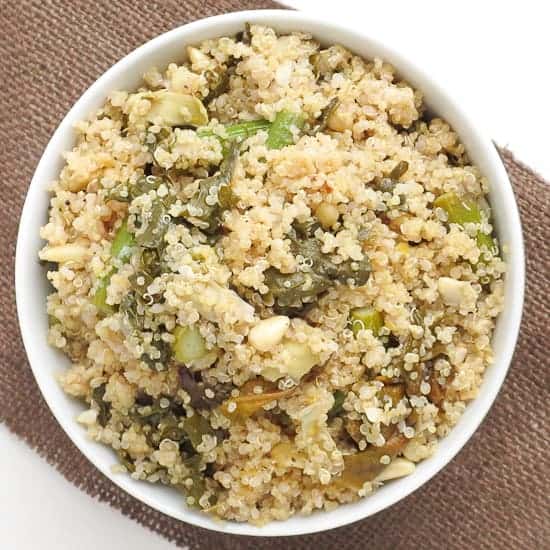 Quinoa has been on my to-do list for a while now, but every time I get ready to make it, I chicken out, worrying that it'll end up flavorless. I don't know why I'm such a wuss, it's not like I've never cooked quinoa before…just not without a recipe, I guess. Apparently I don't yet trust my on-the-fly seasoning skills. My brother, Justin, on the other hand cooks quinoa all the time. He never uses a recipe, but tosses together whatever he finds hiding in his fridge. He has this crazy ability to pick out the spices that will work perfectly with a given set of ingredients; he's come a long way since his raw top ramen and spoonfuls of Kool-Aid sugar days. About 8 or 9 years ago, Justin transformed from a steak and potatoes lover into a Vegan+seafood eater for health reasons, and with that, his culinary range actually increased tenfold.
So, when Justin texted me a picture of his most recent quinoa creation a few nights ago, I felt inspired to suck up my fear of creating a bland earthy dish and follow in his footsteps. I had some vegetables whose shelf life was soon expiring, and I decided artichokes, asparagus, lemon, and kale could get along with each other. In chronicling my cooking here, I've realized that one of my philosophies seems to be that if you drench almost anything with lemon, it winds up delicious (and yet, I haven't even made a visible dent in the bowl of citrus we got from the farm two weeks ago). And, because I added lemon, I figured I might as well go all the way and throw in some pine nuts just to ensure my flavor signature was all over the bowl of grains.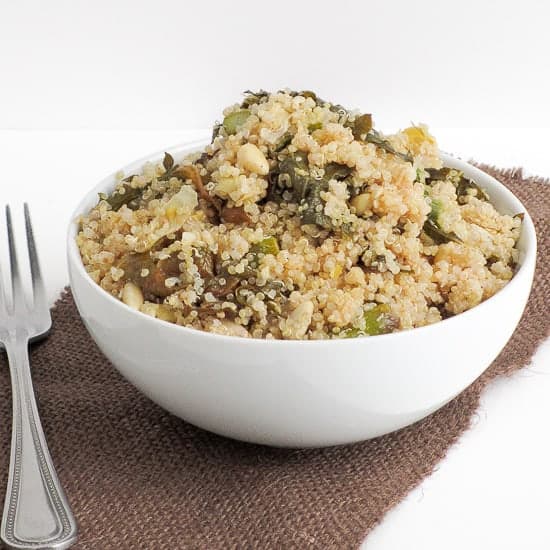 The lemon that flavored this quinoa is one of the three varieties plucked from my cousin's fruit trees. I can't for the life of me recall the names of each type (with the exception of Meyer lemons), but the one used here is of the oversized mutant strain and was pleasantly pungent. The kale is also left over from the harvest. So, not only is kale healthy and tasty, but it also lasts FOREVER in the fridge (+10 points for kale). The lemon and garlic served as the seasoning for the grain and vegetables, and as such, they tied the flavors together. I served up my creation with lemon and blood orange pepper roasted chicken legs and it made a wholesome side dish that surprised with every bite.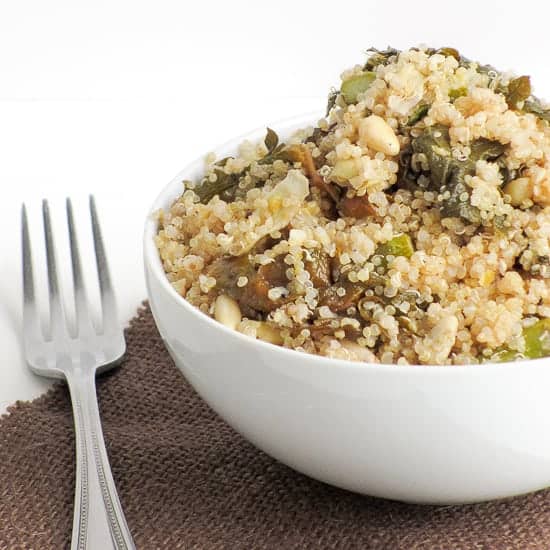 Lemony asparagus and artichoke quinoa
Makes 4-6 side dishes
2 cups quinoa
2½ cups vegetable broth (or chicken broth)
Juice and zest of one lemon
½ tablespoon olive oil
2 cloves garlic, minced
¾ pound asparagus, bottom inch of stems discarded, chopped into 1-inch pieces
½ cup canned artichoke hearts (or more, depending on preference)
3 cups of kale, ripped into pieces
¼ cup of pine nuts
Salt and pepper, to taste
If your quinoa is not pre-rinsed, soak it for 15 minutes in water. Rinse in a fine metal strainer for a few minutes (I put a thin kitchen towel over my strainer because it wasn't fine enough).
Add broth, lemon juice and zest, and quinoa to a medium pan and bring to boil over medium high heat. Reduce to low heat and cover for about 30 minutes.
Meanwhile, in a medium pan, heat olive oil over medium heat. Add garlic and sauté until lightly browned. Transfer garlic to a bowl.
Add asparagus and kale to the pan and cook until just beginning to get tender. Add artichoke hearts and pine nuts and cook until asparagus and kale are cooked to preference. Set aside.
About 10 minutes before the quinoa is finished, add the vegetables and mix well. Heat until quinoa is soft. Remove from heat and let sit for a few minutes. Fluff with a fork and serve warm.