A vegan gluten-free stuffing so flavorful, no one will believe it's vegan! Packed with mushrooms, pears, leeks, and topped with crunchy seeds, this hearty and filling stuffing is the perfect addition to your holiday table!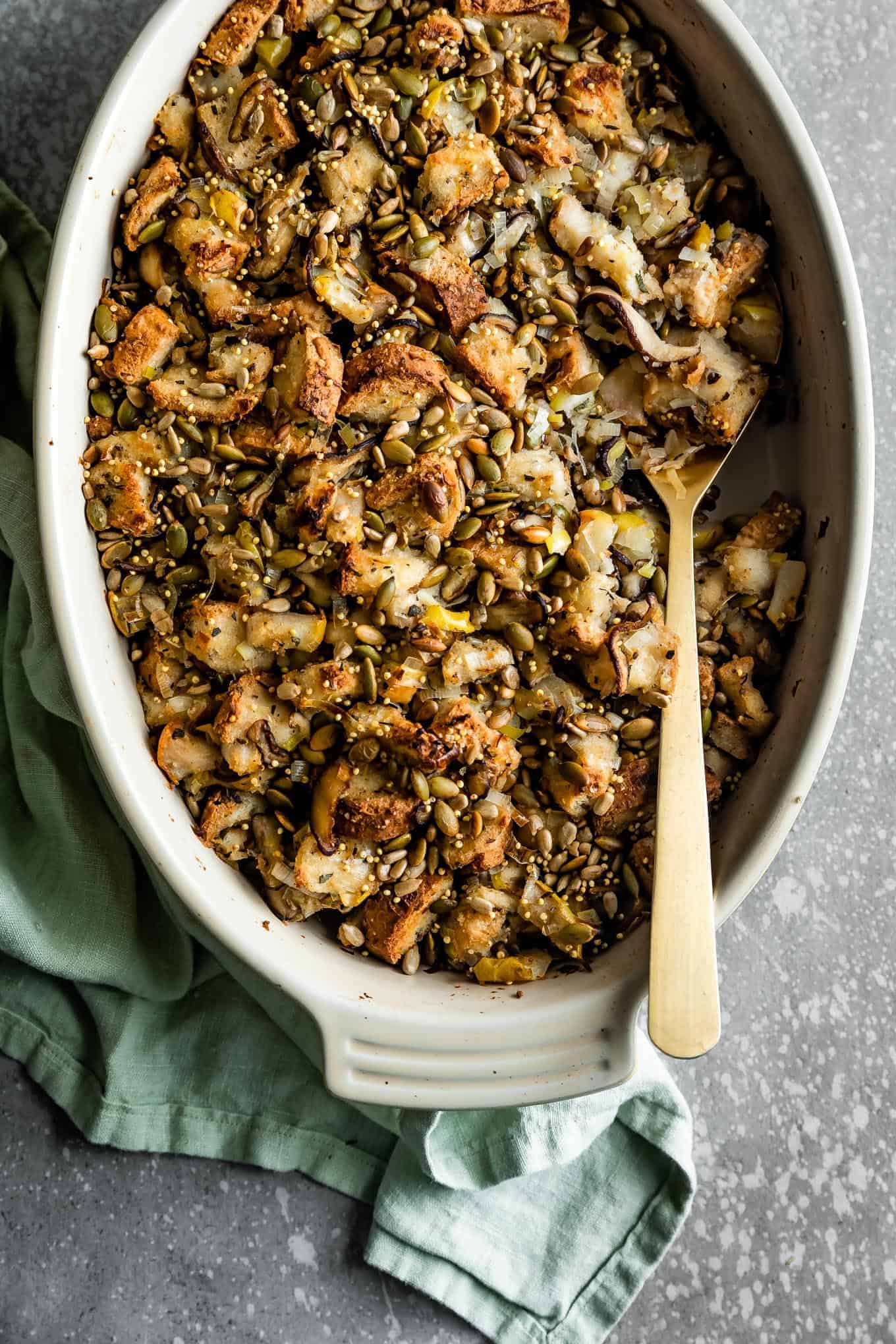 This post is sponsored by Little Northern Bakehouse, a long-term partner of Snixy Kitchen
I'm a stuffing snob. It must be moist, but not soggy (ew). There must be crunch from some crispy bread, but it cannot be dry. Ideally, a layer of crisp toasted bread gives away to a soft tender filling studded with vegetables. When done properly, stuffing is arguably the best dish on the holiday table!
And I'm not just saying that because I'm always in charge of the stuffing.
I usually make the same sausage and apple cornbread stuffing every year, but this year I'm partnering with Little Northern Bakehouse to mix things up with a gluten-free vegan stuffing recipe that's equally as delicious! Last year, we didn't get to visit family for Thanksgiving because of the poor air quality in Chico following the Camp Fire. This year we plan on hugging our family extra tight and setting some new traditions in motion!
I suppose technically this recipe is a holiday dressing since you're not stuffing anything with it, but po-TAY-to po-TAH-to. Stuff it into this baking pan then stuff it into your face.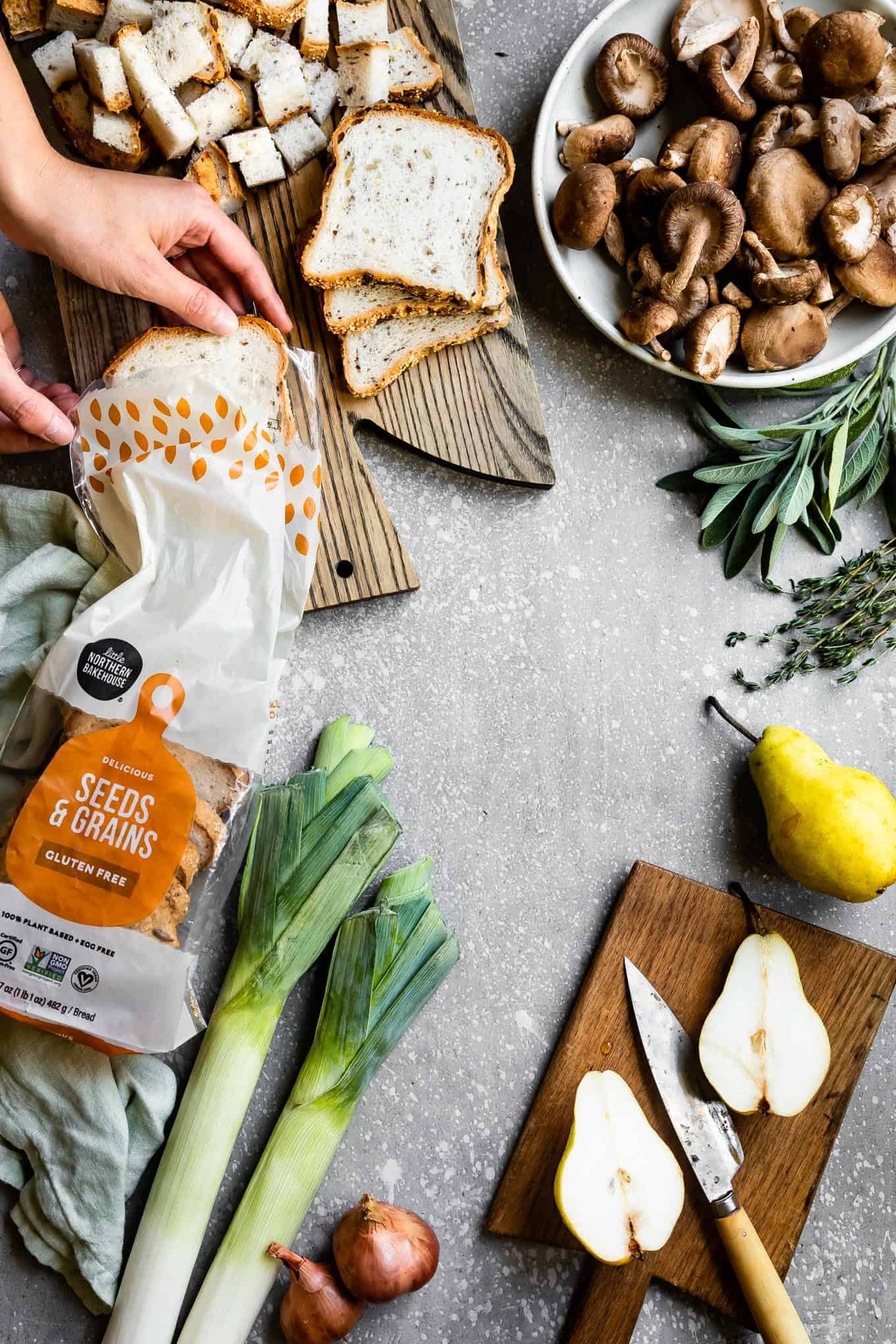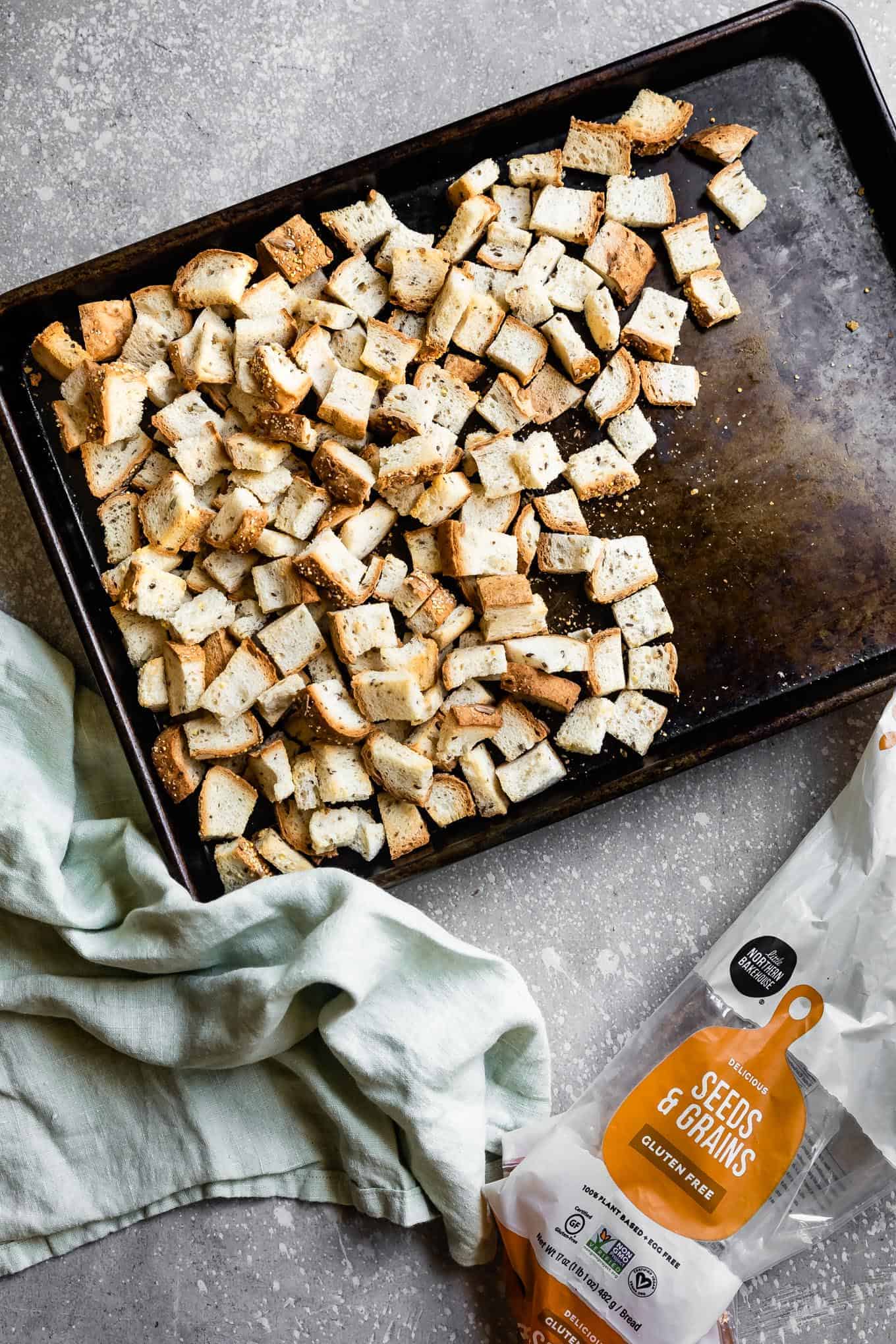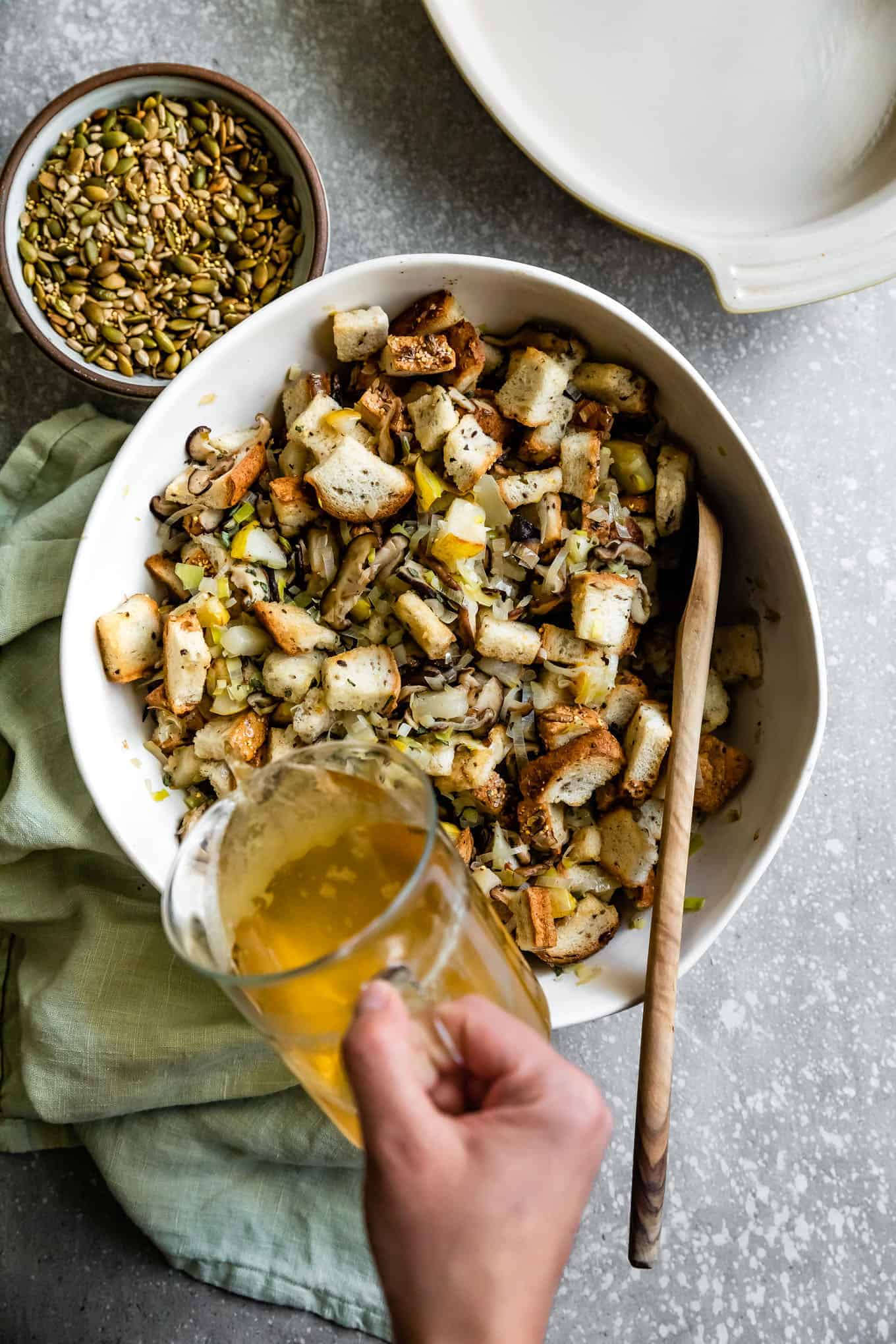 Can Vegetarians Eat Stuffing?
While Thanksgiving dressing traditionally refers to a side dish for everyone, stuffing historically refers to that which you stuff inside of some else (namely, a turkey). Today, these two words are used interchangeably and it's easy to make a flavorful stuffing even vegetarians and vegans can eat!
You don't have to toss your bread with chicken broth and sausage to make it tasty. To make vegetarian stuffing, use a high quality vegetable broth and add mushrooms for umami.
The BEST vegan stuffing Recipe: Vegan Mushroom Stuffing
We've taken it a step further. This stuffing isn't just vegetarian, it's also vegan, gluten-free and nut-free , so everyone at the table can enjoy it.
Crisp but moist gluten-free bread cubes, savory sweet shallots and leeks, the crunch of toasted seeds, umami mushrooms, fresh herbs, and pops of subtly sweet pears make this is the best vegan Thanksgiving stuffing! With its layers of flavor, everyone I've served this to is shocked it's vegan.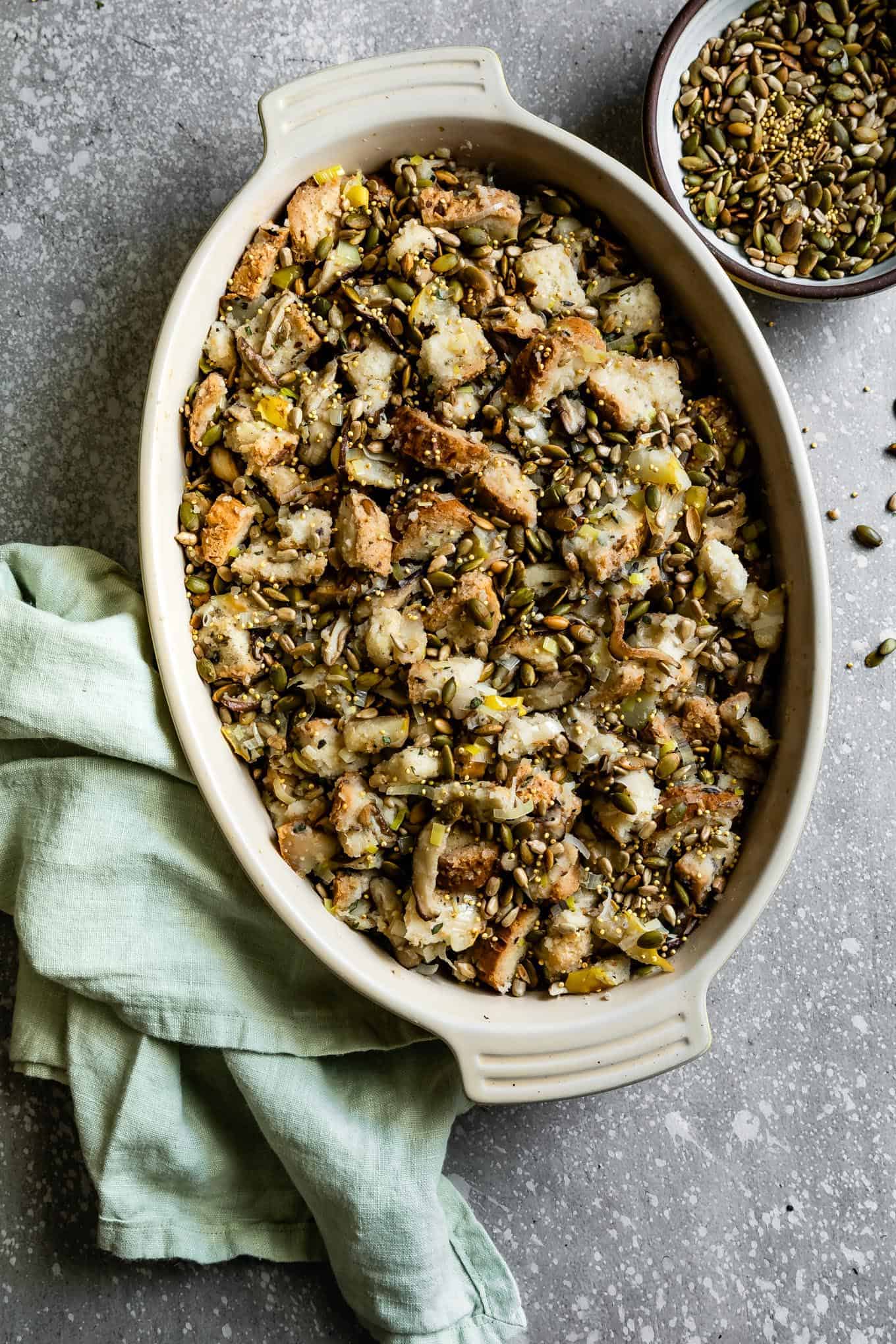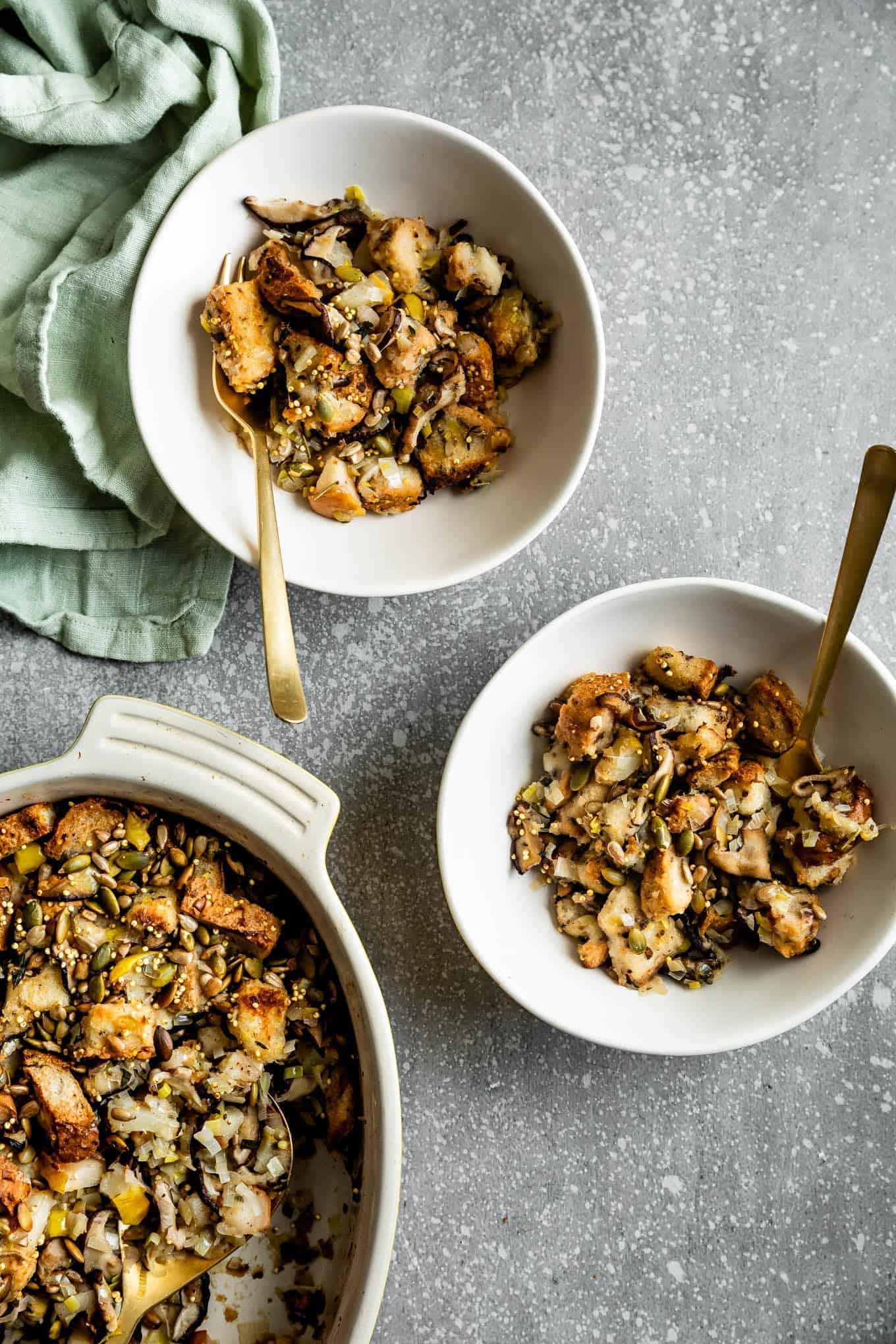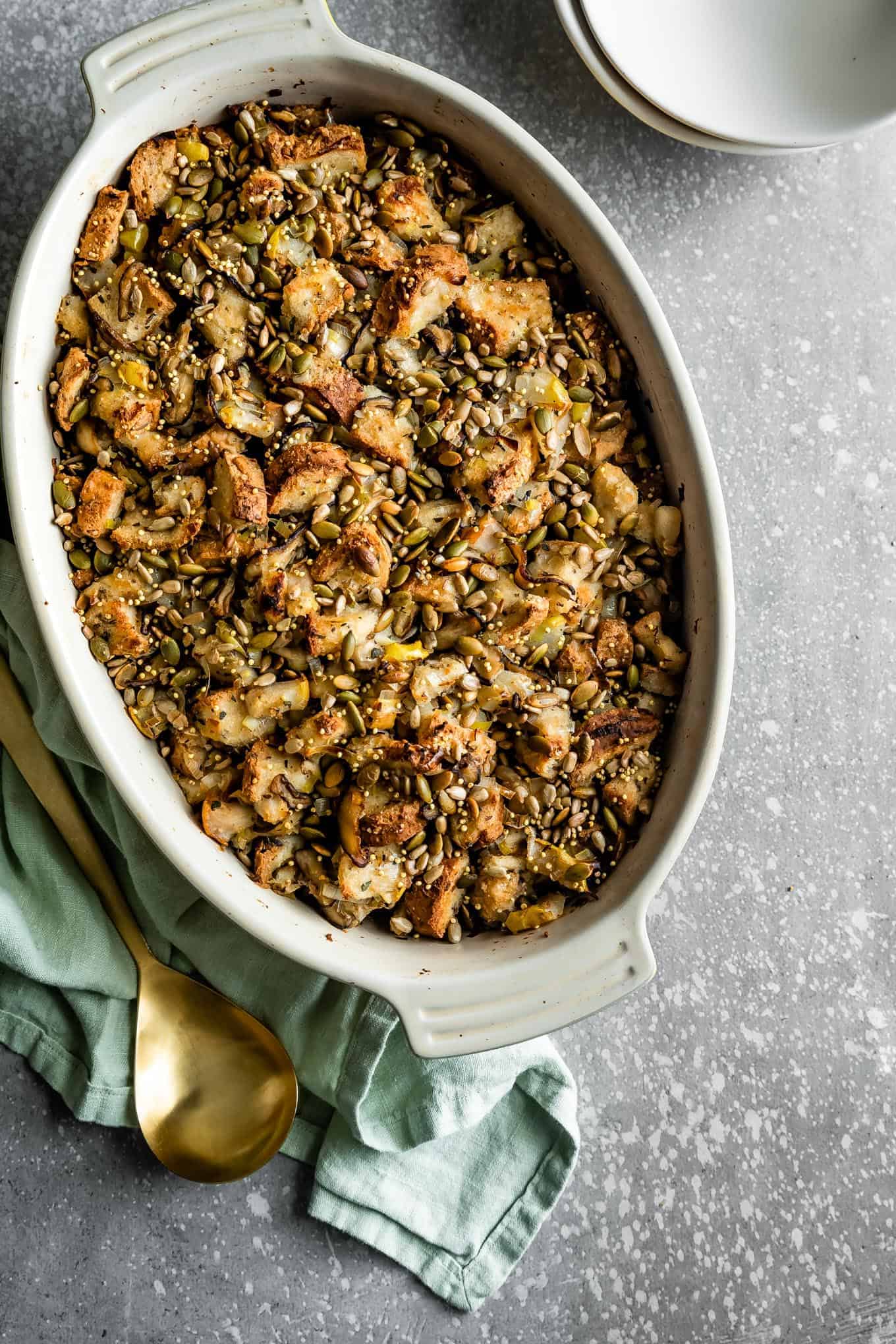 What Bread to Use for Vegan Gluten-Free Stuffing?
A great stuffing starts with a great bread. For this stuffing, I recommend a loaf of Little Northern Bakehouse's vegan and gluten-free bread. Most of their gluten-free loaves are also plant-based and vegan, so you have a lot of choices! Their classic loaves have a soft enough texture that they'll soak up the broth and flavors, while still sturdy enough not to disintegrate against the moisture.
I've paired this stuffing with their gluten-free seeds and grains bread that's covered with the same seeds and grains I sprinkled on top of the stuffing. Unlike many other gluten-free sliced bread on the market, this seeds and grains loaf is nutrient-rich, full of fiber, and extra hearty.
How Much Liquid Do you Put in Gluten-Free Thanksgiving Stuffing?
The amount of liquid to add a stuffing recipe varies because different ingredients soak up moisture differently. For example, how much you toast your bread or how much moisture the mushrooms release can make a difference. Start by tossing in a smaller amount of broth, give it a few minutes to soak in, then add more broth, as needed.
If you're a stuffing snob like me, you probably have your own exact ideal stuffing texture in mind and I want you to have the freedom to achieve that!
I remember the very first year I ever made stuffing on my own, I just went for it and dumped all the broth in at once. I ended up with SUPER SOGGY stuffing that fell apart. In a panic, I toasted more bread to try to recover it, but it wasn't ideal. Now, I always start with less broth than I know I'll need so I can dial in the texture to my liking.
Can I add apples instead of pears in this vegetarian stuffing?
If pears aren't your thing, feel free to sub in apples instead! Add the apples 1 minute earlier to the shallots and leeks as they'll need just a bit longer to soften than pears.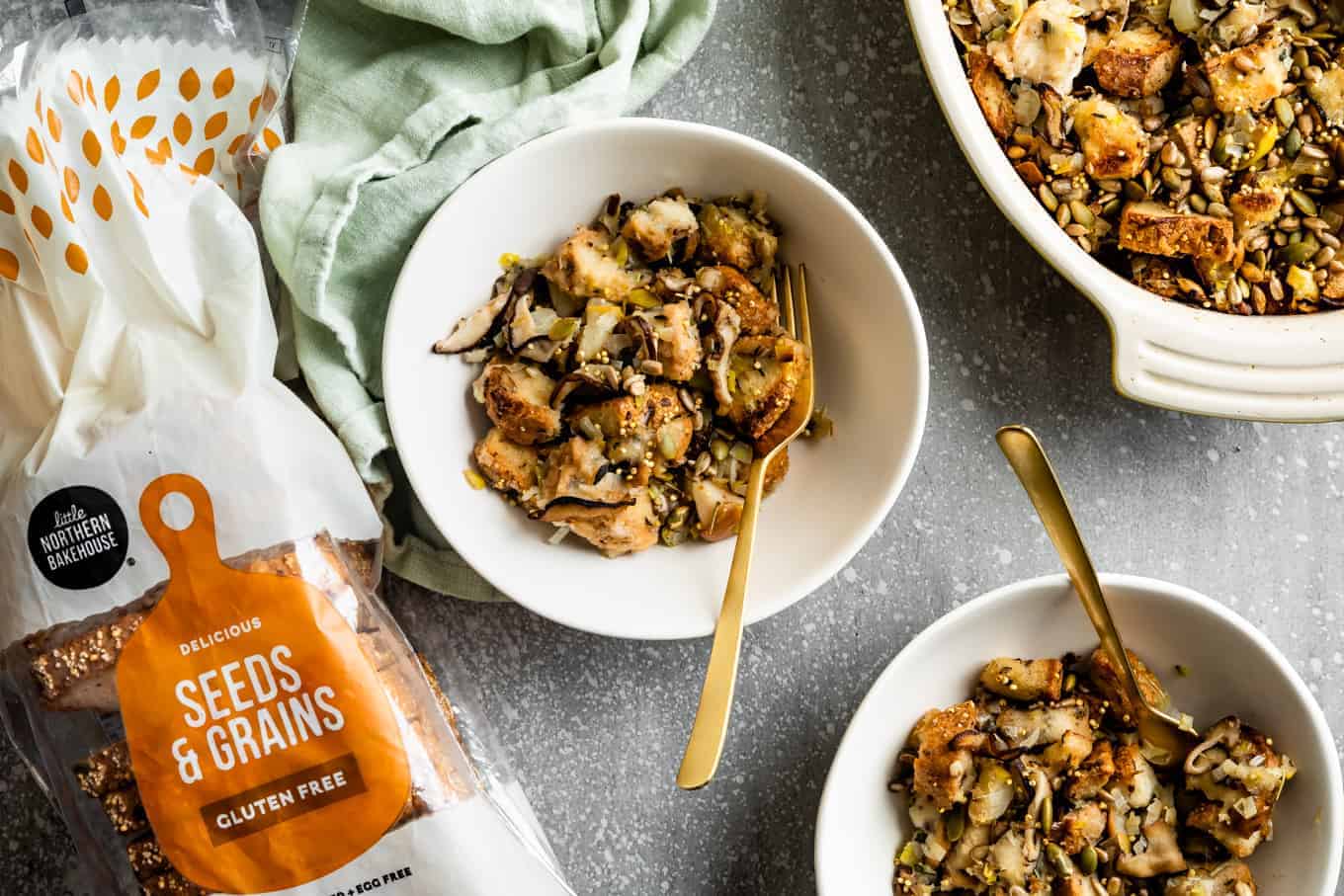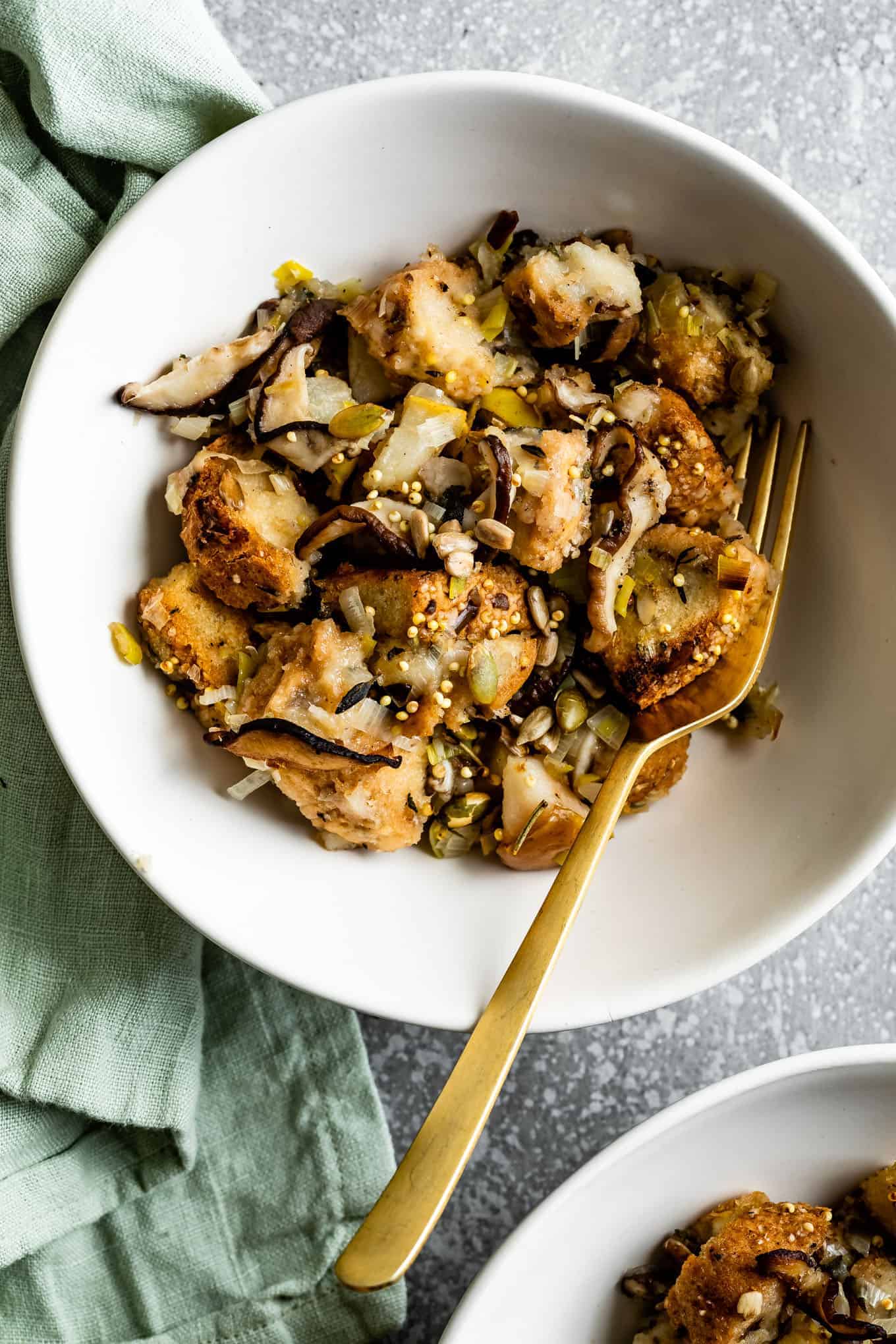 More Gluten-Free Thanksgiving Recipes
Maple Roasted Carrots with Walnuts & Feta
Sausage Apple Gluten-Free Cornbread Stuffing
Pumpkin Gluten-Free Vegan Bread Pudding
Pumpkin Gluten-Free Cinnamon Rolls
Vanilla Bean Pear Persimmon Pie
Hazelnut Pumpkin Chocolate Chip Cookies
Salted Sorghum Molasses Pecan Pie
Raw Vegan Golden Milk Cheesecake
More recipes using Little Northern Bakehouse Bread
Pumpkin Gluten-Free Vegan Bread Pudding
Quick Stovetop Gluten-Free Berry Crisps
Disclosure: Special thanks to Little Northern Bakehouse for sponsoring this post! Find more Little Northern Bakehouse inspiration on Facebook or Instagram. And thanks to you for supporting the brands that keep Snixy Kitchen cooking!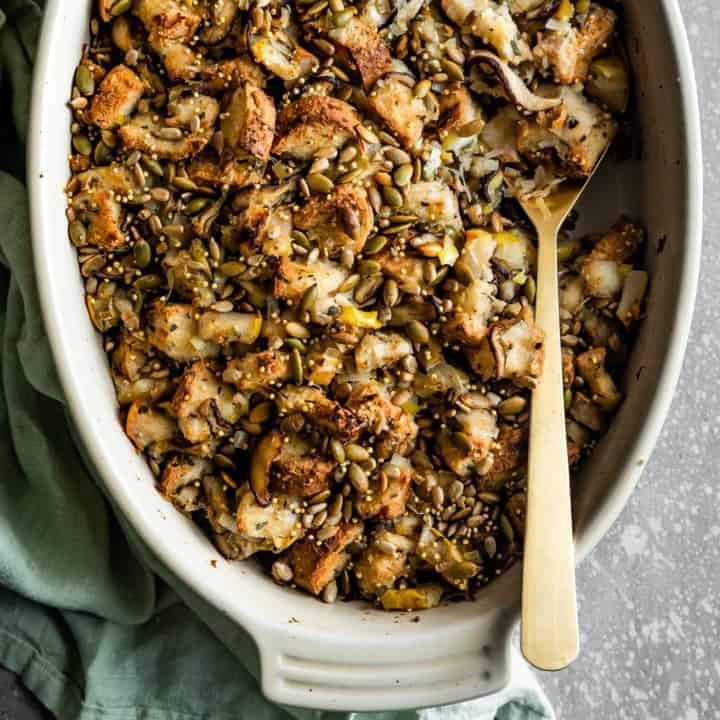 Vegan Gluten-Free Stuffing with Mushrooms and Pears
A vegan gluten-free stuffing so flavorful, no one will believe it's vegan! Packed with mushrooms, pears, leeks, and topped with crunchy seeds, this hearty and filling stuffing is the perfect addition to your holiday table!
Ingredients
1 loaf (about 8 cups) Little Northern Bakehouse Seeds & Grains gluten-free bread, cut into 1-inch cubes
2 tablespoons pepitas (pumpkin seeds)
2 tablespoons sunflower seeds
1 tablespoon whole grain millet (or more pumpkin seeds)
3 tablespoons vegan butter
3 tablespoon olive oil
4 cups thinly sliced shiitake mushrooms (or a combination of shiitake and oyster mushrooms)
2 medium leeks, white and light green parts, halved and thinly sliced
⅓ cup minced shallots (about 1 large or 2 small shallots)
2 ripe but firm pears, such as bartlett or bosc, chopped into ½-inch cubes
1 tablespoon fresh sage leaves, minced
1 teaspoon fresh thyme leaves
Pinch dried rosemary and nutmeg
2¼ cups vegetable broth
½ teaspoon each kosher salt and pepper
Instructions
Preheat the oven to 375°F. Grease a 3 quart (9x13) baking dish with vegan butter or olive oil.
Spread the seeds out on a small baking sheet and toast for 4-6 minutes, until fragrant and beginning to turn golden brown. At the same time, spread the bread cubes evenly over a baking sheet and toast for 4-10 minutes, or until crispy and lightly browned, tossing every 4 minutes (if using a dark coated baking sheet, toasting time will be only around 4-5 minutes). When the bread is toasted, transfer it to a large mixing bowl.
Melt 1½ tablespoons butter in a large skillet and add 1½ tablespoons olive oil and a pinch of salt. Toss in the sliced mushrooms and cook, stirring, until the mushrooms soften, 3-5 minutes. Transfer to the bowl with the bread.
In the same skillet, melt remaining 1½ tablespoons butter with remaining 1½ tablespoons olive oil. Add the leeks and shallots and cook, stirring, for 3 minutes until they begin to soften. Add the chopped pear and cook, stirring for 2 more minutes. Transfer to the bowl with the bread.
Toss the bread and vegetables together with fresh thyme, sage, rosemary, and nutmeg. Add 1¾ cups vegetable broth and toss well. Let sit for 2 minutes. If it still feels dry, add up to ½ cup more vegetable broth, as needed.
Pour into prepared pan and sprinkle with toasted seeds. Bake on the middle rack for 20-30 minutes, until the top is golden brown and toasted. Serve immediately or over with foil and a towel to keep warm until ready to serve.