Last updated on July 1st, 2012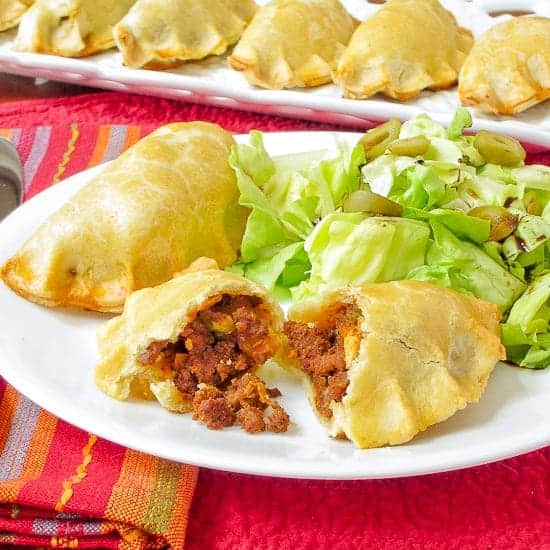 It's my spring break, folks, and I'm going to do nothing but relax in the sunshine and bake tasty treats for the entire week. YAH, RIGHT. Despite the fact that the sun has only made a few appearances in the Bay Area this week, spring break for grad students really just means more time to crank out papers like a machine. So really, I better be even more productive this week if I stand any chance of staying on top of my work. And I still have research group meetings and tutoring jobs like any other week.
To have some semblance of a hiatus from my computer screen, Lucas and I made plans to head to my parents' house in Chico for Saturday night. The quick trip was to squeeze in an overdue visit with my friend Jenny and her family who would be in town for the closing of our community theatre playhouse. My parents expected us around 6pm on Saturday evening; we'd leave the rascal kitties in the care of Max, the boy upstairs, for the night. But, when our Saturday morning plans in Berkeley got cancelled, we decided it'd be much more fun to secretly show up a day early…with the grand-kitties. We sneakily pulled into my parents' driveway around 11pm on Friday night with two very vocal complaining cats in tow. My mom was comfy in her bathrobe and my dad was "not asleep" with his eyes closed in his brand-new overstuffed recliner. We giddily giggled as I turned the key to their front door. I LOVE surprises…probably even more than those on the receiving end of my antics. We thought about tiptoeing around back and releasing the kitties into the house to see how long it'd take for my parents to notice the uninvited guests, but it could have back fired if the ferociously friendly golden retriever, Kodi, bumped into them first.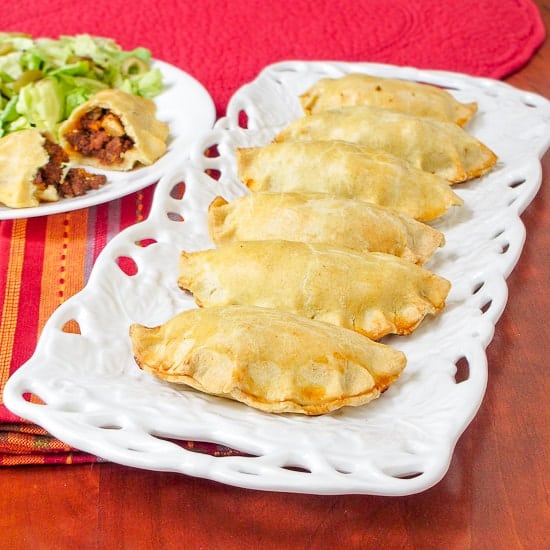 The early arrival meant more time for mother-daughter cooking. I put in a plug for empanadas, but forgot to warn my mom that I usually start cooking around 6 o'clock for an 8:30pm dinner (and by 8:30pm, I really mean 9). Even though her tummy was grumbling by the time we sat down at the table, she masked it well, and we had a lot of fun gossiping as we rolled out the disks of empanada dough. As long as you're not in a pint-sized space, making dinner is much more entertaining with two cooks in the kitchen, and my mom is the perfect cooking partner for me. We can follow a recipe seamlessly without having to communicate about which steps we've completed. She showed me up with her world-class dough rolling skills. I excelled in stuffing and crimping the dough pockets; my mama griped that the contestants of The Amazing Race made folding decorative edges on the empanadas look way easier than it is in real life. The added bonus of making dinner with mom? I get to use her ideally designed kitchen with at least six times the counter space as my own. This space particularly came in handy while making two separate batches of stuffing because my dad hates olives the same way I hate cilantro.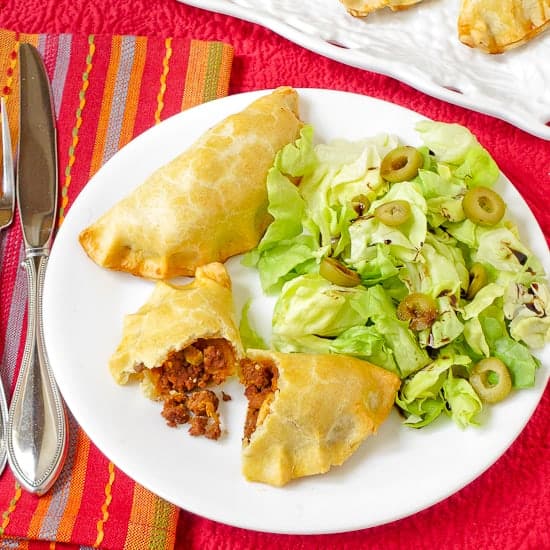 The recipe I'm sharing reflects slight modifications based on what I would do next time, since I want to share our learning experiences with you. For example, we didn't actually put salt in, but after biting into one, we realized it was definitely needed and retroactively solved the problem by sprinkling some on top. I've added salt to the recipe below, but I'm a little conservative on the measurement, so just be sure to taste the beef mixture before stuffing the empanadas (I made the novice mistake of trusting the seasoning without testing it).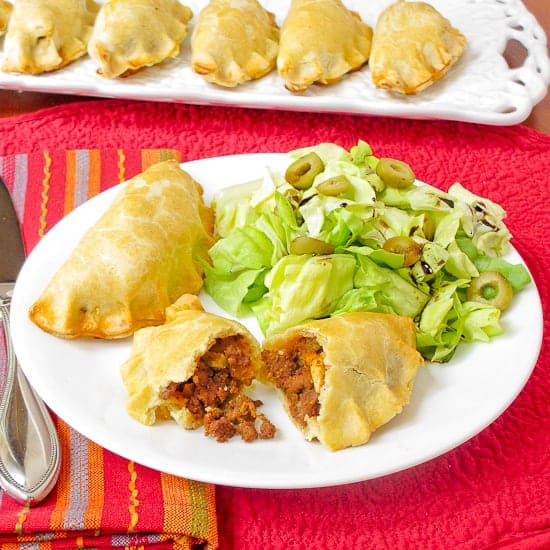 Traditional beef empanadas (Adapted from Shop Cook Make)
Makes about 20 small to medium empanadas
20 round disks of empanada dough (recipe below)
½ cup seedless raisins
2 hard-boiled eggs, chopped into ¼-inch pieces
2 small red potatoes, chopped into ½-inch cubes
1 tablespoon olive oil
1 medium yellow onion, chopped
5 gloves of garlic, diced
1 pound ground beef
1 teaspoon cumin
1 teaspoon chile powder
1 tablespoon paprika
½ teaspoon salt, or to taste
½ cup green olives, finely chopped
¾ cup beef broth
1 egg whisked with 2 tablespoons of milk
Make the empanada dough according to the recipe below (or buy pre-made disks).
Soak the raisins in water for 20 minutes.
Boil the potato cubes in salted water until tender.
Preheat the oven to 400ºF.
Heat the olive oil in a large skillet over medium heat. Add the onion and sauté for a minute.
Add the garlic and sauté for another minute or two.
Add the ground beef, cumin, chile powder, paprika, and salt. Cook, stirring with a wooden spoon to break up the meat, until the beef is browned.
Add the beef broth, green olives, and raisins. Simmer until the liquid is almost gone.
Stir in the hard-boiled egg and cooked potatoes.
Let cool while you roll out the empanada disks.
Place 2 tablespoons of filling on each disk. Fold in half and crimp the edges using your fingers or a fork.
Place each finished empanada on a parchment lined baking sheet.
Brush each empanada with the egg wash.
Bake for 20-30 minutes, or until golden brown.
Empanada dough
Makes about 20 small to medium disks
3 cups of all-purpose flour
¼ teaspoon of salt
¾ cup cold unsalted butter cut into tablespoons
1 egg
5 tablespoons of water
Combine the flour and salt in large food processor (if using a smaller food processor, make the dough in two batches).
Add the butter, egg, and water to the food processor and blend until combined.
Use your hands to form a ball with the dough. Knead one or two times.
Cover in plastic wrap and refrigerate for 30 minutes.
After you've made the empanada filling, roll out the dough between two sheets of wax paper a couple of tablespoons at a time, using something round as a stencil to cut perfect circles. We used the lid of a tupperware that was about 5 or 6 inches in diameter.
Set the finished disks on a plate with a moist paper towel on top to keep them from drying out. Repeat until all dough is used.