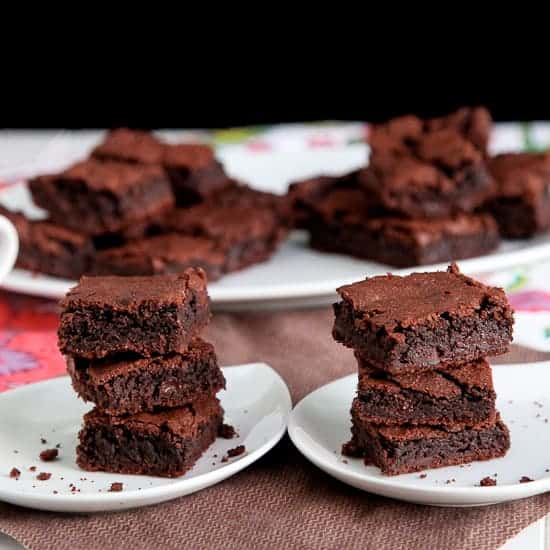 Chocolate might not be my choice dessert, but these brownies made me forget all about that fact. I probably ate half of the batch all by myself. And now I'm sad that they're gone. That's why there's been radio silence on my end this past week - I'm in mourning over the brownies that got all eaten up. No, it has nothing to do with the hours and hours of studying I'm putting in...So many hours reading that the only thing I want to do when my brain shuts off for the night is snuggle up with a baby kitty to eat ice cream. And brownies. But alas, the brownies are all gone. It's terribly sad, right?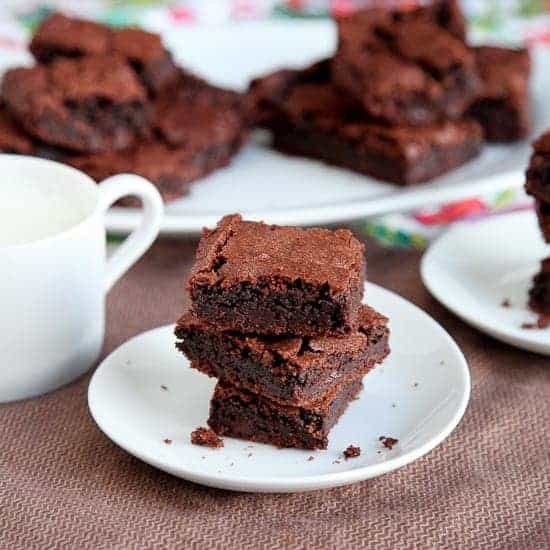 Just a regular brownie
What makes these brownies so much better than the boxed kind? Leaps and bounds beyond just a regular ol' recipe? To practice my data collection methods, I embarked on an experiment in brownie making (great justification for taking a break to hang out with the KitchenAid, eh?). Making my impending exam date seem so much closer, Nicole passed hers on Wednesday and, as promised, I used the opportunity to test the theory that chocolate extract makes chocolate baked goods taste even better. I whipped up two identical batches of brownies and then whisked some chocolate extract into one of them. I split them between two plates marked A and B, and left them in the middle of Nicole's exam table with a voting ballot. To be honest, both batches baked into a perfect combination of a crunchy, flaky top with super moist and chewy inside. I would have scarfed down either batch and my stomach would have been perfectly happy, but I wanted to know if people could tell a difference and, if so, which one they preferred. Turns out my two elementary school science fair projects in which I administered taste tests of store-brand v. name-brand cola or of different chocolate chip cookies that swapped out key ingredients for substitutions really paid off in my adult life.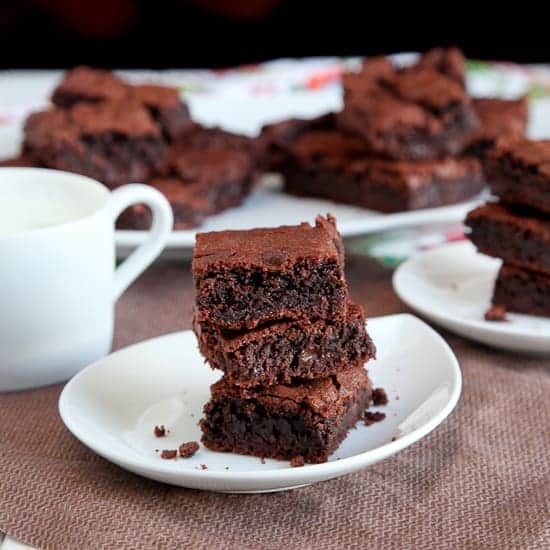 The winning brownie
I expected that Nicole's exam committee wouldn't actually vote - they had a gigantic spread of mouth-watering snacks on the table (including two different kinds of homemade scones from my friend Denny), and I'm sure they had much more important things to do during the three hours. To my surprise and glee, Nicole reported back that her committee loved the brownie poll and that all but one person (who admitted that she didn't actually like chocolate all that much) voted for B (pictured on the left in the first photo). In fact, that was the only person who didn't unequivocally choose B in my entire 10 person blind taste test (one hungry 11 year-old boy got eliminated from the study because he just wanted to eat more brownies and his ravenous actions didn't indicate that he knew comparing was the goal). B, for those of you on the edge of your seat, was the plate of brownies made with chocolate extract. The subjects I tested in person described their choice as "richer," "more chocolate-y," and "more well-rounded with a nice chocolate finish that stayed in your mouth compared to the other brownies that kind of just disappeared." (Yes, it turns out my fiancé has a very refined palette when it comes to chocolate).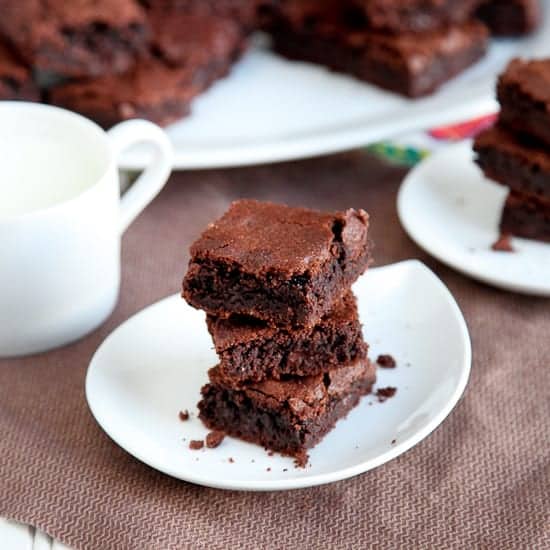 Chocolate extract brownies
There you have it folks, chocolate extract is the secret ingredient that makes a brownie unforgettably delicious. Now that I know the key to making chocolate baked goods that even a someone who claims not to like chocolate can't turn down, these brownies will be the death of any pre-wedding healthy-eating regimen I attempt. Srsly, I think I'm gonna go make more brownies now and you should too.
Perfect chocolate-y brownies (adapted from Just Putzing Around the Kitchen)
Makes two 9-inch square pans (24 brownies)
½ cup unsalted butter, melted
½ cup vegetable oil
2½ cups sugar
4 eggs
2 teaspoons vanilla extract
2 teaspoons chocolate extract
⅔ cup unsweetened cocoa powder
1 cup all-purpose flour
1 teaspoon salt
½ teaspoon baking powder
1 cup semi-sweet chocolate chips
Preheat the oven to 350ºF. Line two 9-inch square glass baking dishes with parchment paper.
In a medium bowl, mix together the butter, vegetable oil, sugar, eggs, vanilla extract, and chocolate extract until well-combined.
In a separate bowl, combine the cocoa powder, flour, salt, and baking powder (this stage, I'd normally tell you to sift them together, but I was being lazy, and just whisked them a bit, and I want yours to turn out just the same way mine did).
Add the dry ingredients to the wet ingredients and whisk until just smooth.
Fold in the chocolate chips.
Divide the batter between two glass baking dishes (if you only have one, like me, you can bake them one at a time. Alternatively, use a larger baking dish and just expect slightly thicker brownies and longer baking time).
Bake for 30-40 minutes, or until a toothpick inserted in the center comes out with just a few crumbs (I baked mine separately and they took about 33 minutes each, but together, it might take a little bit longer).
Transfer to a cooling rack to let cool 15 minutes before serving.
Serve with a glass of milk!