Last updated on July 1st, 2012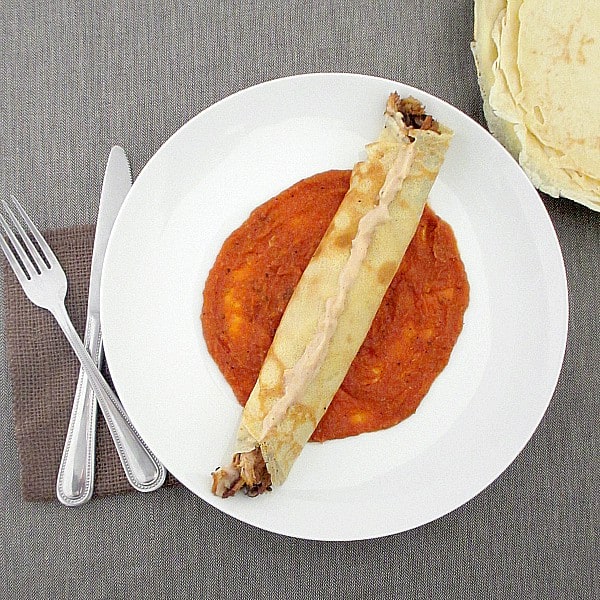 Today is part two of my roasted chicken adventures. Instead of going through the hassle of cooking chicken for my crepes, I just pulled a leftover breast out of the fridge and was ready to go! After the meal was put together, we decided that the savory crepe is like the French version of an enchilada; except you can pretty much put anything you want inside a crepe and it will taste delicious. And, aside from sautéing up whatever filling you've got a hankering for, crepes are really quick and easy – perfect for a weeknight, and, more specifically, perfect for a meal for one.
I've been craving fresh roasted garlic tomato sauce (the same one I used on my cauliflower steaks a couple of weeks ago) and developed my crepe recipe accordingly. I chose to complement the tomato sauce with béchamel, onions, mushrooms, and of course, chicken. I first discovered the wonders of béchamel sauce when I found, hands down, the best lasagna recipe I've ever tasted; it replaced the traditional ricotta cheese with a creamy nutmeg béchamel. There will surely be a post on my lasagna in the near future (usually I cook two huge trays whenever I'm about to leave Lucas at home for a week), but trust me when I tell you that this substitution is magical (remember my hatred for cooked ricotta cheese?). I figured that since the béchamel sauce  works with ragú, it would probably pair nicely with my coveted roasted tomato sauce. I even kept the nutmeg in for a little extra flavor and my taste buds thanked me. The sourness from the roasted tomato sauce balanced out the sweetness from the béchamel to complement the leftover chicken quite nicely. What's more, I accidentally made WAY too many crepes (first I made too little batter, so, in a rush, I whipped up another batch), so I can make sweet crepes later in the week with just a bit of fresh fruit and powdered sugar. Mmm…mmm…mmm…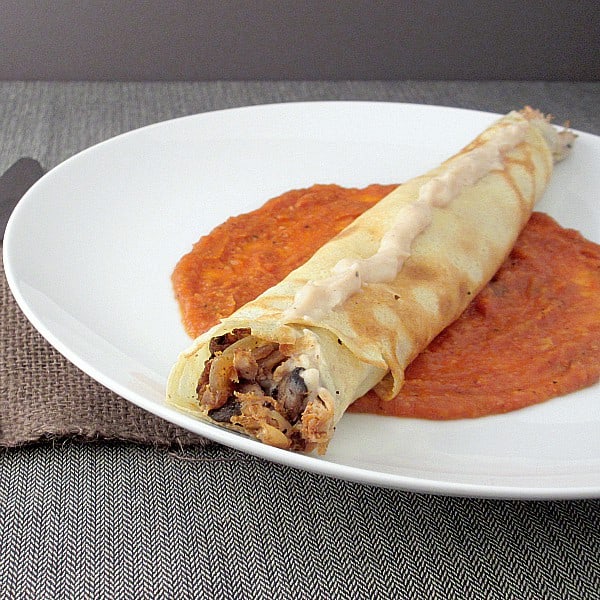 Lucas was a little late coming home tonight, so I had every ingredient pre-chopped, measured, lined up, and ready to go before he even left work. I felt like Martha Stewart. As prepared as I was, I don't think I truly considered how big of a feat it would be to make: crepe batter, crepes, roasted tomato sauce, sautéed mushrooms and onions, and béchamel sauce in my pint-sized kitchen. Despite having four burners, my 1½ x2 foot stove most certainly doesn't hold four pans. This, coupled with the fact that I use my stove top as storage for my skillet and my dutch oven (keep them in my oven, you suggest? Oh, I've got that stuffed full of baking pans), led to tonight's meal being quite the song and dance. Every element of my savory crepes is super easy to make, but I only recommend replicating my fillings and sauces if you can truly juggle four pots to a stove.
Savory crepes with béchamel and roasted tomato sauce
Serves 2 (or 1 with leftovers:)
Crepe batter (see recipe below)
1 cup béchamel sauce(see recipe below)
1 cup roasted garlic tomato sauce (see recipe below)
5-10 cremini mushrooms, coarsely chopped
½ medium onion, coarsely chopped
1 roasted chicken breast, shredded into bite-sized pieces (I used a breast leftover from the whole chicken I roasted last night)
Freshly ground pepper to taste
Sauté onions in cast-iron skillet over medium heat until tender. Add mushrooms, and continue cooking until cooked through. At the last minute, add roasted chicken breast pieces and sauté just until heated through. Add freshly ground pepper.
Spread a tablespoon of béchamel sauce over cooked crepe. Add spoonful of onions, mushroom, and chicken mix. Roll tightly. Repeat until all crepes and filling is used.
Spoon a roasted tomato sauce over top and serve.
Crepe batter (Note, I've adjusted the batter to make just the right amount of crepes for the filling above)
1 large egg
½ cup milk
¼ cup water
1½ unsalted butter, melted
½ cup flour
Dash of kosher salt
Whisk all ingredients together until thoroughly combined.
Heat large non-stick pan over medium heat. Using a measuring cup or a large ladle, pour  ¼ cup of batter into center of heated pan, and immediately rotate pan to cover surface of the pan (keep rotating until batter stays in one place).
Cook about a minute, until the edges of the crepe begin to turn inward.
Using a spatula, flip crepes over and cook for another 30 seconds.
Transfer to a cutting board to cool. Repeat until all batter is used.
The crepes will keep for about a week in the fridge, and you can also store them in the freezer if you have leftovers!
Béchamel sauce (a Mario Batali recipe, but I can't find the original anywhere)
2½ tablespoons unsalted butter
1/8 cup flour
1½ cups milk
1 teaspoon salt
¼ teaspoon ground nutmeg
Melt butter in medium saucepan. Add flour and whisk until smooth. Continue cooking, whisking, until golden brown, about 6 minutes.
Meanwhile, heat milk in saucepan until just about to boil. Add milk to butter and flour mixture, in three parts, whisking continuously until very smooth.
Bring to a boil. Continue cooking for 30 seconds.
Remove from the heat and add salt and nutmeg.
Roasted garlic tomato sauce (from cauliflower steaks)
4-5 garlic cloves
4 roma tomatoes, cored and quartered
Preheat oven to 400ºF.
Heat cast-iron skillet over medium-high heat and add garlic cloves and tomatoes, one cut side down. Cook until tomatoes are browned; turn tomatoes over to other cut side and transfer skillet to oven with cauliflower. Roast garlic and tomatoes until tender, about 12 minutes.
Transfer garlic, tomatoes, and ½ tablespoon oil to a food processor; purée until smooth. Season with salt and pepper to taste.