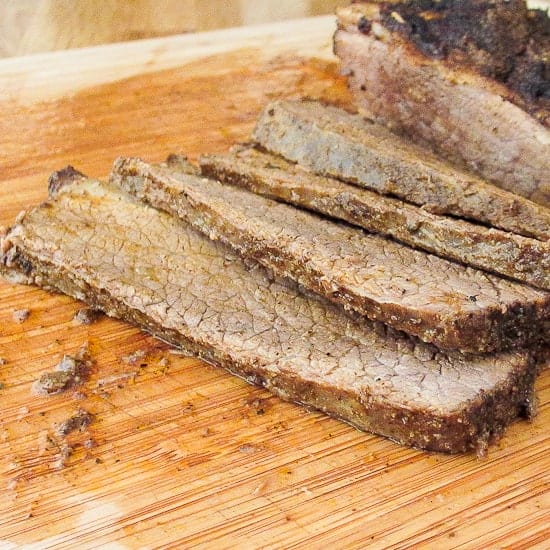 My acupuncturist told me that I needed to eat some beef yesterday because my blood seemed weak. I'm not exactly sure what that means, but I will do just about anything that might potentially relieve my reoccurring headaches. I thought a steak would be nice - after all, it was Valentine's Day - but a steak wouldn't produce the leftovers needed for Lucas's lunch the next day (and he'd already eaten pizza this week). Instead, I decided to do one better and attempt to roast a beef brisket as a Valentine's surprise in honor of Lucas's Texan heritage. I'm glad I did too, because he came home with a bouquet of bright flowers that he hand selected from the flower market.
We ate lots of barbecue on our trip to Austin last summer, but Lucas's choice spot is Kreuz Market because they stand by the motto "we've got nothing to hide" by not drenching their brisket in BBQ sauce. My brisket certainly didn't live up to Kreuz (but can oven roasted brisket really compare with eight hours of smoking it? Kreuz has an unfair advantage!). However, Lucas gave me his Texan stamp of approval, claiming that mine was better than many BBQ places he's dined at in Texas (A big compliment - I'll take it). I used a dry rub recipe and I didn't hide behind the sauce, which earned bonus points, I think. I even pressed Lucas to make sure he wasn't just being nice because it was Valentine's Day and that's what boyfriends do, but he assured me I could make this brisket anytime and he'd be a happy camper. I agree - it turned out pretty delicious and definitely satisfied my brisket craving. I served it up with some crispy smashed potatoes (red and purple potatoes for Valentine's Day. Photos and recipe will be posted soon to follow) and a side of crunchy lemon green beans. For staying in and coming up with a last minute meal plan, we ate well for Valentine's Day without a whole lot of effort.
I ended up only making 2.4 lbs of brisket because I thought Paula Deen's 4 lbs was a bit over the top for two people. Plus, what if I messed it up and ruined 4 lbs of meat?! My butcher assured me that brisket is hard to screw up and helped me adjust my cooking times from Paula's massive recipe. I think I was just a little off on the perfect timing, which could have been fixed if I'd just had a meat thermometer, but Safeway was sold out, of course (another kitchen gadget added to my list - I need to write this list down). The 2.4 lbs produced about 5 servings, which was perfect for the two of us. Next time, though, I think I'll wait until I'm having company over and just do the whole 4 lbs, as the consensus online seems to be that that's the best batch size for home roasting (or at least all the recipes called for that amount).
Texas style oven-roasted beef brisket (Adapted from Paula Deen)
Serves 4-5
1 tablespoon chili powder
¾ teaspoon salt
½ tablespoon garlic powder
½ tablespoon onion powder
½ tablespoon ground black pepper
½ tablespoon sugar
1 teaspoons dry mustard
1 bay leaf, crushed
2.4 pounds beef brisket, trimmed
1 cup beef stock
Water
Preheat oven to 350ºF.
Combine all the dry ingredients to make the rub.
Rub the spices all over all sides of the brisket.
Place brisket on a rack in a roasting pan and bake for 40 minutes, uncovered.
Pour beef stock and enough water to fill the pan about ½ inch high. Reduce heat to 300ºF and bake covered for about 2 hours, or until a meat thermometer stuck in the thickest part of the heel reads 180-205ºF (according to barbecuebible)
Trim the fat off and slice thinly across the grain. Serve with some of the juices from the pan.