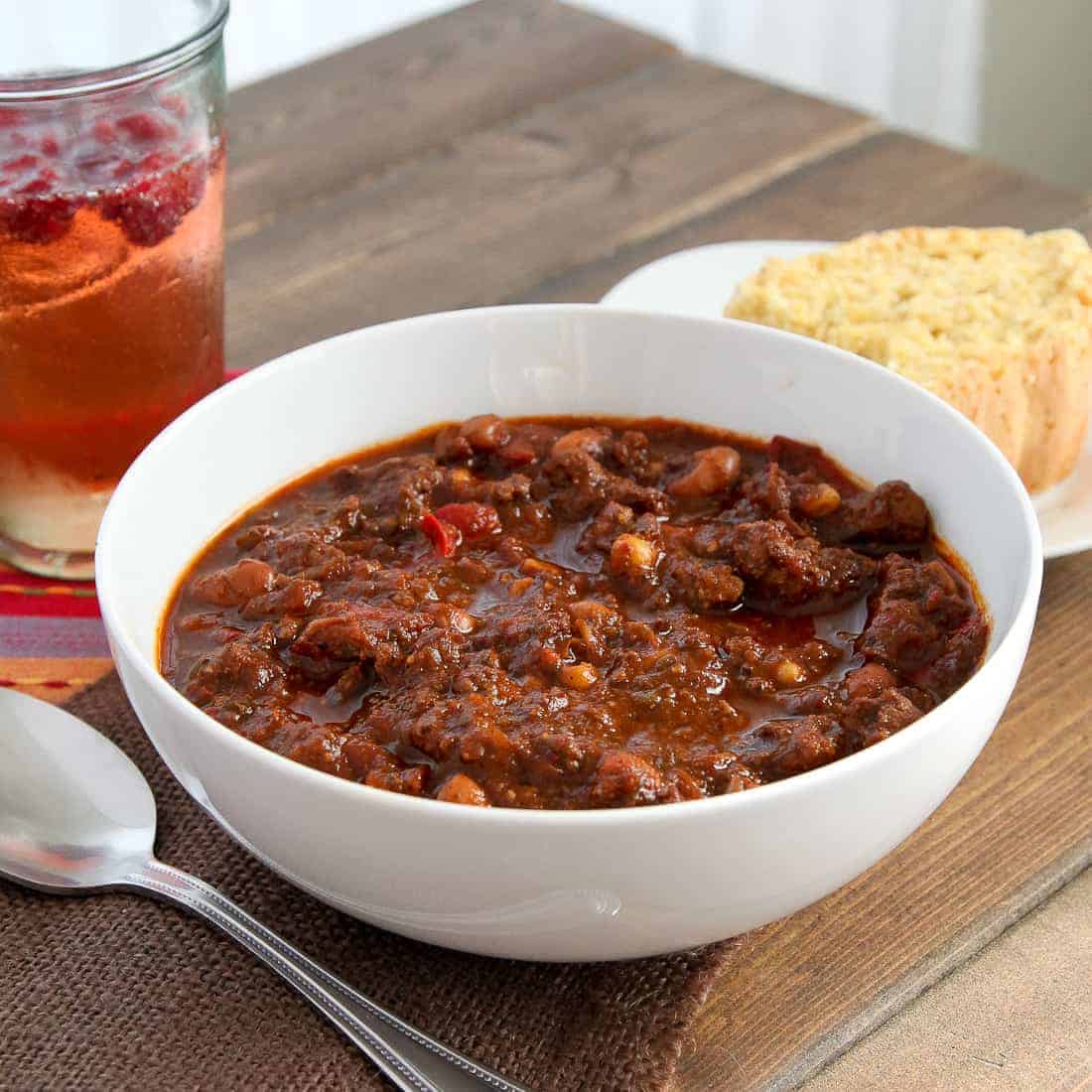 Sometimes in the midst of chaos, you need a big bowl of comfort, a glass of orange juice, and good friends to sit around the dining table with. For Lucas, comfort tastes like Texas. And since, until last week, we didn't own a grill and sopapillas aren't on my gluten-free diet, I tried my hand at Texas-style chili...modified to simultaneously satisfy this California-born girl who wants lots of fresh veggies and beans. Oh, and to swap out ground beef for a leaner meat to make this dish wedding-diet friendly. So really, the flavor base boasts the essence of Texas chili, but the hearty substance screams California.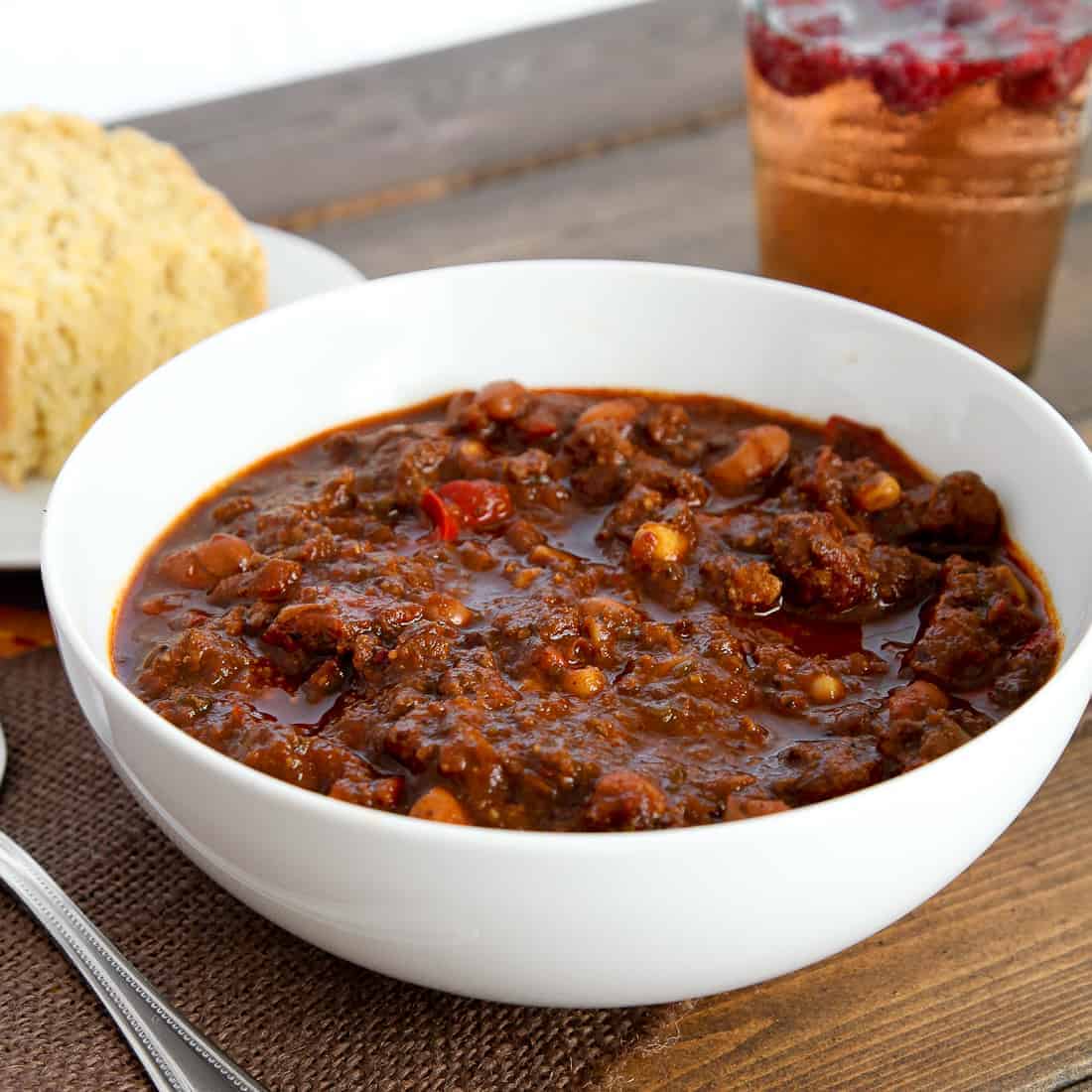 Come to think of it, this chili is the perfect combination of our two hometown comforts. For our wedding, the logo we've created that we've turned into a rubber stamp and pressed in orange ink over pretty much every paper surface is an image of CA + TX (below). That's exactly what this warm bowl of spicy chili represents. And boy is it something else. California & Texas really should meld their flavors more often. Before you groan that this chili is not authentic to the Chili con Carne that runs rampant in Texas, I urge you to give this modified version a shot. It's got the same rich spicy undertones, with a healthy kick.

A few things I learned while making this chili:
Anything cooked with a dried chili base tastes 100x more dynamite the day after. It's like spaghetti. Letting all the flavors marinate and make friends over night is necessary.

There's a Mexican market not far from our house that has an entire aisle dedicated to dried chiles. So many chile varieties. Which makes me think "chili powder" is much too vague a word for any spice.
According to a marker-drawn sign, you can also get fresh tamales made daily out of some little old lady's kitchen at this same market. Noted.
Chili should be served with cheddar cheese and green onions. And always corn bread.
Gluten-free corn bread mix tastes pretty darn amazing - flavorful, moist, and crumbly all at the same time. My next task will be to replicate it from scratch.
When you turn our stove to low, the flame goes out, while the gas still flows...and if you're not careful, you'll fill the kitchen with gas when you think the stove is safely in the off-position. Danger.
When you open the kitchen window to clear the air, the kitties think being on the window sill doesn't count as being on the counter, just as long as your tail and paws aren't touching it. They are wrong.
On an unrelated, but important note, my heart goes out to those in Boston. We feel so untouchable in our daily lives, until something horrible comes and rattles us. I am so thankful that Lucas injured his IT band, causing us to cancel our flights to Boston for the marathon last week. I am also so touched by the outpouring of love shown by the people of Boston toward one another as they pick up the pieces and figure out how to stay strong. As my friend Tina alluded to, it's important to remember that most people in this world are good at heart.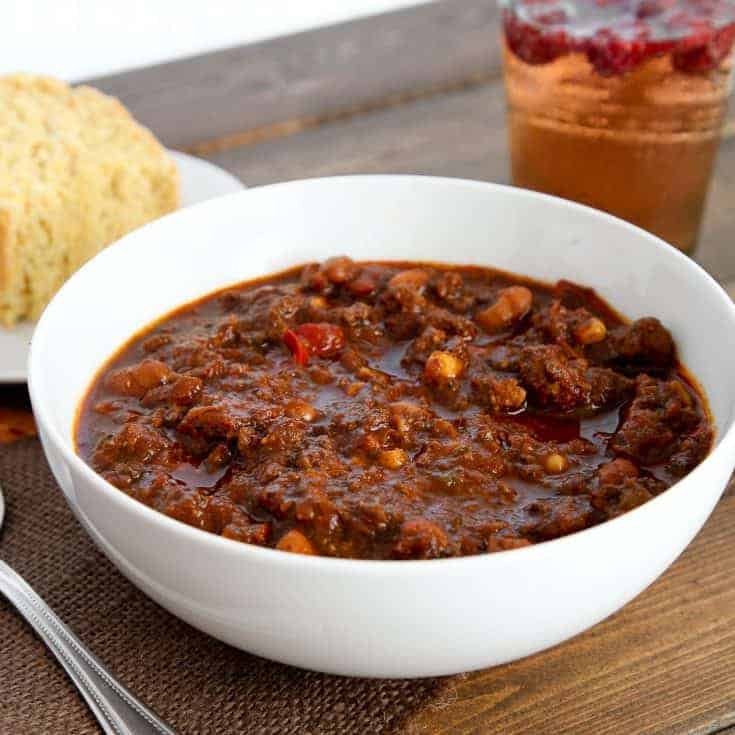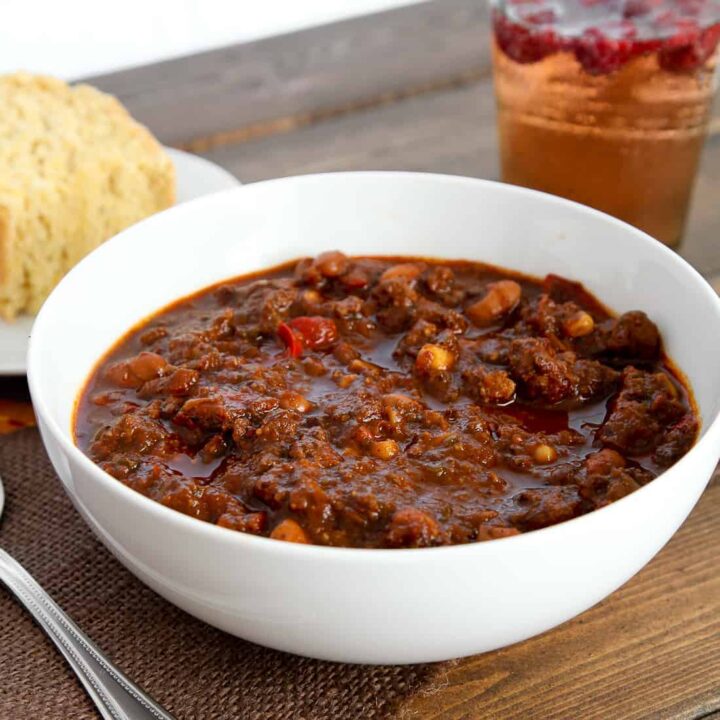 Texas-style chili turned healthy
Ingredients
6 dried ancho chiles, stems and seeds removed
2 dried poblano chiles, stems and seeds removed
1 tablespoon olive oil
1 medium yellow onion, quartered
5 cloves garlic
4 dried chiles de arbol
1 tablespoon ground cumin
1 teaspoon dried oregano
½ teaspoon ground clove
½ teaspoon ground cinnamon
2 pounds ground turkey, rolled into 1" balls
1 red bell pepper, chopped
1 14.5 oz can crushed tomatoes
1 cup frozen sweet corn
1 can pinto beans, drained and rinsed
2 teaspoons yellow cornmeal
½ teaspoon corn starch
2 tablespoons lime juice
Salt & pepper, to taste
Optional: Green onions, diced and shredded cheddar cheese (for serving)
Instructions
Heat the ancho and poblano chiles in a cast-iron skillet over medium-high heat for about a minute on each side. Remove the skillet from heat and fill the skillet with water. Let the chiles soak for about 30 minutes until rehydrated.
In a large pot, heat 1 tablespoon of olive oil over medium heat. Add the onion and cook, stirring until it begins to brown, about 10 minutes.
Add the garlic and cook for an additional 30 seconds.
Transfer the onions and garlic to a food processor or blender.
Drain the chiles from the water and add them to the blender. Add the chiles de arbol, cumin, oregano, clove, cinnamon, and 1 cup of water, and blend until smooth.
In the same pot, cook the red bell pepper for a few minutes, until it begins to soften.
Add the ground turkey balls and cook, carefully stirring every once in a while, until lightly browned on all sides.
Add the chile puree, 3 cups of water, crushed tomatoes, corn, and pinto beans. Bring it to a boil on high heat.
Turn down the heat to low and let simmer uncovered for 45 minutes, stirring occasionally.
Adjust the salt and pepper, to taste. Add the cornmeal, corn starch, and lime juice, and cook for 15 more minutes.
Serve with chopped green onions and cheddar cheese on top and a slice of cornbread.